Oh, my beloved Cheese ! Soft cheese, hard cheese, ricotta and much more. It comes in hundreds of varieties and some kind almost everyone loves. I can still remember when I was a kid in France and went with my parents to see how Roquefort is made. That was quite exciting to see the cheese "moldy", in a cellar full of countless of loaves. This method of production has been around for hundreds of years, so I wonder if cheese can't be made in a more modern way. So with Cashews instead of cow's milk?
Say Vegan Cheese!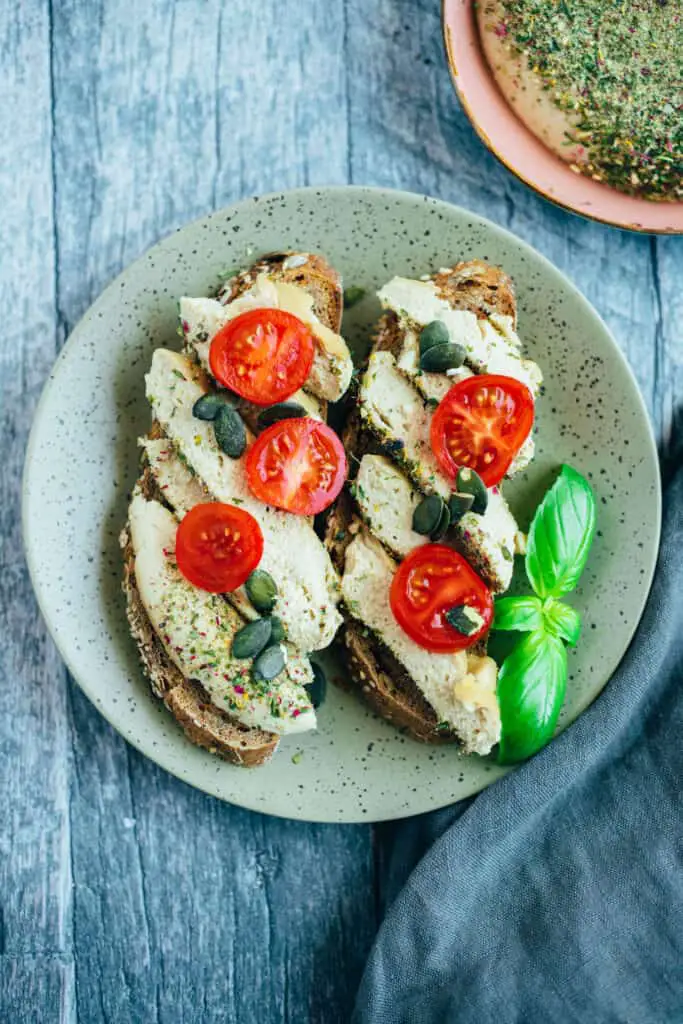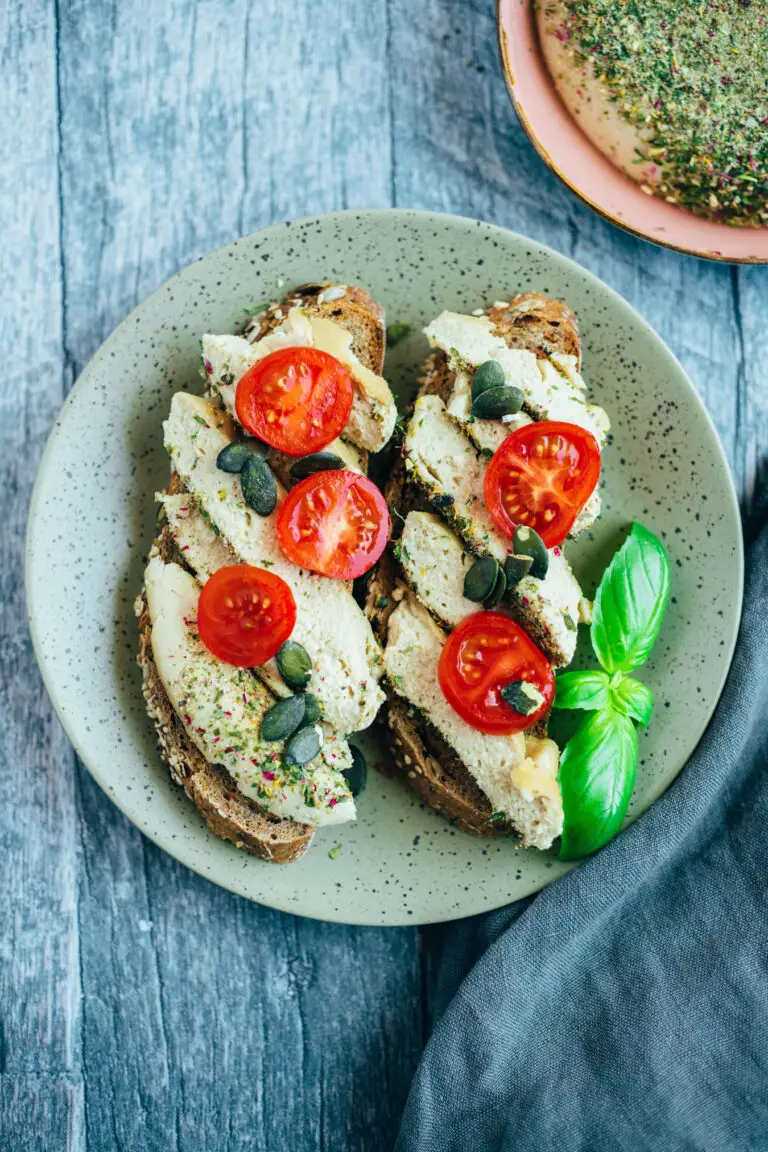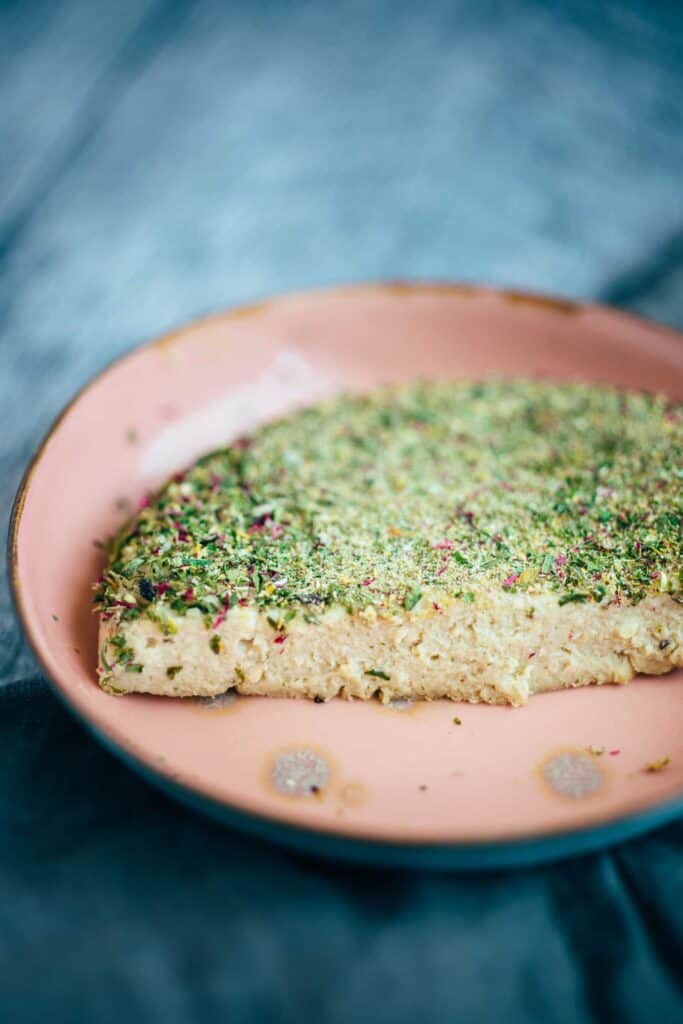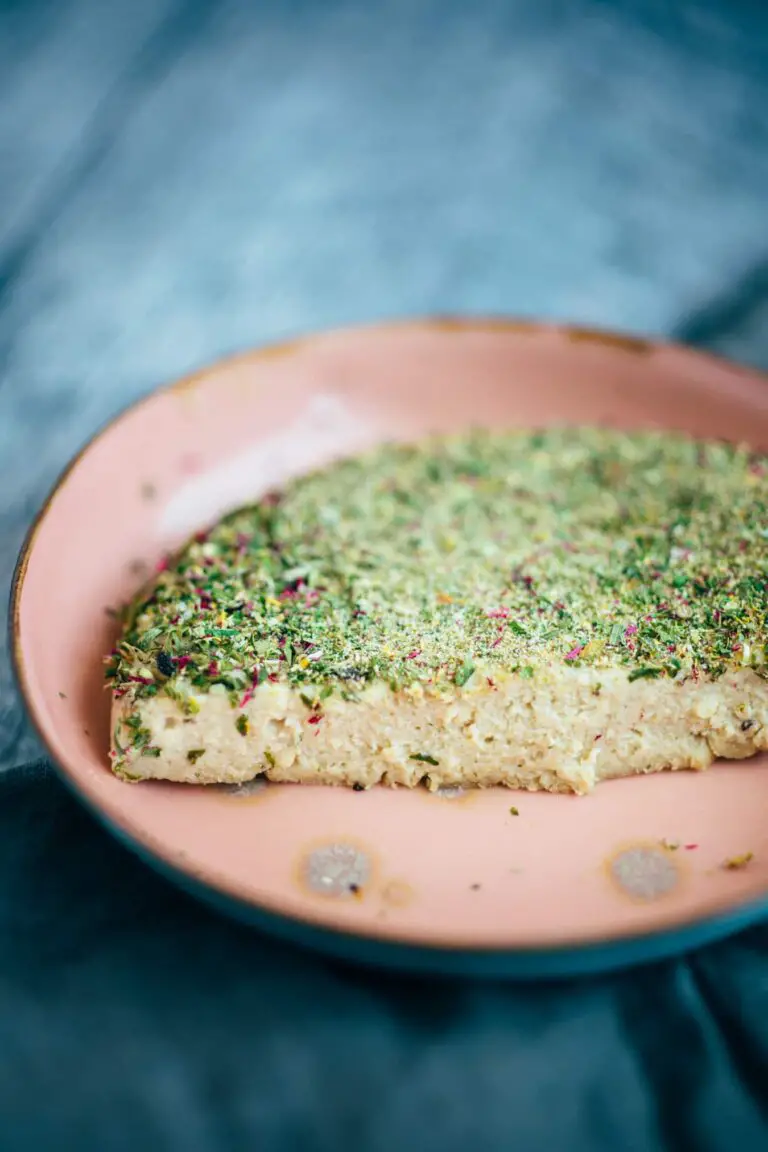 One or the other critic would now remark that the vegan cheese does not taste like real cheese. That may well be true, but is the goal really to make everything as authentic as possible? I'm more concerned with finding plant-based alternatives for cheese. Of course, they should also taste great and they do. Promise! With mold we do not work today yet, for this there is a very simple variant.
Vegan cheese sandwich? No problem!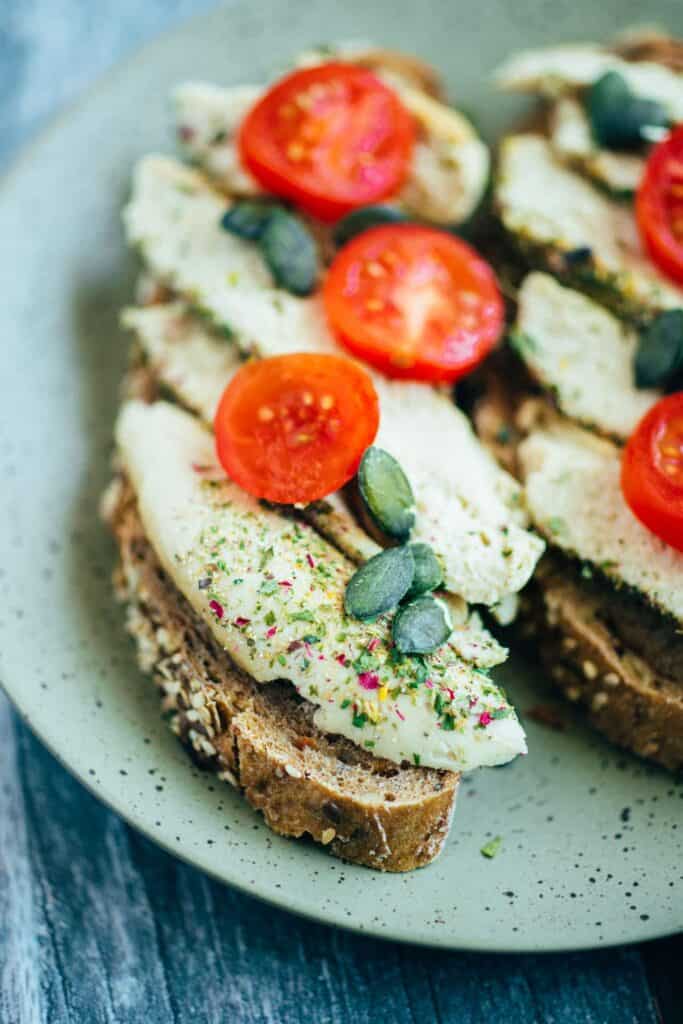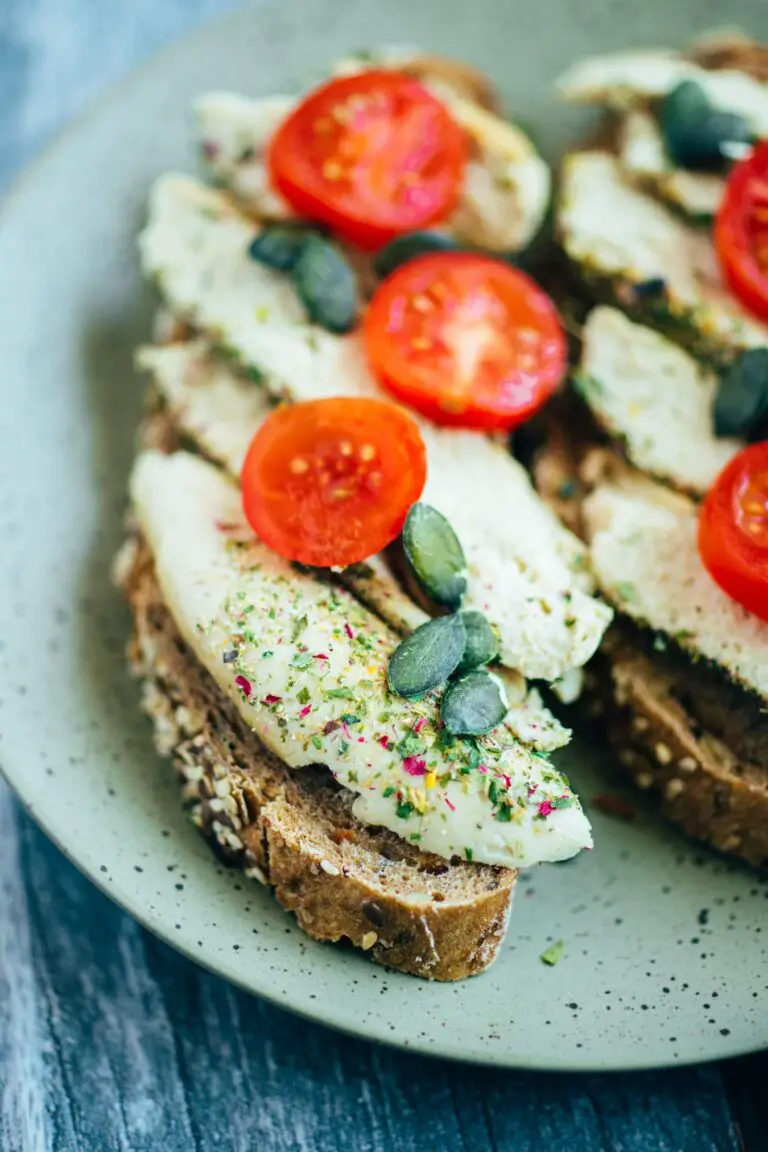 For the vegetable cheese you need once again a powerful blender, as so often in the vegan cuisine . I've linked you to my blender below. Especially when processing nuts in the vegan kitchen, it is indispensable to acquire good equipment. This simply makes it faster and the result will be great!
Let's move on to the ingredients, Cashew nuts , water, corn starch, nutritional yeast, lemon juice, olive oil, salt, garlic granules and optional white miso paste. Finally, our cheese is wrapped in dried herbs and our plant-based cheese is ready.
Plant-based cheese makes mood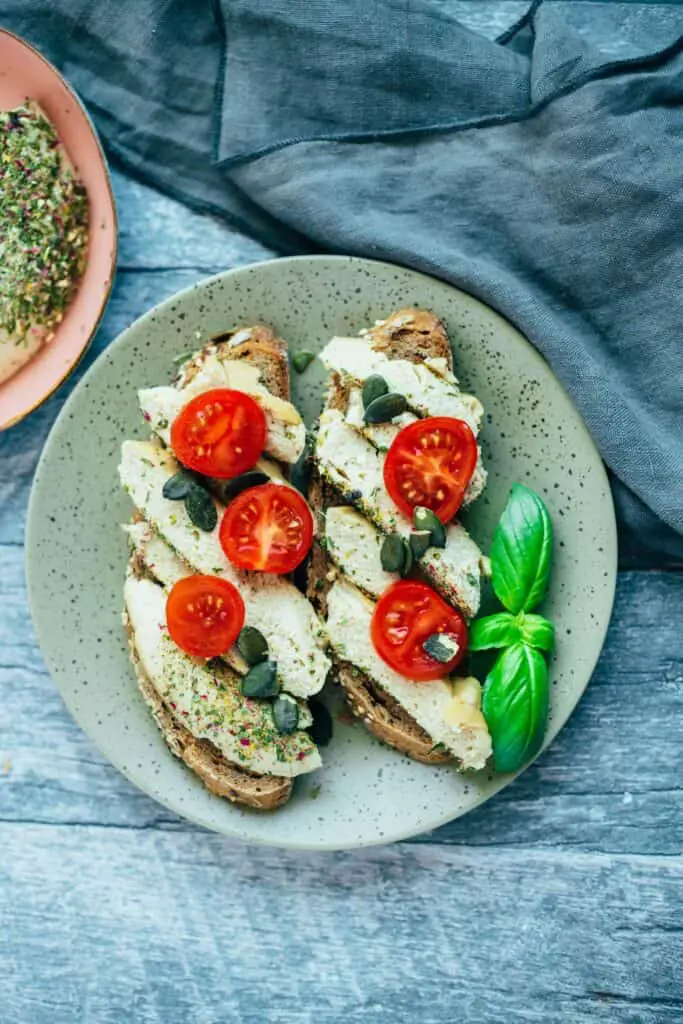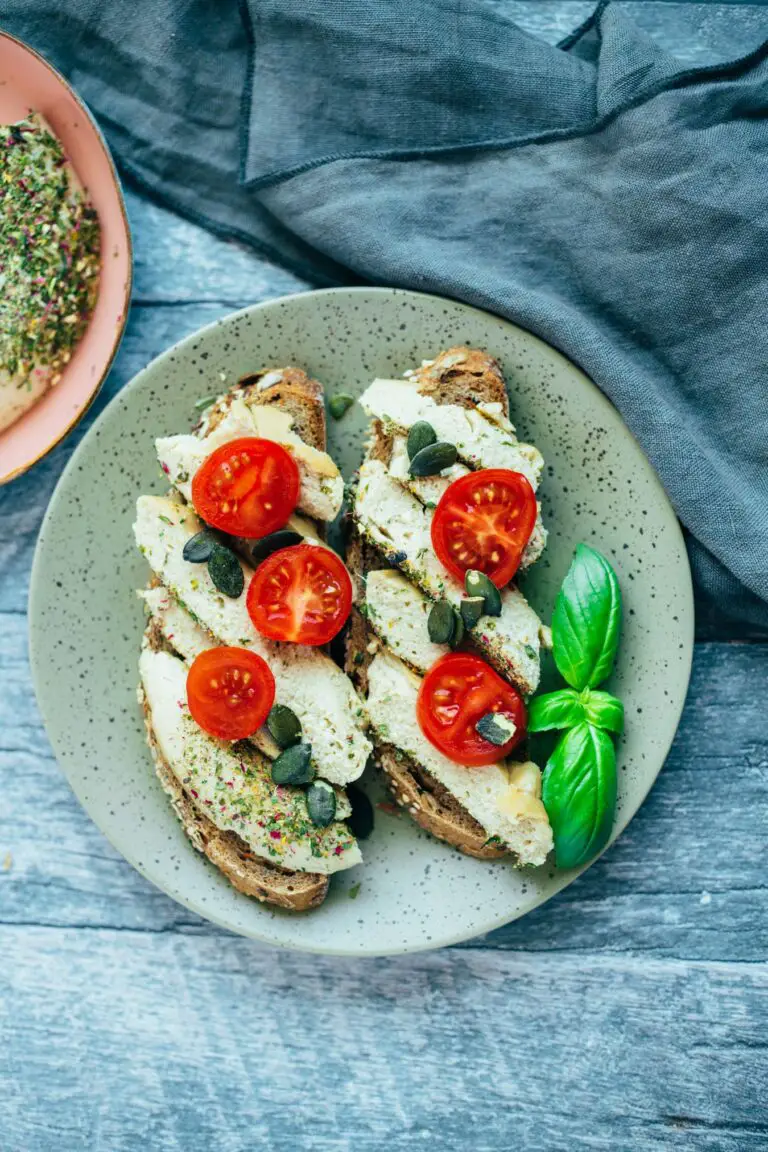 What else should you pay attention to during production? Here are my top tips and tricks:
Cashews should definitely be soaked if you don't have a high-powered blender in the house. There are three very good methods for soaking, which you will find at the very bottom of the preparation steps.
While mixing, always make sure to push the mixture down the sides with a scraper . In this way, you ensure an even result.
The finished cheese is best pressed into an airtight sealable food box, so you can store it neatly covered in the refrigerator.
This soft cheese is wonderfully versatile and is especially good on a piece of sourdough bread or Roll , crackers, as a topping on a delicious salad , Pasta , or just to snack on.
The vegan cashew soft cheese is:
Soft cheese-like
mild
neutral
Easy to manufacture
versatile
If you are also such a big " Cheese " fan like me, then I'm happy about a rating at the bottom of this page. If you post a picture, use the hashtag #veganevibes.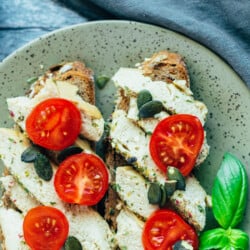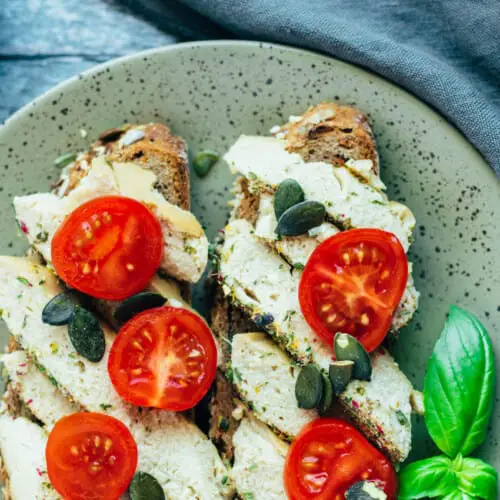 Vegan cheese with herb coating
Simple vegan "cheese" that is uncomplicated to make. Versatile for many simple dishes, with a neutral, mild and slightly cheesy note. Perfect pure on a slice of bread or for the vegan snack plate.
AUTOR: VEGANEVIBES
Anleitung 
Soak cashews according to one of the SOAK METHODS mentioned at the very bottom.

After soaking time, strain and place in blender.

Place in a high-powered blender along with water, cornstarch, lemon juice, nutritional yeast, olive oil, garlic granules, lemon zest, sea salt and pepper and blend until smooth and creamy. Start at low speed and slowly increase the speed. Keep pressing down the sides with a scraper.

125 ml Water,

60 g Cornstarch,

30 ml Lemon juice,

33 g Nutritional yeast flakes,

15 ml Olive oil,

½ tbspn Garlic granules,

1 tbspn freshly zested lemon peel,

½ tbspn Sea salt,

Pepper to taste,

(Option 1) Italian herbs,

(Option 2) Herbs de Provence,

other herb mixture of your choice

Heat pan to medium heat and pour in cashew mixture. Stir evenly with a silicone spatula until the mixture begins to thicken.

Continue stirring until the mixture clumps together to form a large uniform ball.

Press into a bowl or airtight box and place in refrigerator.

Allow to cool for

one hour

.

Remove from refrigerator and take cheese out of the box. To do this, carefully peel off the edges with a silicone scraper and invert.

Put mixture with dried herbs on a plate. Roll cheese in it until it is covered with the herbs.

Keeps up to 5 days airtight in the refrigerator.
Nährwertangaben
Serving:
12
Piece
Calories:
891
kcal
Carbohydrates:
93
g
Protein:
27
g
Fat:
51
g
Saturated Fat:
8
g
Sodium:
232
mg
Potassium:
810
mg
Fiber:
12
g
Sugar:
5
g
Vitamin C:
11.6
mg
Calcium:
28
mg
Iron:
6
mg