Oyster mushroom steak for the Grill my dears, just wonderful, isn't it? I'm really obsessed right now with finding new Barbecue Recipes to find. It can not be that many still believe that you can not reasonably grill without meat. It's time to prove them wrong, and on the basis of mushrooms. Why actually Mushrooms and nothing else? The question is quickly answered, because the plants remain cooked and Barbecue dimensionally stable and retain a great bite. In addition, they are ideal for marinating and the shape also reminds a little of a steak. In terms of ingredients, the Mushrooms also quite in front, but more on this further down in the text. So my dear ones, fire up your Grill and look forward to this delicious steak. I'm sure one or two envious glances will come.
Oyster mushroom steak for the grill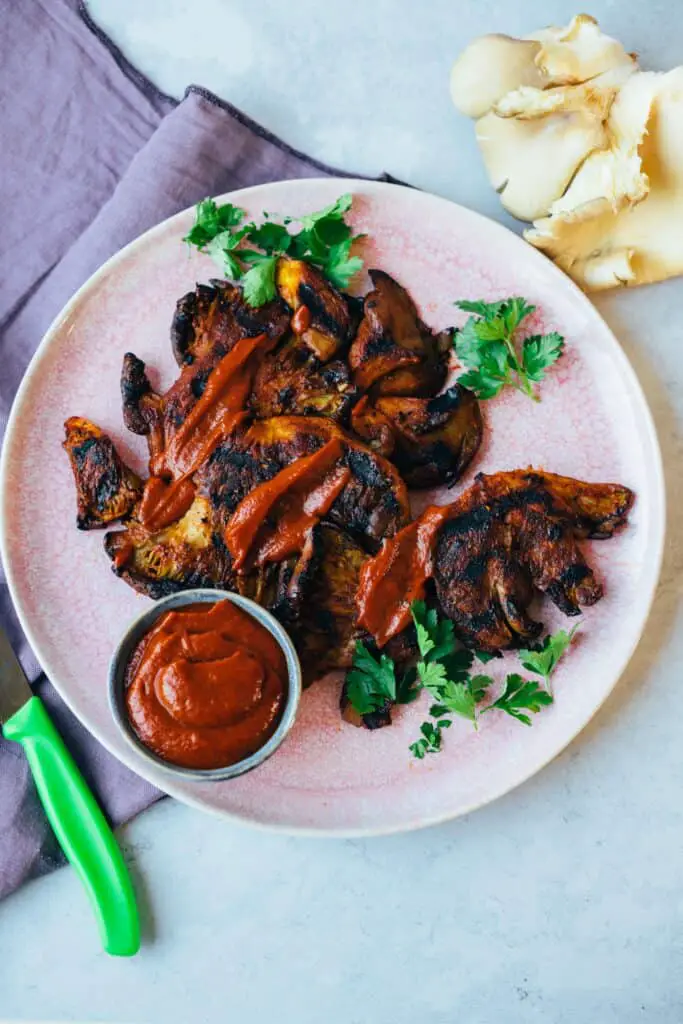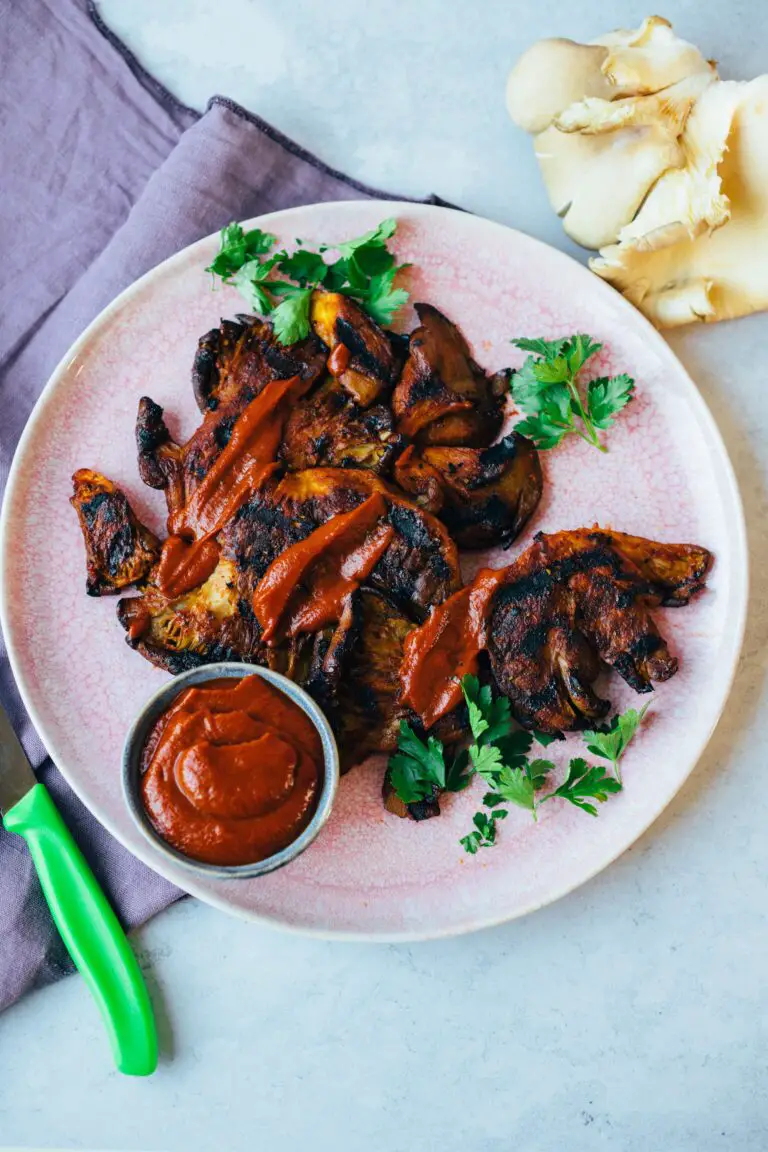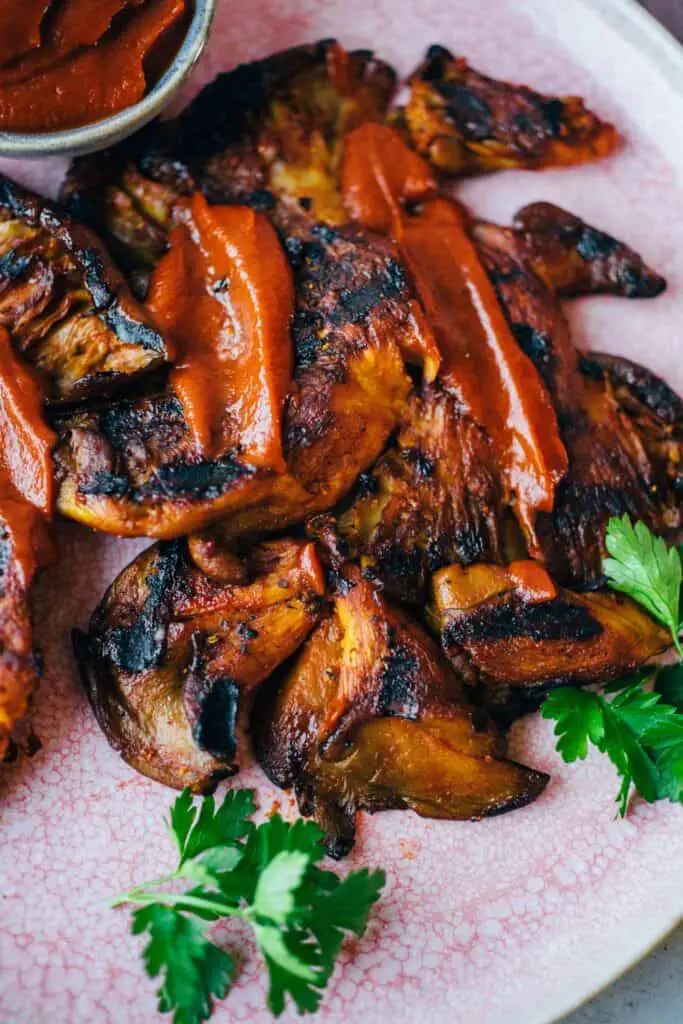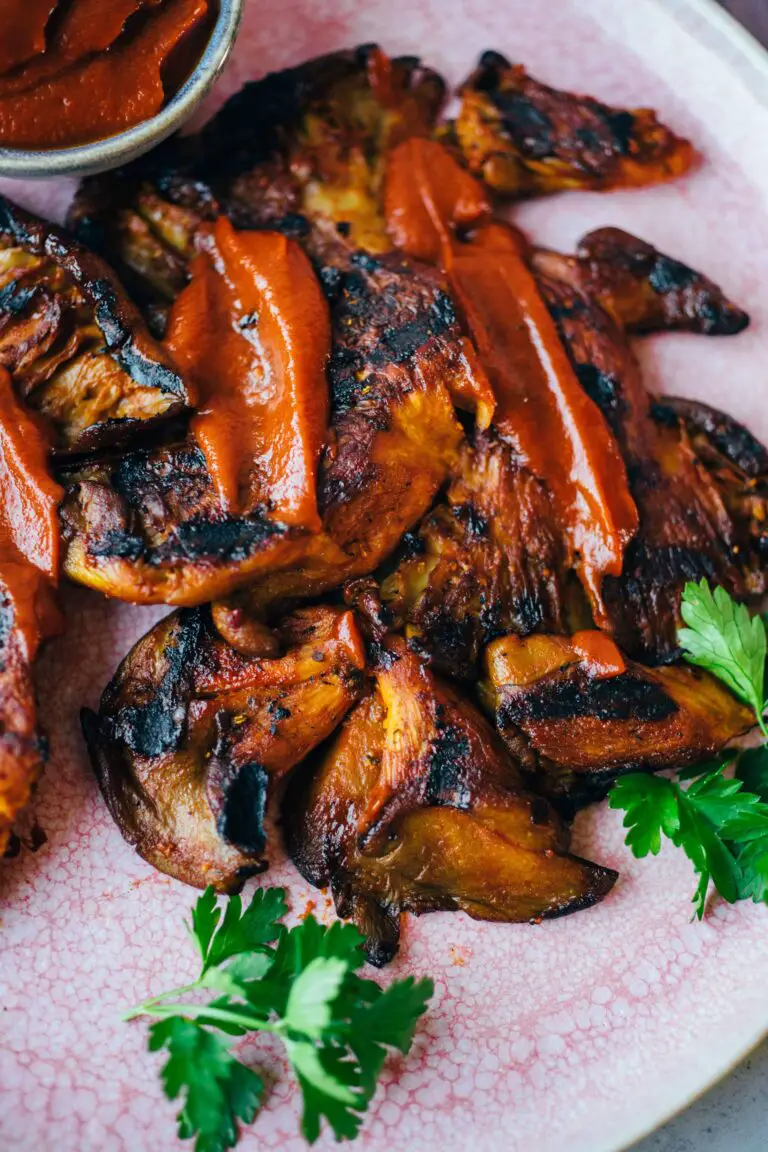 The first step for a successful execution of this Recipe is the selection of the right mushroom. Oyster mushrooms are best for the steak, as they have a cluster-like structure and are large enough in area to form a "steak". Surely you are asking yourself the question, where is the best place to get large oyster mushroom clusters? I always buy them at Alnatura in the vegetable section, I always get fresh large mushroom clusters there. Otherwise, you can also order them through a local Ökokiste or through a Online shipping . Here I have discovered one, from which I have also immediately ordered once on a test basis. Sounds at least already good, is certified organic and is shipped free of shipping costs from two kilos or 35€. I will certainly report again soon about the quality.
TIP: The bigger mushroom clusters you get, the better. They then form into a great steak. However, smaller mushrooms also work, no problem!
Vegan barbecue, get out the mushrooms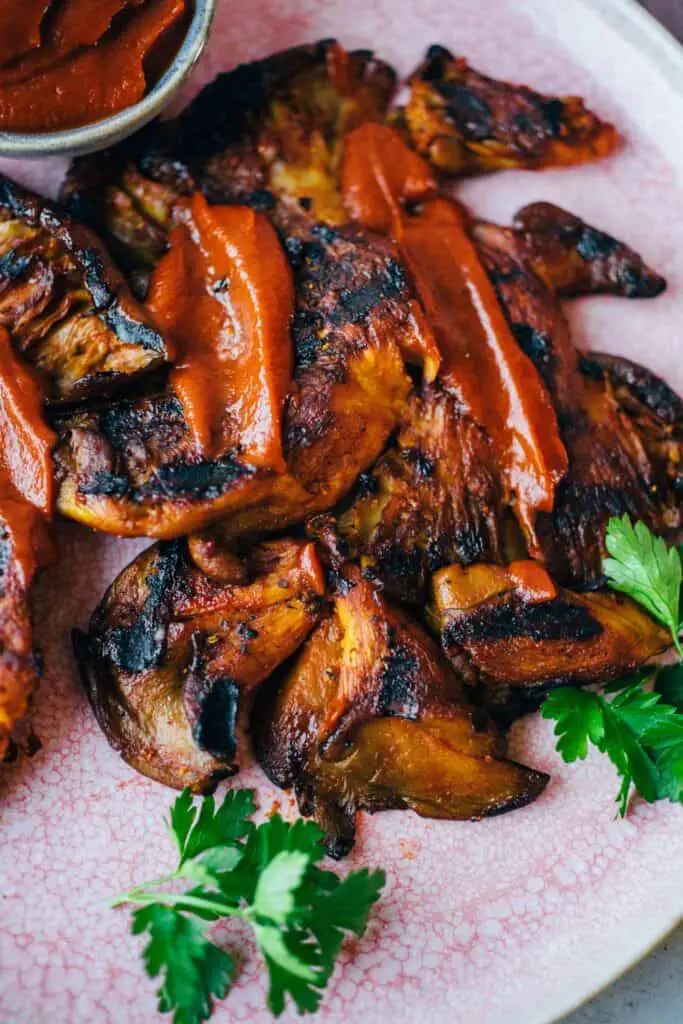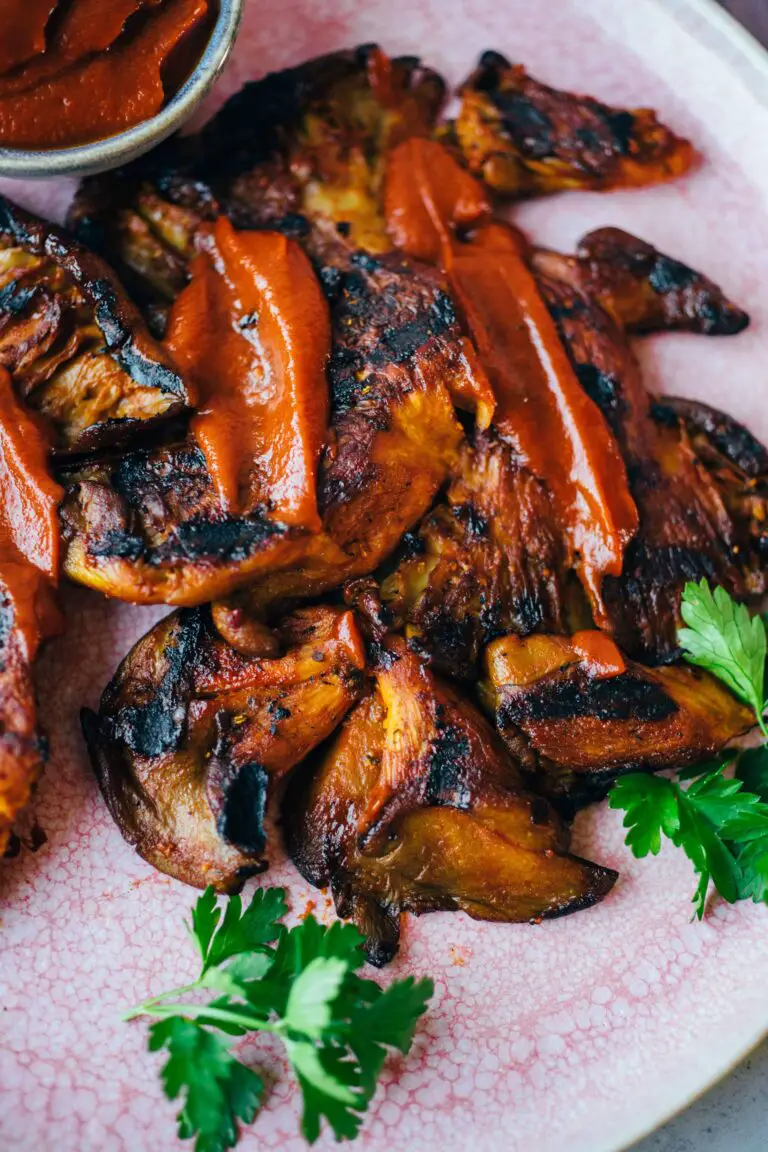 The equipment is the most important thing to get the steak in shape. why? It needs weight from above. If you are the proud owner of cast iron pans, at this point congratulations. The dead weight of the pans ensures that the Mushrooms are pressed down really nicely. I use regular pans and put an extra pot in there (see video), that works great too.
Other than that, all you need are some BBQ tongs, some BBQ seasoning, salt, pepper and a wonderful marinade made from BBQ Sauce and dark beer. Those who do not like alcohol, like to use non-alcoholic beer. If you don't like grilling the steaks, then you can just put it marinated on a baking sheet and finish it in the oven.
How healthy are actually oyster mushrooms?
If I am completely honest, that I must simply say it at this point: I am so much of enthusiastically from Mushrooms that I just let out a true rutting cry when ordering my mushroom box online(sorry to all the wild animals around here that I may have scared away with it). Oyster mushrooms are seasonless and so incredibly valuable for health, just great.

Here are the facts:
Very low in calories with 35 kcal per 100g
Highest vitamin B3 content (niacin) of all cultivated mushrooms (supports muscle and nerves)
Rich in B vitamins, including folic acid
Contains pleuran, a valuable antioxidant (protects our body cells from free radicals).
Contains lovatstatin, a substance that can have a positive effect on cholesterol levels
High caium content (beneficial for blood pressure)
Low in calories, fat-free and rich in healthy fiber
CONCLUSION: Oyster mushrooms are very valuable for our health and offer especially vegan living people a number of benefits. They are free of fat and carbohydrates, but still rich in valuable fiber and protein. Just 200g of the mushrooms cover a third of the recommended requirement of dietary fiber.
What goes with our "healthy" steak today? A Salad with tamari mushrooms , Potato salad or Pasta salad with cucumber . Yum!
The oyster mushroom steaks for the grill are:
smoky
juicy
hearty
filling
Easy to make
Are you ready for these delicious steaks? I wish you a lot of fun in recooking and of course a review at the bottom of this page. If you post a picture, feel free to use the hashtag #veganevibes.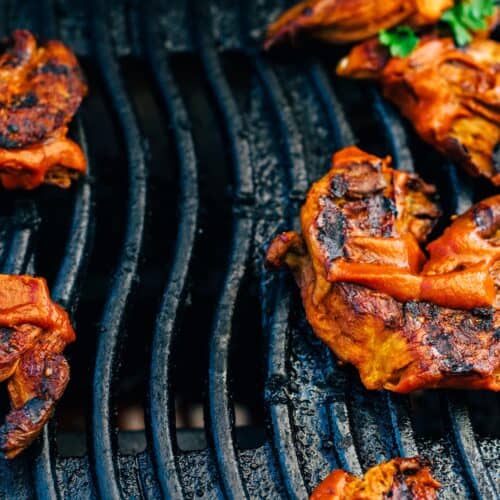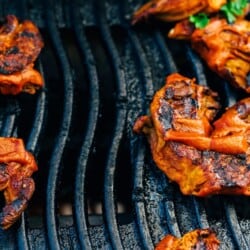 Oyster mushroom steak for the grill
Juicy, aromatic oyster mushroom steak for the grill or the oven. Deliciously marinated, they are the perfect vegan alternative for those who like it hearty and healthy.
AUTOR: VEGANEVIBES
15-30

ml

Olive oil

or other high-heat oil of choice

500

g

large oyster mushroom clusters

in diameter about the size of a splayed hand

2-3

tbspn

Barbecue spice of choice

1

tbspn

Garlic granules

no fresh garlic, it would burn

½

tbspn

Salt

250

ml

dark beer

alternatively black beer, preferably non-alcoholic

125

ml

Barbecue sauce

more to taste, or another sauce for marinating of your choice(VV RECIPE)

More olive oil to taste
SUPPLIES:
Olive oil

extra virgine

Fresh herbs of choice

Lemon slices

Salt and pepper
Anleitung 
Oyster mushrooms do not need to be cleaned unless there is soil residue on the mushrooms. Cut the style a little, if there are still remnants of soil and straw.

Heat a frying pan, add olive oil.

Place oyster mushroom clusters in pan and place another pan on top. If the pan is not very heavy, put another pot in the pan to put extra weight on it (see video!).

500 g large oyster mushroom clusters

After 2-3 minutes, remove pan and season with BBQ seasoning, salt and pepper. Turn mushroom over once and season the second side. Place pan (and/or pot) on top and pan fry for another 5 minutes. Remove pan again, turn it over and let it sizzle for another 5 minutes.

2-3 tbspn Barbecue spice of choice,

1 tbspn Garlic granules,

½ tbspn Salt,

Pepper to taste

TIP: Don't be afraid of heat, the mushrooms can be sautéed really hot.

In the meantime, mix the marinade by putting BBQ sauce and dark beer in a bowl and whisking well.

250 ml dark beer,

125 ml Barbecue sauce

Remove mushrooms from pan and place in a baking dish. Pour marinade over them until the mushrooms are well covered with it.

Either grill immediately, or marinate for another 4 hours or overnight.

Just before grilling, remove from refrigerator and grill for 3-4 minutes on each side. Enjoy with additional sauce and side dishes of your choice.

ALTERNATIVE: Heat oven to 200 degrees convection or broil setting. Place the marinated steaks with some extra sauce on a baking sheet (with baking paper or shallow baking dish) and bake for 20 minutes.

Best fresh.
Nährwertangaben
Serving:
1
Portion
Calories:
159
kcal
Carbohydrates:
23
g
Protein:
5
g
Fat:
5
g
Saturated Fat:
1
g
Sodium:
395
mg
Potassium:
637
mg
Fiber:
4
g
Sugar:
12
g
Vitamin A:
623
IU
Calcium:
14
mg
Iron:
2
mg