Simply pizza rolls with Pesto and I immediately have to think of one Pizza that I used to love. The dear calzone, which I'm pretty sure will also be here soon as a Recipe will make. At the moment it is anyway so that one generally spends a little more at the home stove. Maybe now is the right time to finally dedicate yourself to your cooking skills and try things you've been putting off for months and years. Nevertheless, it is strange what is currently happening and you have to get used to the fact that the virus paralyzes the whole world. My grandma had her 95th birthday this week and I almost felt a little sorry for her when we congratulated her through the open window with a distance of 5 meters. She had made herself up and prepared a cake. Sorry grandma, that will have to wait and you just have to get much older. Let's just dedicate ourselves to the beautiful things and venture into this ingenious pizza roll. Are you ready?
vegan pizza rolls with pesto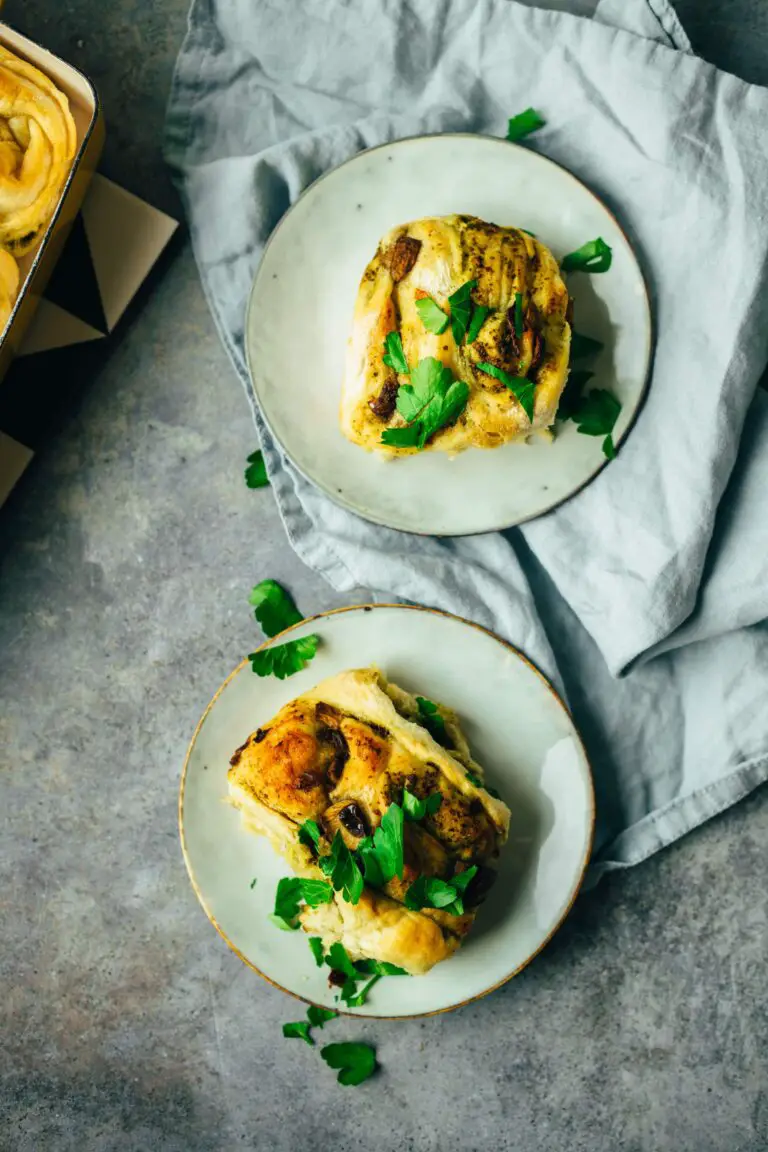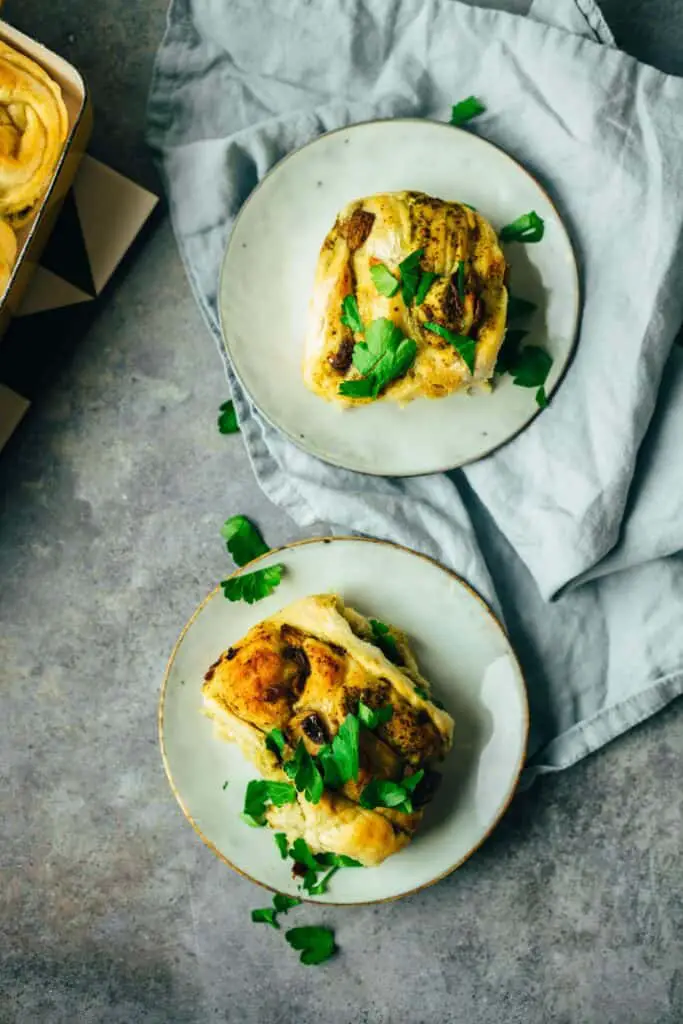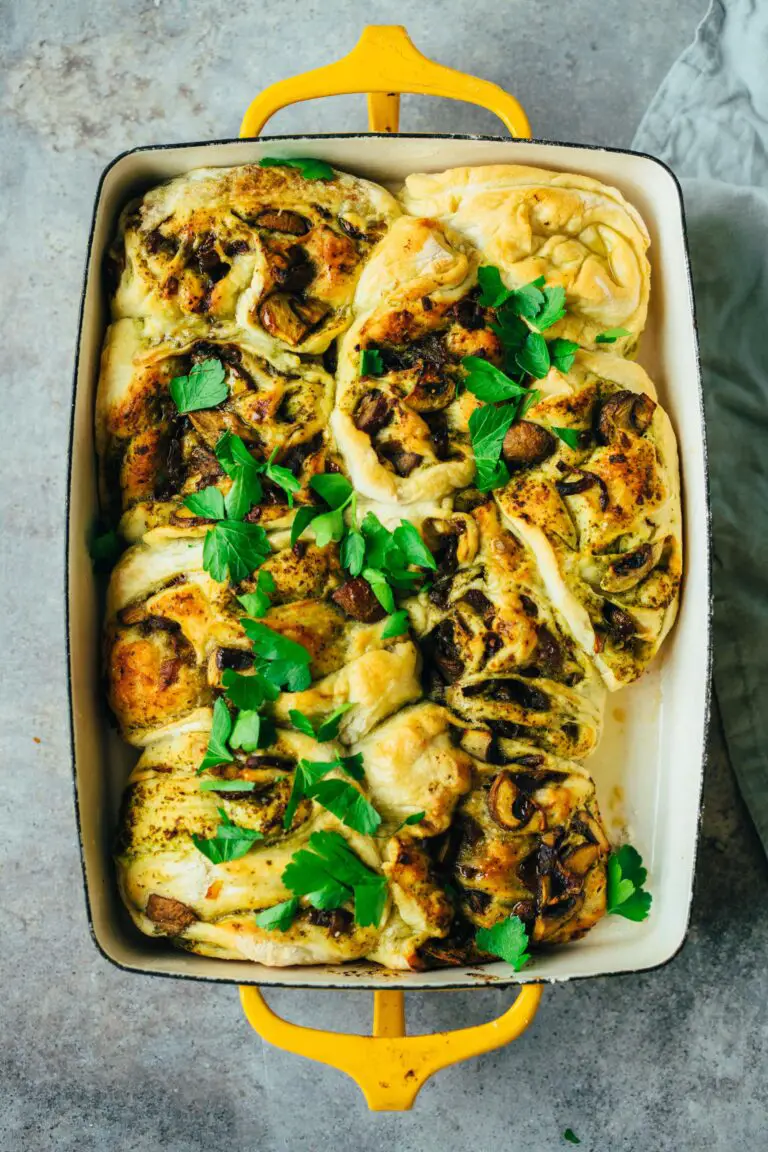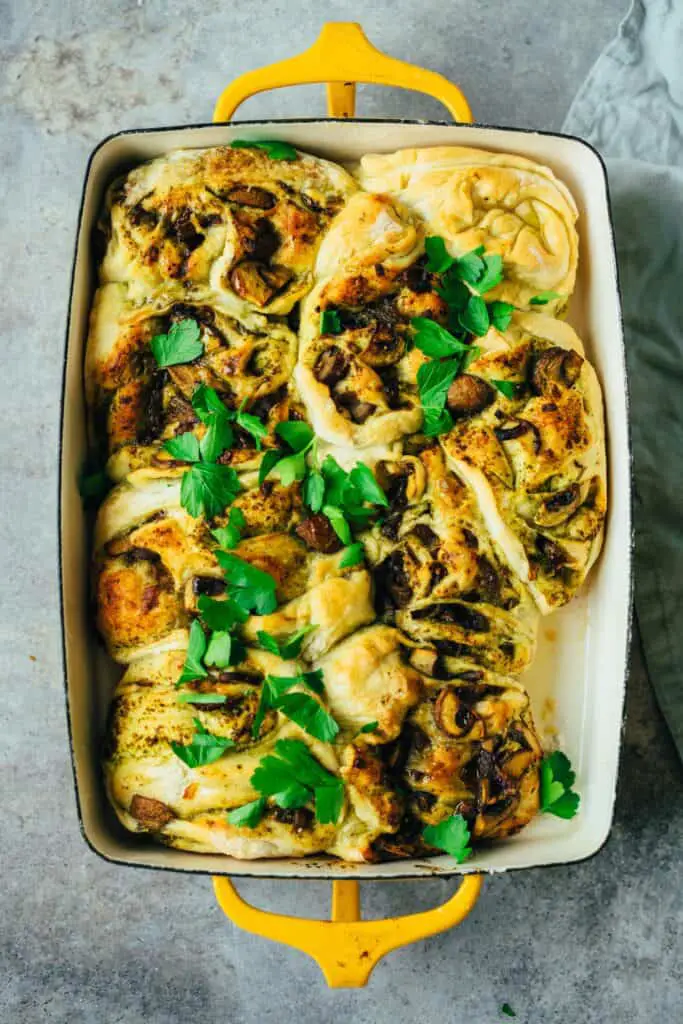 You know, what I would like to note again at this point. I am not perfect and it is not my claim to become so. I like it casual and loose, just like these rolls. Not picture book, but like real life when the dough is just too soft and resists being twisted into a roll. I felt the same way this time, I wanted the perfect picture and the perfect pizza roll which I then wanted to capture in a perfect picture wanted to capture. It became casual rolls that are sensational in taste. Addiction factor guaranteed.
The rolls are basically made of a yeast dough, Pesto and a filling of onions, mushrooms and tamari. For the Yeast dough I used yeast, water, sugar, salt and flour. At the moment, you're already one of the lucky ones if you catch a yeast at all. That is why I used fresh yeast, but it works without problems with dry yeast.
For the filling I use red onion, garlic, mixed Mushrooms and tamari. The Pesto you can always make yourself, but this time I opted for a ready-made version from the organic supermarket. At this point, feel free to get creative and refine the filling even further to your taste. Spinach, vegan mozzarella , dried tomatoes, everything is allowed.
Pizza, when, where?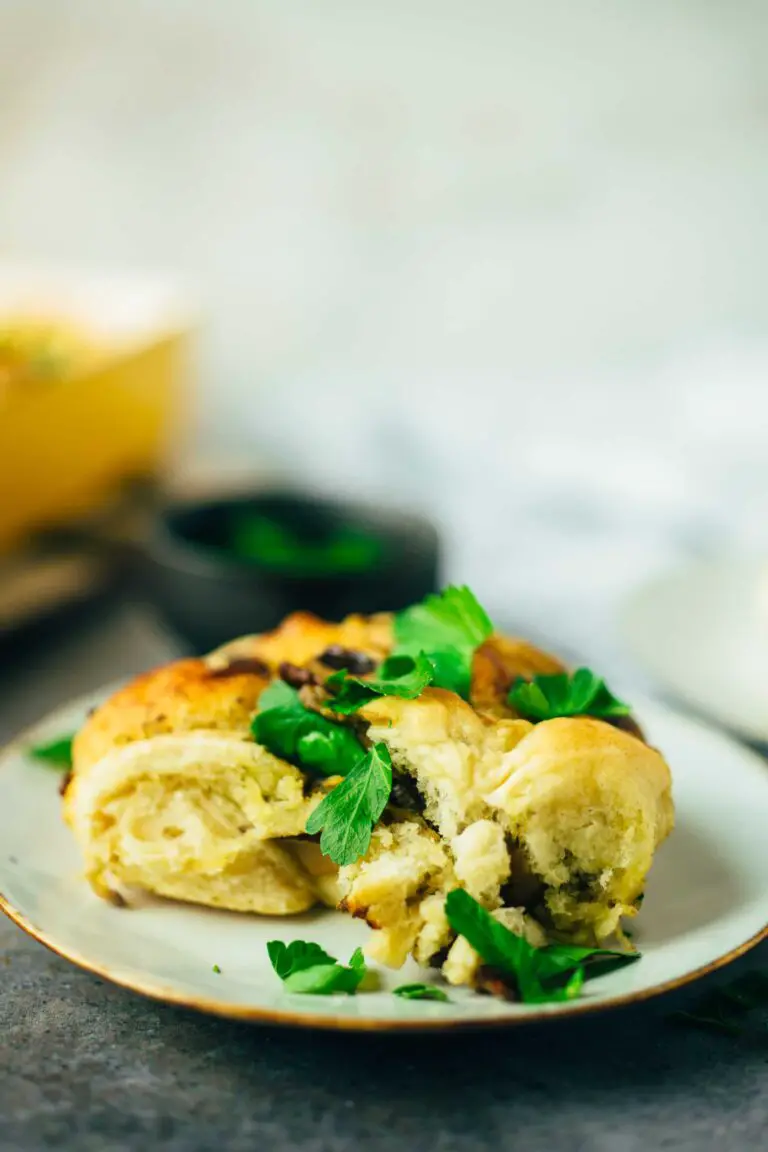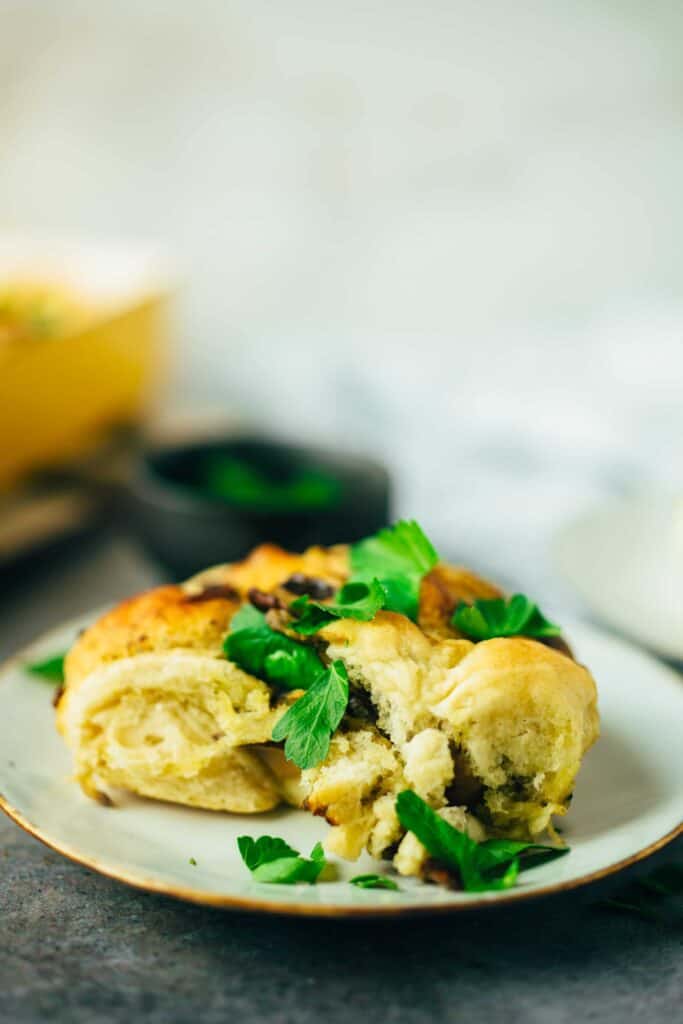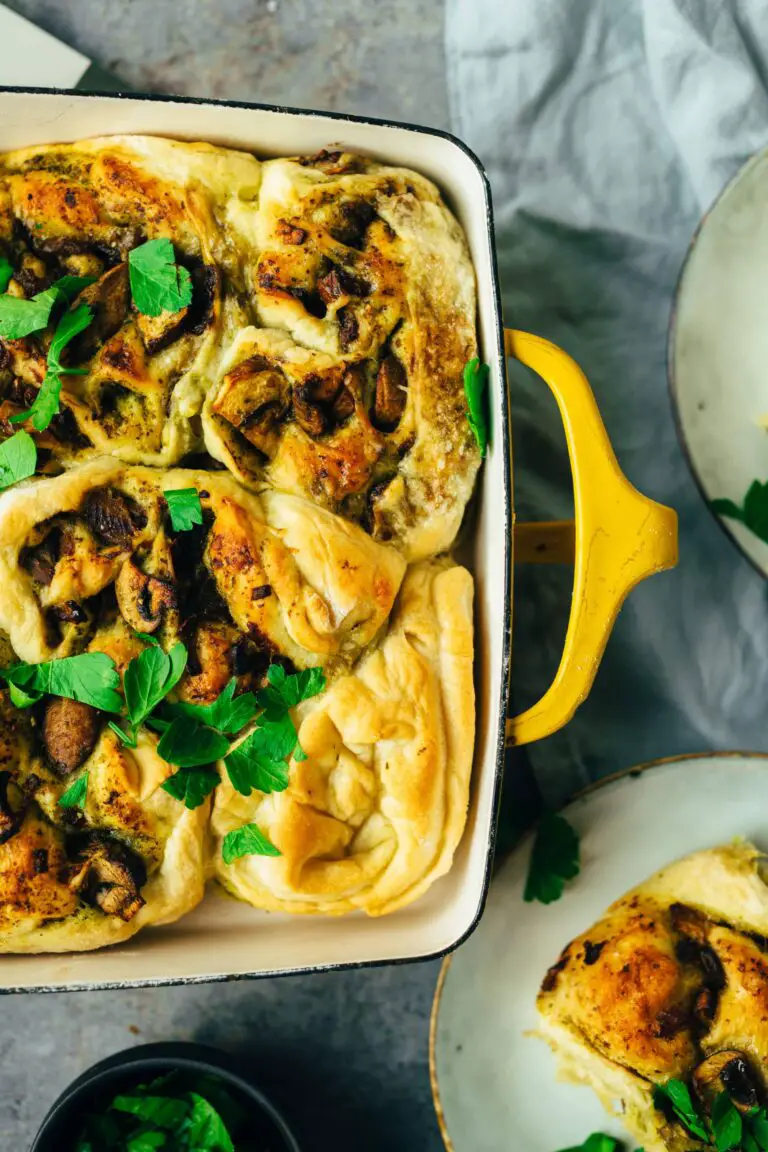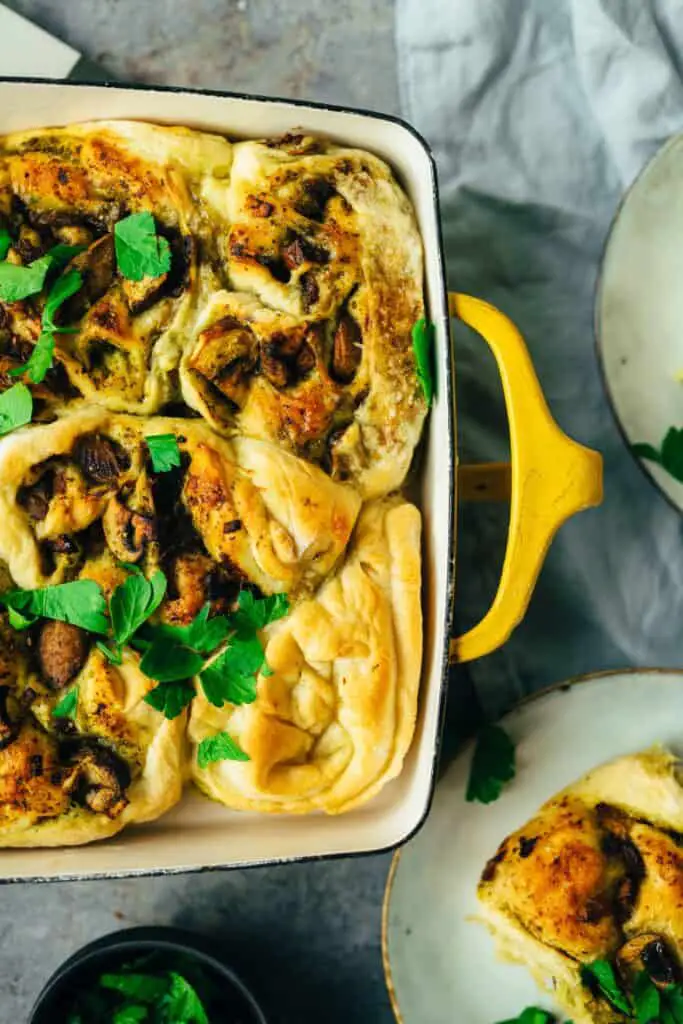 Pizza always goes with me and I can never say no. When it comes to rolls, there are one or two challenges in manufacturing. I want it to work smoothly for you, so I'll enlighten you right now about potential pitfalls:
The dough should have a Good strength if it is too soft, it will be more difficult to process, as it can tear easily. Just use a tad more flour and knead well and don't roll out too thin.
Stuffing of mushrooms and onion ideally leave to cool otherwise the heat will make the dough soft and mushy and not roll well.
Carpet pad always cover well with flour because nothing is more annoying than when the dough sticks to the underside when rolling.
If you don't feel like Pizza rolls today, then I recommend you my Simple vegan pizza , Pizza with ricotta and green asparagus or Tex Mex pizza with vegan mayo .
The pizza rolls with pesto and mushrooms are:
aromatic
Light
hearty
filling
Easy to make
Are you ready for these Pizza roles? I wish you a lot of fun in recooking and of course a review at the bottom of this page. If you post a picture, use the hashtag #veganevibes.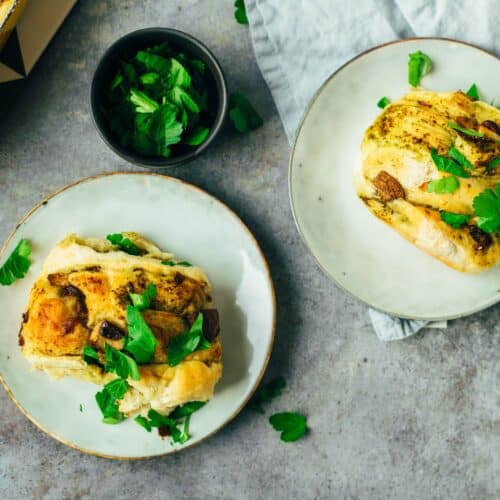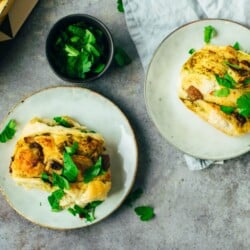 Pizza rolls with pesto and mushrooms
Delicious, aromatic and fluffy pizza rolls with pesto and mushrooms. Vegan, lactose-free and hearty filled. Perfect together with a fresh salad for a lunch or dinner.
AUTOR: VEGANEVIBES
FOR THE DOUGH:
190

ml

Lukewarm water

½

Piece

Fresh yeast

alternatively half a package of dry yeast

½

tbspn

Raw cane sugar

1

tbspn

Salt

240

g

Spelt flour

alternatively another gluten-containing flour of choice
FOR THE FILLING:
15

ml

Frying oil

or another high-heat oil

1

Piece

red onion

finely chopped

2

Piece

Garlic cloves

pressed, or 1 tsp garlic granules

½

Cup

Mixed mushrooms

30

ml

Tamari

or other soy sauce of choice, alternatively ½ salt
TO COAT:
45

g

Pesto

more or less at will, homemade or ready from the jar
Anleitung 
FOR THE DOUGH put lukewarm water, yeast, sugar, salt in a bowl and stir with a whisk or with your hands until the yeast has dissolved. Add 4 tablespoons of flour and mix with your hands until a loose dough forms. Add remaining flour and continue to stir and knead until a smooth dough is formed. Cover and let rise a warm (not hot!) Place without drafts for an hour.

190 ml Lukewarm water,

½ Piece Fresh yeast,

½ tbspn Raw cane sugar,

1 tbspn Salt,

240 g Spelt flour

NOTE: Yeast bacteria do not like it too hot or too cold. Always choose a medium, warm temperature.

While the yeast dough is rising, add the FILLING manufacture. Heat the pan, pour in the oil. Sauté onion and garlic, add mushroom mixture and deglaze with a sip of water. Put the lid on and steam for 10 minutes. Then deglaze with tamari and simmer until the liquid has evaporated.

15 ml Frying oil,

1 Piece red onion,

2 Piece Garlic cloves,

½ Cup Mixed mushrooms,

30 ml Tamari

After the rising time, transfer the dough to a floured work surface and knead well again with your hands. The dough should have a smooth, firm consistency. Put on a base with which you can roll up the dough afterwards. I used a permanent baking mat, but sustainable foil or a clean kitchen towel will also work.

Now preheat oven to 200 degrees convection or pizza level.

Dough square on the floured!!! Roll out the dough, spread with pesto. Spread mushroom and onion mixture on top and roll up starting with one of the short seams.

Using a dough scraper, knife or thread, cut off rolls about 3-4 cm wide and place them in the prepared baking pan with one cut edge facing up.

Place in the oven and bake for

20 minutes

, until the rolls are really nice and crispy browned on the surface.

Remove from oven, let cool briefly, portion and enjoy with desired toppings.

Olive oil,

Fresh basil,

Vegener parmesan

Alternatively, snack directly from the baking pan.

Best fresh. Keeps up to 2 days airtight in the refrigerator or 1 month in the freezer.
Nährwertangaben
Serving:
1
Portion
Calories:
166
kcal
Carbohydrates:
24
g
Protein:
5
g
Fat:
5
g
Saturated Fat:
1
g
Cholesterol:
1
mg
Sodium:
314
mg
Potassium:
51
mg
Fiber:
4
g
Sugar:
1
g
Vitamin A:
113
IU
Calcium:
9
mg
Iron:
2
mg