Grilled white cabbage steaks are a really fine thing. I'm always looking for new dishes for the grill and I had the idea with the steaks for a long time. Matching are the fine chimichurri lentils and as a crowning finish comes the fine tahini sauce on top. I don't know about you, but I'm a big fan of grilled foods and am always happy when I land a new point load in terms of flavor and texture. We still have our mobile grill that we bought back in Cologne. It is actually designed to take with you to meadows or other barbecue occasions. Now that we live quasi fix in the country, my husband is considering getting a bigger grill. What can I say, I have nothing against it, because the more recipes I can try.
Vegan grilled white cabbage steaks with chimichurri lentils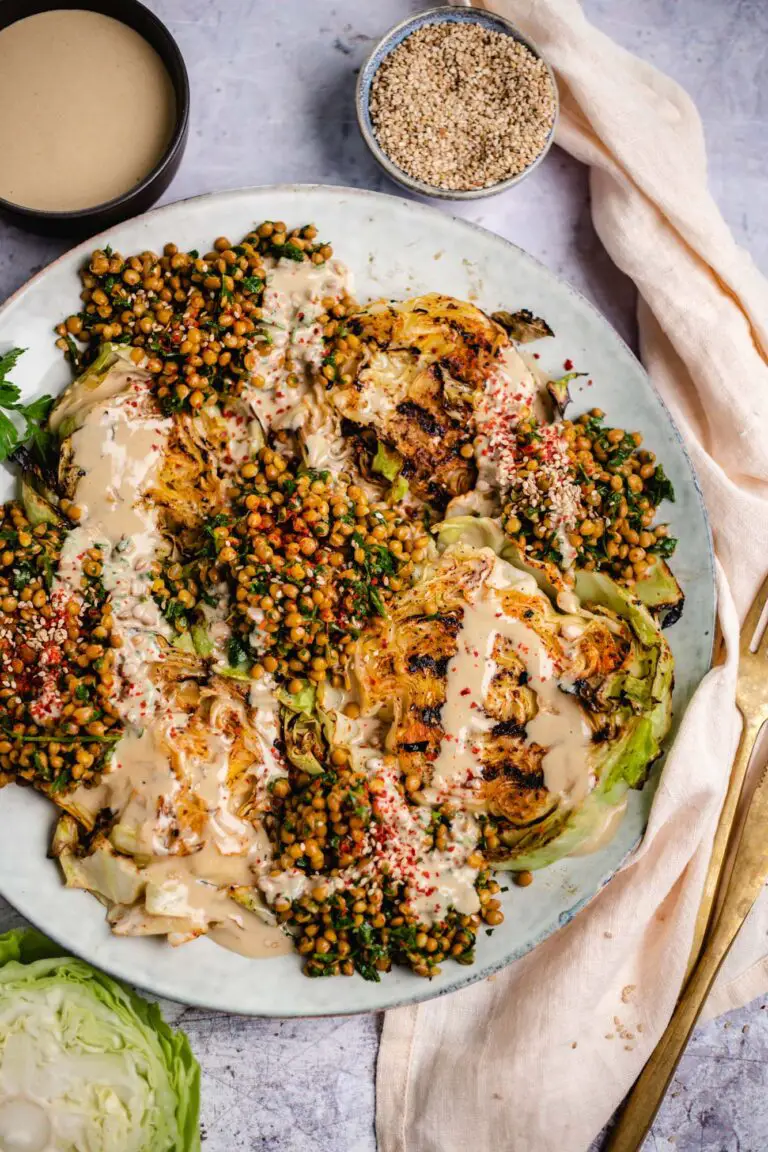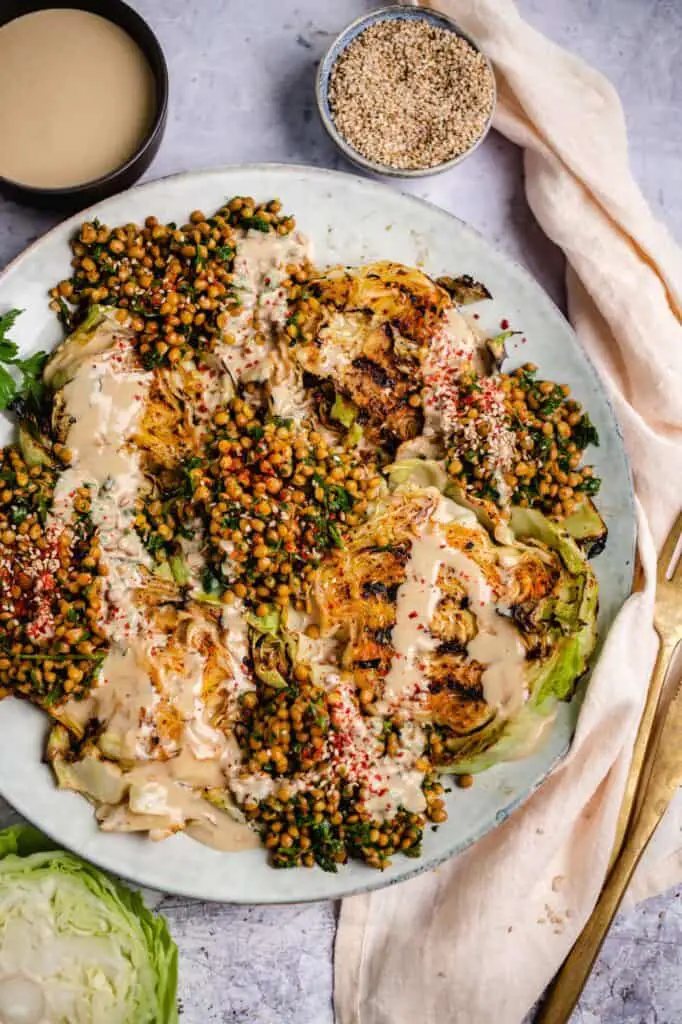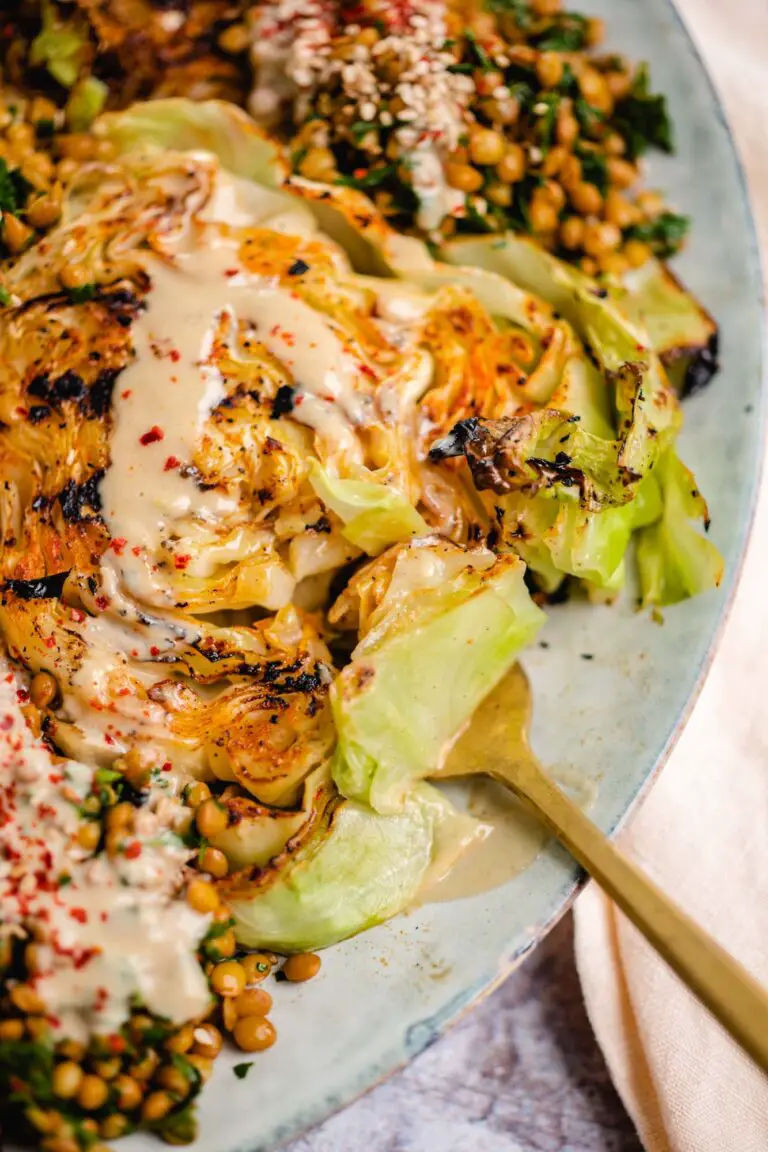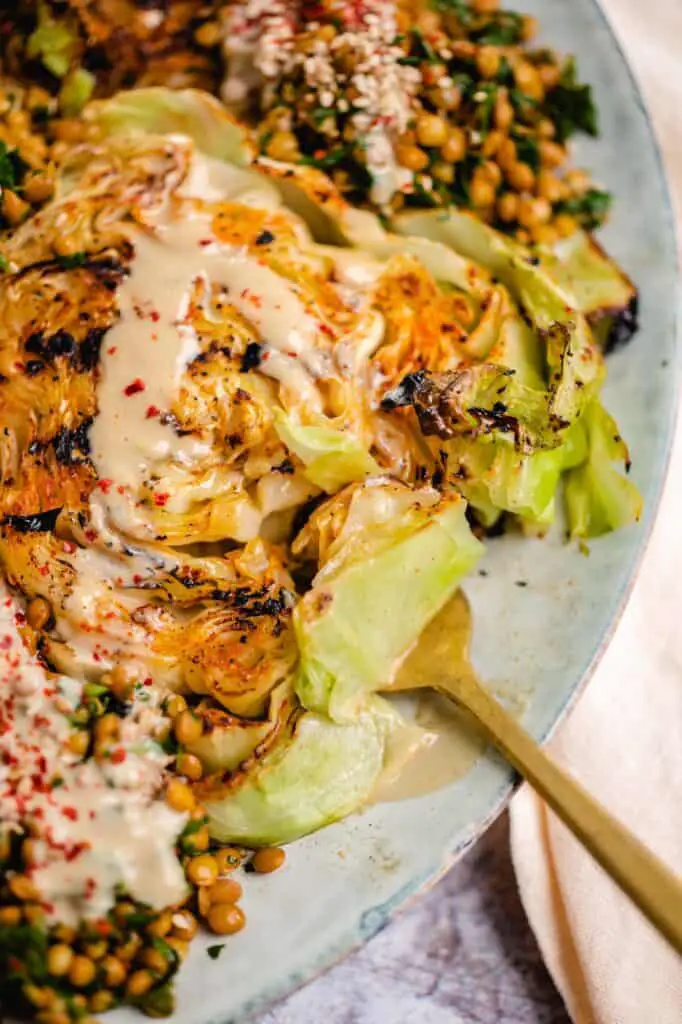 Let's take a closer look at the recipe. First, I make the chimichurri lentils using green lentils and a fine chimichurri sauce. With the lentils you have the choice, you take which directly from the can, or from dried lentils fresh cook. I like both variants very much and if it should go fast, then I also like to reach for the can or the glass. For the sauce we need parsley or other mixed herbs of choice, garlic, lemon, salt, pepper, olive oil and a hot chili sauce. If you do not have them at home, then you can also become another chili variety of choice.
TIP: If you use fresh chili peppers, then I recommend you chop them finely beforehand. Otherwise, they may not be finely processed in the blender.
Next comes the preparation of the tahini sauce and it's really easy. Tahini, maple syrup, salt lemon juice, Dijon mustard, pepper and water to dilute. This all goes together in a bowl or blender and is blended into a fine sauce.
Now all that's really missing are the white cabbage steaks and they'll be ready in no time. Slice white cabbage, brush with oil on each side, sprinkle with salt, pepper and BBQ seasoning to taste and off to the grill. Grill for 5 minutes on each side and the fine steaks are ready.
TIP: Turning the steaks over can be a bit of a challenge. I first tried using barbecue tongs, which didn't work at all. A flat spatula is best. If the steaks fall apart too much, you can also fix them with a skewer.
Vegan dishes barbecue recipes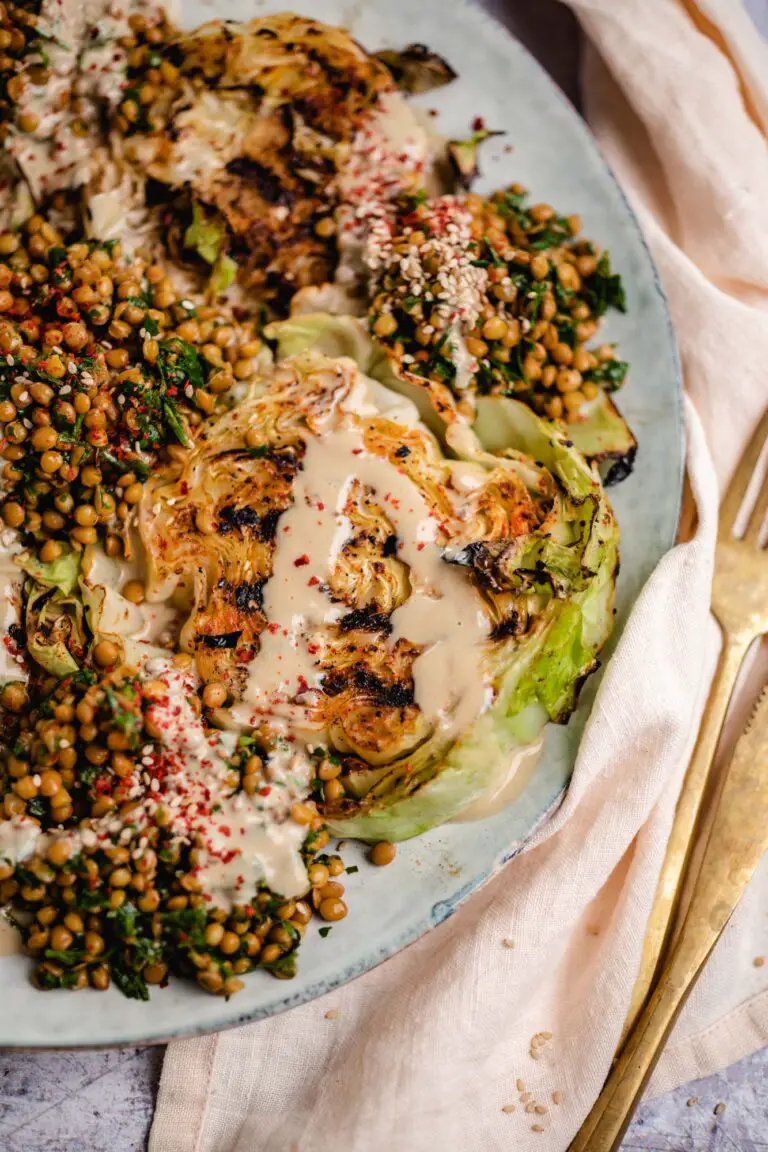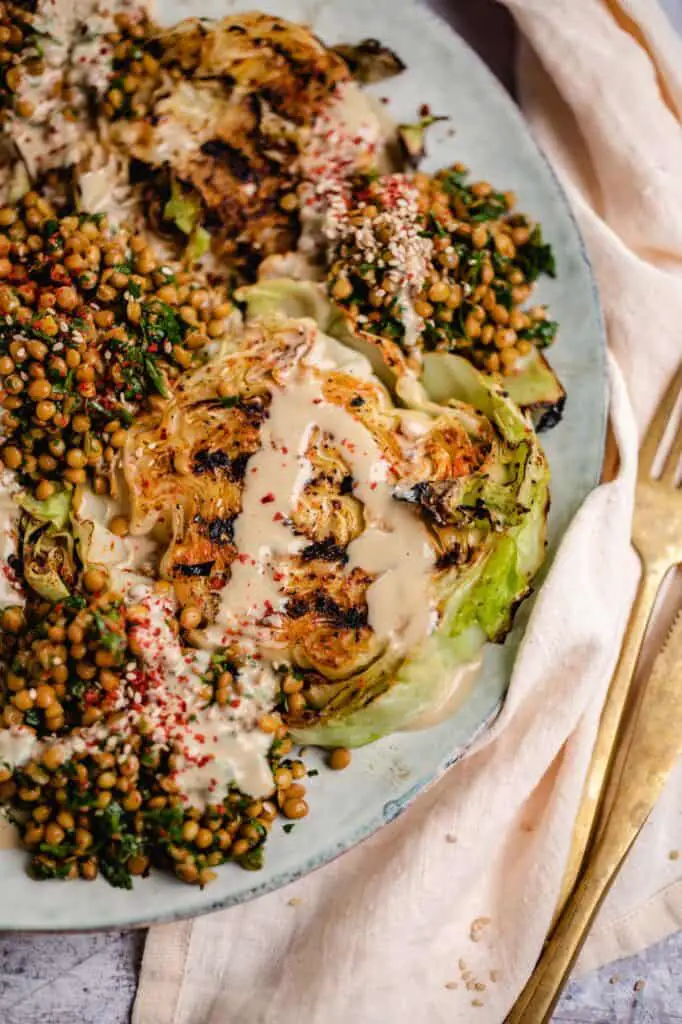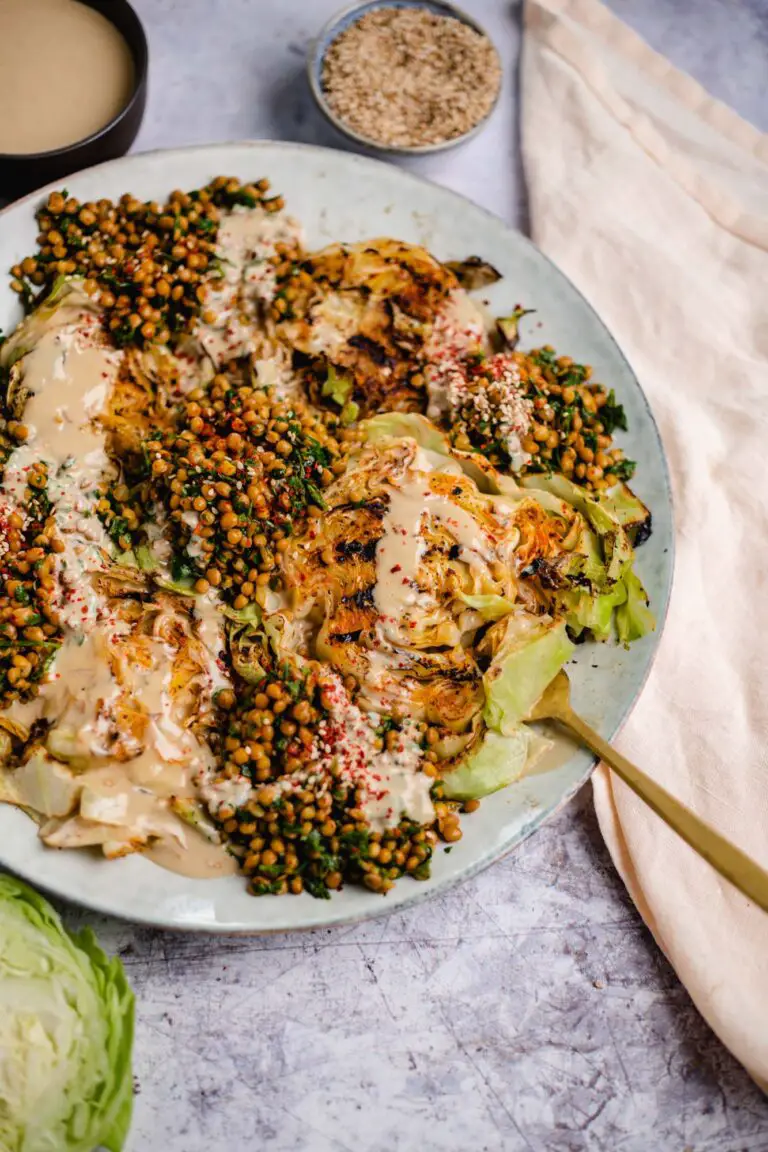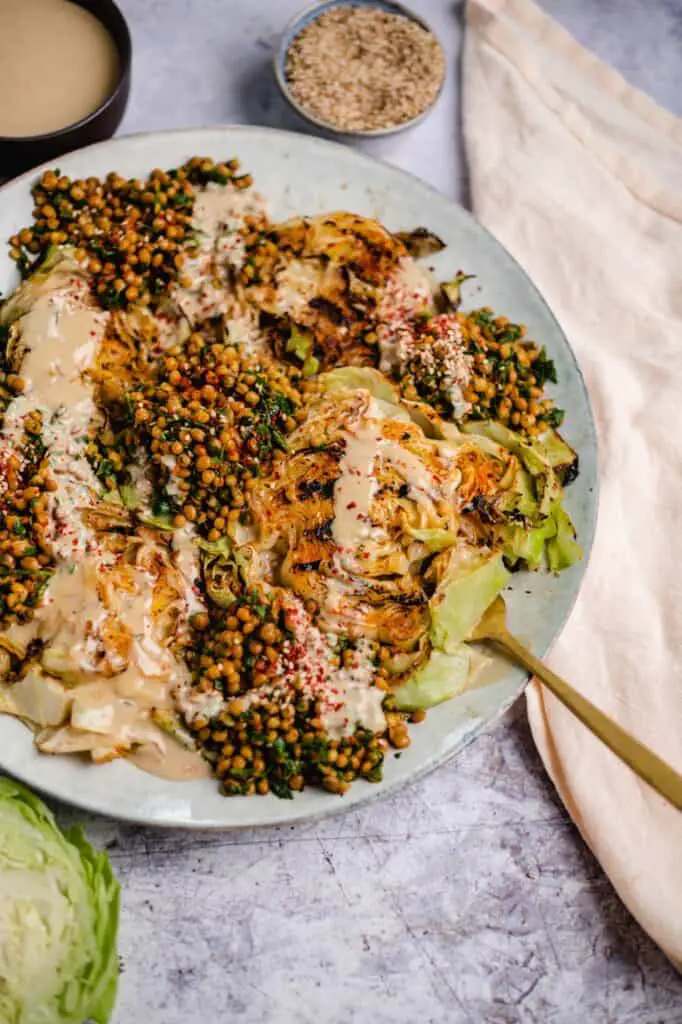 Other than that, there's really not much that can go wrong with this simple incredibly delicious grilled dish. I use black sesame seeds, mild Korean chili flakes, and fresh chopped parsley as decorations.
Looking for another vegan dish to grill? Then I recommend you the following delicacies:
The grilled white cabbage steaks with chimichurri lentils are:
aromatic
Low carb
Slightly sharp
filling
Easy to make
Well, fancy a vegan barbecue? I wish you a lot of fun with it and of course about a rating at the bottom of this page. If you post a picture, use the hashtag #veganevibes.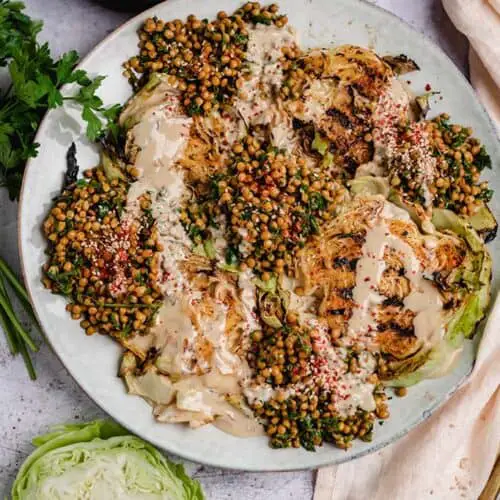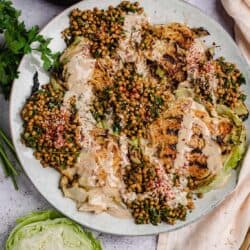 Grilled white cabbage steaks with chimichurri lentils
Aromatic grilled white cabbage steaks with an irresistible chimichurri sauce and delicious lentils. This dish is a real explosion of flavor and highly recommended for all barbecue fans. Quick to make, gluten free and low carb.
AUTOR: VEGANEVIBES
Anleitung 
FOR THE CHIMICHURRI LENTILS , boil the lentils if necessary or if using canned lentils, drain and like to soak in cold water for a few more minutes. Rinse thoroughly and set aside.

Provide a blender (I use the Magimix in this case), otherwise use a blender that can work well without liquid. Add parsley, garlic cloves, lemon juice, salt, olive oil and hot chili sauce and blend until a sauce is formed. The sauce in this case does not have to be super fine and can remain a little coarser. Mix with the lentils and set aside.

2 Cups parsley,

2 Piece Garlic cloves,

30 ml Lemon juice,

½ TL Salt,

15 ml Olive oil,

1 TL hot chili sauce

FOR THE TAHINI SAUCE provide a bowl, put tahini, maple syrup, salt, lemon juice, Dijon mustard and water and stir with a whisk until a smooth sauce is formed. Season to taste, place in the refrigerator and let rest.

15 ml maple syrup,

½ TL Salt,

15 ml Lemon juice,

½ TL Dijon mustard,

60 ml Water for dilution,

30 g Tahini

FOR THE STEAKS provide a grill tray or board. Cut the cabbage into 1-1.5cm thick slices. Place cabbage steaks in grill pan and brush both sides with olive oil and sprinkle with pepper, salt and BBQ seasoning of choice.

1 kg White cabbage,

Olive oil for brushing,

Pepper to taste,

Salt to taste,

BBQ spice of your choice

Preheat grill and grill steaks for 5 minutes on each side. NOTE: To flip the steaks, it is best to use a flat spatula and not grill tongs. The outer cabbage leaves can easily fall off. If necessary, fix with a barbecue skewer.

Place steaks on a large platter, arrange chimichurri lentils, pour tahini sauce on top and garnish with sesame seeds, chili flakes and parsley. Best fresh!

Black sesame seeds,

parsley,

Mild chili flakes
Nährwertangaben
Serving:
1
Portion
Calories:
349
kcal
Carbohydrates:
54
g
Protein:
19
g
Fat:
8
g
Saturated Fat:
1
g
Polyunsaturated Fat:
2
g
Monounsaturated Fat:
4
g
Sodium:
150
mg
Potassium:
1013
mg
Fiber:
23
g
Sugar:
12
g
Vitamin A:
314
IU
Vitamin C:
100
mg
Calcium:
149
mg
Iron:
6
mg