Herbed mushroom skewers from Grill my dears, because I did promise that I would put my focus for the coming weeks on grillable vegan specialties will put. At the moment construction site feeling is announced and just at this moment is dredged. After we've made the house nice, it's the garden's turn with a very special challenge. We have two huskies and live close to the forest, with lots of deer and other wildlife. So we're building a big fence and I'm looking forward to a few more days of concrete, shovels, and other heavy equipment. In the evening then the Grill and prepare delicious vegan specialties, I can make friends with that.
Herb mushroom skewers from the grill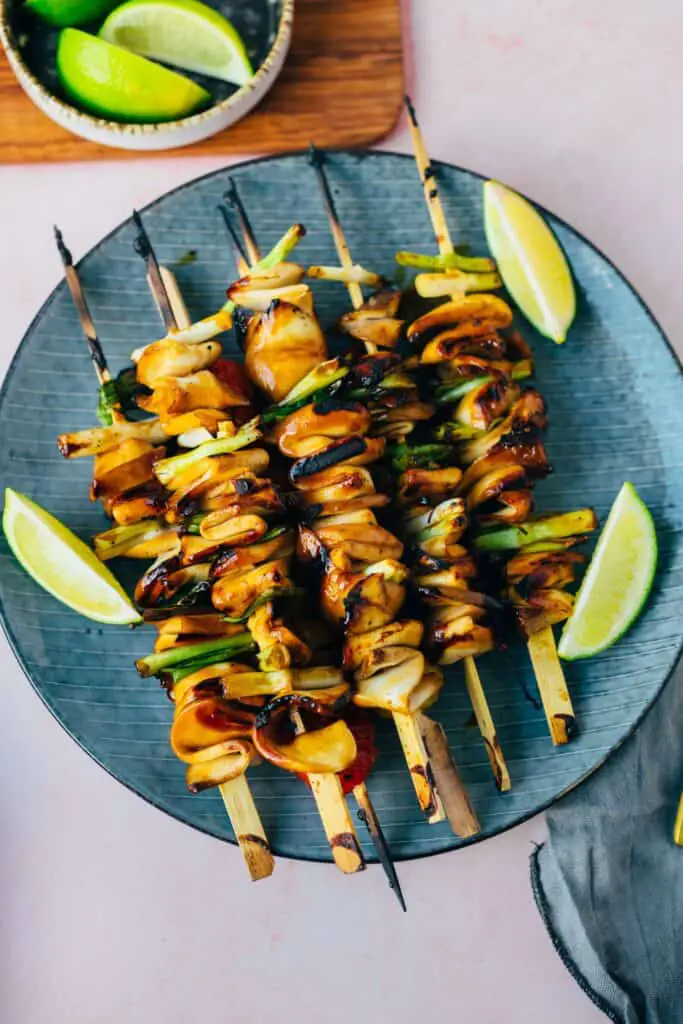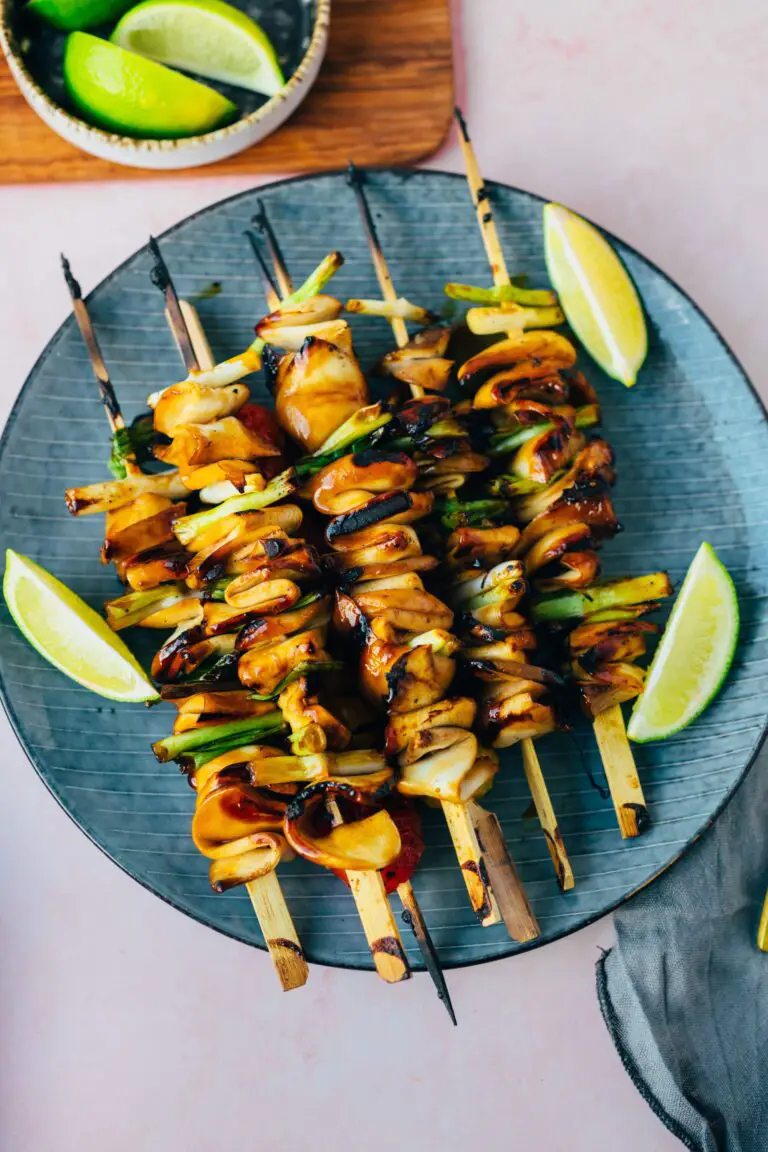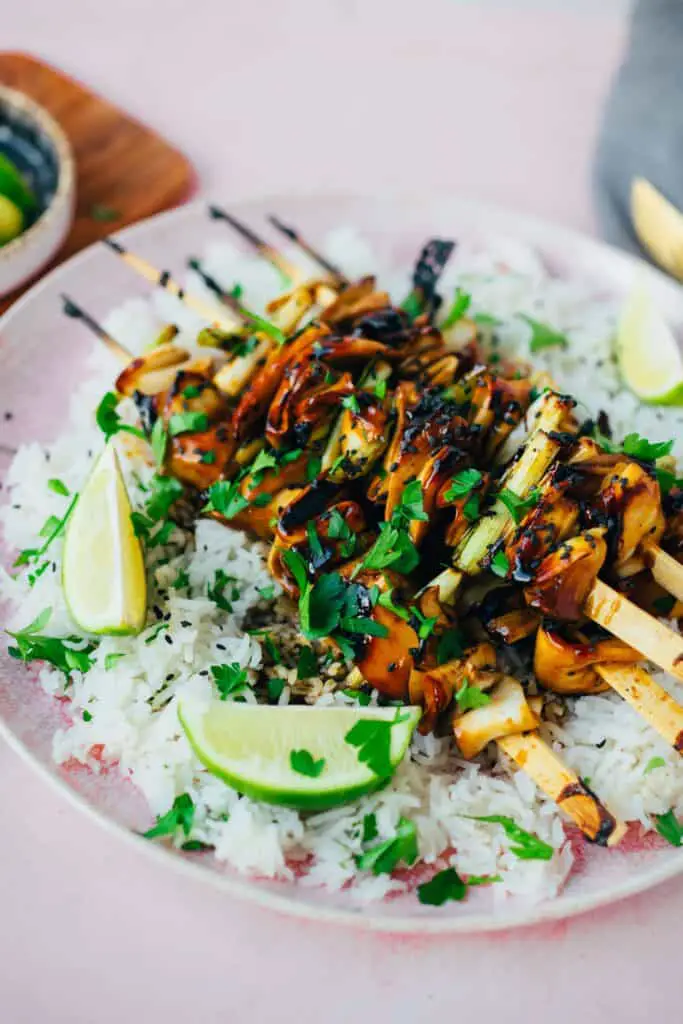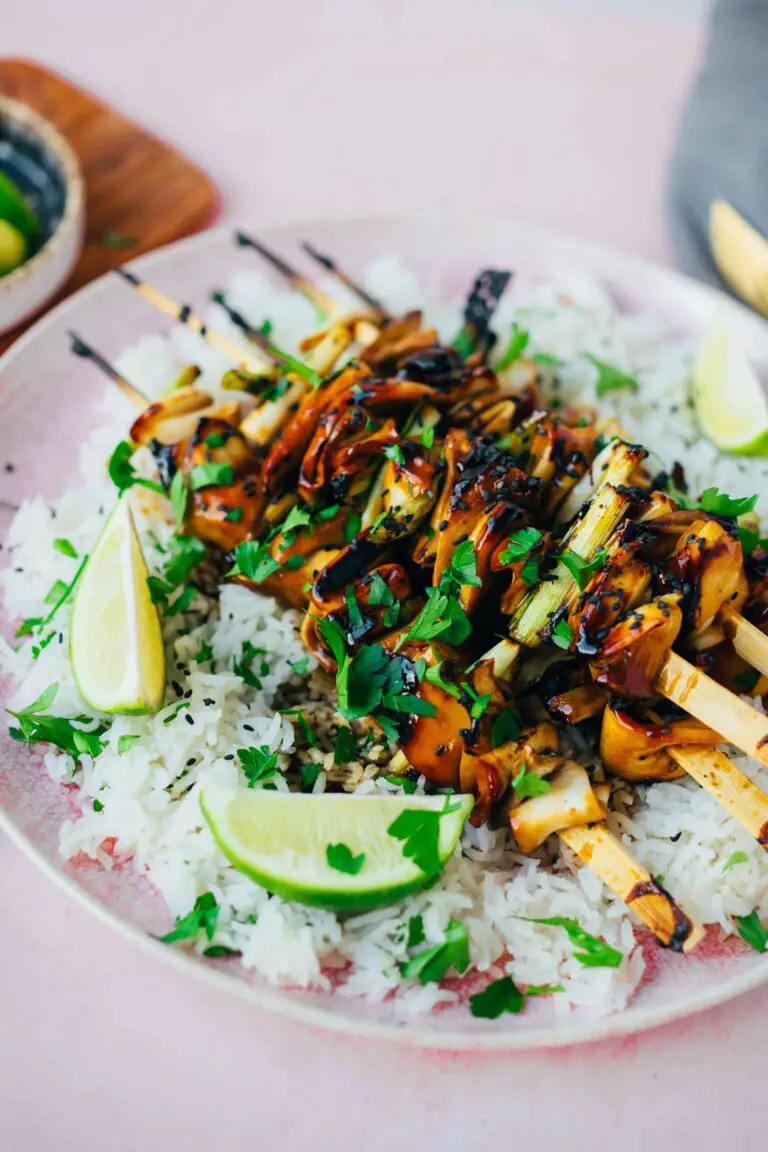 We need Mushrooms , more precisely herb mushrooms. You may be wondering where you can get these delicious specialties. I buy them at organic supermarkets, well-stocked delis, or online. On the Internet I discovered a particularly great mushroom dealer, where the mushrooms are delivered top fresh. However, this has the disadvantage that you have to order a lot of mushrooms to make the delivery worthwhile. If you have a big family party or other event coming up, it's definitely worth it. Click here to go directly to the mushroom store (*advertising, unpaid).
Basically, there is not much to consider when choosing herb mushrooms, except that they should be fresh.
TIP: Mushrooms Do not wash under any circumstances! If there is any residual soil or straw on the mushroom, gently remove it with a damp cloth or brush.
Simple vegan barbecue recipes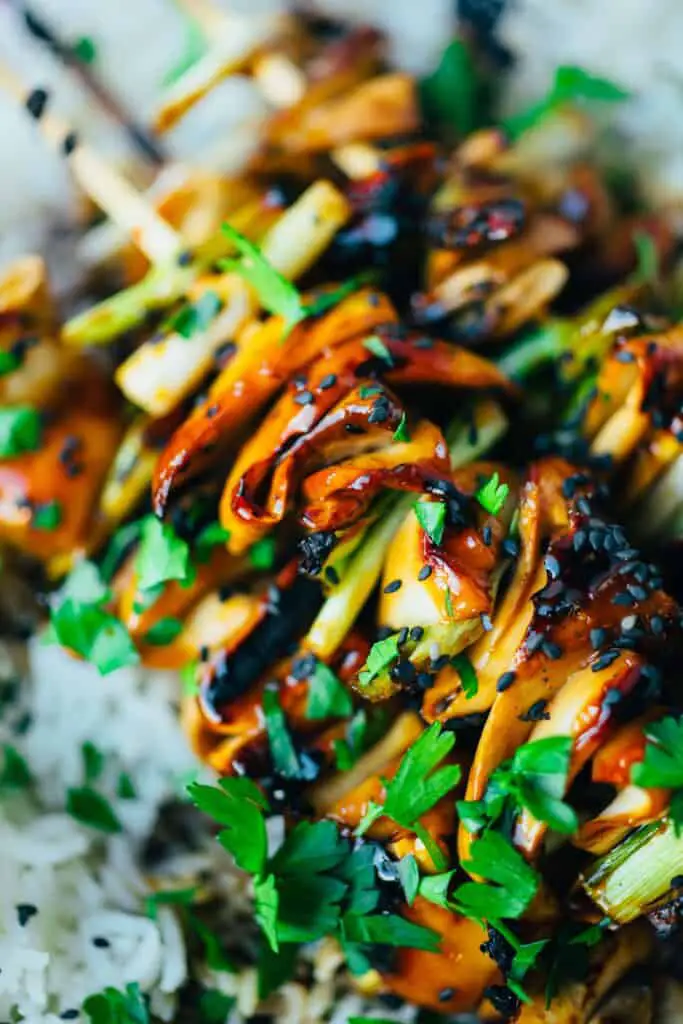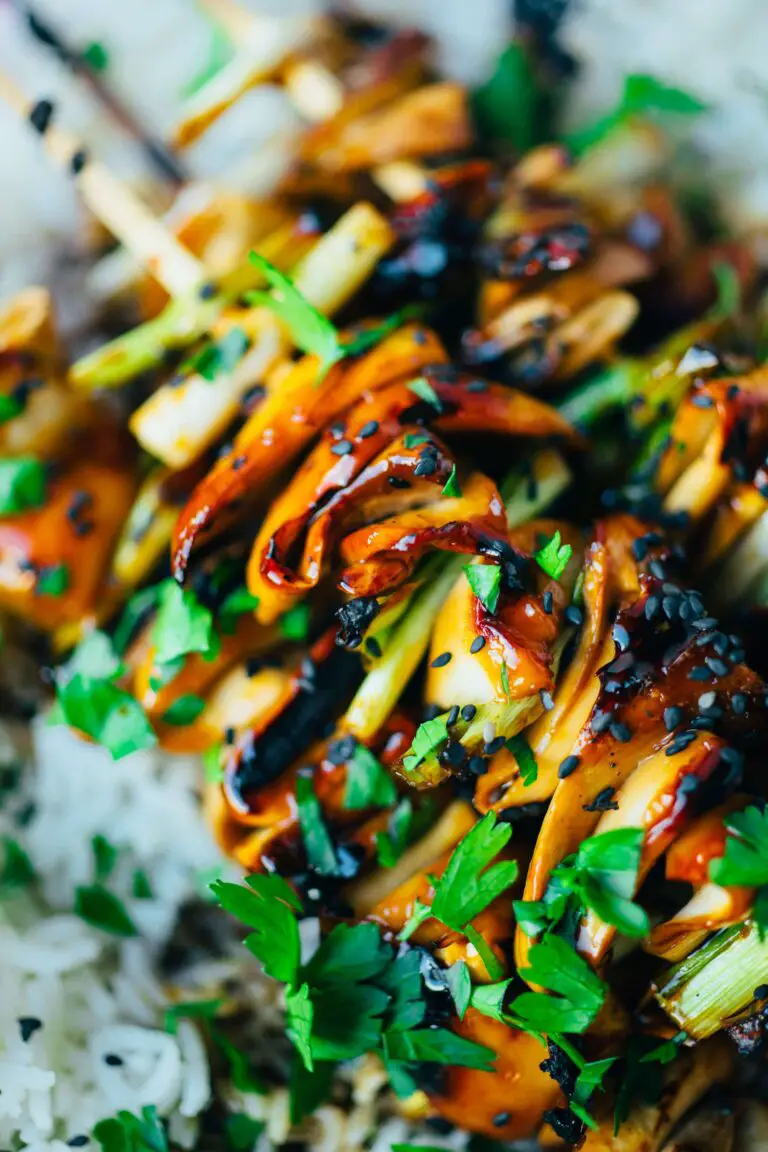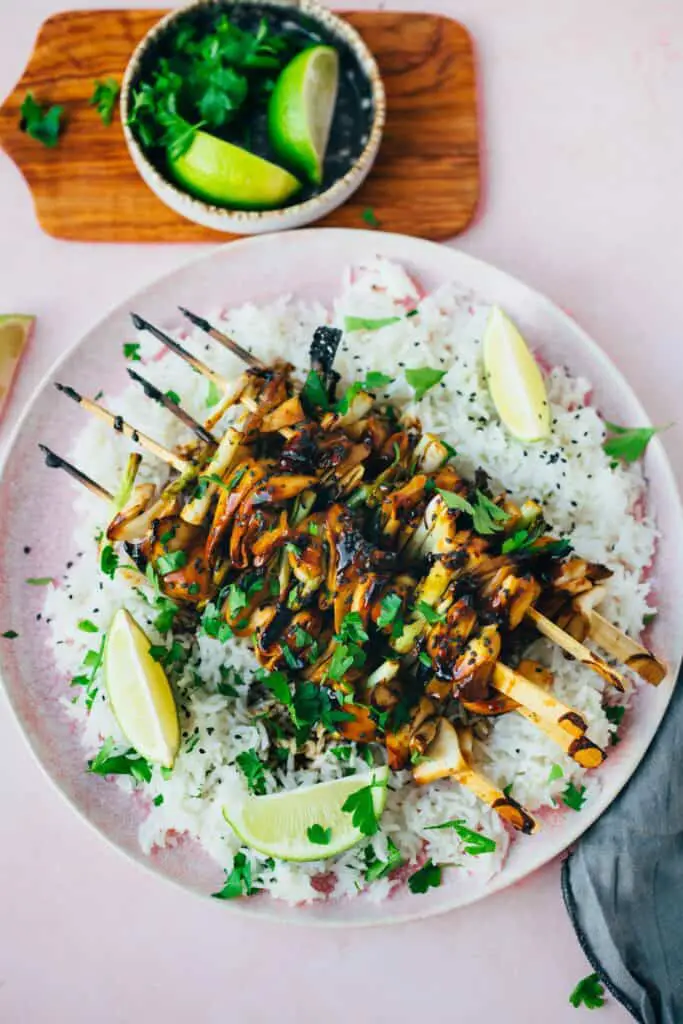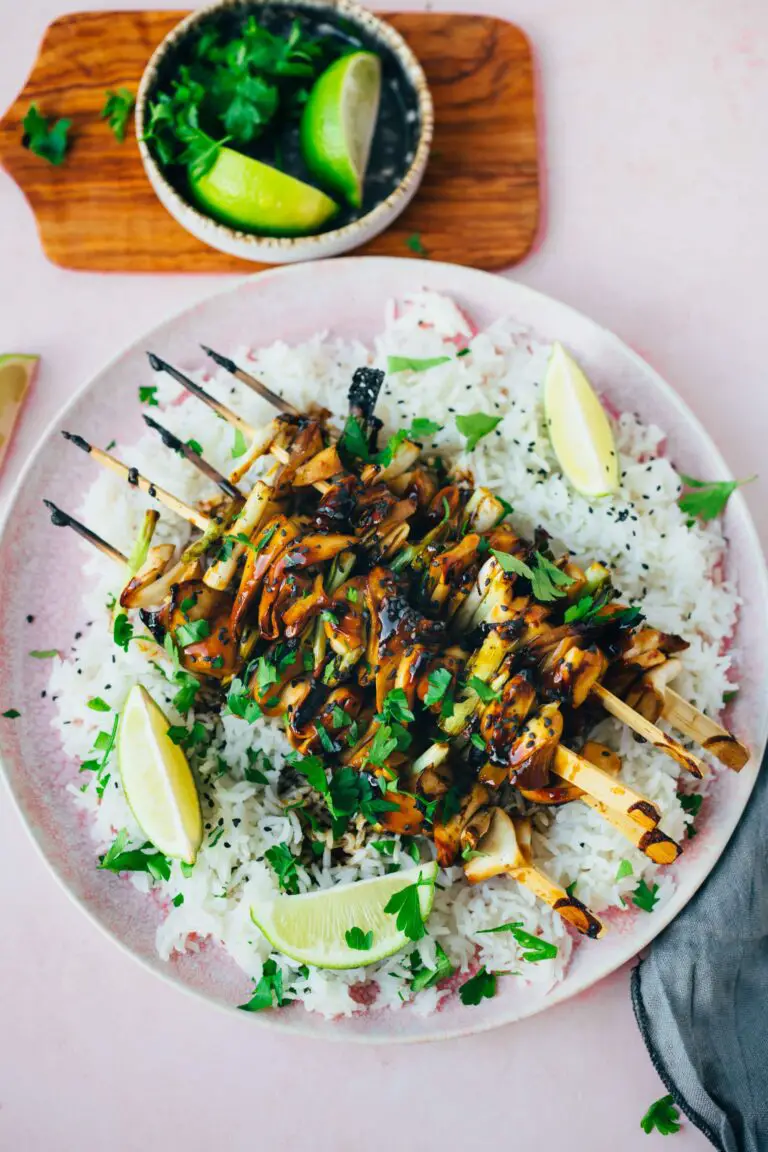 I am amazed at how easy it is to grill with Mushrooms grilling is. In this variant, the seitlings are blanched briefly in hot water. This pre-treatment makes them more elastic and does not break when impaled. For contrast, I add scallions, which at the same time ensure that the skewers hold together perfectly.
The highlight is the "sticky" sauce, which is literally irresistible. Soy sauce (I use tamari), water, raw cane sugar, maple syrup, rice wine vinegar, lime juice, ginger, garlic powder, chili and cornstarch. Bring to the boil and brush the skewers with it, delicious.
Tip: I use garlic granules instead of fresh garlic because it burns more easily at high temperatures.
How healthy are herb mushrooms?
Herb mushrooms are special and taste a bit like porcini mushrooms. However, they are much cheaper and available all year round. They are also called king oyster mushroom and are related to the oyster mushroom. Cultivation of herb mushrooms is not easy, and this is reflected in the price, which is somewhat higher than ordinary Mushrooms . Still, it's worth throwing these specialties on the grill because they are incredibly delicious. Unlike a Steak the mushroom is virtually fat-free, has very few calories and is full of healthy ingredients:
Very low in calories with 30 kcal per 100g
High quality vegetable protein
Highest vitamin B3 and B5 content (niacin) of all cultivated mushrooms (supports muscles and nerves)
200g of the mushrooms already provide half the recommended amount of fiber
CONCLUSION: I appreciate herb mushrooms very much in vegan cuisine, especially because they remain firm to the bite when boiling, frying and grilling. The variations are limitless, from simple pasta dishes, to vegetable " Pulled Pork " everything is possible.
If you didn't get any seitling mushrooms today, I recommend you to make Pizza rolls with pesto and mushrooms stuffed mushrooms Portobello mushrooms or a Salad with tamari mushrooms .
The herb mushroom skewers(from the grill) are:
smoky
juicy
Sweet and sour
filling
Easy to make
Are you ready for the delicious skewers? I wish you a lot of fun with the re-cooking and of course about a rating at the bottom of the page. If you post a picture, use the hashtag #veganevibes.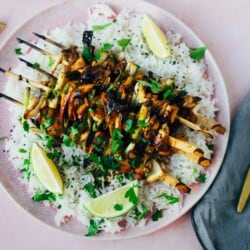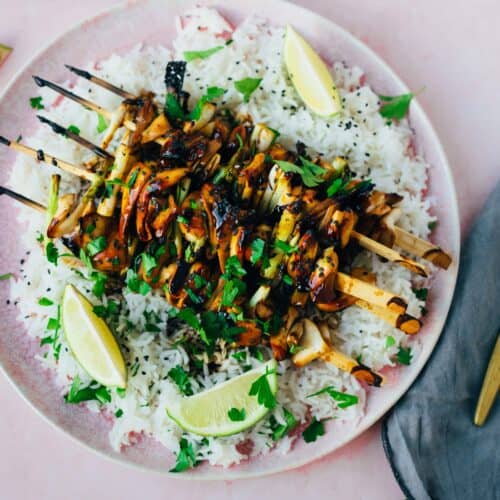 Herb mushroom skewers (for grill or pan)
Juicy, aromatic herb mushroom skewers for the grill or the pan. Deliciously marinated with sweet and sour "sticky" sauce, they are the perfect vegan alternative for those who like it low calorie and high protein on the grill.
AUTOR: VEGANEVIBES
FOR THE SKEWERS:
1,5

Liter

Boiling water

8

Piece

Herb mushrooms

sliced

½

Confederation

bunch green onion

cut into 2-3cm long strips
SUPPLIES:
Fresh lime slices

Black sesame

Rice or quinoa

Cooked
Anleitung 
Herb mushrooms do not need to be cleaned unless there is soil residue on the mushrooms. Cut the style a little, if there are still remnants of soil and straw.

FOR THE SAUCE Add tamari, maple syrup, raw cane sugar, rice wine vinegar, lime juice, garlic granules, ginger and chili to a small saucepan and heat.

120 ml Tamari,

60 ml maple syrup,

40 g Raw cane sugar,

1,5 tbspn Rice wine vinegar,

15 ml Lime juice,

½ tbspn Garlic granules,

½ tbspn Ginger,

1 Bird Eye Chili or other chili of choice

Mix water and cornstarch in an extra bowl and pour into the pot while stirring. Bring to a boil and simmer for 6-8 minutes. Remove from heat and set aside.

60 ml Water,

1 tbspn Cornstarch,

1,5 Liter Boiling water

Heat water and provide a heatproof bowl. Put in herb mushrooms (already sliced) and pour hot water over them. Let stand for

5 minutes

and then strain.

FOR THE SKEWERS Provide herb oyster slices and spring onion and wooden skewers.

8 Piece Herb mushrooms,

½ Confederation bunch green onion

On each skewer, alternate slices of herbed mushroom and green onion. At the end, stick a firm scallion on top of each to keep everything firm. Repeat until all mushroom slices are consumed.

Pour Sticky Sauce into a baking dish and place skewers inside. Turn and marinate briefly.

TIP : Preferably prepare a day in advance and leave to marinate in an airtight container in the refrigerator overnight.

Heat a frying pan, add olive oil. Alternatively, fire up grill and sear or grill for

3-4 minutes on

each side.

Enjoy with additional sauce and side dishes of your choice.

Fresh lime slices,

Black sesame,

Rice or quinoa

Best fresh.
Nährwertangaben
Serving:
1
Portion
Calories:
192
kcal
Carbohydrates:
45
g
Protein:
7
g
Fat:
1
g
Saturated Fat:
1
g
Sodium:
3395
mg
Potassium:
195
mg
Fiber:
1
g
Sugar:
39
g
Vitamin C:
2
mg
Calcium:
67
mg
Iron:
1
mg