Quinoa salad with roasted hazelnuts, sweet potato and fennel is a wonderful dish with wonderful flavors. The other day I was once again at my favorite greengrocer and there they were: small, sweet and irresistibly good-looking fennel bulbs. I just could not help myself and immediately put half the box in my basket. After that I had the idea to make a fine salad out of it, together with sweet potato and roasted hazelnuts. For me, a dream healthy food that leaves you feeling good. Who is up for it? Then let's get started together.
Quinoa salad with roasted hazelnuts and fennel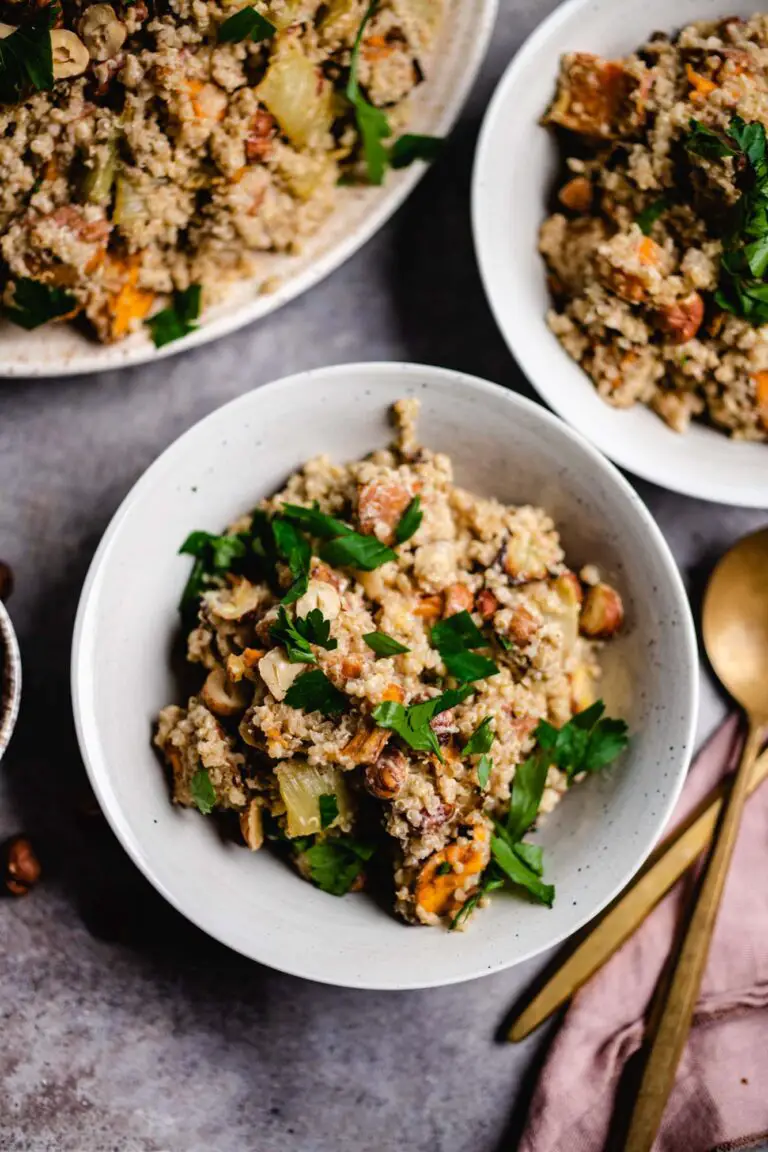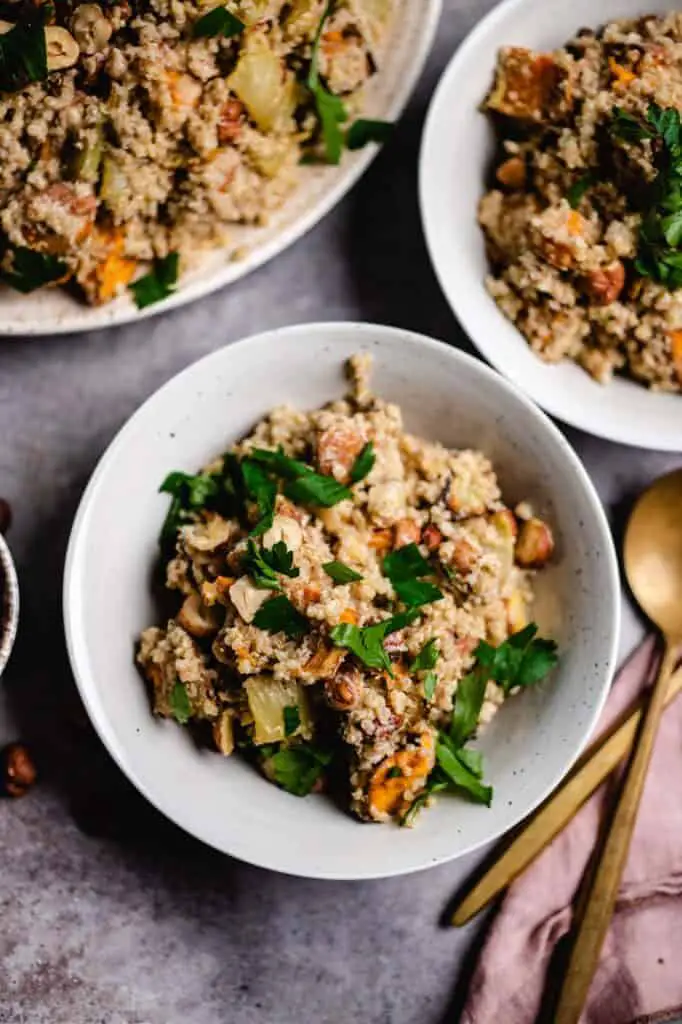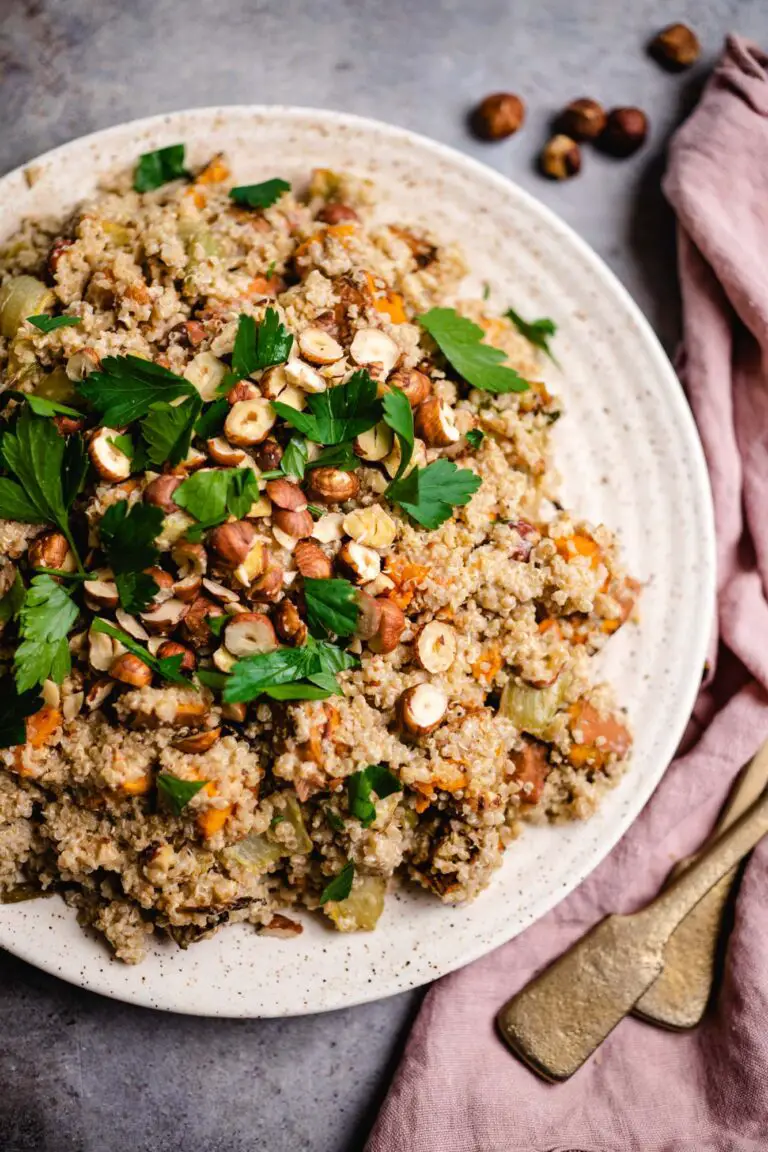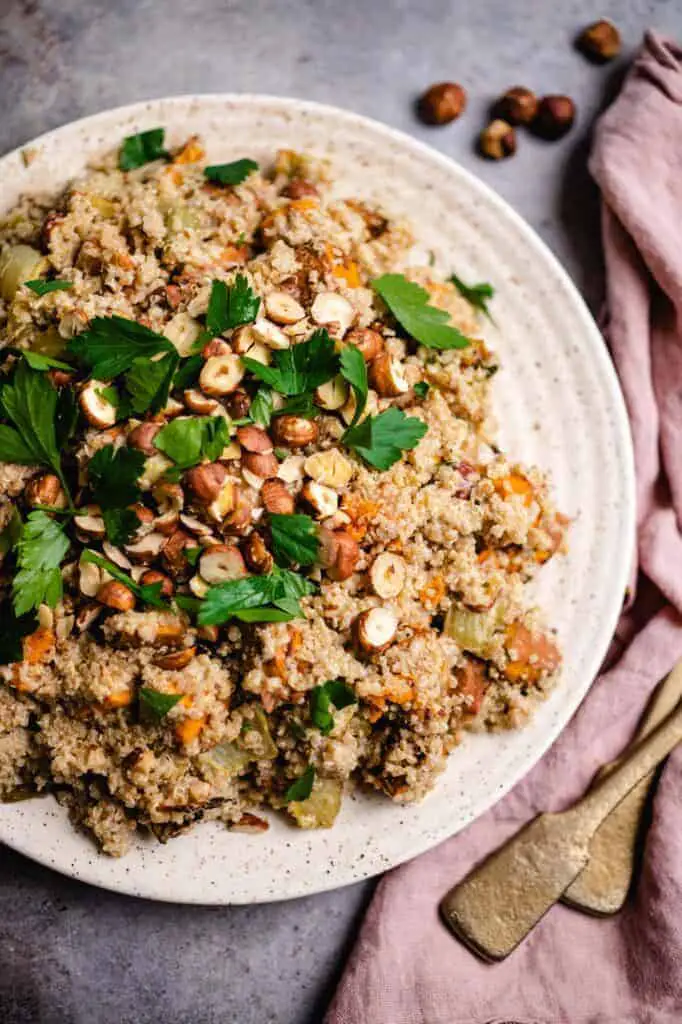 There are dishes that are simply fun because they make you feel good. This salad definitely belongs in that category. Nutritious, filling and all-around healthy. Quinoa, sweet potato, fennel, hazelnuts and a delicious tahini dressing. What could you ask for more beautiful? The preparation is simple and fast. Cut the fennel and sweet potato into pieces and mix with a little oil, salt and pepper. Put in the oven and roast. To this add the hazelnuts, but they remain in the oven only a short time, otherwise they burn.
Once again there is my beloved Tahini dressing to it. Tahini consists of 100 percent sesame seeds and is particularly rich in nutrients. Sesame seeds are rich in valuable fatty acids, calcium, phosphorus, zinc, copper, iron and B1 (thiamine). I love using it in dressings because it makes for a particularly nice creaminess.
Fennel, by the way, is a very healthy vegetable that ends up on our plates far too rarely. It has a high content of essential oils, 100g of the tuber contains ¼ of the daily requirement of iron and provides twice as much vitamin C as citrus fruits.
Simple vegan salads with quinoa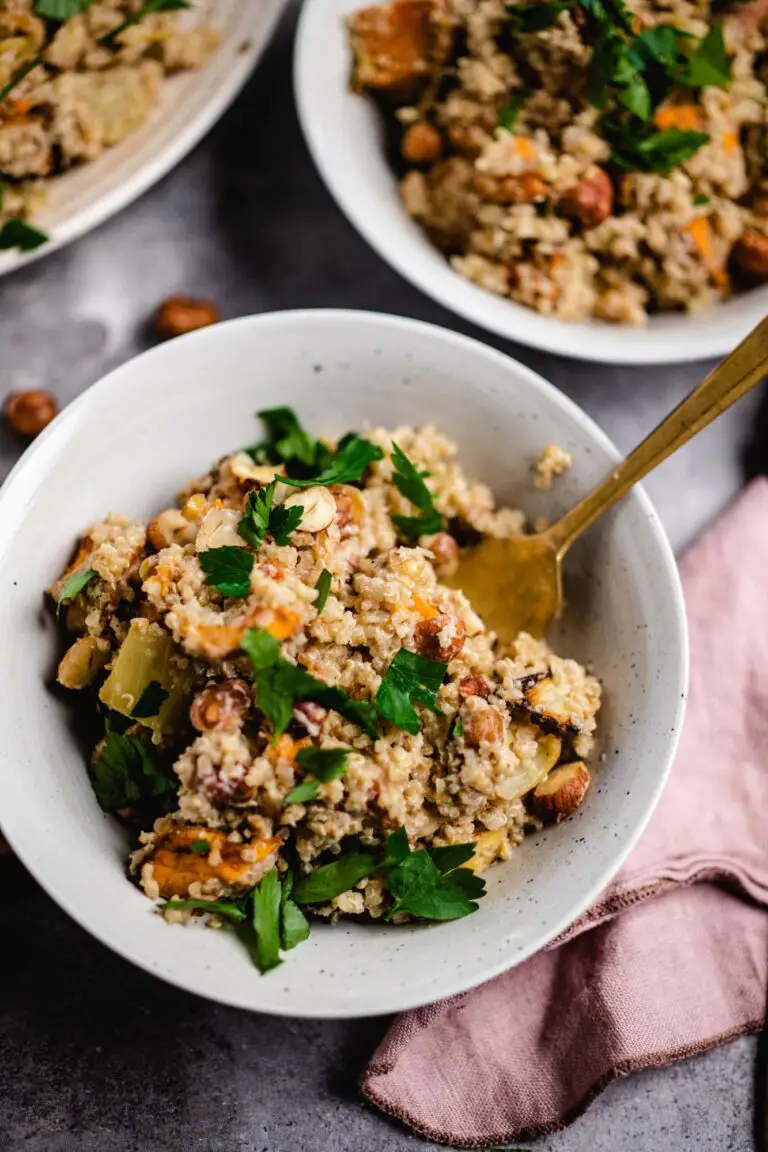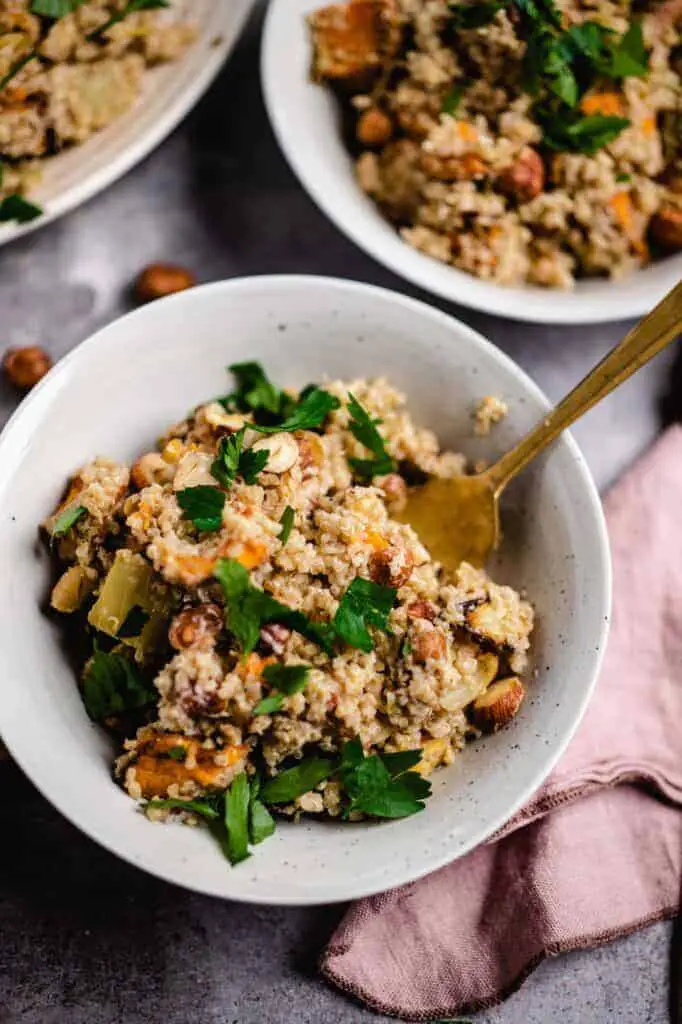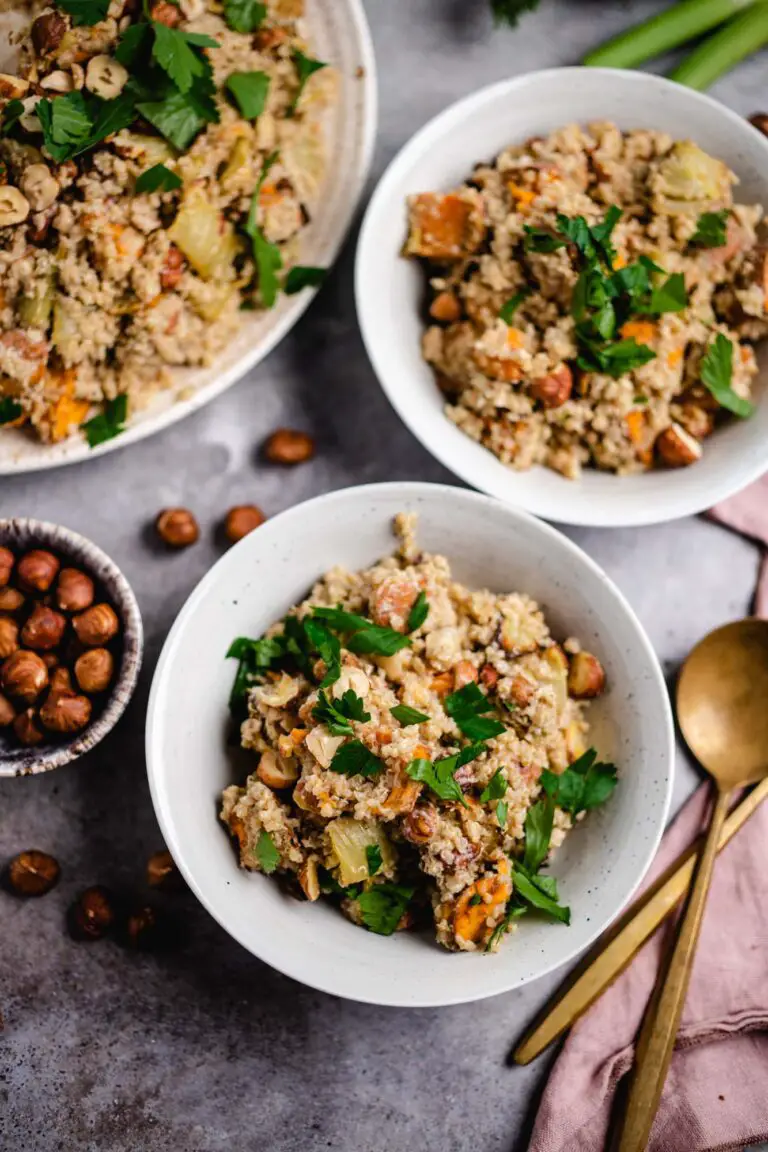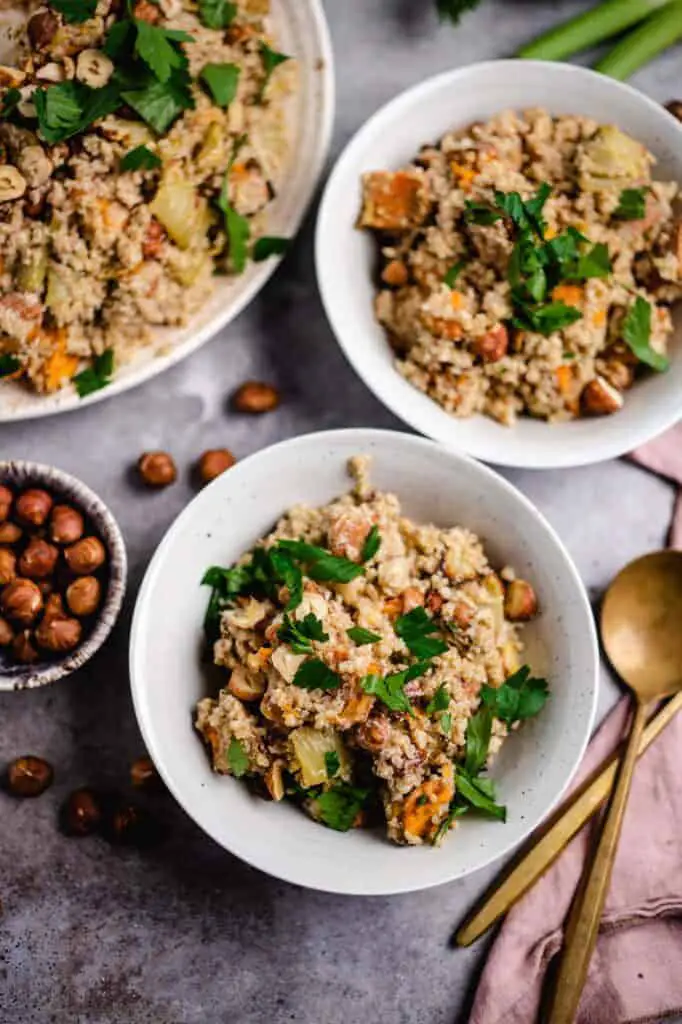 When the vegetables and hazelnuts are done roasting, then it's time to mix everything together. Quinoa, vegetables, toasted hazelnuts and the dressing.
If you are looking for a different salad today, I have the following suggestions for you:
The quinoa salad with roasted hazelnuts is:
filling
Nutritious
Full of roasted aromas
aromatic
Easy to manufacture
Let's get started with this delicious vegan salad. I wish you a lot of fun with the re-cooking and am happy about a review at the bottom of this page. If you post a picture, feel free to use the hashtag #veganevibes.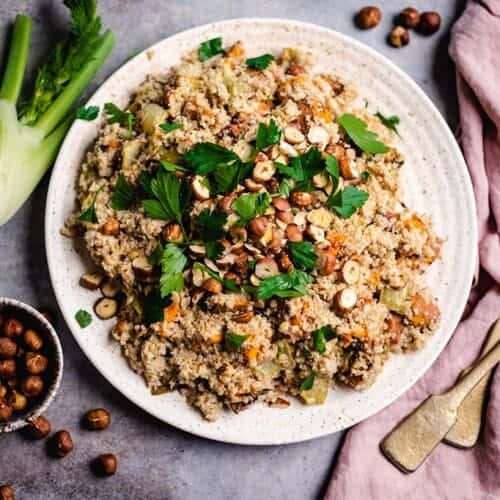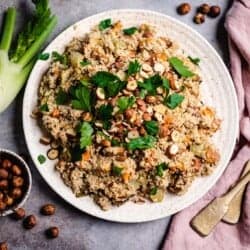 Quinoa salad with roasted hazelnuts, fennel and sweet potato
Fancy a healthy dish that's super tasty and fills you up? Then you're in the right place with this delicious salad. Baked fennel, sweet potato, toasted hazelnuts and quinoa meld with a creamy tahini dressing. Healthy, high fiber, gluten-free and vegan.
AUTOR: VEGANEVIBES
90

g

Quinoa

uncooked

180

ml

Water

1

Piece

Sweet potato

cleaned and cut into cubes

1

Piece

Fennel

woody ends and stalk removed, cut into cubes

15

ml

Olive oil

1

tbspn

Garam Masala

or any other spice mixture of your choice

½

tbspn

Salt

½

Cup

Hazelnuts
TOPPING:
fresh parsley coarsely chopped
Anleitung 
Rinse quinoa grains with hot water, place in a pot and boil with double the amount of water. Turn heat down to medium and simmer for about 15 minutes. The quinoa is ready when the water is absorbed and they grains are nicely swollen.

Preheat oven to 200 degrees convection (220 degrees top-bottom heat) and line a baking sheet with a permanent baking mat or baking paper.

Provide a large bowl, add sweet potato, fennel, oil, garam masala, salt and pepper and mix well until combined.

1 Piece Sweet potato,

1 Piece Fennel,

15 ml Olive oil,

1 tbspn Garam Masala,

½ tbspn Salt,

Pepper to taste

Spread vegetables on baking sheet and place in oven and bake for 35 minutes. Stir about halfway through baking time to make sure everything is browned evenly.

Place hazelnuts in a small baking dish and place in oven about 5 minutes before baking time is up. Alternatively, turn oven on after baking time is up, remove vegetables from oven and place hazelnuts inside, roast for 10 minutes and remove from oven again.

FOR THE DRESSING Place tahini, maple syrup, lemon juice, garlic granules, sea salt, black pepper, and warm water in a high-powered blender and blend on high speed to make a fine dressing.

50 g Tahini,

15 ml maple syrup,

30 ml Lemon juice,

½ tbspn Garlic granules,

Sea salt to taste,

Black pepper to taste,

60 ml warm water for dilution

Add roasted vegetables, hazelnuts (chop coarsely after roasting), quinoa and dressing to a salad bowl and mix well. Divide among plates, sprinkle with parsley and mix.

fresh parsley coarsely chopped

Enjoy fresh, or store in an airtight container in the refrigerator for up to 3 days.
Video
Fancy a healthy dish that's super tasty and fills you up? Then you're in the right place with this delicious salad. Baked fennel, sweet potato, toasted hazelnuts and quinoa meld with a creamy tahini dressing. Healthy, high fiber, gluten-free and vegan
Nährwertangaben
Serving:
1
Portion
Calories:
329
kcal
Carbohydrates:
24
g
Protein:
8
g
Fat:
24
g
Saturated Fat:
3
g
Polyunsaturated Fat:
6
g
Monounsaturated Fat:
15
g
Sodium:
57
mg
Potassium:
339
mg
Fiber:
4
g
Sugar:
3
g
Vitamin A:
52
IU
Vitamin C:
5
mg
Calcium:
57
mg
Iron:
3
mg