Mediterranean green bean salad is one of my favorite side dishes right now. The other day I was back at my favorite greengrocer and I saw these wonderful green beans. I quickly asked myself the question, what should I do with it? Of course, you can make classic steamed green beans, but that's kind of boring. Then I had the idea to make a delicious bean salad out of it. Mediterranean flavored with mushrooms, peppers and pickled in a delicious broth. Well, do you feel like it? Then let's get started together.
Mediterranean bean salad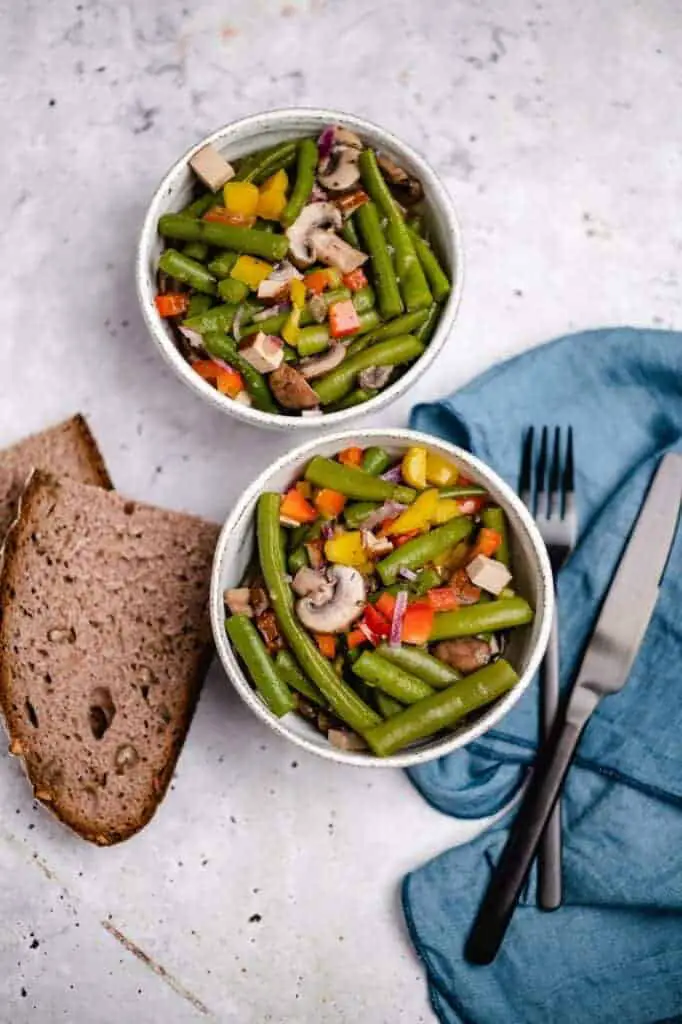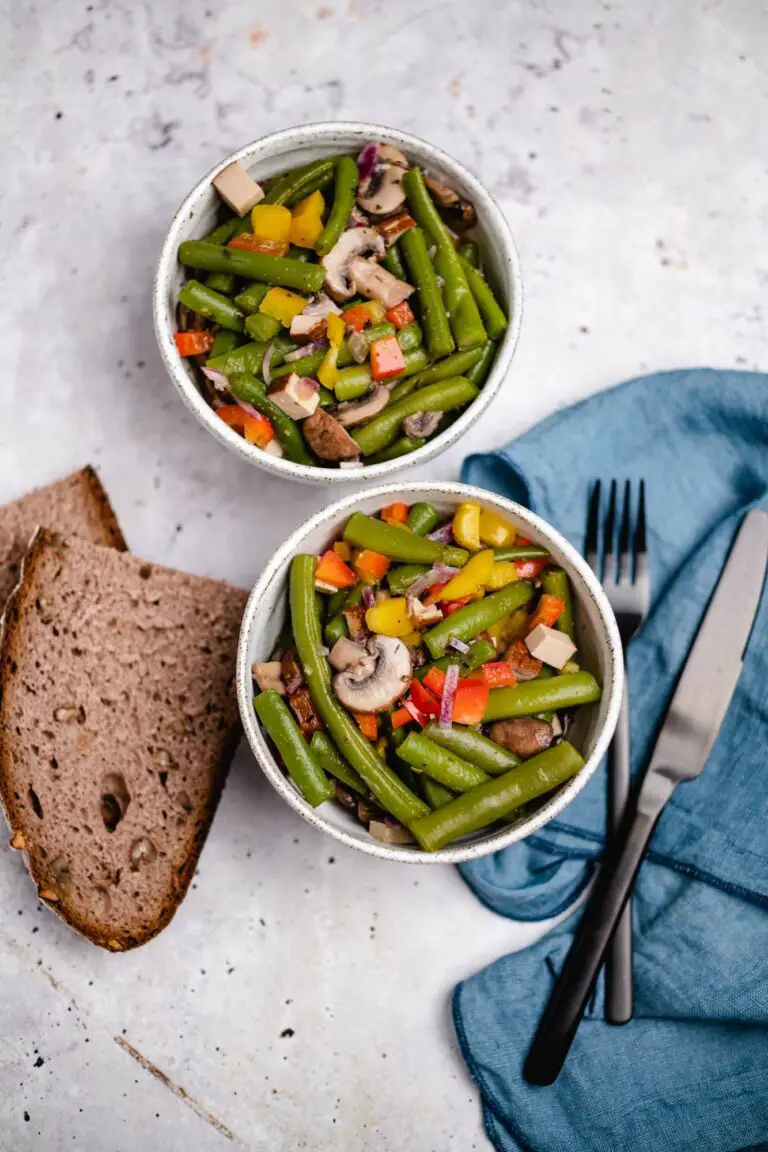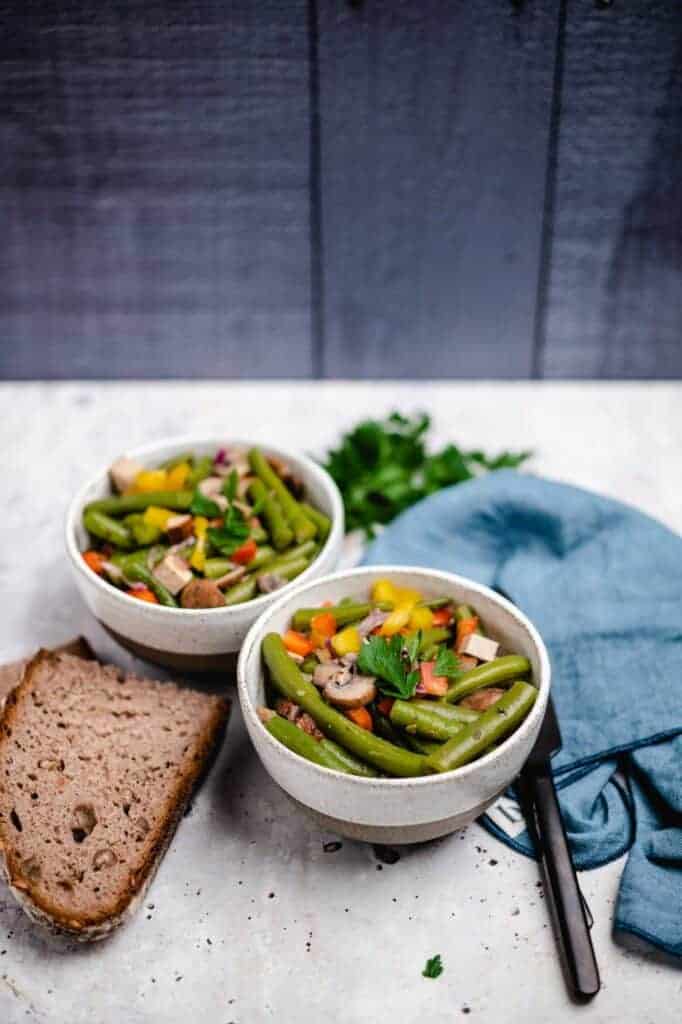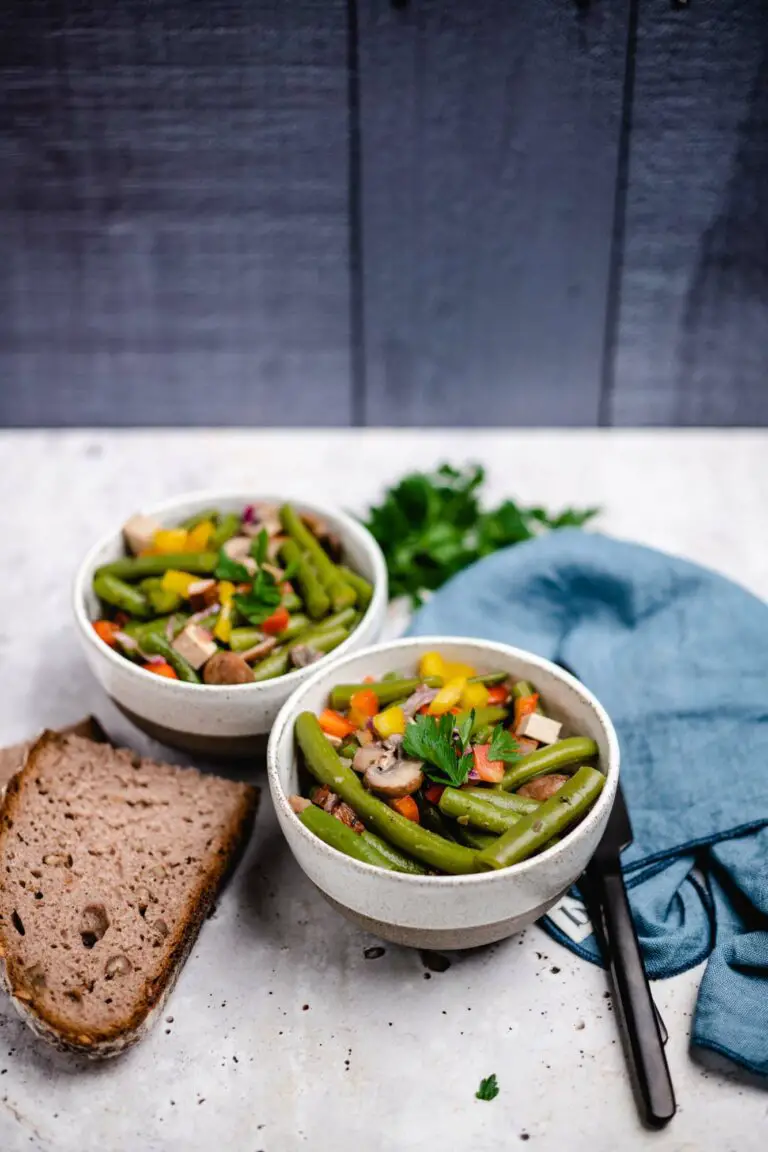 Green beans are very healthy. They are low in calories, but still rich in valuable fiber, magnesium, iron, potassium, calcium, vitamins C and B, and zinc. Especially for vegans, beans provide high-quality, plant-based protein. The season for green beans in Germany is between May and October. Especially then it is worth buying fresh produce from your trusted organic greengrocer. I always pay special attention to organic quality, because that way I can be sure that the vegetables are hardly contaminated with harmful substances.
For the salad, I heat some water in a large pot salt it and cook the beans for about 10 – 15 minutes until they are soft but still firm to the bite. I add a little baking soda to the cooking water so that the beans retain their green color. Soda can be used really versatile in the kitchen and is especially helpful in our case. Once the beans are cooked, drain the cooking water and briefly rinse the beans with cold water. Then it's on to the mushrooms. Sauté them in a little olive oil together with an onion and season with Italian herbs, salt, nutmeg and a little pepper. Once they are nice and soft, I take the heat off and set them aside. The last step is to assemble the salad. To do this, place the beans in a large salad bowl along with the mushrooms, peppers, smoked tofu, vegetable broth and vinegar. Stir once and place in the refrigerator. This is important so that the salad can really soak through.
Vegan summer salads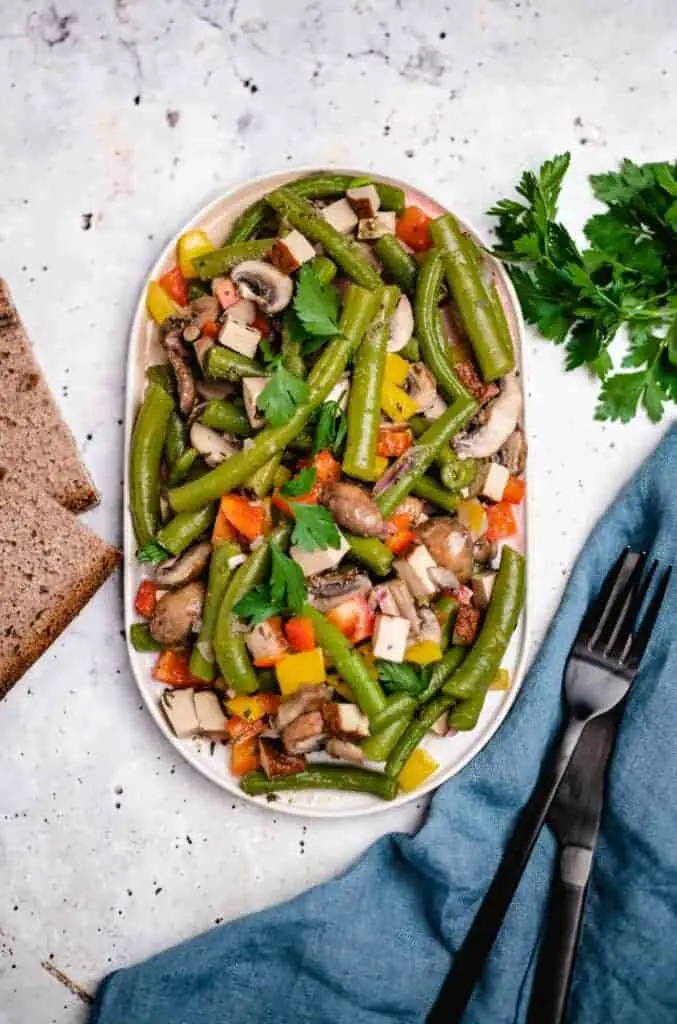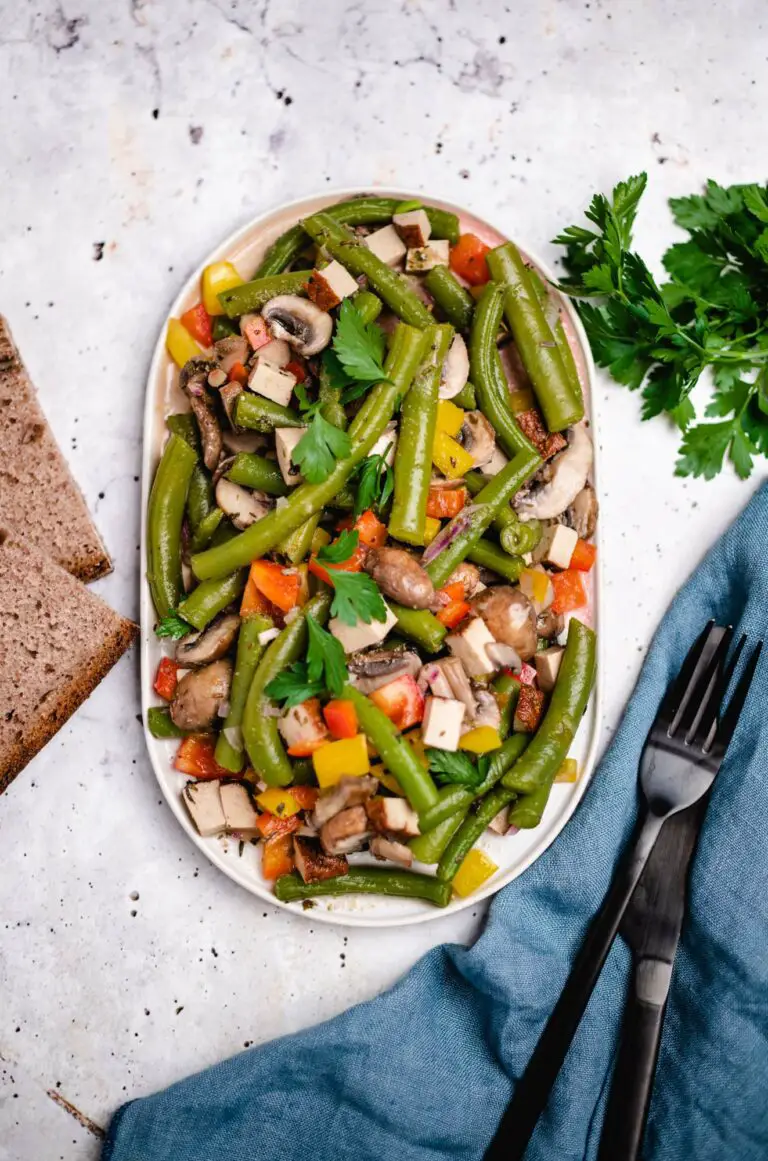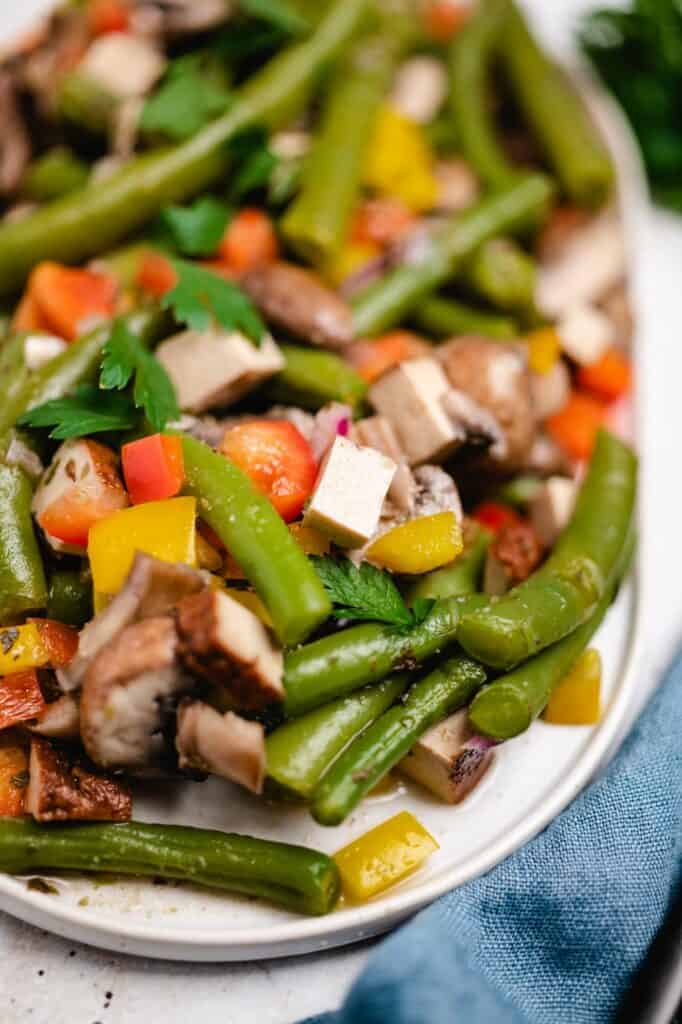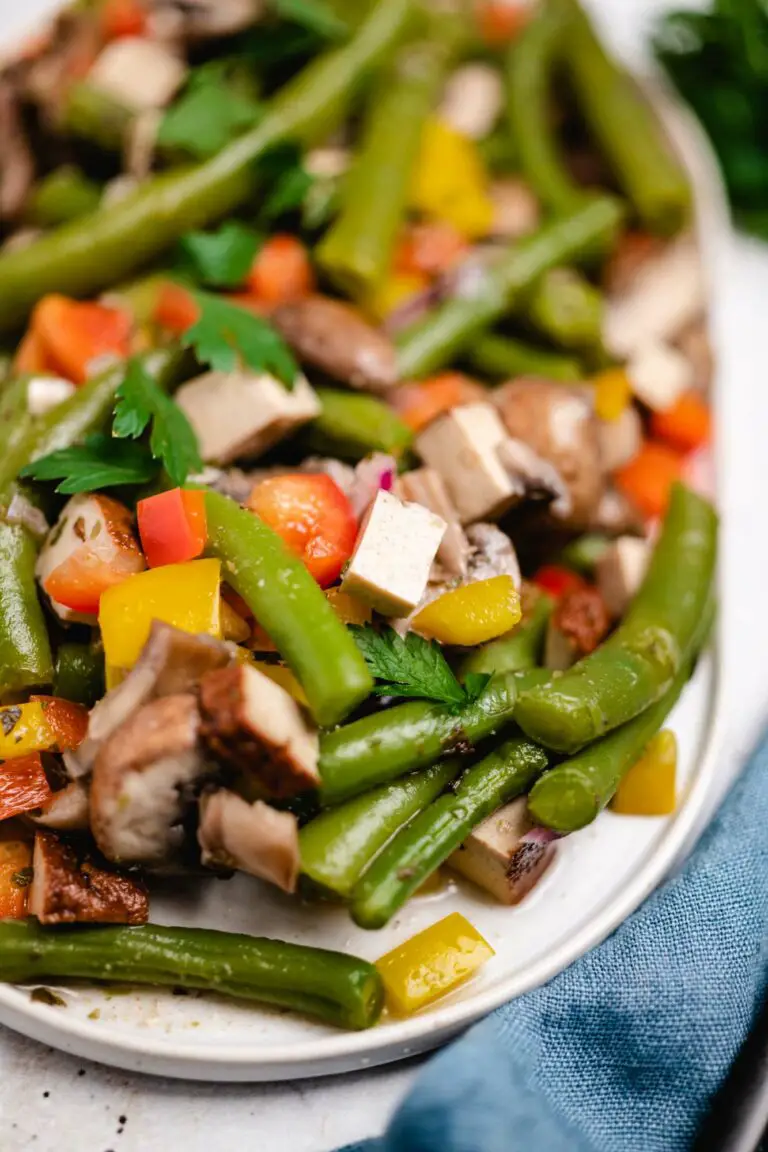 If you prefer a different salad today, I have the following suggestions for you:
The Mediterranean bean salad is:
Mediterranean
High fiber
aromatic
Full of healthy nutrients
simply made
Well, did you get a craving for this delicious vegan bean salad? I wish you a lot of fun in recooking and of course a review at the bottom of this page. If you post a picture, use the hashtag #veganevibes.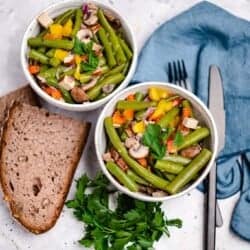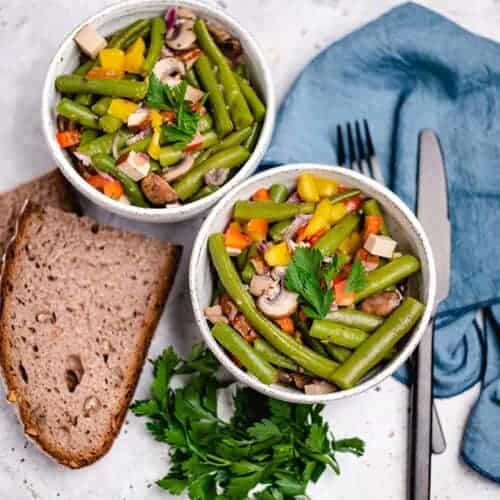 Mediterranean bean salad
Aromatic vegan salad with green beans, peppers and mushrooms. Topped off with a fine dressing. Perfect as a side dish for grilled food and with other summer dishes. Vegan, gluten-free and particularly rich in valuable fiber and vegetable protein.
AUTOR: VEGANEVIBES
FOR THE GREEN BEANS:
800

g

Green beans

washed and cut off the ends, cut into pieces 5-6 cm long.

1

tbspn

Baking soda

1

tbspn

Salt
FOR THE REST OF THE SALAD:
Anleitung 
Heat a large pot of water and bring to a boil. Add salt and green beans. Stir and add baking soda.

800 g Green beans,

1 tbspn Baking soda,

1 tbspn Salt

Cook for

10-15 minutes

until beans are soft but still firm to the bite.

Drain and rinse with cold water. Set aside.

Heat a large pot and pour in olive oil. Add mushrooms and red onion, stir and sauté. Add Italian herbs, garlic powder, salt, nutmeg and pepper. Stir. Cover and cook for 5-7 minutes until mushrooms are soft.

30 ml Olive oil,

300 g Mushrooms,

1 Piece Red onion,

1 tbspn Italian herbs,

1 tbspn Garlic powder,

1 tbspn Salt,

⅛ tbspn Nutmeg,

Pepper to taste

Remove from heat and set aside.

Provide a large salad bowl. Add green beans, mushrooms, red bell bell pepper, yellow bell bell pepper, smoked tofu, vegetable broth and white wine vinegar and stir. Taste and add a tsp of maple syrup if needed to balance the acidity. Cover and refrigerate for at least 4 hours or overnight to infuse.

800 g Green beans,

1 Piece Paprika red,

1 Piece Bell bell pepper yellow,

200 g Smoked tofu,

175 ml Vegetable broth

Season again, portion onto plates, garnish with fresh parsley and enjoy!

Store remaining lettuce in an airtight container in the refrigerator for up to 4 days.
Nährwertangaben
Serving:
1
Portion
Calories:
155
kcal
Carbohydrates:
22
g
Protein:
7
g
Fat:
7
g
Saturated Fat:
1
g
Polyunsaturated Fat:
3
g
Monounsaturated Fat:
3
g
Sodium:
244
mg
Potassium:
912
mg
Fiber:
12
g
Sugar:
7
g
Vitamin A:
13056
IU
Vitamin C:
14
mg
Calcium:
99
mg
Iron:
7
mg