Braised fennel on a thick layer of hummus, sounds exciting, right? I was standing in front of fresh fennel bulbs again the other day and was wondering what I could do with them. It's spring and many people out there are looking for light, tasty dishes that pair well with the spring-like temperatures. Next week it should be really nice and maybe I can serve coffee and cake on the terrace again soon. I definitely need a good dose of vitamin D again , preferably in the form of sun rays on my skin. Throughout the fall and winter, I take a vitamin D supplement. In addition, I have a blood test every now and then to make sure I am well supplied with the important vitamin. What's your situation? Do you take a vitamin D supplement and have your blood levels checked? Feel free to let me know in the comments.
Braised fennel on hummus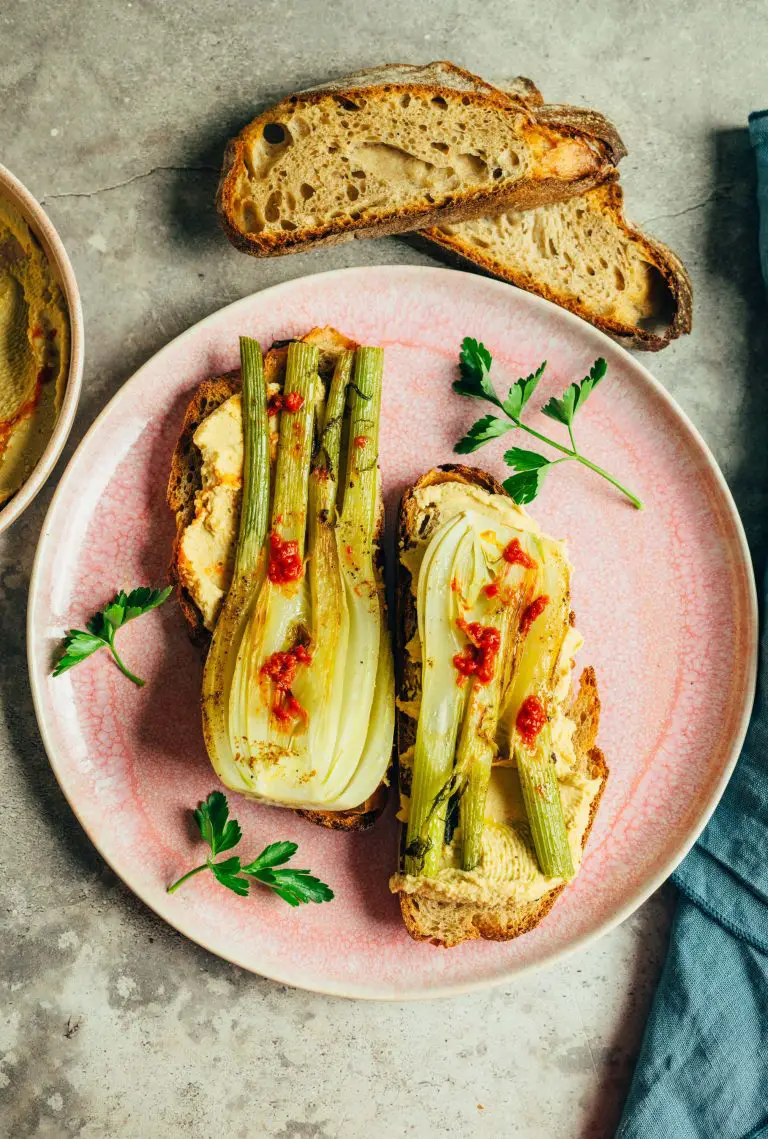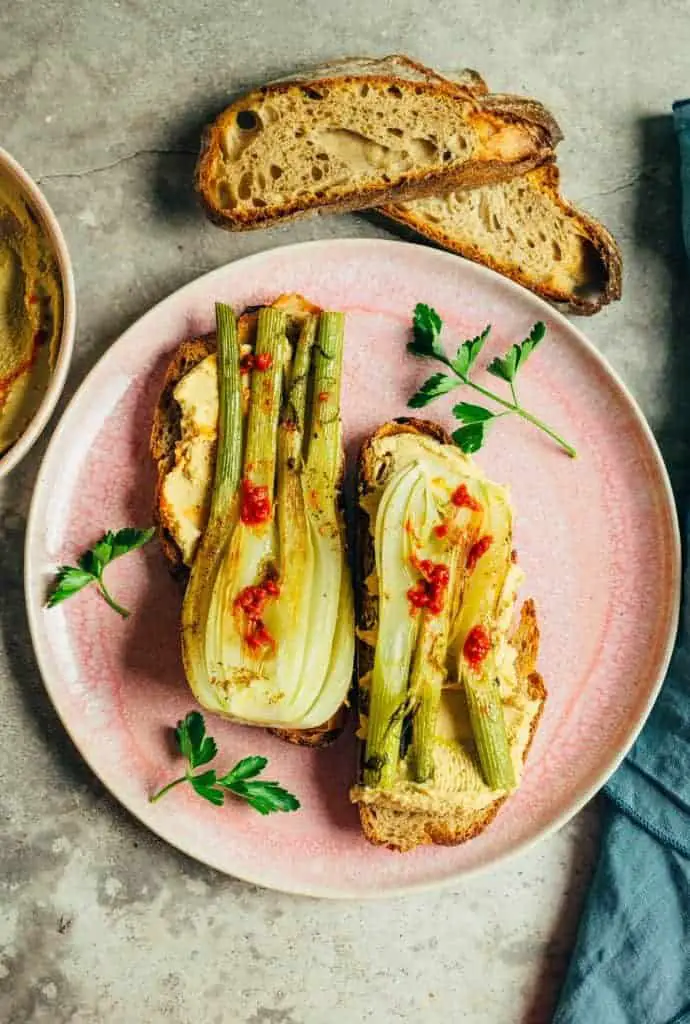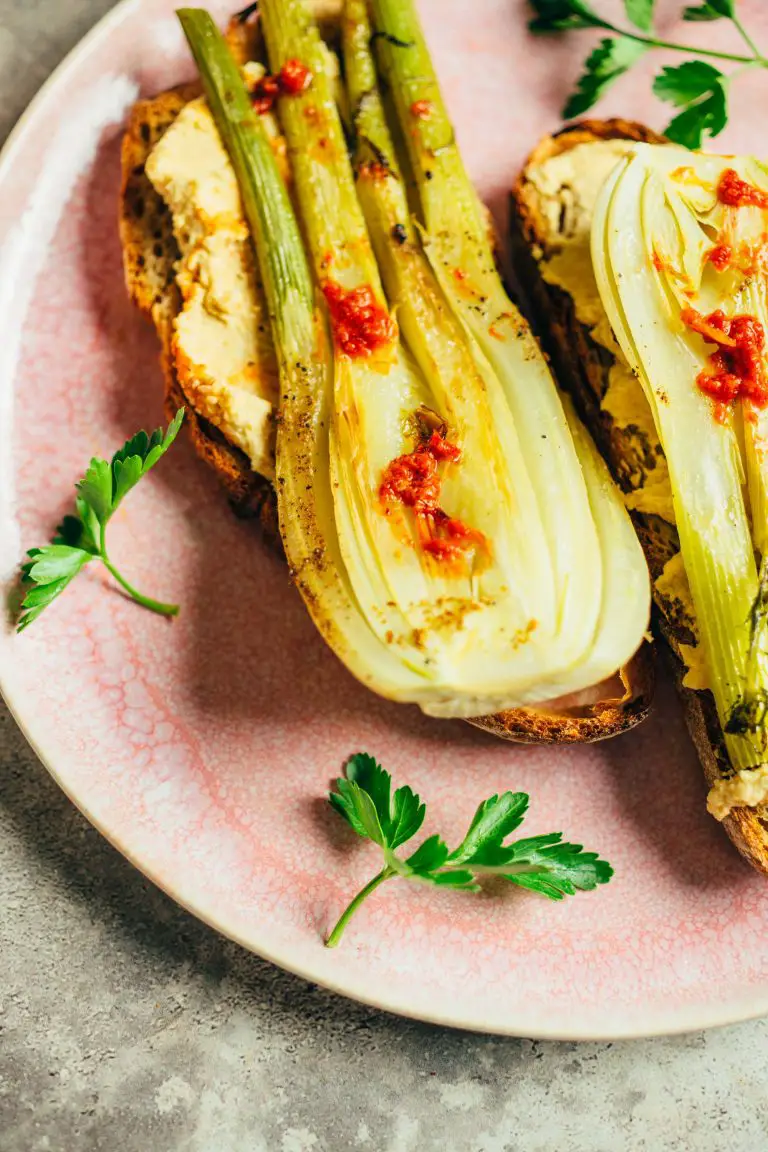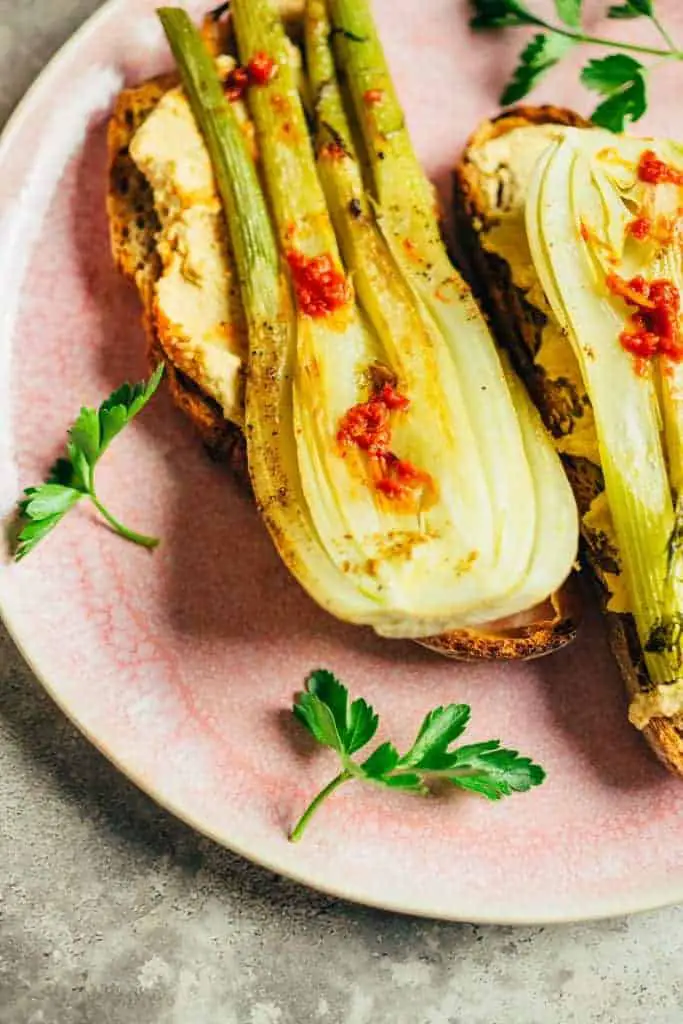 Sometimes it's funny when you look at the reservations about vegan cuisine. What else can you eat as a vegan, it is often said by critics and secretly I laugh at this prejudice. Assuming you had gone vegan 20 years ago, you would have had to deal with a relatively limited range of foods. Every now and then a Beyond Meat Burger for people who miss a meat patty, impossible! Today, the selection is now so large that you don't even know where to reach for in the supermarket. Supply is literally exploding and major dairies are offering plant-based alternatives. I also reach for a substitute here and there, though I prefer to focus on whole foods as much as possible.
Let's get back to the fennel. Actually, I wanted to make a dish in combination with white beans, but then I came up with the idea of hummus. Sounds great, fennel oriental spiced in combination with chickpeas. It becomes really delicious when freshly toasted sourdough bread comes into play. The fennel is definitely quick to make, fennel bulbs, Some oil, garlic, garam masala (or other oriental spice of choice), lemon, salt and pepper. Finely fried and served with hummus, fennel tastes simply sensational.
How healthy is actually fennel?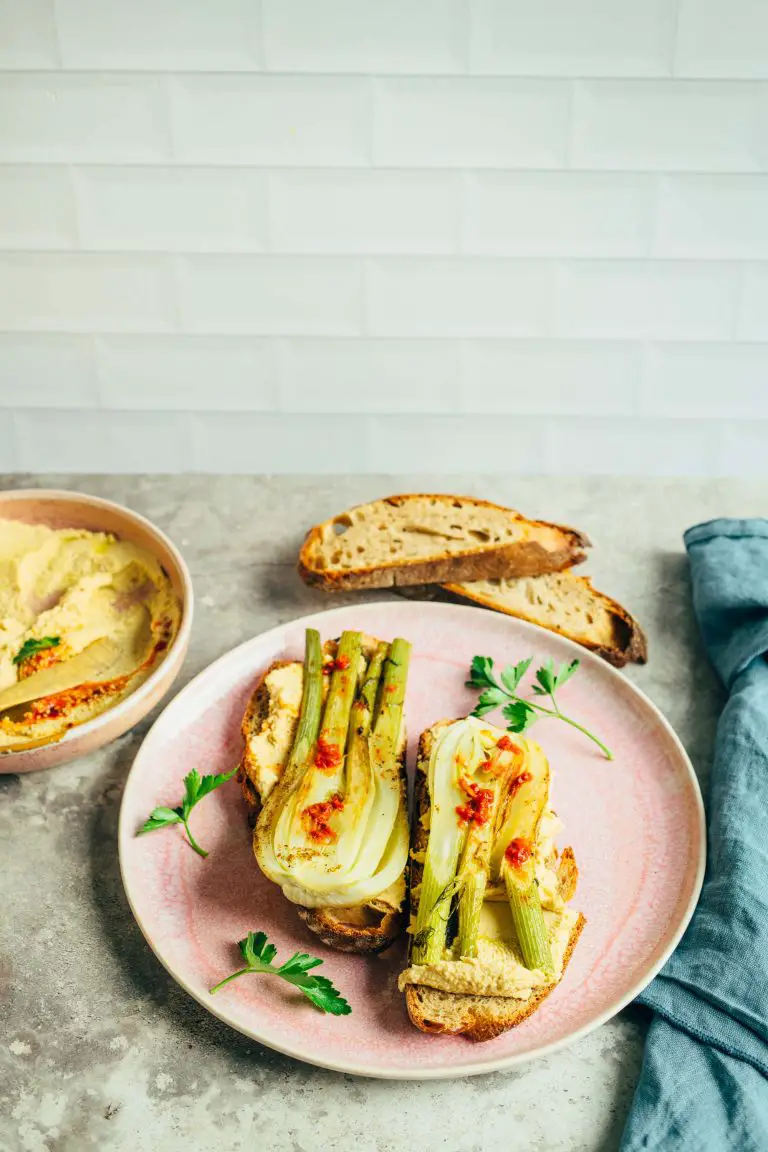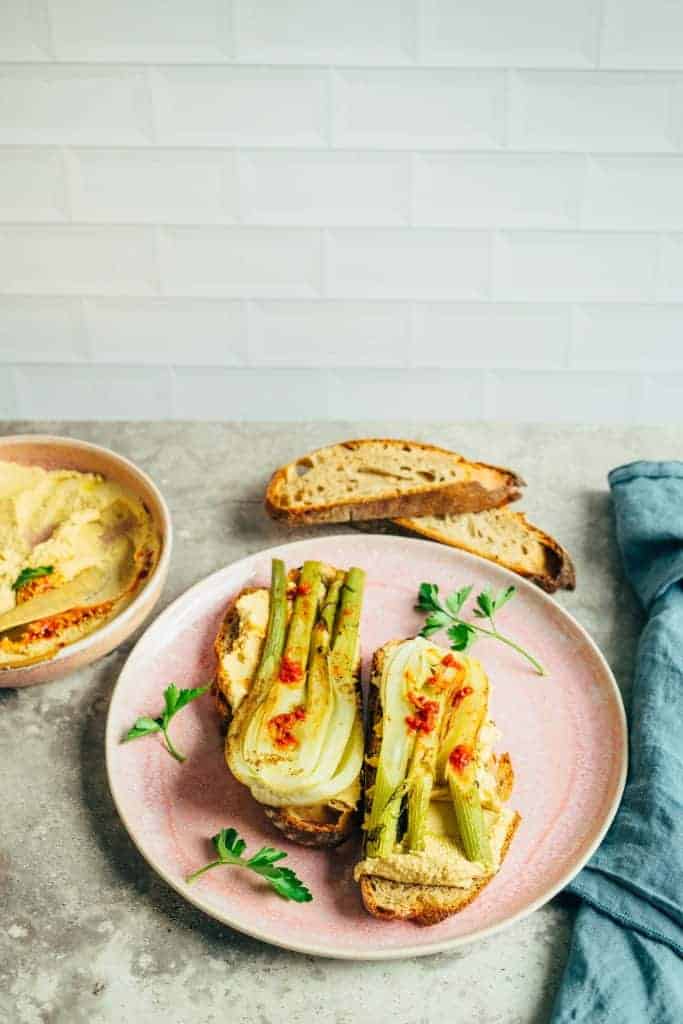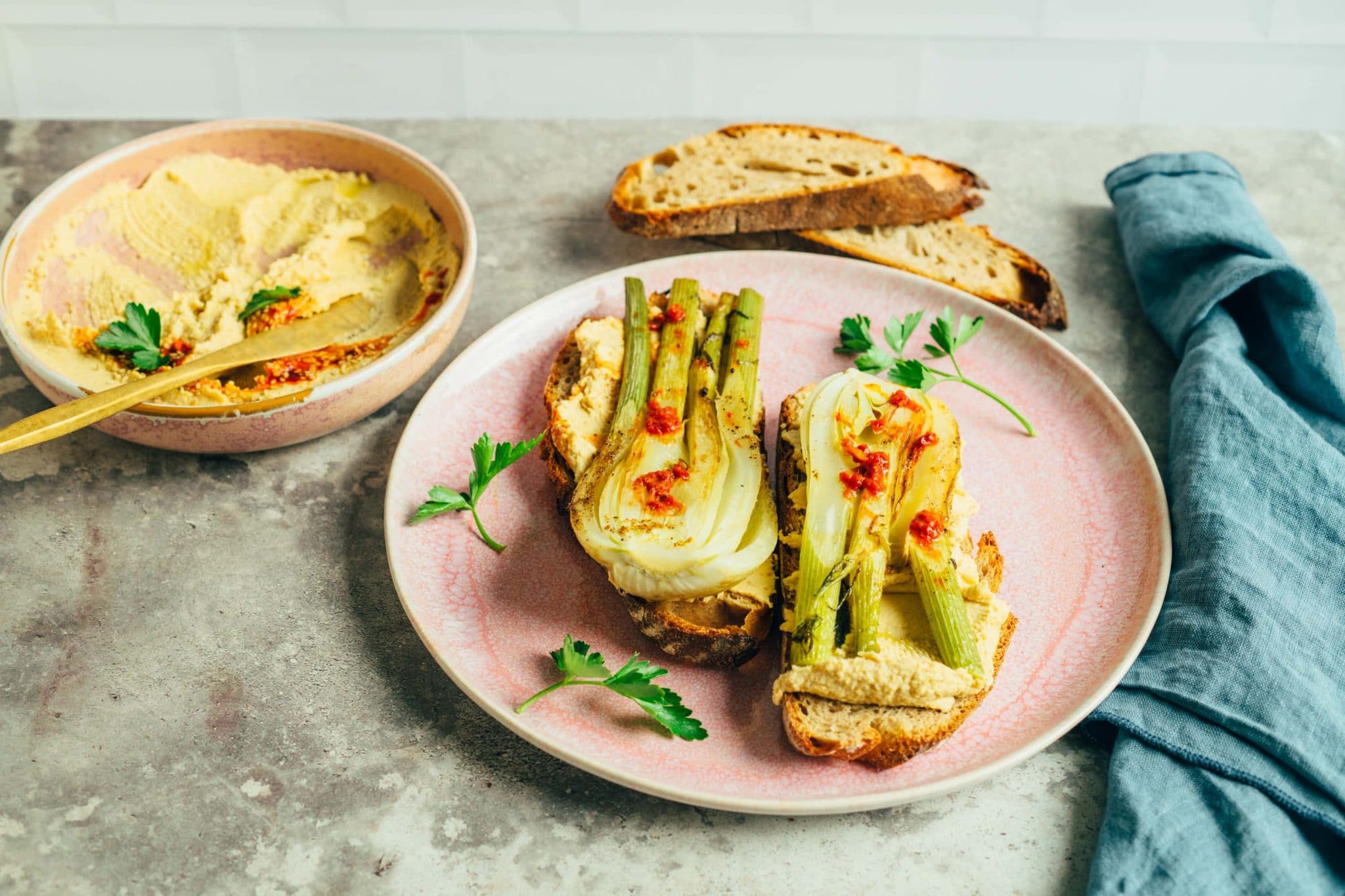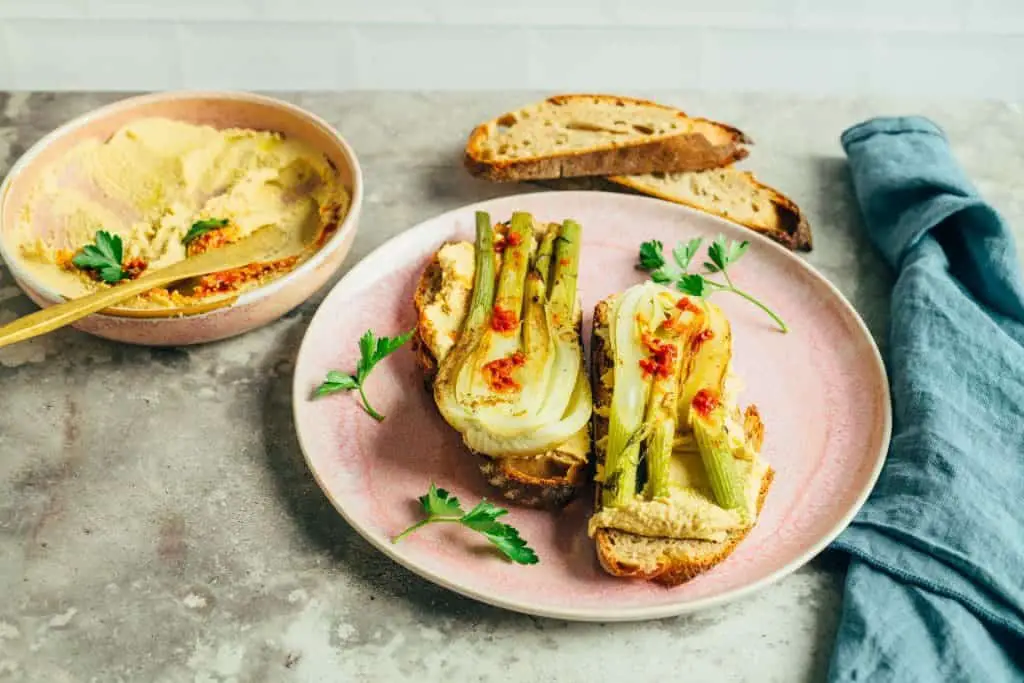 The only question that remains is how healthy fennel actually is and what properties it brings. Here is an overview:
19 calories per 100g
Taste a little reminiscent of anise (essential oils fenchone, anethole and myrcene), with a warm, woody undertone.
In principle, the entire fennel plant can be eaten, including the bulb, seeds, stalk and leaves
Fennel can be eaten raw and cooked
Rich in vitamins A, C, calcium, potassium. Magnesium and iron
So the next time you see fresh fennel bulbs, it's time to grab them. The vegetable brings a breath of fresh air into the kitchen with its unique taste and is also very healthy.
If you're in the mood for another healthy and light dish today, I recommend my beet hummus, or sweet potato hummus with fresh sourdough bread, or the springtime spaghetti with vegan spinach sauce.
The Braised Fennel on Hummus is:
Oriental
aromatic
Protein & High Fiber
filling
Easy to manufacture
Let's get started with this delicious vegan vegetable dish. I wish you a lot of fun with the re-cooking and am happy about a review at the bottom of this page. If you post a picture, use the hashtag #veganevibes.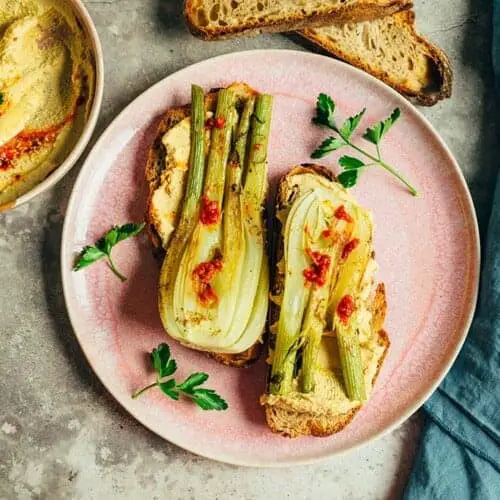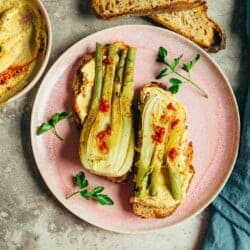 Braised fennel on hummus
Hearty pan braised fennel on a fine bed of hummus. Perfect as a light lunch or dinner or as an oriental appetizer. Together with fresh sourdough bread or hummus a poem. High in fiber, vegan and gluten-free.
AUTOR: VEGANEVIBES
FOR THE BRAISED FENNEL:
30

ml

Olive oil

2

Piece

medium tubers fennel

1

tbspn

Garam Masala

or curry powder

1

tbspn

Garlic granules or 2 fresh garlic cloves

½

tbspn

Pepper

Freshly ground
TO SERVE:
A portion of hummus classic

Baguette

Hot sauce to taste

Fresh lemon slices
Anleitung 
Preheat a roasting pan or large pot and pour in olive oil.

Wash fennel bulbs thoroughly, cut in half lengthwise and remove from hard pieces (such as the stalk).

2 Piece medium tubers fennel

TIP: Save celery greens and sprinkle over finished dish at the end.

Place tubers in roasting pan with cut side facing inward. Season with garam masala, garlic granules (or fresh garlic cloves), pepper and salt. Cover and let simmer for 10 minutes.

2 Piece medium tubers fennel,

1 tbspn Garam Masala,

1 tbspn Garlic granules or 2 fresh garlic cloves,

½ tbspn Pepper,

Salt to taste

After

10 minutes

, remove lid and cut fennel bulbs in half once. Put the lid back on and simmer for another 10 minutes.

Spread bread slices with hummus to taste and place braised fennel halves on top.

Salt to taste,

A portion of hummus classic,

Baguette,

Fresh lemon slices

Serve with hot sauce, fennel greens and other garnishes as desired and enjoy!

Best kept fresh, fennel stewed without hummus 2-3 days airtight in the refrigerator. Not suitable for freezing.
Notizen
Calorie calculation without hummus
Nährwertangaben
Serving:
1
Portion
Calories:
68
kcal
Carbohydrates:
1
g
Protein:
1
g
Fat:
8
g
Saturated Fat:
1
g
Sodium:
1
mg
Potassium:
7
mg
Fiber:
1
g
Sugar:
1
g
Vitamin A:
1
IU
Vitamin C:
1
mg
Calcium:
1
mg
Iron:
1
mg