Spaghetti with vegan spinach sauce is on the agenda today. This simple recipe is just the thing for hectic days when you need something on the table quickly. It's like that almost every day, but I usually have some pre-cooked food in the fridge and can heat it up quickly. If it is once not so, then this recipe comes on the scene. One pot, one blender and off you go. We have discovered a new organic farm and are completely thrilled. Every Friday the small farm store is open and you can get fresh fruit, vegetables, bread and cereals. The difference with the goods from the supermarket and also from the eco-box is that the goods are much fresher. It comes straight from the field to the store, so to speak, and you can tell. Of course, much is also supplied, but that is also much fresher compared to what I know from the supermarkets. The crispy fresh spinach practically seduced me into this recipe. I hope you enjoy it as much as we do.
Spaghetti with vegan spinach sauce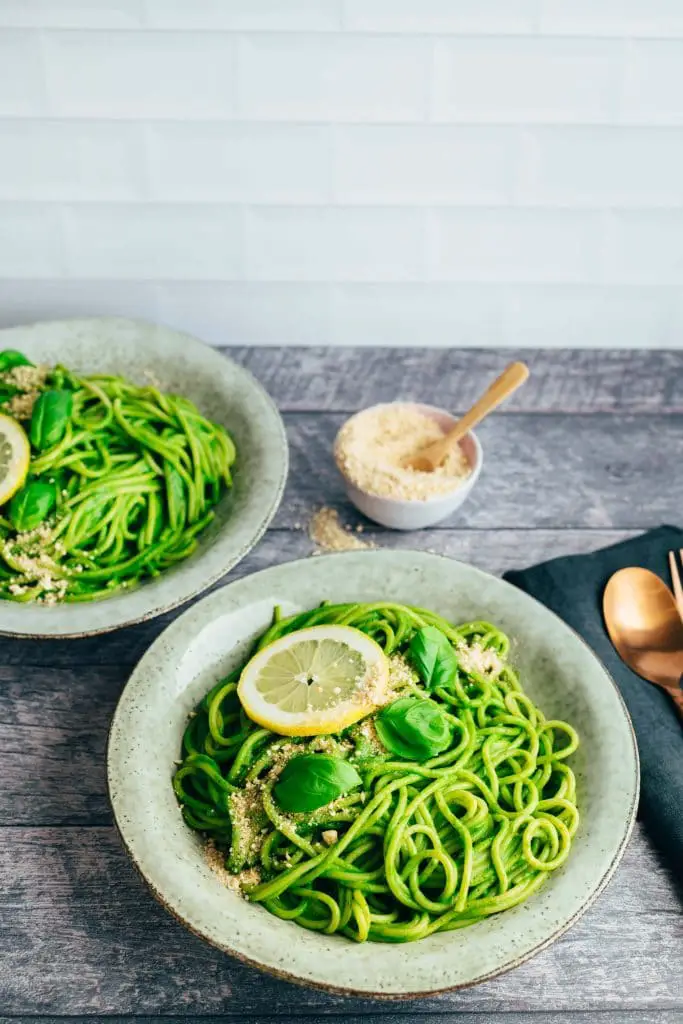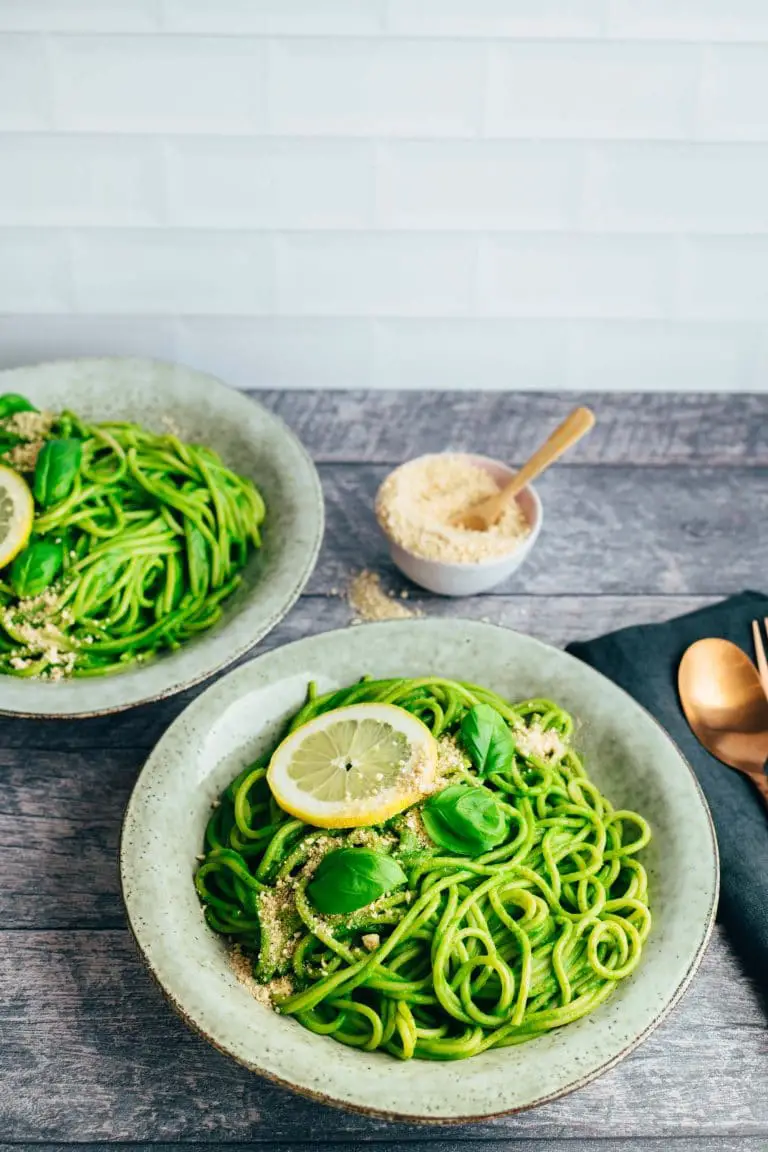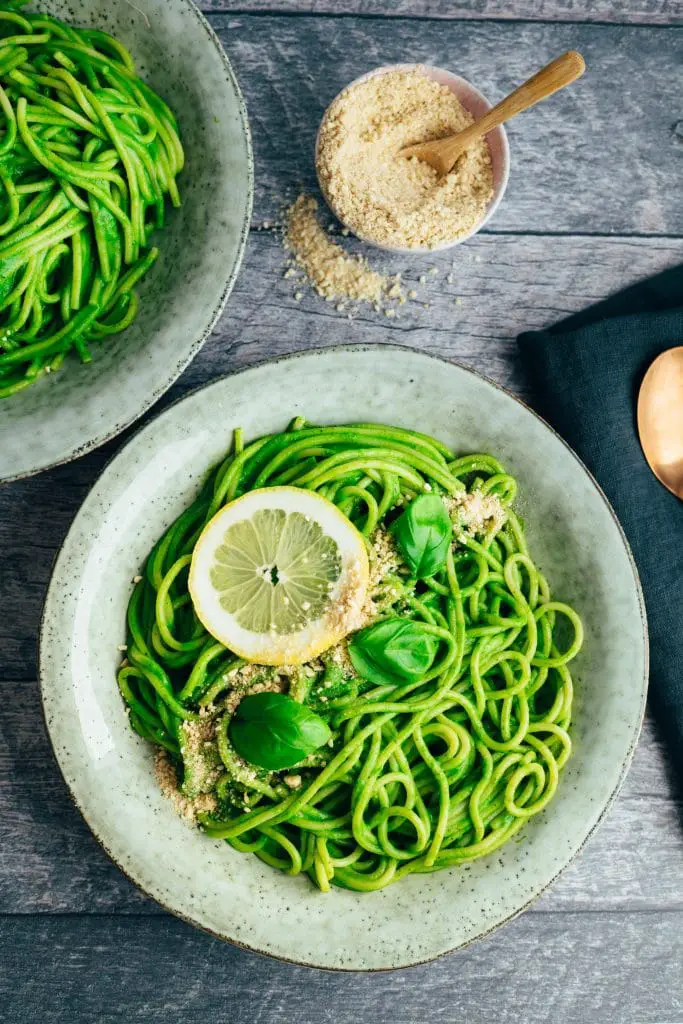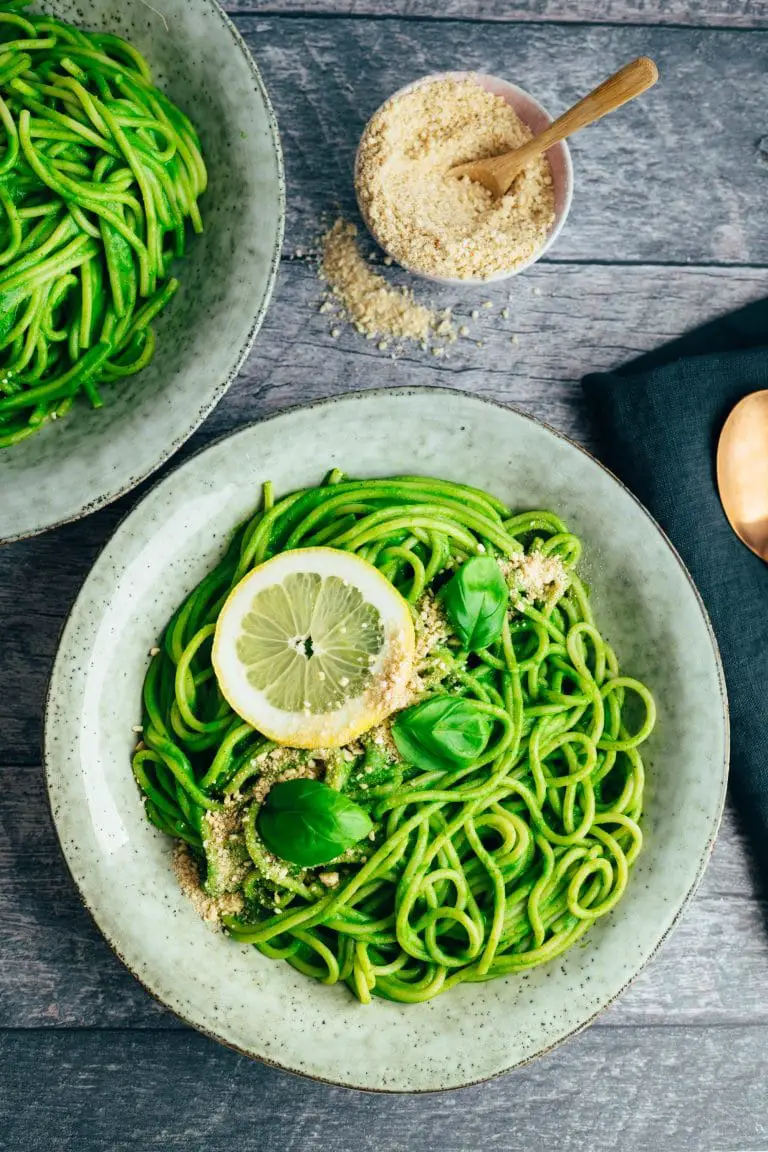 As advertised, this recipe is super easy and is on the table in under 20 minutes. Heat water, cook spaghetti (or other pasta of choice) and meanwhile prepare the sauce. The only thing that may not be as fun is washing the spinach. I now do this right after I've shopped. Before I even put the vegetables in the fridge, everything is thoroughly washed and boxed or goes directly into the vegetable drawers. This saves time, especially when cooking has to be done quickly.
Spinach, basil, coconut milk, yeast flakes, cornstarch, garlic granules (or fresh garlic), onion powder, salt pepper and a pinch of nutmeg. Put everything in the blender and blend on high speed until fine. Then add to the pasta, stir once and you're done. I like to add a little Cashew Parmesan over it and decorate the dish with fresh basil leaves.
TIP: Instead of spinach, fresh wild garlic is also suitable as a substitute. Defrost frozen spinach beforehand. However, I prefer to recommend the dish with fresh spinach.
How healthy is actually spinach?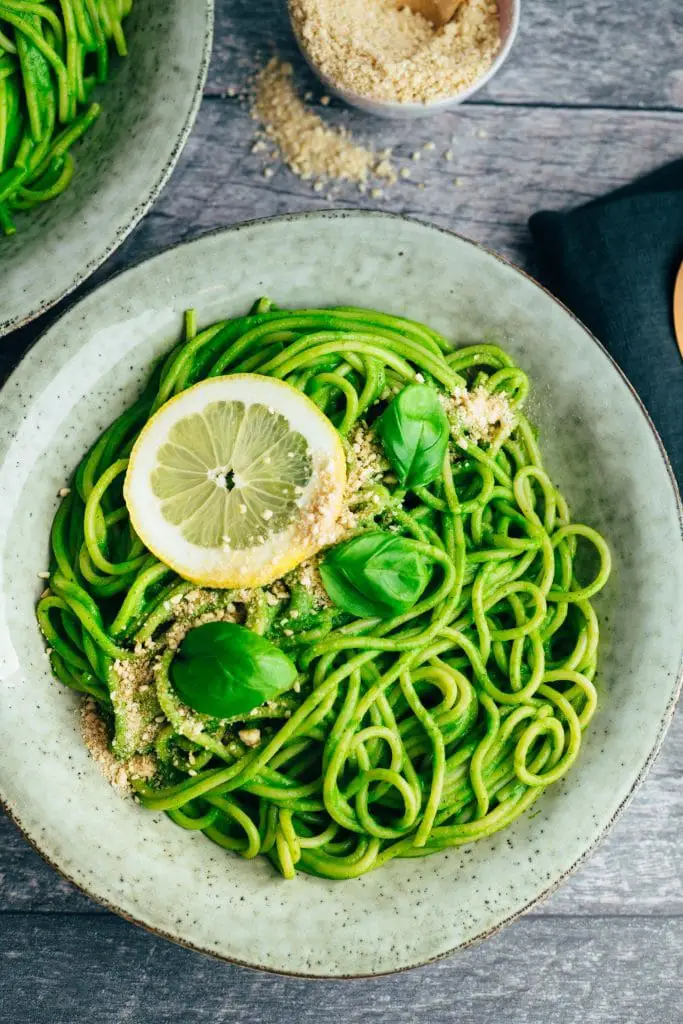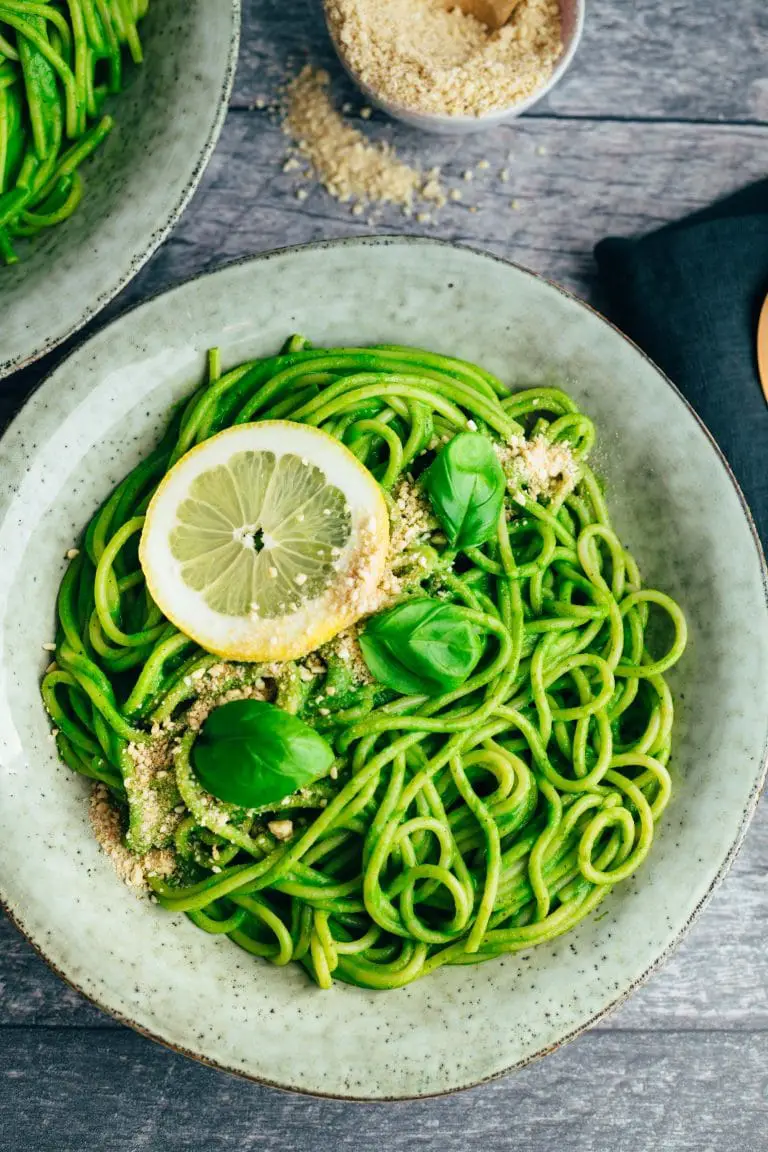 Spinach is very low in calories and consists of 91 percent water. Nevertheless, it is rich in vitamins and minerals:
Provitamin A (converted to vitamin A in the body)
Vitamin C (supports immune system and healthy skin)
Vitamin K1 (important for blood clotting, already one leaf of spinach covers half of the daily requirement)
Folic acid (also folate or B9 supports optimal cell function and tissue growth. Especially important for women who want to have children, pregnant women and during breastfeeding).
Calcium (important for healthy bones, heart, muscles and nervous system)
Iron (important for the transport of oxygen to the cells and the formation of red blood cells) Click here for a detailed article on iron.
But that's not all, because in addition to the above, there are numerous secondary plant compounds:
Lutein (may reduce the risk of age-related eye diseases).
Querecetin (anti-inflammatory and immunostrengthening)
Nitrate (may promote heart health)
Zeaxanthin (may reduce risk of age-related diseases)
Kämpferol (may reduce the risk of cardiovascular disease).
Quick vegan dishes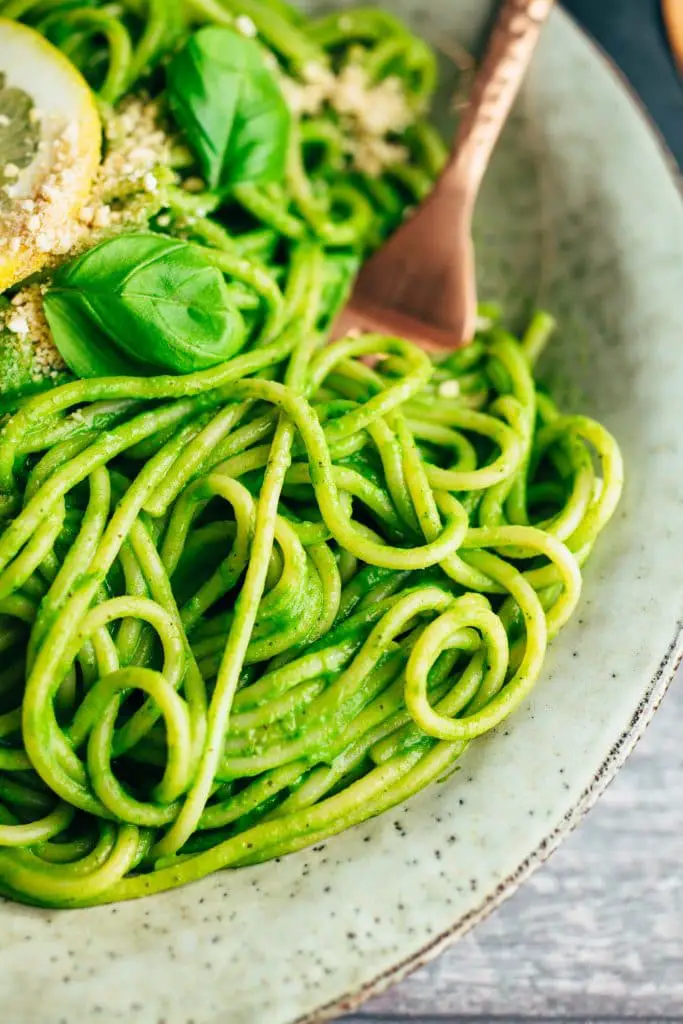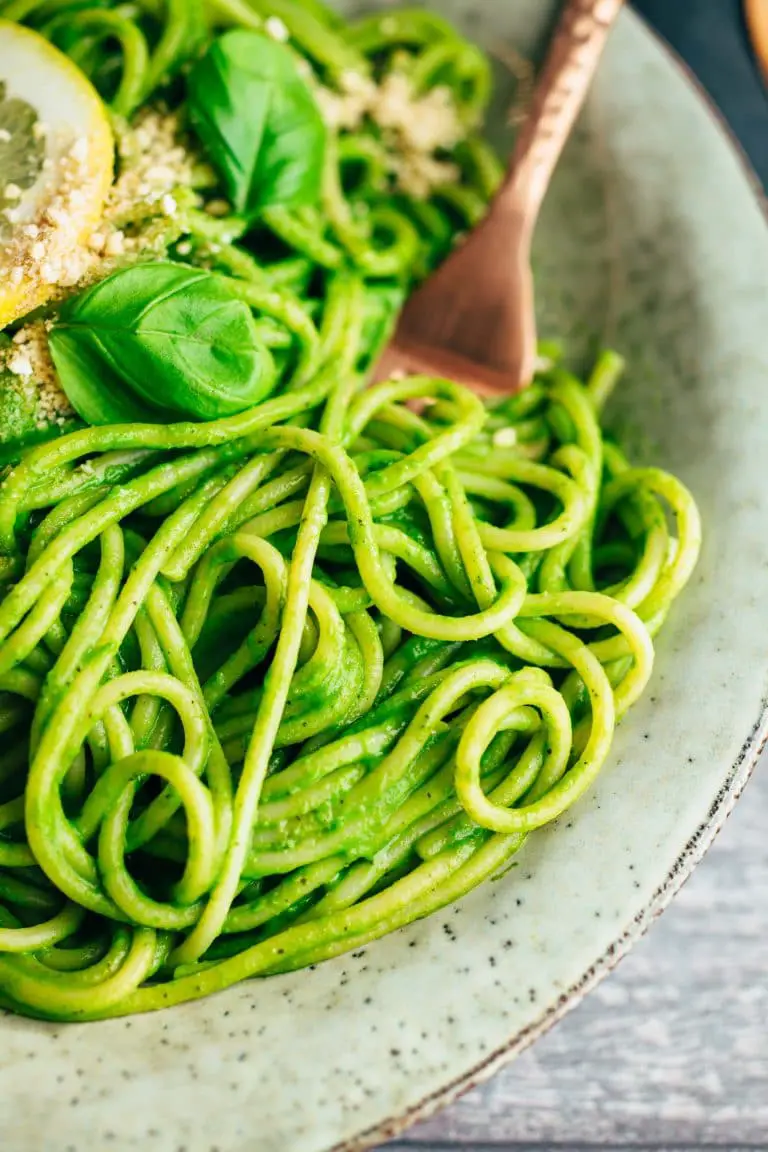 That says it all for today's simple vegan dish. If you're in the mood for another pasta variation today, I recommend my Pasta alla Norma, High Protein Pasta or the Pasta Mexican Style .
The spaghetti with vegan spinach sauce (20 minutes) are:
Rich in valuable vitamins and minerals
saturating
aromatic
spicy
quickly made
Are you ready this delicious, vegan and simple dish? I wish you a lot of fun in recooking and of course a review at the bottom of this page. If you post a picture, use the hashtag #veganevibes.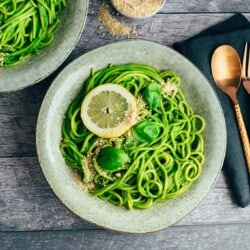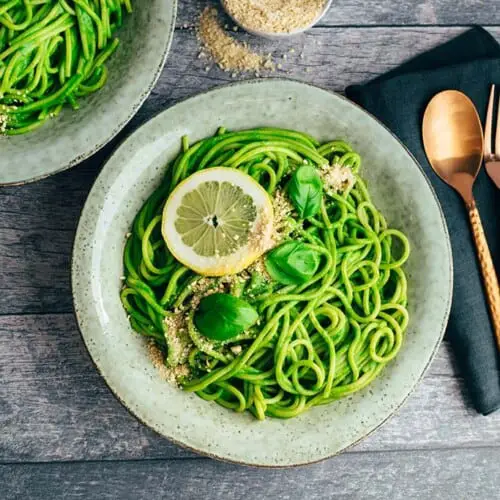 Spaghetti with vegan spinach sauce (20 minutes)
Quick, vegan pasta with a delicious green spinach sauce, prepared in a flash in a high-powered blender. Ideal for lunch or dinner when you need to go fast. Rich in essential vitamins, minerals and phytochemicals. Gluten free and low carb options.
AUTOR: VEGANEVIBES
400

g

Spaghetti

or any other pasta of your choice, use gluten-free pasta if needed or a low carb version.

150

ml

Plant milk

250

ml

Coconut milk

alternatively use another vegetable milk of choice

180

g

fresh spinach

washed, coarsely chopped

24

g

fresh basil

optional 1 tsp dried basil

15

g

Cornstarch

or other vegan starch of choice

2

tbspn

Garlic granules

or 4 cloves fresh garlic peeled

1

tbspn

Onion powder

1/8

tbspn

Nutmeg
Anleitung 
Cook pasta according to package instructions until al dente.

In the meantime, provide high-powered blender. Important! First put in the liquid, so the blender can work optimally.

Pour in coconut milk, spinach, basil, cornstarch, nutritional yeast flakes, garlic granules, onion powder, nutmeg and salt and blend on high speed for 60 seconds until a fine green sauce is formed.

150 ml Plant milk,

250 ml Coconut milk,

180 g fresh spinach,

24 g fresh basil,

15 g Cornstarch,

15 g Nutritional yeast flakes,

2 tbspn Garlic granules,

1 tbspn Onion powder,

1/8 tbspn Nutmeg,

1 strong pinch of salt

Drain pasta and return to pot.

Season to taste and pour into the pot with the spaghetti. Heat briefly, stir and remove from heat.

Divide into plates, garnish with cashew parmesan and fresh basil and serve.

Fresh basil leaves,

Cashew Parmesan

Remains 1-2 days airtight days sealed in the refrigerator durable. Heat in a pot together with some vegetable broth.
Notizen
Nährwertangaben
Serving:
1
Portion
Calories:
775
kcal
Carbohydrates:
66
g
Protein:
14
g
Fat:
52
g
Saturated Fat:
44
g
Sodium:
49
mg
Potassium:
499
mg
Fiber:
4
g
Sugar:
3
g
Vitamin A:
3747
IU
Vitamin C:
13
mg
Calcium:
105
mg
Iron:
3
mg