Chickpea muffins are a wonderful thing, especially for a vegan brunch in the sun. I'm thinking, for example, of the next Easter, which is practically just around the corner. Today is one of the first days when the sun shines and temperatures are almost warm. I am already thinking about the next vegan Easter and look forward to a long table with many specialties that you can also eat as finger food. These savory muffins are definitely one of them, too. Well, do you feel like it? Then let's get started together.
Chickpea muffins vegan and gluten free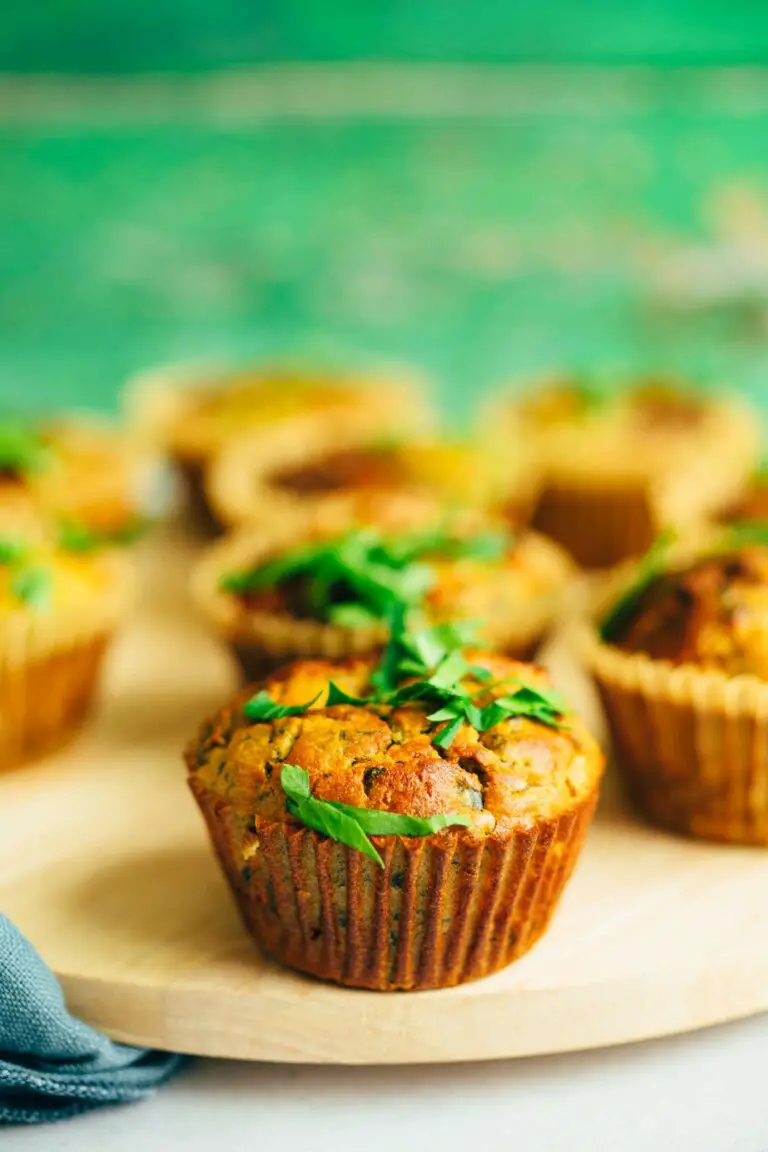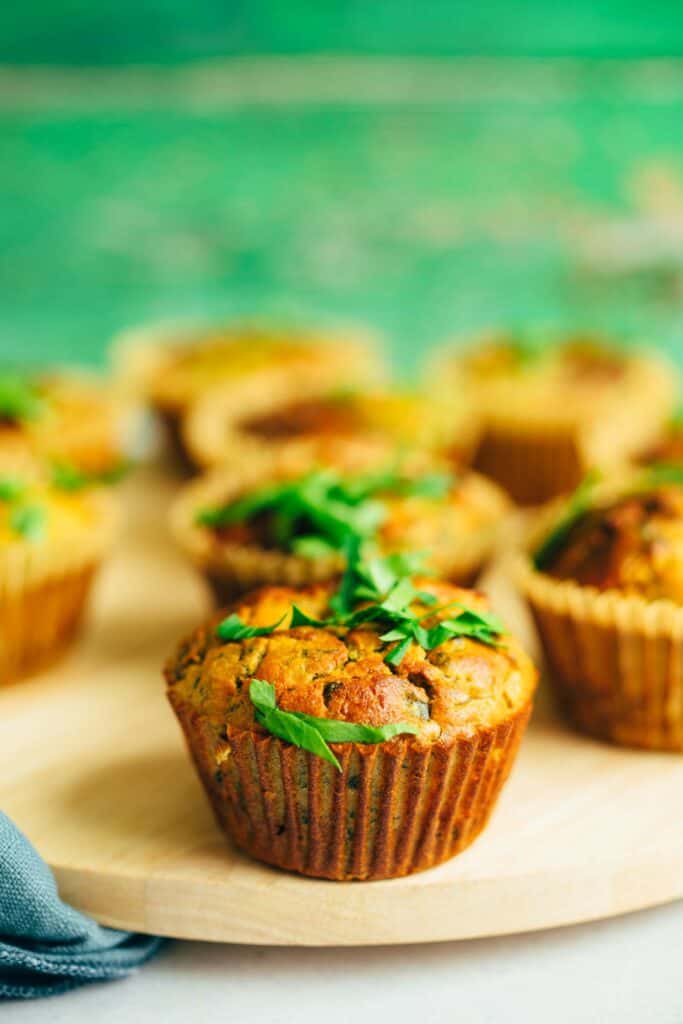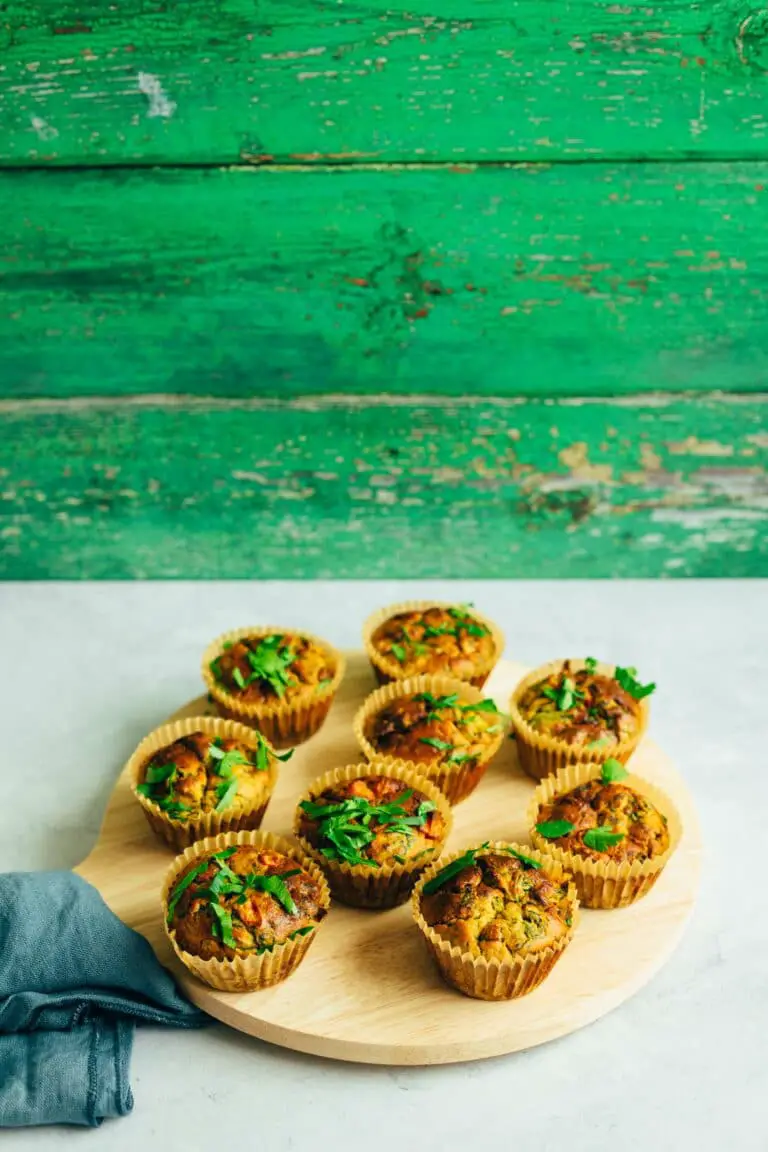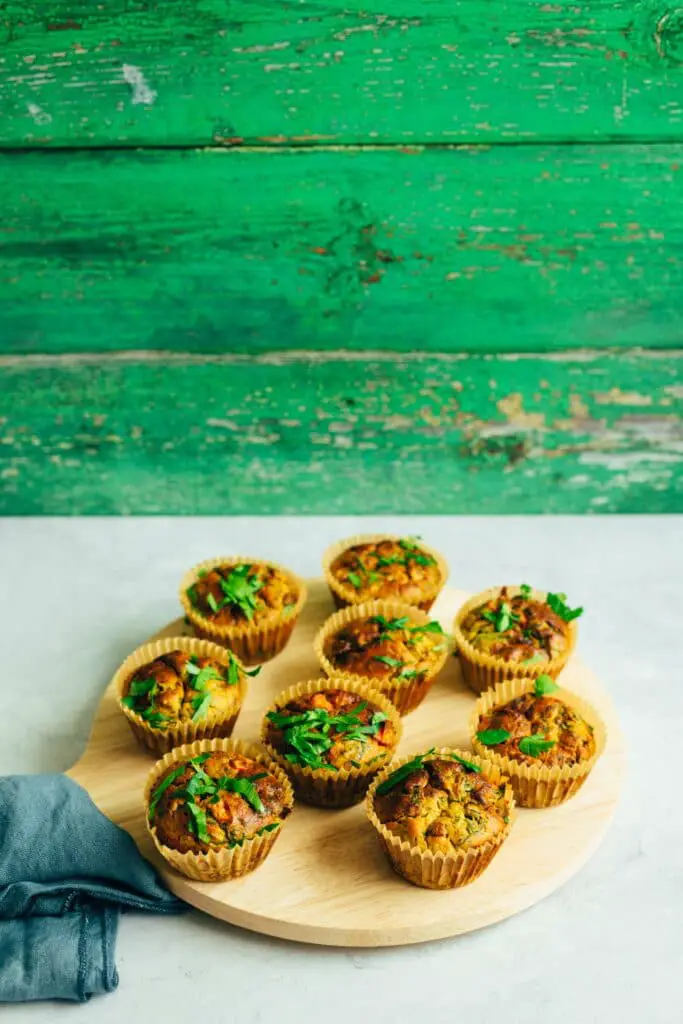 This chickpea muffins are fluffy, flavorful and hearty. But this is still not the best argument, because the production is quick and easy. Let's get to the ingredients, chickpea flour, vegetable milk, nutritional yeast flakes, oregano, garlic granules, baking powder, salt, pepper and oil. Then we stir in the vegetables. Spinach, mushrooms, red peppers, onions. Stir and pour into muffin tins. Then put in the oven and bake.
That's really all there is to it. Sounds simple, doesn't it? It is and the result is simply sensational. My favorite way to eat the muffins is fresh out of the oven along with a fine lettuce salad, which brings a nice freshness.
By the way, you have free choice in the selection of vegetables you put into the muffins and you can let your imagination run wild. For mushrooms, shiitake, oyster mushrooms, chanterelles, or whatever else you can currently get are just as good. Otherwise, yellow or green peppers, carrots, zucchini, green onion and many other vegetables also work.
TIP: Blanch fresh spinach for a few minutes before using so that it collapses. Otherwise, the volume is too large and difficult to fill into the muffin tins. Frozen spinach is best thawed beforehand, especially if frozen in cubes.
How healthy is chickpea flour?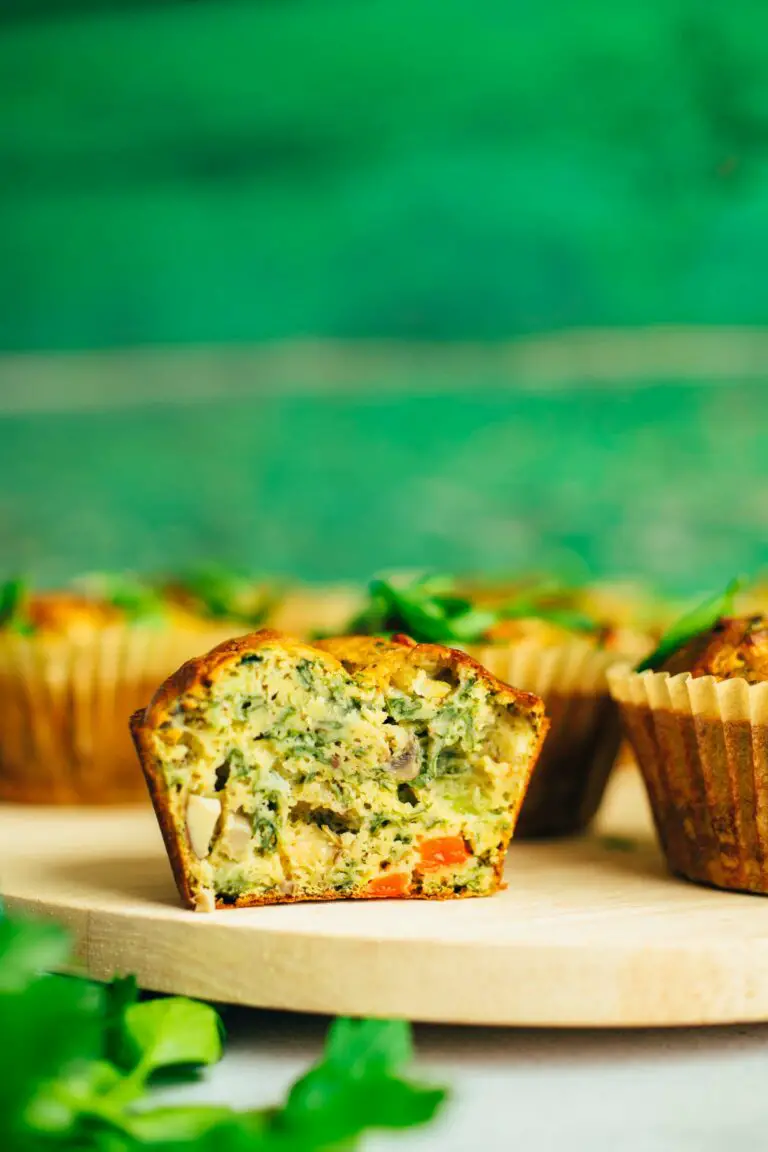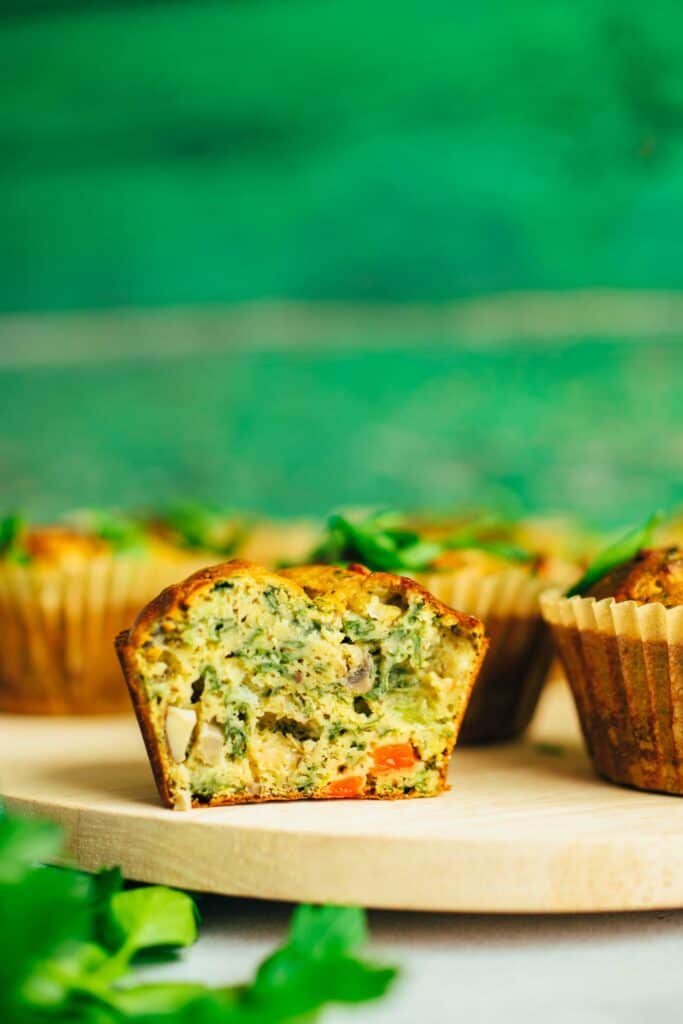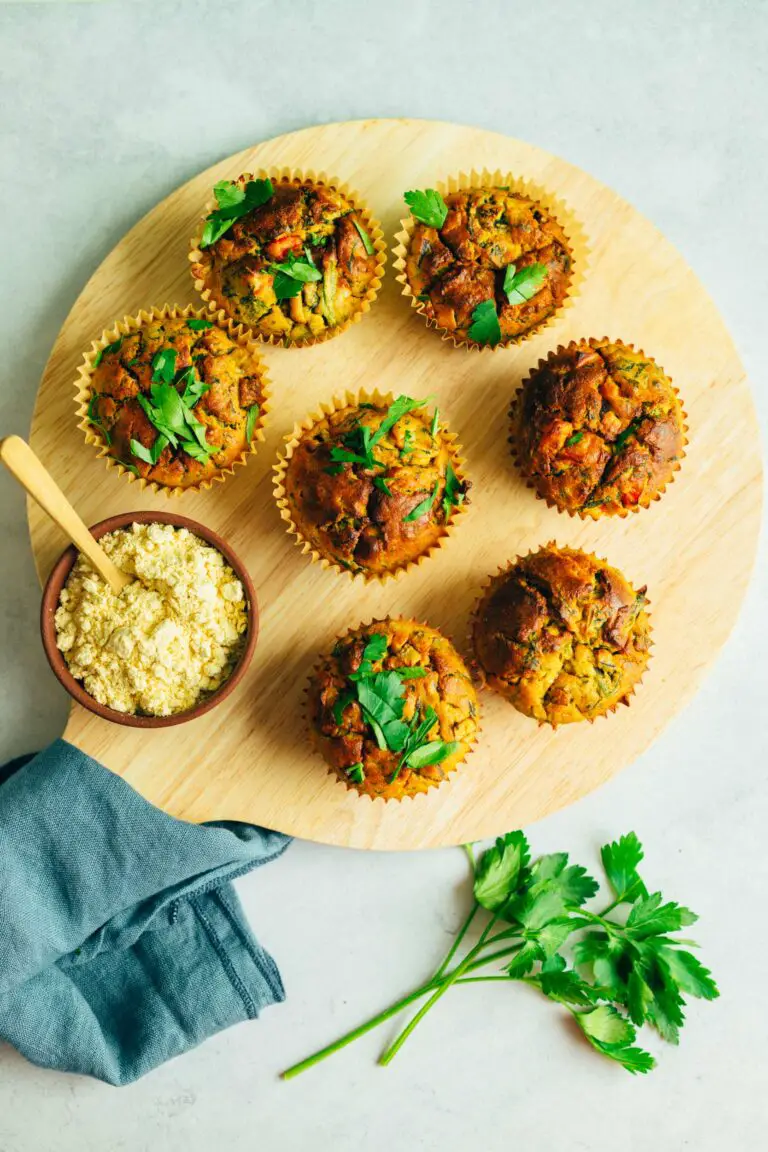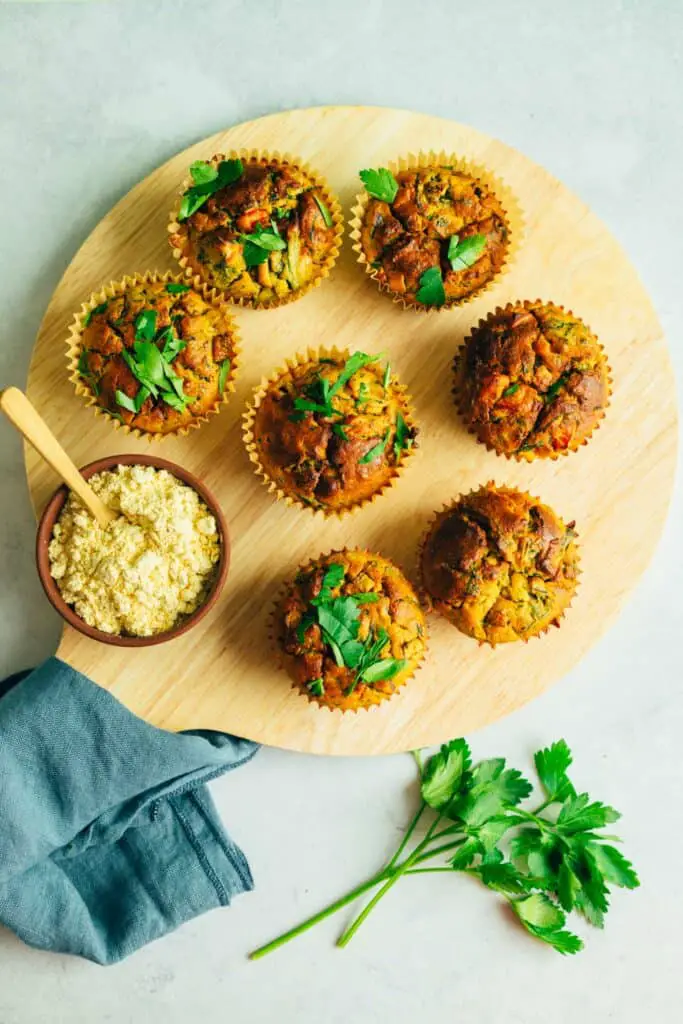 Chickpea flour is my new favorite in the kitchen because it's gluten-free and full of protein. In total, it contains about 20 percent vegetable protein, which makes it very attractive for people who particularly value a high protein content in their diet. In addition, there is a high fiber content, which further emphasizes the health benefits. Here are some more good arguments in favor of using chickpea flour.
Particularly good binding properties, perfect egg substitute (1 egg = 1 heaped tablespoon chickpea flour + 2 tablespoons of warm water).
Rich in vitamins and minerals (vitamins B1, B6, C, E, iron, magnesium and zinc)
Well satiating and particularly rich in magnesium, iron, calcium and potassium
Useful addition to a low-carb diet
I would say we start off with these hearty, gluten-free muffinsI hope you enjoy baking them and of course about a review at the bottom of this page. If you post a picture, feel free to use the hashtag #veganevibes.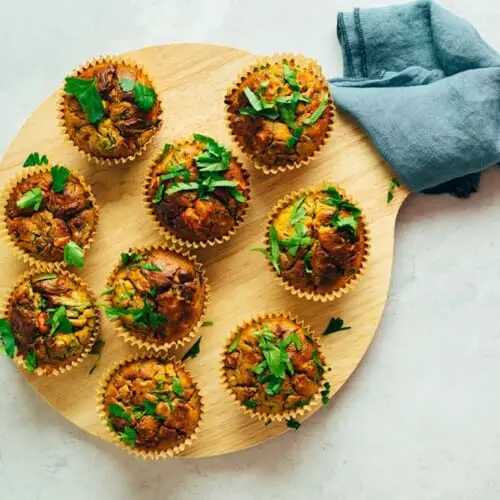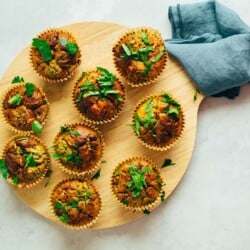 Chickpea muffins (v & gf)
Aromatic, hearty muffins made with fine chickpea flour. Packed with healthy veggies like spinach, mushrooms and red bell peppers. Perfect for an extended breakfast, lunch or vegan snack. Gluten-free, high fiber and suitable for a low-carb diet.
AUTOR: VEGANEVIBES
215

g

Chickpea flour

375

ml

Vegetable milk

I take oat milk, but it also works with water

2

tbspn

Italian herbs

alternatively oregano, basil mixed

1

tbspn

Garlic granules

or 1-2 cloves fresh garlic

1

tbspn

Baking powder

1

tbspn

Salt

optional Kala Namak for an eggy taste

½

tbspn

black pepper

15

ml

Olive oil

can also be omitted if oil-free

75

g

Spinach

Frozen

150

g

Mushrooms

sliced

½

Piece

red bell bell pepper

cut into fine cubes

1

Piece

red onion

peeled and finely chopped
Anleitung 
Preheat oven to 175 degrees convection (195 degrees top-bottom heat) and line a muffin baking tray with muffin paper cups.

Thaw frozen spinach, blanch fresh spinach until it collapses. Set aside.

Provide a large baking dish. Pour in chickpea flour, pour in vegetable milk, stirring until everything is evenly combined.

215 g Chickpea flour,

375 ml Vegetable milk,

15 ml Olive oil

Add nutritional yeast flakes, Italian herbs, garlic granules, baking powder, salt and pepper and stir everything well.

25 g Nutritional yeast flakes,

2 tbspn Italian herbs,

1 tbspn Garlic granules,

1 tbspn Baking powder,

½ tbspn black pepper

TIP Kala Namak instead of salt provides an eggy note.

Add spinach, mushrooms, bell bell pepper and onion and fold in.

75 g Spinach,

150 g Mushrooms,

½ Piece red bell bell pepper,

1 Piece red onion

Using a tablespoon, divide evenly among all muffin tins and place in oven. Bake for 30 minutes.

Remove from the oven and let cool briefly.

(Optional) dress with fresh herbs and your choice of dip and enjoy!

Best fresh. Store leftovers in an airtight container in the refrigerator for 1-2 days.
Nährwertangaben
Serving:
1
Piece
Calories:
95
kcal
Carbohydrates:
10
g
Protein:
4
g
Fat:
5
g
Saturated Fat:
1
g
Sodium:
73
mg
Potassium:
229
mg
Fiber:
2
g
Sugar:
5
g
Vitamin A:
597
IU
Vitamin C:
2
mg
Calcium:
23
mg
Iron:
1
mg