Fluffy peanut mousse with aquafaba, a poem for those who love desserts. It is said that there are people who do not like desserts. I can't imagine that at all, because I love them more than anything. Hardly a day goes by without me eating something sweet. Admittedly, sometimes it's just a date, but I also have to test a lot. It's a bitch to try so many goodies, isn't it? To be honest, it's fun, but it's also often too much. Then I'll give the rest to anyone who lives nearby. My parents, parents-in-law, friends and acquaintances. No one has complained yet and I hope that no one will do so in the future. When my dad likes it, I always get a picture sent to me on social media. But there are also suggestions for improvement from time to time, which I take very seriously, of course. He thought today's mousse was mega good and I can't wait to hear what you have to say about it.
Fluffy peanut puree with aquafaba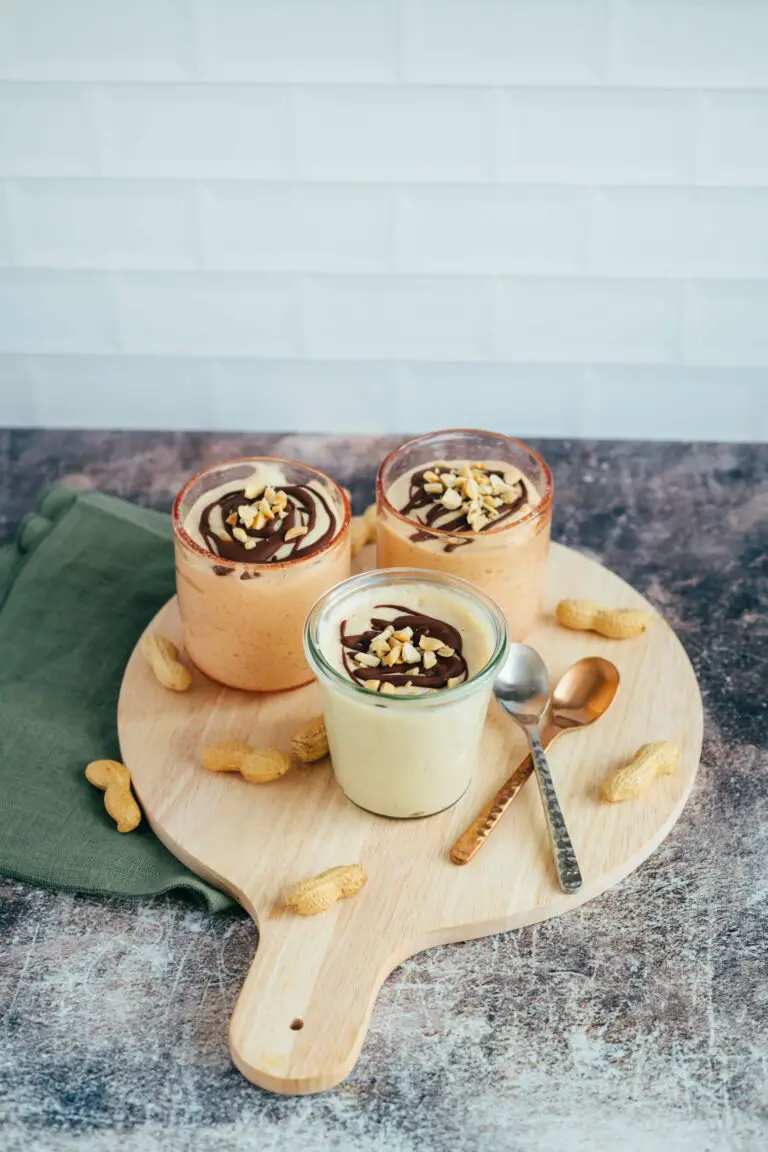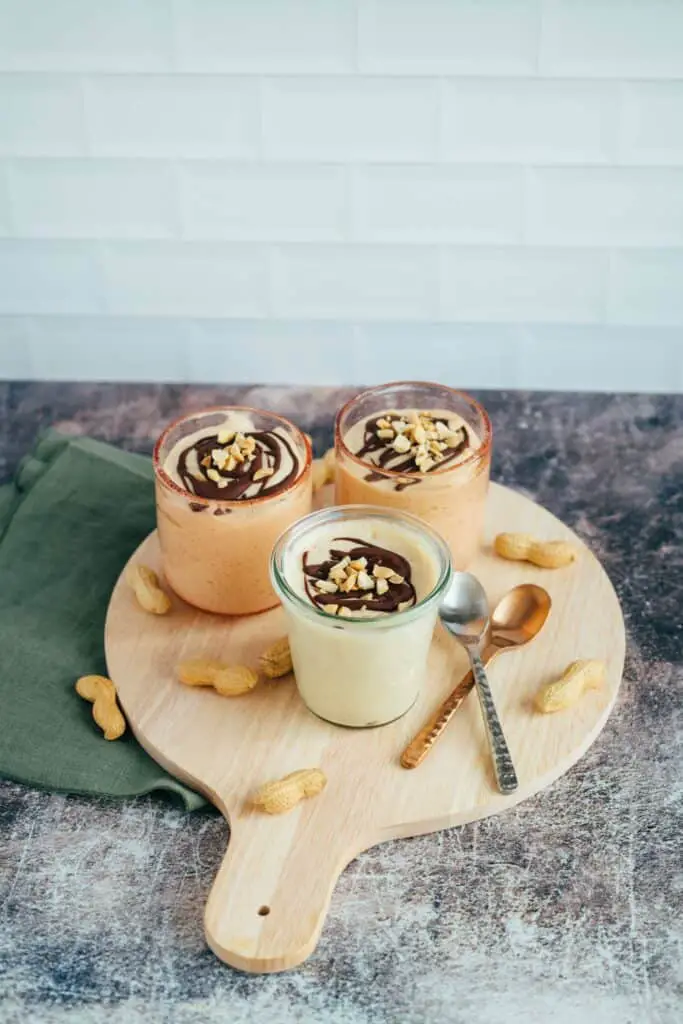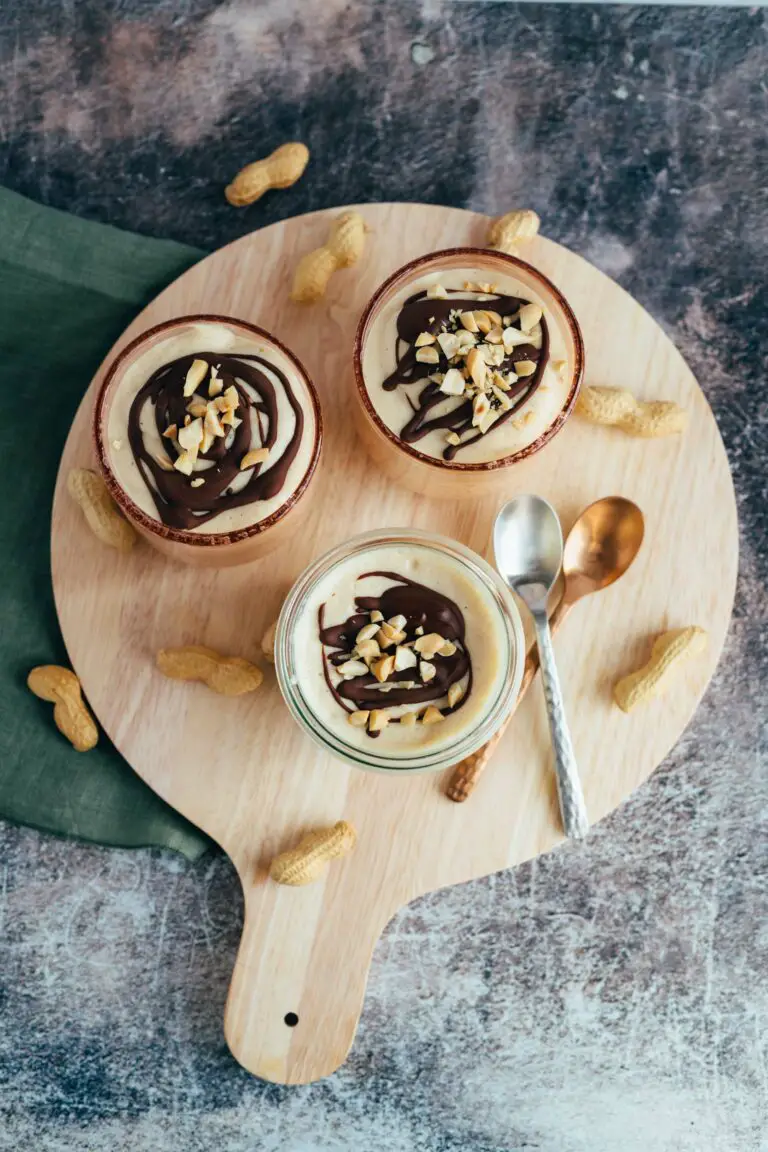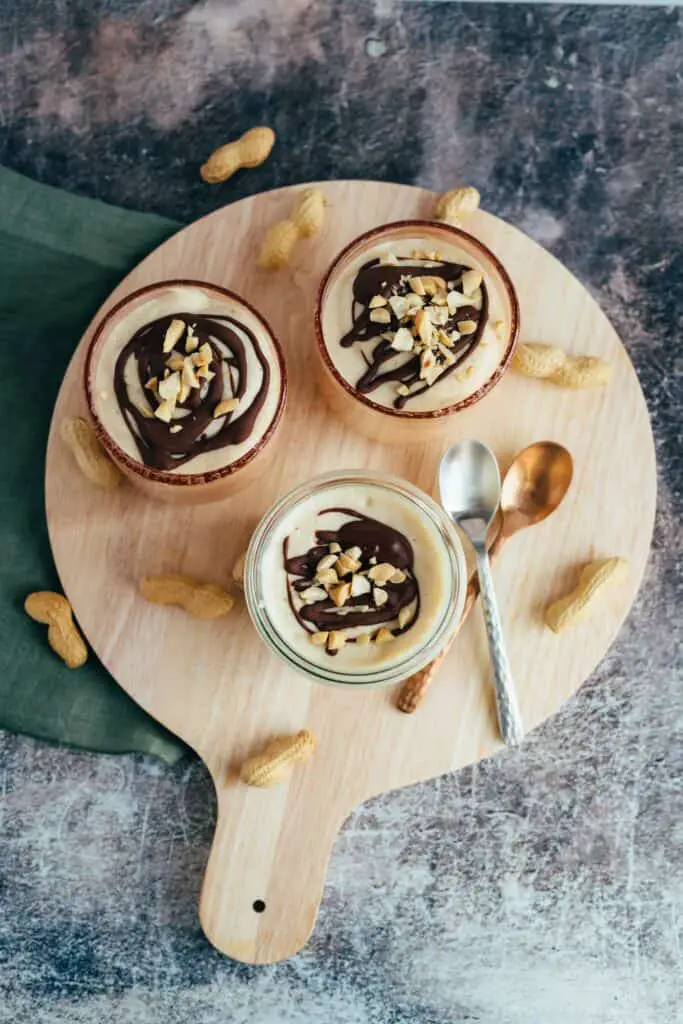 Our dessert today consists of simple ingredients. The basic building block is first of all aquafaba, which I make in my MagiMix. Admittedly, it was a bit bumpy the first few times until I got the hang of it. If you need more info on how to make aquafaba, then I recommend my article with valuable tips. The most important thing for stabilization is, as so often, xanthan gum. It makes the fake egg whites incredibly firm and stable, no comparison to making them without the natural binder.
Note: Xanthan gum is a natural excipient that is also approved for organic foods and has a permanent place in my kitchen.
As soon as the chickpea whites are ready, continue with the rest of the ingredients. Silken tofu, maple syrup (or other liquid sweetener), peanut butter, bourbon vanilla, and a pinch of salt. I put all this together in the MagiMix, mix briefly and ready is the peanut butter silken tofu mixture.
I then add the mixture to the giggle snow and gently fold it in. By the way, the xanthan gum also helps here, because false egg whites do not collapse so quickly and remain super stable.
Simple aquafaba recipes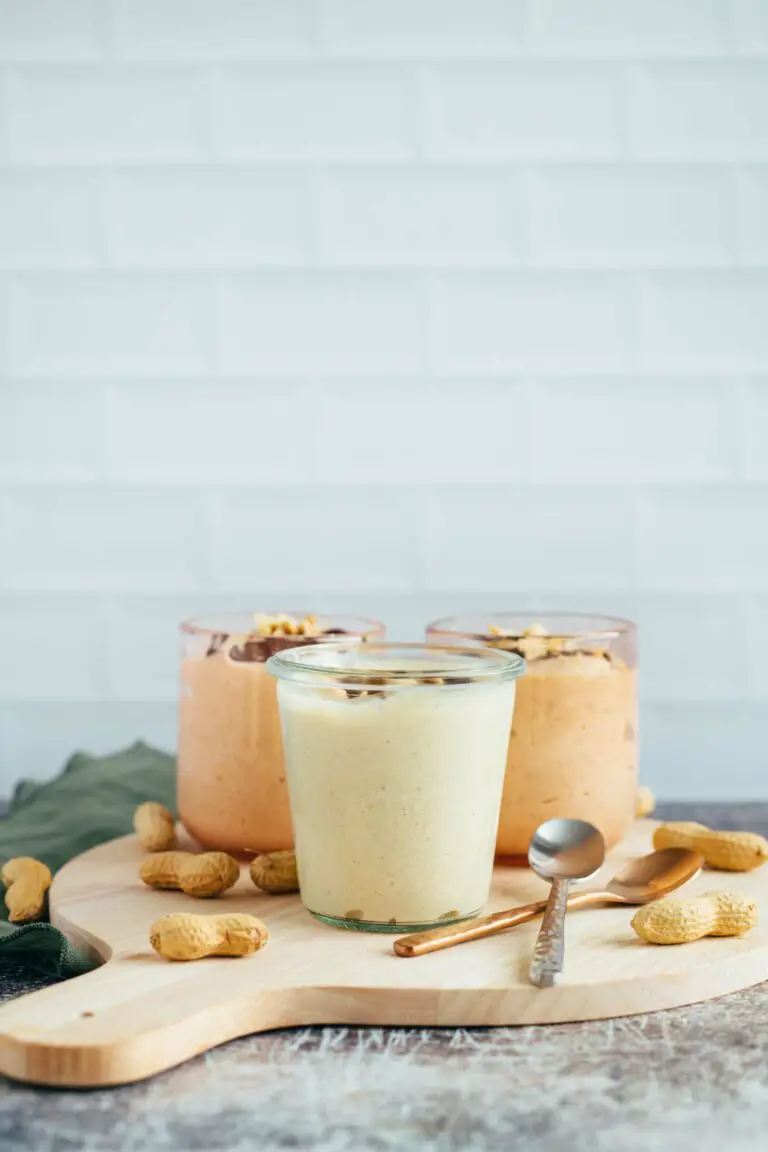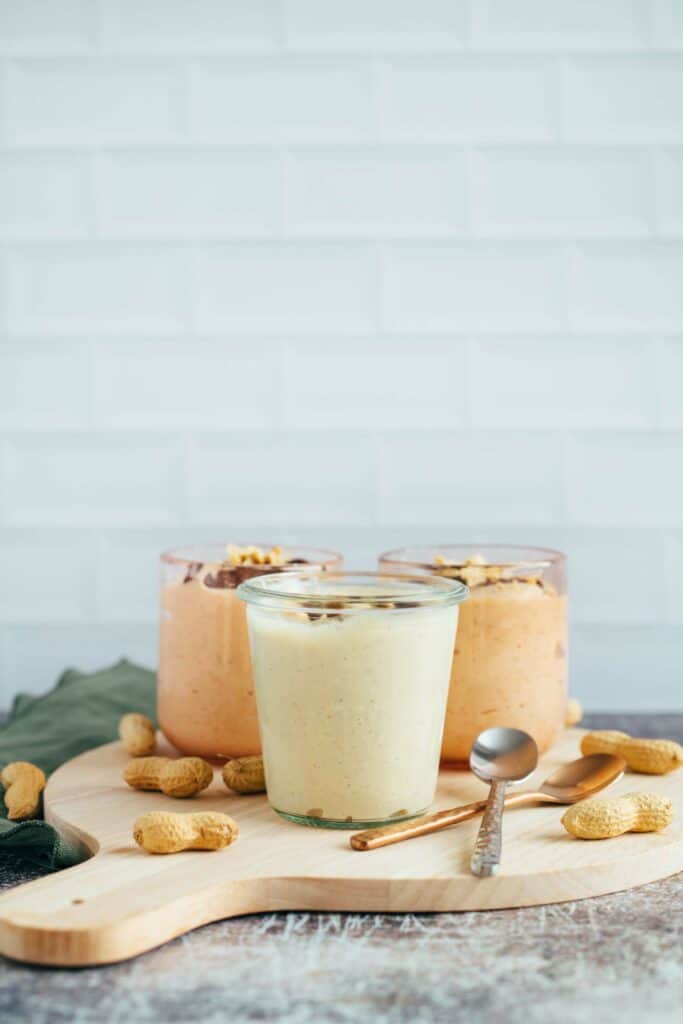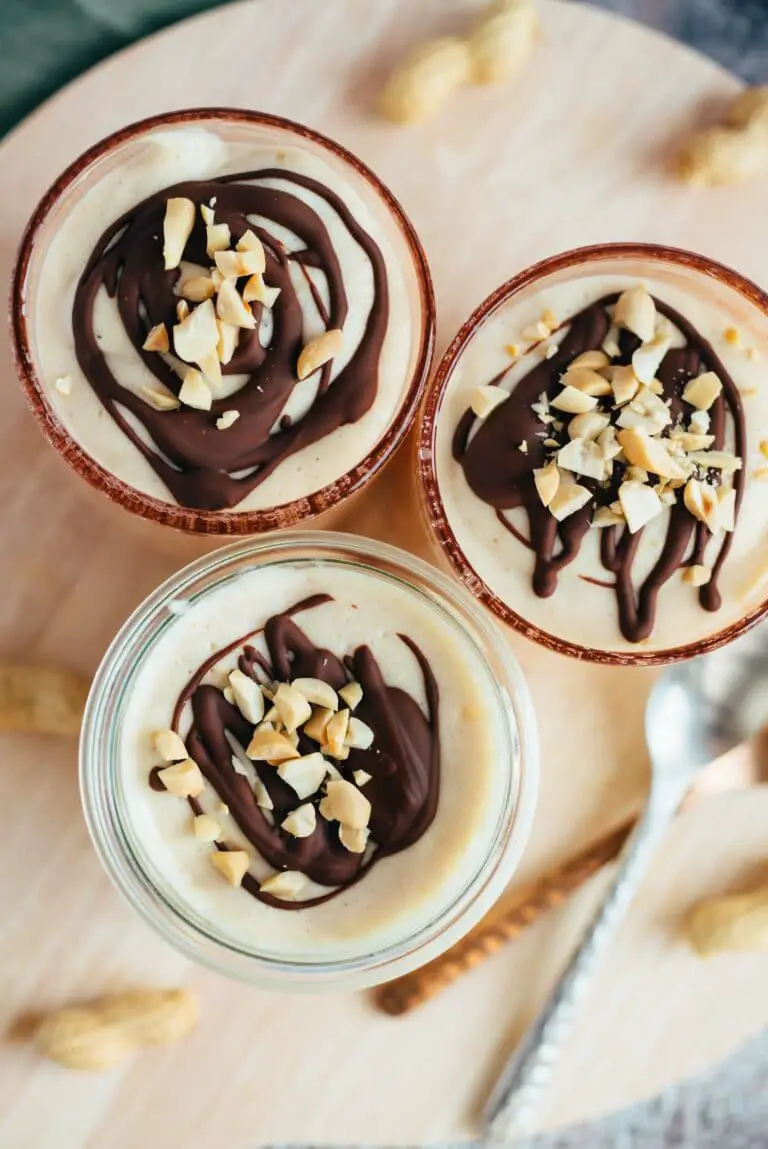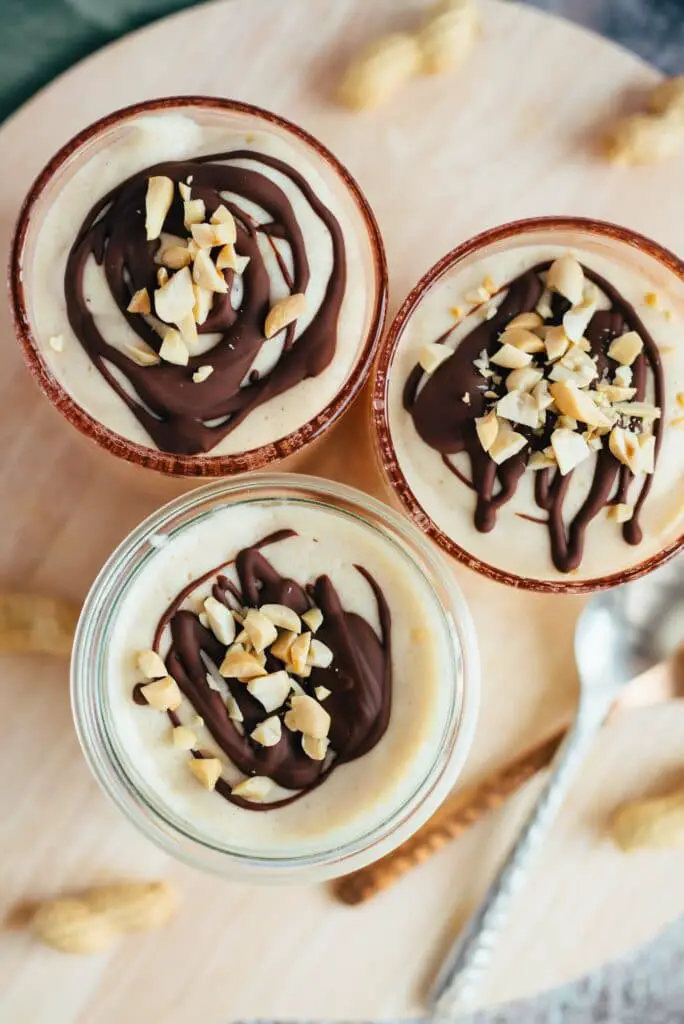 I always love what you can do with aquafaba. The combination is particularly delicious, nutty, sweet and creamy. For me a poem! Here are a few more tips and tricks so that the dessert really succeeds.
The use of Xanthan Gum brings many advantages. The mousse remains stable and does not become watery. I've linked you to the product I use in the ingredients list below. Detailed instructions on how to make aquafaba can be found here.
You don't have silken tofu at home? Alternatively you can use ordinary tofu which you mix with a little water until it reaches the consistency of silken tofu. Please dose water sparingly, otherwise it will quickly become too mushy.
Always prepare peanut mousse a day in advance, or at least with at least 4 hours of refrigeration time. It a few hours until it pulls through and becomes solid.
Of course, if you don't know what to make with the chickpeas, I have some great recipe tips. Chickpea omelet for an extended brunch, chickpea cookies, or a delicious eggplant and tomato skillet with chickpeas.
The fluffy peanut mousse with aquafaba:
Nutty-sweet
creamy
fluffy
Few ingredients
Simply made
You love vegan mousse as much as I do? Then I look forward to a review at the bottom of this page. If you post a picture, feel free to use the hashtag #veganevibes.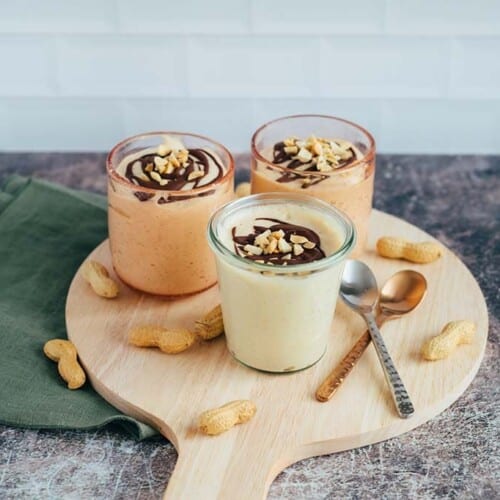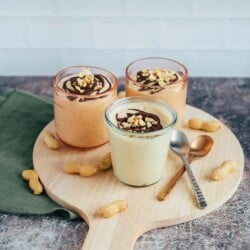 Fluffy peanut mousse with aquafaba (gluten-free)
Incredibly fluffy vegan peanut mousse made with just a few ingredients. Fine peanut meets silken tofu, maple syrup and vanilla. Quick to make, high in protein and suitable for a low carb diet.
AUTOR: VEGANEVIBES
FOR THE AQUAFABA:
120

ml

Chickpea water

the liquid that remains when you strain a can or a jar of chickpeas and collect the water (chickpea water = aquafaba = fake egg whites)

¼

tbspn

Xanthan Gum

optional, but makes the false egg whites much more stable
FOR THE PEANUT-SILK TOFU MIXTURE:
Anleitung 
FOR THE AQUAFABA Strain chickpeas and save the chickpea water – this is the chickpea water needed for aquafaba.

Place chickpea water in mixing bowl (of food processor) and whip with mixer (hand mixer or food processor) on high speed

for 3-6 minutes

until it has increased in volume and looks like beaten egg whites. If in doubt, continue beating longer and at the highest level rather than stopping too soon.

Add xanthan gum and continue beating until everything is nice and firm and forms peaks like real egg whites.

Transfer to a large mixing bowl and clean mixer.

FOR THE PEANUT-SILK TOFU MIXTURE Place silken tofu (does not need to be drained), maple syrup, peanut mousse, vanilla and salt in blender and blend until everything is combined into a fine cream.

400 g Silken tofu,

80 ml maple syrup,

45 g Peanut butter,

¼ tbspn Bourbon vanilla,

1 strong pinch of salt

Add to the faux egg whites in the mixing bowl and gently fold in with a whisk until well combined.

Pour into dessert glasses and let set for at least

4 hours

or overnight.

Garnish with chocolate, chopped peanuts and desired toppings and enjoy!

Dark vegan chocolate,

Chopped peanuts

Store leftovers in an airtight container in the refrigerator for up to 2 days.
Nährwertangaben
Serving:
1
Portion
Calories:
225
kcal
Carbohydrates:
27
g
Protein:
10
g
Fat:
9
g
Saturated Fat:
2
g
Sodium:
62
mg
Potassium:
386
mg
Fiber:
3
g
Sugar:
16
g
Vitamin A:
8
IU
Vitamin C:
1
mg
Calcium:
72
mg
Iron:
2
mg