Chocolate dates with nut puree is the ideal snack for me, especially because they are chocolate covered and I'm a bit of a chocolate addict. Right now I'm just always hungry and I guess it's because we have really good snow and spend every spare minute outside with the huskies. It's just incredible what you can do in the snow. Starting with sledding, bobsleigh, cross-country skiing and touring skis. That takes a lot of energy, so I always need good snacks on hand. Since I always have a 5kg box of dates at home, I wanted to do something great with them again. I thought of dates, nut puree and chocolate. An unbeatable combination.
Dates and their nutritional values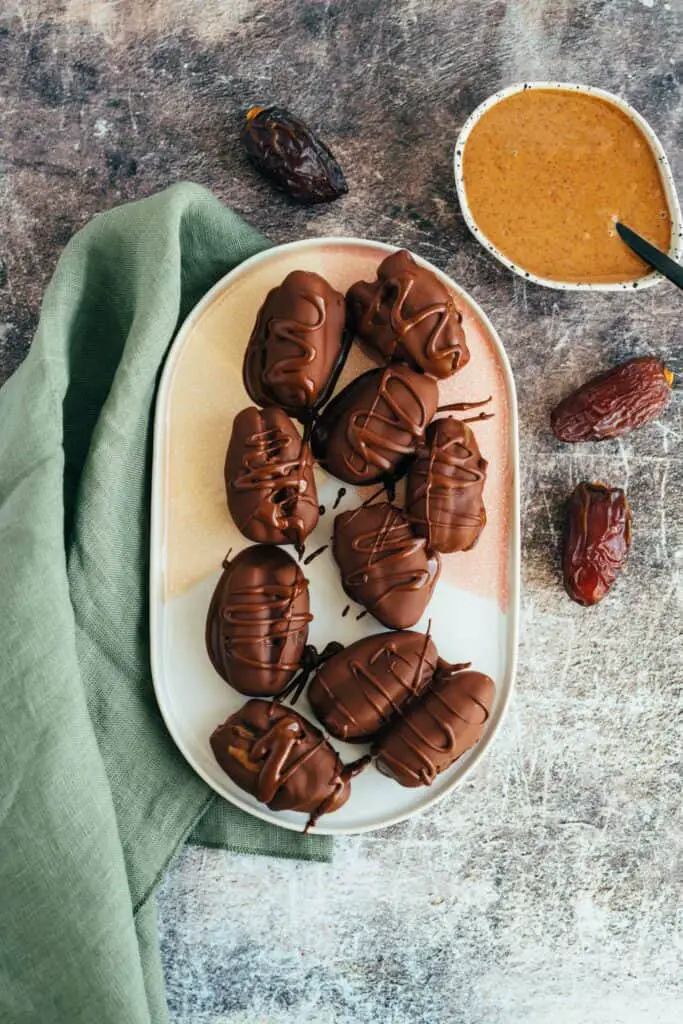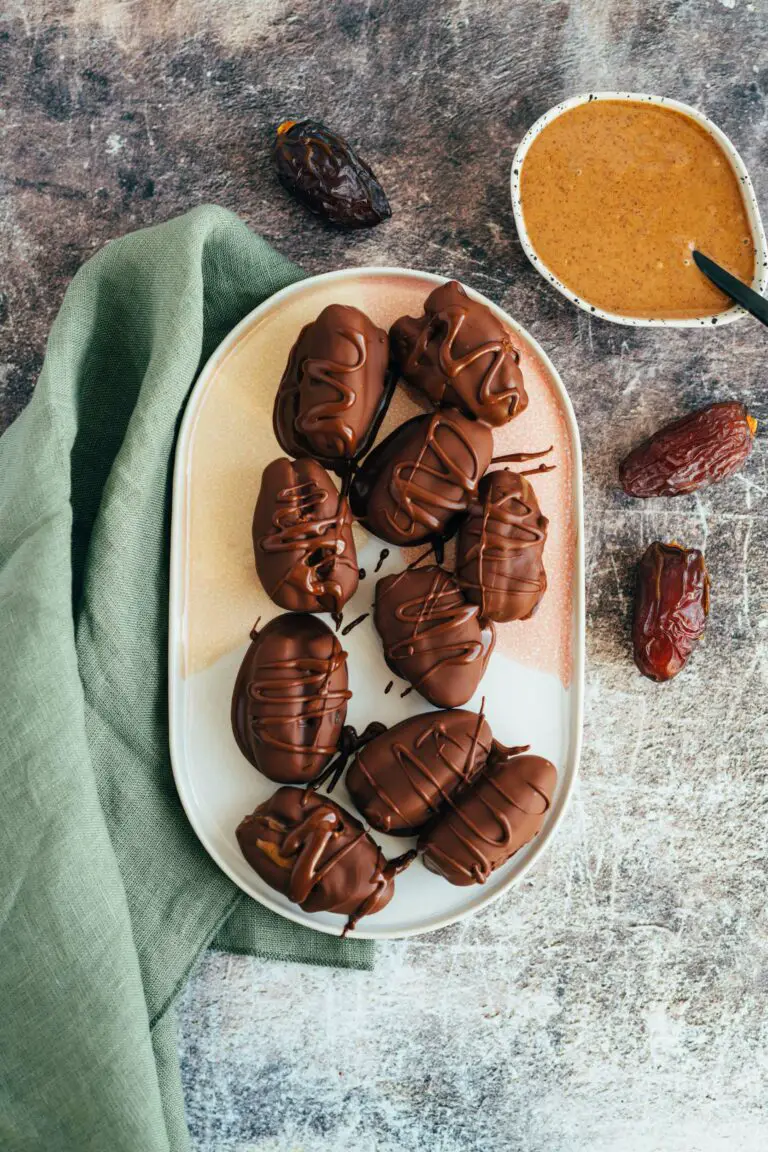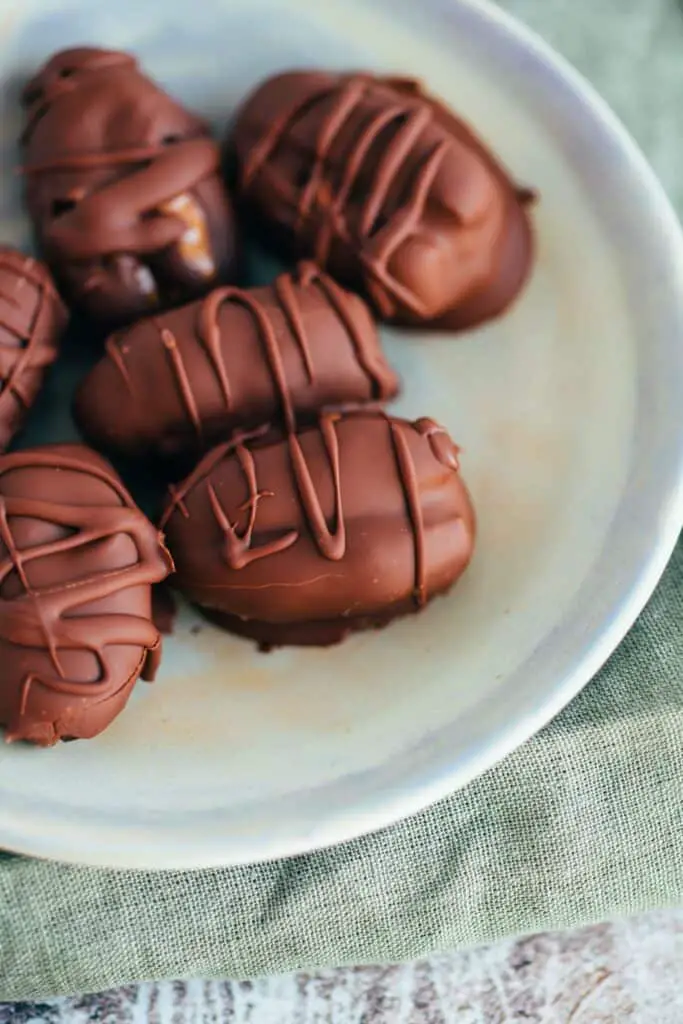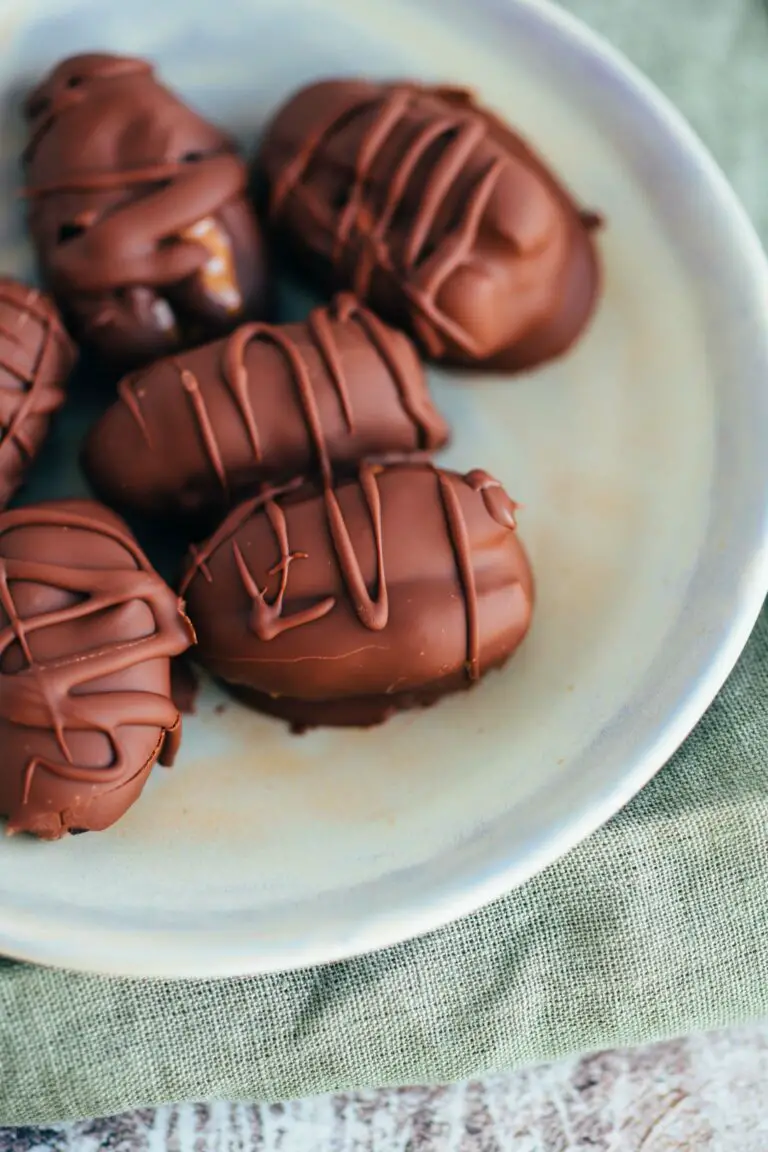 Vegan snacks should always be in the fridge, otherwise it's easier to reach for the cookie jar, which means lots of calories and little fiber. Dates are a wonderful alternative and provide fiber, natural sugar, fiber, minerals and vitamins. There are even sources that claim dates help you fall asleep because they stimulate the production of melatonin. But that's not all, here I have summarized all the important info about dates for you:
High content of the amino acid tryptophan, from which the hormone melatonin is produced. In the evening 1-2 dates and the tiredness comes all by itself, it's worth a try, right?
Dates do not contain fat, or only in traces
297 kcal per 100g
Rich in vitamin A, B vitamins and many other vitamins and minerals
TIP: I love Medjool dates and always buy them in a 5kg package in organic quality. At first, this seems a lot and seems expensive, however, buying a large quantity is much cheaper. In the organic supermarket you can buy individual dates, but they are much more expensive. In addition, they arrive very fresh in a bulk pack, whereas in supermarkets they usually lie on vegetable shelves for several weeks and dry out. I store them in the original box in the refrigerator without any problems.
Healthy snacks with dates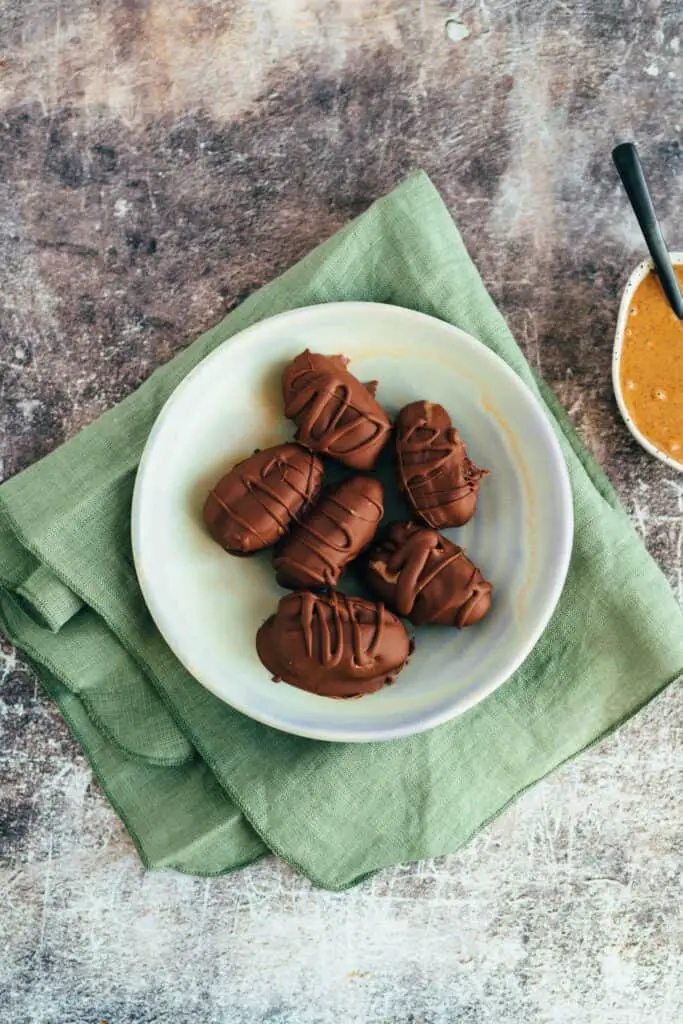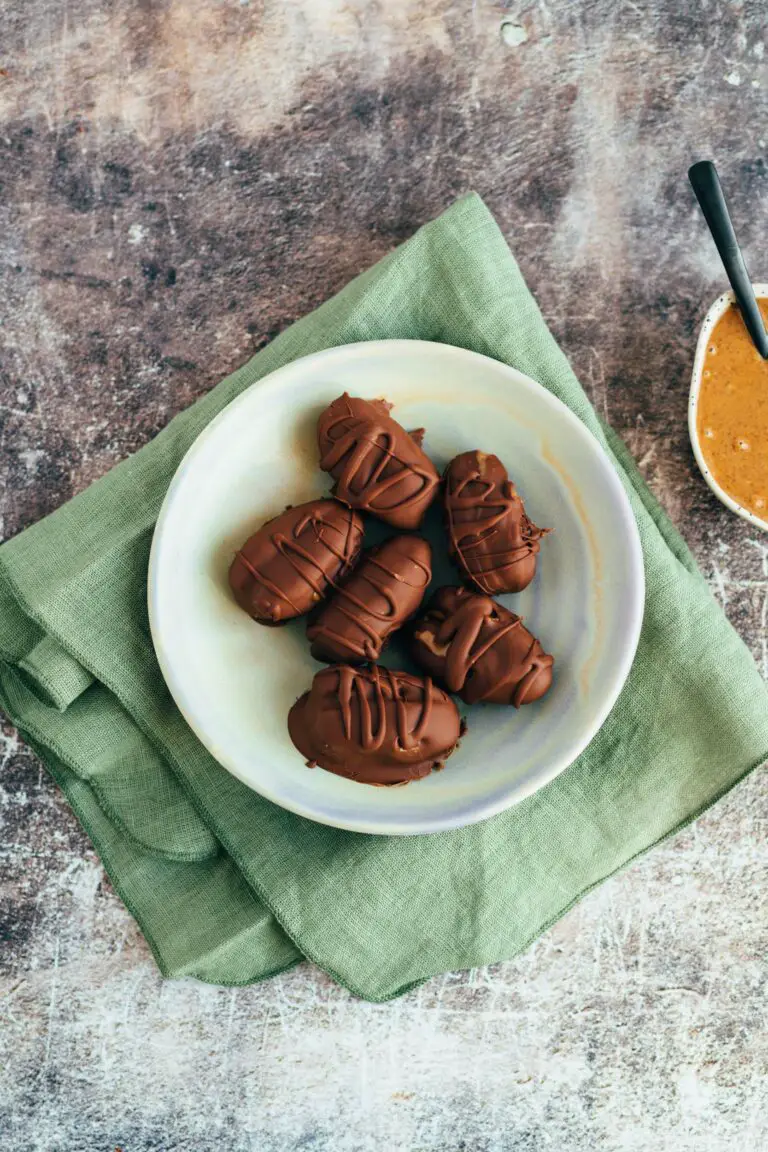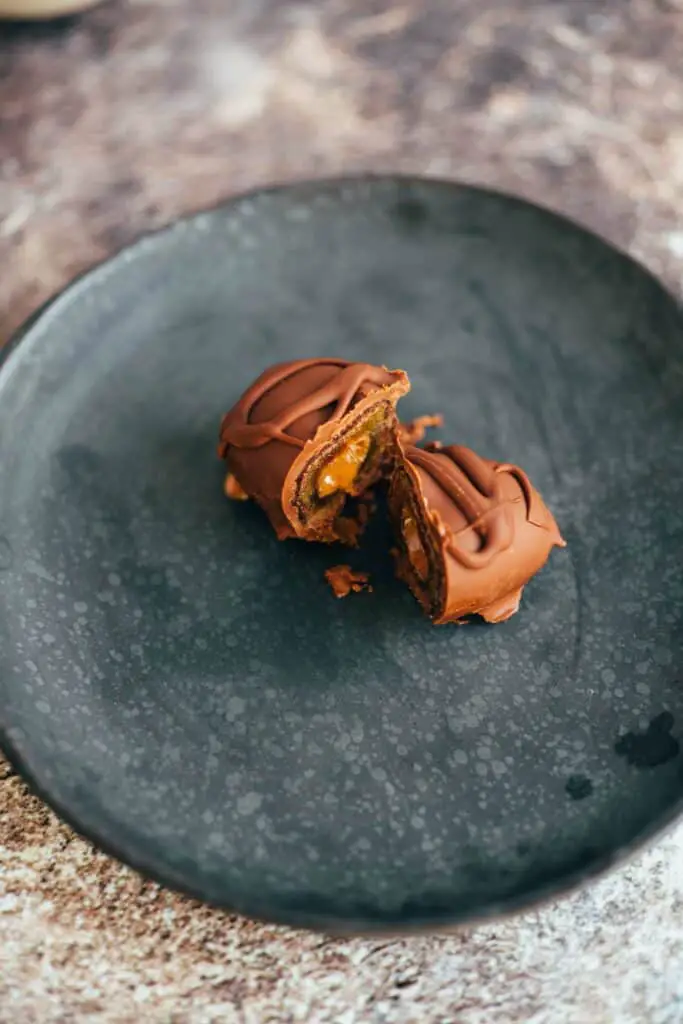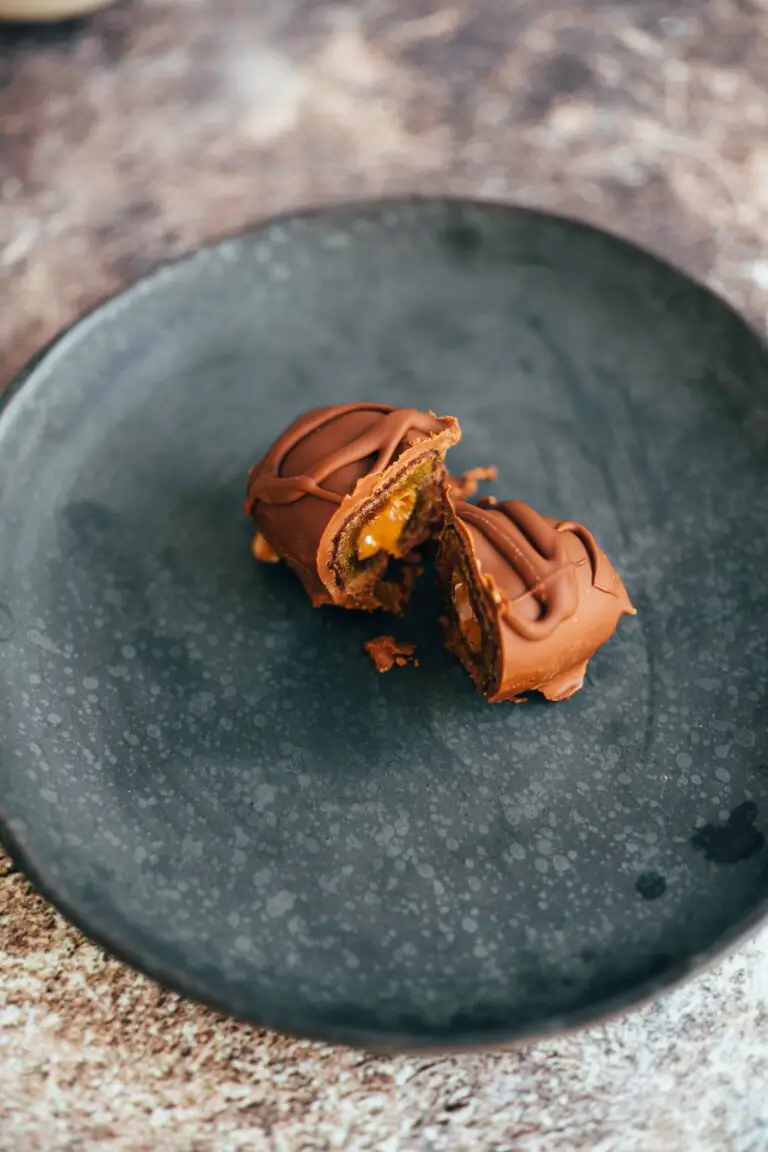 Let's get back to our recipe, which is super simple to make. Simply cut the dates lengthwise on one side and take out the pit. Then we fill them with a nut puree of your choice. I like to use an almond paste, but this time not the white paste, but a full-fat variety. But you can use any nut puree of your choice, depending on availability. Once the dates are filled, I put them in the freezer. So they are once again really nice and cold and the chocolate coating attracts immediately.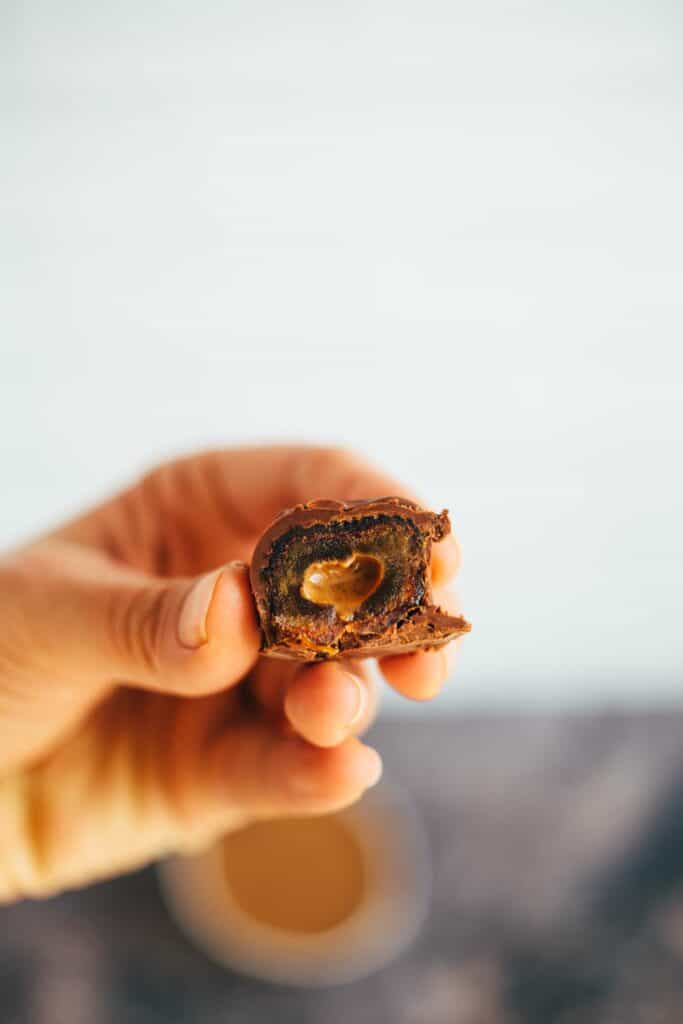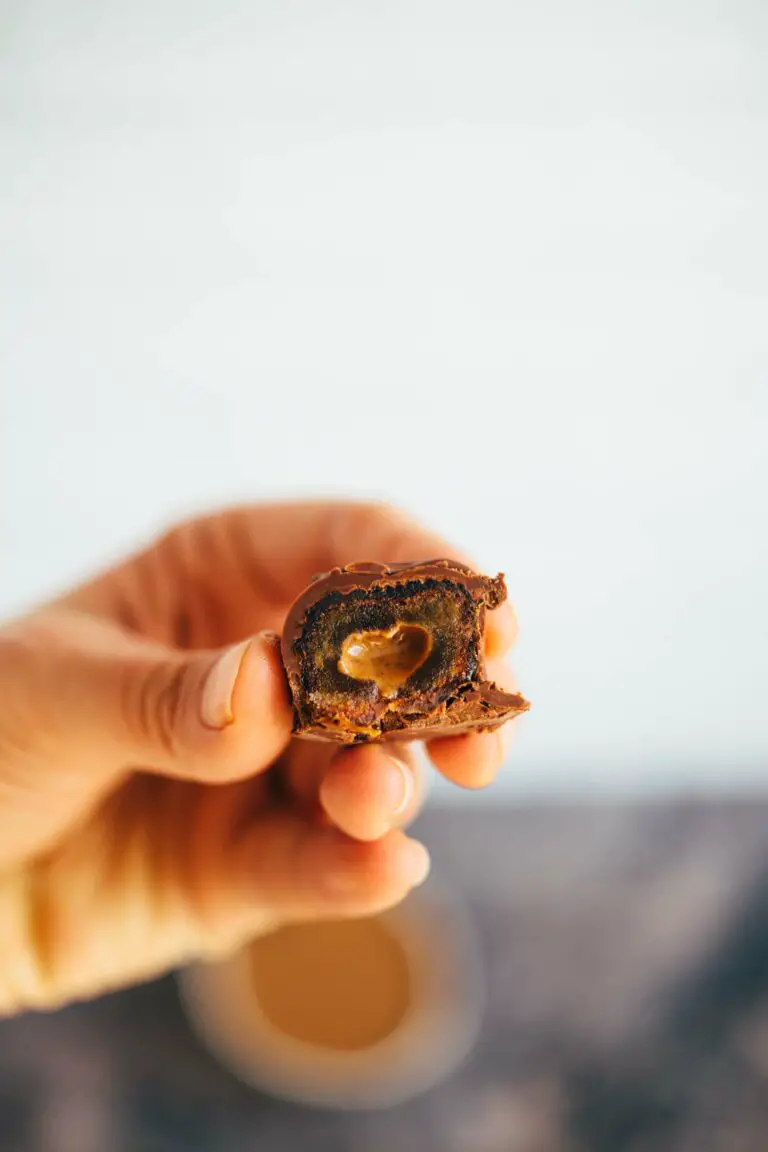 The last step is to cover the sweet beauties with chocolate. For this I use a dark, vegan couverture, which I thin a little with cocoa butter as needed. Otherwise, you need a lot of chocolate, which is actually not a problem for me.
TIP: If you want to thin your couverture or chocolate that you melted, add a small amount of cocoa butter. This makes it more fluid and easier to use for frosting.
Get started with these easy, vegan chocolate dates that are ready in a snap and store perfectly in the fridge. If you're in the mood for a different snack option today, I highly recommend my Banana Matcha Bliss Balls, Twix Bars (no bake), or healthy caramel candies.
I hope you have fun making it and of course I'm happy about a review at the bottom of this page. If you post a picture, use the hashtag #veganevibes.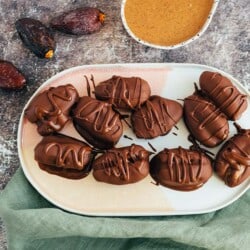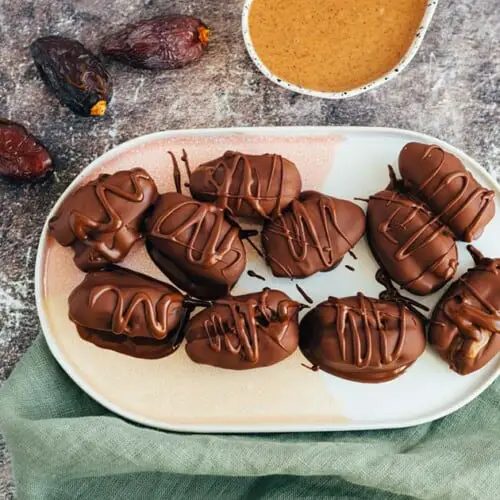 Chocolate dates with nut puree (15 minutes)
Delicious dates filled with nut puree and coated with fine dark chocolate coating. The perfect snack for in between or as a dessert with lots of fiber, minerals and antioxidants.
AUTOR: VEGANEVIBES
240

g

Medjool dates

pitted

60

g

Nut puree of your choice

I use almond paste natural

100

g

dark vegan chocolate coating of your choice
Anleitung 
Take dates one at a time in your hand and with a small knife, cut lengthwise on one side until you reach the pit. Remove the core and set aside. Repeat with all other dates until all are pitted.

Take a small spoon and fill each date with nut puree.

60 g Nut puree of your choice

Once all the dates are filled, put them in the freezer.

In the meantime, gently melt the chocolate over a water bath. If necessary, stir in 1-2 tablespoons of cocoa butter to make the chocolate thinner and easier to coat.

100 g dark vegan chocolate coating of your choice

Once the chocolate has melted, remove dates from the freezer and coat one at a time. Let set on a draining rack or baking paper, Enjoy!

OPTIONAL: Garnish with additional toppings of choice while chocolate is NOT set.

Sea salt,

Cocoa nibs,

Chopped nuts,

Coconut flakes

Place remaining dates in a resealable box and store in the refrigerator for up to one week.
Notizen
Source: https://www.natur-journal.de/superfoods/datteln/
Nährwertangaben
Serving:
1
Piece
Calories:
103
kcal
Carbohydrates:
19
g
Protein:
2
g
Fat:
3
g
Saturated Fat:
1
g
Sodium:
1
mg
Potassium:
212
mg
Fiber:
2
g
Sugar:
16
g
Vitamin A:
36
IU
Calcium:
36
mg
Iron:
1
mg