Banana Matcha Bliss Balls simply put you in a good mood. I love these little snacks that you can put in your backpack for many adventures. At the moment, the excursions are a little limited, but better times will come again, I'm sure of it. We live here in the country in a village of about 40 people and we take advantage of the opportunities that are right outside our door. Yesterday, the neighbor has converted his field into a ski slope and I immediately took the opportunity to make a run with the two Huskies on the hip belt. I can only say one thing, it was fast and exhausting. Afterwards we had some of the delicious Bliss Balls! Yummy!
Simple vegan Bliss Balls snacks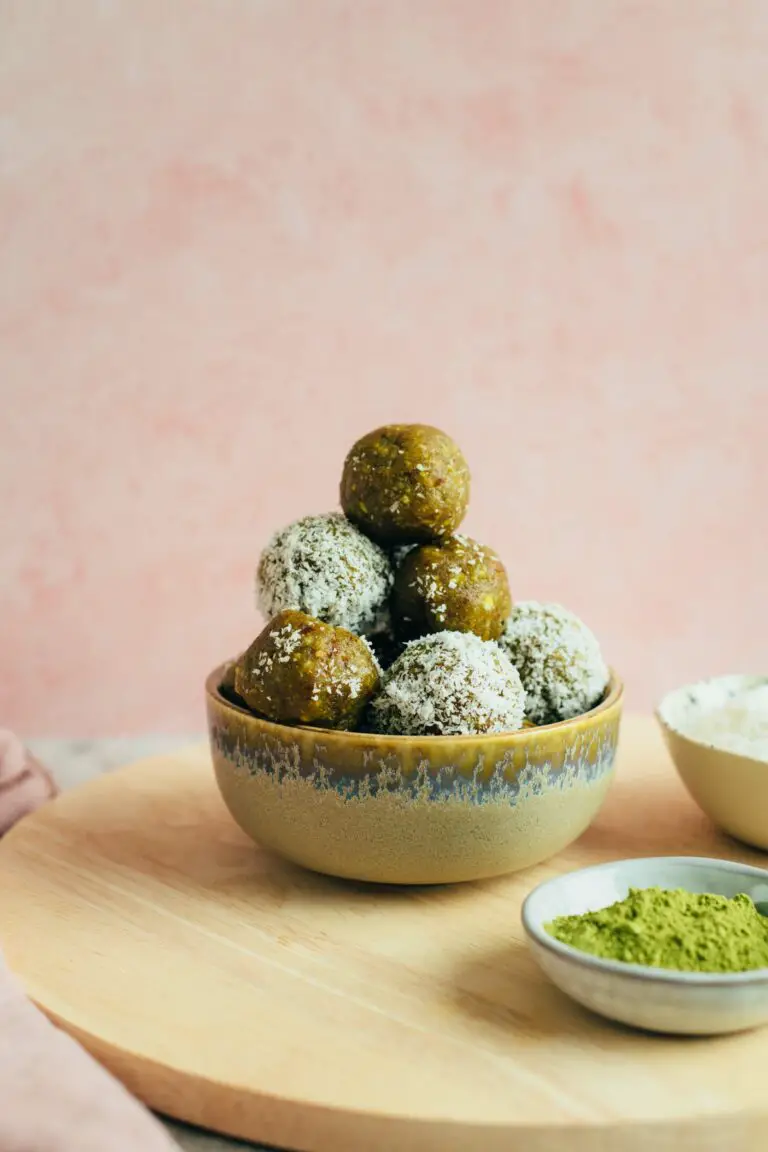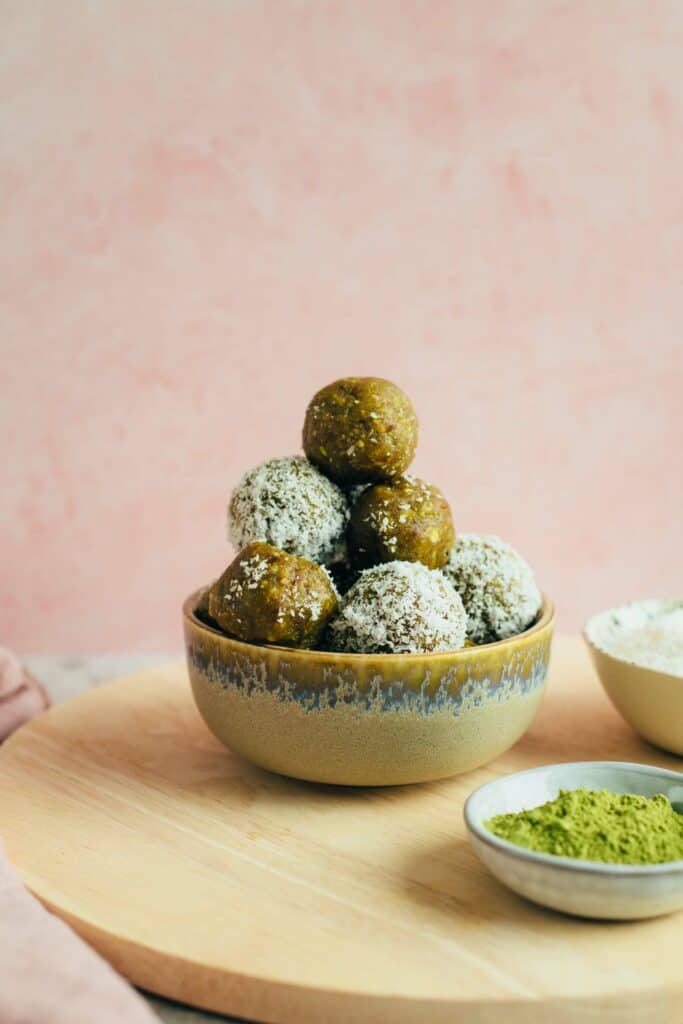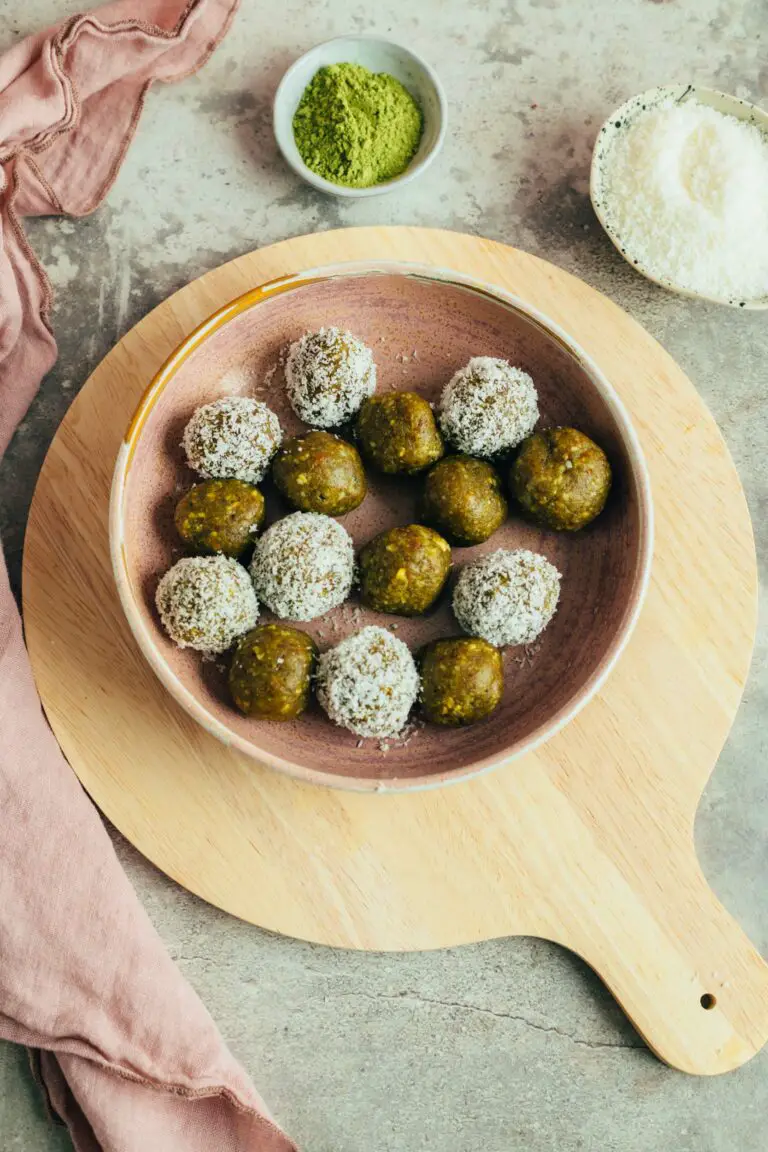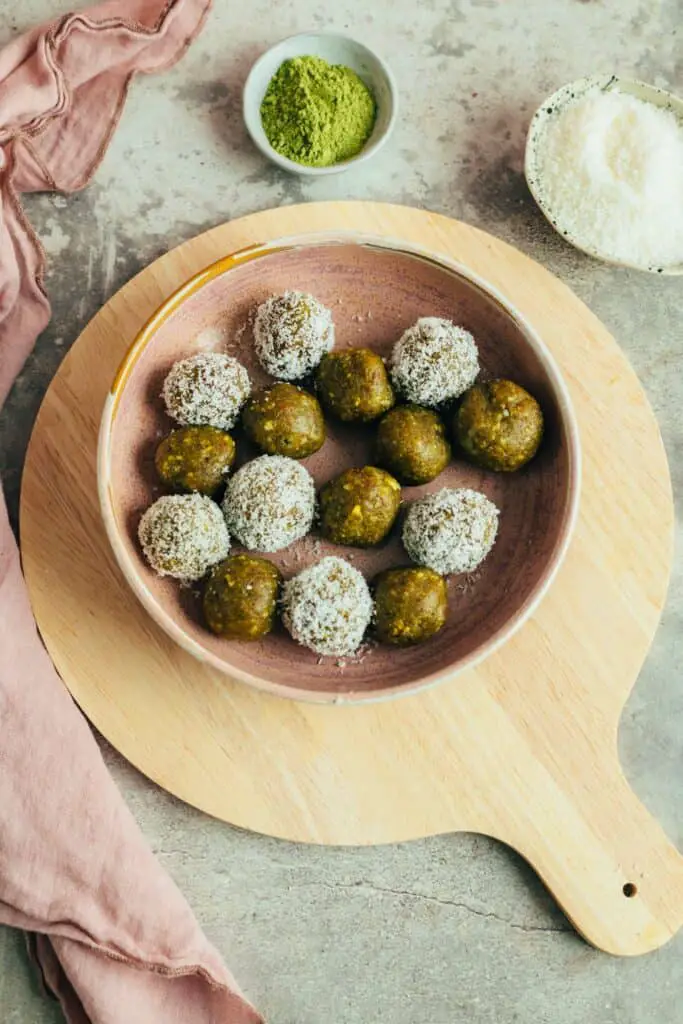 I almost always have Bliss Ballsor Energy Balls in the fridge because sometimes I need quick and easy energy. These vegan snacks are wholesome and naturally sweetened so blood sugar levels don't spike as quickly and severely as they do with industrial snacks. I always like to think back to the days before Corona, when you sat in endless meetings with snacks made of white flour, high fructose syrup and tons of additives. No thanks, I'd rather bring something healthy myself. The ingredient list is once again short and sweet: banana chips, Medjool dates, coconut chips, bourbon vanilla, matcha, hemp seeds, salt and a sip of water. Off to the blender and blend to a uniform dough.
How healthy is matcha?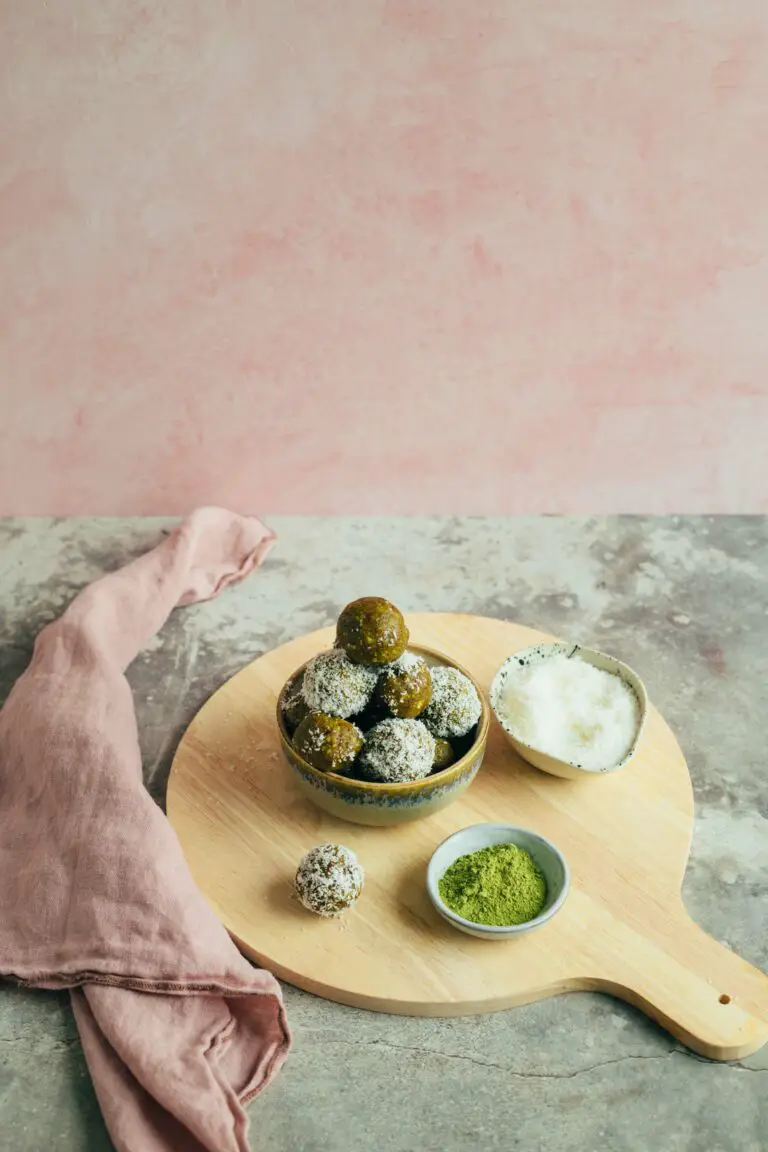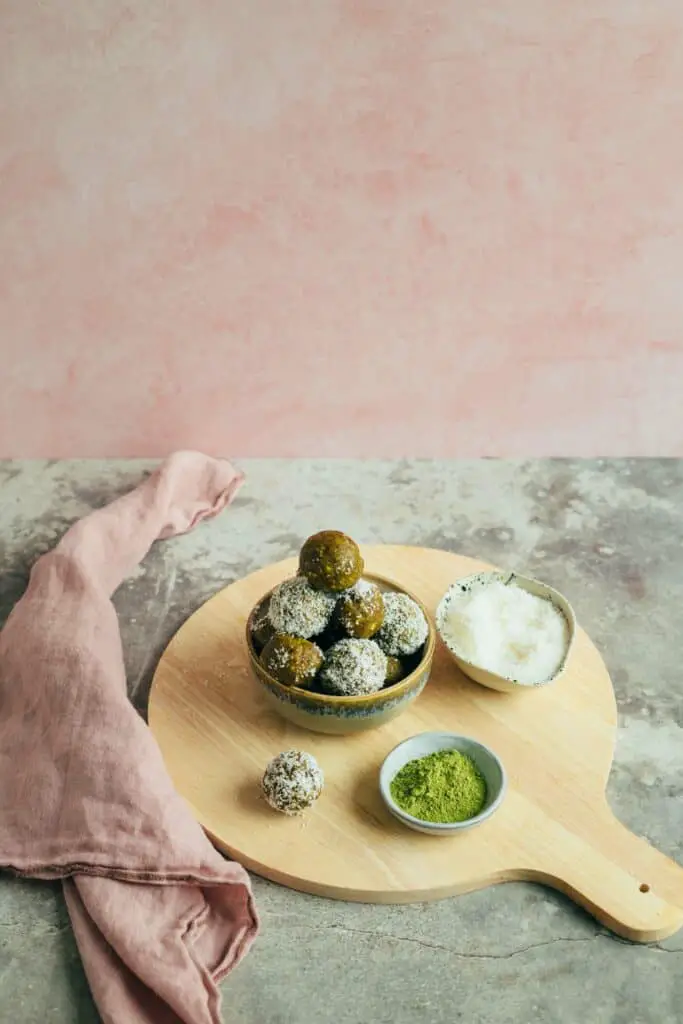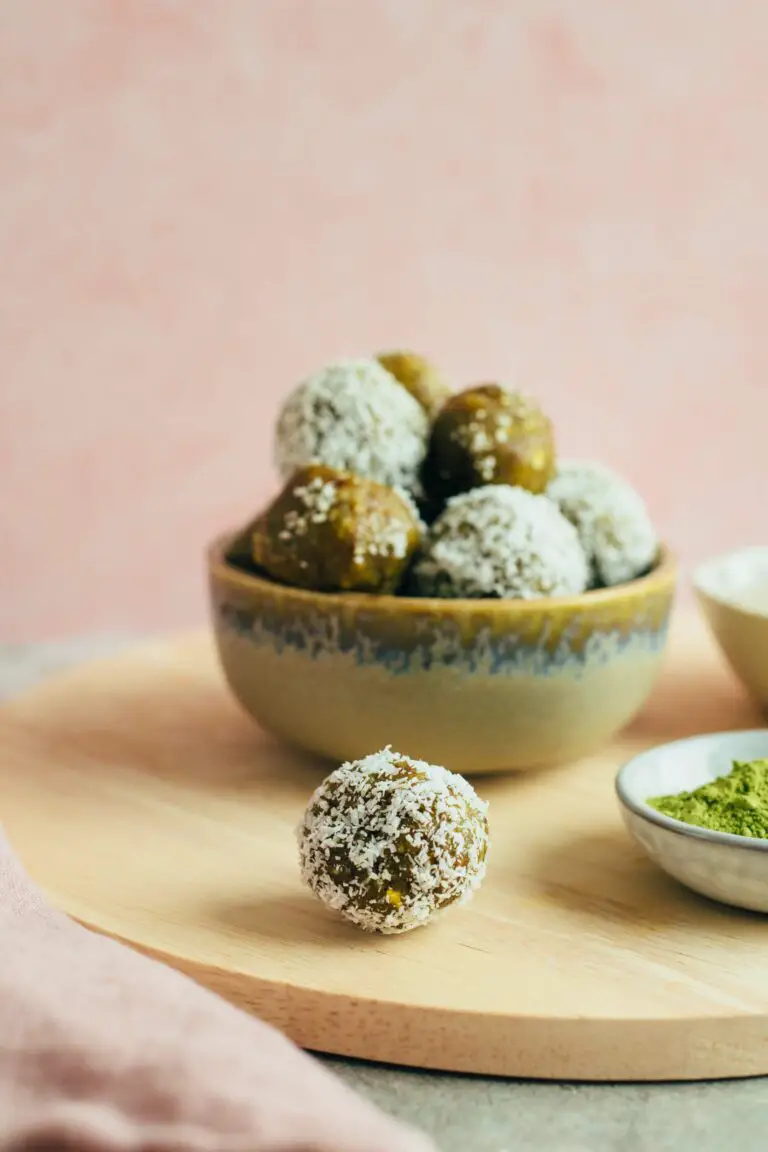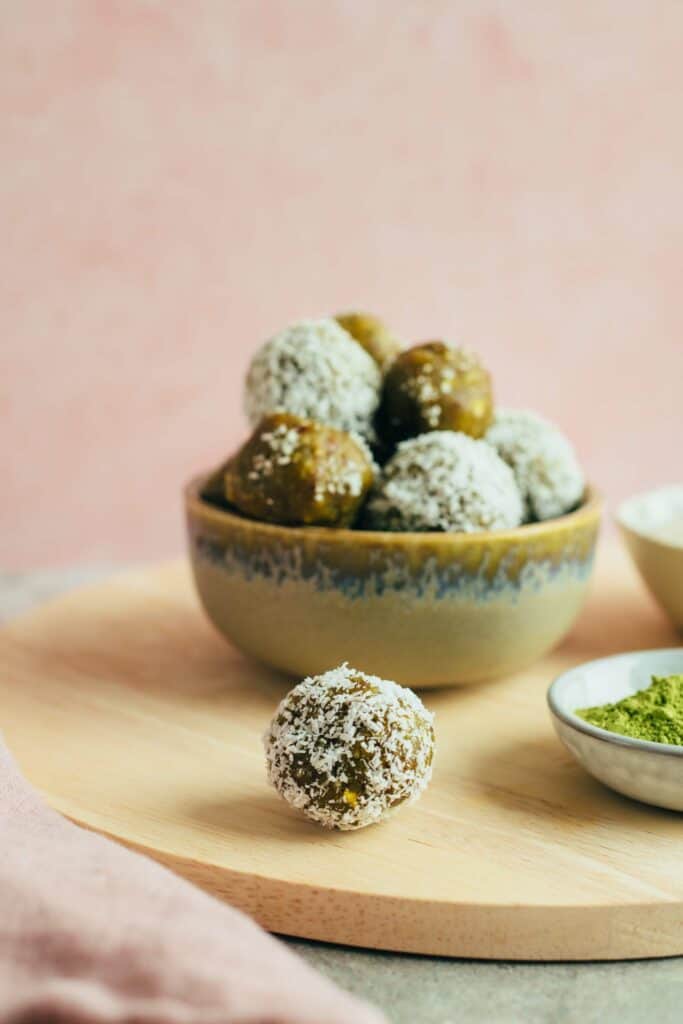 This is the first time I've done anything with matcha on my blog. Took way too long, don't you think? Since I'm not that fond of matcha latte, I just haven't found a suitable occasion. But now the time has come, especially for the question of how healthy matcha actually is?
Rich in iron, potassium, calcium
B vitamins
Vitamin A, E, K
Antioxidants, polyphenols and catechins
Is said to have a positive influence in cardiovascular diseases, cancer and Alzheimer's disease
TIP: I always look for organic quality when buying, because the delicate leaves absorb particularly much pollutants.
Get started with these easy, vegan snack ballsthat are ready in a snap and store perfectly in the fridge. I use unsweetened banana chips, so it's worth checking the ingredients list here. Many manufacturers smuggle extra sugar to the already very sweet bananas. I think that doesn't have to be the case. You can find my source of supply below with the ingredients.
If you're not in the mood for matcha today, I recommend my Cookie Snack Bites, Chocolate Coconut Energy B alls or Nutella Bites. I hope you enjoy the reel and of course about a review at the bottom of this page. If you post a picture, use the hashtag #veganevibes.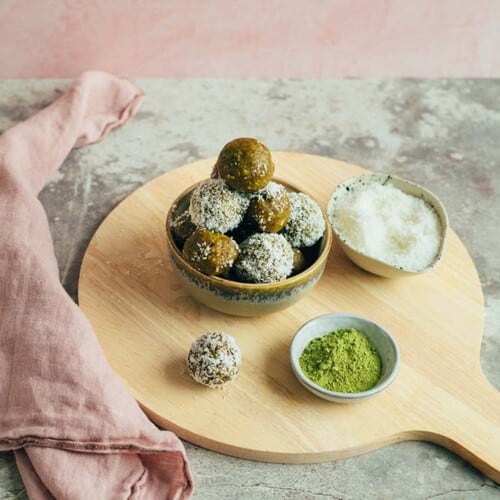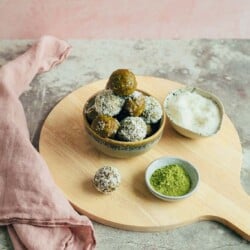 Banana Matcha Bliss Balls (15 minutes)
Delicious Bliss Balls made with sweet dates and banana chips, vegan and gluten-free. A perfect in-between snack with fine matcha for an extra boost of vitamins, minerals and antioxidants.
AUTOR: VEGANEVIBES
Anleitung 
If dates are very hard, soak in hot water for

10 minutes

and strain before processing. For high quality Medjool dates, this step can be ignored as the dates are usually soft enough.

For the dough, first put the banana chips in a food processor (I use my MagiMix here) or high-powered blender and blend until crumbled.

Add dates, matcha, hemp seeds, bourbon vanilla, sea salt, and (optionally) a sip of water and blend until an even and slightly sticky batter is formed.

192 g Medijool dates,

1 tbspn Matcha,

50 g hempseed,

¼ tbspn Bourbon vanilla,

1 Pinch sea salt

TIP: Be sure to mix long enough until the dough can be easily formed.

Form 16 balls with a weight of about 25g with wet hands (an ice cream scoop is also recommended here), if you roll by hand, moisten the palms of your hands a little.

TIP: Leave Bliss Balls in the refrigerator for one night, then they become really delicious.

Place remaining bars in a resealable box and store in refrigerator or freezer. In the refrigerator they last about 1 week, in the freezer up to 4 weeks.
Notizen
Source: https://www.essen-und-trinken.de/matcha
Nährwertangaben
Serving:
1
Ball(s)
Calories:
100
kcal
Carbohydrates:
15
g
Protein:
2
g
Fat:
5
g
Saturated Fat:
3
g
Sodium:
1
mg
Potassium:
134
mg
Fiber:
2
g
Sugar:
11
g
Vitamin A:
42
IU
Vitamin C:
1
mg
Calcium:
14
mg
Iron:
1
mg