Vegan mini raspberry cheesecakes have been missing from my collection so far and I thought why not create a new vegan cheesecake recipe. At the moment it is freezing cold here in Bavaria and we are outside a lot with our huskies. They love snow and cold more than anything and are out in the garden even at minus 10 degrees. Just lie down on a slab of ice and sleep, that's her favorite hobby next to pulling sleds or a neat winter jog in the woods. After that, we usually have a hot coffee or tea together with a delicious cake. At the same time, I'm a big fan of vegan cheesecakes fresh out of the fridge. The creamy and fruity are simply the best combination ever. Raspberries are now also available in winter in organic quality or simply frozen from the freezer.
Raspberry cheesecake vegan without baking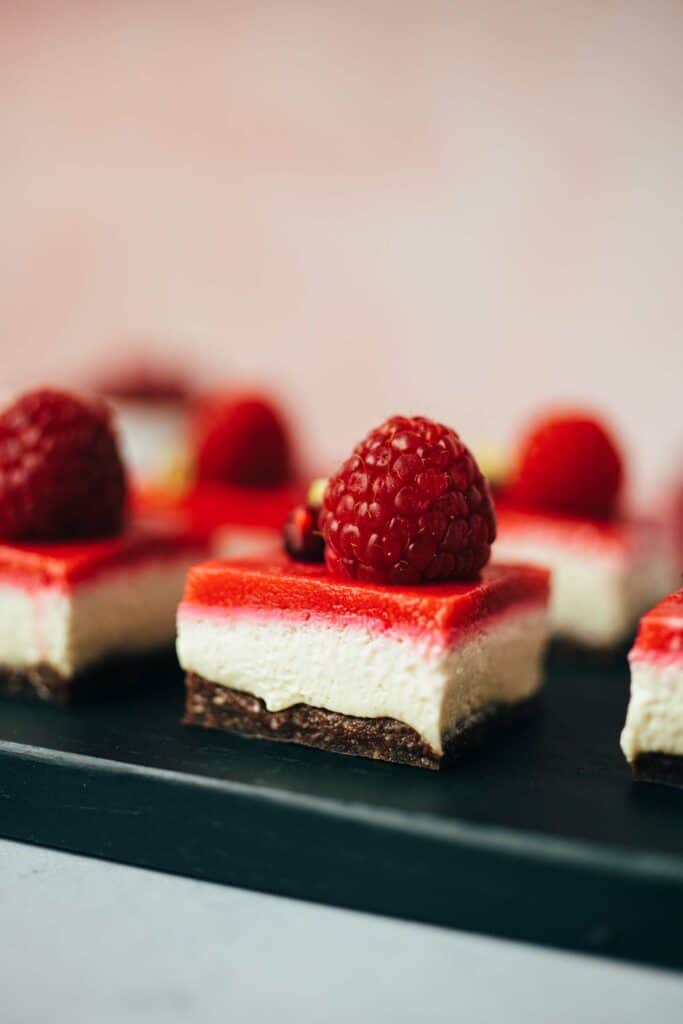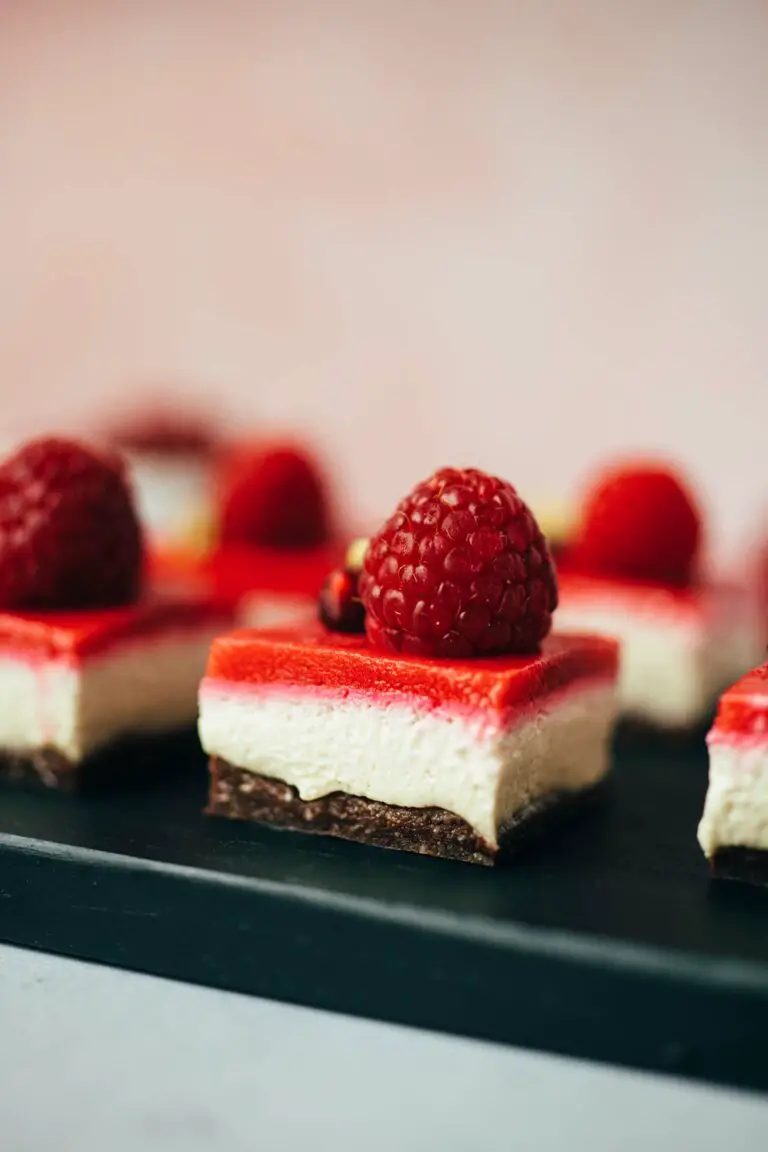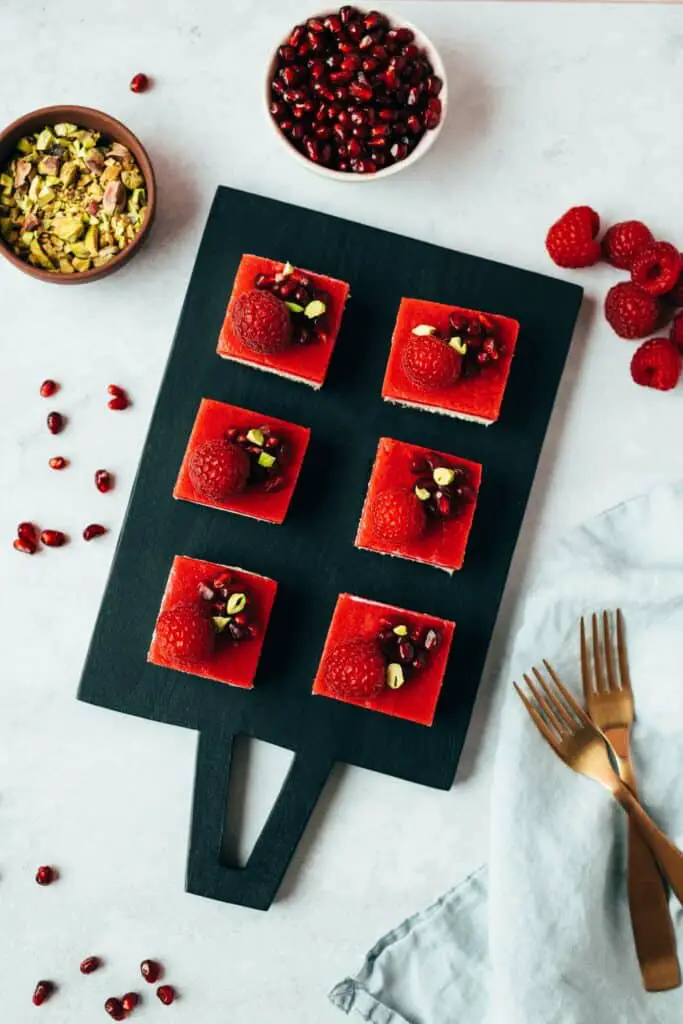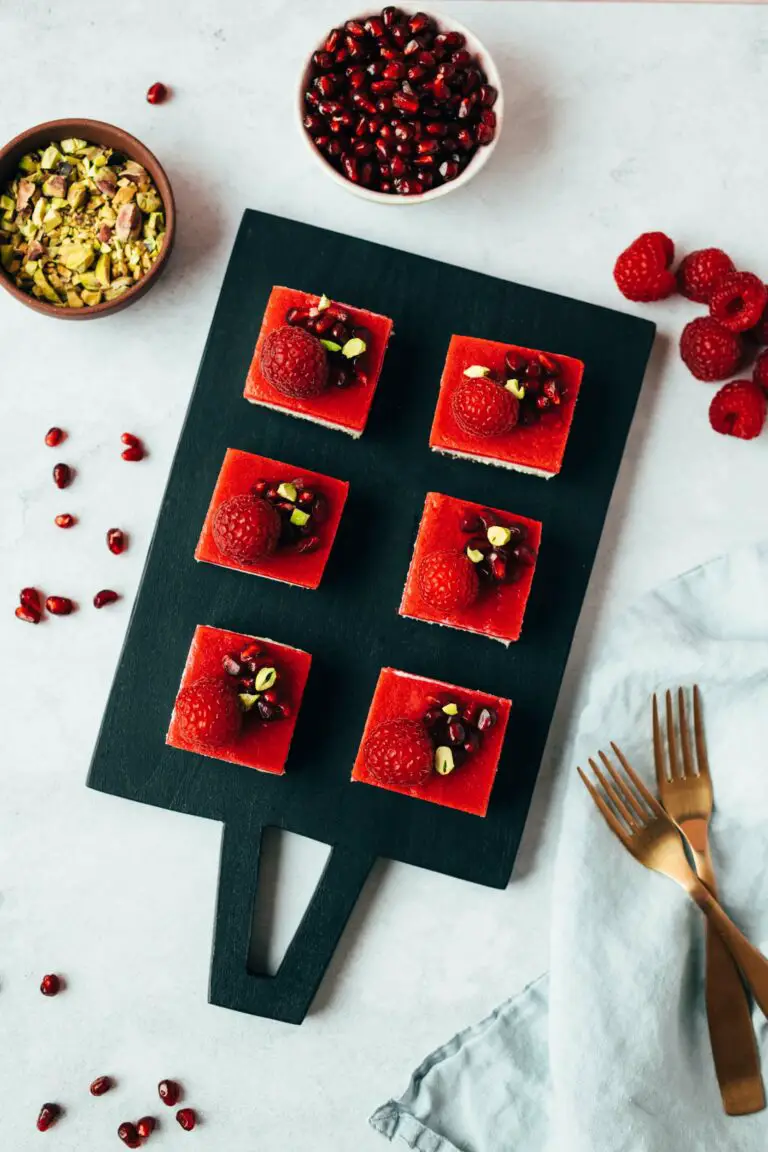 The Raspberry Cheesecake consists of 3 layers, a cocoa-coconut date layer, a creamy layer of cashews and vegan curd and a fine raspberry topping that I gel with the help of agar agar. I'm a big fan of raw cakes and appreciate the many combinations it makes possible. In the meantime, I completely renounce the addition of coconut oil, which can be found in many recipes. It is largely made up of saturated fatty acids, which solidify as they cool, giving the cheesecake a firmer shape. Science is still debating whether it is healthy or unhealthy to consume coconut oil. Honestly, I'm personally not convinced that this particular oil, with its 92% saturated fat, has a positive effect on my health. So I just leave it out and use xanthan gum to bind the cheesecake mixture. It is an organic food approved, natural and vegan binder that has had a permanent place in my cupboard for quite some time.
Vegan cheesecakes, easy and quick to prepare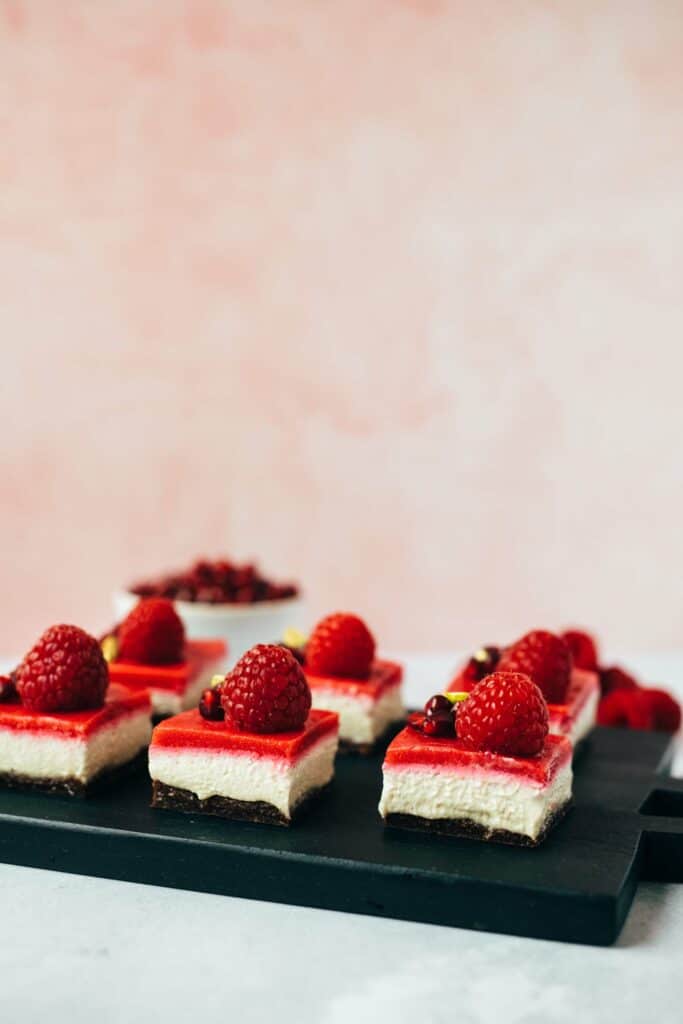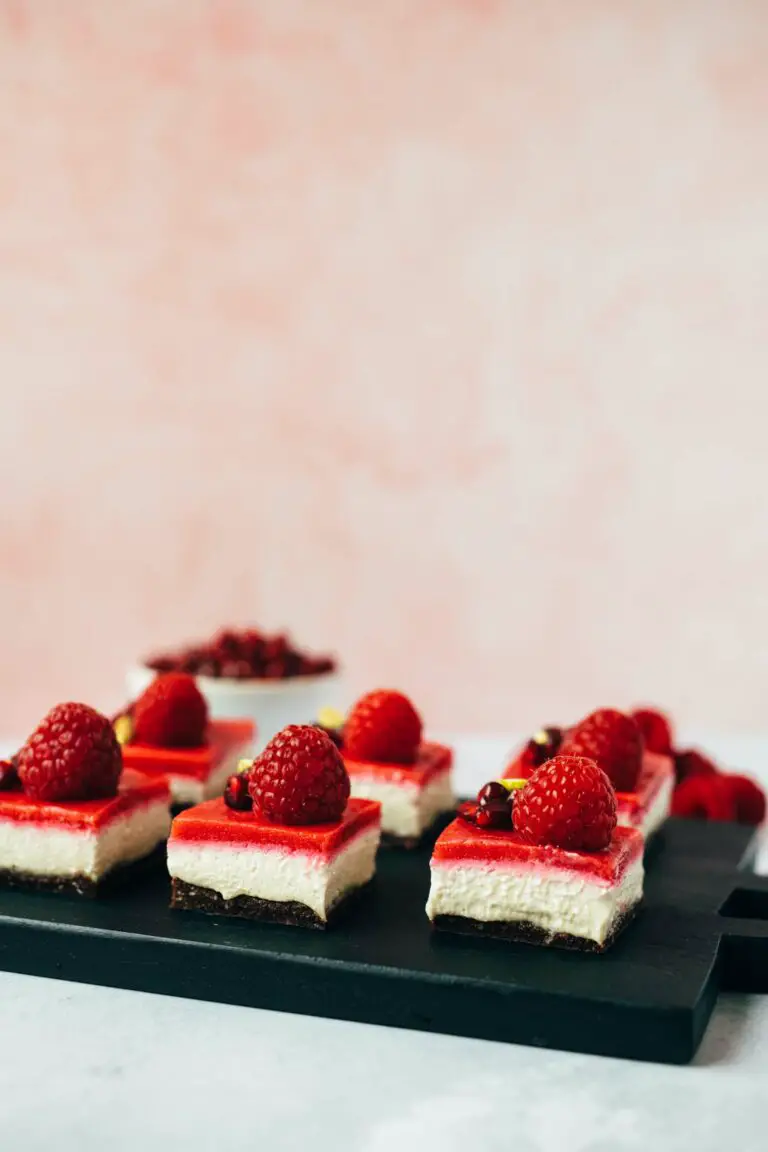 Let's move on to the individual layers and ingredients:
The base consists of pecans, coconut flakes, cocoa, dates and a pinch of salt. With dates, it is important that they are nice and soft and easy to handle. I use soft Medjool dates, which I like to stock up on and store in the fridge for several weeks.
The cheesecake filling is made with cashews, coconut yogurt, lemon juice, lemon zest, maple syrup, bourbon vanilla and xanthan gum.
The fruity raspberry layer consists of frozen or fresh raspberries, maple syrup and a gelling mass of water and agar agar. I love to gel with agar agar, it's so easy and quick.
Use agar agar gelatin correctly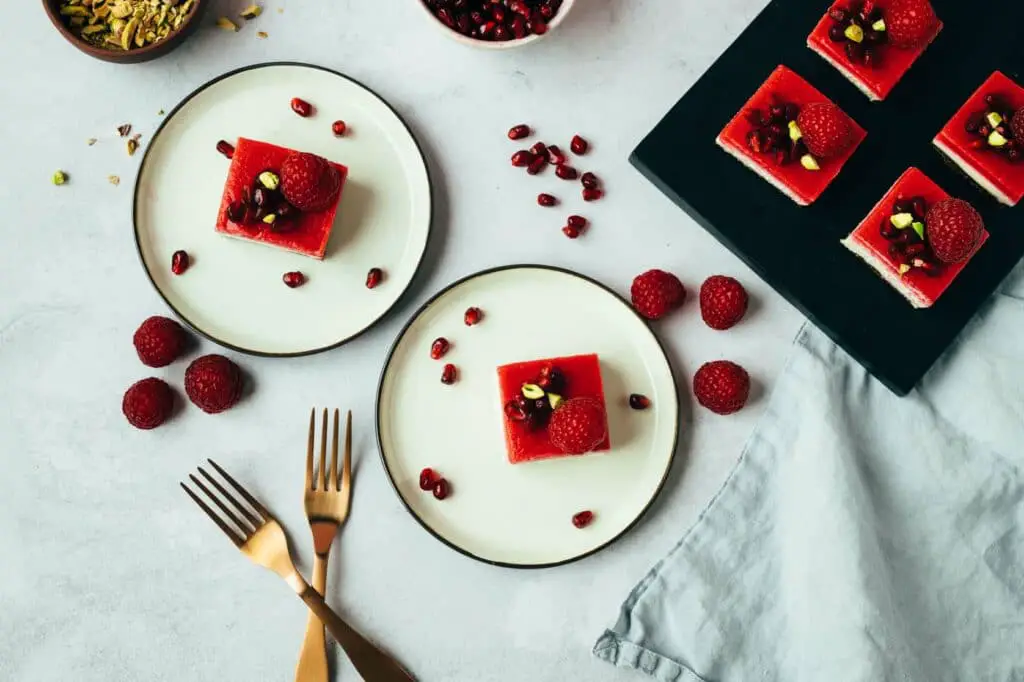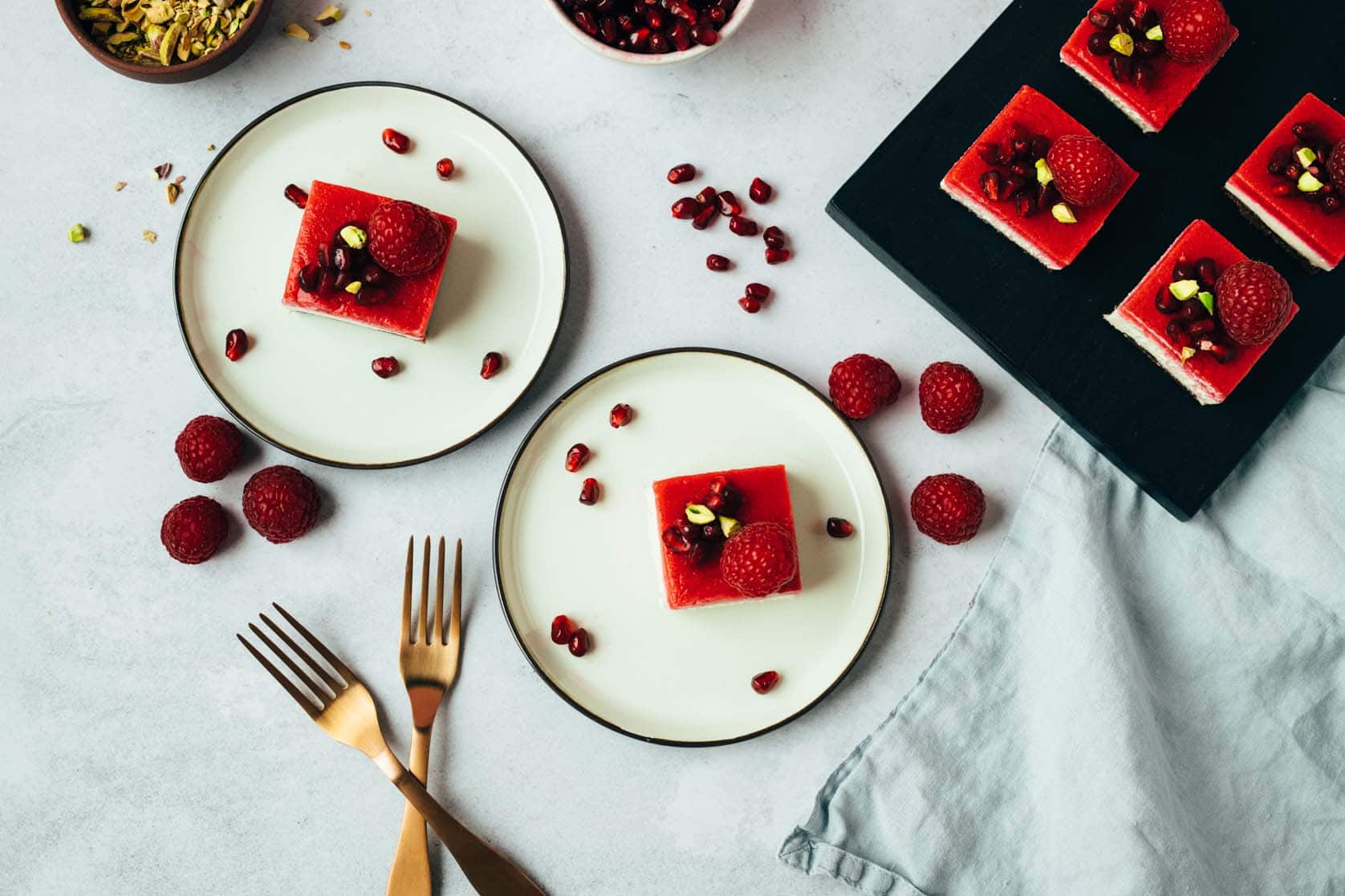 I now use agar-agar very regularly. It is a vegetable gelling agent obtained from algae. If you want to learn more about gelling agents and their manufacturing process, feel free to take a look at PETA's article. https://www.peta.de/gelatine
Agar-agar is a safe, very easy-to-use alternative to ordinary gelatin products. I explain the procedure again in detail in the recipe description.
TIP: Rule of thumb when using agar-agar is that it absolutely must be boiled up. Otherwise, it does not gel. When cooling, the mass then becomes solid. I always recommend doing a gelling test to see if the ratio is right. To do this, put a small amount on a plate and let it set in the refrigerator. Then check if the consistency is right. If it is too hard, boil it with a little more water. If too liquid, use a little more agar agar and boil again. Repeat the gelation test.
I hope you now have a desire for a delicious piece of raspberry cheesecake. If yes, then I wish you much fun with the "Nachbacken" and of course about a rating at the bottom of this page. If you post a picture, use the hashtag #veganevibes.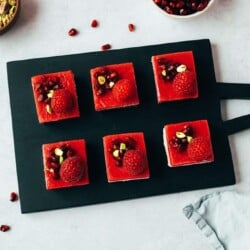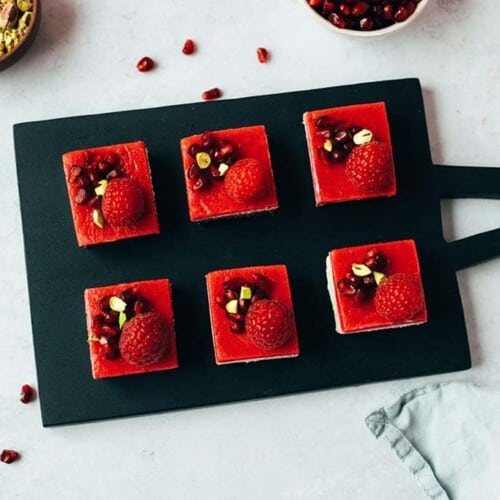 Raspberry cheesecake without baking
Delicate vegan Mini Himi Cheesecake with a creamy layer of cashews and ricotta cheese on a date-cocoa-coconut base. Topped with a fruity layer of raspberries, gelled with agar agar. Ideal as a dessert or for a vegan coffee party.
AUTOR: VEGANEVIBES
TOPPING:
Fresh raspberries

Pomegranate Seeds

Pistachios

chopped
Anleitung 
Line a 20x20cm diameter brownie pan with baking paper. Cut baking paper for it, put it on top of each other and oil the mold a little beforehand.

FOR THE BOTTOM. Blend pecans, coconut flakes, cocoa, dates, and a pinch of salt with a food processor until uniform and slightly sticky. If the dates are very dry, add a few drops of hot water. With wet hands, press into springform pan until bottom and sides are evenly lined.

115 g Pecans,

18 g Coconut flakes,

25 g Cocoa,

280 g Medjool dates,

1 Pinch Sea salt

TIP: If a lot of excess fat comes out of the nuts, dab gently with kitchen roll.

Place in the freezer.

FOR THE FILLING Place cashews, vegan cottage cheese, maple syrup, bourbon vanilla, lemon juice, lemon zest and salt in a high-powered blender and blend until homogeneous. At the very end, add xanthan gum and mix again on high speed.

180 g Cashews,

200 g Coconut yogurt or another vegetable yogurt,

120 ml maple syrup,

½ tbspn ground bourbon vanilla,

60 ml Lemon juice,

Grated zest of one organic lemon,

1 Pinch sea salt,

½ tbspn Xanthan Gum

Remove the base from the freezer and pour in the filling. Smooth out and return to the refrigerator.

Place a small saucepan on the stove, pour in water and whisk in agar-agar. Bring to the boil. Cook for 2 minutes and remove heat. Set aside.

½ tbspn Agar Agar Powder,

60 ml Water

Place raspberries and lemon juice in a high-powered blender. Add dissolved agar-agar and blend on high speed to a fine puree.

150 g Raspberries,

30 ml Lemon juice

Pour through a hair sieve and use it to remove the seeds from the raspberries.

Remove the base from the freezer once again and pour the puree over the cashew layer.

Cover and place in the refrigerator to set for at least

6 hours

.

When the cooling time is over, remove from the mold and cut into 16 pieces, garnish with fresh raspberries, pomegranate seeds and chopped pistachio nuts and enjoy!

TIP: Freeze for

15 minutes

before serving, then it will be like a semi-frozen.

Fresh raspberries,

Pomegranate Seeds,

Pistachios

Can be stored in an airtight container in the refrigerator for up to 5 days. Alternatively, freeze in pieces for up to 2 months.
Nährwertangaben
Serving:
1
Piece
Calories:
206
kcal
Carbohydrates:
26
g
Protein:
4
g
Fat:
11
g
Saturated Fat:
2
g
Sodium:
30
mg
Potassium:
290
mg
Fiber:
4
g
Sugar:
18
g
Vitamin A:
30
IU
Vitamin C:
6
mg
Calcium:
49
mg
Iron:
1
mg