Vegan Mango Cheesecake without baking, finally my dream comes true. For a long time I long mach a fruity dessert at Christmas. I will tell you later my secret tip where you can get really delicious juicy mangoes that you won't find in any supermarket. This fine pastry is not a new invention and already numerous bloggers have a variant of their cheesecake on the blog. But I beat them all with one argument and that is the lack of oil. Please do not misunderstand I appreciate my fellow vegan food bloggers very much and take my hat off to what many of them have already accomplished.
Mango cheesecake vegan without baking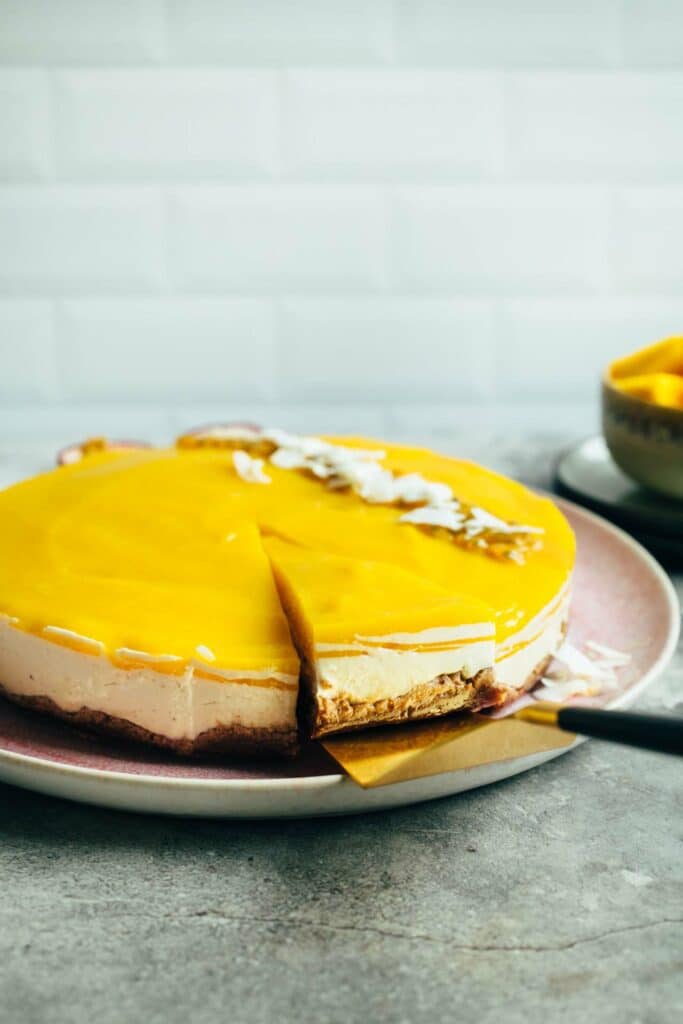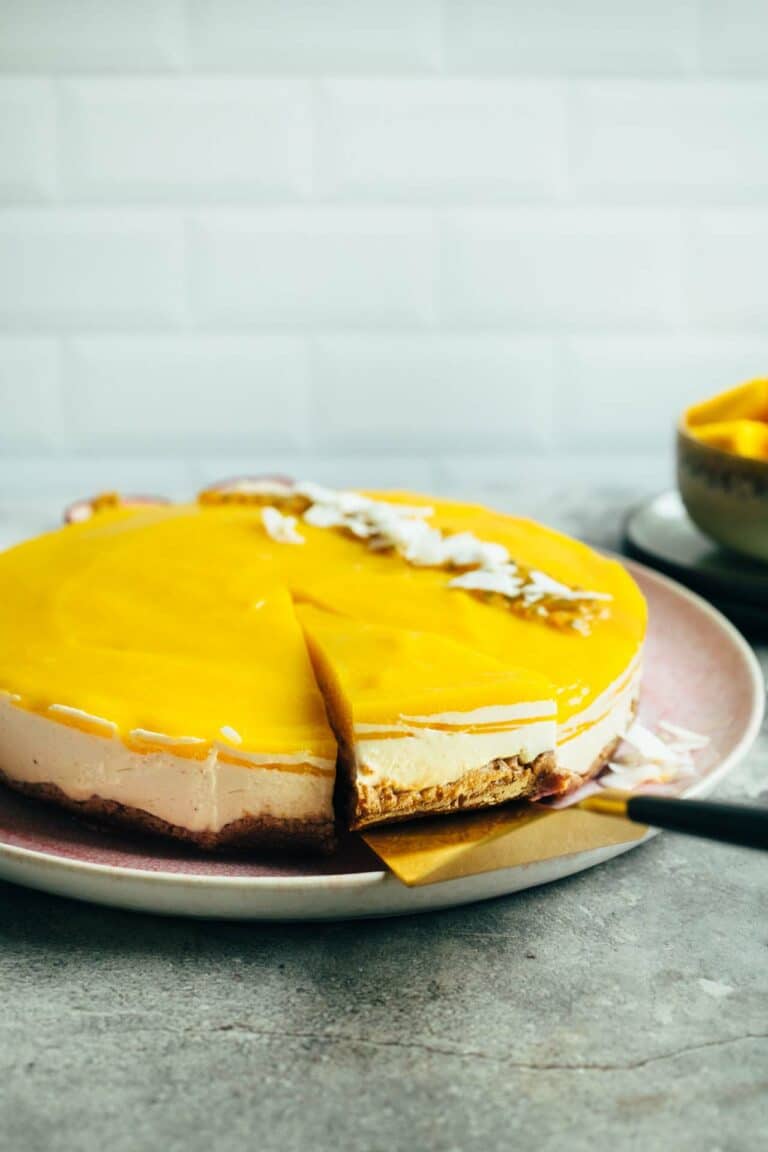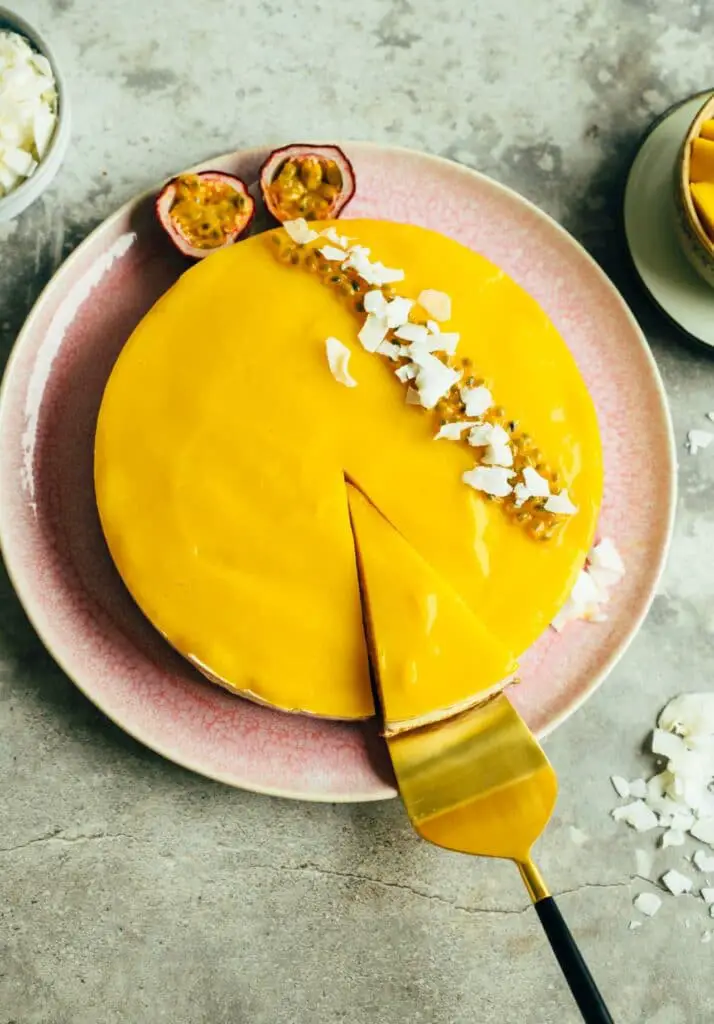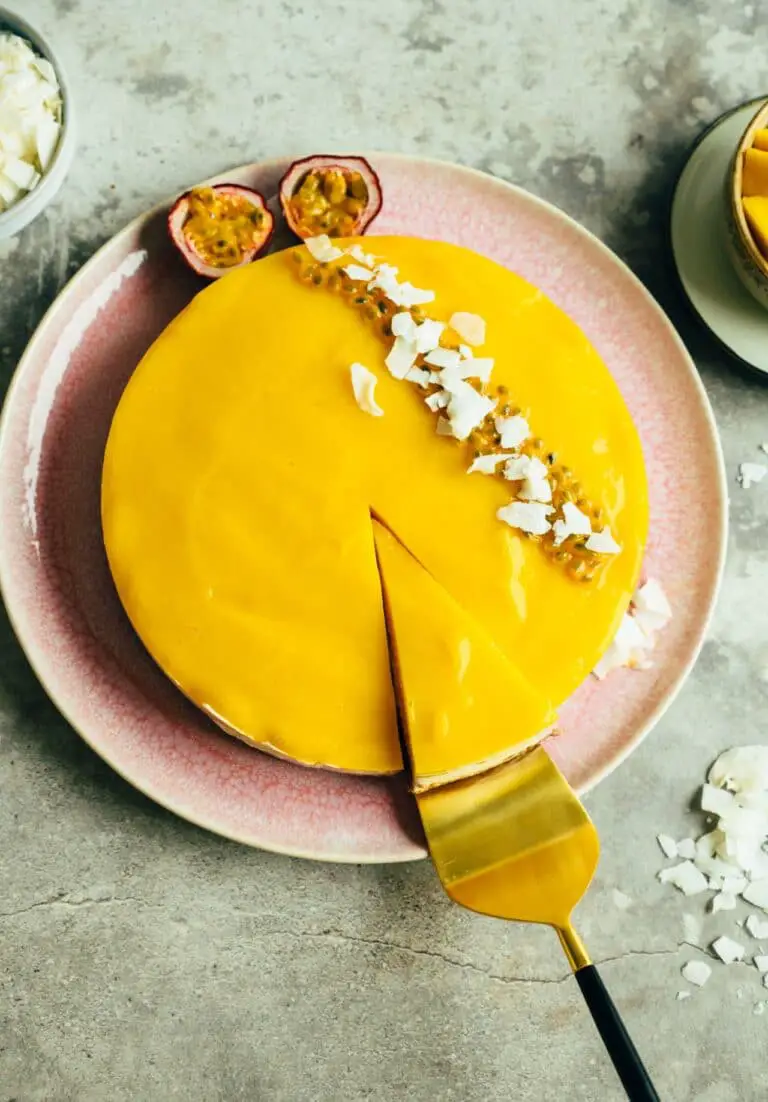 The mango cake consists of 3 layers, the nut base, a creamy layer of cashews and vegan curd and a fine mango topping gelled with agar agar. As you know, I'm a big fan of oil free baking and am always trying to do more in that area. The background is that oil is a refined food, once extracted from a whole fruit. During this process, many valuable components are removed from the plant (for example, dietary fiber). This is exactly the reason why I try to avoid empty calories more and more in my recipes and replace them with wholesome products.
The base is mixed nuts, I prefer to use a mix of walnuts, pecans and almonds. I just vary and go by what's in the house at the moment. With dates, it is important that they are nice and soft and easy to handle. I always use Medjool dates, if the dates are not soft enough, it is best to soak them in hot water for up to an hour.
For a long time I made the cashew curd filling with coconut oil. Somewhere along the way came the brilliant discovery of xanthan gum and my life changed. Xanthan gum is a natural binder derived from bacteria and is also approved for organic foods. It also binds cold liquids and creams and is perfect for our cheesecake. Everyone should have xanthan gum in the house.
The fruity mango layer is made from fine, ripe mangoes that I ordered from Jurrasic Fruit. I can't tell you how many times I've bought mangoes at the grocery store and then composted them at home. Either they did not ripen at all, or were fibrous without end. The fruits were just great, both the consistency and the taste. If you are unsure, you can also buy organic mango pieces from a jar. Nothing can go wrong here.
Use agar agar gelatin correctly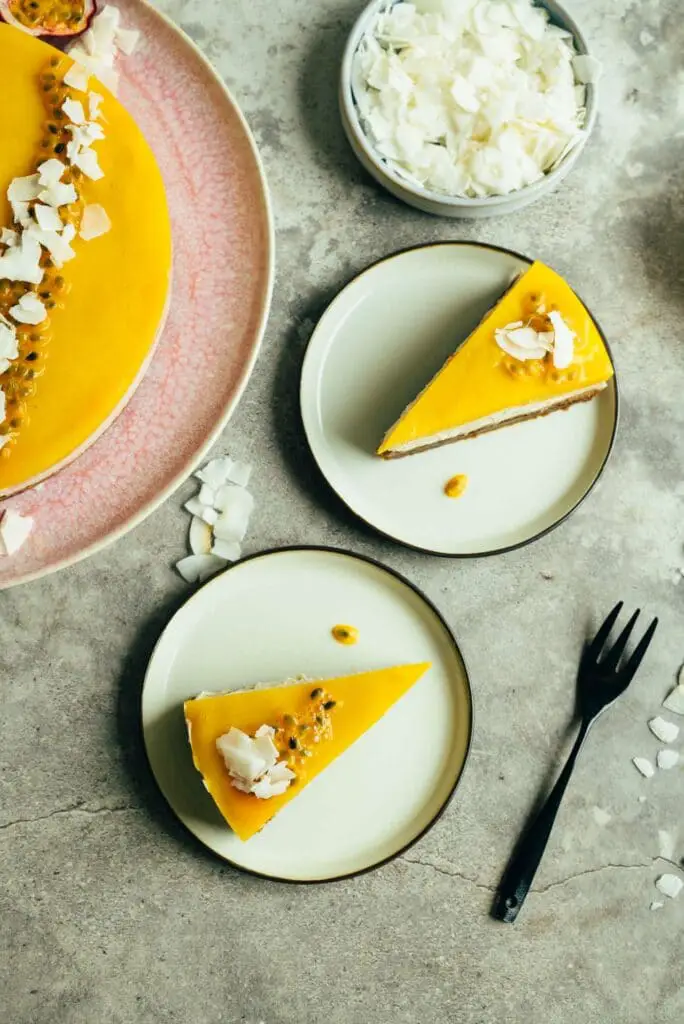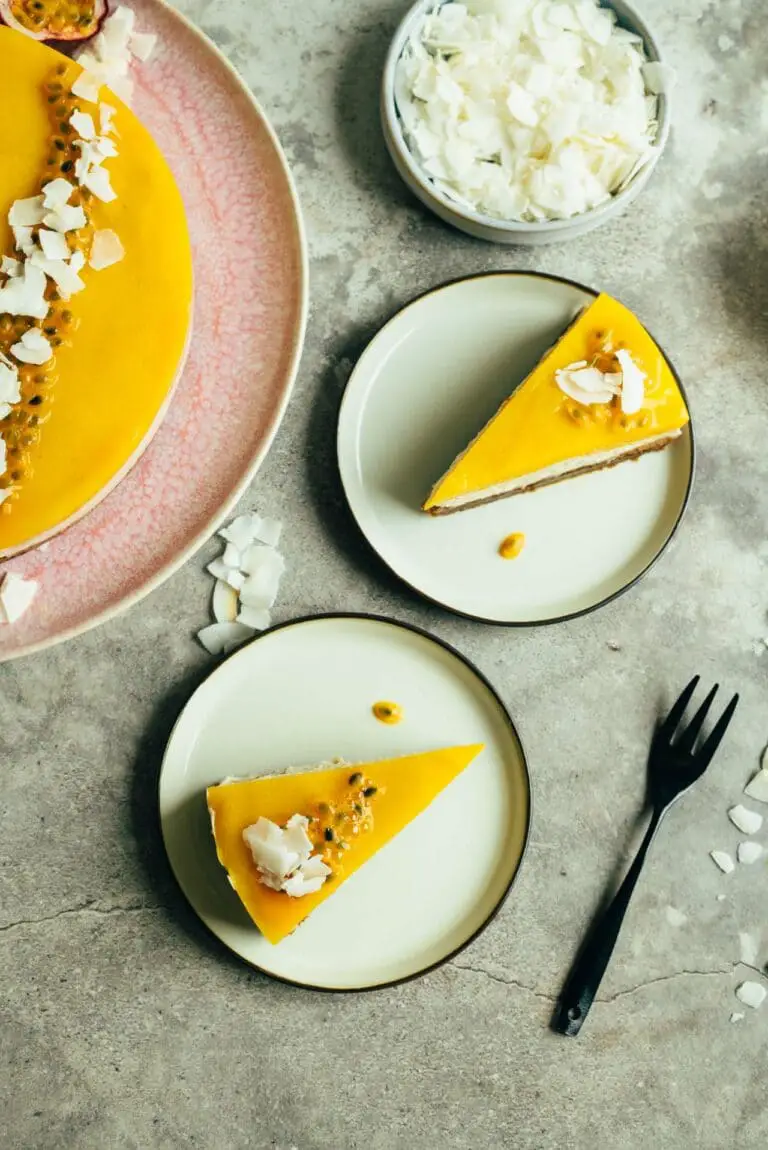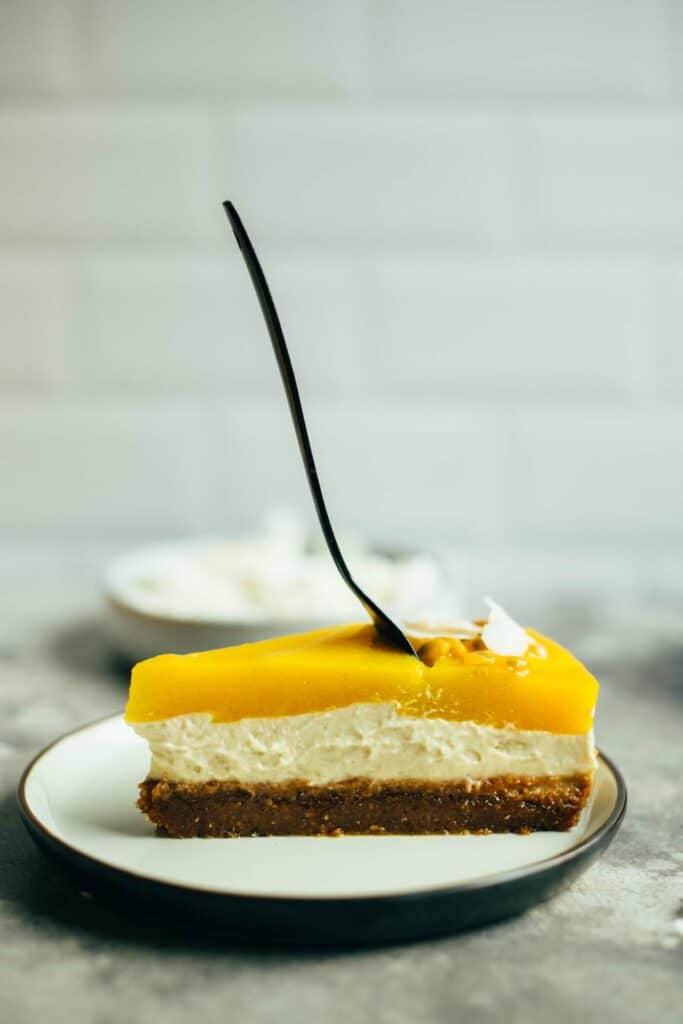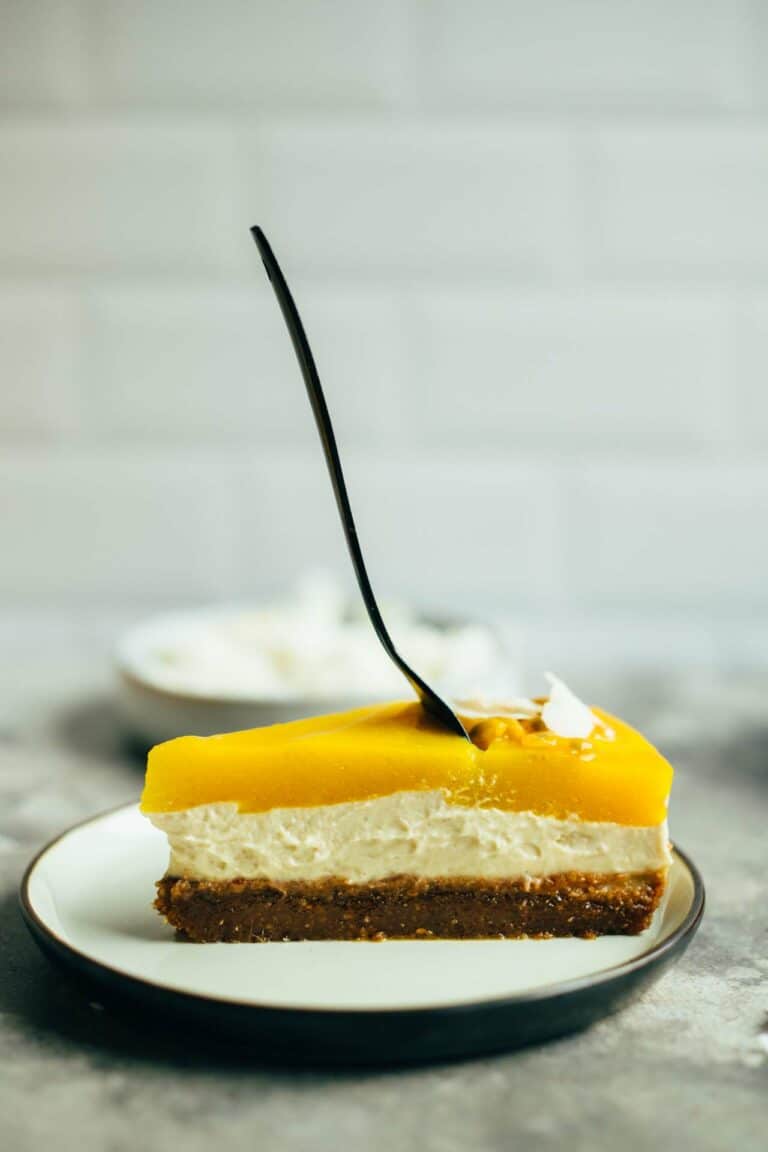 I love agar-agar more than anything. It is a vegetable gelling agent obtained from algae. I will not go into what conventional gelatine is made from. If this interests you, then be happy to take a look at the article from PETA. Here you can find another cheesecake recipe with agar agar.
Agar-agar is a safe, very easy-to-use alternative to ordinary gelatin products. I will explain the procedure in more detail below.
TIP: Rule of thumb when using agar-agar is that it must always be boiled. Otherwise, it does not gel. It then becomes solid as it cools. For the first times I recommend to make a gelatinization test. To do this, put a small amount on a plate and let it set in the refrigerator.
I hope you now have a desire for a delicious piece of mango cheesecake (oil-free). If yes, then I wish you much fun with the "Nachbacken" and of course about a rating at the bottom of this page. If you post a picture, use the hashtag #veganevibes.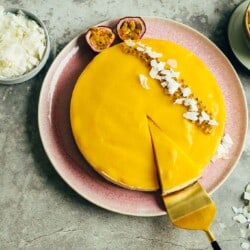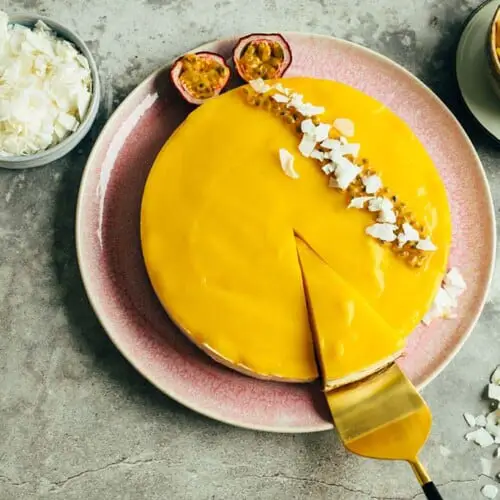 Mango cheesecake cake without baking
Fine vegan mango cheesecake with a creamy layer of cashews and cottage cheese on a date-nut base. Topped with a fruity layer of fresh mangoes, gelled with agar agar. Ideal as a dessert or for a vegan coffee party.
AUTOR: VEGANEVIBES
FOR THE FLOOR:
155

g

mixed nuts

Pecans and Brazil nuts for a slightly "marzipan" dough

280

g

Medjool dates

Equivalent to about 11 large dates, pitted
FOR THE MANGO LAYER:
400

g

fresh mango

peeled and cut into pieces, alternatively ready mango pieces from the jar

30

ml

Lemon juice

60

ml

Water

½

tbspn

Agar Agar Powder
Anleitung 
Line a 24cm diameter springform pan with baking paper. I only cover the bottom with baking paper and leave the sides blank.

FOR THE BOTTOM Blend nuts, dates, and a pinch of salt with a food processor until uniform and slightly sticky. If the dates are very dry, add a few drops of hot water. With wet hands, press into springform pan until bottom and sides are evenly lined. Place in the freezer.

155 g mixed nuts,

280 g Medjool dates,

1 Pinch sea salt

FOR THE FILLING Place cashews, vegan cottage cheese, maple syrup, bourbon vanilla, lemon juice, lemon zest and salt in a high-powered blender and blend until homogeneous. At the very end, add xanthan gum and mix again on high speed.

180 g Cashews,

200 g Coconut yogurt or another vegetable yogurt,

120 ml maple syrup,

½ tbspn ground bourbon vanilla,

60 ml Lemon juice,

Grated zest of one organic lemon,

1 Pinch sea salt,

½ tbspn Xanthan Gum

Remove the base from the freezer and pour in the filling. Smooth out and return to the refrigerator.

Place a small saucepan on the stove, pour in water and whisk in agar-agar. Bring to the boil. Cook for 2 minutes and remove heat. Set aside.

Place mango pieces and lemon juice in a high-powered blender. Add dissolved agar-agar and blend on high speed to a fine puree.

400 g fresh mango,

30 ml Lemon juice,

60 ml Water,

½ tbspn Agar Agar Powder

Remove the base from the freezer once again and pour the puree over the cashew layer.

Cover and place in the refrigerator to set for at least

6 hours

.

When the cooling time is over, remove from the mold and cut into 10 pieces, garnish with the passion fruit and shredded coconut and enjoy!

TIP : Freeze for

15 minutes

before serving, then it is like a semi-frozen.

Can be stored in an airtight container in the refrigerator for up to 5 days. Alternatively, freeze in pieces for up to 2 months.
Nährwertangaben
Serving:
1
Portion
Calories:
284
kcal
Carbohydrates:
39
g
Protein:
6
g
Fat:
14
g
Saturated Fat:
2
g
Sodium:
8
mg
Potassium:
422
mg
Fiber:
4
g
Sugar:
28
g
Vitamin A:
395
IU
Vitamin C:
17
mg
Calcium:
66
mg
Iron:
2
mg