A mango protein smoothie that was supposed to be a mango lassi. I have been meaning to make a Lassi for such a long time. Do you happen to know it? This is an Indian yogurt drink that is taken as a refreshing drink on hot summer days. Well, then I realized that it is somehow no longer so hot here in Bavaria and something more protein should also pure. Smoothies I personally like very much before or after sports and therefore it was then but no Lassi. Creamy, protein-rich and a bit like Solero as a smoothie. That's the best way to describe this creamy drink. Oh yeah, how do you actually like the new design of the site? I look forward to feedback at the bottom of the comments.
Creamy, protein-rich smoothie with mango – a dream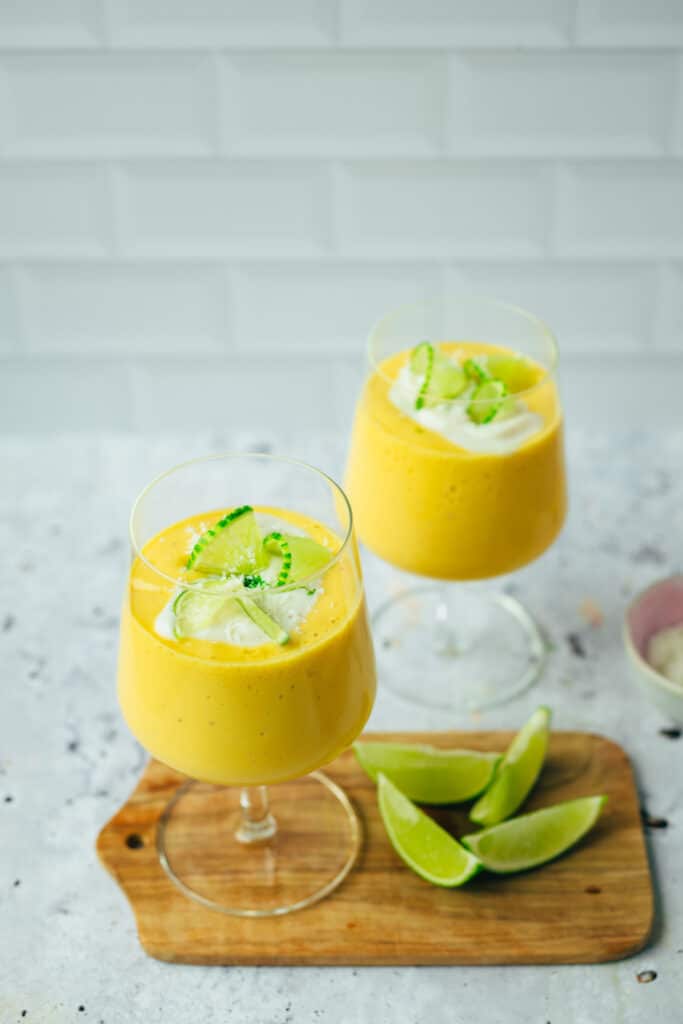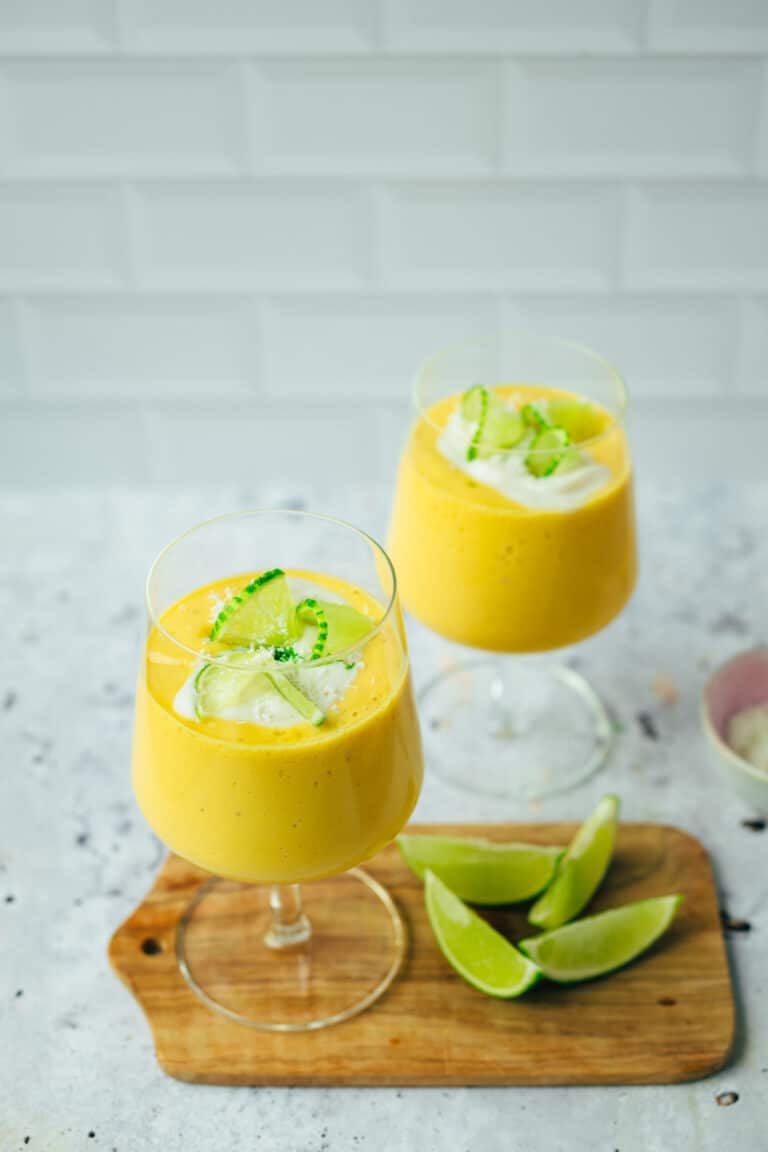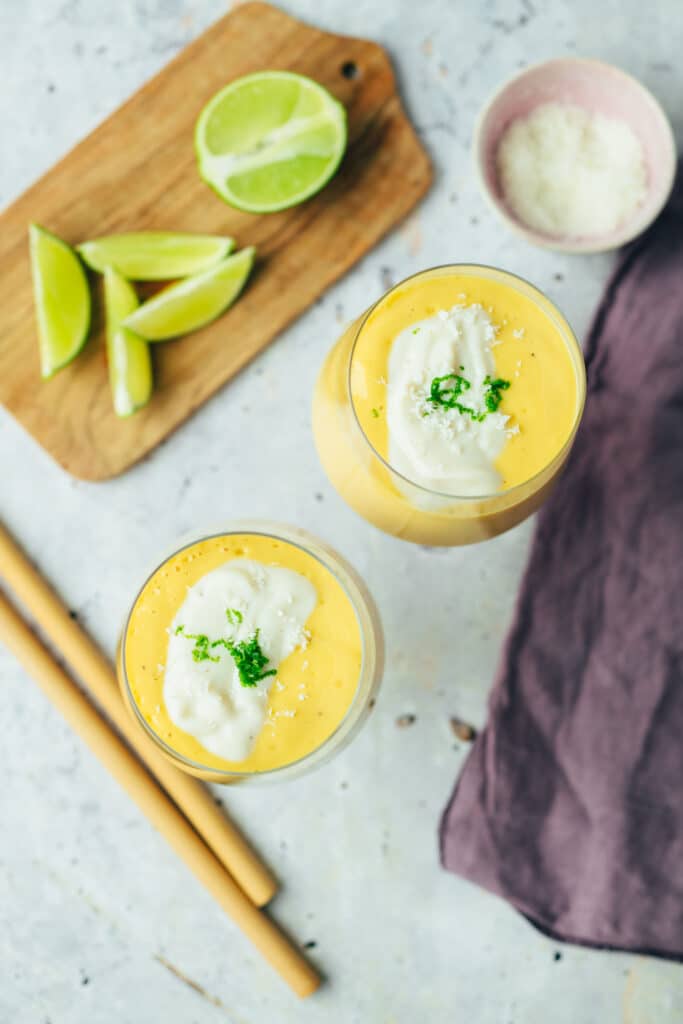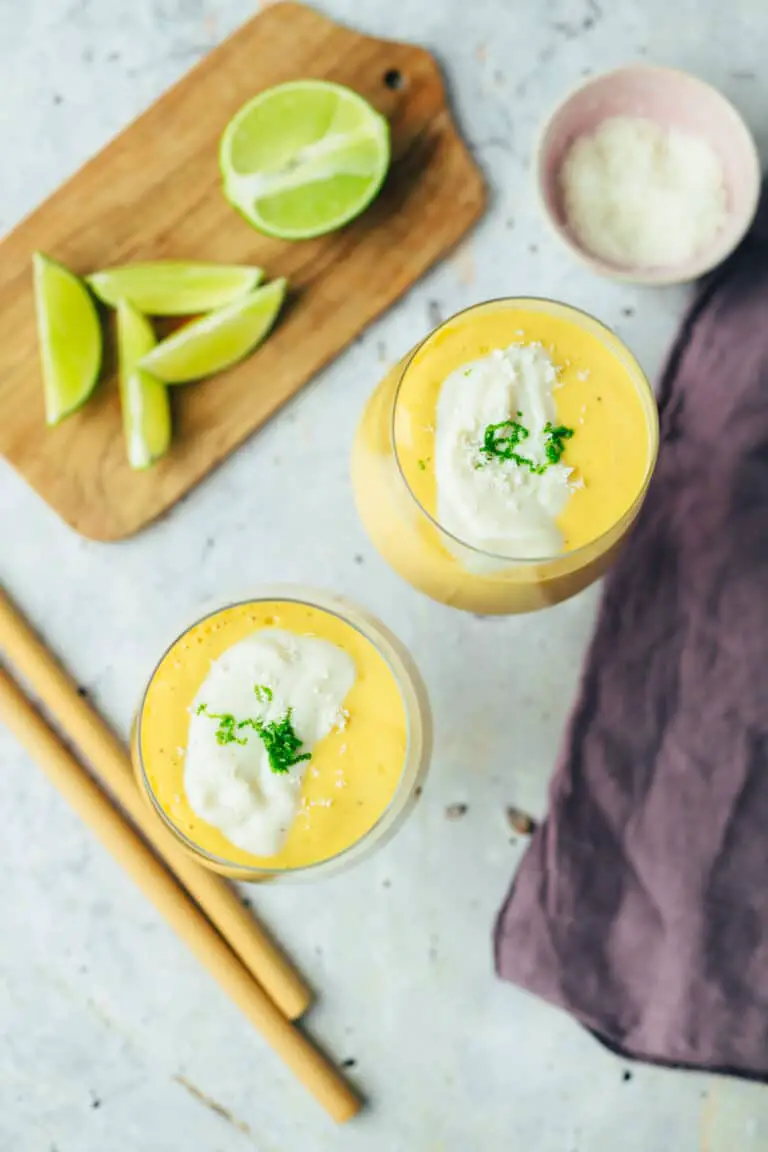 Do you love vegan smoothies as much as I do? For me, they can be very creamy. On the other hand, I also super like juices. Depending on my mood, I like to alternate here.
Orange juice, plant milk, maple syrup (depending on the sweetness of the mango), lime juice, mango cubes frozen, banana frozen, vegetable yogurt and protein powder. This all goes together in the blender and is mixed into a fine, creamy smoothie. You can either freeze the mango pieces yourself or simply buy them ready-made.
TIP: If you are using a high-powered blender, always put the liquids in the blender jar first. This allows the blender to work well and the blade does not spin so quickly. Maybe you are one of the lucky ones who have a blender with a pestle? Then you certainly don't know this problem.
How do I know if a mango is ripe?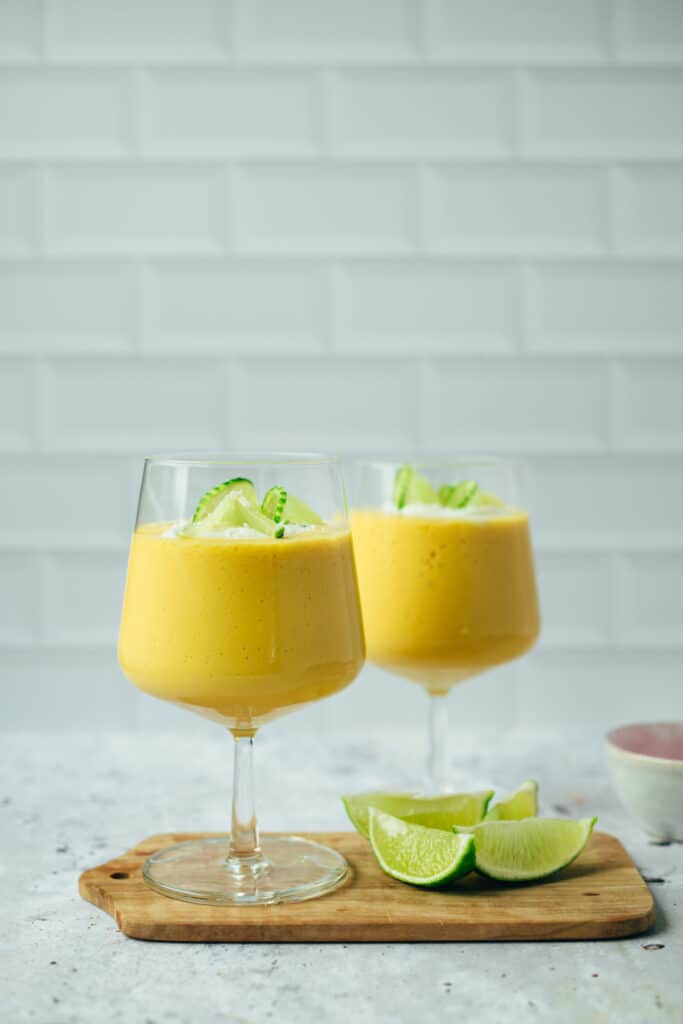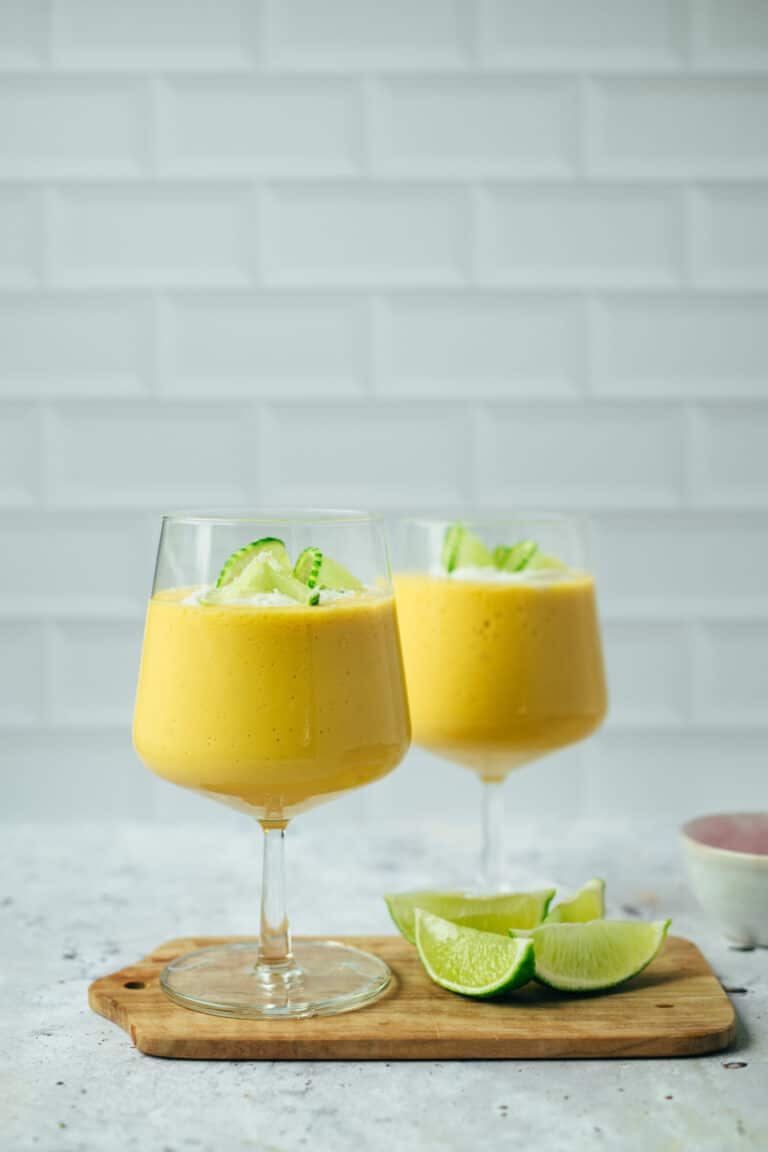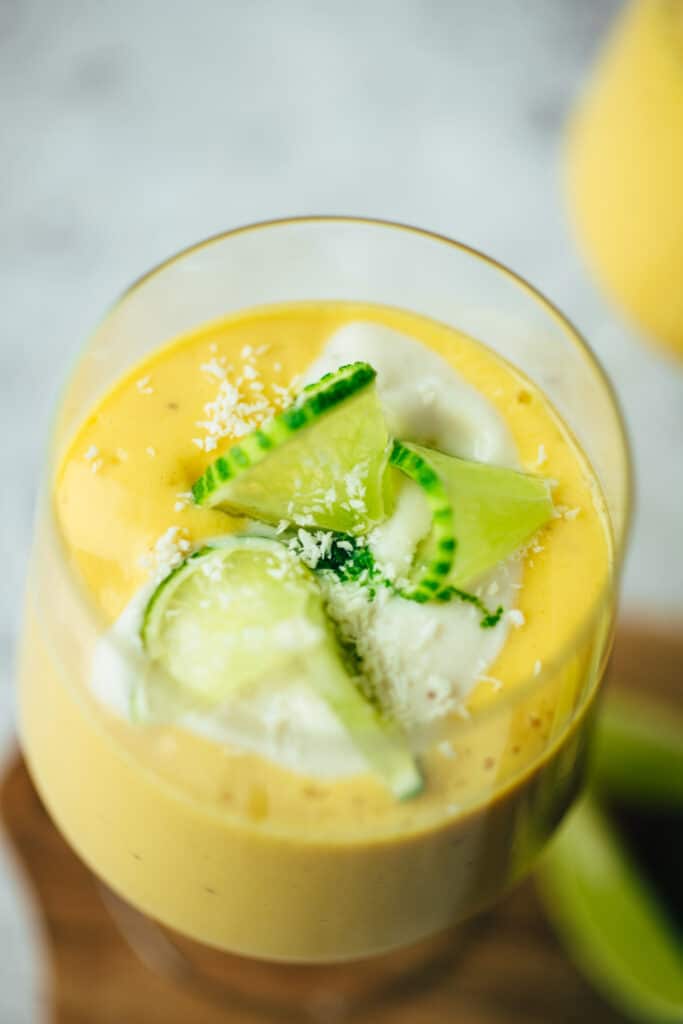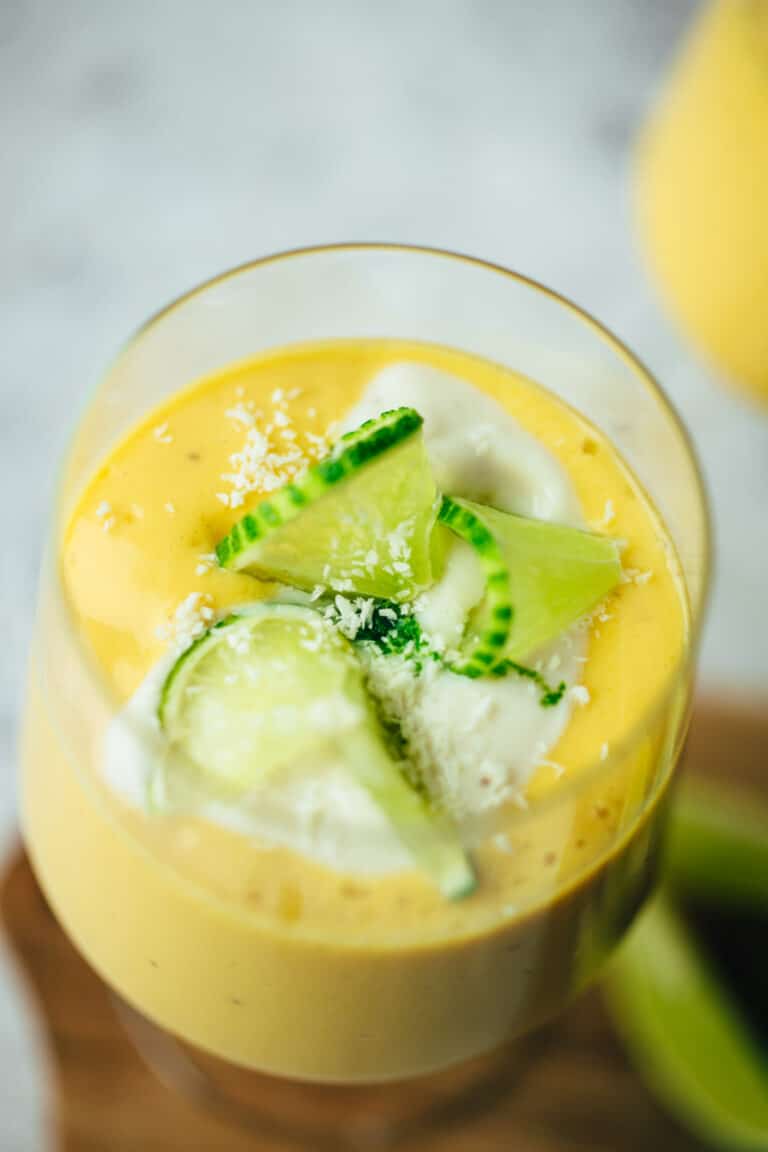 Again and again I stand in the organic market and ask myself whether the beautifully colored mangoes are now really ripe or not? How often has it happened to me that I came home full of anticipation and then had to find that the mango was woody inside, brown discolored or simply tasteless? Therefore here my top tips How you can tell it's a ripe, juicy mango that has reached the ideal level of ripeness.
The degree of ripeness can NOT be read from the color of the mangoes, as is widely done
If the mango is very hard, then it is definitely not ripe. It may even be that the fruit was harvested too early and never ripens (has happened to me many times, annoying!) With a light pressure on the mango, it is possible to determine whether the fruit is soft.
Small black dots on the outer shell are a good sign of the ripeness of the exotic fruit
You can smell ripe mangoes! If you can perceive from a distance after the wonderful smell, then off to the cart with it
Once the flesh is cut, it no longer ripens. It is best to check well before cutting if it is mango ripe. You'll get faster ripening if you put them in a bowl at room temperature with apples. Refrigerator is taboo, they don't like that at all.
Mangoes, by the way, are super healthy and contain a whole host of Fiber, vitamins and minerals. . Vitamin A, B6, B9, vitamin C, E and K. In addition, the fruit contains Mangiferin an antioxidant, which is said to have the following health-promoting properties:
Antidepressant, analgesic, anti-inflammatory, antimicrobial and antiviral, protective for heart, liver and nerve cells, preventive against diabetes and sclerosis diseases and mitigating ggü. Allergy symptoms.
What else is there to say? In terms of preparation, you'll need a good blender (I love my Blendtec), smoothie glasses and straws. Here I use bamboo straws, because we already have enough plastic in the oceans.
What goes perfectly with a sweet and fruity smoothie? Chocolate peanut butter muffins, overnight oats or a turmeric porridge? Have fun and enjoy!
The MANGO PROTEIN SMOOTHIE is:
Exotic fruity
Protein-rich
Naturally sweet
Full of vitamins and minerals
creamy
Do you fancy this delicious exotic smoothie? Then I look forward to a review at the bottom of this page. If you post a picture, feel free to use the hashtag #veganevibes.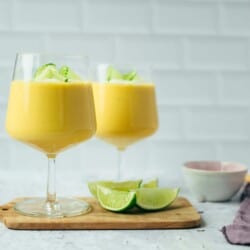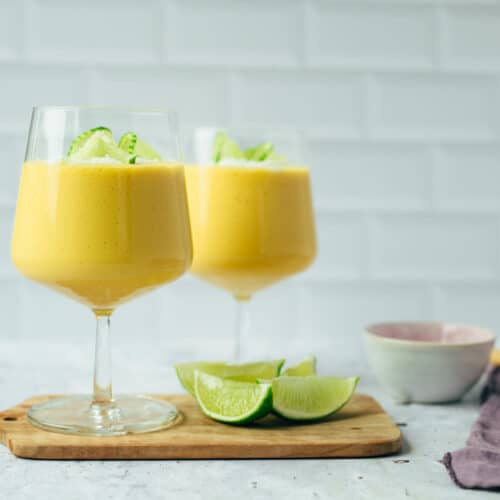 Mango Protein Smoothie
Creamy, satisfying, mango protein smoothie made with frozen bananas, mango chunks, almond milk, orange juice, lime juice and yogurt. Creamy, fruity and naturally sweet, the smoothie provides you with healthy fats, proteins, vitamins and minerals.
AUTOR: VEGANEVIBES
MANGO PROTEIN SMOOTHIE:
120

g

Bananas

frozen and cut into pieces (see instructions)*.

300

g

Mango pieces frozen

I buy the mango pieces ready frozen in the organic supermarket

120

ml

Orange juice

120

ml

Plant milk

15

ml

maple syrup

more or less depending on the sweetness of the mango

30

ml

Lime juice

70

g

Vegetable yogurt

unsweetened

20

g

VANILLE PROTEIN POWDER or another vegan protein powder

if not present simply omit

Optional: 2-4 ice cubes
Anleitung 
In a high-powered blender, blend all ingredients until desired consistency is reached (I like it very fine).

TIP: Add liquid ingredients to the blender first.

120 g Bananas,

300 g Mango pieces frozen,

120 ml Orange juice,

120 ml Plant milk,

15 ml maple syrup,

30 ml Lime juice,

70 g Vegetable yogurt,

20 g VANILLE PROTEIN POWDER or another vegan protein powder,

Optional: 2-4 ice cubes

Pour into two smoothie glasses, garnish with desired toppings and serve.

Serve with a spoon and a reusable straw and enjoy immediately!

Lime slices,

Extra yogurt,

Coconut shavings

*Tip for the correct freezing of bananas: The bananas should be as ripe as possible, preferably already with black dots. Many would not eat the fruit at this level of ripeness, but dispose of it. Exactly then the bananas are perfect, because they have the maximum sugar content. To freeze, peel, cut into chunks and place in a reusable box or freezer bag (I've used mine x number of times, the permanent freezing also prevents bacteria from forming). Remove and refreeze banana pieces as needed.
Nährwertangaben
Serving:
1
Portion
Calories:
301
kcal
Carbohydrates:
60
g
Protein:
12
g
Fat:
3
g
Saturated Fat:
1
g
Sodium:
140
mg
Potassium:
756
mg
Fiber:
4
g
Sugar:
43
g
Vitamin A:
2655
IU
Vitamin C:
109
mg
Calcium:
167
mg
Iron:
3
mg