Peanut butter banana smoothie, doesn't really sound like a new invention. I don't really care at this point, though, because it tastes so incredibly delicious. I had this smoothie in Mexico a few weeks ago and immediately fell in love. We stayed in an exciting hotel in the middle of the jungle on a beautiful lagoon. The breakfast there was just amazing and there was a great selection of smoothies, juices and elixirs. My favorite was the peanut butter banana smoothie, which I recreate in this recipe to my own liking.
Peanut butter banana smoothie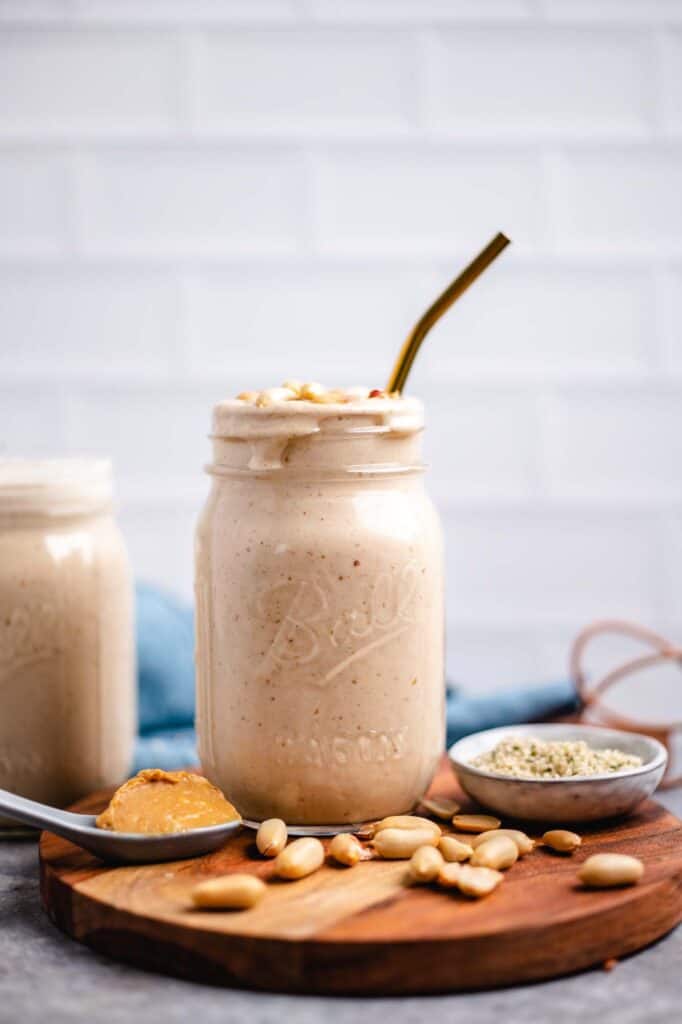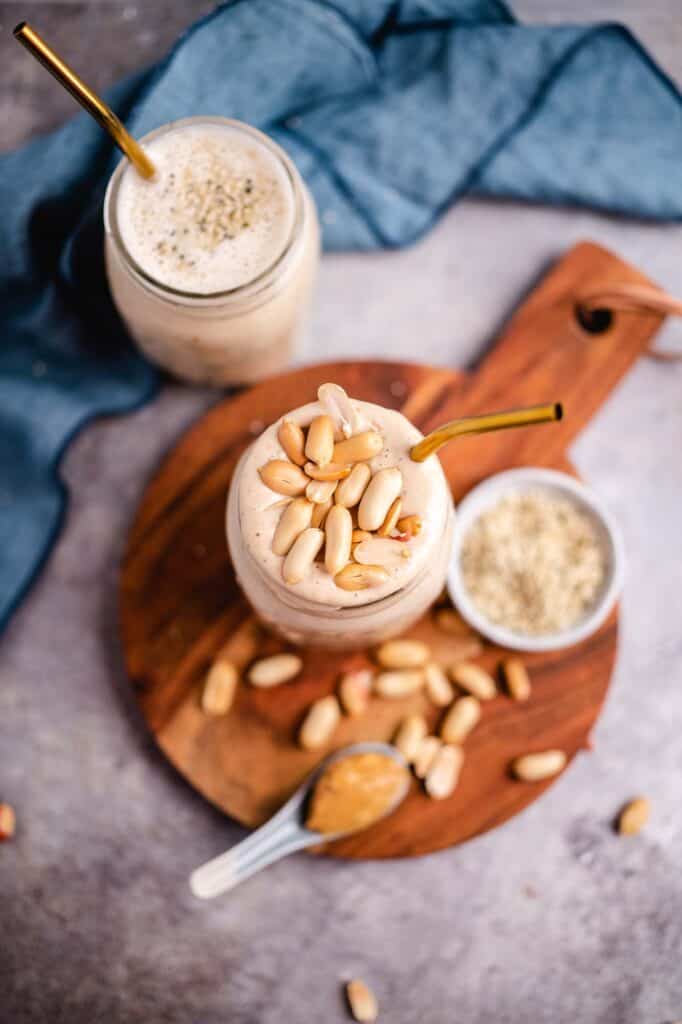 Do you like vegan smoothies as much as I do? For me, they can be very rich and creamy. Juices, on the other hand, I also like very much and alternate accordingly. I see already, it's time to also publish some power juices on this blog. Do you feel like it?
Let's get back to today's smoothie made with frozen bananas, peanut butter, dates and hemp seeds. This all goes together in the blender and is mixed into a fine, creamy smoothie. The bananas should definitely be frozen, otherwise the smoothie will not be as creamy.
TIP: If you are using a high-powered blender, always put the liquids in the blender jar first. This allows the blender to work well and the blade does not spin so quickly. Maybe you are one of those people who have a blender with a pestle? Then you certainly don't know this problem.
Delicious vegan smoothies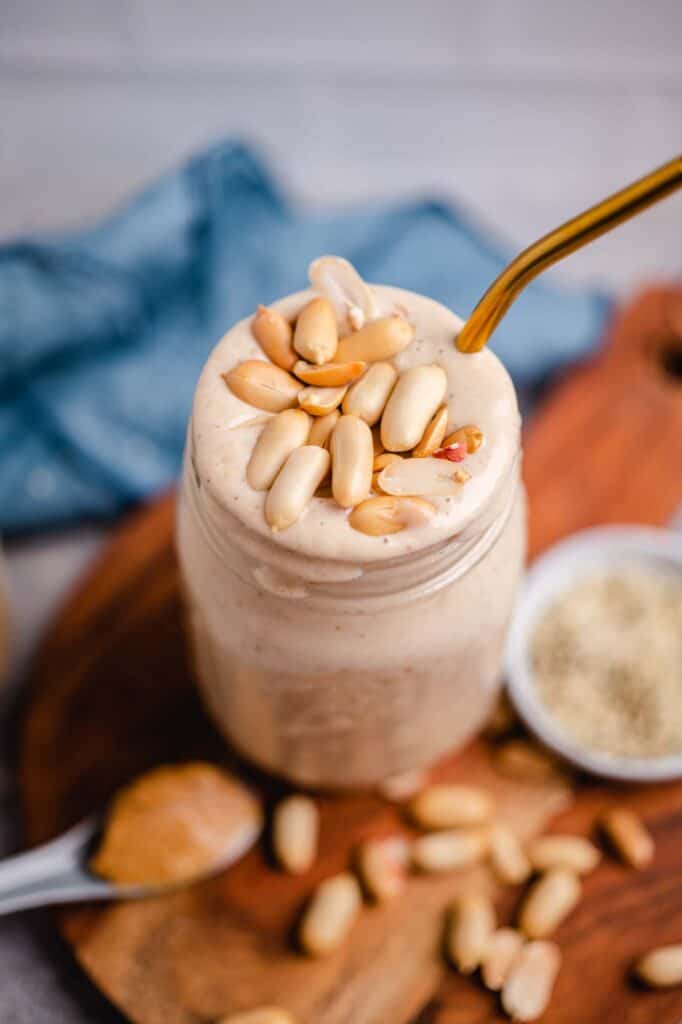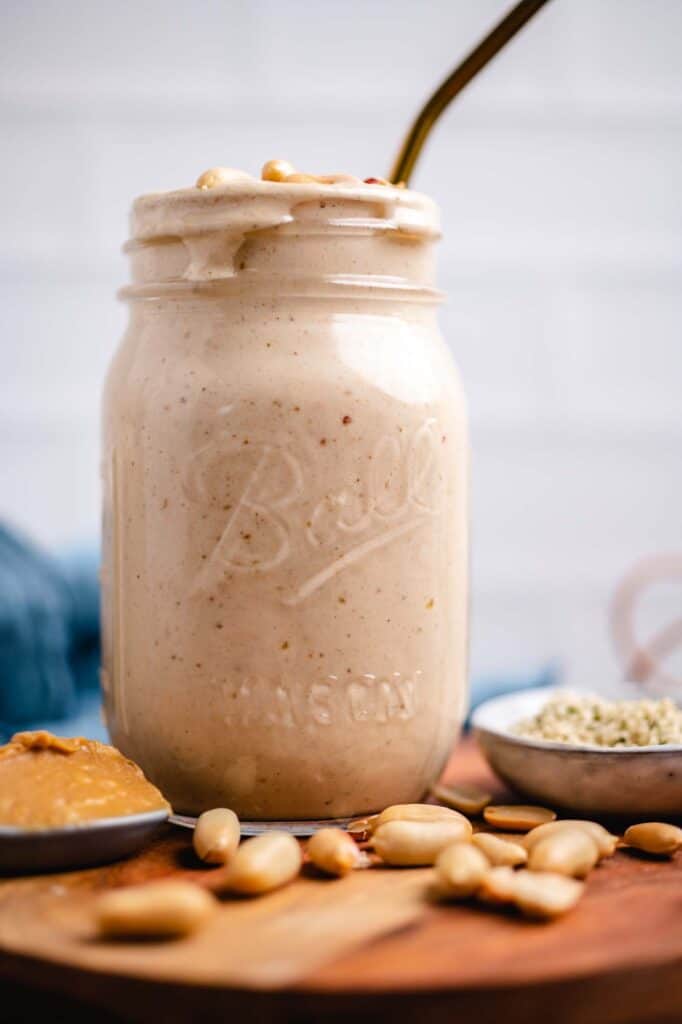 Sometimes I get really weird looks at the checkout because I buy such a large amount of bananas. If you believe various experts, then bananas should have the following properties:
Rich in calcium, potassium, and amino acids
Anti-viral and anti-bacterial
Helps rebuild neurotransmitters
Provides the body with easily digestible glucose
Helps stabilize blood sugar
IMPORTANT TIP for the correct freezing of bananas. : The bananas should be as ripe as possible, preferably already with black dots. Many would not eat the fruit at this level of ripeness, but dispose of it. Exactly then the bananas are perfect, because they have the maximum sugar content. To freeze, peel, cut into chunks and place in a reusable box or freezer bag (I've used mine x number of times, the permanent freezing also prevents bacteria from forming). Remove and refreeze banana pieces as needed.
If you are looking for a different smoothie today, I have the following recipes for you:
What else is there to say? In terms of preparation, you'll need a good blender (I love my Blendtec), smoothie glasses and straws. Here I use bamboo straws, because we already have enough plastic in the world.
The peanut butter banana smoothie is:
creamy
Pleasantly sweet
nutty
Rich in healthy fats
Bananig
Well, do you fancy this delicious and creamy smoothie? Then I look forward to a review at the bottom of this page. If you post a picture, feel free to use the hashtag #veganevibes.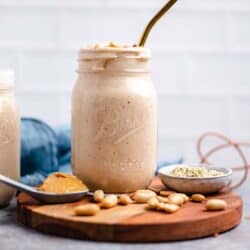 Vegan peanut butter banana smoothie
Irresistible vegan smoothie made with peanut butter, bananas and dates. Perfect as breakfast, snack or TO GO to the office. Easy to make, delicious, creamy, wholesome and full of healthy ingredients that will give you the power you need for the day. Vegan, gluten-free, oil-free.
AUTOR: VEGANEVIBES
OPTIONAL:
One handful each of kale or spinach

(optional)
Anleitung 
In a high-powered blender, blend plant milk, bananas, hemp seeds, peanut butter and Medjool dates until desired consistency is reached (I like it very fine). TIP : Add liquid ingredients to the blender first.

500 ml Plant milk,

300 g Bananas,

24 g hempseed,

30 g Peanut butter,

2 Piece Medjool dates,

One handful each of kale or spinach

Pour into two smoothie glasses, garnish with desired toppings and serve.

Serve with a reusable straw and enjoy immediately!
Nährwertangaben
Serving:
1
Portion
Calories:
440
kcal
Carbohydrates:
56
g
Protein:
17
g
Fat:
19
g
Saturated Fat:
3
g
Polyunsaturated Fat:
9
g
Monounsaturated Fat:
6
g
Sodium:
191
mg
Potassium:
1061
mg
Fiber:
7
g
Sugar:
35
g
Vitamin A:
1159
IU
Vitamin C:
31
mg
Calcium:
390
mg
Iron:
4
mg