Hazelnut Chocolate Smoothie will surprise you one hundred percent, especially if you like chocolate and hazelnuts. I am a big fan of it and love the combination more than anything. When I'm in an ice cream shop and have to choose, my favorite is chocolate and hazelnut. However, I often fall behind because I either can't find a purely vegan ice cream shop or there are only a few vegan varieties. Yet it would be so easy to make vegan ice cream. I'm looking forward to the next time I'm in Munich at @eisbrunnen, the first purely vegan ice cream parlor in Munich. The ice cream I was already allowed to taste and it is incredibly tasty I can say. In the meantime, I'll still settle for today's smoothie.
Vegan hazelnut chocolate smoothie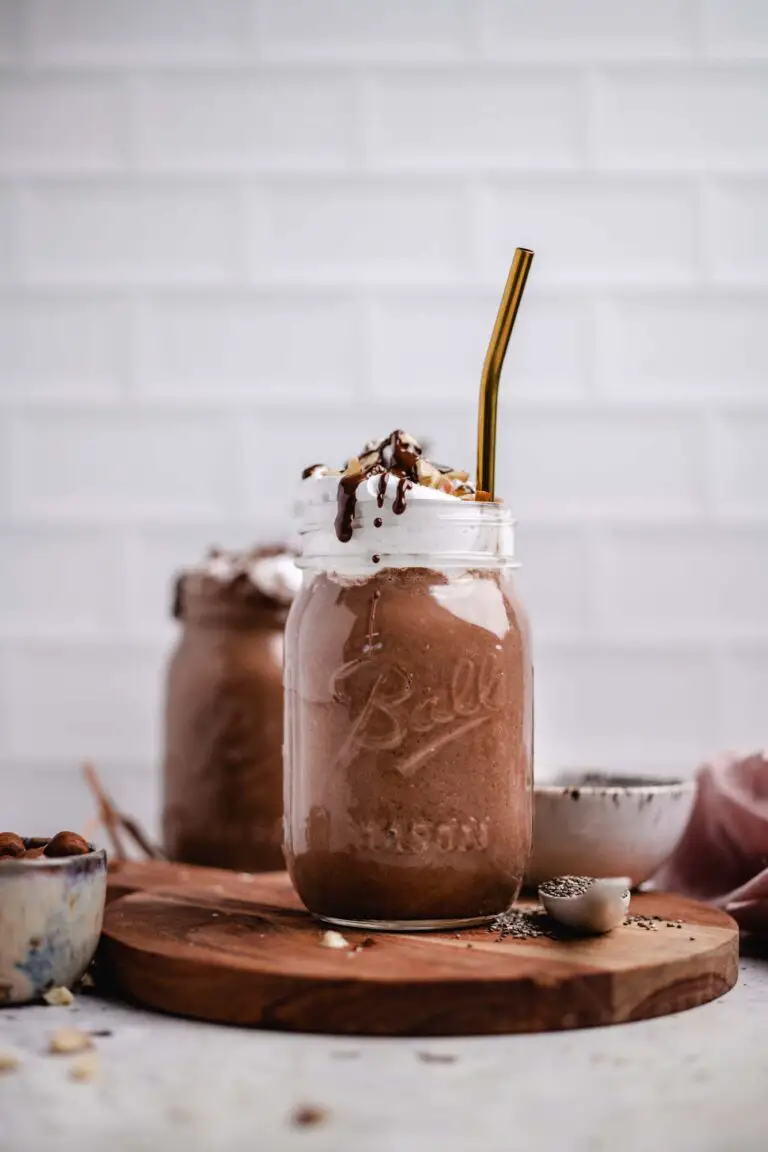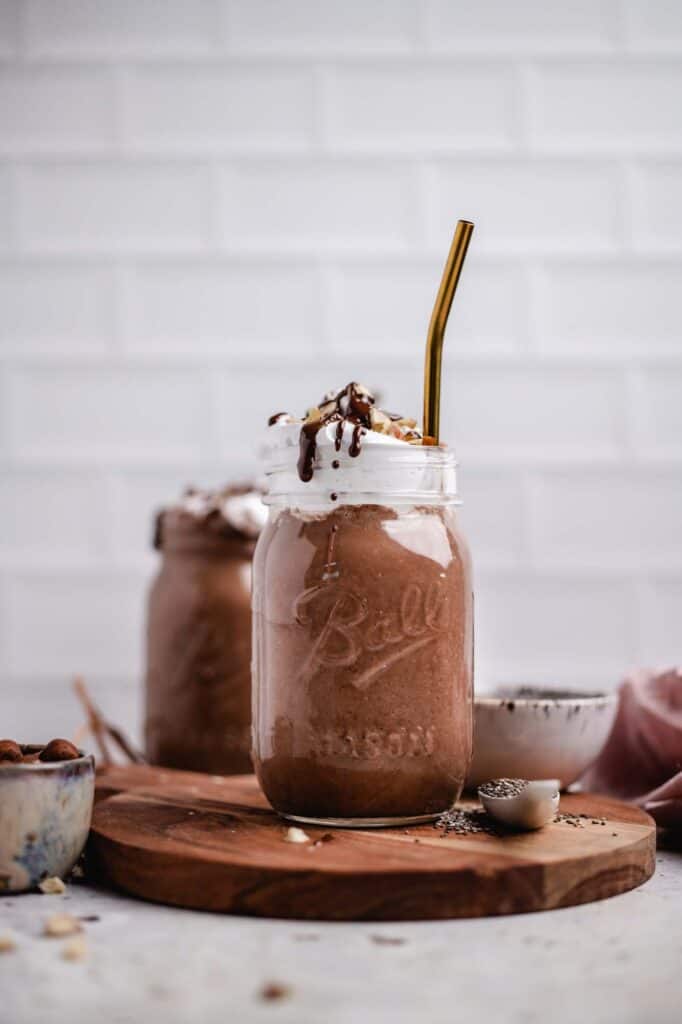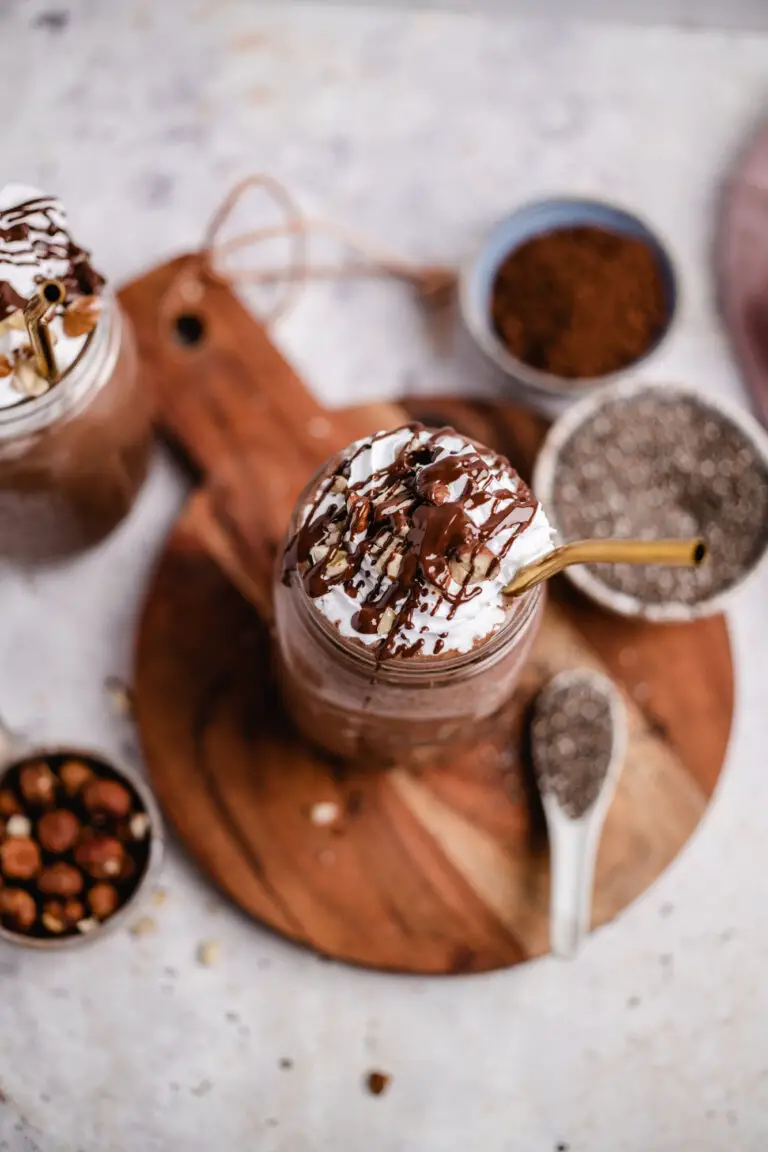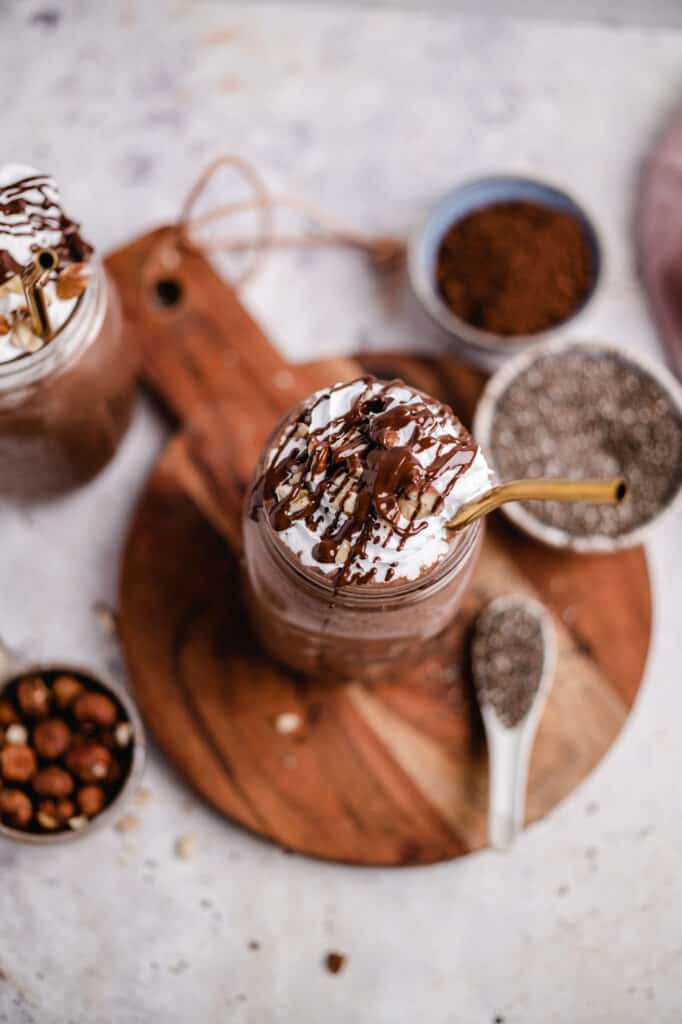 Smoothies are simply wonderful, especially when they are vegan and delicious without end. This combination in particular just blew me away. Chocolate, hazelnut and banana give an incredibly great flavor and I think there are few people who do not like this combination.
Let's get back to today's smoothie made with frozen bananas, plant milk, cacao, chia seeds, dates, bourbon vanilla. This all goes together in the blender and is mixed into a fine, creamy smoothie. The bananas should definitely be frozen, otherwise the smoothie will not be as creamy. If you like it extra cold, you can add a handful of ice cubes.
TIP: Most people have a poor balance between omega 3 and omega 6 fatty acids. We cannot produce the precursors of the two fatty acids ourselves, so we have to supply them from outside. An optimal ratio would be four times higher omega 6 to omega 3. However, in most cases we consume far too many omega 6 fatty acids, resulting in values of 6:1 to 20:1 in most people. Too high a ratio of omega 6: omega 3 can lead to an increased risk of Diseases of the cardiovascular system and lead to chronic inflammation such as arthritis and inflammatory bowel disease. It is therefore worthwhile to consciously include omega-3 containing foods such as chia seeds or flax seeds in the diet. Incidentally, the nutrients can be absorbed even more easily when germinated.
Creamy vegan smoothies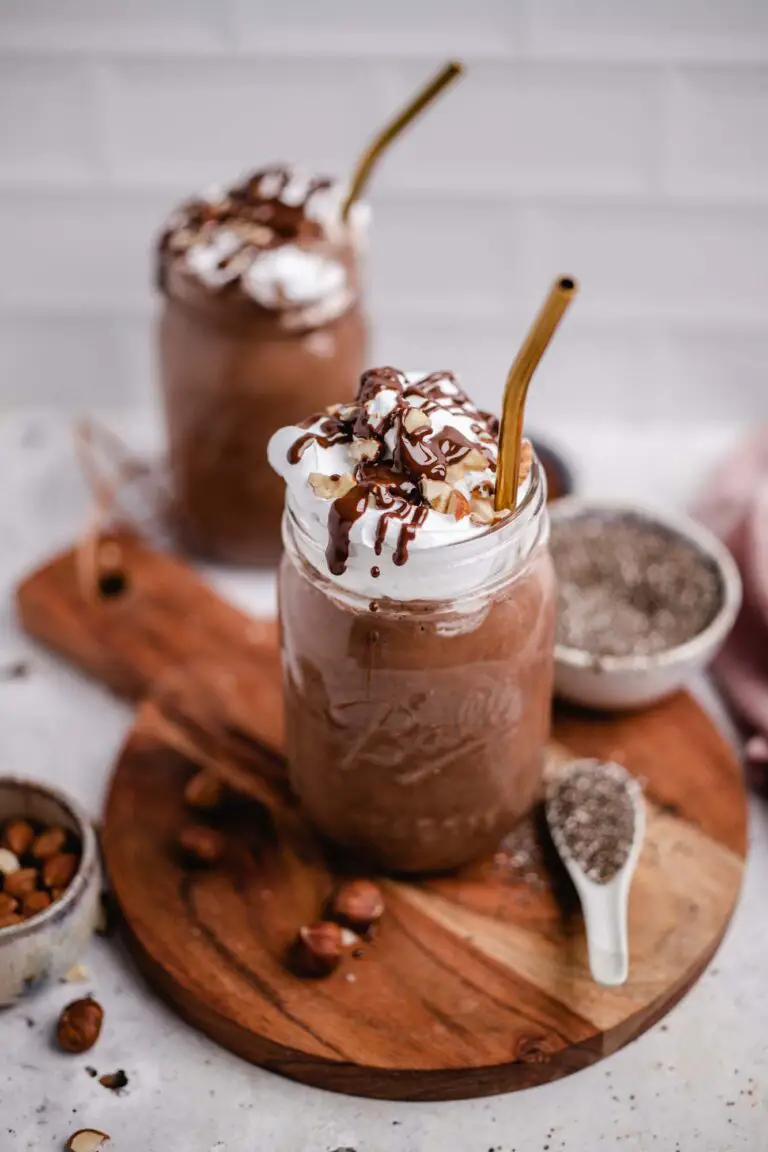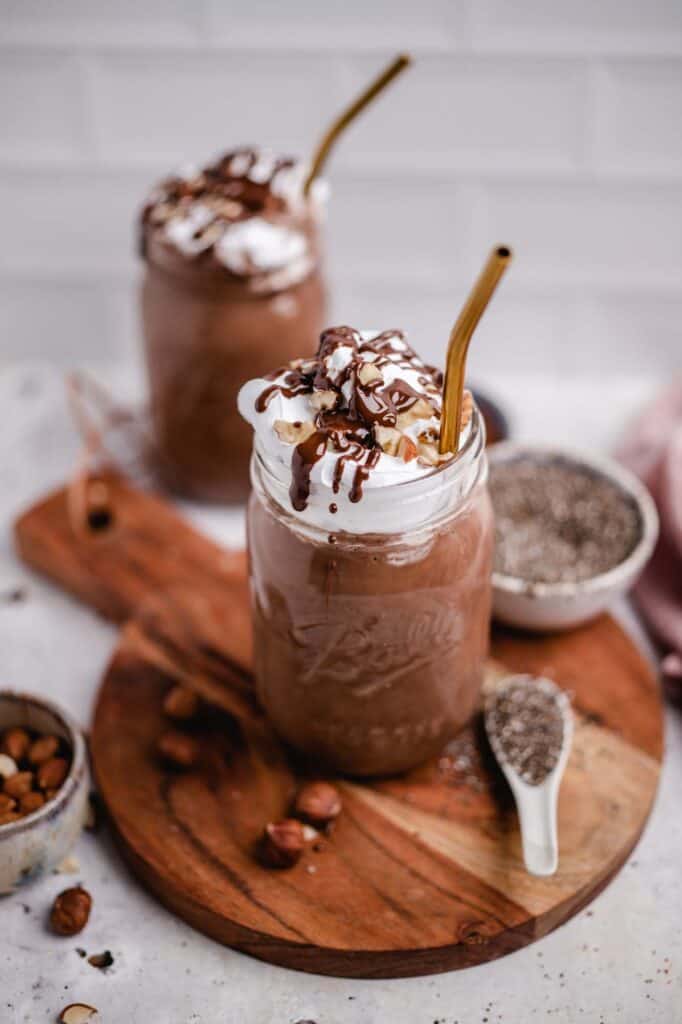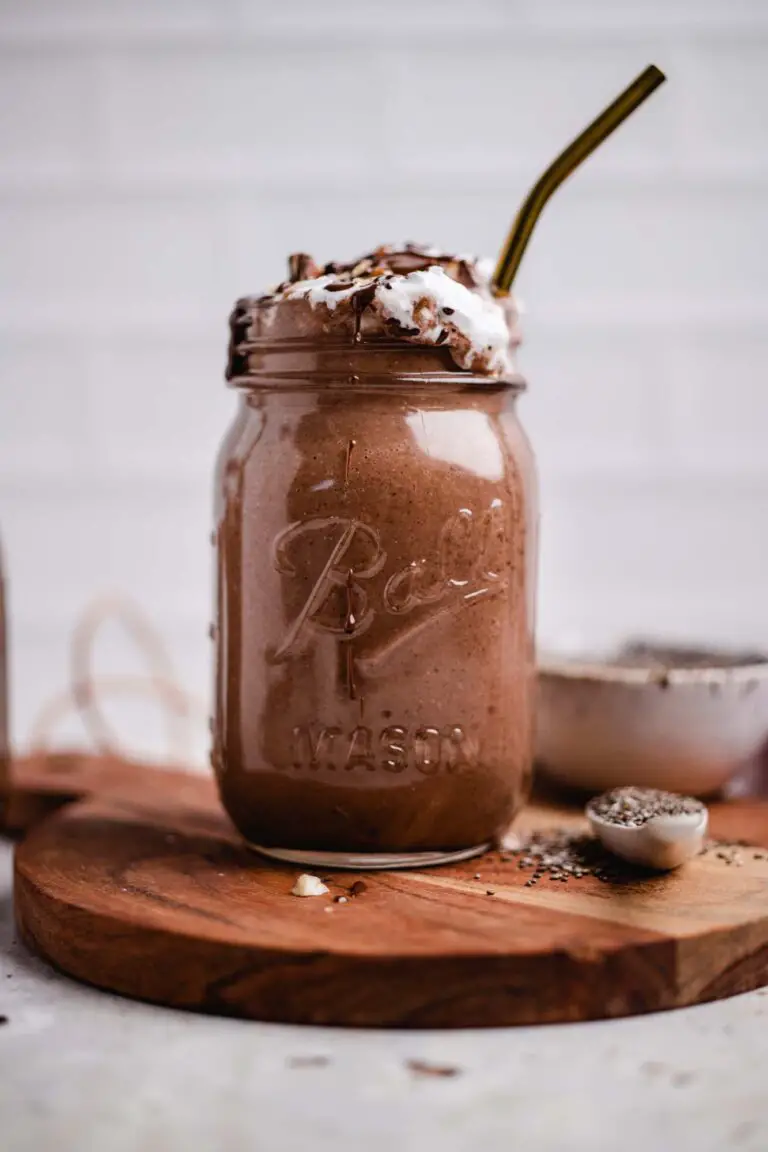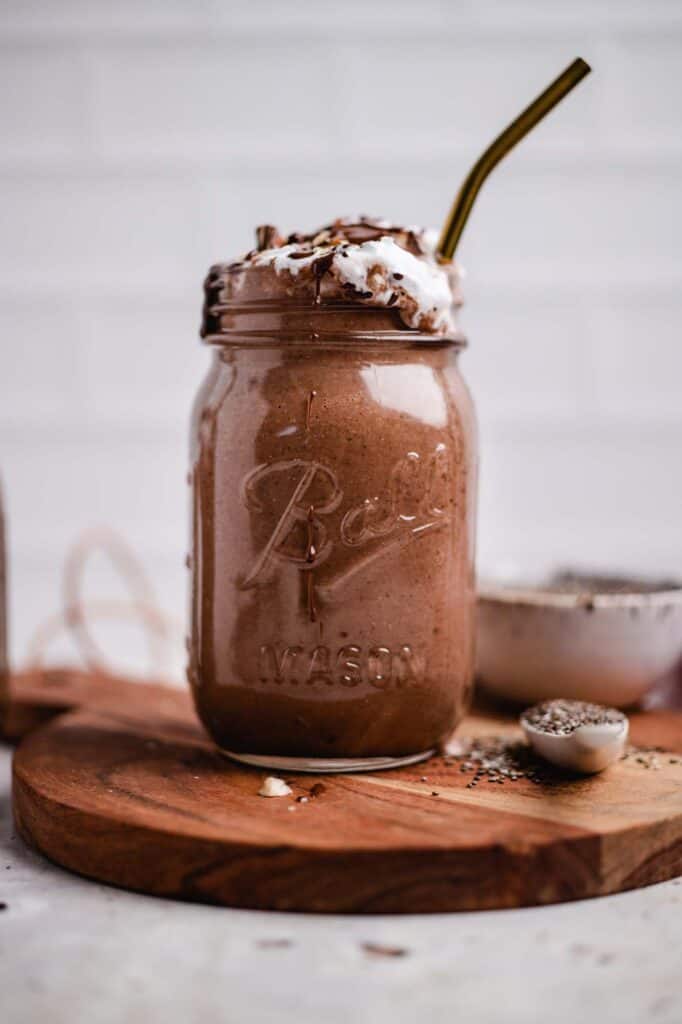 If you are looking for a different smoothie today, I have the following recipes for you:
What else is there to say? I recommend using a good high-powered blender ( I love my Blendtec ), smoothie glasses and straws. Here I use bamboo or glass straws, because we already have enough plastic in the world.
The Hazelnut Chocolate Smoothie is:
creamy
Pleasantly sweet
nutty
Rich in healthy fats
Bananig
Well, do you fancy this delicious and creamy smoothie? Then I look forward to a review at the bottom of this page. If you post a picture, feel free to use the hashtag #veganevibes.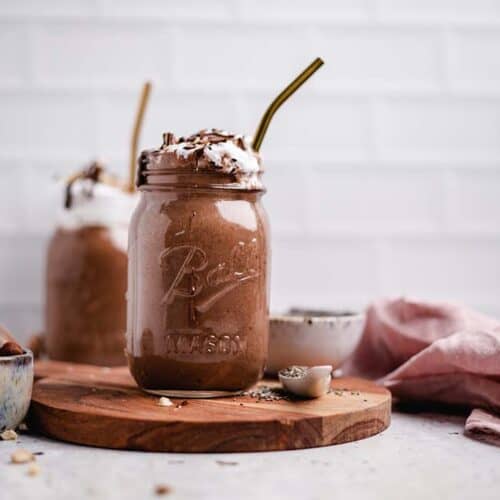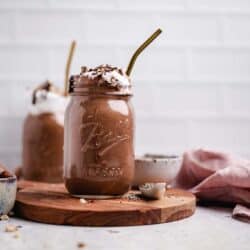 Hazelnut chocolate smoothie
Vegan smoothie made with hazelnut puree, bananas and cocoa. Perfect as breakfast, snack or tempting dessert. Easy to make, delicious and full of healthy nutrients. Vegan, gluten-free, oil-free.
AUTOR: VEGANEVIBES
TOPPING:
Hazelnuts chopped

Chocolate

melted
Anleitung 
In a high-powered blender, add bananas, plant milk, cacao powder, chia seeds, Medjool dates, bourbon vanilla, and hazelnut puree on high speed until desired consistency is reached.

300 g Bananas,

500 ml Plant milk,

30 g Cocoa powder,

20 g Chia seeds,

2 Medjool dates,

¼ TL Bourbon vanilla,

30 g Hazelnut puree

Pour into two smoothie glasses, garnish with desired toppings and serve.

Vegetable cream,

Hazelnuts chopped,

Chocolate

Serve with a reusable straw and enjoy immediately!
Nährwertangaben
Serving:
1
Portion
Calories:
451
kcal
Carbohydrates:
66
g
Protein:
16
g
Fat:
20
g
Saturated Fat:
3
g
Polyunsaturated Fat:
7
g
Monounsaturated Fat:
9
g
Trans Fat:
1
g
Sodium:
131
mg
Potassium:
1329
mg
Fiber:
16
g
Sugar:
32
g
Vitamin A:
1099
IU
Vitamin C:
32
mg
Calcium:
462
mg
Iron:
5
mg