Juicy vegan Swiss walnut chocolate cake. The reason for this recipe is my father, because he has a walnut tree in his garden, which he loves more than anything. About once a week I get a message asking if I need walnuts, because he has them stacked by the box. So far, so good. Then the question still comes regularly whether I can make something tasty with it. He then repeats this until I come up with something. Parallel to this cake I am currently working on a recipe for a delicious walnut spread. So if you want to thank anyone for this recipe, feel free to do so to my persistent father. But now let's get started together with this moist, vegan cake.
Vegan Swiss walnut chocolate cake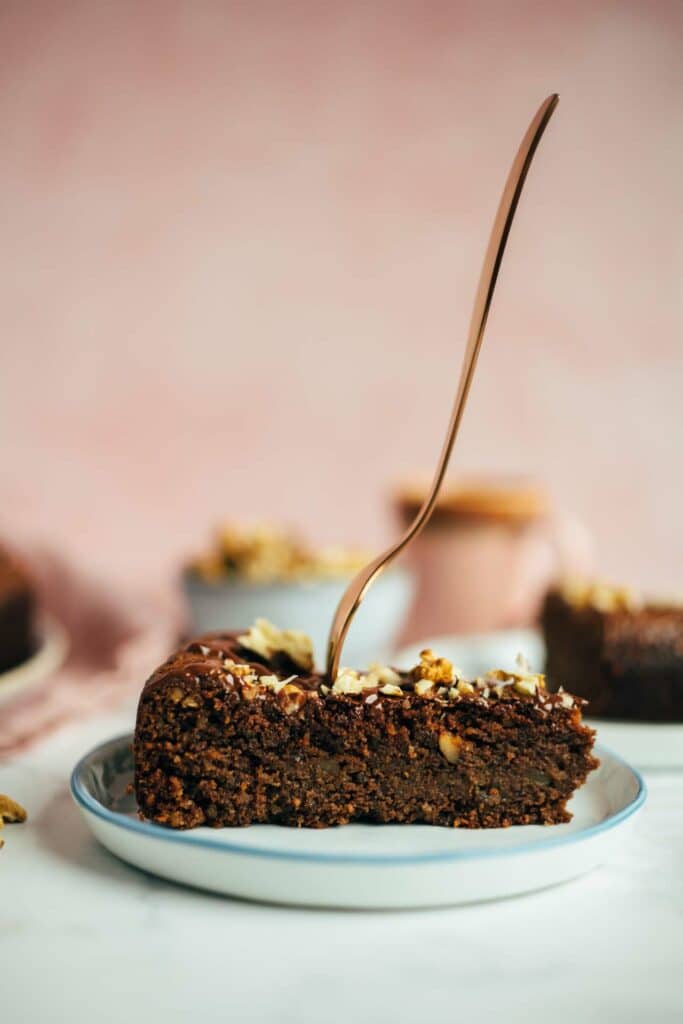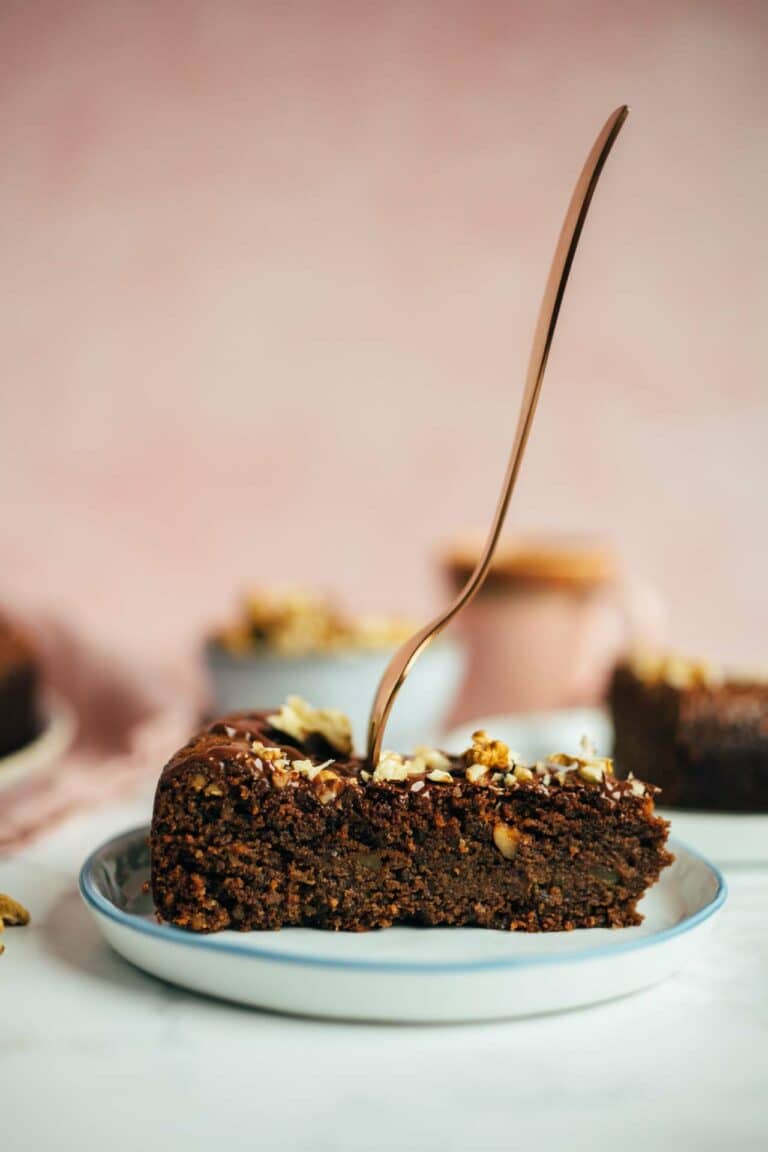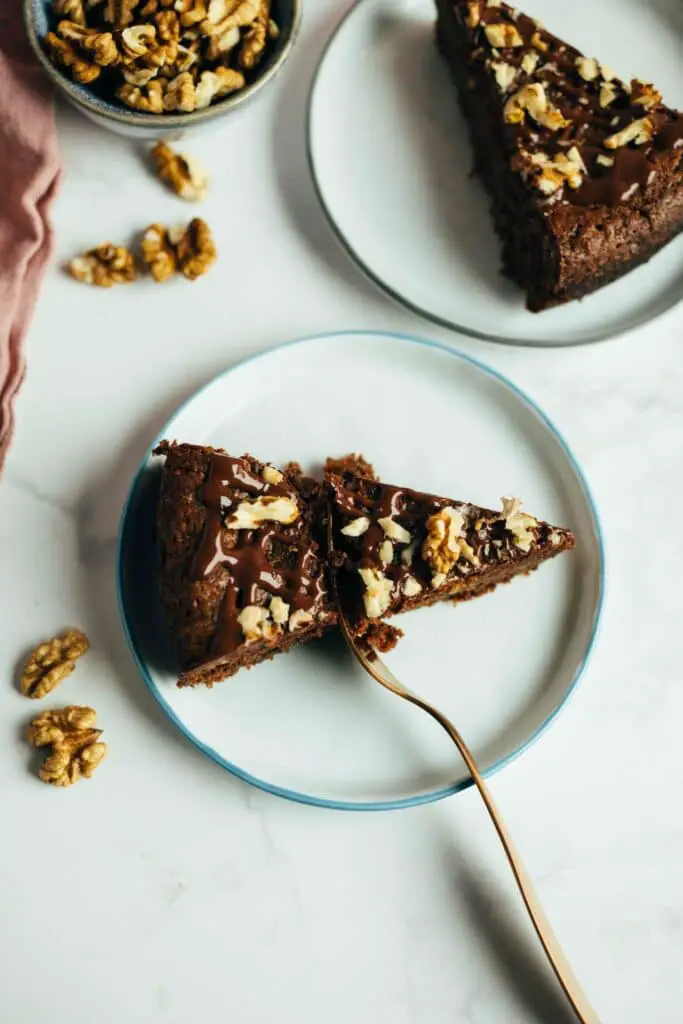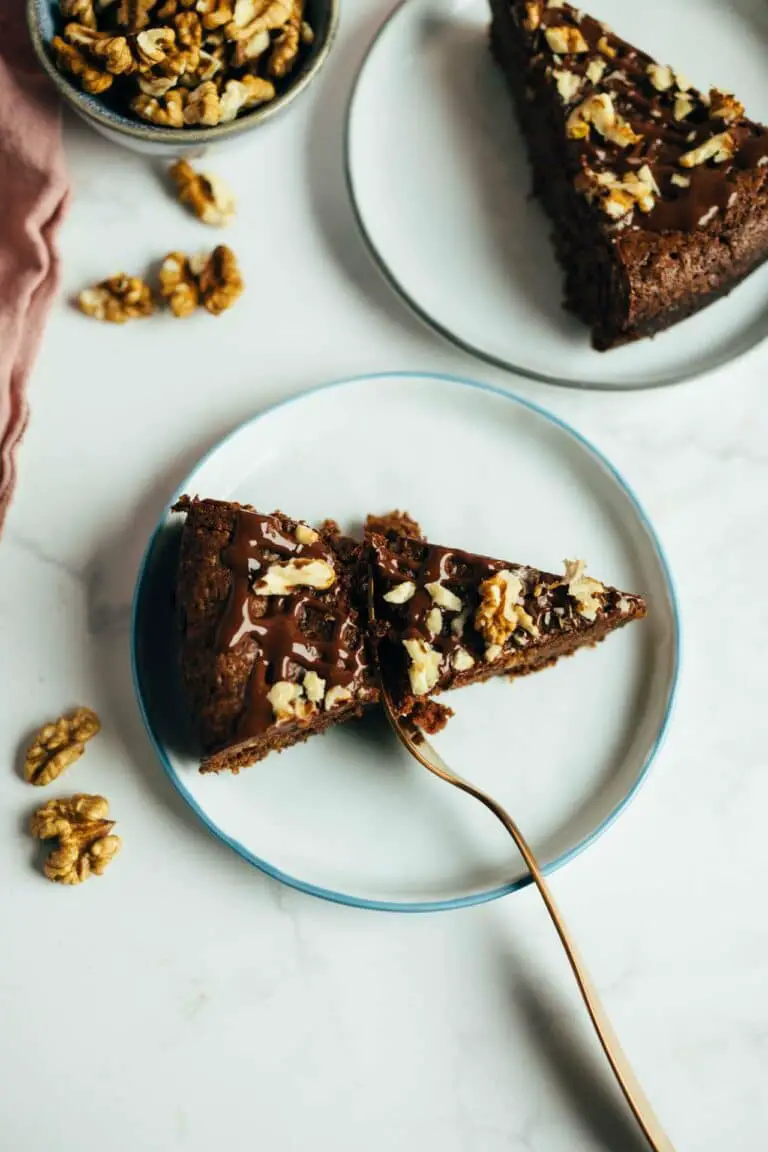 Walnuts, raw cane sugar, applesauce, flaxseed eggs, margarine, chocolate, gluten-free flour, baking powder, bourbon vanilla and a pinch of salt. All this is mixed together into a fine dough and baked in the oven. The result is delicious and juicy. For the topping I use some melted chocolate and a few finely chopped walnuts. That's all. Geling safe, easy and vegan.
Not much can go wrong with this cake , except that you eat too much of it. All joking aside, I think the consistency is just great. It is a tad different from ordinary sponge cakes. Juicy and nutty at the same time, but still fluffy. Ideal for all walnut fans I would say.
Vegan egg alternatives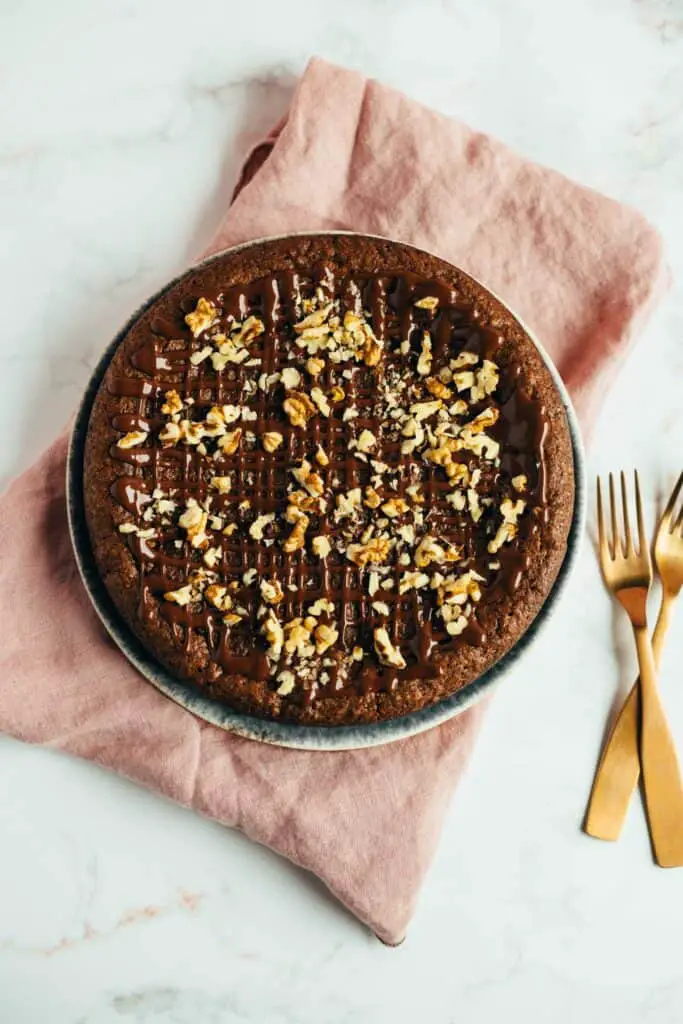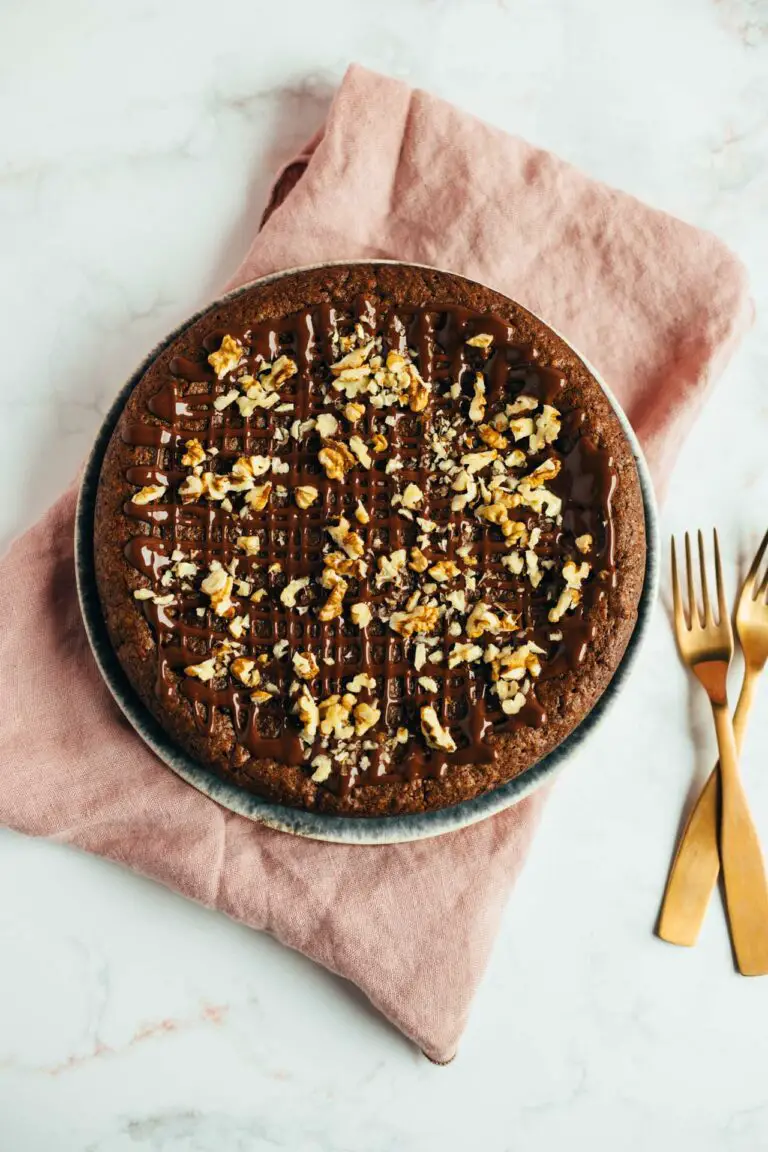 Eggs from free-range chickens? No thanks, I'm more into flaxseed and co. I don't want to give a lecture about why I don't eat eggs. For this purpose, there are many clever pages that provide very sound educational work on this topic. For example, you can find a lot of useful information at PETA. But this much I can say for sure, baking without egg is easier than you think.
TIP: If you are still looking for a Christmas gift that also serves a good purpose, I can highly recommend the newly published baking book of the Animal Protection League. In it you will find 70 recipes from 28 vegan cooks with simple and vegan baking recipes. I was also allowed to be there and brought two delicious cake recipes.
Egg substitute in vegan baking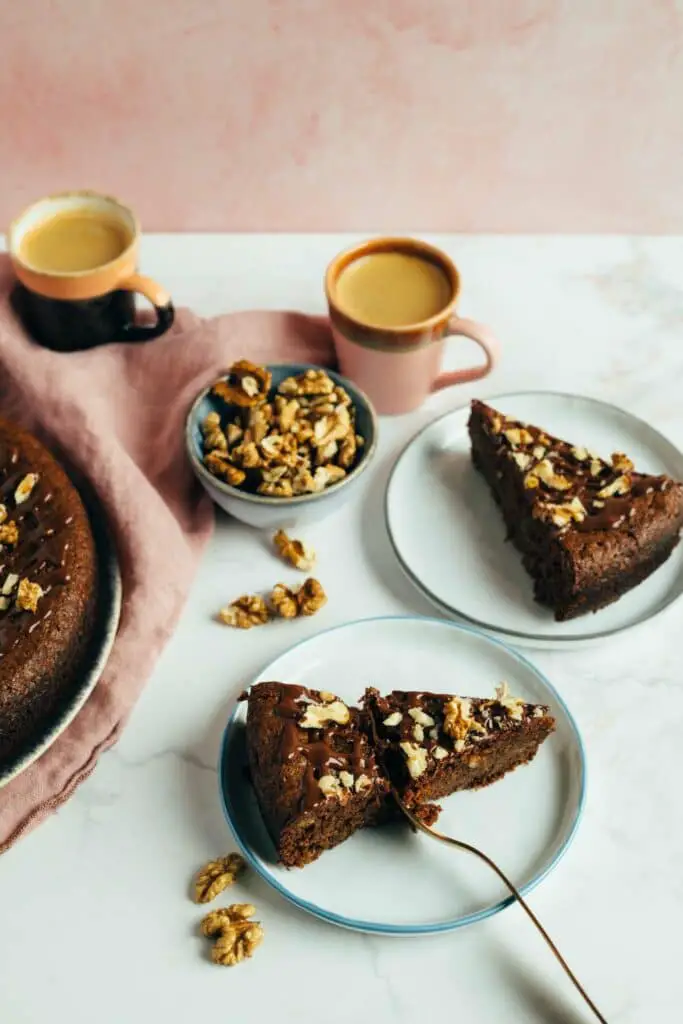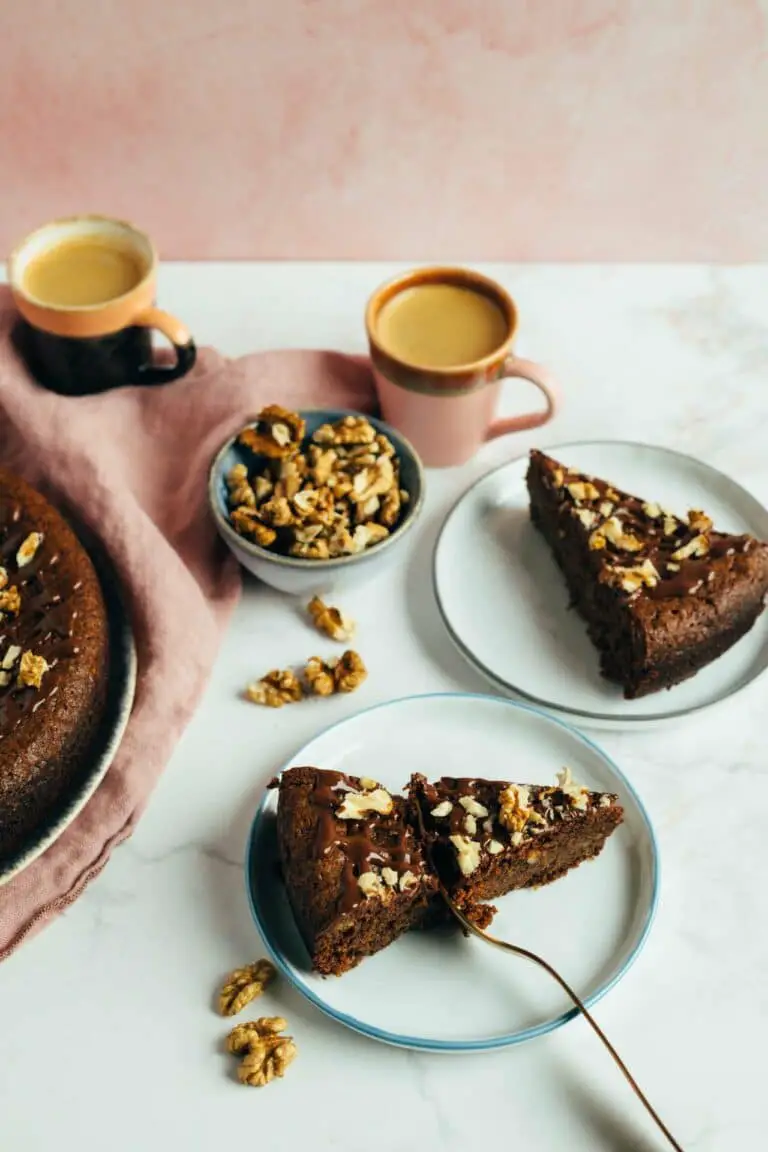 Today I want to briefly summarize what simple vegan egg alternatives are on the market. Animal friendly, environmentally friendly and free from animal cholesterol:
Flaxseed egg, I also use in this recipe, cheap and healthy with a high content of omega-3 fatty acids. So you kill two birds with one stone or feed two birds with one cookie (as the vegan would say)
Ripe bananas, mashed, provide a wonderful binding and sweetness in the dough. However, there always remains a little banana flavor
Apple pulp or applesauce, apple pulp is unsweetened, applesauce is already sweetened
Aquafaba, super interesting as a binder, but not heat stable.
Chickpeas flour
Soy flour
Tapioca starch, I have discovered for myself, it binds excellently, is gluten free and versatile
Finished products from different manufacturers
Then you can start now with our delicious and juicy walnut cake. I hope you enjoy baking and of course about a review at the bottom of this page. If you post a picture, use the hashtag #veganevibes.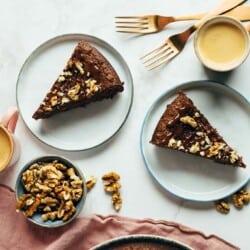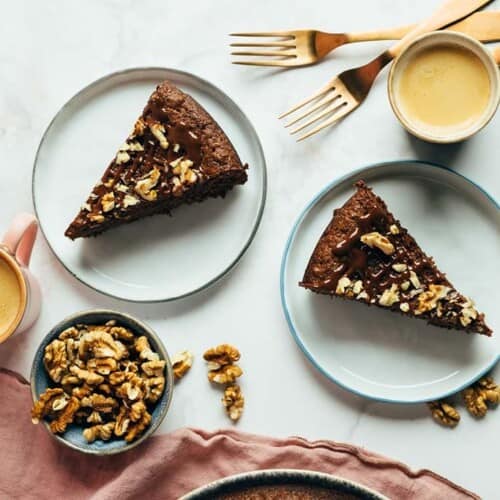 Swiss walnut chocolate cake (gluten free)
Simple, moist and fluffy Swiss walnut chocolate cake, gluten-free. Perfect for any vegan coffee gathering, along with a cup of tea or coffee.
AUTOR: VEGANEVIBES
TOPPING:
Dark vegan couverture melted

Walnut kernels

chopped
Anleitung 
Preheat oven to 160 degrees (convection) or 180 degrees (top-bottom heat) and line a springform pan (24cm diameter) with baking paper (bottom) and optionally brush the sides with a little margarine.

Carefully melt the margarine. Set aside.

Melt dark vegan couverture carefully over a water bath. Set aside.

FOR THE CAKE Place ground walnuts, raw cane sugar, gluten-free flour blend, baking powder and a pinch of salt in a large baking bowl. Stir with a whisk until everything is well combined and lumps are dissolved.

275 g Walnuts,

100 g Raw cane sugar,

75 g gluten free flour mix,

1 ½ tbspn Baking powder,

A pinch of salt,

1 tbspn Locust bean gum

Add melted chocolate, melted margarine, flax egg, applesauce, and bourbon vanilla. Continue mixing with a whisk or silicone scraper until a uniform dough is formed.

3 Piece Flaxseed eggs,

115 g Margarine,

75 g Applesauce,

Dark vegan couverture melted,

¼ tbspn Bourbon vanilla

Check the consistency of the dough, it should be easy to pour into the mold, but not too runny (see video). If too runny add more flour, if too solid add more vegetable milk.

NOTE: Gluten-free doughs are slightly more compact and not as liquid as doughs with gluten.

Pour into the pan, smooth and bake for

55 minutes

.

When the baking time is over, use a wooden stick to check if the cake is done. If the wooden stick comes out "clean". If not, extend baking time another 10 minutes and check again. Remove from oven and let cool completely.

Decorate with chocolate coating and chopped walnuts. Cut into pieces and serve.

Store in an airtight container in the refrigerator for up to 5 days.
Nährwertangaben
Serving:
1
Piece
Calories:
355
kcal
Carbohydrates:
17
g
Protein:
5
g
Fat:
32
g
Saturated Fat:
4
g
Sodium:
106
mg
Potassium:
133
mg
Fiber:
2
g
Sugar:
10
g
Vitamin A:
347
IU
Vitamin C:
1
mg
Calcium:
37
mg
Iron:
1
mg