Vegan Dominos, just forget everything you've ever read on my blog about easy, quick recipes. I had Dominos also long not on the screen, until the request of a dear reader(reader request) reached me on Instagram. She inquired if I had any ideas for a simple variation on the classic. Of course, I'm not going to let the challenge pass me by and I've set about developing it. One thing I must say in advance, the recipe turned out really great. However, two things have suffered, my patience and my back. I simply should not have plated the little square treats directly on the low photo table, but on my countertop. Fortunately, it did not come to a lumbago, but the tension say hello. But the result was more than worth it! Let's get started together.
Vegan dominoes recipe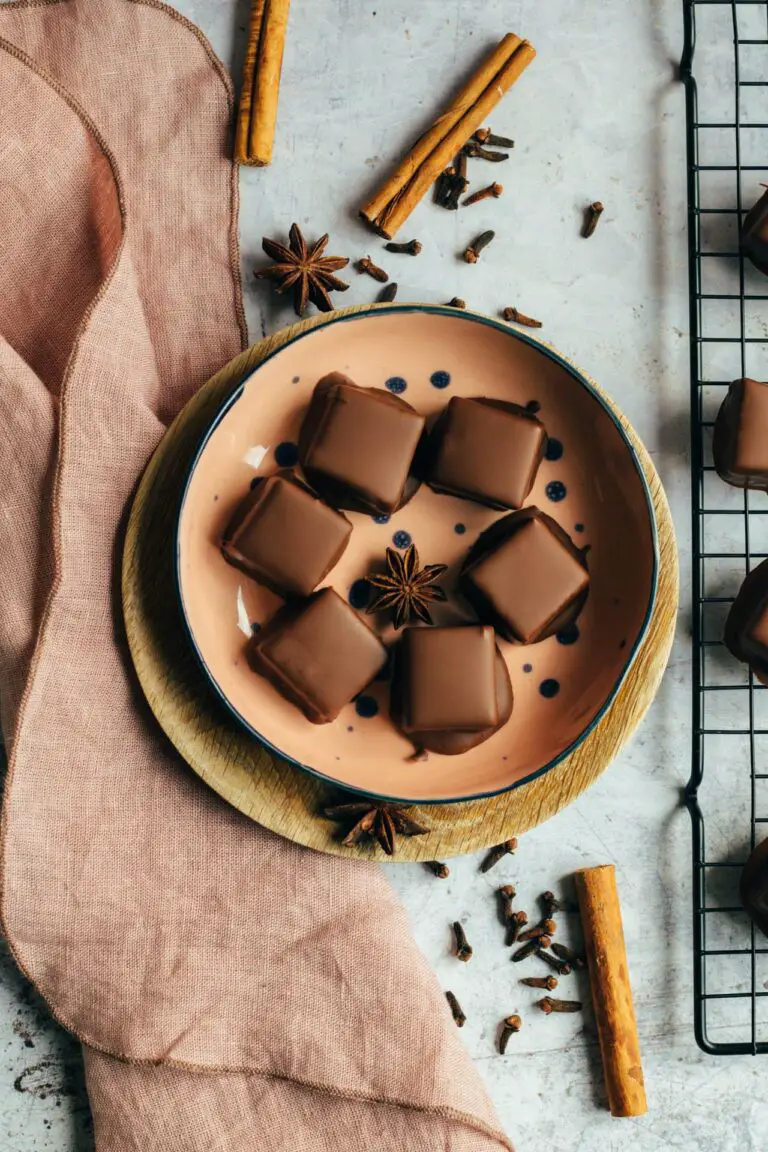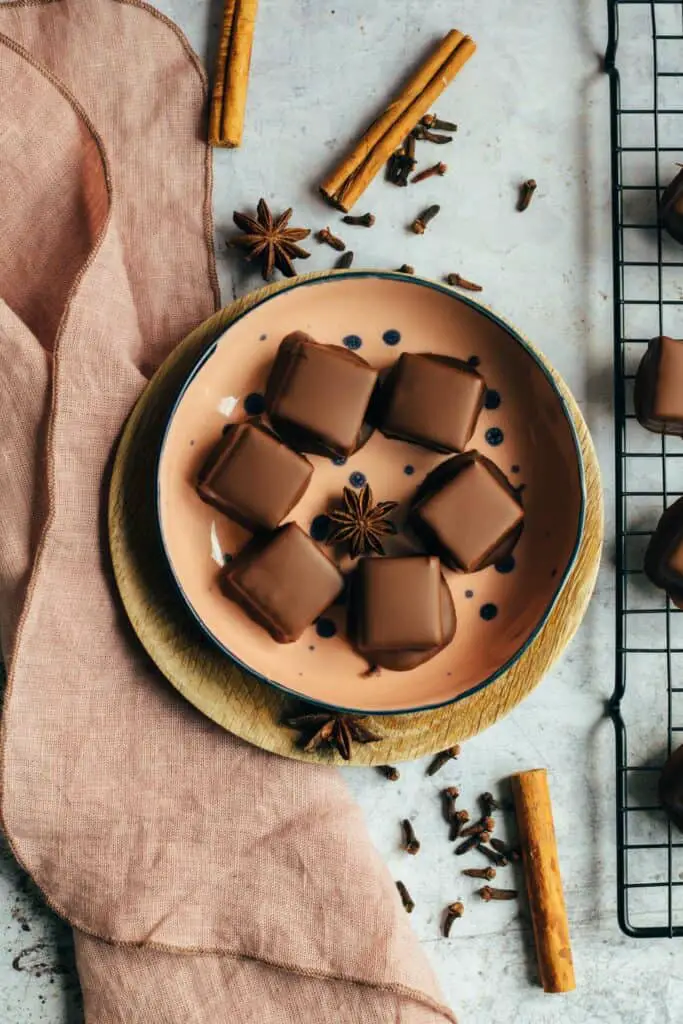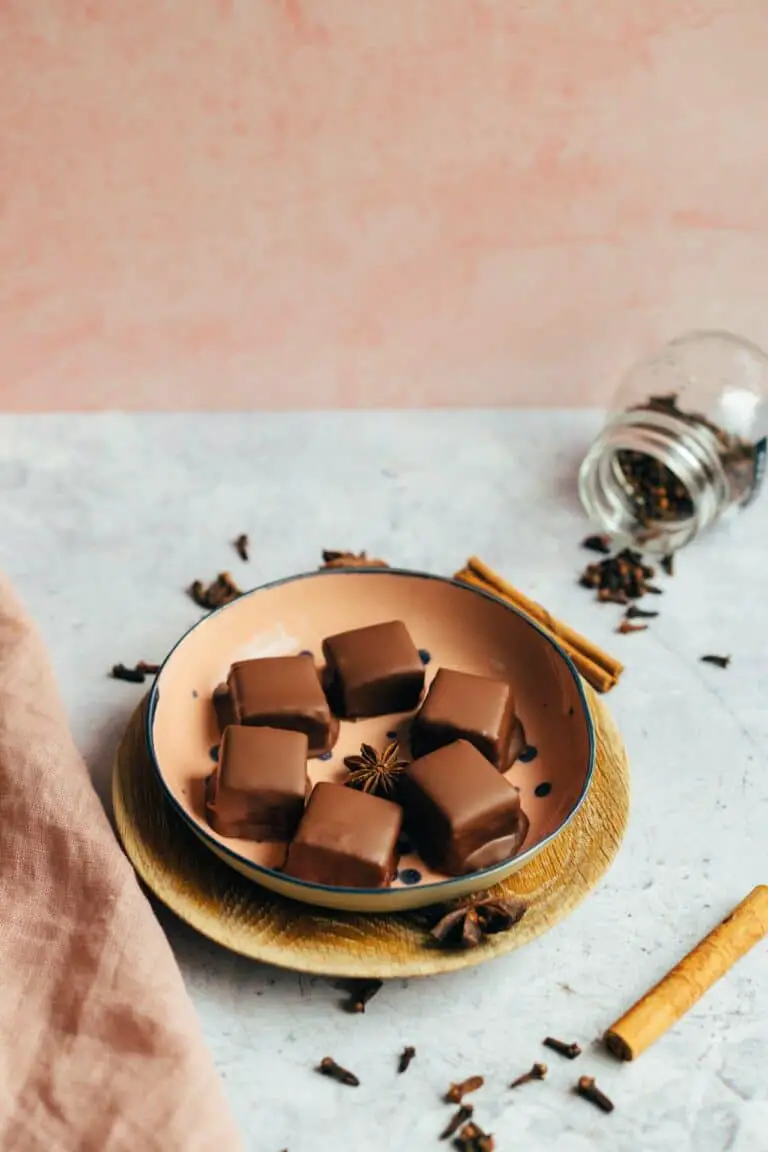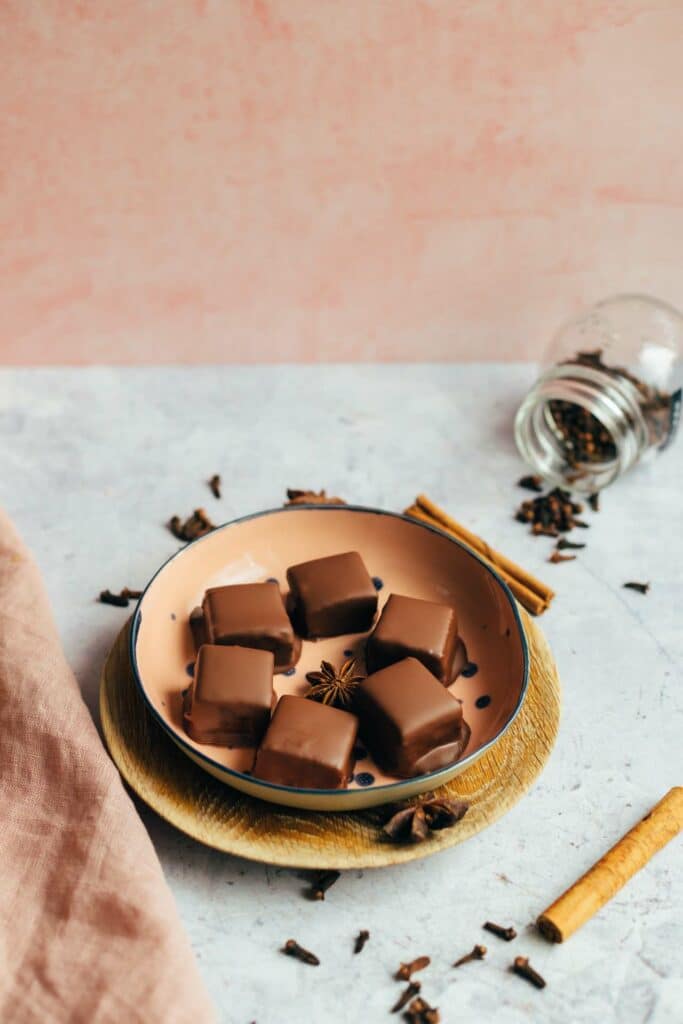 I have always found dominoes delicious and for me they are an essential part of Christmas. In the supermarket, however, you always have to look closely, because sometimes the chocolate is vegan, but then you find an egg or honey in the pastry again. In times of Corona, when you are at home more often, you can already make a row of dominoes yourself. It's definitely worth it because you decide what's inside and can even conjure up a nice gift on top.
The production of the popular Advent cookie requires four steps. The preparation of the gingerbread dough, a layer of jelly from jam, marzipan and a coating of chocolate.
Step 1: For the base we need vegan margarine, maple syrup, raw cane sugar, flaxseed egg, flour, ground hazelnuts, baking powder, gingerbread spice.
Step 2: jelly with the help of agar-agar and finely puree the jam
Step 3: Roll out the marzipan, I use ready-made marzipan, but there are also instructions for making homemade marzipan. Here, however, I prefer to resort to ready-made vegan marzipan.
Step 4: Cover with chocolate, which I dilute with 1-2 tablespoons of oil. This makes the chocolate really nice and soft.
Doesn't sound so wild, does it? I don't think so either. There are a few things to keep in mind and then the dominoes are sure to succeed.
indispensable classic for your vegan Christmas season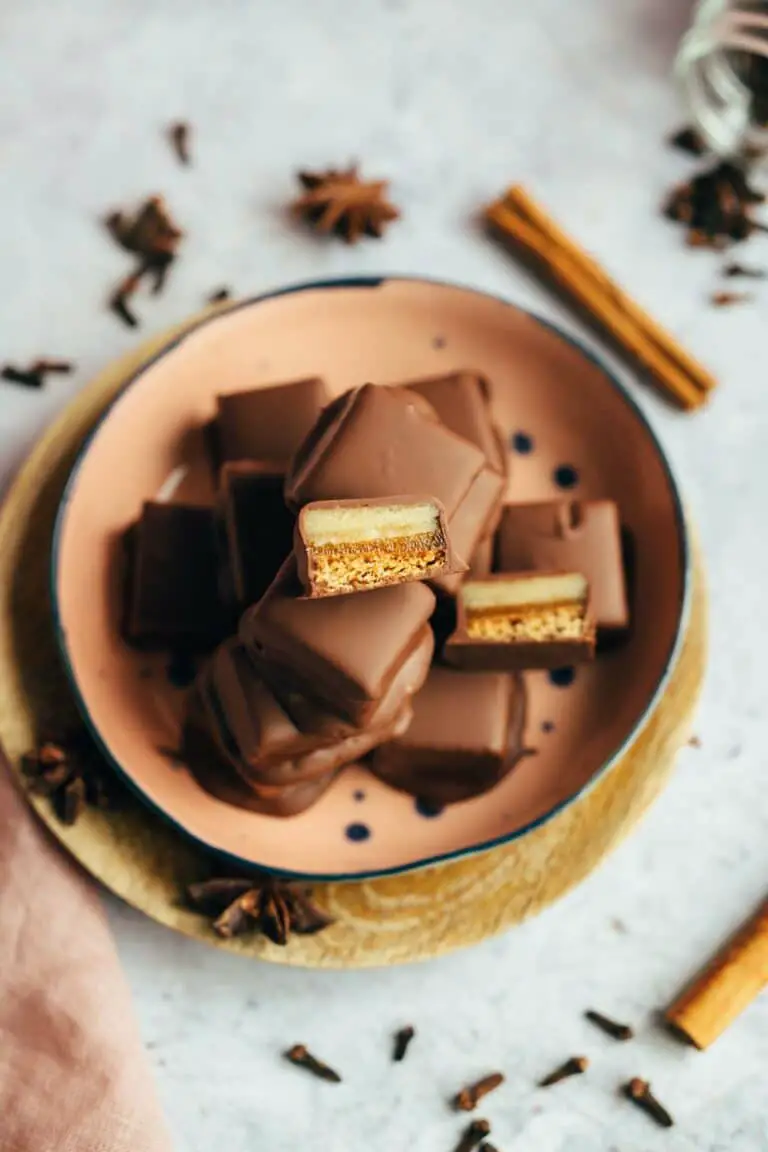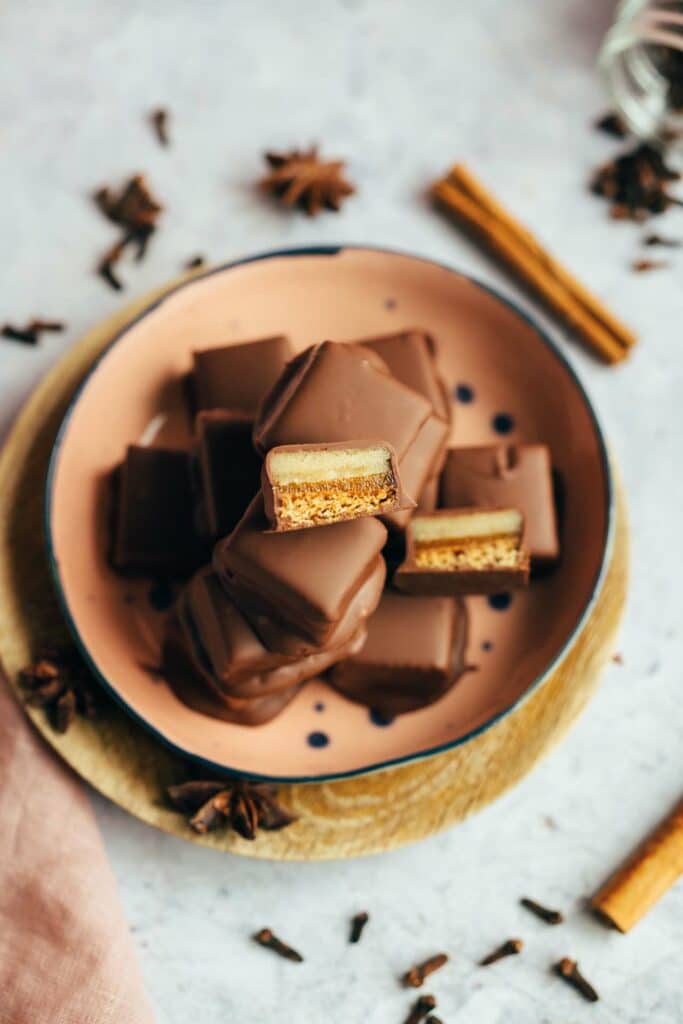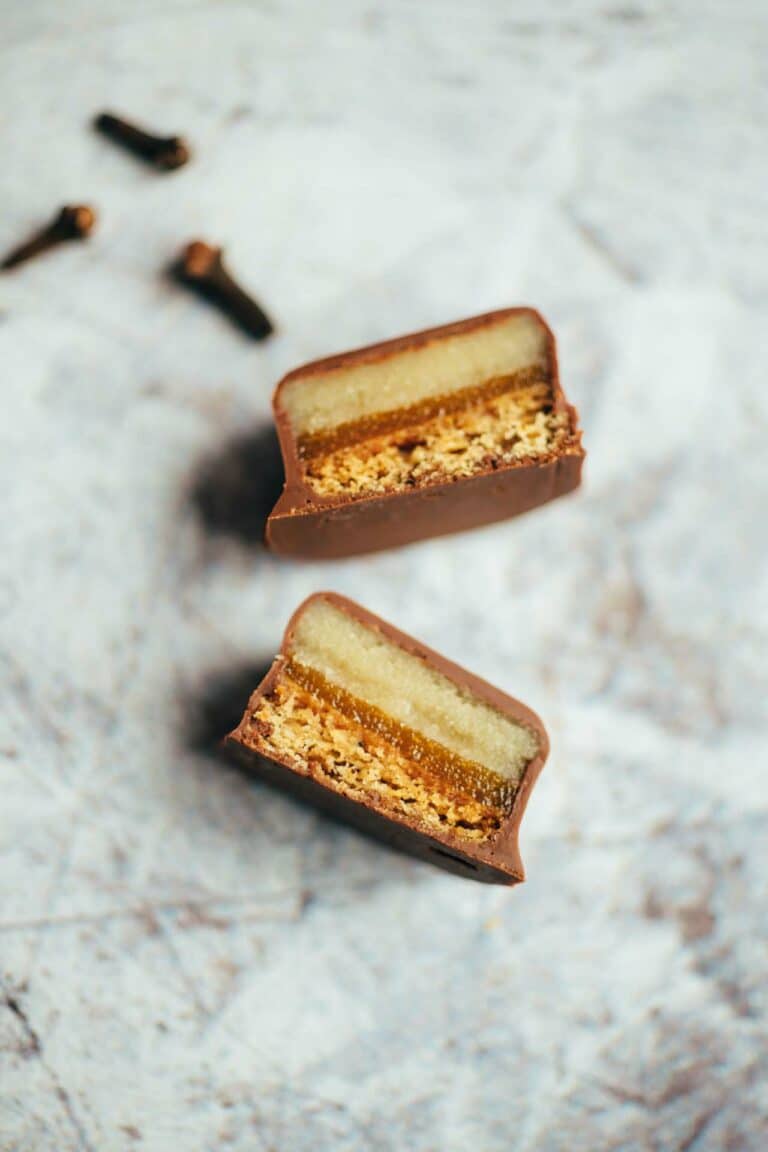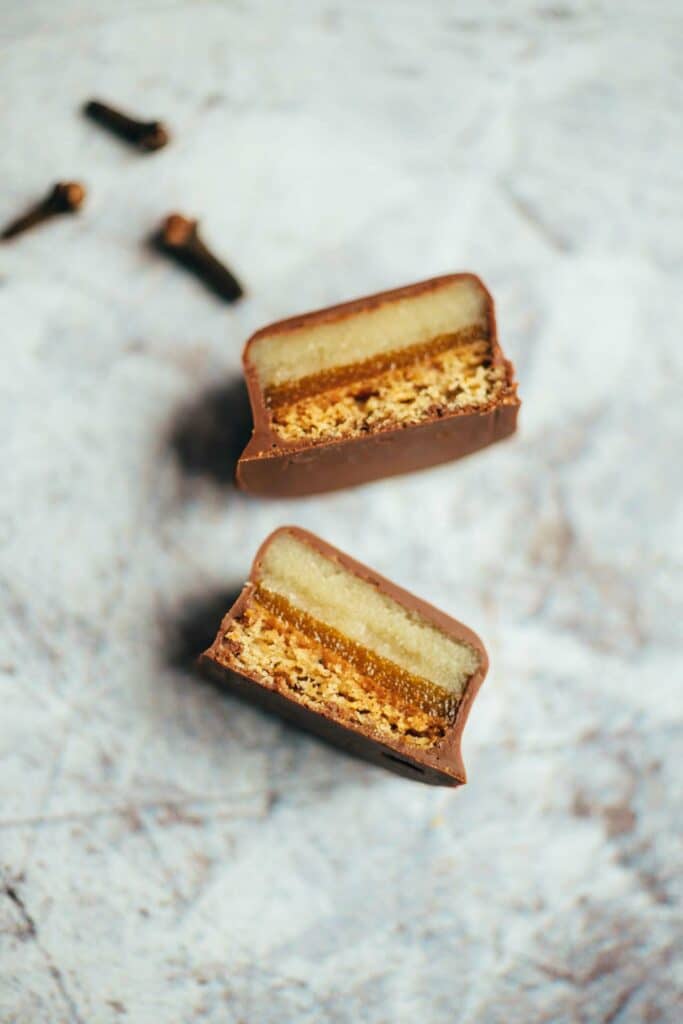 Before we get to the Trouble Shooting, some good news for those of you who love gluten-free baking. Making the dough also works wonderfully with gluten-free flour. I always mix in 1 tsp of locust bean gum for better binding.
What else is there to consider and what can go wrong? Here are my top tips.
The right mold I use a square baking dish with a diameter of 24cm. Of course, any other baking pan will work, but the result may be slightly different with other formats. Always grease well or use wrapping paper so that the flat dough can be easily removed from the mold.
Do not be put off : When you spread the layer of dough in the mold, you may think to yourself, this can't be all. The base is really thin and just barely covers the baking dish. That is also just as intentional. Don't let this throw you off.
Jam jelly : Here we work with agar-agar and it's not hard at all if you do it right. Dosage always according to packaging instructions. For me it was 2g on the 420g jam. Bring to a boil while stirring and then quickly remove the heat, otherwise it can burn very quickly. Agar-agar must be boiled and gels when cooled. Important: I always make a jelly test by taking a tablespoon of jelly, spreading it on a small plate and putting it in the refrigerator. After a few minutes, I check to see if it gels properly. If so, then off to the bottom of the cake. If not, you can boil agar-agar again, re-dose with more liquid or agar-agar until it fits.
The marzipan layer : is best rolled out between two sheets of baking paper: I sketch the format with a pencil on the baking paper so that I roll out so approximately the right size. Then place the marzipan on top of the jelly and pull apart with your hands until it fits perfectly.
Coating with chocolate : is a bit tricky, especially if you want the coating to be perfect. My TIP: Never let chocolate get too hot, otherwise the cocoa butter loses its structure and forms spots when cooling. To avoid this, I first heat 2/3 of the chocolate in a water bath not above 42degrees. I then take it away from the heat and stir in the remaining third. Cooling should also be done gently, preferably at room temperature.
So my dears, those were my tips and tricks. The little treats are truly irresistible and make wonderful gifts. My father has already asked 2x for supplies via What's App. This can only mean good things.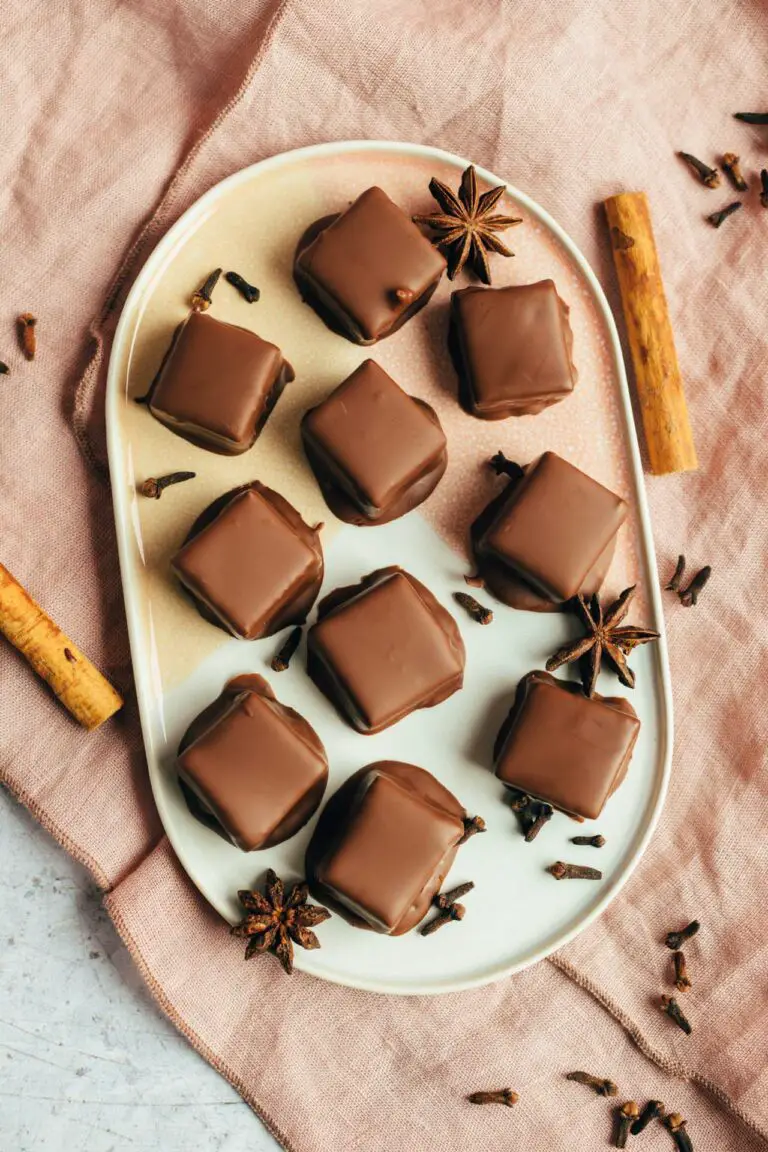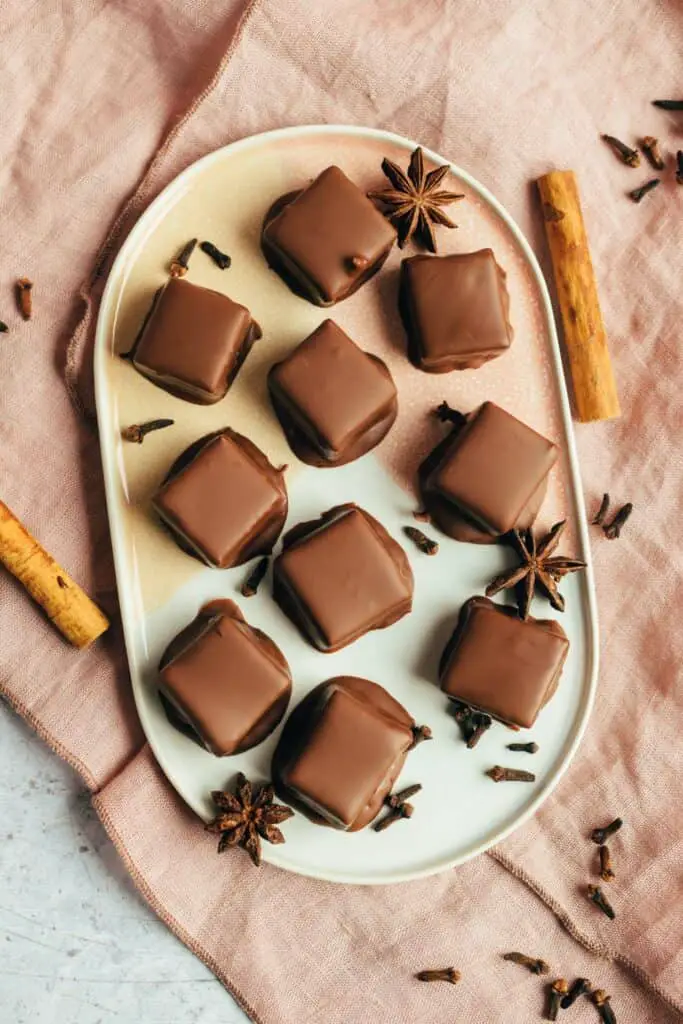 Are you ready to try the super delicious, irresistible dominoes? You are
Irresistible
sweet
soft
simple
nutty
Christmas
Perfectly match my other 21 recipes for cookies and more. A hot drink to go with it is a must in my view. Try my Pumpkin Spice Latte, creamy Immune Booster Latte or the ultimate anti-cold tonic.
Let's go with these incredibly delicious vegan dominoes, I hope you enjoy baking them and of course about a review at the bottom of this page. If you post a picture, use the hashtag #veganevibes.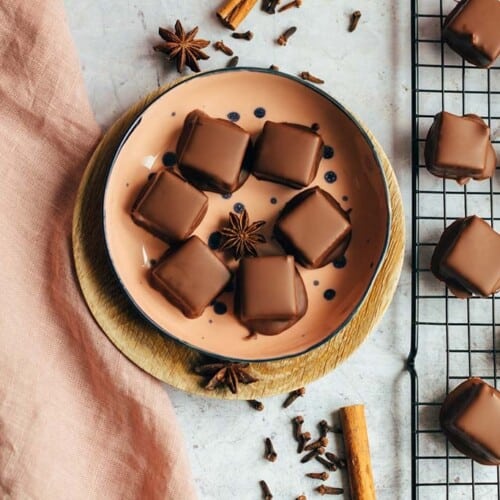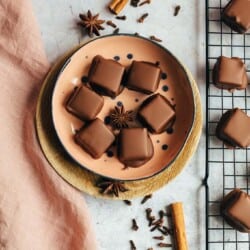 Vegan dominoes
Vegan dominoes made from a delicious dough base with Christmas spices. Filled with fine jam jelly and marzipan. Ideal for the pre-Christmas cookie plate.
AUTOR: VEGANEVIBES
FOR THE GINGERBREAD DOUGH:
FOR THE FILLING:
420

g

Apricot jam

corresponds approximately to a commercially available large jar (I used the private label Alnatura jam "Marille" *unpaid brand mention

2

g

Agar Agar Powder

400

g

vegan marzipan paste

available seasonally at DM or on the Internet
Anleitung 
Heat oven to 170 (top/bottom heat) and prepare a rectangular baking dish (24x24cm).

FOR THE LIVING CAKE Dough Beat flaxseed egg, margarine, maple syrup and raw cane sugar briefly in a food processor. Add spelt flour, ground hazelnuts, baking powder and gingerbread spice and work into a smooth dough. Please do not be deterred that it is so little dough. The mixture is enough to cover the bottom of the mold with it.

1 Piece Flax seed egg,

30 g Margarine,

50 ml maple syrup,

30 g Raw cane sugar,

80 g Spelt flour,

40 g ground hazelnuts,

1 tbspn Baking powder,

1 tbspn Gingerbread spice

Pour batter into the pan and spread with a silicone spatula until the bottom is evenly covered.

Place in the oven and bake for

20 minutes

, until the surface is lightly browned.

In the meantime PREPARE THE FILLING. To do this, put the jam in a saucepan, stir in the water and agar-agar and bring to the boil. Stir constantly and remove from heat after boiling. Puree finely with a magic wand, should there be larger pieces in the jam.

420 g Apricot jam,

2 g Agar Agar Powder

TIP: The weighing of 2g is relatively difficult with a normal kitchen scale, for me it was about ½ tsp.

IMPORTANT: Now make a gelatinization test by skimming off 1 tablespoon and placing it on a plate. Place in the refrigerator and check after 5 minutes to see if the liquid has gelled satisfactorily. Otherwise, heat again and rework… more tips & tricks can be found in the text above.

Allow apricot jelly to cool briefly and spread on cake base.

For the marzipan Place baking pan on a baking paper and trace with a pencil. See video.

Place marzipan mixture between the two baking papers and roll out with a pastry roller until the pre-drawn shape is filled. Trim off any excess edges and place on top of the jelly in the cake pan. Pull apart with your hands until it fits perfectly into the mold.

400 g vegan marzipan paste

Place in the refrigerator and allow to infuse for at least

4 hours

, preferably overnight.

After the infusion time, remove from the refrigerator and in parallel carefully melt the chocolate in a water bath. More TIPS about this above in the text.

Cut the cake into small squares with the dimensions 2x2cm. Here it depends on how big you want your dominoes to be.

Cover with chocolate and let set on a draining rack or baking paper.

300 g dark vegan chocolate,

15 ml Neutral tasting oil

Enjoy together with a hot drink or just like that!

Can be kept airtight for up to 2 weeks (if they last that long).
Nährwertangaben
Serving:
1
Stone
Calories:
53
kcal
Carbohydrates:
6
g
Protein:
1
g
Fat:
3
g
Saturated Fat:
1
g
Sodium:
9
mg
Potassium:
39
mg
Fiber:
1
g
Sugar:
4
g
Vitamin A:
162
IU
Vitamin C:
1
mg
Calcium:
8
mg
Iron:
1
mg