Pumpkin pecan pancakes, or pancakes as they are called in German. My attention was drawn to my use of language a few days ago. My recipes were quite cool, but the naming did not suit the reader. It was about the Overnight O ats and she said that she thought it was a pity that the original languages of the country were not used. I then thought about how best to translate Overnight O ats. "Overnight oatmeal, maybe? I then said that I always select the titles of the recipes according to the search volume, because after all they want to be found. But that was still not enough for the reader and she wanted to know if people would also look for oatmeal. Let's face it, we live in a globally connected world and every country adopts words from others and uses them in everyday life. Should I call ketchup "American-style tomato sauce" from now on, or pizza something like "flat rolled-out dough that can be topped?"
Vegan pancakes with oatmeal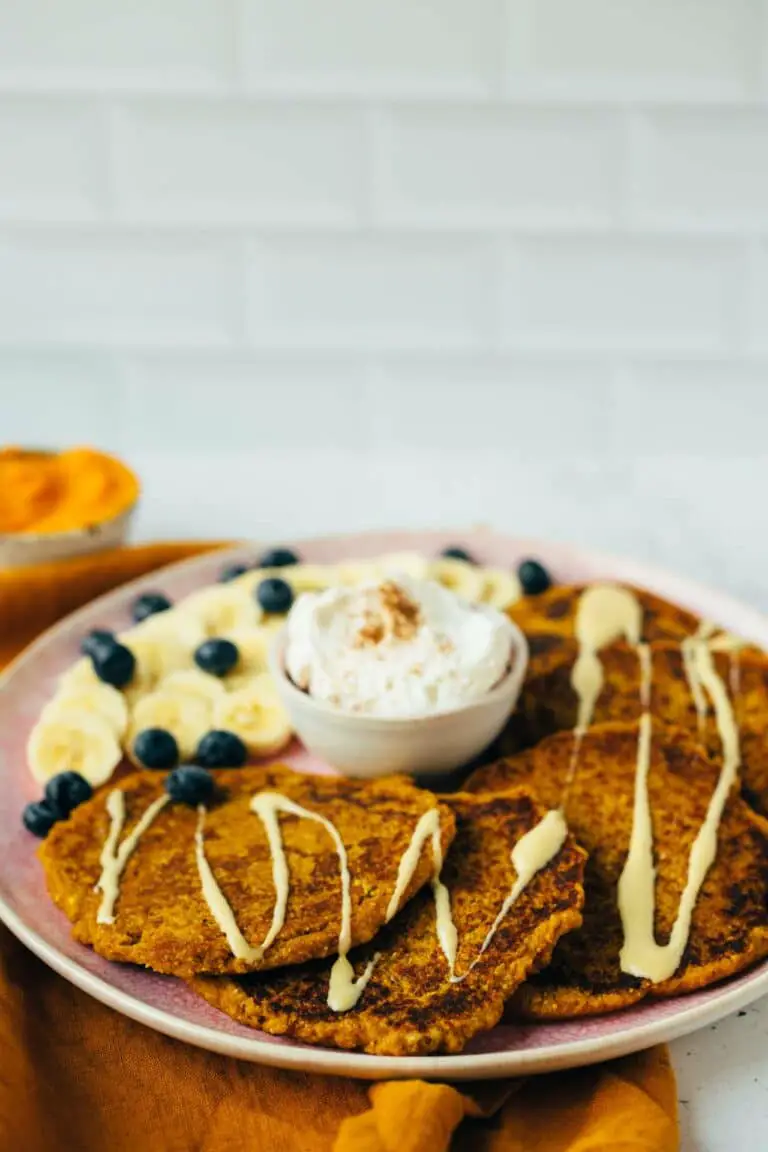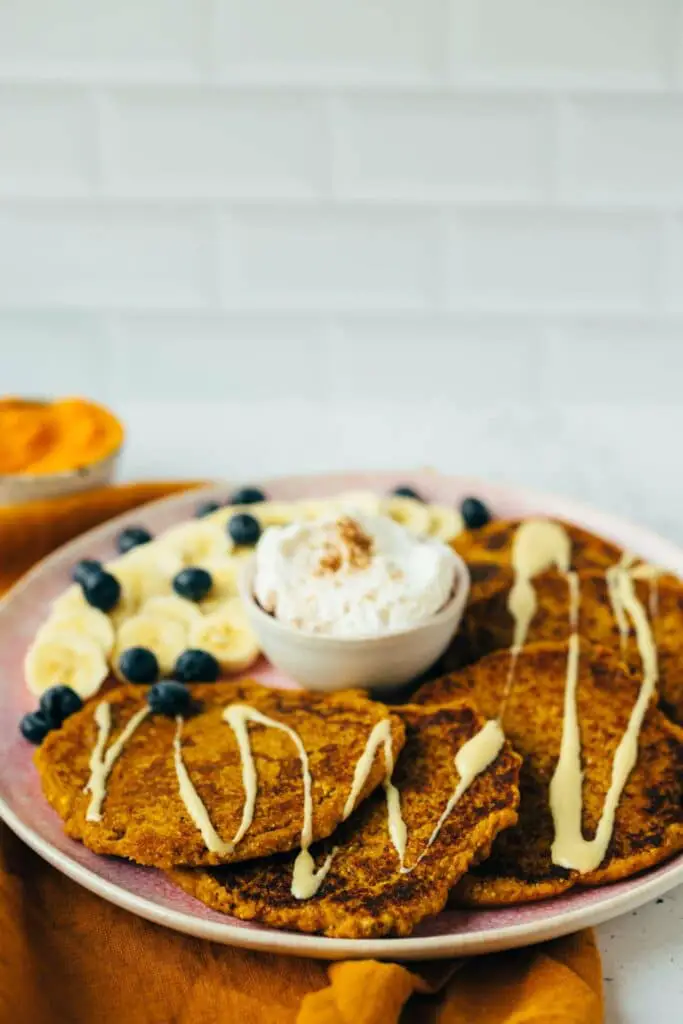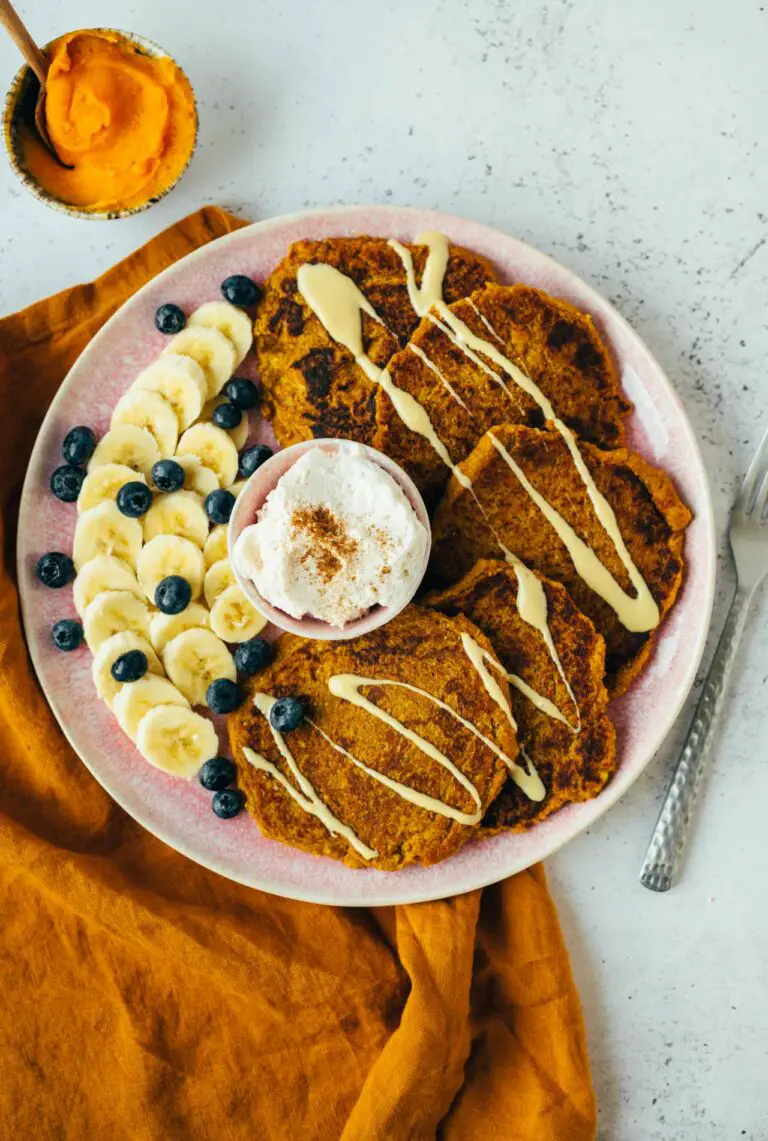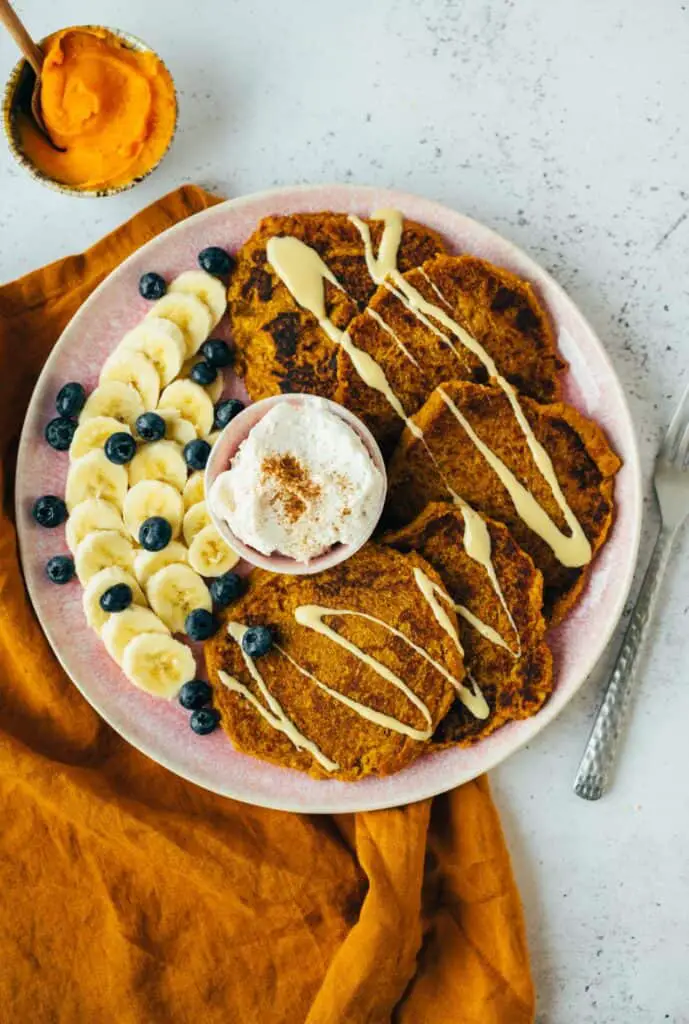 These pancakes or pancakes are different from the other recipes on my site. Only oatmeal flour is used, and it behaves a little differently when baking in the pan than ordinary (even gluten-free) flours. The batter is overall much more compact and firm than, for example, the oil-free poppy seed lemon pancakes.
One of my favorite ingredients also comes into play and that I pumpkin puree. It's really surprising why you can get it in every supermarket in the US. In Germany, on the other hand, I have hardly seen it anywhere ready in a jar or can. Not even on Amazon is there a German or European supplier for pumpkin puree, the MUST HAVE in my kitchen? Should I maybe start a company and offer organic pumpkin puree myself? Have I discovered a gap in the market? Maybe you'd like to join in, then post in the comments below.
Pumpkin, pumpkin puree, pumpkin spice, I can not get enough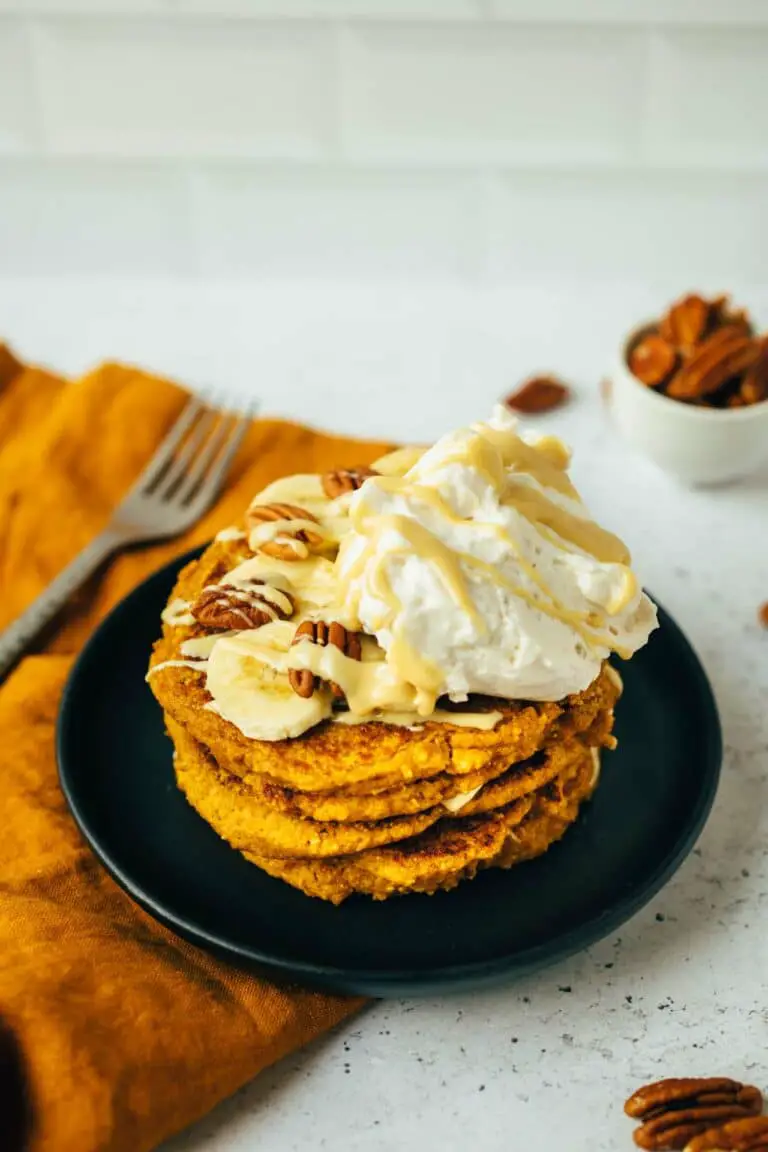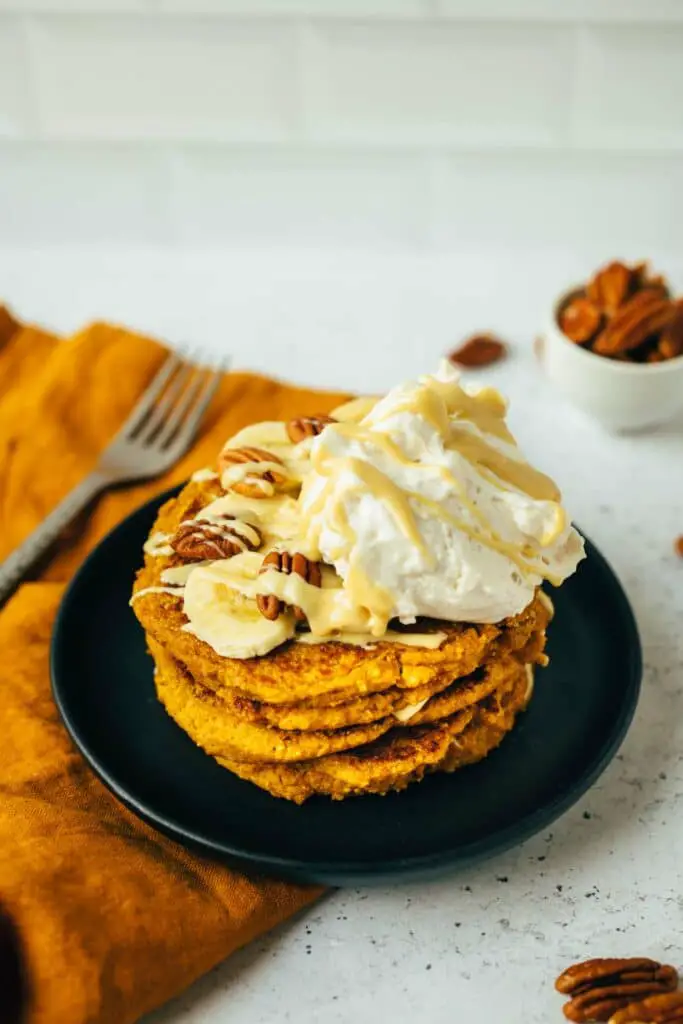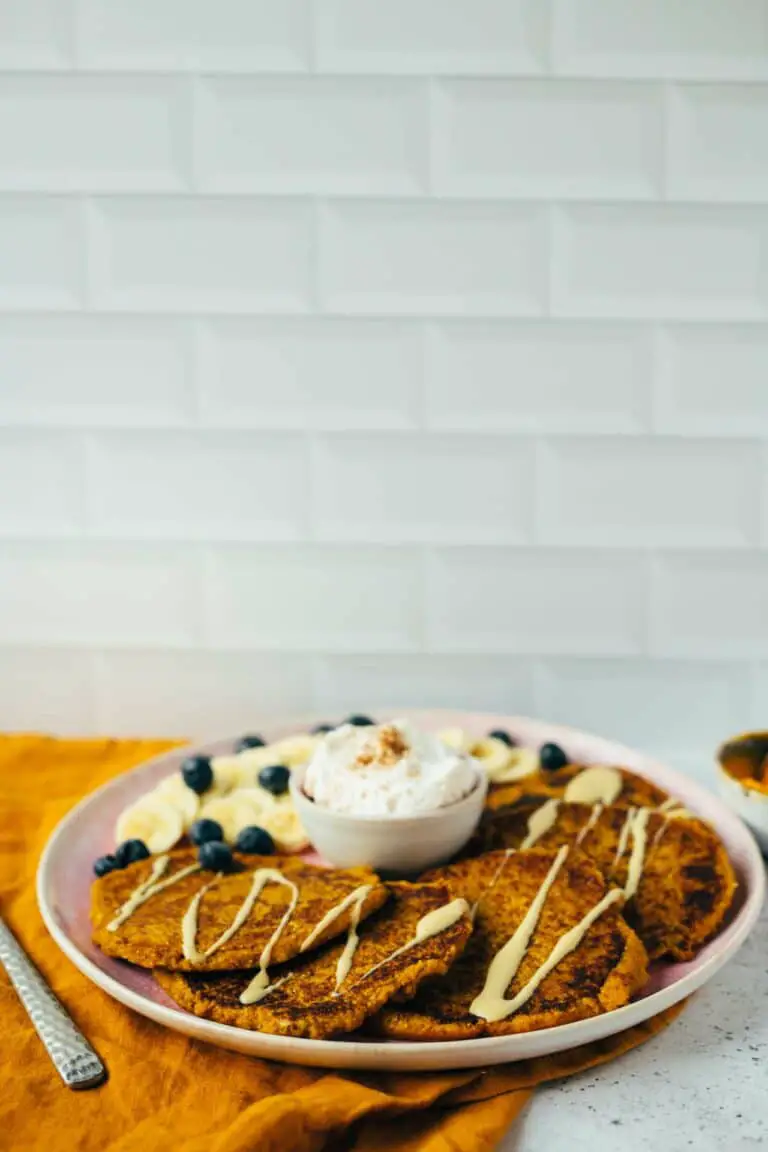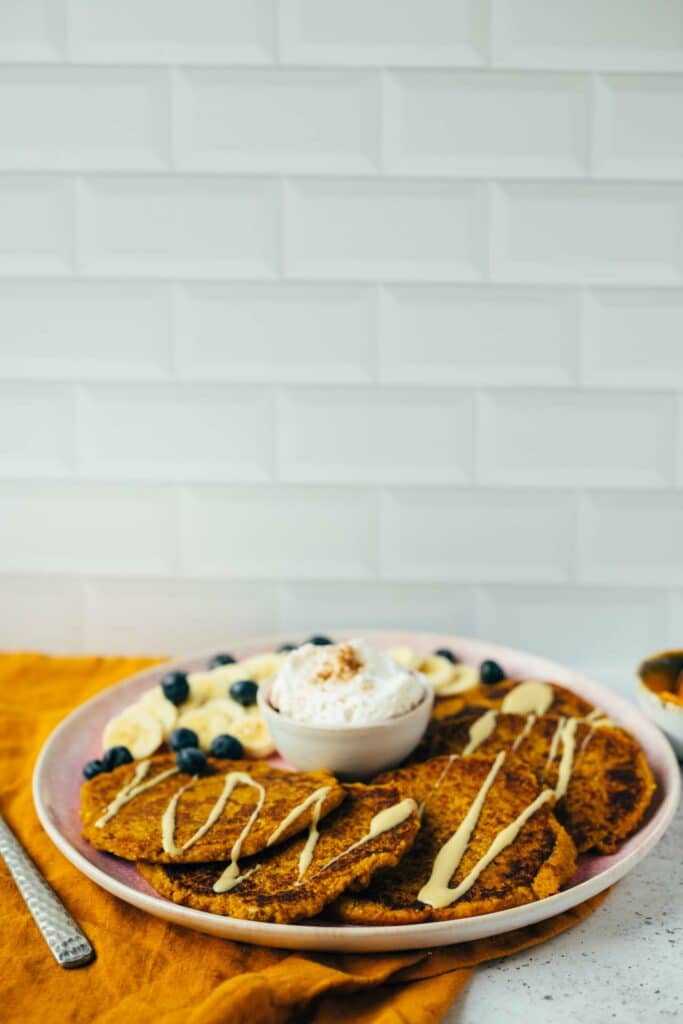 Let's move on to the ingredients and the production. I simply grind my own oatmeal in a high-powered blender, which doesn't make the flour as fine as store-bought, but it's more wholesome and cheaper. I make the dough in my high-powered blender. First comes in the vegetable milk, because the liquid should always be at the bottom of the blender, so it can work best.
Add pecans, coconut blossom sugar, oat flour, pumpkin puree, baking powder, bourbon vanilla, pumpkin spice and a hefty pinch of salt. Work once into an even dough and you're done.
Here are a few more tips and tricks to make sure the pancakes bake out well with oatmeal:
THE RIGHT PAN: is the most important thing! I used to have bad pans and regularly got annoyed with the dough sticking. I am extremely happy with my current pans and very often use no oil at all when baking. If you don't like Teflon pans, I recommend a good cast iron pan. Properly baked (google once here for tips) these pans should be really fun to use.
THE RIGHT OIL: When I use fat for frying, a so-called High Oleic oil, specially designed for very hot temperatures. Stay away from cold-pressed oils, because they change the fat structure when heated and can even be harmful to health. I've linked you to my favorite frying oil below with the ingredients.
USE PINSEL: This makes it easier to save oil by taking a small amount and using it to coat the pan.
PROVIDE WATER: The most important thing comes at the end, because the dough is very sticky and also not as easy to work with as a classic pancake batter. I therefore set aside a glass of water and carefully shape the dough with a moistened spoon. I recommend a coated spatula for flipping.
So, now nothing can go wrong. Time for pancakes, I'd say.
Pumpkin Pecan Pancakes are wonderful for breakfast, sweet lunch or dinner. They are also a special highlight for vegan brunch, with homemade rolls, Spicy Peanut Spread and Blackberry Jam. Let your imagination run wild.
The Oat Pumpkin Pecan Pancakes are:
Naturally sweetened
Light
Oil-free
filling
Easy to manufacture
Get started with these fluffy pancakes. I wish you a lot of fun baking and of course a review at the bottom of this page. If you post a picture, use the hashtag #veganevibes.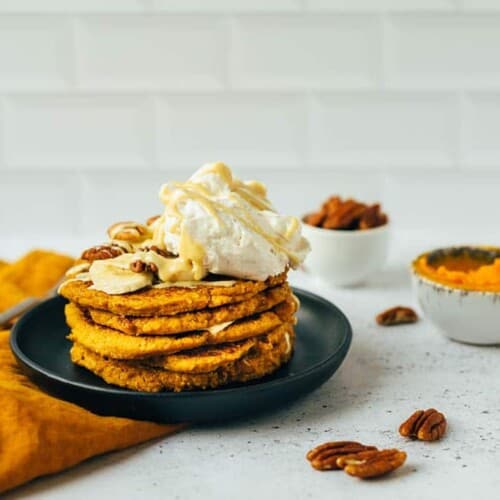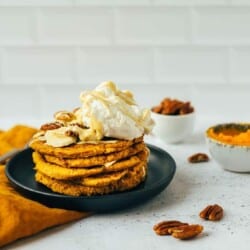 Pumpkin Pecan Pancakes
Naturally sweetened, fluffy, vegan pancakes with pumpkin puree, pecans and oatmeal. Quickly made with delicious spices. Gluten-free option. So the autumn can start.
AUTOR: VEGANEVIBES
150

g

Oatmeal

for a gluten-free version use gluten-free oatmeal, oatmeal is gluten-free per se, but can be contaminated during processing, buy gluten-free version in case of celiac disease or intolerance

60

g

Pecan kernels

120

g

Pumpkin puree

best homemade or purchased

30

g

Coconut blossom sugar

or other sweetener of choice

1

tbspn

Baking powder

1

tbspn

Pumpkin spice**
Some high heat oil for baking

I use high-oleic frying oil -if you have a good Teflon pan, you don't necessarily need oil, but it makes for a crispier crust
TOPPINGS:
Anleitung 
Prepare a small key with high-heat oil and a silicone brush and a cup of water.

Place rolled oats (if not using ready-made flour) in high-powered blender and blend on high speed until fine.

Place in a bowl and set aside.

NOTE: If you are making the dough with a high-performance mixer, the liquid should always go into the mixer first, this is the only way it can work well.

For the batter, provide a high-powered blender (or bowl) and pour in all ingredients in order, Blend with a wooden spoon until smooth, which should be much creamier and firmer than regular pancake batter.

150 g Oatmeal,

60 g Pecan kernels,

250 ml Almond milk or another vegetable milk,

120 g Pumpkin puree,

30 g Coconut blossom sugar,

1 tbspn Baking powder,

1 tbspn Pumpkin spice**,

1 strong pinch of sea salt,

½ tbspn Bourbon vanilla ground or vanilla extract,

Some high heat oil for baking

Heat pan to medium heat.

Dip the silicone brush into the oil and brush the bottom of the pan. It can also be baked without oil if you use a good quality Teflon pan. However, the oil provides a crispier crust.

Add 2 tablespoons of batter to each pan. Bake for 3-4 minutes on each side until golden brown. Work with a coated spatula. Remove and place on a plate.

Repeat this step until the batter is completely used up and all the pancakes are stacked on top of each other (this keeps them nice and warm).

Finish with desired toppings and enjoy!

Keep remaining pancakes covered in refrigerator for up to 2 days, and heat best in steamer or preheated oven. Keep in the freezer for up to one month.

Pecans,

Coconut cream,

Almond paste
Nährwertangaben
Serving:
1
Piece
Calories:
145
kcal
Carbohydrates:
18
g
Protein:
3
g
Fat:
7
g
Saturated Fat:
1
g
Sodium:
63
mg
Potassium:
130
mg
Fiber:
3
g
Sugar:
3
g
Vitamin A:
2334
IU
Vitamin C:
1
mg
Calcium:
64
mg
Iron:
1
mg