Coconut and chocolate in breakfast has always been a good idea. Just realized that I also made an Overnight Oat recipe almost exactly a year ago. It was chocolatey then too, but with Peanut Butter. We'll skip those for once today and focus on coconut. Coconut oil has fallen a little into disrepute in recent months because of the high proportion of saturated fatty acids. At first, I thought it was all half-assed, but I've since moved heavily away from coconut oil and prefer to use whole coconut products, such as coconut flakes, shredded coconut or the coconut puree made from it. The coconut oil is now in the bathroom and I use it together with essential oils for body care. How do you feel about coconut oil? Top or flop? I look forward to your comment at the bottom of the page. *for those interested in the new study on the subject, I've linked it at the bottom of the notes.
Quick vegan breakfast ideas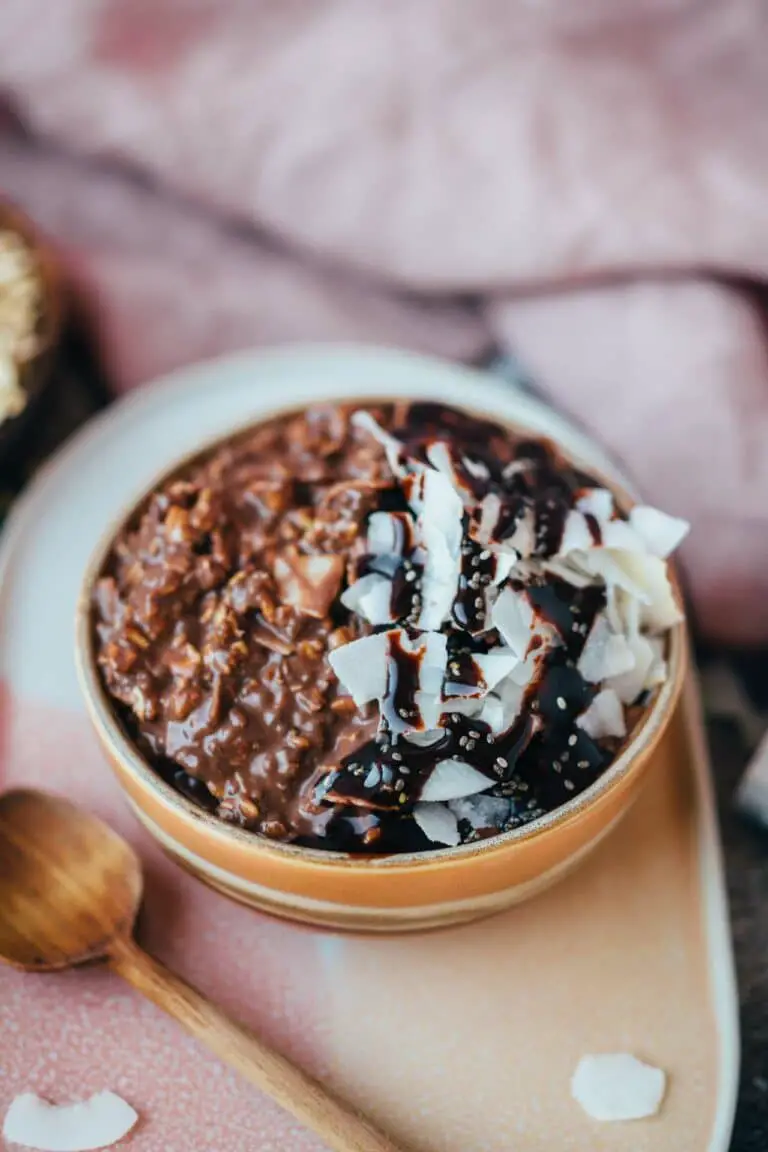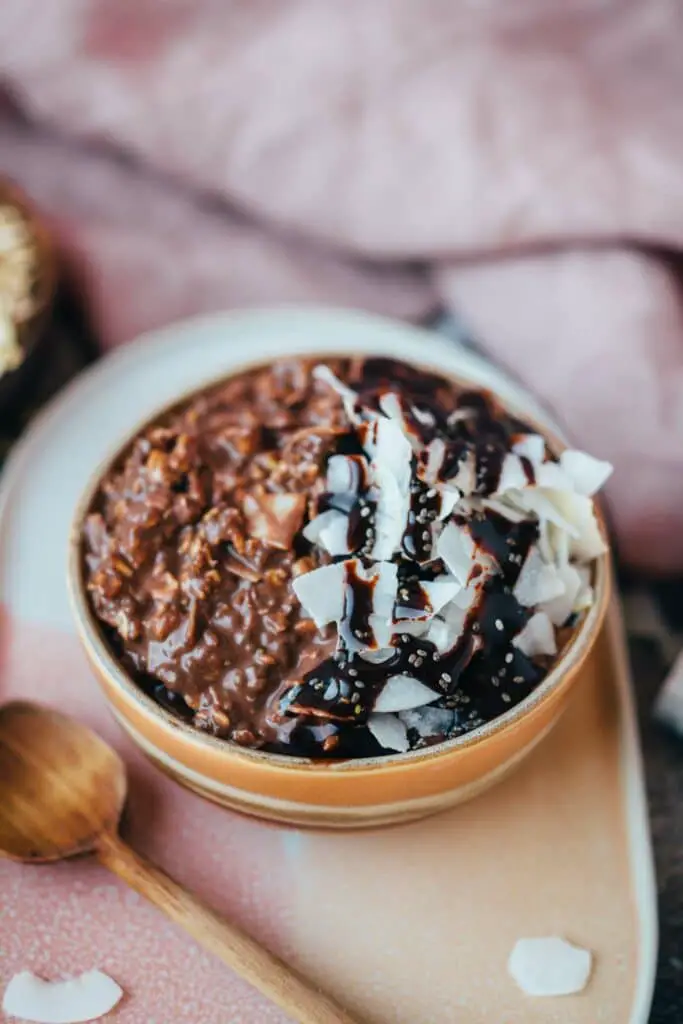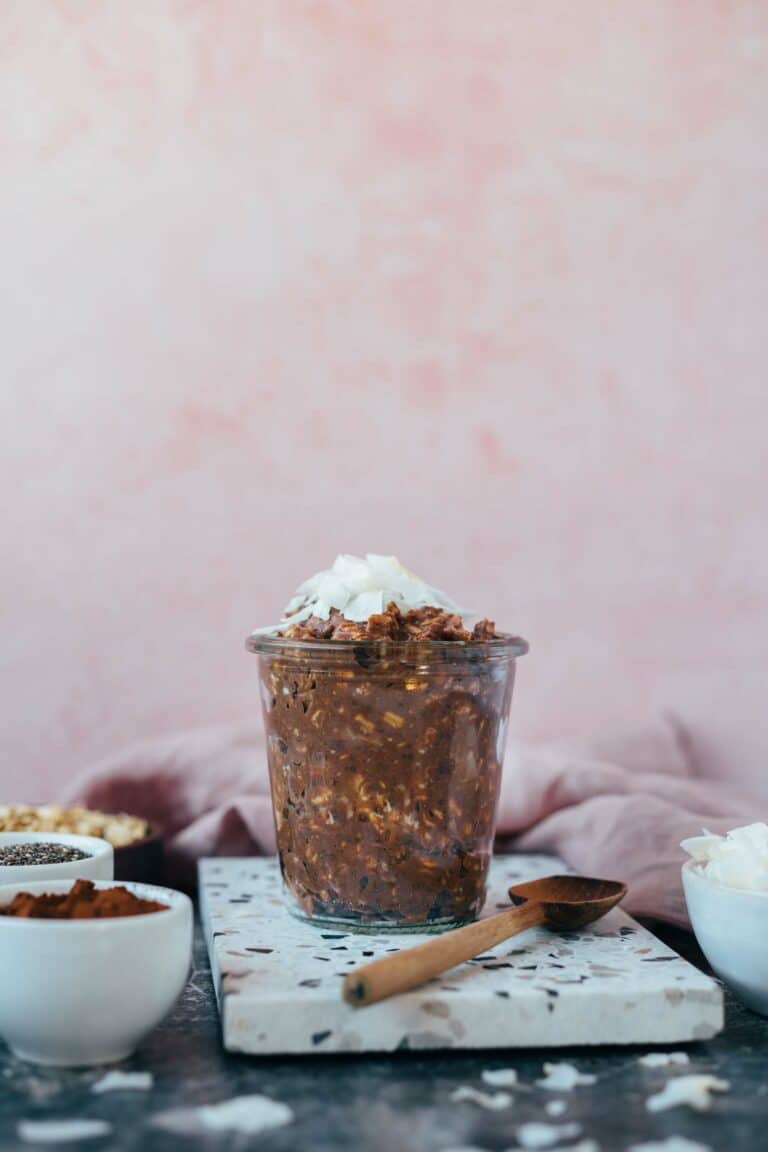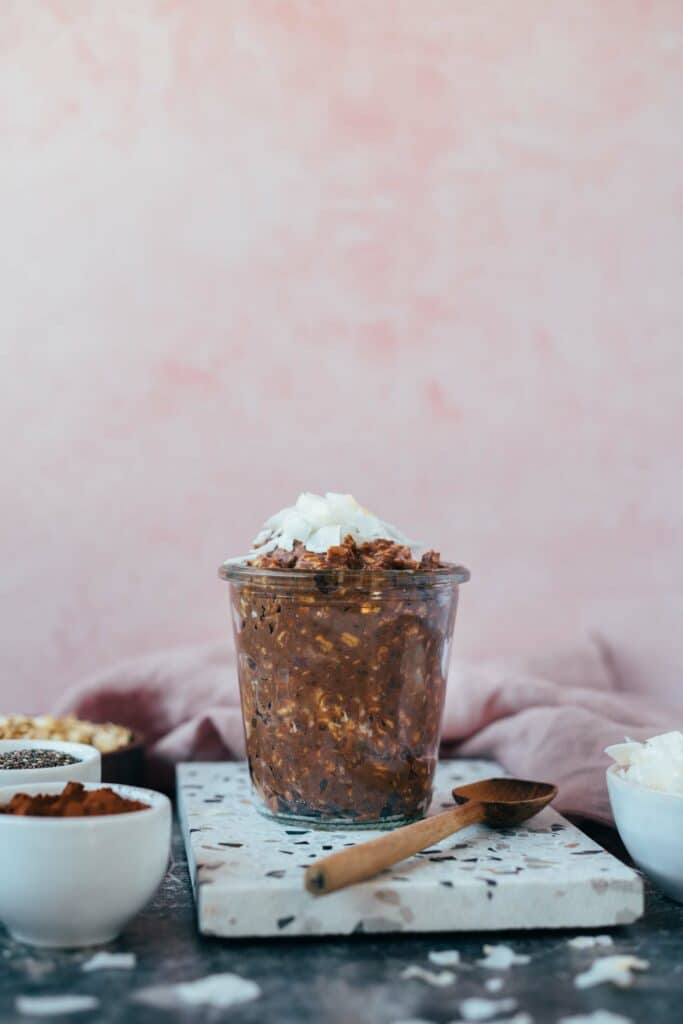 This quick breakfast is perfect for those who are short on time in the morning, but still want to eat something healthy and sustainable. The night before, it takes exactly 5 minutes to stir everything together (of course, this doesn't apply if you're working in slow motion) and then it's off to the fridge. Now you don't need to do anything except relax and wait for the next morning. Alarm clock rings? Then off to the shower, morning routine and the Overnight O ats are perfect to take with you (or at home). That's what I love so much about this recipe, because it's a rich meal that keeps you perfectly full until lunch.
Let's get to the ingredients: Rolled oats, coconut yogurt, oat milk, chia seeds, coconut flakes, maple syrup, cocoa powder, bourbon vanilla and salt.
The different varieties of oatmeal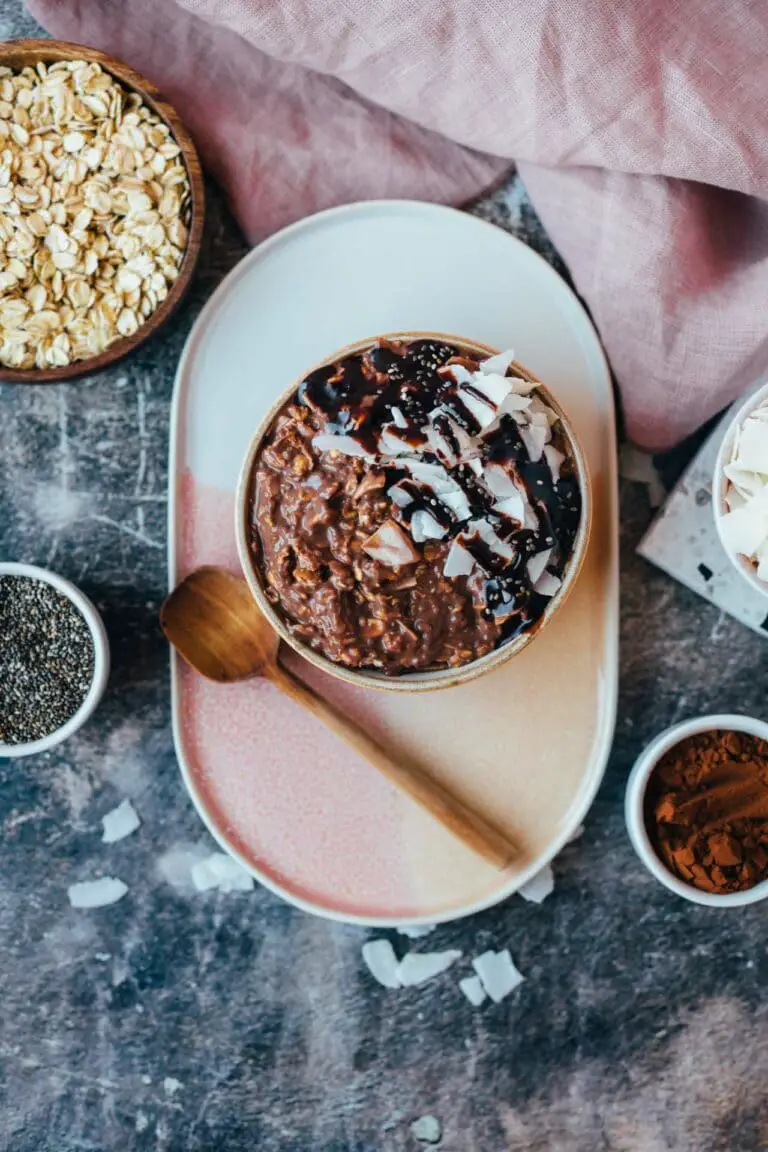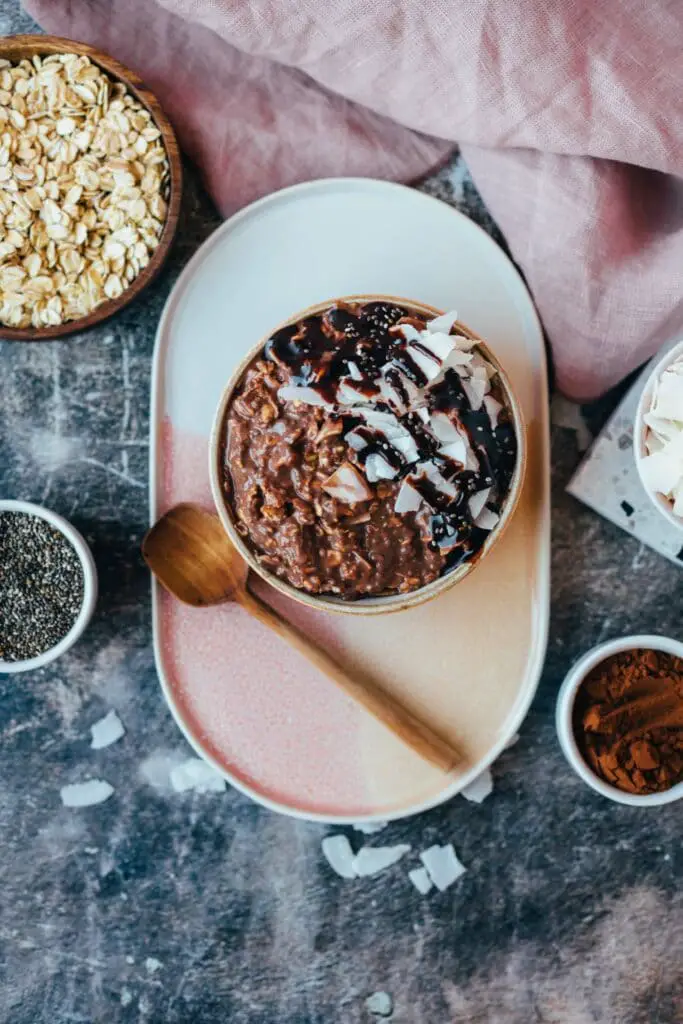 I already talked about the benefits of oatmeal in my last Overnight Oats post. Therefore, I thought I would report on the different varieties that are available on the market. What is actually the difference between big leaf, small leaf or other varieties? Basically, as with any food, the more processed it is, the less the health benefits.
Sliced oats are the least processed oats and contain the most nutrients. It has the least effect on blood sugar levels, but should be cooked or soaked before eating. In this way, the phytic acid contained can be reduced.
Kernel oat flakes (large leaf flakes) are made from whole oat kernels. They can be cooked longer without becoming mushy too quickly.
Tender flakes (small leaf flakes) are obtained from oat groats (oat kernels cut into small pieces) and then rolled into flakes. They swell faster than large leaf flakes.
Instant oats or melt flakes are rolled from oat flour. They dissolve instantly when stirred into liquid and are perfect for infant formula or baby food. However, their influence on blood glucose levels is the greatest.
Oatmeal from the store is ground from oat groats. If you make it yourself, you decide which oat starting product to use. I grind the flakes directly in my high-powered blender and use the flour to bake.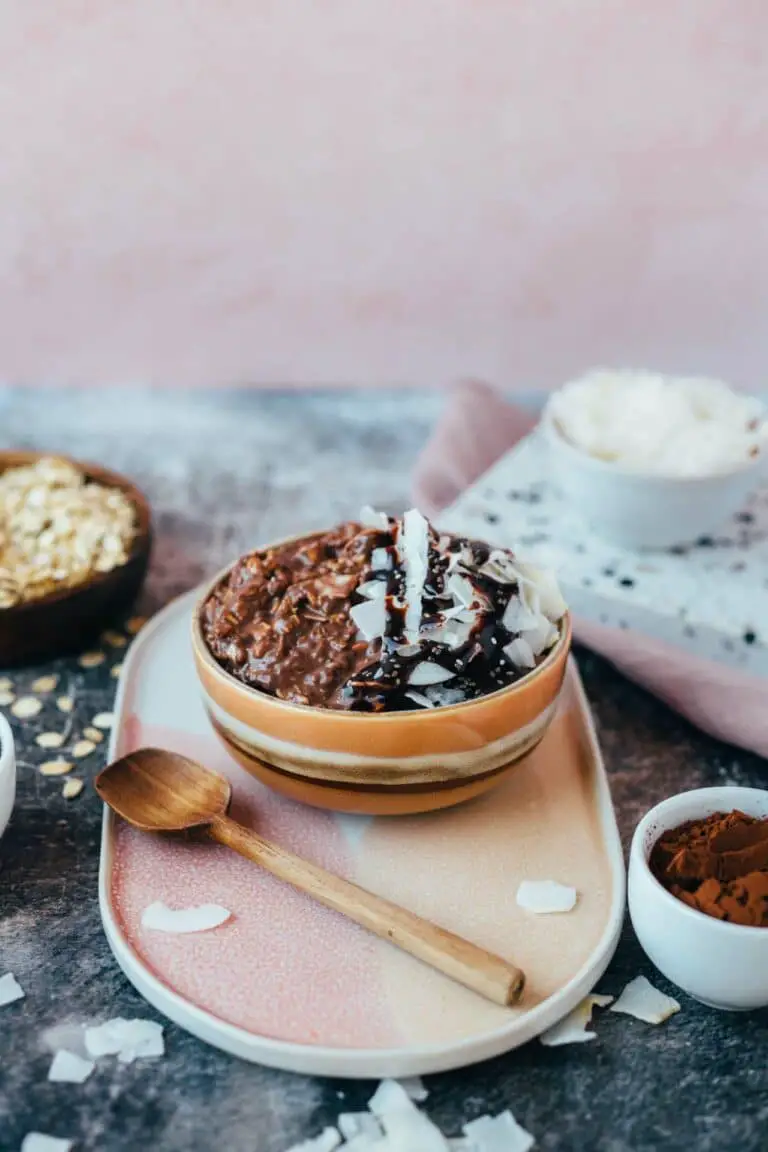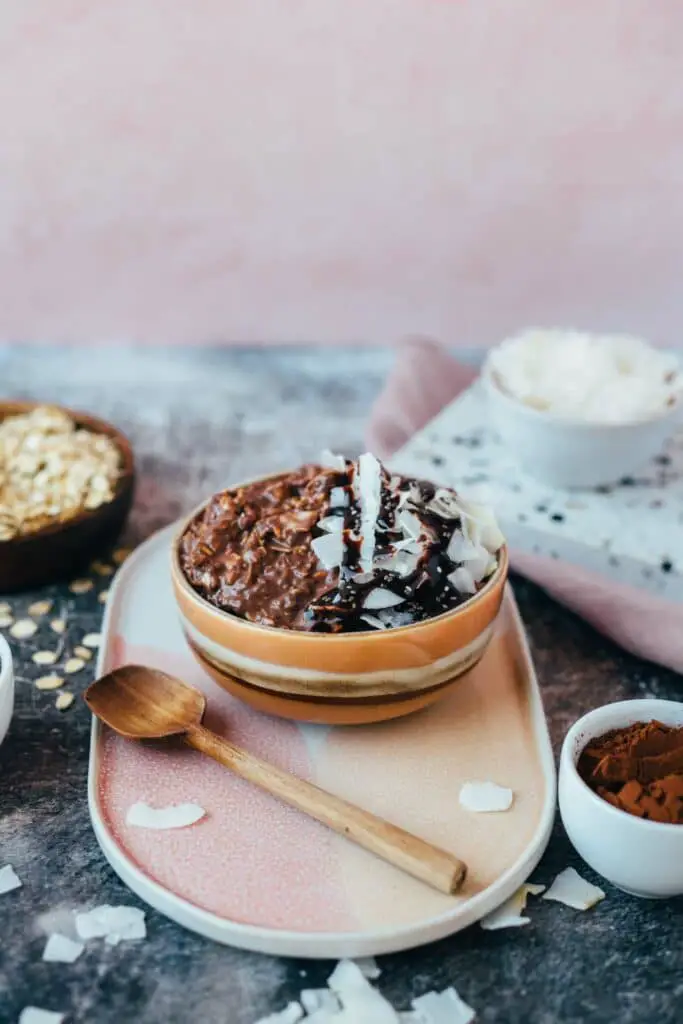 The Coconut Chocolate Overnights Oats are:
Pleasantly sweet
chocolatey
filling
Coconutty
Full of healthy complex carbohydrates
Let's go with this chocolaty dream that will sweeten your day already in the morning. I wish you a lot of fun with the imitation and of course about a rating at the bottom of this page. If you post a picture, use the hashtag #veganevibes.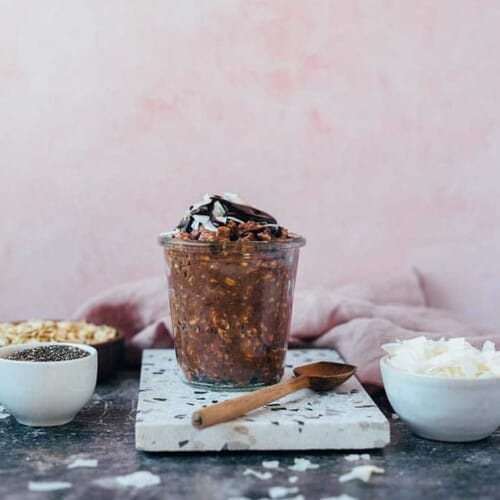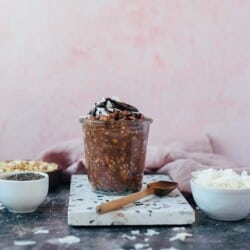 Coconut Chocolate Overnight Oats
Satisfying, delicious and coconut-chocolatey Overnight Oats. Perfect, healthy and vegan breakfast that is easy to prepare.
AUTOR: VEGANEVIBES
Anleitung 
Combine all ingredients for OVERNIGHT OATS in a bowl, mix with a spoon until well combined, seal and refrigerate overnight.

80 g Oatmeal,

80 g Coconut yogurt,

160 ml Oat milk or another plant milk,

15 g Chia seeds,

22 ml maple syrup,

20 g Coconut flakes,

15 g Cocoa powder,

7,5 g Bourbon vanilla,

Salt

TIP: For a TO GO version, pour into a resealable jar.

Remove from refrigerator just before serving and optionally garnish with coconut flakes and chocolate sauce.

If the oats are too firm, simply add another sip of milk.

Keeps 2-3 days in an airtight container in the refrigerator.
Nährwertangaben
Serving:
1
Portion
Calories:
381
kcal
Carbohydrates:
57
g
Protein:
11
g
Fat:
14
g
Saturated Fat:
7
g
Sodium:
54
mg
Potassium:
409
mg
Fiber:
12
g
Sugar:
17
g
Vitamin A:
166
IU
Vitamin C:
5
mg
Calcium:
259
mg
Iron:
4
mg