Do you know what I fell madly in love with? In Bounty ! Not only in Bounty Bars , but in Tartes , cuts and everything else that has to do with Coconut has to do. It's just addictive and I could honestly live on nothing but coconuts all day. This is what two bloggers in Bali I follow on Instagram are doing right now. Jessie and Daniel are two really great people who originally wanted to spend a year traveling the world. That one year has now turned into 5 years and there is still no end in sight for the two. It's pretty cool, isn't it? My longest stay abroad was 6 months in Hawaii, which I would have loved to extend. However, then my visa expired and I had to go home again. I'm definitely excited to see how they do with the coconut fast, and if they ever feel like eating solids again, I'd recommend my Bounty Schnitten.
Bounty slices, Easy Vegan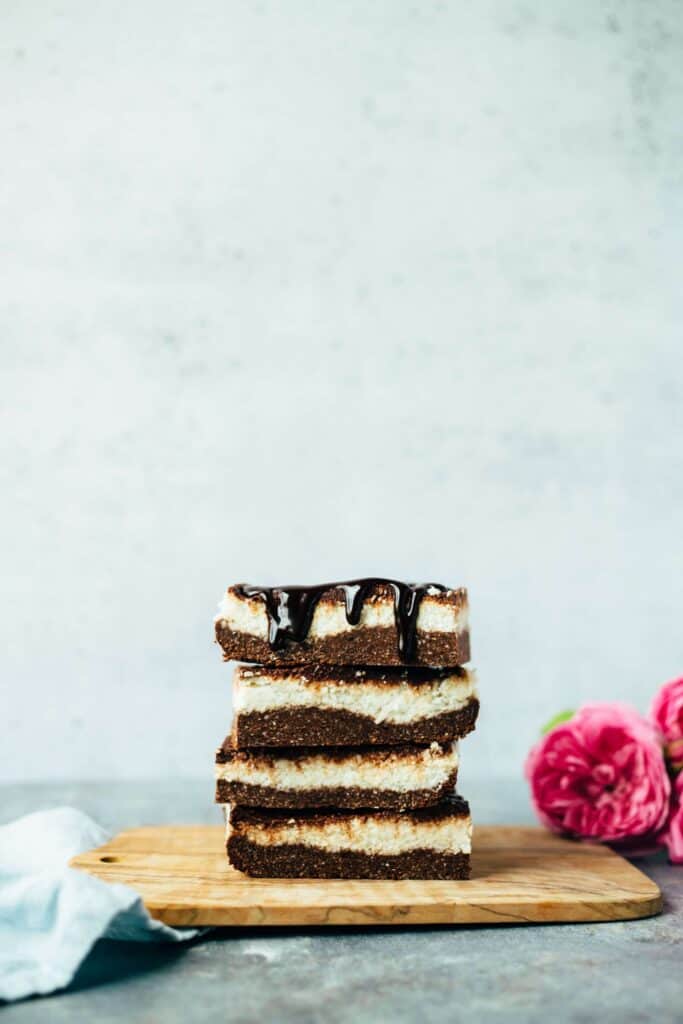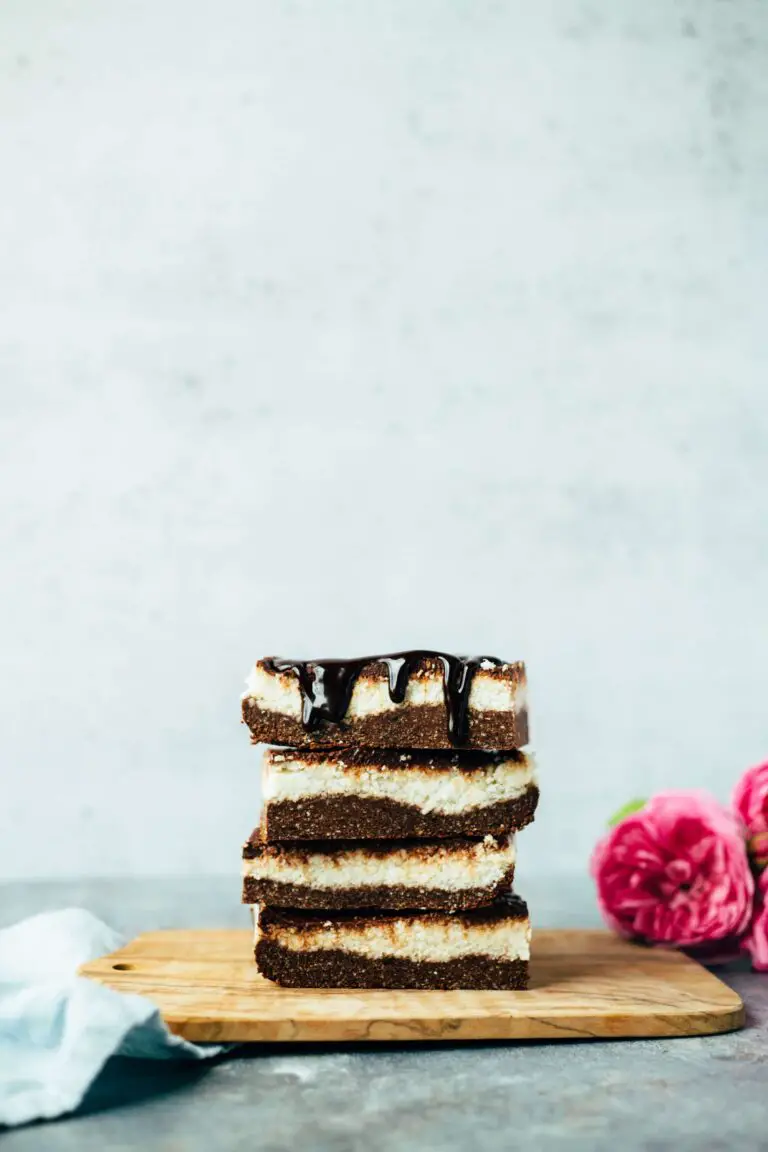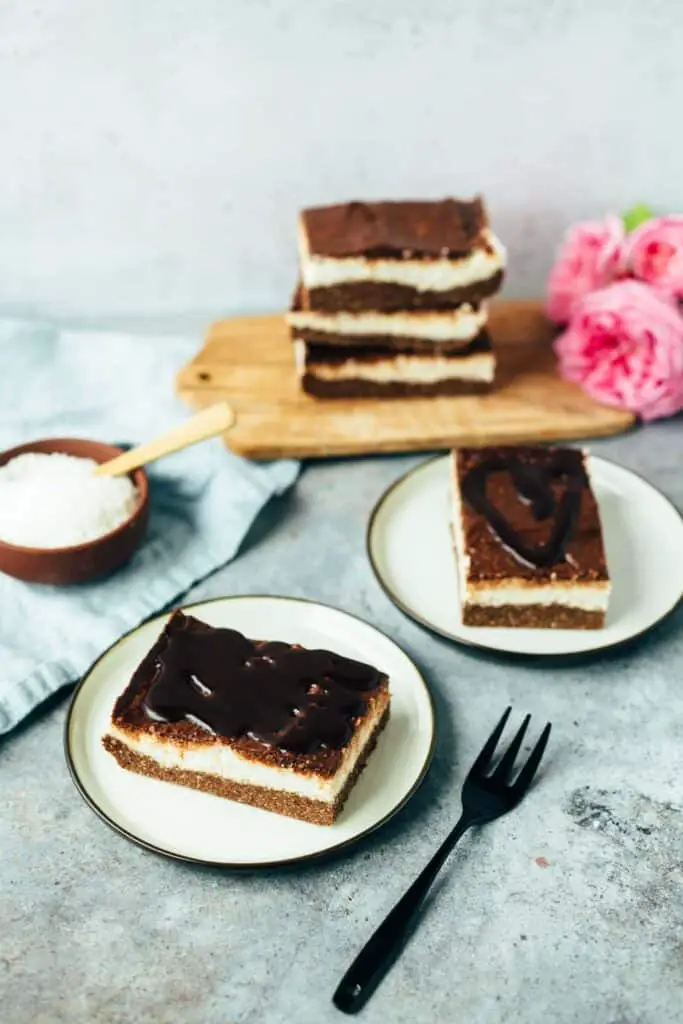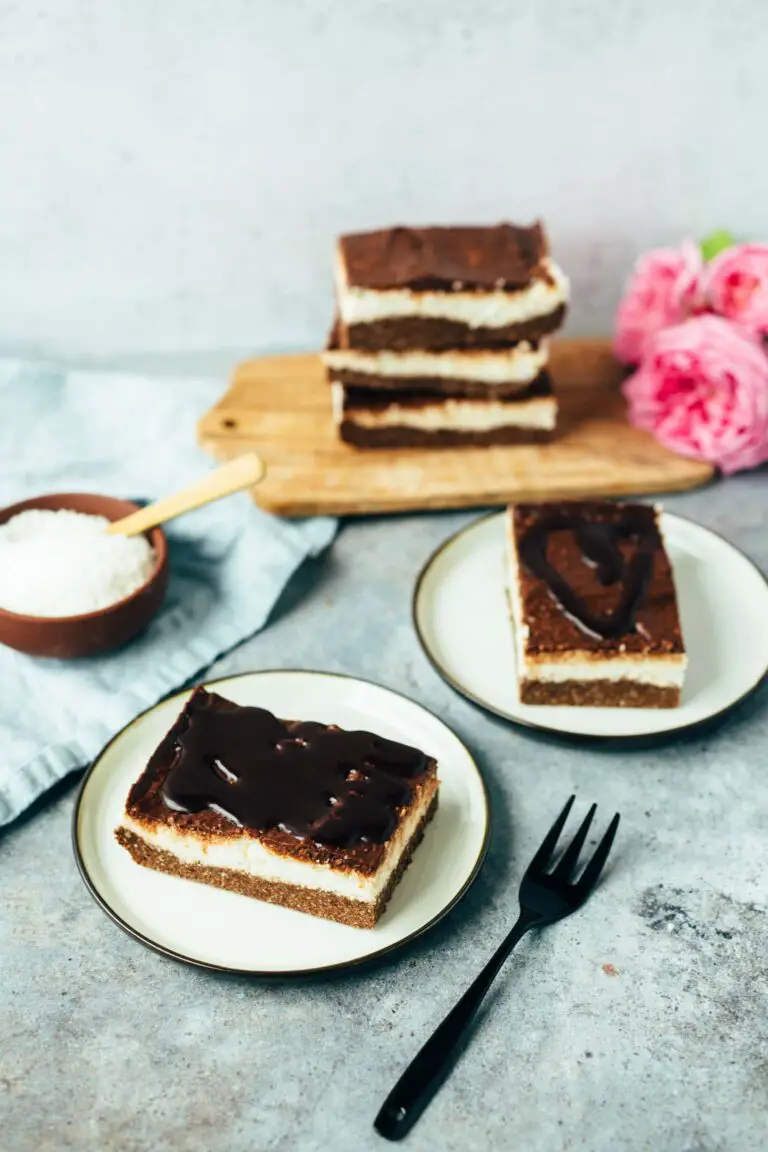 The Bounty slices consist of three simple layers, date nut base, creamy coconut filling and melt-in-your-mouth chocolate topping.
I make the base in the MagMix. Of course, you can also use a similar food processor. A blender with a smooth rotation and an "s-blade" or "S-knife" is best for this. High-powered blenders are not very good for this because they work best with liquid. Coconut flakes, oatmeal, cocoa, medjool. Dates , maple syrup and go. The trick with raw doughs is to leave them in the mixer too long rather than too short until they are really well combined. The end result is a slightly sticky lump of dough that is super to knead and press into the mold.
TIP: In many vegan recipes almond flour is used. To be honest, I don't like working with it that much because it's very expensive. At least in organic quality, you have to dig deep into your pocket. Almond flour is a by-product of the almond oil production process. It is the press cake, that is, the solid components that remain. Compared to whole almonds, it has more protein and less fat content. I still love to use it when I want to add almond flavor to a cake. Otherwise Oatmeal my first choice, because it is good and cheap and available in gluten-free quality.
The creamy layer consists of grated coconut, coconut cream (the solid part of coconut milk), maple syrup and vanilla. This then goes on top of the raw vegan base and all that's really missing is the ganache to finish it off. It's easily made with dark vegan chocolate and a dollop of coconut milk.
Once everything is layered together, the slices go into the refrigerator and are allowed to set for a few hours or overnight. Alternatively, you can put them directly into the freezer and take them out about 20-30 minutes before serving.
Well you vegan coconut slice?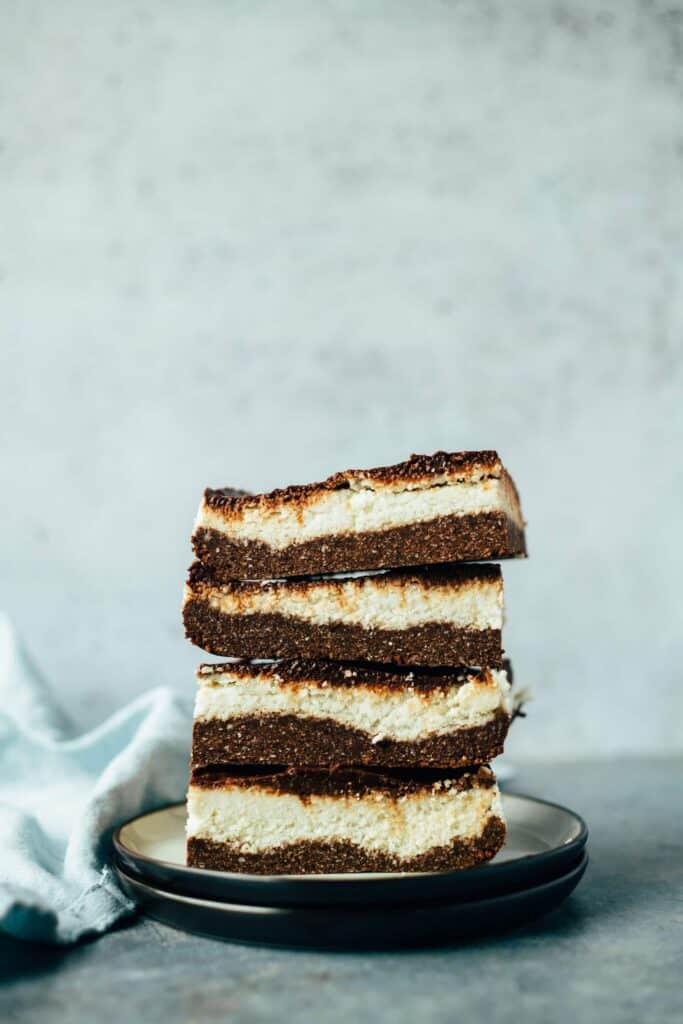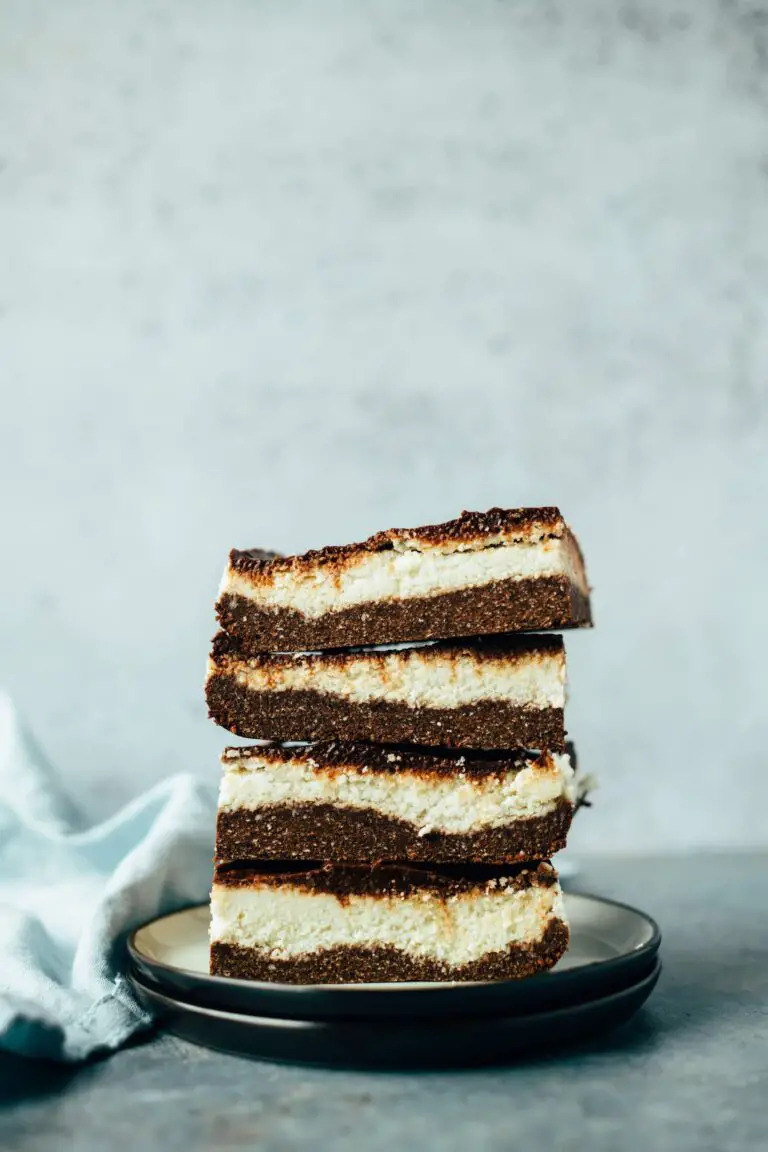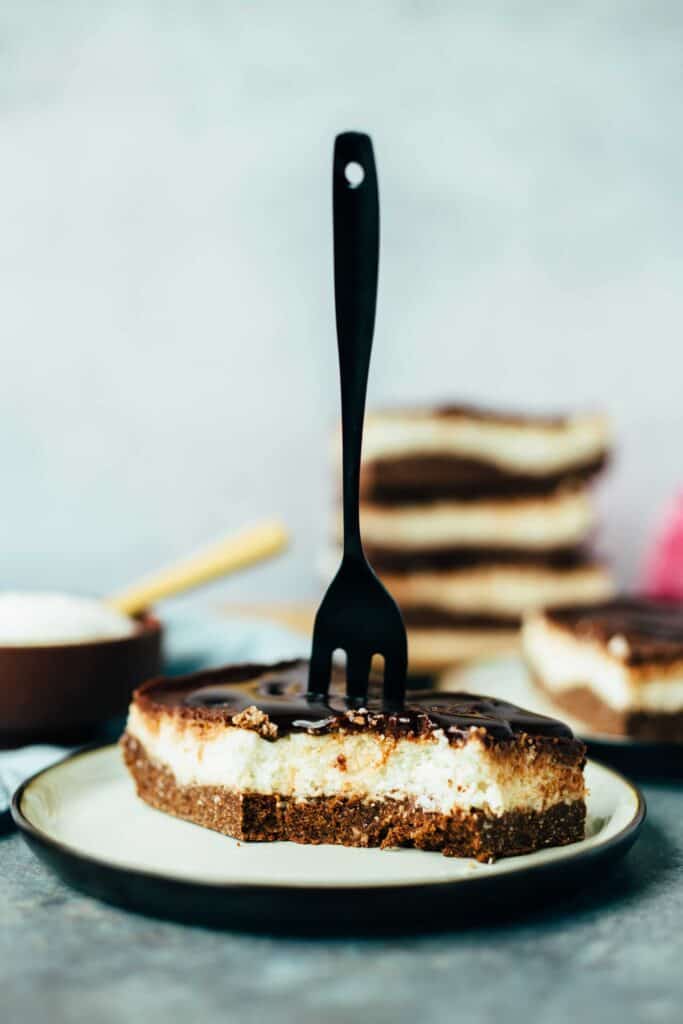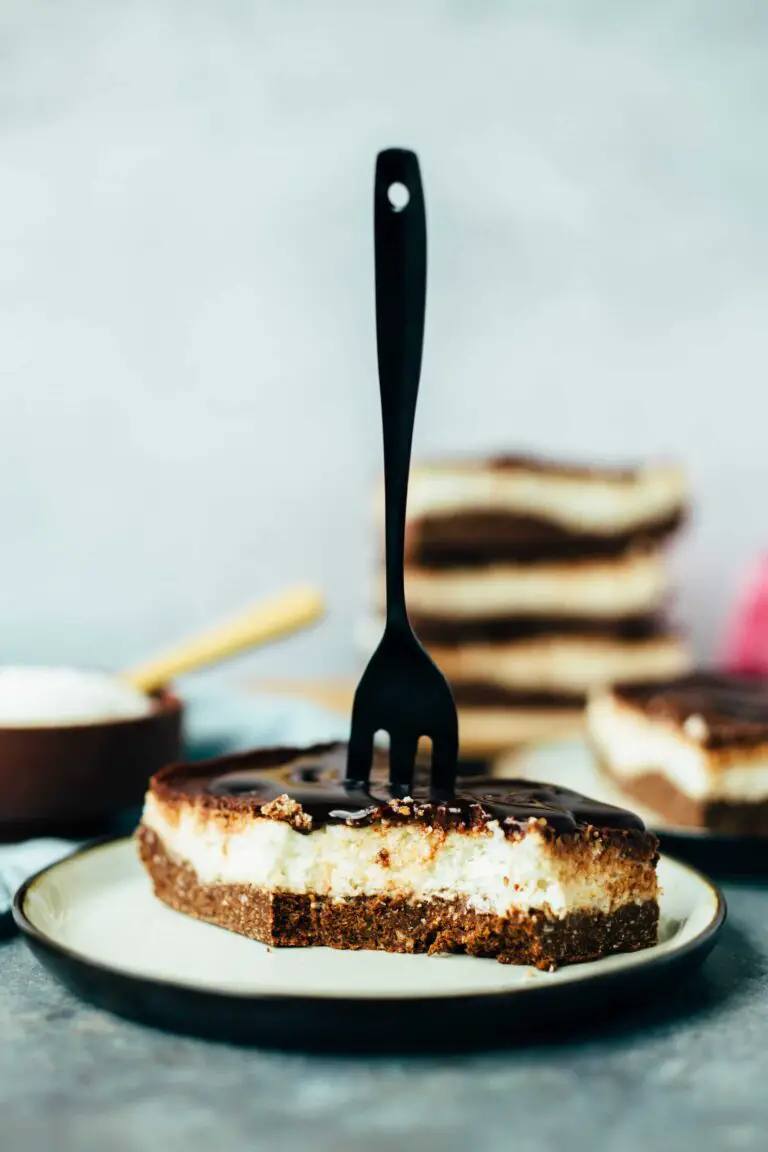 Here are a few tips to ensure that the cuts are a success:
Make the base with a powerful mixer, preferably with an "s-blade" or "s-knife". Which blender do you use? Feel free to write in the comments at the bottom.
Soft Dates use, preferably Medjool, because they are best processed. If your dates are not so soft, it is best to soak them overnight in hot water. For a quick method, simply place in hot water for an hour, drain and reuse.
Always line pan with baking paper, or use a loose-bottomed pan. Otherwise, you'll never get the cuts out again without brute force.
Choose coconut milk with high coconut content, then you get more coconut cream from a can. I've linked you my favorite brand below.
TIP: It is best to prepare the slices a day in advance and let them set overnight. This is how you get the best result. Always cut with a dampened knife, then you get a nice, smooth cut edge.
Vegan Coconut Lover
These Bounty cuts definitely got me hooked. If you want to try another coconut-nutty temptation, then I recommend you try my Bounty Tart , Bounty Bar or Coconut-Chocolate Cookies .
Are you ready for this chocolate coconut temptation?
The Bounty cuts are:
Quickly made
coconutty
Naturally sweetened
chocolaty
Full of healthy fiber
like Bounty as cuts
Let's go with these incredibly delicious vegan Bounty Schnitten , I wish you a lot of fun with Nachbacken and of course about a rating at the bottom of this page. If you post a picture, use the hashtag #veganevibes.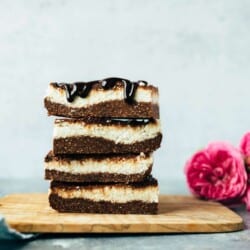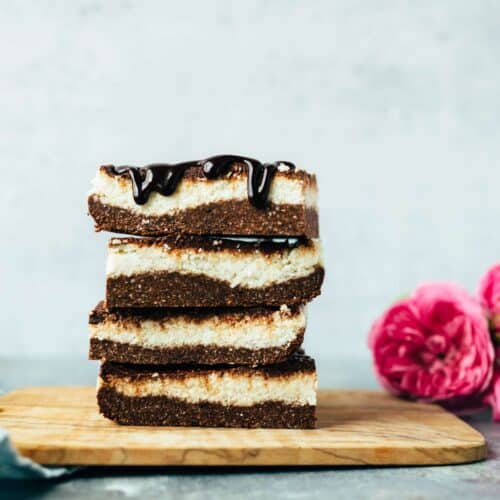 Bounty cuts
This Bounty Schnitten is the perfect temptation if you like chocolate and coconut. A base of delicious dates, shredded coconut and oatmeal. Filled with coconut cream and topped with a melt-in-the-mouth ganache of dark chocolate and coconut milk. Gluten-free and naturally lactose-free.
AUTOR: VEGANEVIBES
Anleitung 
Line a brownie pan of about 20x20cm with baking paper and set aside.

FOR THE BOTTOM Place oat flour, shredded coconut, cocoa, maple syrup and date (prices salt) in a blender. Mix until a soft "kneadable" raw base is formed. See video.

100 g Oatmeal,

100 g Coconut shavings,

60 g Cocoa,

192 g Medjool dates,

2 tbspn maple syrup,

A pinch of salt

Pour batter into brownie pan and press in evenly with your fingers or a silicone spatula.

Put in the refrigerator.

FOR THE FILLING put the solid part of the coconut milk (coconut cream), grated coconut and maple syrup in a blender. I use my Blendtec here. Mix until everything is well combined, but do not "overmix". Otherwise it becomes a mush, but we want to get a nice texture with the shredded coconut.

300 g Coconut cream,

150 g Coconut shavings,

30 ml maple syrup

Remove the mold from the refrigerator and put the filling on the bottom. Spread evenly and return to refrigerator.

For the GANACHE Add coconut water to the melted chocolate and stir until everything is well combined and the chocolate thickens slightly.

100 g vegan dark chocolate,

30 ml Coconut water

Remove mold from refrigerator and spread ganache on top.

Place back in the refrigerator for at least another 2 hours or directly in the freezer.

Cut into pieces and serve. If frozen, remove from freezer

20-30 minutes in

advance and allow to thaw.

Coconut shavings,

Cocoa nibs

To store, place covered in the refrigerator and consume within 3 days. Otherwise, cut into pieces and put in a box in the freezer.
Nährwertangaben
Serving:
1
Portion
Calories:
331
kcal
Carbohydrates:
29
g
Protein:
4
g
Fat:
26
g
Saturated Fat:
22
g
Sodium:
13
mg
Potassium:
400
mg
Fiber:
7
g
Sugar:
18
g
Vitamin A:
24
IU
Vitamin C:
1
mg
Calcium:
38
mg
Iron:
3
mg