What would be the best way to design Twix bars in healthy? This question has been on my mind for quite some time. The first question is how a Twix itself is constructed. The base consists of a light cookie, on top of which is a layer of caramel and rounded off with a thick layer of chocolate. So it comes down to the three components of cookie,caramel and chocolate. I don't know about you, but nerve food is more than I can use right now. I now deliberately avoid the daily sensational news, because otherwise I just sink into frustration. Rising numbers for months, not enough vaccine and suffering companies. Instead, I try to keep my head above water with soul food and that works quite well. I admit that without exercise and the dogs, I probably would have gone up two pant sizes by now. Well, better happy with some hip gold than frustrated with diet.
Vegan Twix Bars – healthy, delicious and without baking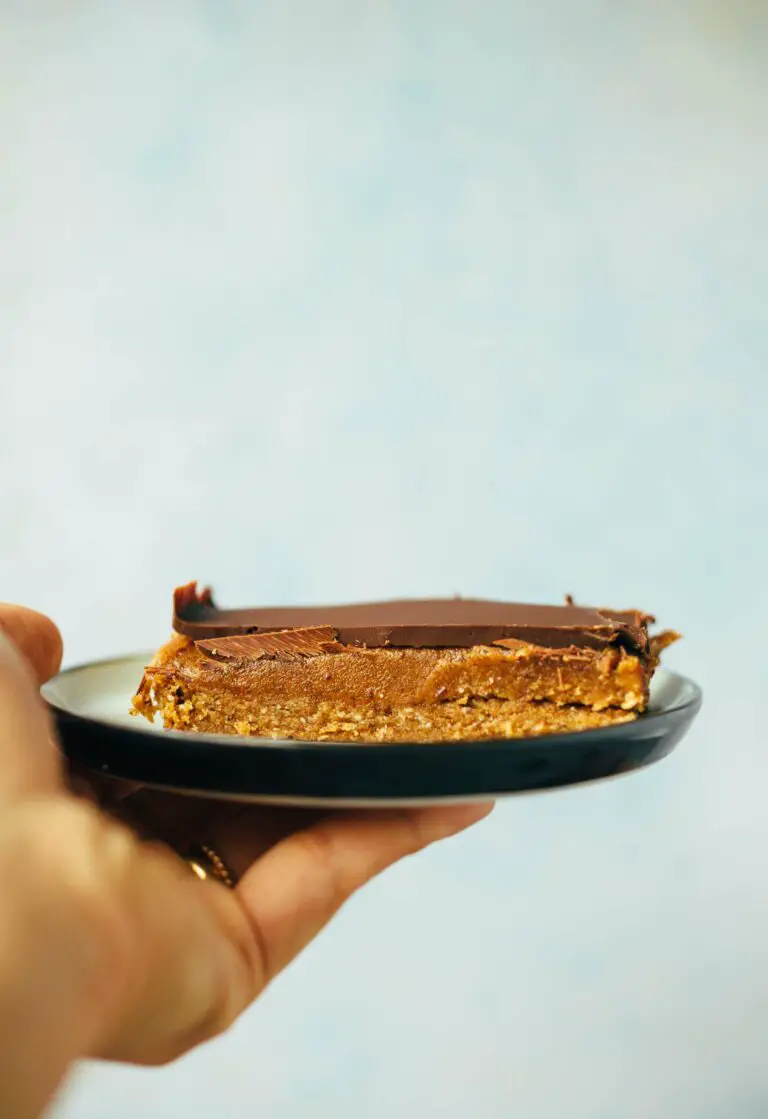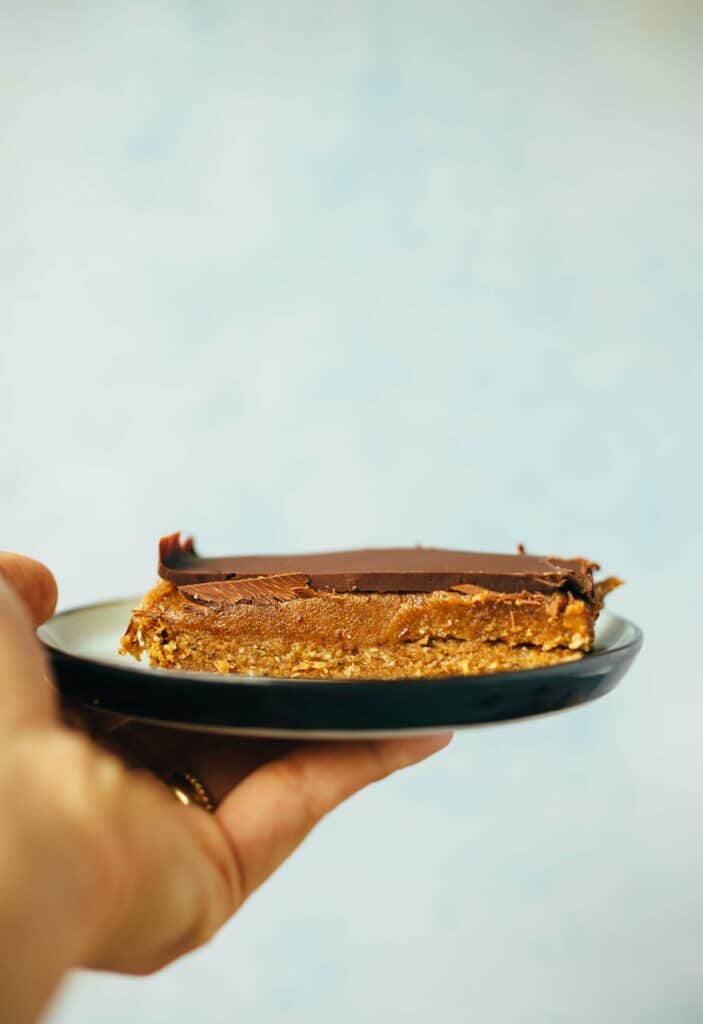 The ingredient list is short and straightforward, with one small catch. You'll find out which one later in the text. First, let's take a look at the main ingredients and what else there is to consider.
Dates : A good quality is crucial here. Good dates not exactly cheap, but full of vitamins, minerals and valuable fiber. I'm happy to spend a little more money on it. I use quite a lot of dates and buy online whole 5 kilogram packs. I keep them well sealed in the refrigerator and store them there for several months. Medjool dates are my absolute favorite, because the so-called king dates are soft, have no hard fibers and are particularly easy to process .
TIP: If the dates are too hard, simply soak them in hot water 1-2 hours beforehand and let them soften. Pour away water and process.
Almond and almond flour : here you can vary according to taste. I use ground almonds and almond flour for the base. However, just almond flour will work if you prefer, it will make the base a little lighter in color and change the consistency. Almond flour will make the raw dough a bit more compact, while ground almonds can make it a bit crumbly.
Almond paste : Any nut puree will work here, depending on what you have at home. It is important to stir the puree well beforehand, as the fat likes to settle on top. Just stir really vigorously once and you're done.
Chocolate : Once again, it is important to pay attention to the right quality. I use a vegan chocolate coating of very good quality, as classic chocolates can often be quite bitter. Here I have also linked you to a sustainable manufacturer, of which I am absolutely convinced. IMPORTANT NOTE: As soon as you use a chocolate coating or another classic chocolate, the slices are no longer raw-vegan. If you're big on this, use a raw vegan chocolate and don't heat it above 42 degrees when melting.
Vegan snacks, just bring them here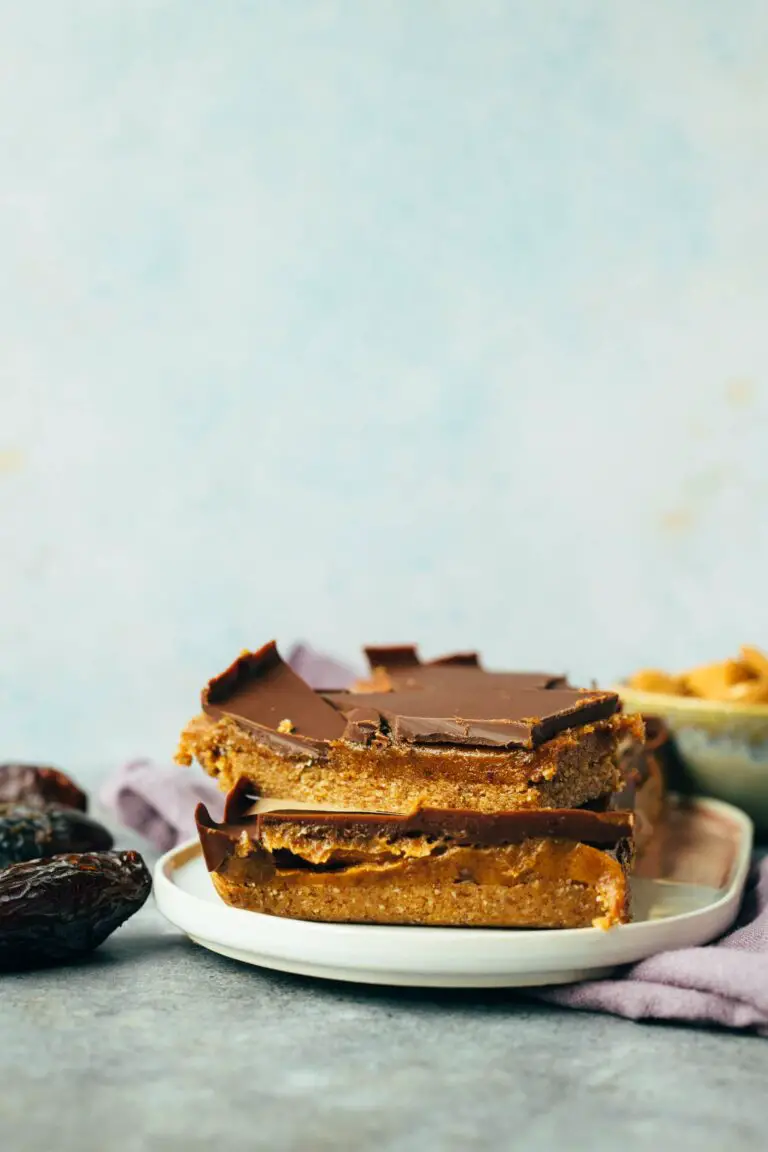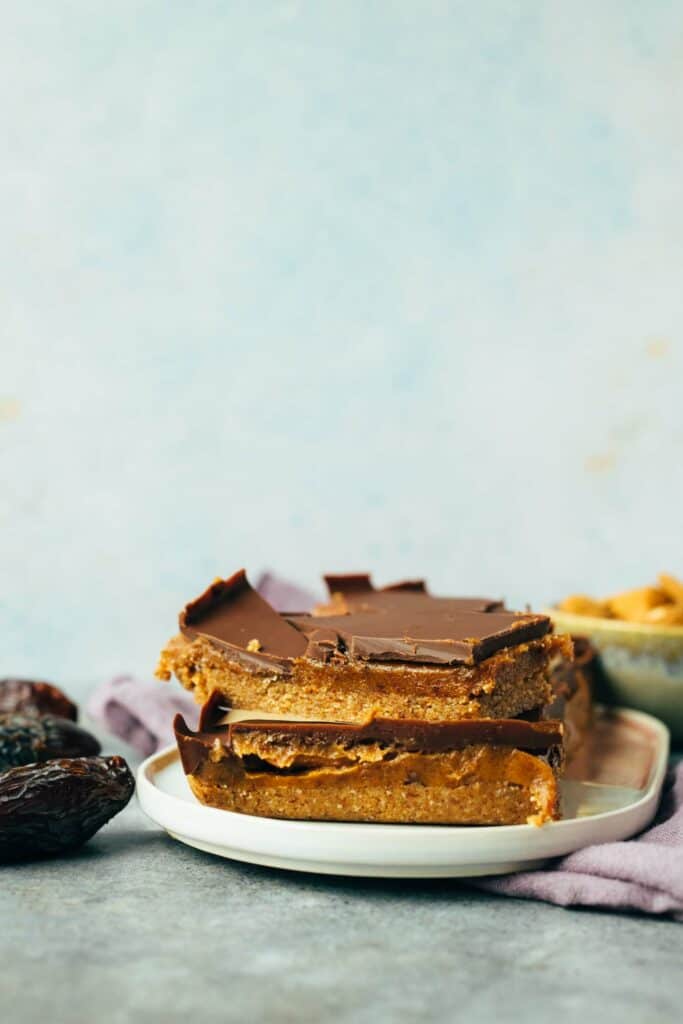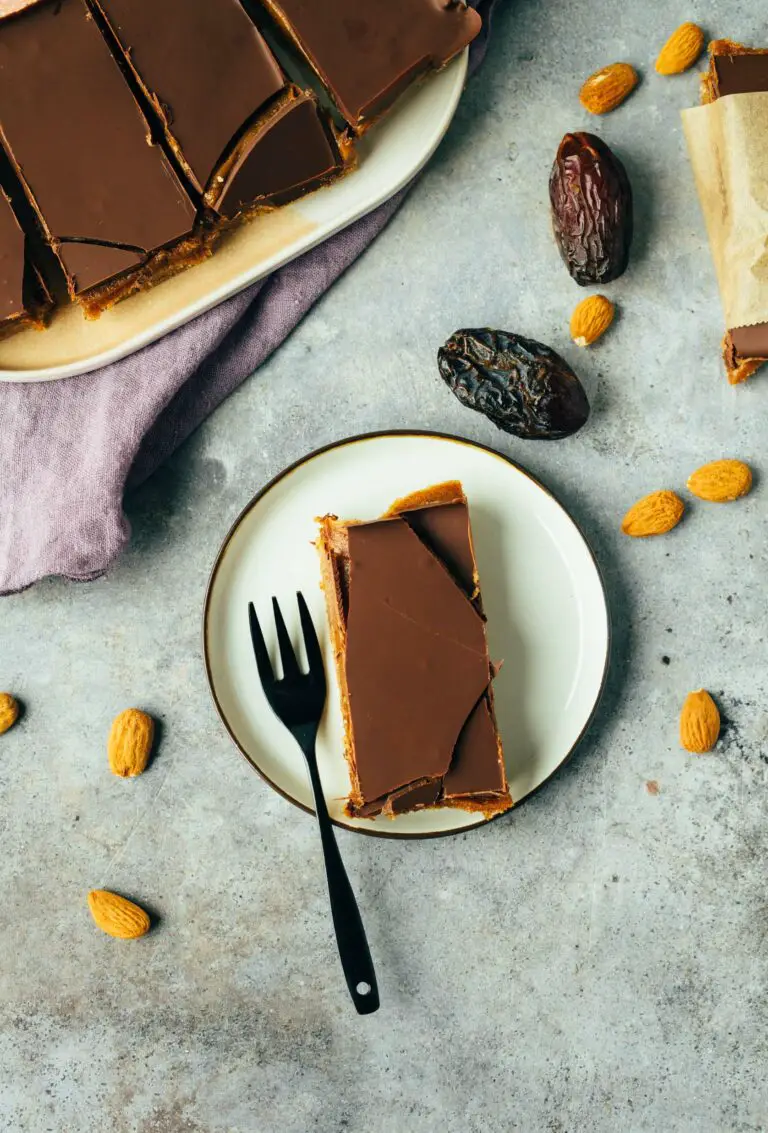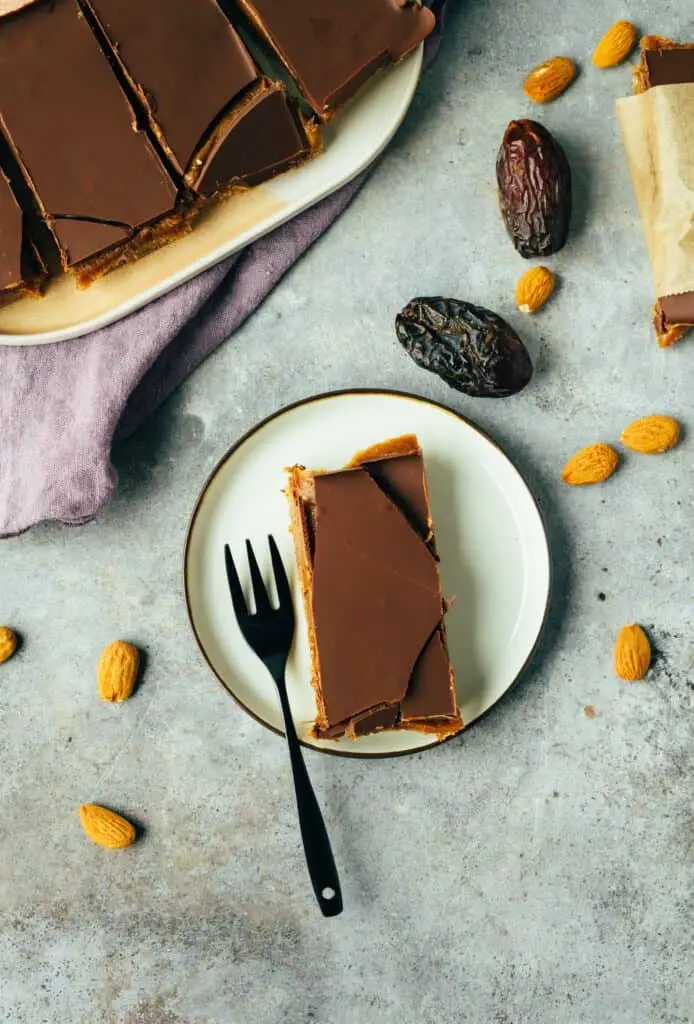 Let's take another look at the manufacturing process, I'm happy to share a few tips and tricks.
Blender: a good blender is worth its weight in gold. I use a Magimix, which has proven itself in my kitchen for more than four years. Do you know of any other good blenders that are particularly good for processing nuts and dates? Feel free to comment at the bottom of the page.
Chocolate: Melt carefully and do not let it get too hot, otherwise it can form unsightly crystals. TIP: Melt two-thirds of the chocolate over a bain-marie, remove from heat, then stir in the remaining third and let melt.
Consistency: The base should have a firm consistency and be able to be "kneaded". It's best to watch the video and you'll see what I mean.
Get started with these easy, vegan Twix bars. I hope you enjoy and of course about a rating at the bottom of this page. If you post a picture, use the hashtag #veganevibes.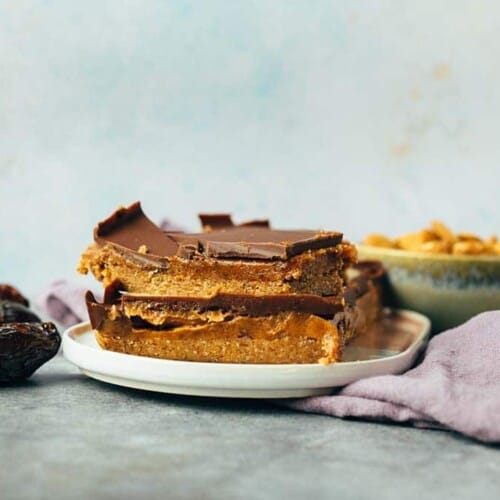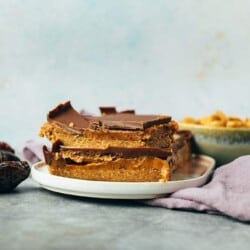 Vegan Twix Bars (without baking)
Incredibly delicious, caramel Twix Bars with a base of almonds, creamy date caramel and topped with a thick layer of chocolate. Wholesome ingredients, naturally sweetened it is a perfect snack for the whole family.
AUTOR: VEGANEVIBES
FOR THE FLOOR:
70

g

ground almond

I grind whole almonds fresh in my Magimix

48

g

Almond flour

gladly also replace ground almonds with almond flour

45

g

Almond paste

or pure other nut puree, or coconut puree

5

Piece

large soft Medjool dates
FOR THE CARAMEL LAYER:
15

large

large soft Medjool dates

60

g

Almond paste or other nut paste of your choice

30

ml

Plant milk
FOR THE CHOCOLATE TOPPING:
Anleitung 
Line mold with baking paper and set aside.

FOR THE BOTTOM Put almonds whole in the Food Processor and grind finely,

Add pitted dates, almond flour and almond paste and work into a kneadable dough (see video).

48 g Almond flour,

45 g Almond paste,

5 Piece large soft Medjool dates

Press the dough into the mold and flatten it once really firmly. Place in the refrigerator or freezer.

FOR THE CARAMELLAYER, place pitted dates, almond paste, plant milk, and a pinch of salt in a food processor and process to a fine caramel. Take the base out of the refrigerator and spread the caramel on top. Refrigerate again.

15 large large soft Medjool dates,

60 g Almond paste or other nut paste of your choice,

30 ml Plant milk,

A pinch of salt

FOR THE CHOCOLATE TOPPING Melt chocolate carefully over a water bath. CAUTION. Do not heat raw vegan chocolate above 42 degrees, otherwise the slices will no longer be considered raw. I don't take it too seriously, to be honest, and use vegan dark chocolate coating.

200 g dark vegan chocolate

Spread melted chocolate over the caramel.

Let cool completely and cut into 16 pieces (can be more or less pieces, just as you like).

TIP: The slices taste especially good chilled from the freezer.

enjoy! Place remaining slices in a resealable box and store in refrigerator or freezer. In the refrigerator they last about 1 week, in the freezer up to 4 weeks.
Nährwertangaben
Serving:
1
Piece
Calories:
177
kcal
Carbohydrates:
2
g
Protein:
1
g
Fat:
19
g
Saturated Fat:
3
g
Sodium:
2
mg
Potassium:
40
mg
Fiber:
1
g
Sugar:
1
g
Vitamin A:
10
IU
Vitamin C:
1
mg
Calcium:
17
mg
Iron:
1
mg