Vegan chocolates are an absolute highlight for me. In the organic supermarket you can find the one or other offers, but you always have to study the list of ingredients very carefully, so that the pure butter fat or milk powder has not crept in. Once this hurdle has been cleared and the vegan labelhas not been swapped with the vegetarian label, you are almost there. Thereby the production of vegan chocolates from dates is really simple and prepare unique moments of pleasure. Well, do you want to roll chocolates with me? Then let's get started.
Dates and pecans – a hot combination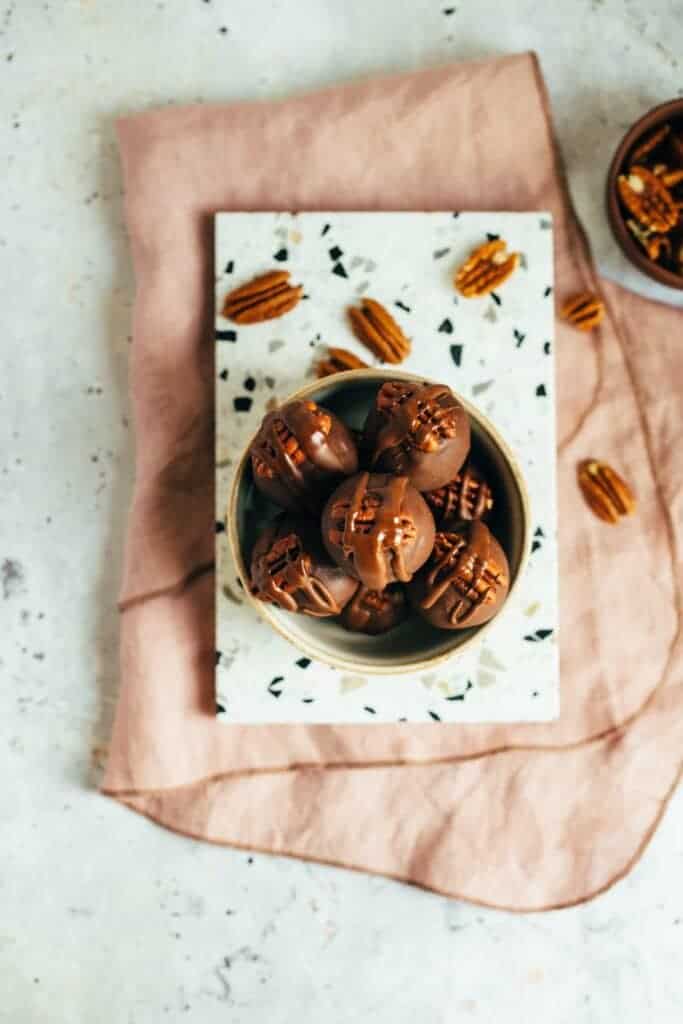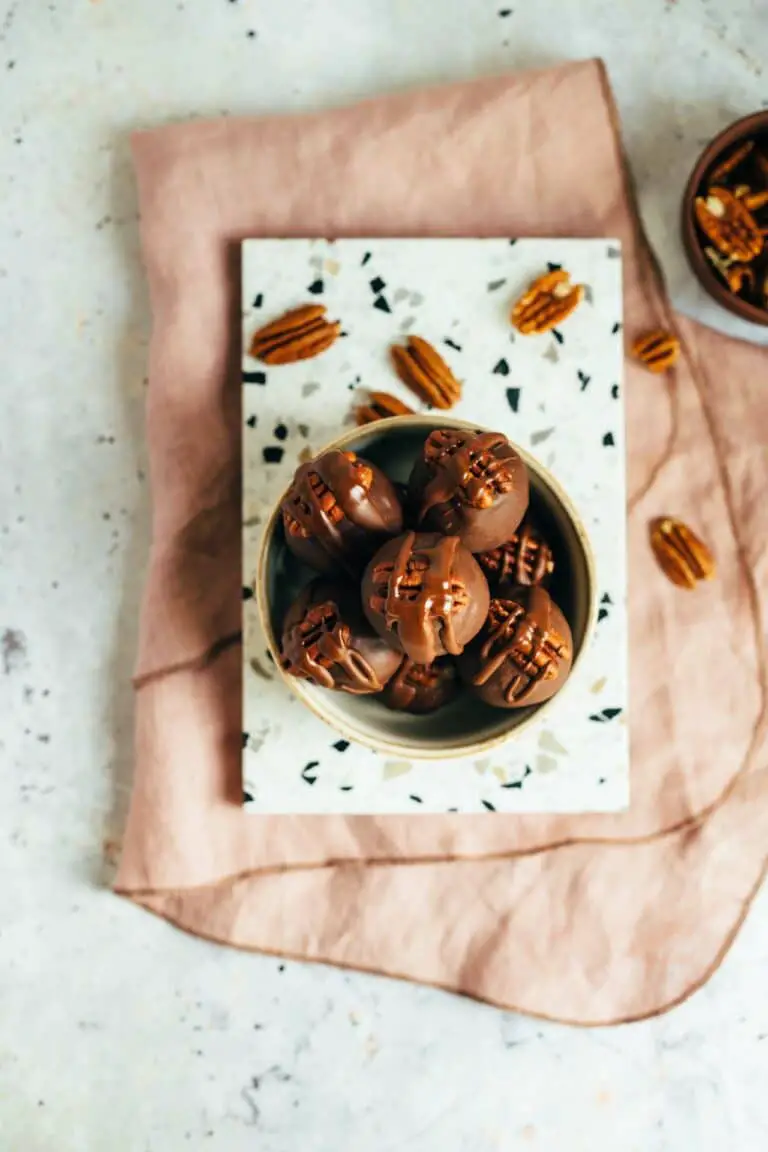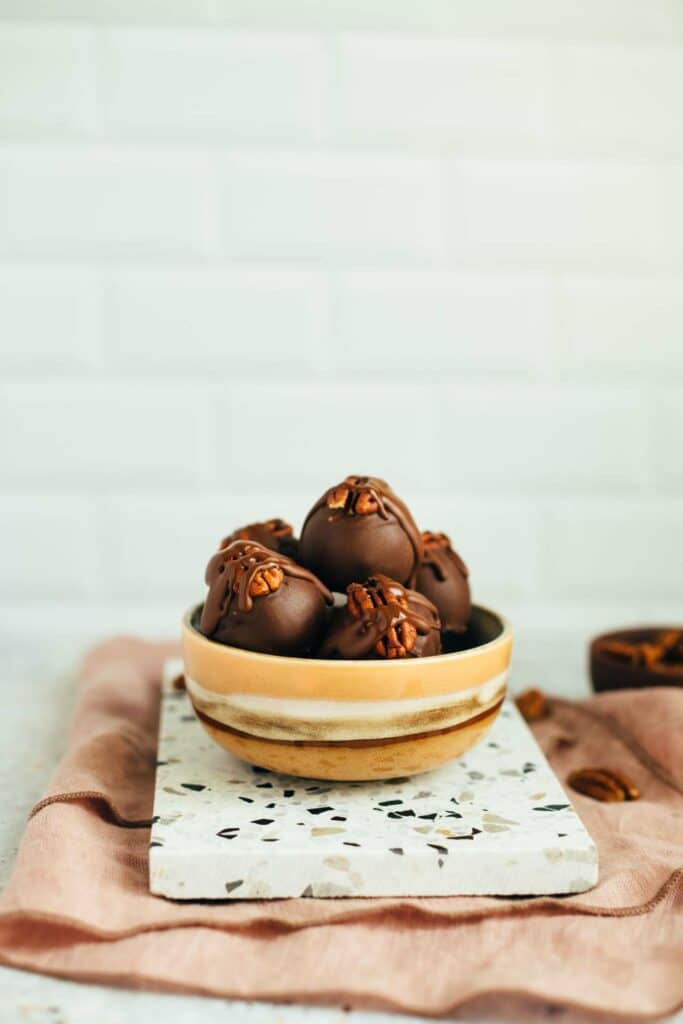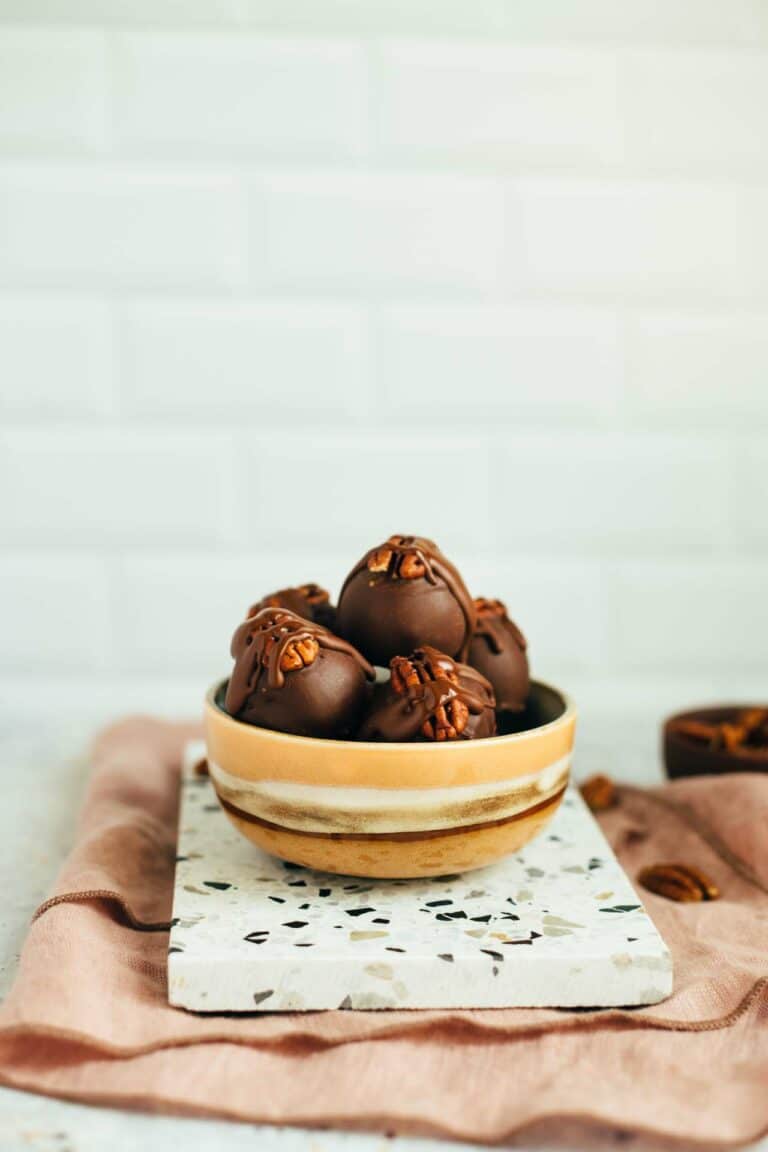 As you may already know, I'm a big fan of chocolates. I am particularly fond of chocolate, dates and nuts. Most of the time I don't feel like standing in the kitchen for a long time, because it should be as simple as possible. This recipe is incredibly quick and easy to make and ready in virtually no time.
Once again, I opted for pecans. They are a bit more expensive than some other nuts, but in bulk you can get the price down neatly.
TIP: Always store opened nuts in an airtight container in a cool, dry room protected from light. For me, they then last for several weeks after opening.
Buy vegan chocolates
Of course you can Raw food chocolates or vegan chocolates also buy ready made. Honestly, I still think the homemade ones are a tad better. Dates, pecans, salt and dark chocolate. These were also the ingredients. Short and crisp, just the way I love it.
TIP: I always use Medjool dates or king dates because they are super soft and not fibrous. If your dates are rather dry, I recommend soaking them in water overnight and only then using them. Alternatively, soak in hot water for an hour, drain and then use.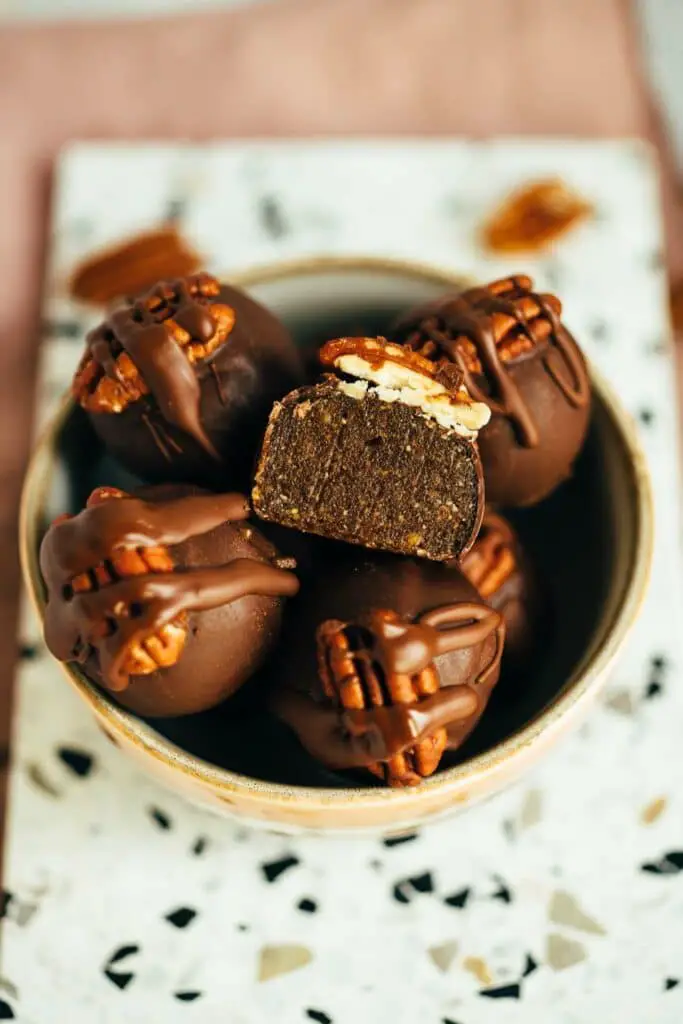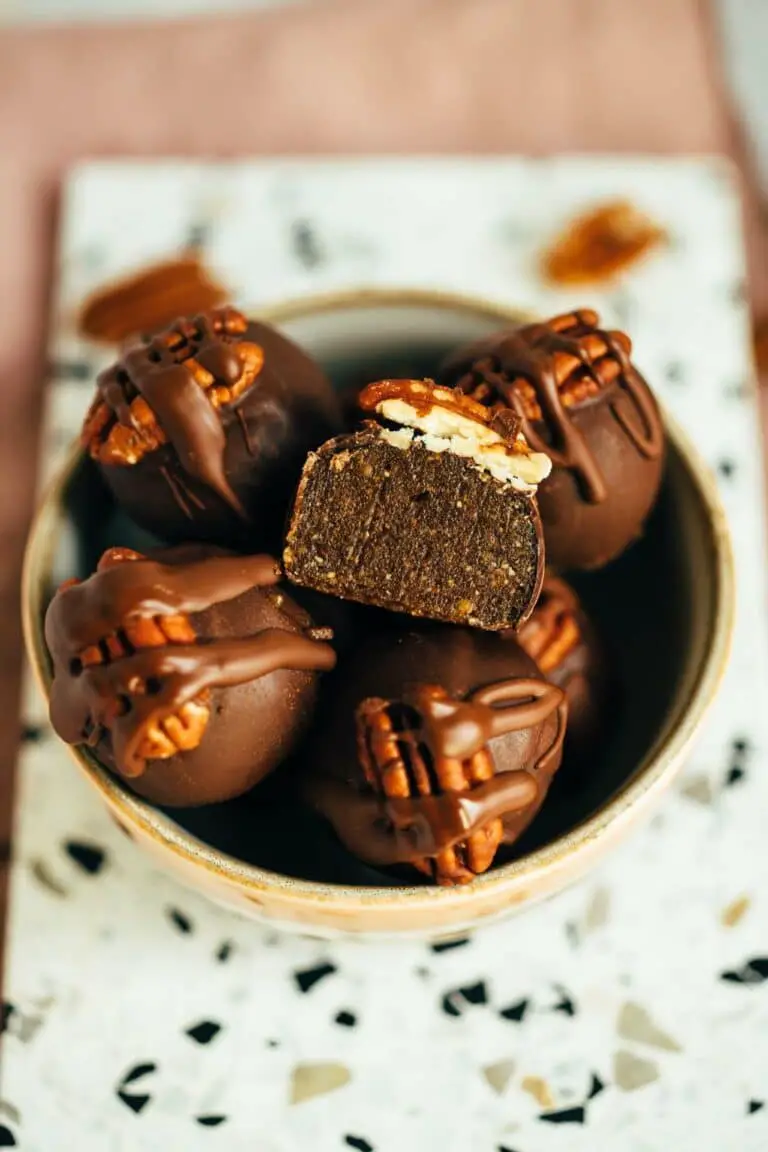 What else is there to consider when making vegan chocolates?
Making the chocolates is really simple, but there is always one or two pitfalls.

Here are my top tips and tricks:
As described above, the dates should be soft, otherwise they do not process well. Dear one Tick invest more money and work with Medjool dates , here you can find good offers on the internet
The mixer, as always, is all-important. I use my MagiMix and would give you also recommend a blender with S-shaped blade good motor . A high-powered blender is not suitable for this case, here the dimensions would simply stick together
When rolling the chocolates Slightly moisten hands so you avoid sticking to the palms of your hands
Store finished rolled chocolates in the refrigerator before coating with chocolate, so the chocolate will set faster
A draining rack is worthwhile, but you can also use a permanent baking mat
To go with the chocolates is a warming hot drink like a vegan golden milk, hot chocolate or Pumpkin Spice Latte.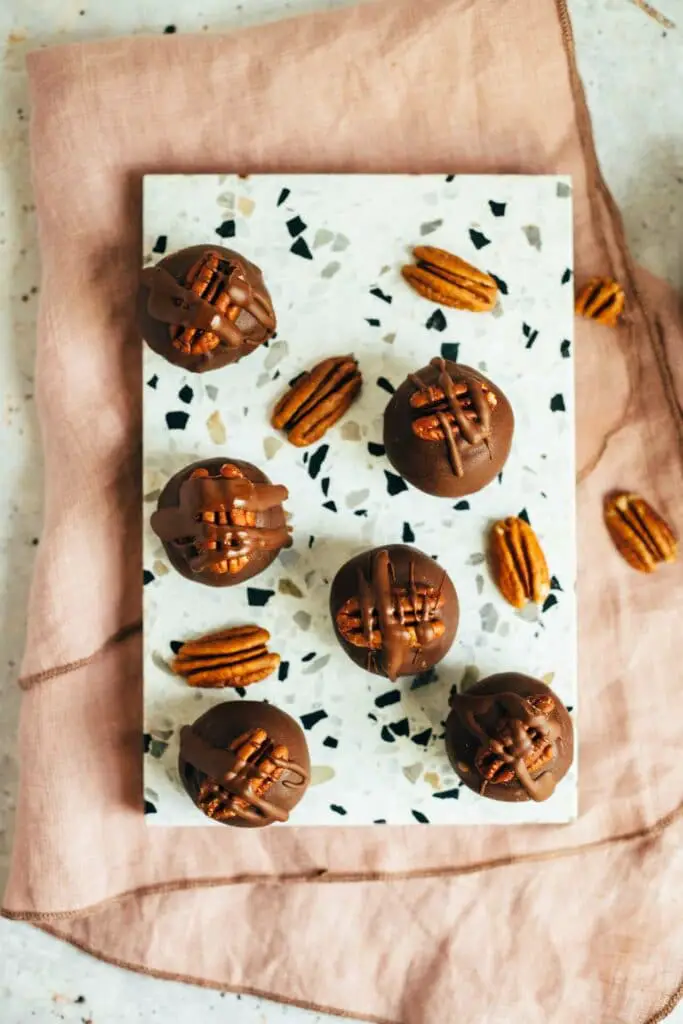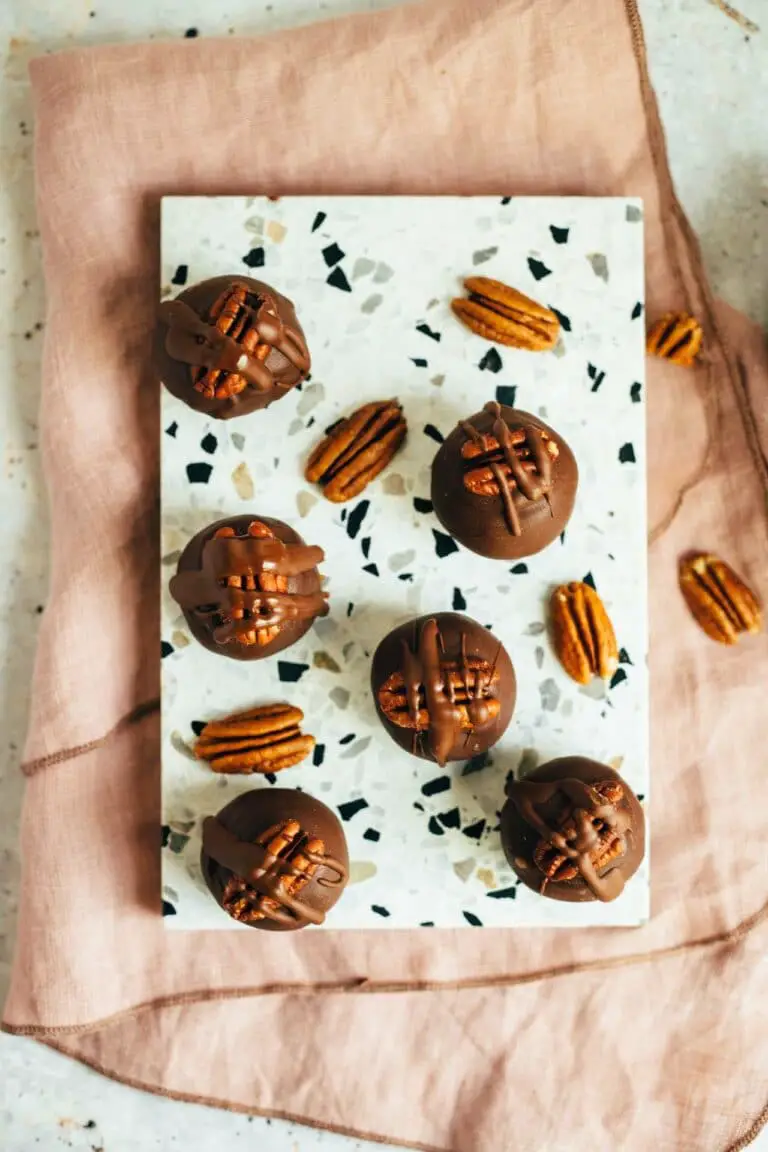 The date pecan are:
soft
crunchy chocolate shell
Roast aromas
Naturally sweetened
Quickly made
Let's go with this dream of dates and chocolate. I hope you enjoy the reel and of course about a review at the bottom of this page. If you post a picture, use the hashtag #veganevibes.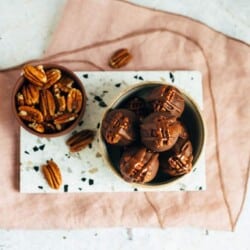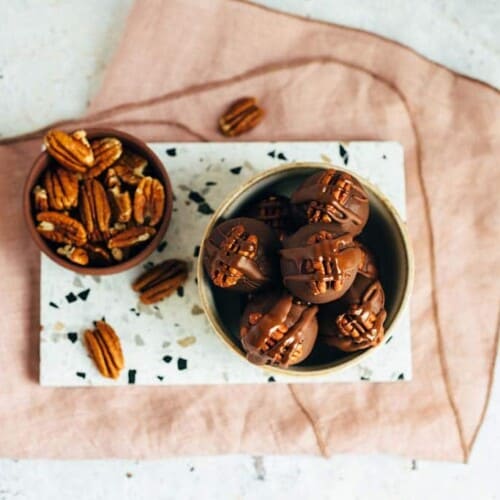 Date pecan chocolates (4 ingredients)
Extremely delicious, naturally sweetened, vegan chocolates made from roasted pecans, dates and crunchy chocolate. Perfect as a small snack with coffee or dessert. Chocolatey, nutty, high in fiber and oil-free.
AUTOR: VEGANEVIBES
120

g

Pecan halves IMPORTANT: Take away 12 of them after roasting to decorate the chocolates.

300

g

Medjool dates pitted, if too dry, soak overnight in cold water or 1 hour in hot water

A strong pinch of salt

100

g

dark vegan chocolate
Anleitung 
Line a baking tray with baking paper and preheat the oven to 175 degrees convection.

Spread pecans on baking sheet and roast for

10-12 minutes

. Be careful not to burn them. When the baking time is over, remove from the oven and let cool.

Place dates in food processor and process to a fine paste. Ideally, work without water. If the mass is too hard, soak dates in water BEFORE. See above!

Set aside 12 pieces of the toasted pecan kernels, for decorating the chocolates later.

Add the remaining pecans directly to the blender, add salt, and blend until smooth and sticky.

120 g Pecan halves,

A strong pinch of salt

Divide into 12 equal parts and shape into balls. The division can be done exactly with a scale or roughly by eye.

In the meantime, carefully melt the chocolate over a water bath. Do not allow to become too hot.

100 g dark vegan chocolate

Coat date pecan balls with chocolate, place on a draining rack (or baking paper) and place a pecan on each, pressing down lightly.

Let become firm and enjoy!

Place remaining chocolates in a resealable box and store at room temperature for up to 7 days, or in an airtight container in the refrigerator for up to 2 weeks.
Nährwertangaben
Serving:
1
Piece
Calories:
138
kcal
Carbohydrates:
20
g
Protein:
1
g
Fat:
7
g
Saturated Fat:
1
g
Sodium:
1
mg
Potassium:
215
mg
Fiber:
3
g
Sugar:
17
g
Vitamin A:
43
IU
Vitamin C:
1
mg
Calcium:
23
mg
Iron:
1
mg