Salted Caramel ice cream my dears, 100 percent homemade. For a long time I have been longing for an alternative to Ben & Jerry's masterpiece. On the vegan side, B&J 's Coconutterly Caramel'd, an almond-based variation with coconut flavor and caramel sauce. Sounds wonderful, is super tasty and certainly worth the scarce eight euros every now and then. But now comes the big BUT, because the ice cream is not only expensive, but also full of sugar (table sugar, glucose syrup, powdered sugar, barley malt syrup). I wanted to make a version that was as full-flavored as possible. That's why we make the caramel in our homemade ice cream from dates. They are full of valuable fiber, minerals and natural glucose. The fine date caramel we embedded in homemade vanilla ice cream and now you come! In this post, you'll learn everything you need to know about making this delicious vegan ice cream.
Salted Caramel ice cream, vegan? Where do I have to go?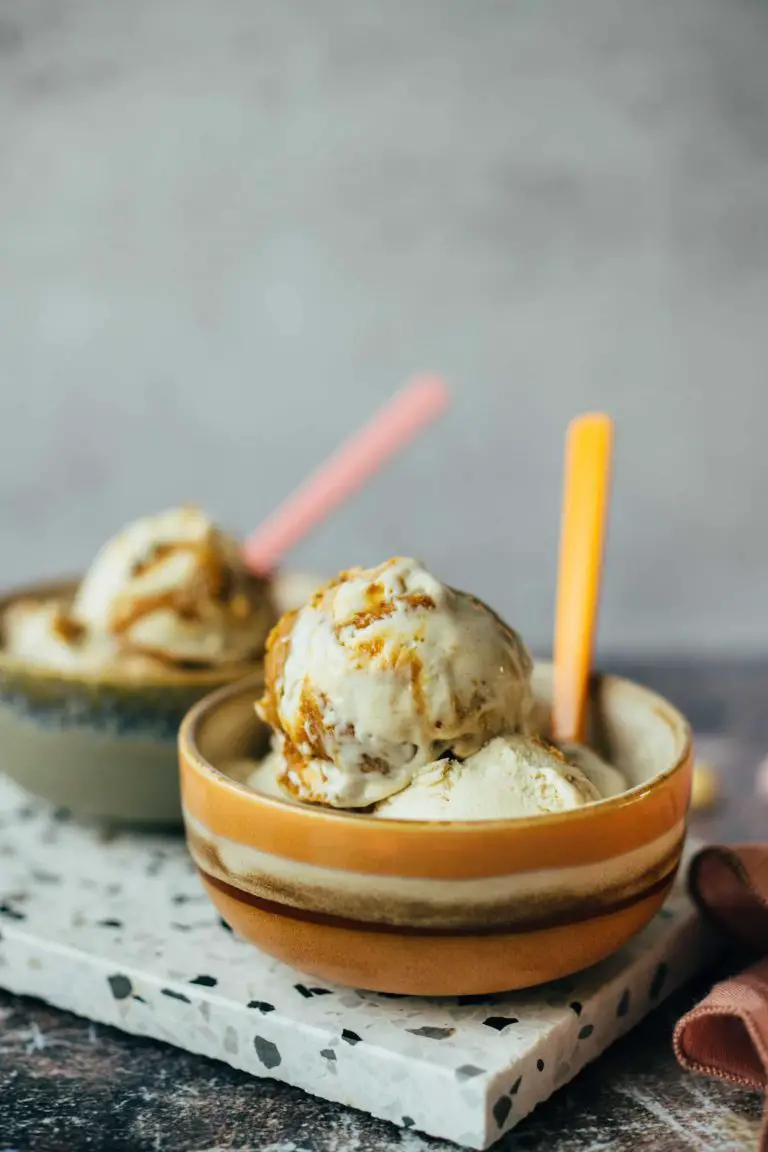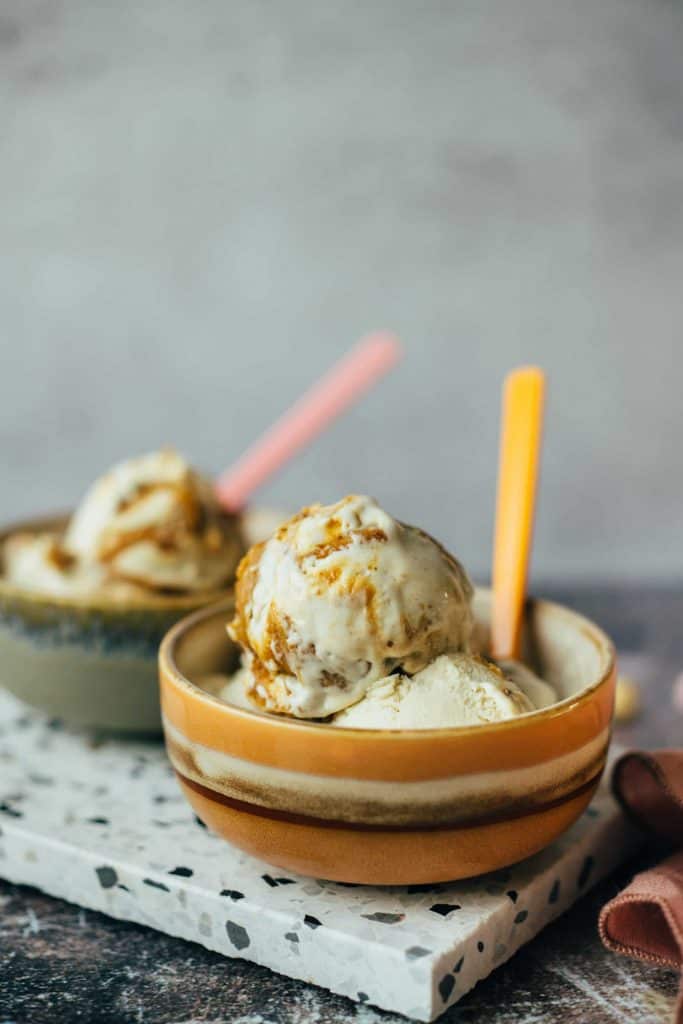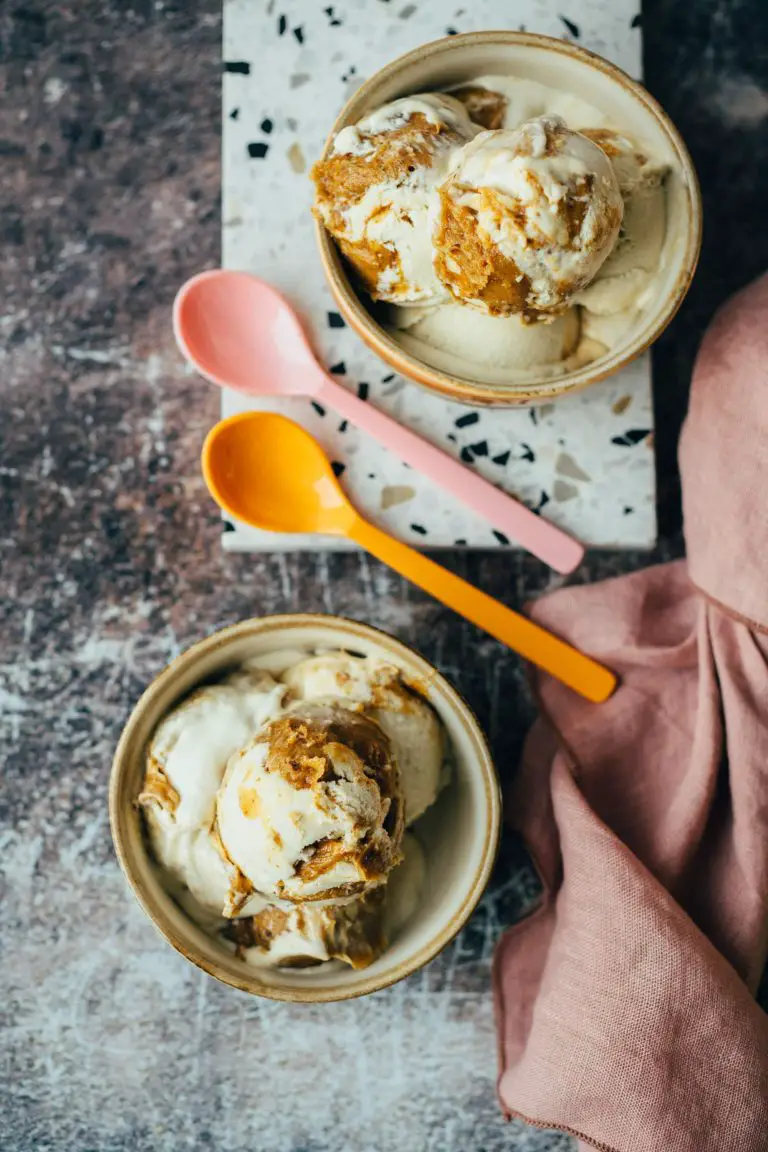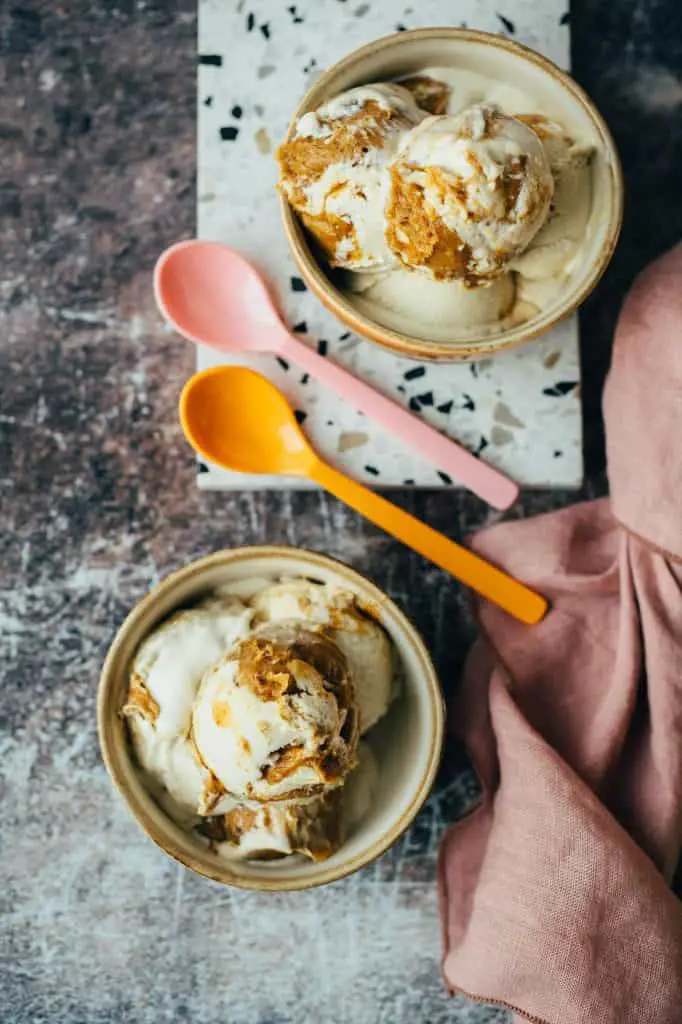 The ice cream consists of two basics, the caramel and the vanilla ice cream. First we make the salted date caramel by blending dates together with a little water, vanilla and salt to a fine cream. There is already a separate recipe for making the caramel. Here you will find detailed information and especially tips and tricks for the right mixer. .
TIP: For making date caramel, I have had the best experience with my MagiMix. The S-shaped blade and the uniform rotational power of the motor provide a pleasant processing. High-line blenders are less suitable in this case, because they require a relatively large amount of liquid to work well.
Now only the vanilla ice cream is missing and for that there is already a recipe on this blog. Click here to go directly to the article.
Vegan ice cream easy to make yourself, why not?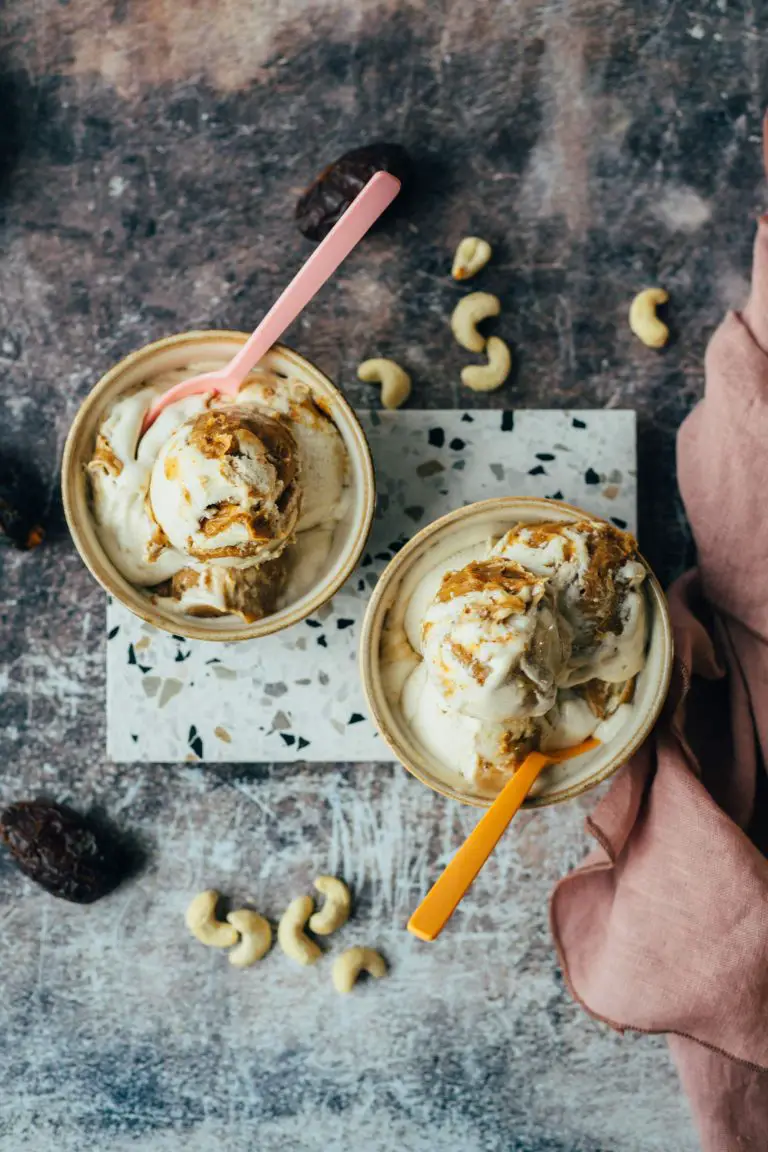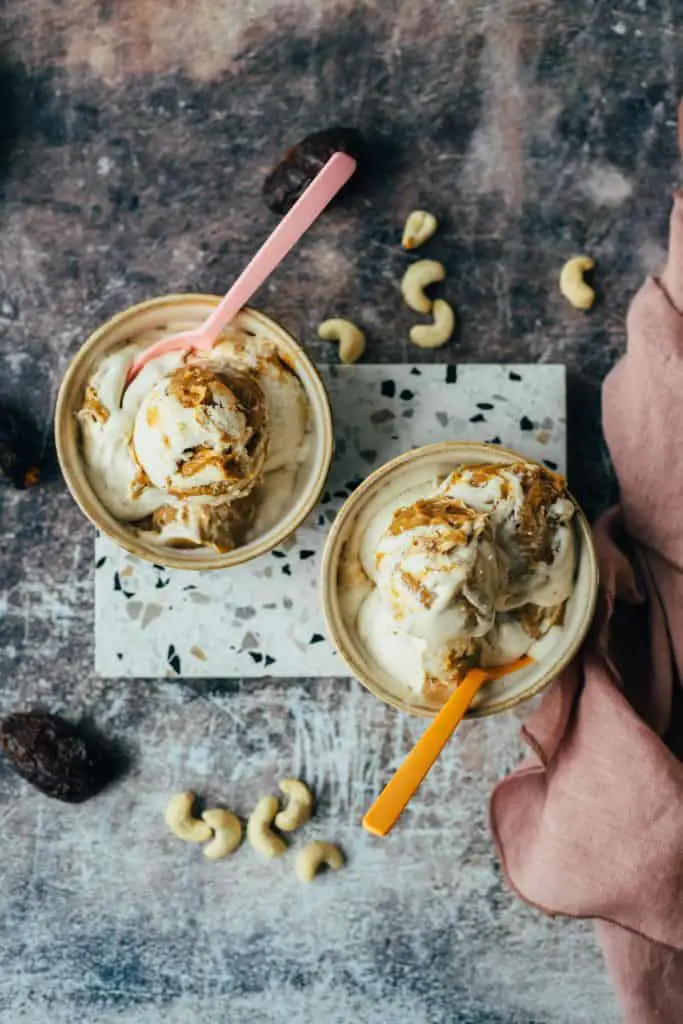 Admittedly, I also very often stand in the supermarket and am seduced by wonderful, vegan ice cream varieties. Meanwhile, there is a really wide selection and you can choose between lupine ice cream, fair trade, fruit ice cream and super fancy Ben&Jerry ice cream varieties . The only thing I still miss is the new Oatly ice cream. How many of you have tried it? I can hardly wait!
With such a nice, wide selection of ready-made ice cream flavors, you're probably wondering why you would ever make ice cream yourself? Here are my answers to that.
QUALITY: With industrially produced ice cream, the profit margin must also always be right. No matter how super sustainable and organic the ice cream is, when you buy your own ingredients, you determine the quality of the ice cream. It's up to you how concentrated and wholesome your ingredients are. Bye Bye Household Sugar and Hello Finest Dates!
INTRUSTIBILITIES: If you suffer from intolerances or allergies, you can be flexible in your choice of ingredients. Otherwise, often the only way is to first analyze the super long ingredients list.
FLEXIBILITY: The nearest well-stocked supermarket is not just around the corner? The selection of vegan ice cream varieties in the store too small? When making homemade ice cream, you're flexible and can get going whenever you want. Fancy some chocolate ice cream on Sunday? Get the mixer ready, put it in the ice cream maker and let's go!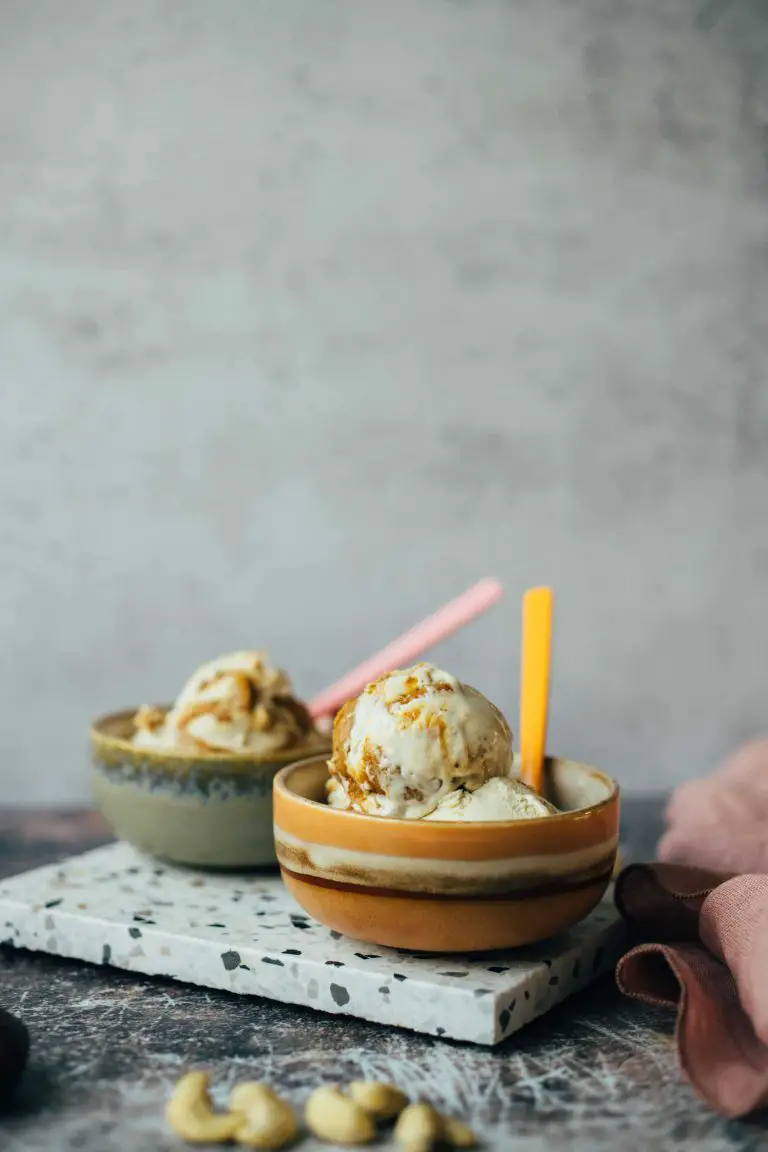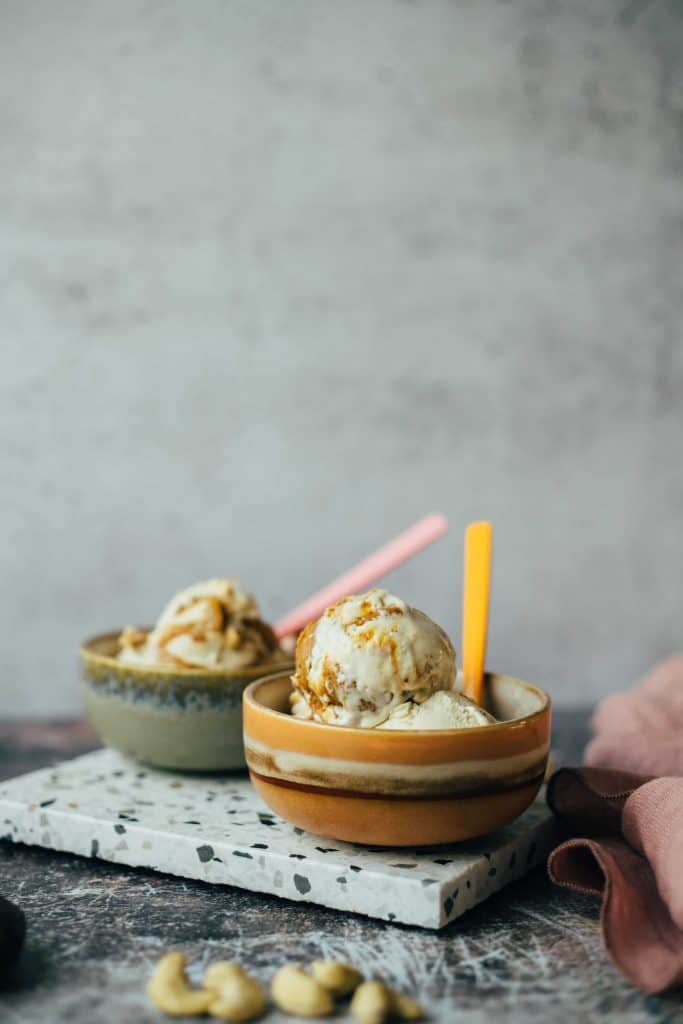 This vegan ice cream is super creamy, vanilla and infused with fine date caramel. Beautifully decorated in a sundae, to enhance brownies or in a healthy ice cream cone served. There are no limits to your imaginationt.
The Salted Caramel ice cream (with and without ice cream maker)
Vanilla
creamy
versatile
Easy to manufacture
Caramel
If you love vanilla ice cream and caramel as much as I do, I'd love a review at the bottom of this page. If you post a picture, use the hashtag #veganevibes.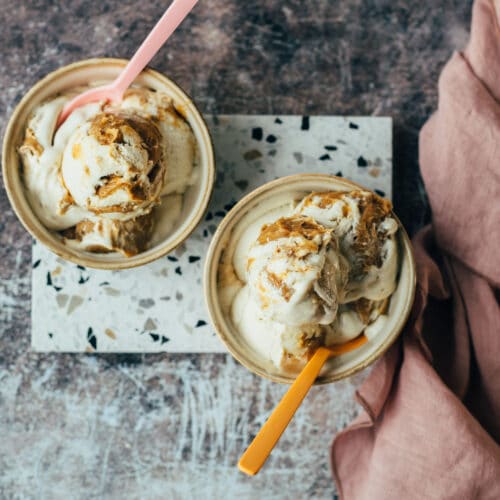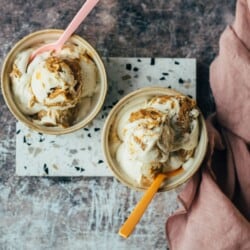 Salted caramel ice cream (with and without ice cream maker)
Vegan vanilla ice cream, with or without ice cream maker, infused with fine date caramel. Wholesome, sweet and refined at the same time. Vegan, lactose free and versatile and damn tasty.
AUTOR: VEGANEVIBES
FOR THE VANILLA ICE CREAM:
Anleitung 
Depending on the ice cream maker, prepare device for ice cream production.

FOR THE DATE CARAMEL put the dates, water, vanilla and salt in a blender and process to a fine caramel. Set aside.

FOR THE VANILLE ICE, place all ingredients in a high-powered blender and blend until smooth. Add the xanthan gum at the very end and mix again briefly until everything is combined.

225 g Cashews,

300 ml Plant milk,

400 g Coconut milk,

100 g Raw cane sugar,

75 g Agave syrup,

1 tbspn Bourbon vanilla ground,

A pinch of sea salt,

optional: 1 tsp xanthan gum

Place in ice cream maker and prepare according to manufacturer's instructions. Alternatively, pour into a freezer-proof mold and place in the freezer. To increase creaminess, mix once per hour with a fork. Freeze for at least 6

hours

, ideally

10 hours

.

Provide a freezer-safe container and add the vanilla ice cream in layers, then the date caramel and vanilla ice cream again, alternating. Seal and allow to set in the freezer.

To serve, remove, let thaw for 5-10 minutes, portion with an ice cream scoop and arrange in dessert bowls or an ice cream cone. Garnish with desired toppings and enjoy!
Nährwertangaben
Serving:
1
Ball
Calories:
186
kcal
Carbohydrates:
18
g
Protein:
4
g
Fat:
13
g
Saturated Fat:
6
g
Sodium:
15
mg
Potassium:
172
mg
Fiber:
1
g
Sugar:
13
g
Vitamin A:
42
IU
Vitamin C:
1
mg
Calcium:
40
mg
Iron:
2
mg