Healthy caramel candy, which was supposed to be something completely different. I had originally planned a completely different recipe, however, it didn't work out the way I imagined. Well, what do you do then as a food blogger? Give up or try to make a new recipe out of it? I opted for the latter. May I introduce, so were born my caramels (in healthy). With these cold temperatures, I need a soul-soother. Just over a week ago at 30 degrees in Greece and today at 7 degrees here in Bavaria. I think I have to get used to it again. The hot water bottle, kettle and thick blanket are ready. Then with the hot cup of tea gives my delicious caramel snack balls. Let's go!
Simple vegan sweets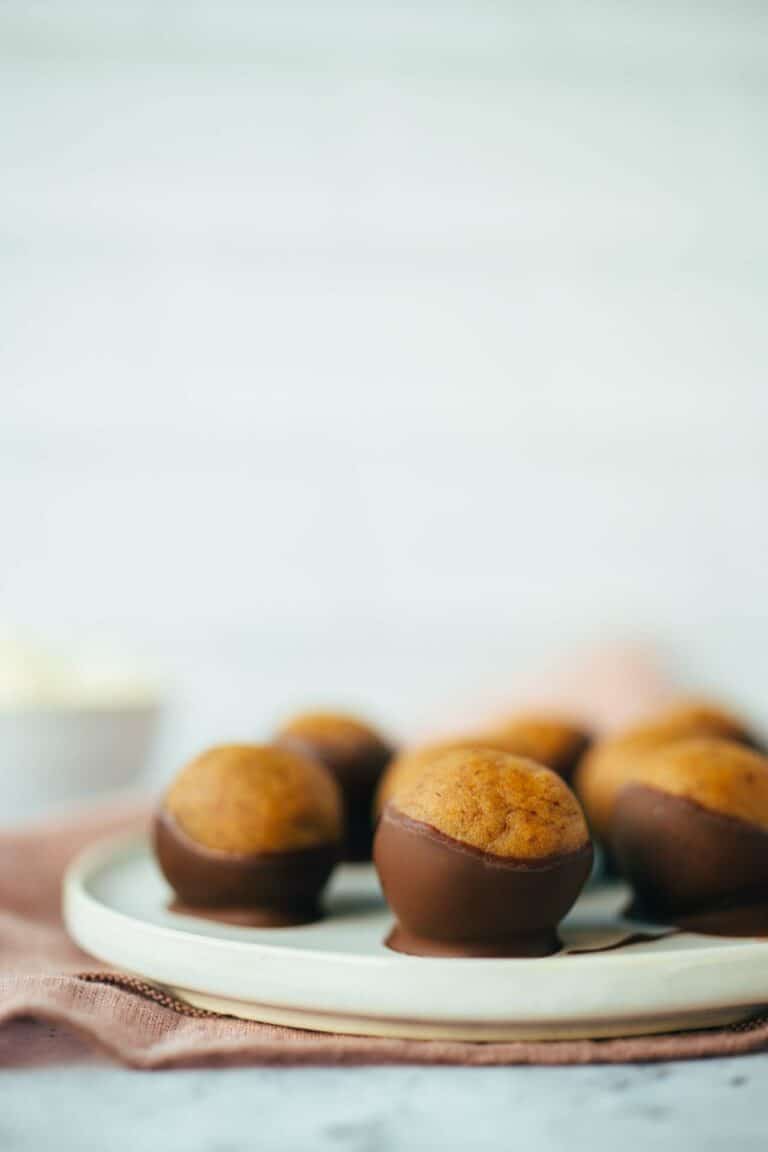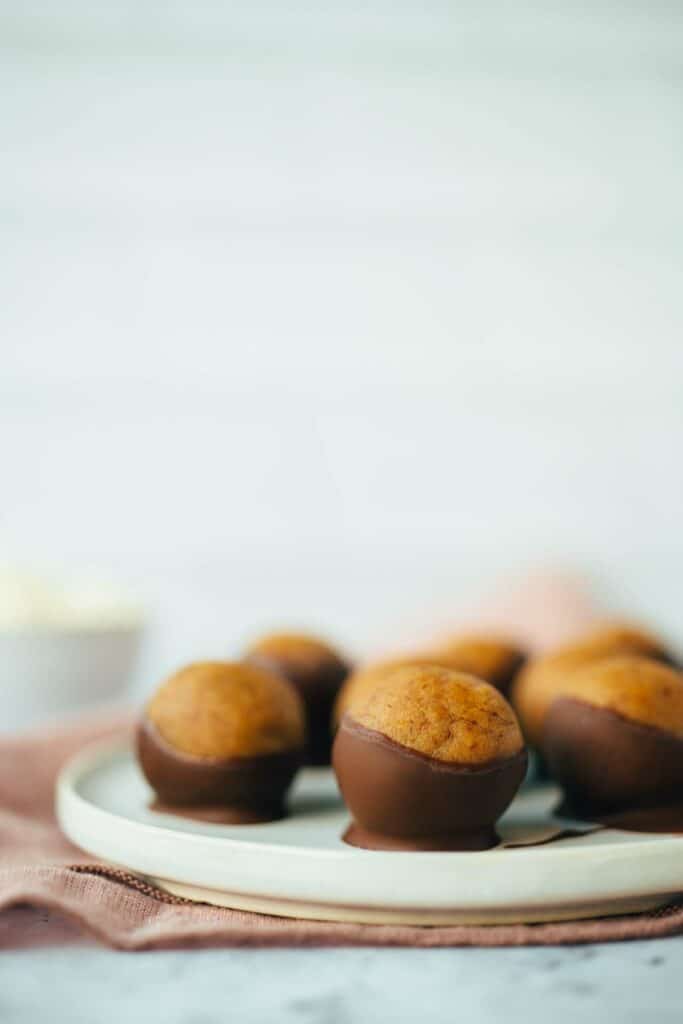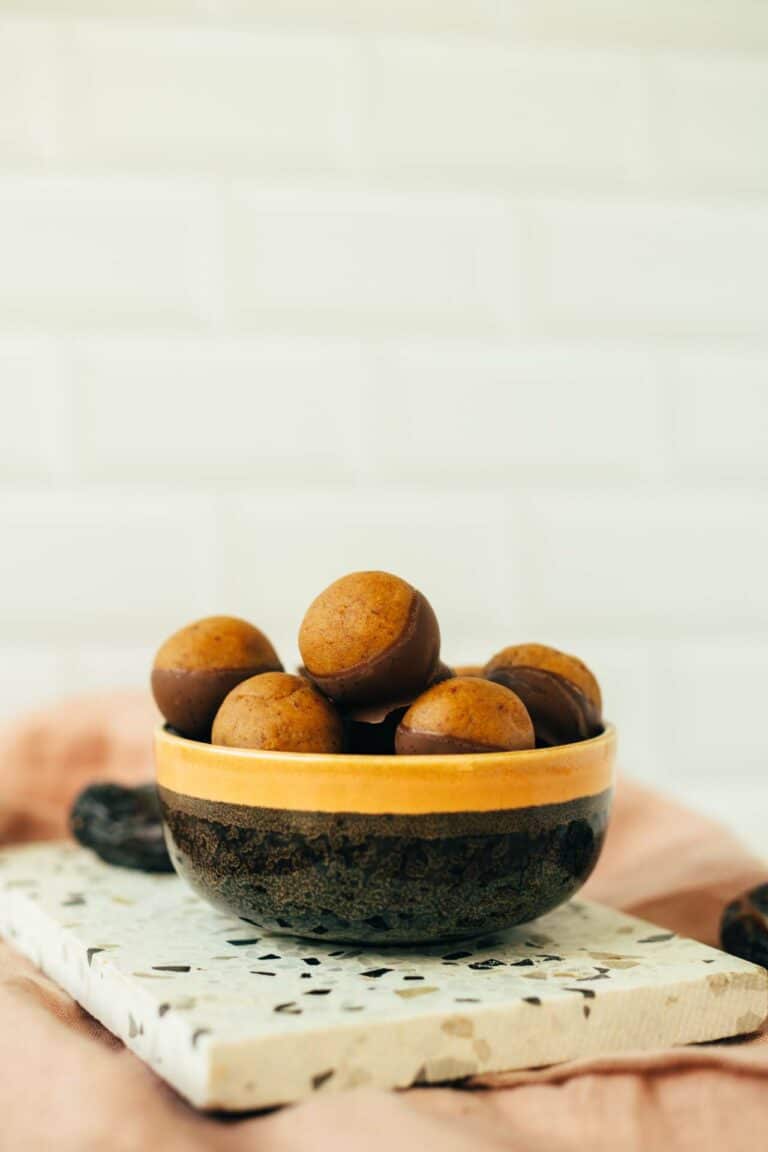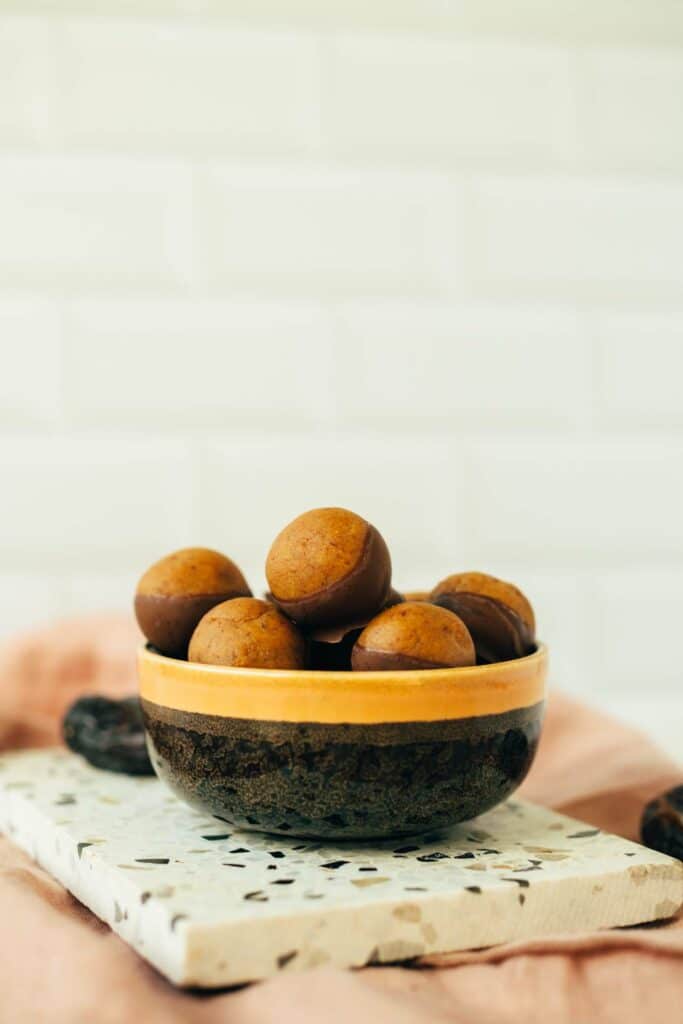 Do you love snacks as much as I do? Before sports, after sports or just in between when the brain craves sugar. The other day I happened to read a post by a blogger who was upset that dates were supposedly a healthy sugar alternative. She justified her statement by saying that everything is sugar and that it makes no difference whether you eat sugar or dates. That's why I wanted to take a closer look at the two alternatives with you. Are dates really equivalent to plain table sugar and what exactly is the difference?
Household sugar (sucrose) is mainly produced from sugar cane, or in Europe from sugar beet. It consists of 50% glucose and 50% fructose. The average consumption is 100g per day and is currently about three times higher than 50 years ago.
Sucrose has a low nutrient density, so high consumption should be avoided at all costs. Valuable vitamins, minerals and fiber are lost in the refining process. This is why calories from household sugar are often referred to as "empty calories".
Dates, on the other hand, are a wholesome food packed with valuable fiber, minerals and vitamins (potassium, magnesium, iron, selenium, zinc, carotenoids, phenolic compounds and vitamins B3 and B6).
CONCLUSION: Certainly, it always depends on the amount of food consumed to judge whether it is healthy or unhealthy. However, I prefer date over table sugar because it is a wholesome, unprocessed food.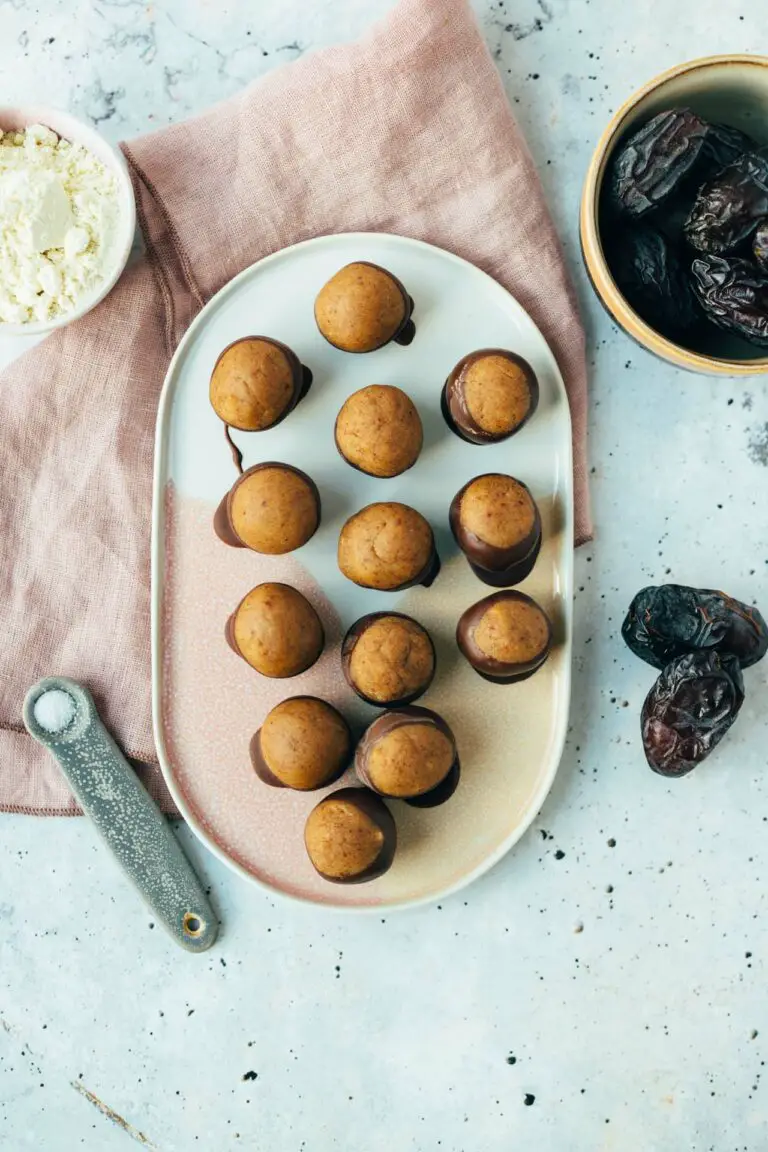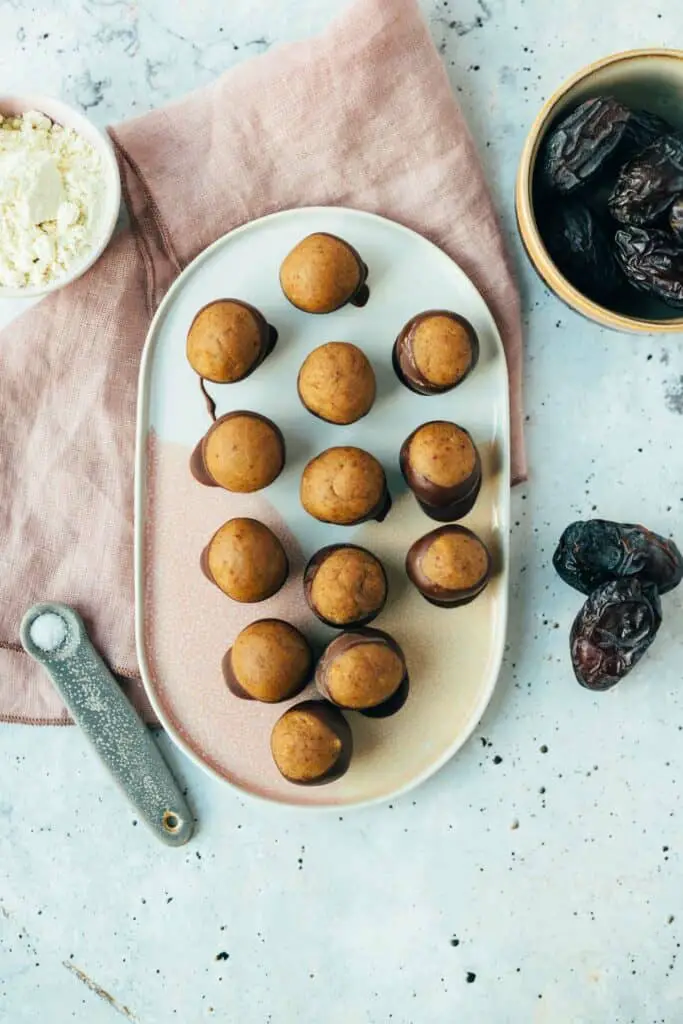 In our case, dates are just perfect because they naturally have a caramel flavor. If you want to skip the first processing step, useready-made date caramel right away. I always make it in larger quantities and use it as the mood takes me to sweeten cakes, drinks and raw cakes.
Vegan snacks make you want to eat and feel good
Fancy a round Troubleshooting ? You can't go far wrong with this recipe, though it does get a little easier with a few tips and tricks:
Life hack: making date caramel ahead of time saves you even more time. I always have a jar of ready-made caramel in the fridge so I can get going in a jiffy.
The quality of the dates is crucial. I use Medjool dates because they are very soft and have little fiber. This way I don't necessarily have to soak them before processing and can get started right away.
Soak dates either in cold water overnight or in hot water for one hour. Drain the soaking water and off you go.
Since the dough is a bit sticky, always work with moistened hands, so it goes much faster and you do not stick half the dough on your fingers.
You decide on the size of the candy. Bigger, smaller, or cut out in a star shape for Christmas? You decide what you like.
Storage should be in an airtight jar or container. This way your candies will last super long. Otherwise, also freeze and snack as you like.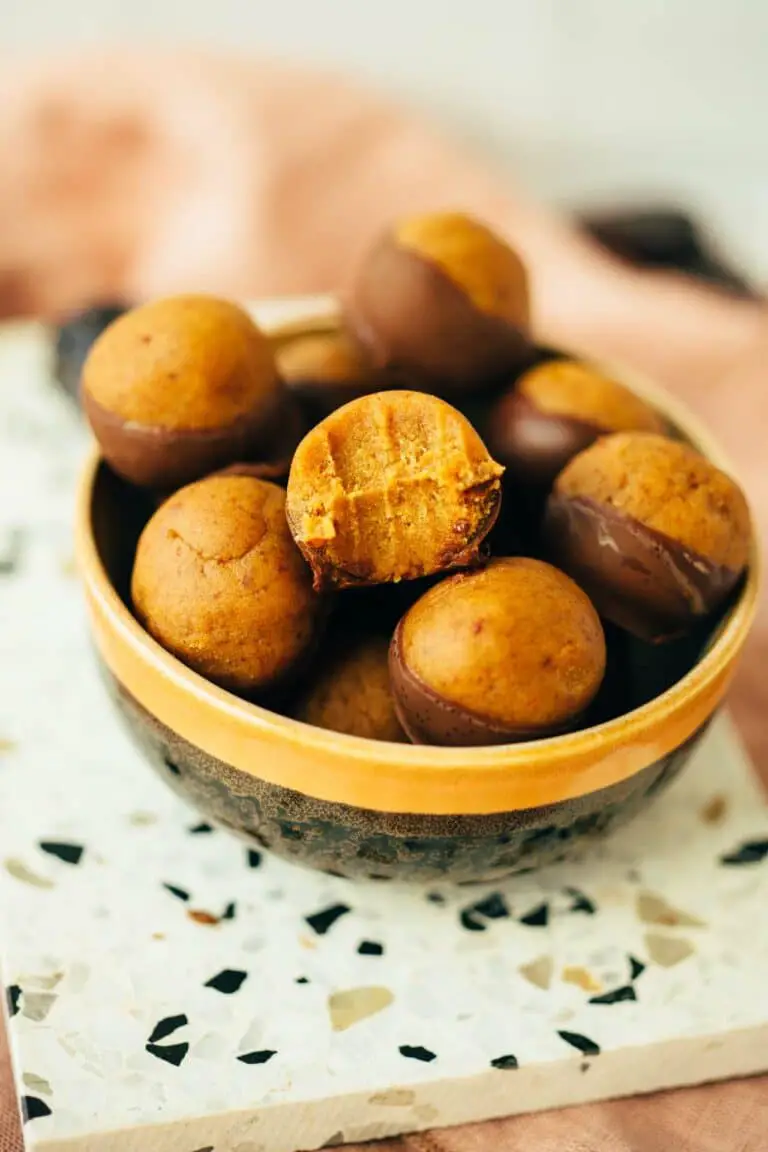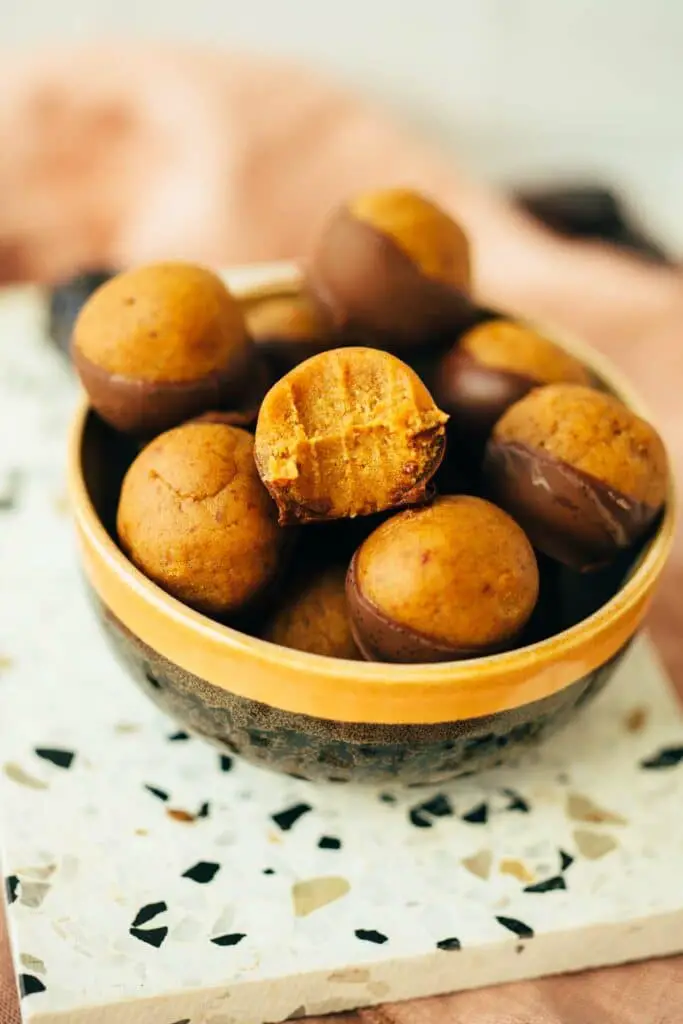 Perfect, autumn and hot drinks can come, I would say? Healthy snacks are definitely provided. Really not in the mood for caramel today? Then I recommend my date pecan praline, Ferrero Rocher or walnut-cinnamon Bliss Balls.
The healthy caramel candy (3 ingredients):
Caramel
chocolatey
Fudgy
Few ingredients
Simply made
Love vegan snacks as much as I do? Then I look forward to a review at the bottom of this page. If you post a picture, feel free to use the hashtag #veganevibes.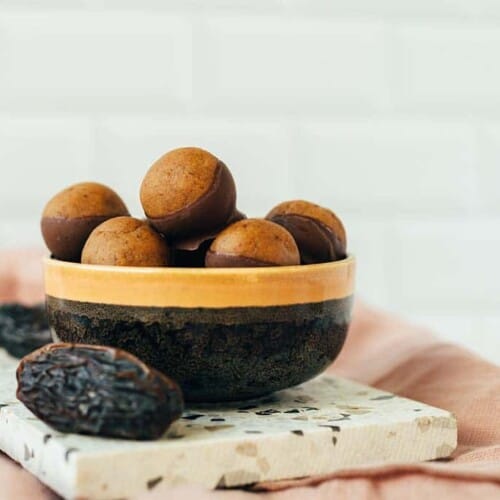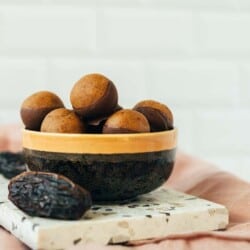 Healthy caramel candies (3 ingredients)
Naturally sweetened caramels made from only three ingredients dipped in chocolate. Perfect for those looking for healthy, wholesome snack alternatives for the whole family.
AUTOR: VEGANEVIBES
125

g

Medjool dates

alternatively use ready made date caramel

144

g

Almond flour

here really also use only almond flour and no ground almonds, otherwise it tastes not so caramelly

A little hot water for processing in the blender
TO DISPLAY:
Anleitung 
Place dates in food processor and process to a fine paste. If the dates are quite hard, soak them in water BEFOREhand. During processing, add hot water in sips as needed until the desired consistency is reached.

Add almond flour and salt. Continue mixing until a compact, uniform dough is formed.

144 g Almond flour,

1 strong pinch of salt,

A little hot water for processing in the blender

Divide into 12 equal parts and shape into balls. The division can be done exactly with a scale or roughly by eye.

In the meantime, carefully melt the chocolate over a water bath. Do not allow to become too hot.

Dip date caramel balls into the melted chocolate, place on a draining rack (or baking paper) and let set.

70 g dark vegan chocolate coating

Place remaining candy in a resealable box and store at room temperature for up to 7 days, or in an airtight container in the refrigerator for up to 2 weeks.
Nährwertangaben
Serving:
1
Portion
Calories:
97
kcal
Carbohydrates:
10
g
Protein:
3
g
Fat:
6
g
Saturated Fat:
1
g
Sodium:
1
mg
Potassium:
73
mg
Fiber:
2
g
Sugar:
7
g
Vitamin A:
16
IU
Calcium:
32
mg
Iron:
1
mg