Vegan jaffa cake is simply to die for. You know those little Jaffa Cakes you can buy in many local supermarkets? Pastries with fruity filling and dark chocolate, calls them, for example, a large discount store. I haven't had the cookies in ages because I always give the candy departments a wide berth. At least I don't buy the classic, industrially produced sweets. I always think to myself: a lot of air, not much content. Besides, there is almost always and everywhere something milk-like in it. Whey powder, or other things you don't really need. So I thought why not make a delicious Jaffa Cake myself, using wholesome ingredients. Sounds good, doesn't it? Let's get started together.
Jaffa Cake Recipe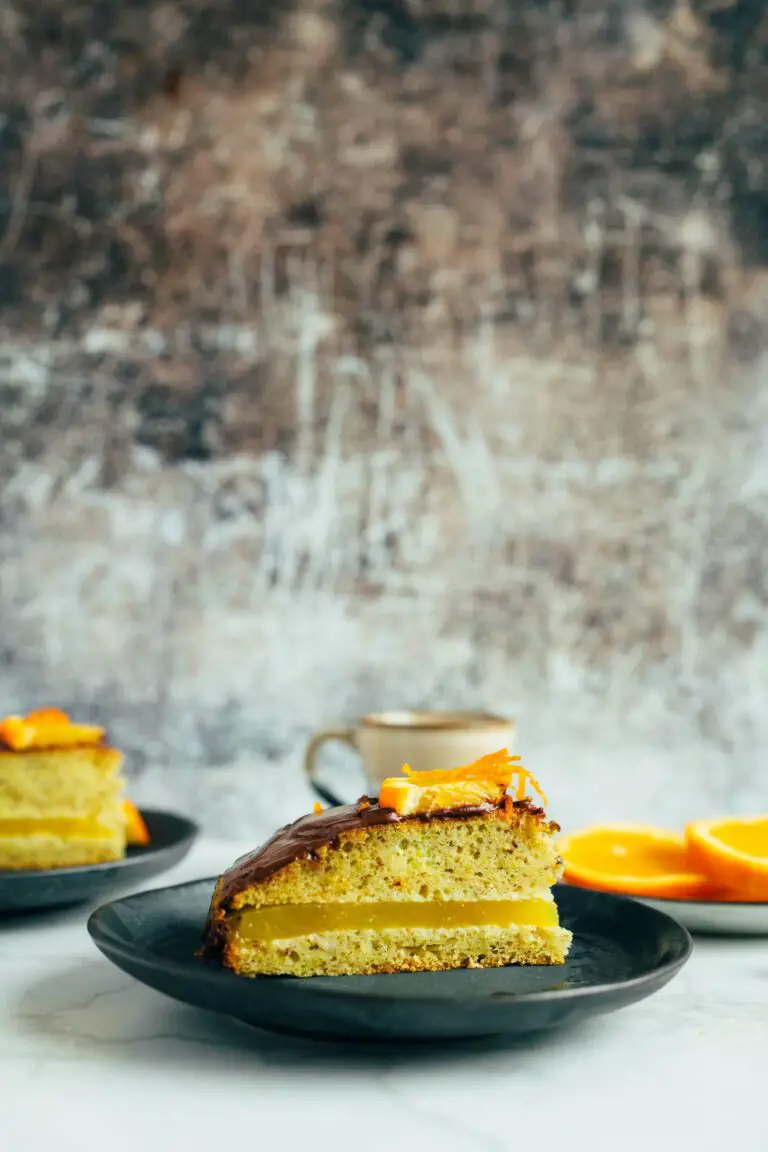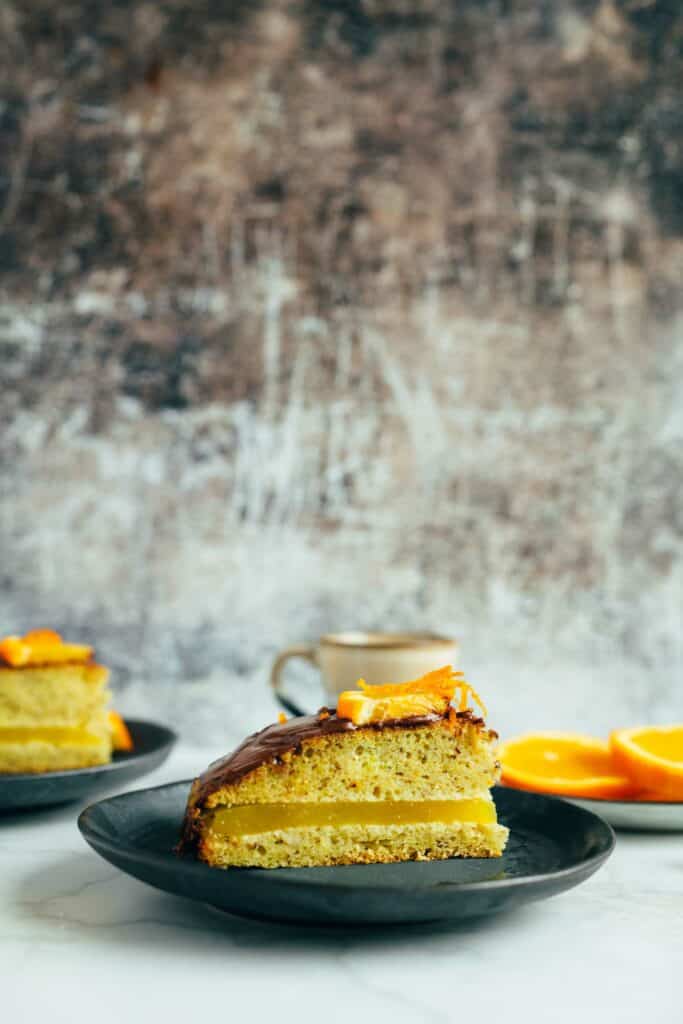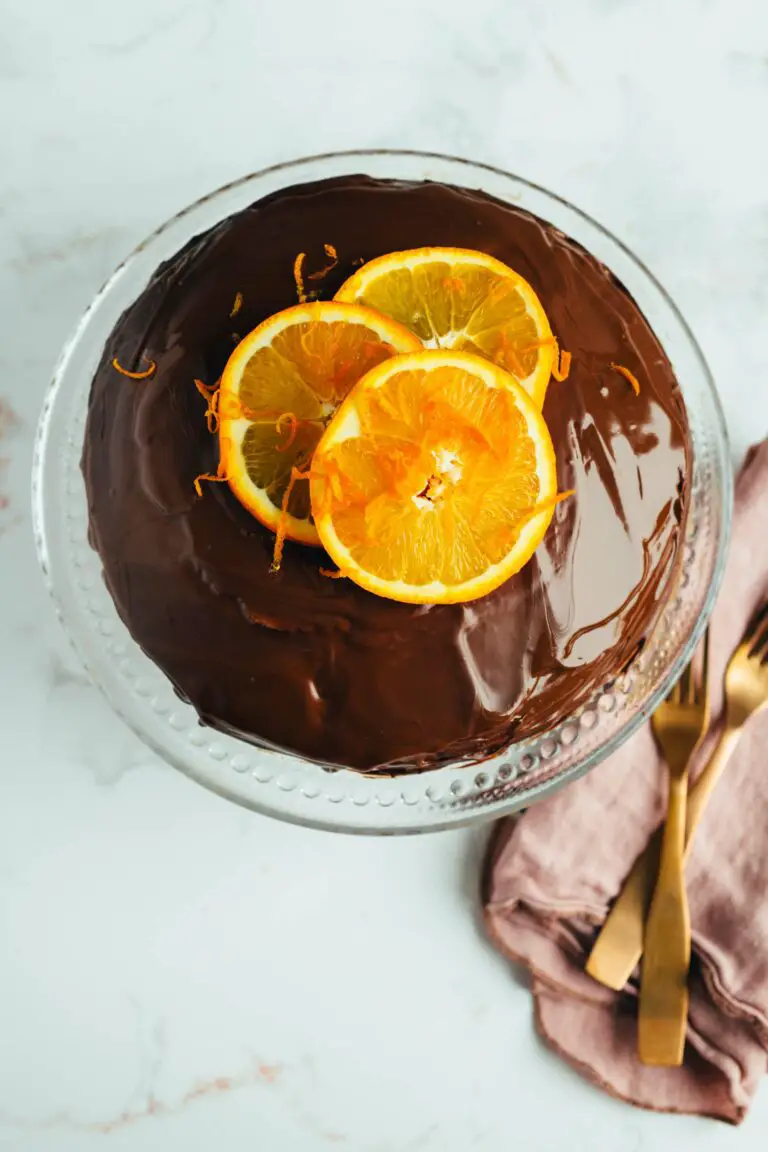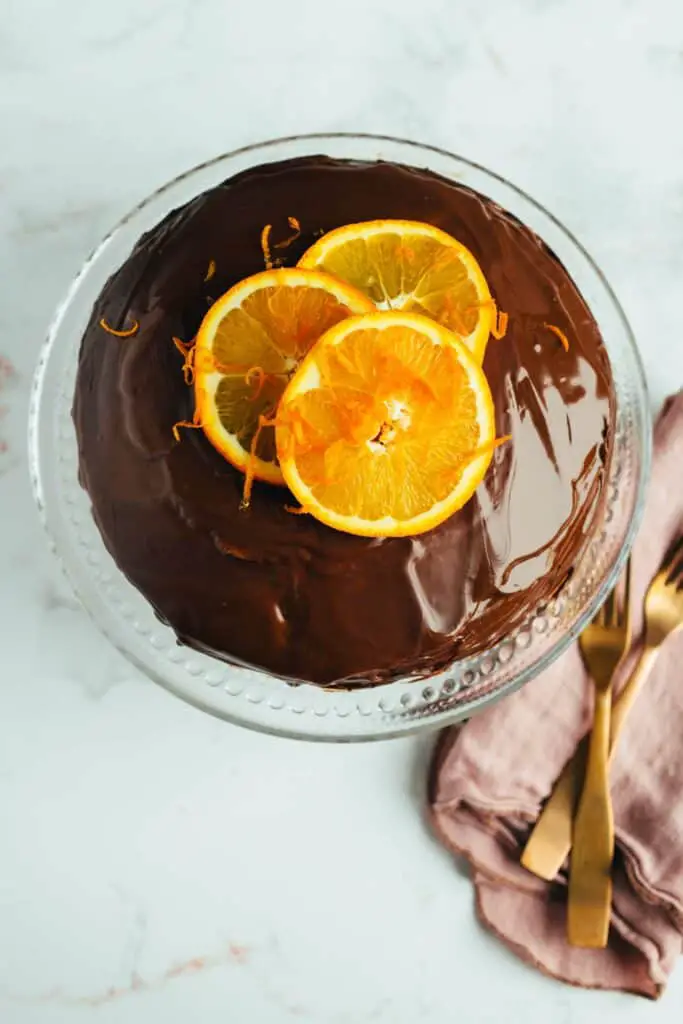 As usual, this dough is quick and easy to mix together. Gluten-free flour mix, almond flour, raw cane sugar, baking powder, bourbon vanilla, oil, plant milk and a pinch of salt. That's all there is to it. Once the batter is nice and even, it's off to the oven. Bake for 30 minutes and the first step is done.
TIP: You can always replace the gluten-free flour with spelt or wheat flour.
The second step is to make the orange jelly. For this we need only two ingredients, orange juice and agar-agar. I recommend buying a high quality organic orange juice, without pulp. I did the test and made a jelly from freshly squeezed orange juice that I honestly didn't think was that good. The purchased organic orange juice has better taste and color. Also, the consistency was better, the freshly squeezed juice was a bit more watery.
For the cake I use a 23cm springform pan. You can also bake the cake bigger or smaller, depending on the shape you have at home. A rectangular shape also works well. From it you can make delicious Jaffa slices. Here you can find a converter for different baking pans.
Jaffa Cake Cake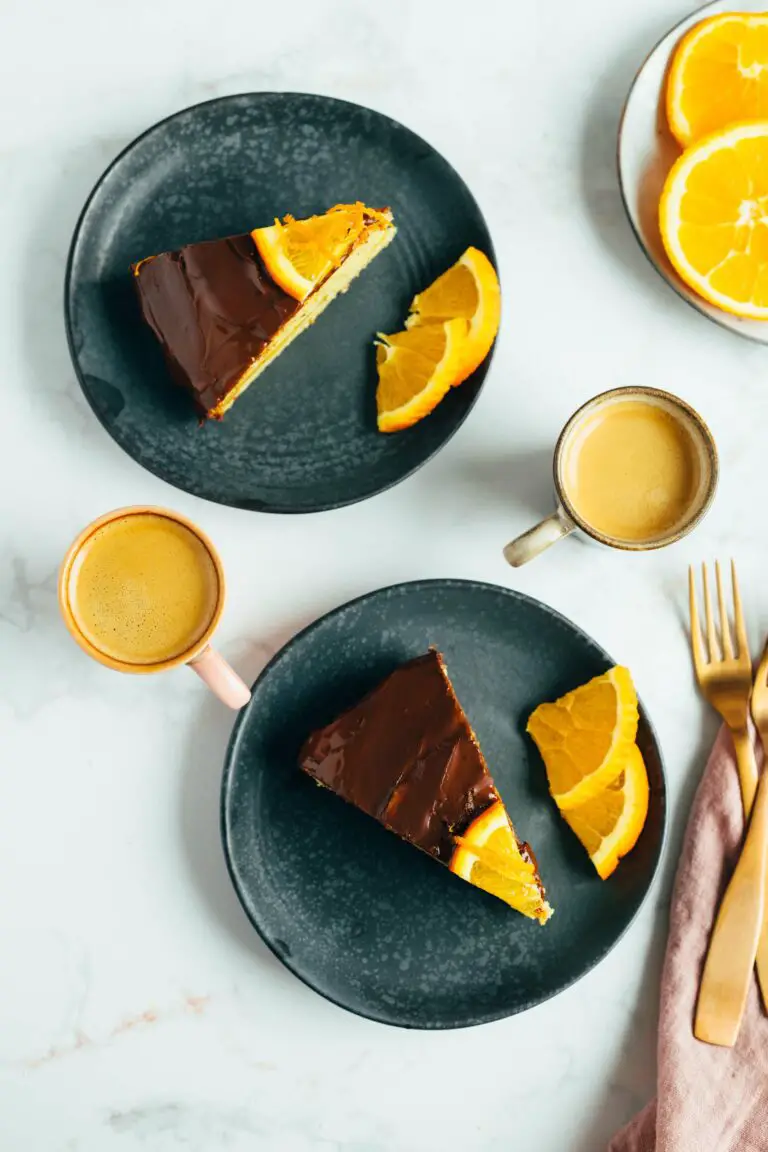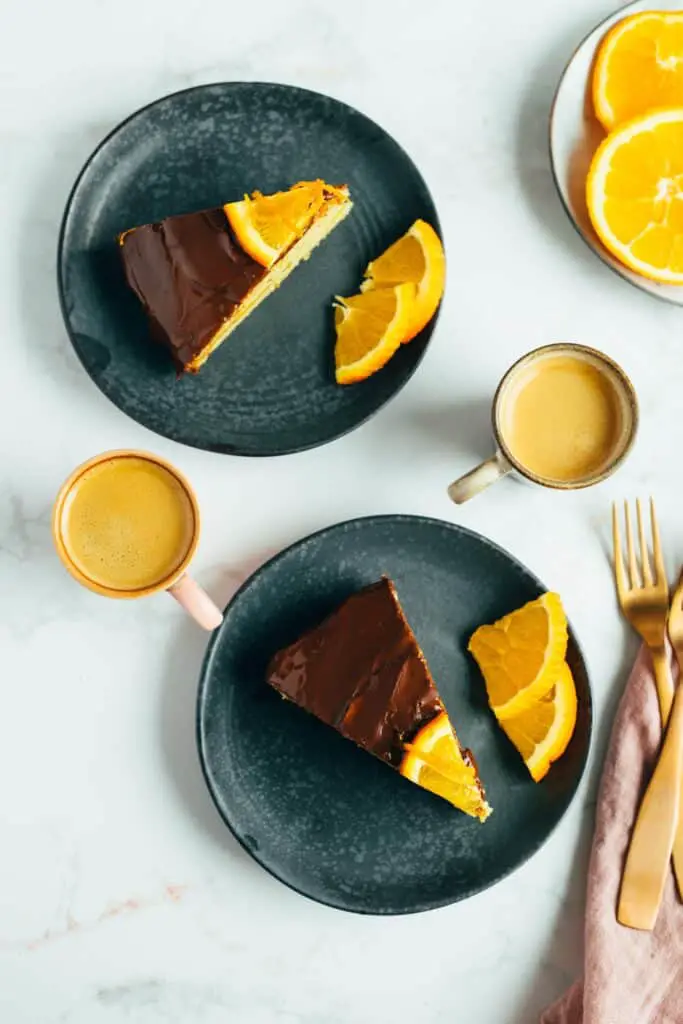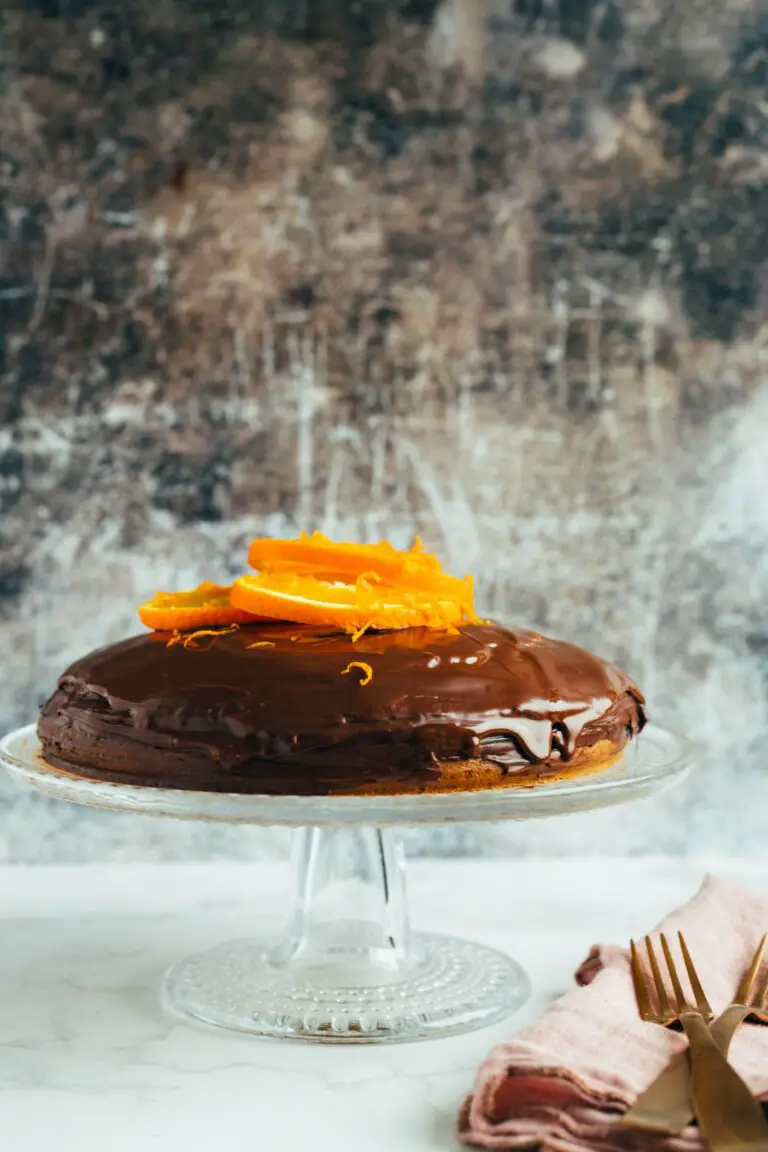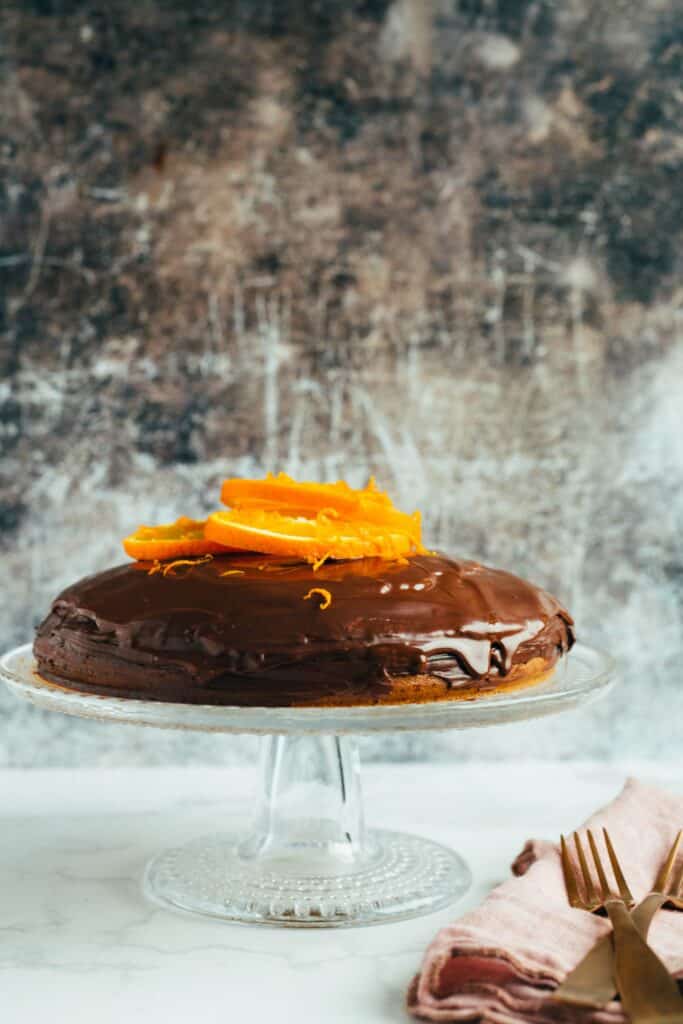 I have had very good experiences with agar-agar when it comes to gelling. It works quickly and easily and is in no way inferior to classic gelatin. If you want to learn more about gelling agents and where they come from, feel free to check out Peta. Here is more info on this topic.
Let's move on to the tips and tricks to make sure that the delicious Jaffa cake is a success.
The consistency of the dough is crucial. Gluten-free doughs behave a little differently than conventional doughs and are a tad more compact. The best way is to take a look at the video, here you can see exactly how the raw dough should look.
Always boil agar-agar, otherwise it will not gel. When cooling, the mass then becomes solid. Best to do a gelling test to see if the ratio is right. To do this, put a small amount on a plate and let it set in the refrigerator. Then check that the consistency is correct. If it is too hard, boil it with a little more water. If too liquid, use a little more agar agar and boil again. Repeat the gelation test.
Meltchocolate carefully in a water bath, do not let it get too hot, otherwise unsightly crystals will form as it cools. I melt half the total amount first, remove the crucible from the stove, and then add the rest. This way I avoid that the chocolate or couverture gets too hot.
Grease the springform pan well and line the bottom with baking paper. This makes it very easy to remove the cake from the mold after it has cooled.
Test dough with a wooden stick after baking time is up, once baked, the wooden stick will come out clean. If dough still sticks to the stick, extend baking time another 10 minutes and check again. Repeat until the dough is baked through.
Always let cakes cool well, if they are still too warm, they can easily break when removed from the mold.
If you're craving another gluten-free cake today, I highly recommend my chocolate cake, poppy seed cake, apple pie, or sweet potato brownie. I hope you enjoy baking and of course about a review at the bottom of this page. If you post a picture, use the hashtag #veganevibes.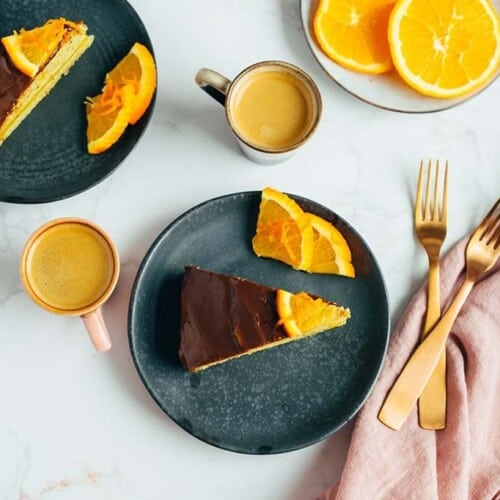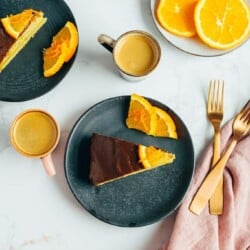 Jaffa cake (vegan & gluten free)
Simple gluten-free sponge cake with fruity filling and dark chocolate. The perfect combination of soft dough, orange jelly and chocolate. Vegan, gluten-free and lactose-free.
AUTOR: VEGANEVIBES
FOR THE ORANGE JELLY:
350

ml

Orange juice

2

g

Agar agar

please dose according to packaging instructions, may vary depending on manufacturer
FOR THE CHOCOLATE COATING:
120

g

dark

vegan chocolate,

1-2

tbspn

Cocoa butter optional for thinning

alternatively 1-2 tablespoons vegetable milk
Anleitung 
Prepare flaxseed egg by mixing 1 tablespoon of flaxseed meal + 3 tablespoons of hot water. Set aside and allow to infuse.

1 Flaxseed egg (optional)

Preheat the oven to 180 degrees Celsius (or 200 degrees Celsius top/bottom heat) and line a 23cm diameter springform pan with baking paper (bottom). Grease sides with a little vegetable oil or margarine. Set aside.

FOR THE SPONGE CAKE Combine gluten-free flour blend, almond flour, vegetable milk, baking oil, raw cane sugar, baking powder, vanilla, pinch of salt, and optional orange zest and turmeric in a bowl and whisk or use a silicone spatula to make a uniform batter.

140 g gluten free flour mix,

50 g Almond flour,

130 ml Plant milk,

75 ml Baking oil,

100 g Raw cane sugar,

1 tbspn Baking powder,

¼ tbspn Bourbon vanilla ground,

A pinch of salt,

Zeste,

½ tbspn Turmeric

Check the consistency of the dough, it should be easy to pour into the mold, but not too runny (see video). If too runny add more flour, if too solid add more vegetable milk.

Pour into the molds and smooth out.

Put in the oven and bake for

30 minutes

.

In the meantime, prepare the ORANGE JELLY Make E. To do this, put the orange juice in a small saucepan with the agar agar powder and whisk to combine. Bring to a boil and boil for 2-3 minutes. Remove from the heat and pour into a mold with a diameter of about 23 cm! Immediately place in the refrigerator and allow to set.

2 g Agar agar,

350 ml Orange juice

TIP: My mold was slightly larger than 23cm, this is not a problem. The overhang can be easily trimmed afterwards. See video. The mold can also be a tad smaller, then the jelly is slightly smaller than the cake and is also best placed on the cake.

At the end of the baking time THE BURNING COOK check with a wooden stick if it is ready. If the wooden stick comes out "clean", remove from oven and let cool completely. Otherwise, bake for another 10 minutes and check again. Allow to cool completely.

Once the cake has cooled and the orange jelly is firm, carefully remove jelly from the pan and either place directly on top of the cake or (as I did) cut the cake once horizontally down the middle. Put back in the refrigerator.

FOR THE CHOCOLATE COATING Melt the chocolate carefully over a water bath. If necessary, dilute with a little cocoa butter or vegetable milk and spread over the finished cake. Smooth out and let chocolate set. Optionally decorate with fresh orange slices and orange zest. NOTE: Fresh orange slices are NOT suitable if the cake is not eaten immediately.

120 g dark,

1-2 tbspn Cocoa butter optional for thinning

Chill for at least an hour, cut into pieces, optionally refine with cream and enjoy!

Store in an airtight container in the refrigerator for up to 2 more days.
Nährwertangaben
Serving:
1
Piece
Calories:
318
kcal
Carbohydrates:
25
g
Protein:
4
g
Fat:
24
g
Saturated Fat:
8
g
Sodium:
21
mg
Potassium:
147
mg
Fiber:
2
g
Sugar:
13
g
Vitamin A:
121
IU
Vitamin C:
18
mg
Calcium:
49
mg
Iron:
1
mg