A quick, vegan and oil-free vanilla cake(sponge cake) for your vegan coffee party. I can't deny how much I love cake. Again and again I read and hear in various media that it is time to detox. At the same time, you should do without everything that is fun. Sugar, chocolate, cakes of all kinds, alcohol, oil, and many more foods. I'll be honest, I've tried dieting once in my life. I was only supposed to drink one shake by noon and I didn't even manage that. Quickly and without talking much about it, I broke the diet and continued eating normally. Please don't get me wrong, I don't want to devalue diets across the board. They don't work for me and I prefer to limit myself in portions so I don't go overboard. I couldn't say no to the sight of this delicious sponge cake anyway. How it smells!
Simple vegan vanilla cake, oil free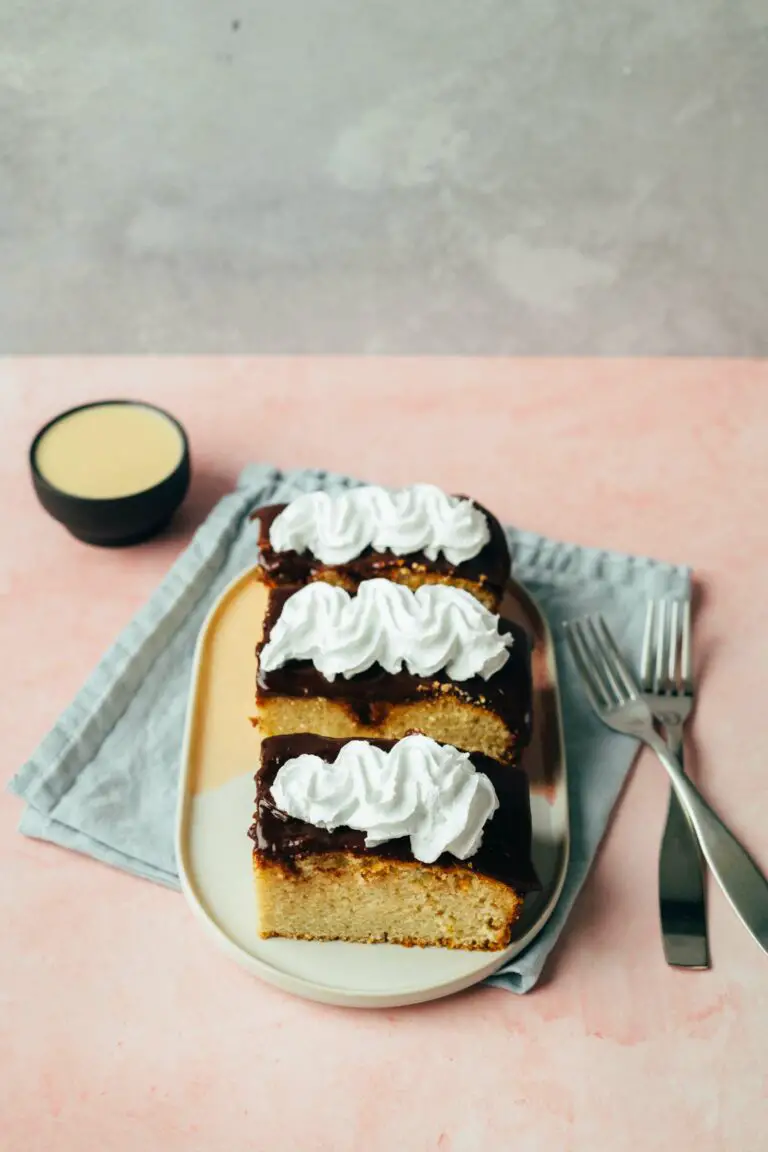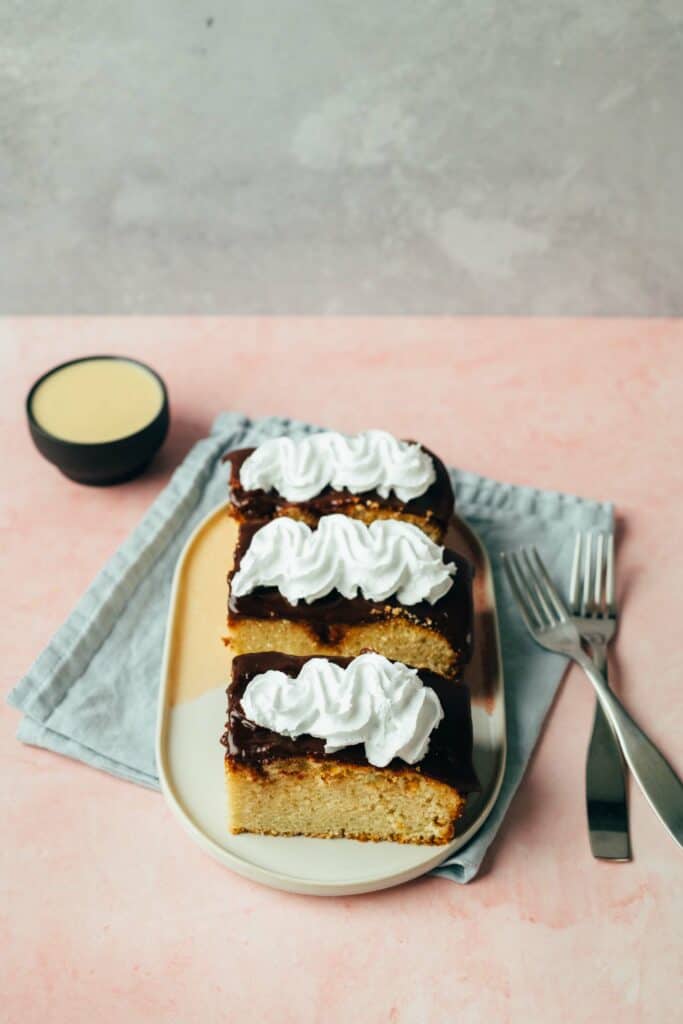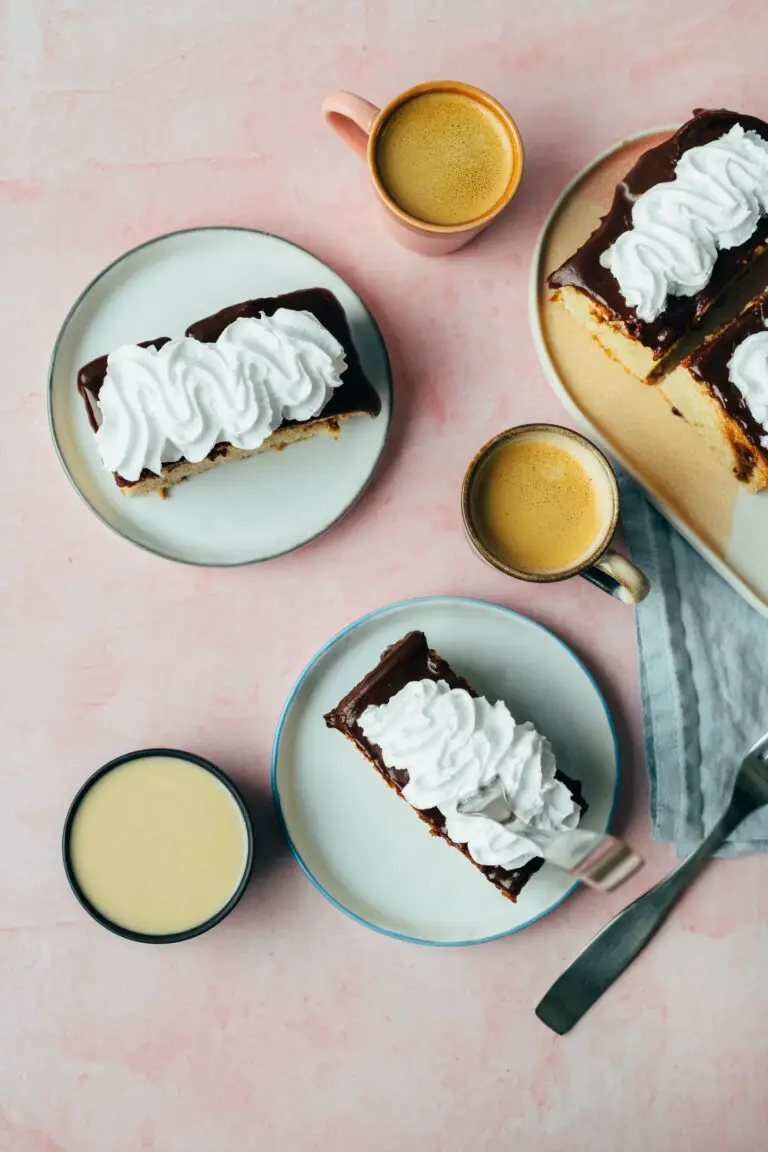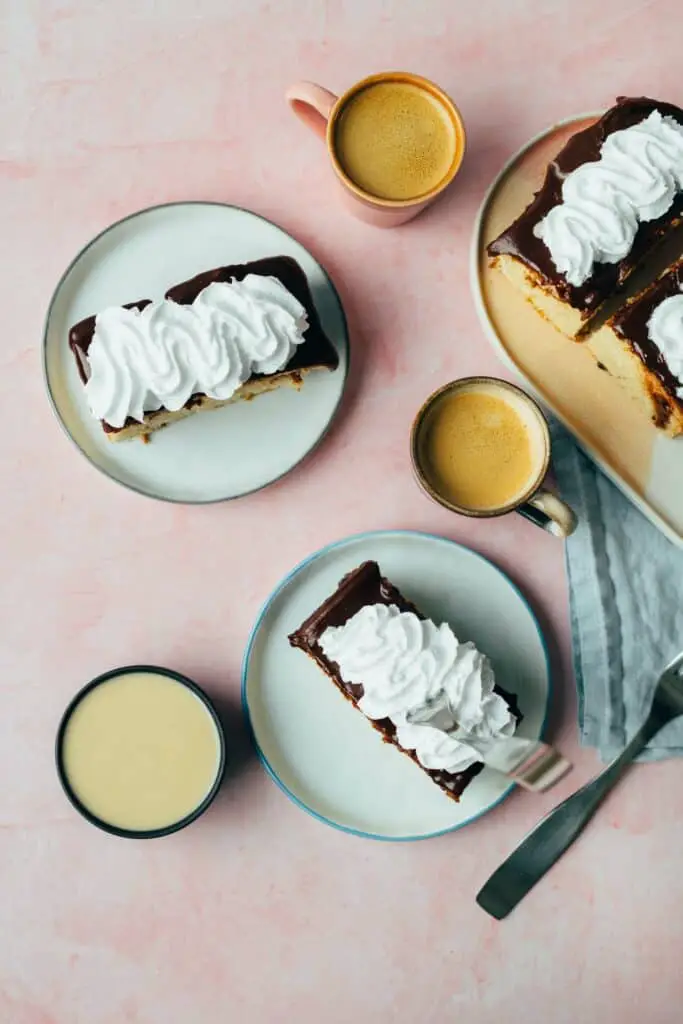 As usual, this dough is also quickly and easily mixed together. Plant milk, raw cane sugar, maple syrup, white almond paste, spelt flour, bourbon vanilla, baking powder and a pinch of salt. That's all there is to it. Once the batter is nice and even, it's off to the oven. Bake for 30 minutes and the treat is ready.
The only thing missing is this dreamy and melt-in-your-mouth chocolate and almond paste frosting. Melt dark chocolate in hot vegetable milk and mix with almond paste. Ready is the sweet temptation.
NOTE: I prefer to use white almond paste for baking. It is a tad more expensive than brown almond paste, however, it is much easier to work with. The difference between white and brown almond paste is that the almonds in the light version are peeled and blanched, accordingly processed without shell. I bake the cake in a 20x20cm brownie pan, but you are welcome to use a baking pan of a similar size. The cake will then be a little flatter or higher, depending on whether the mold is larger or smaller.
Bake cake without oil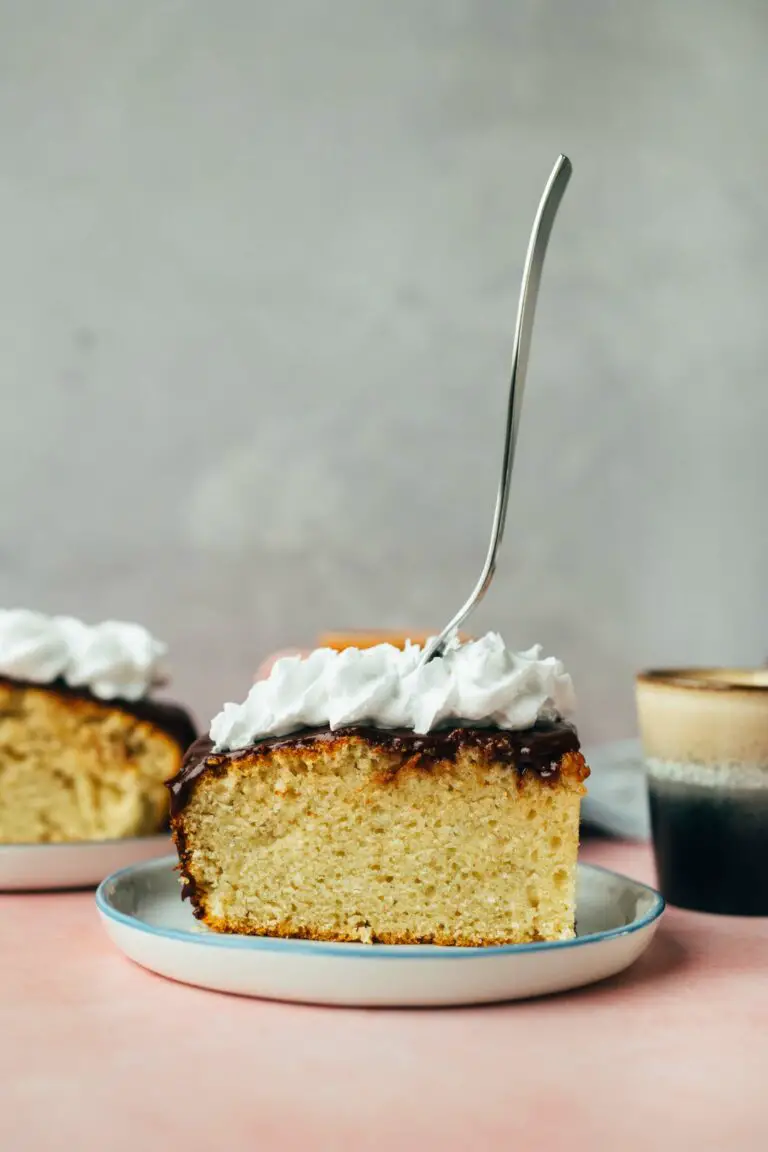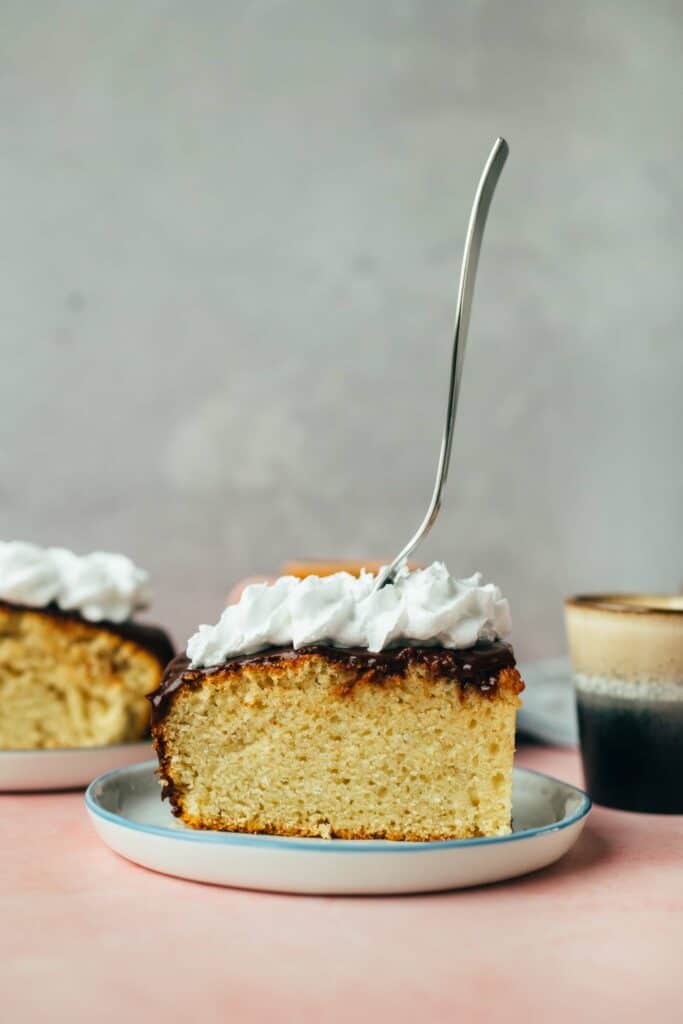 You may be wondering why I often take very different approaches in my recipes. One cake I bake oil-free with gluten-containing flour, the other with oil but gluten-free flour. There are also recipes on my blog that are oil-free and gluten-free at the same time. The reason for the variety is that I myself do not suffer from any intolerance and love to experiment. Why give up gluten if there is no intolerance? Why strictly avoid oil if there are no pre-existing conditions and a particular diet prohibits it? I would like to provide as many vegan options as possible for as many people as possible. The search function on the site allows you to search specifically for your favorite recipes.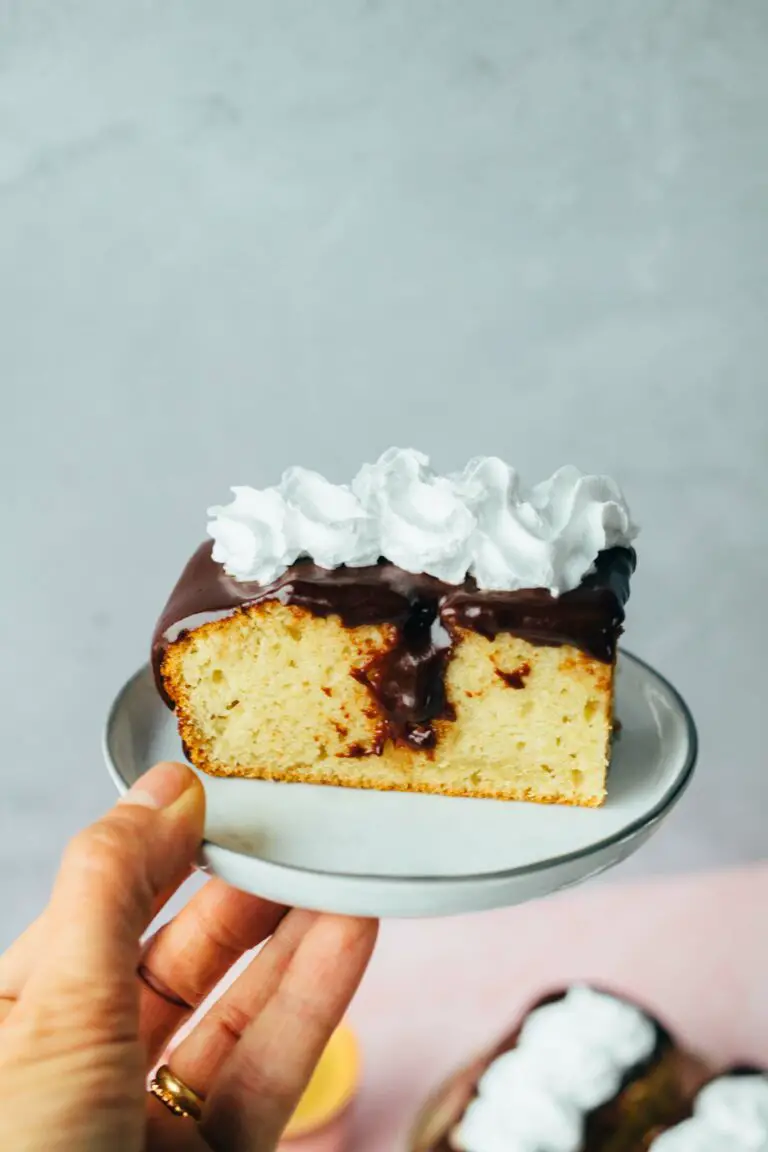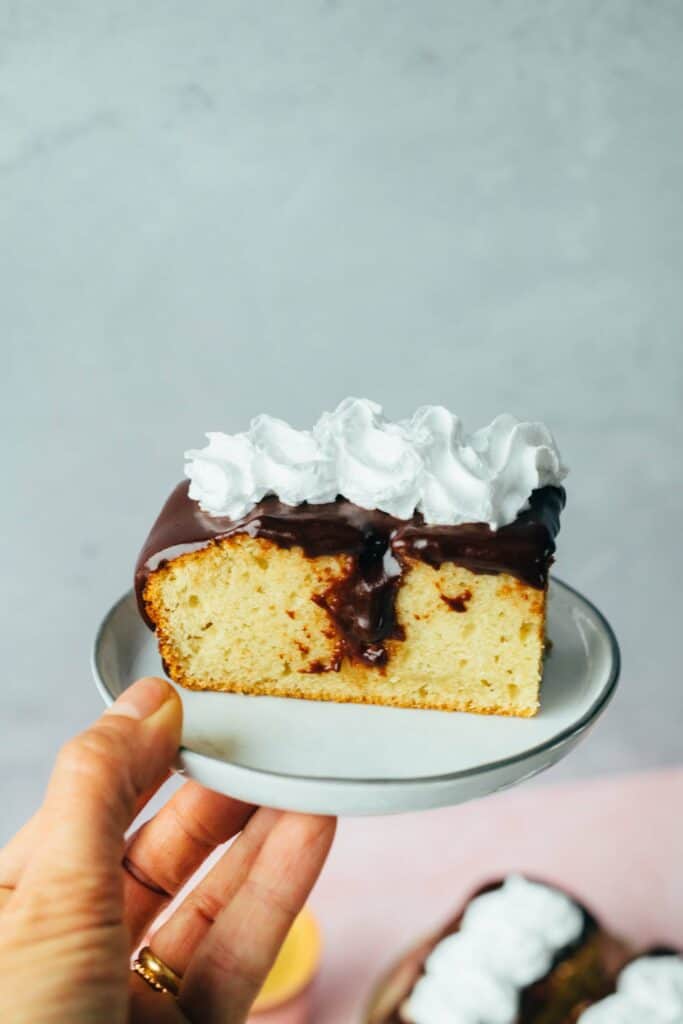 Let's move on to the tips and tricks so that nothing can go wrong during baking:
The consistency of the dough is crucial. Depending on the type of flour, the dough can sometimes become a little too liquid or too firm. Feel free to take a look at the video, there I show how the dough should ideally look.
Always stir the nut puree well and dissolve lumps before use. I use white almond paste, which is a bit more expensive, but is effortless to work with.
Grease brownie pan well and line bottom with baking paper. This makes it very easy to remove the cake from the mold after it has cooled.
Test dough with a wooden stick after baking time is up, once baked, the wooden stick will come out clean. If dough still sticks to the stick, extend baking time another 10 minutes and check again. Repeat until the dough is baked through.
Always let cakes cool well, if they are still too warm, they can easily break when removed from the mold.
TIP: If you want to make the cake gluten-free, substitute my gluten-free flour blend for the spelt flour.
I hope you enjoy baking and of course about a review at the bottom of this page. If you post a picture, use the hashtag #veganevibes.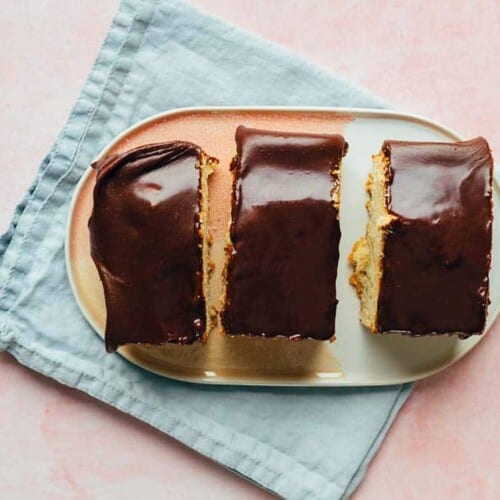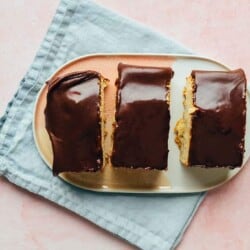 Vanilla cake with chocolate frosting
Simple, moist sponge cake with fine bourbon vanilla and white almond paste. Refined with a melt-in-the-mouth frosting of chocolate and almond paste. Refined with a blob of cream, you'll convince even the last vegan skeptic at the next coffee get-together.
AUTOR: VEGANEVIBES
FOR THE VANILLA SPONGE CAKE:
250

ml

Plant milk I use oat milk

30

ml

maple syrup

for a caramel note, simply omit for a reduced-sugar version

125

g

white almond paste

or any other nut nut of your choice, please stir well beforehand and remove any lumps

250

g

Spelt flour

or another flour of your choice, for a gluten-free version I recommend my gluten-free flour mix

100

g

Raw cane sugar

2

tbspn

Baking powder

¼

tbspn

Bourbon vanilla ground
FOR THE CHOCOLATE FROSTING:
120

g

dark vegan chocolate

1

EL

Maple syrup

for a crumbly taste, if not at hand just leave out

60

ml

Plant milk

I use oat milk

30

g

white almond paste

or any other nut nut of your choice, please stir well beforehand and remove any lumps
Anleitung 
Preheat the oven to 180 degrees Celsius (or 200 degrees Celsius top/bottom heat) and line a 20x20cm brownie pan with baking paper.

Combine plant milk, maple syrup, white almond paste, spelt flour, raw cane sugar, baking powder, vanilla, and a pinch of salt in a bowl and whisk or use a silicone spatula to make a uniform batter.

250 ml Plant milk,

30 ml maple syrup,

125 g white almond paste,

250 g Spelt flour,

100 g Raw cane sugar,

2 tbspn Baking powder,

¼ tbspn Bourbon vanilla ground,

A pinch of salt

Check the consistency of the dough, it should be easy to pour into the mold, but not too runny (see video). If too runny add more flour, if too solid add more vegetable milk.

Pour into the molds and smooth out.

Put in the oven and bake for

25 minutes

.

When the baking time is over, use a wooden stick to check if the cake is done. If the wooden stick comes out "clean", remove from oven and let cool completely. Otherwise, bake for another 10 minutes and check again.

For the FROSTING Heat vegetable milk in a small saucepan. Remove from heat, add chocolate and cover. Let stand for 3 minutes until the chocolate has melted. Cover, pour in almond paste and (optional) maple syrup and mix well.

120 g dark vegan chocolate,

1 EL Maple syrup,

60 ml Plant milk,

30 g white almond paste

Pour onto the cake and spread.

Chill for at least an hour and carefully lift out of the mold. Cut into pieces, optionally refine with cream and enjoy!

Store in an airtight container in the refrigerator for up to 4 days.
Nährwertangaben
Serving:
1
Piece
Calories:
257
kcal
Carbohydrates:
34
g
Protein:
7
g
Fat:
10
g
Saturated Fat:
1
g
Sodium:
39
mg
Potassium:
166
mg
Fiber:
5
g
Sugar:
13
g
Vitamin A:
122
IU
Vitamin C:
2
mg
Calcium:
113
mg
Iron:
2
mg