"What, there's no cheese in it? I honestly wouldn't have recognized that now," my friend said as she literally gobbled down this delicious mac and cheese. In keeping with the theme, she also has a Lactose intolerance . Perfect, because this delicious vegan dish comes completely without cheese, milk or the like. Maybe you can think of a suitable name, because actually there is no "cheese" in it. I'd say we'll just turn a vegan blind eye to the choice of title.
Pumpkin Mac & Cheese (vegan)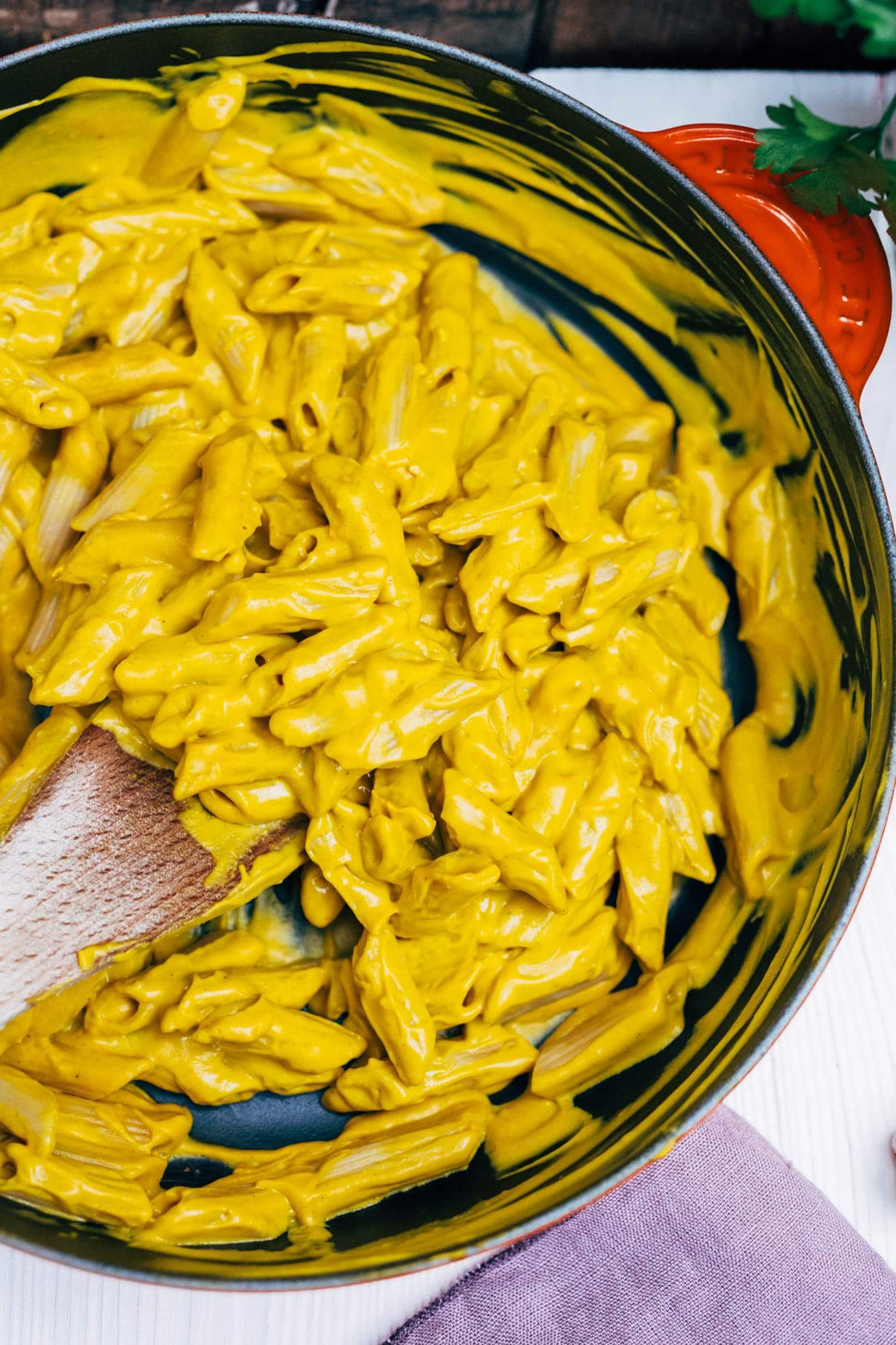 In the fall/winter season, I always have a Hokkaido pumpkin on hand because you can just always do something with it. Whether it's something sweet or sour, pumpkins are just so incredibly versatile:
This simple pasta dish requires only 10 ingredients and is very easy to make. I'll even show you how to very easily roast a pumpkin so you can treat your loved ones to an absolutely homemade vegan meal!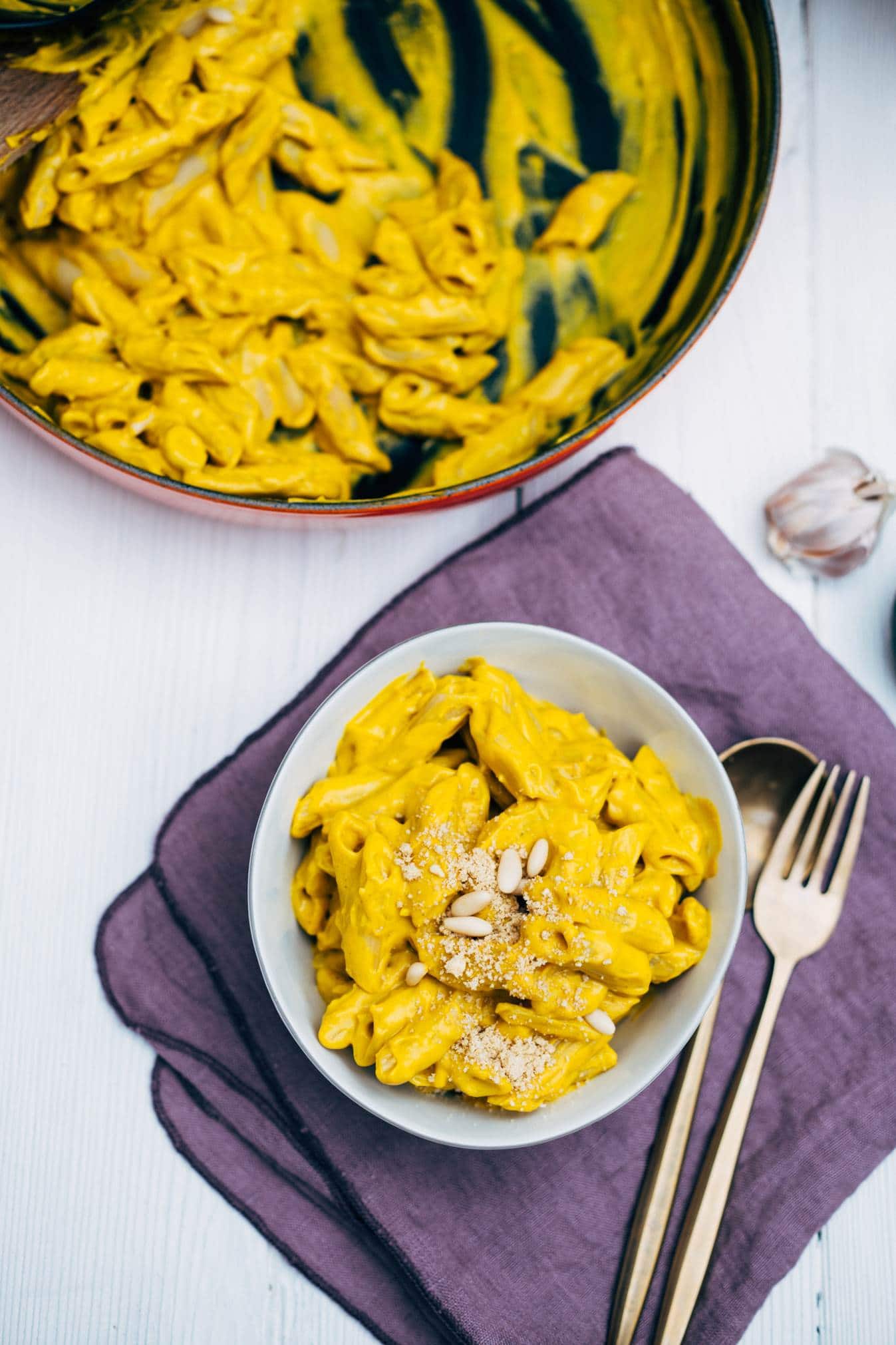 Once the pumpkin is roasted, then everything goes very quickly. For the sauce, all you need is a handful of ingredients and a high-powered blender. The ingredients? Vegan parmesan , Almond milk , nutritional yeast, garlic and of course: pumpkin!
So once the pasta is cooked, you've almost reached the home stretch. Now just mix with the creamy sauce, serve and enjoy! For an extra crispy touch, you can also bake the mac 'n' cheese briefly in the oven. I'm sure you'll get a lot of praise for this vegan dish from non-vegans as well. I'd say it's ready to go!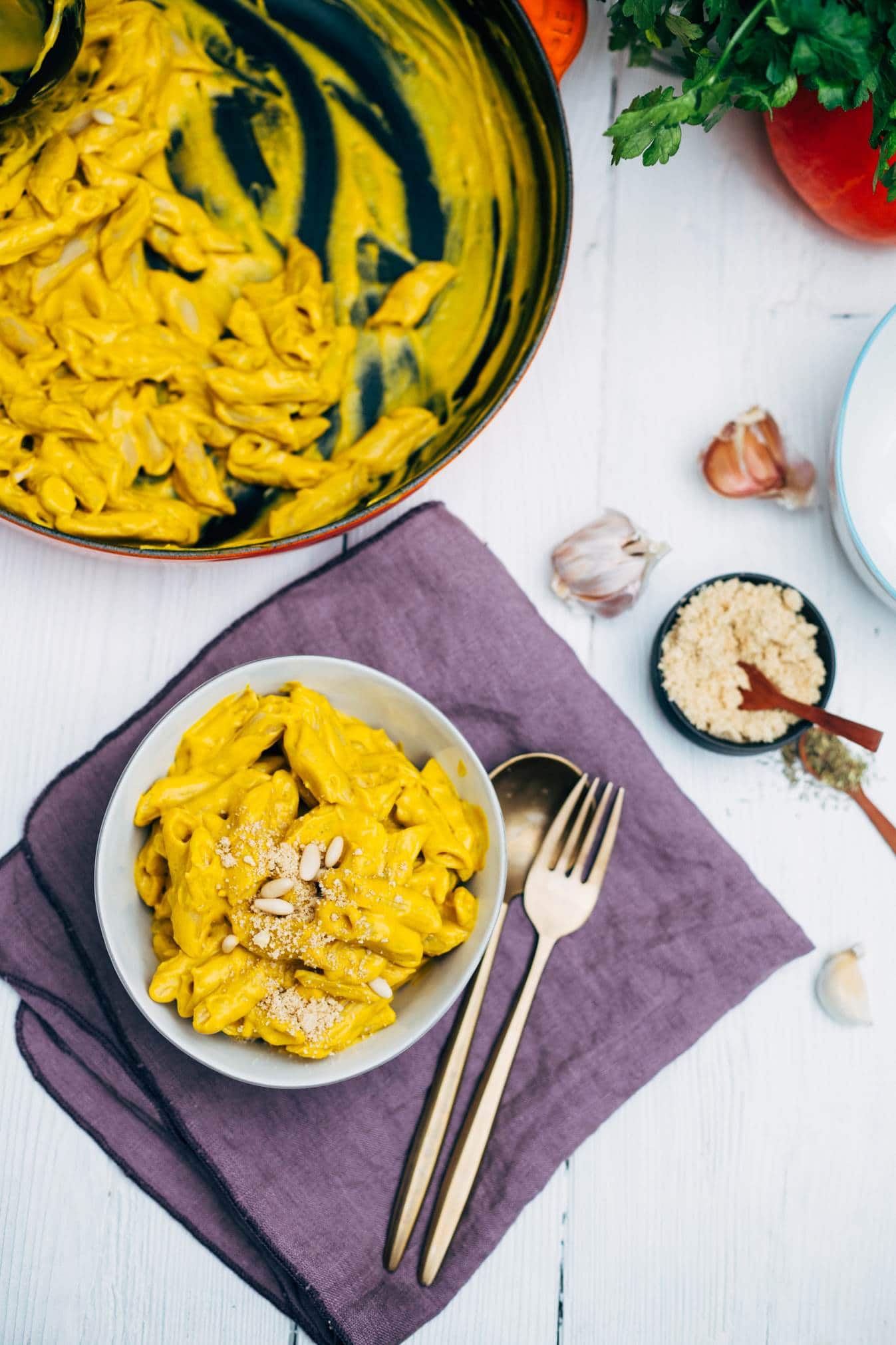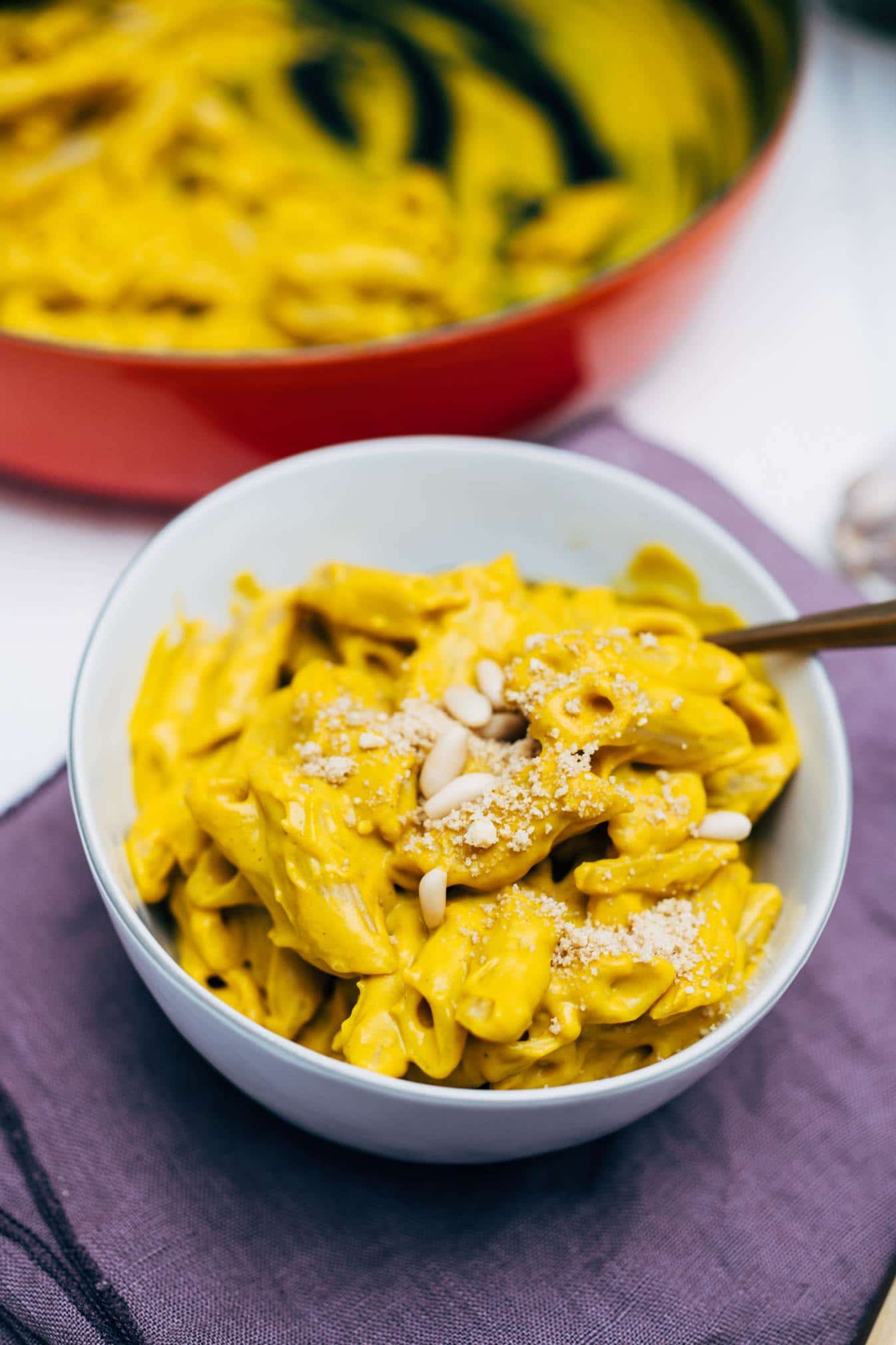 The pumpkin mac 'n' cheese is:
creamy
Cheesy
With fine pumpkin note
filling
Easy to manufacture
I wish you a lot of fun in the recooking and look forward to a review at the bottom of this page. If you post a picture, use the hashtag #veganevibes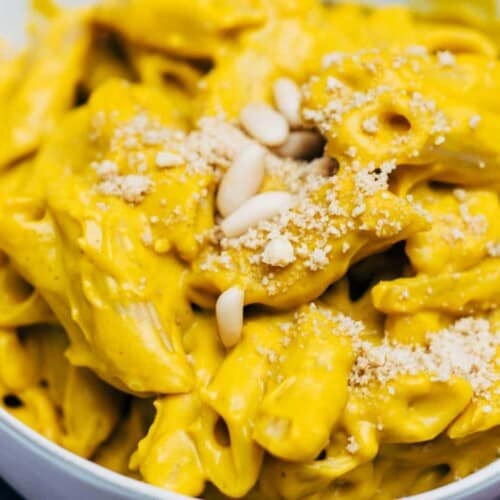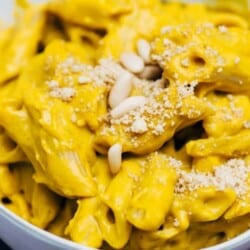 Vegan Pumpkin Mac & Cheese
Creamy, incredibly flavorful pumpkin mac 'n' cheese, with 10 simple ingredients. Lactose free, gluten free and darn tasty for the fall-winter season.
AUTOR: VEGANEVIBES
TOPPINGS optional:
Fresh sage

briefly fried in oil

Pine nuts

roasted briefly in a pan without oil
Anleitung 
Preheat oven to 175 degrees, line baking sheet with parchment paper and set aside.


Cut ends off pumpkin with a large knife and then cut in half. Using a sharp spoon, scrape out the pumpkin seeds (pumpkin seeds can be saved for roasting). Put the pumpkin in the oven and bake for 45 minutes. Check with a fork if it is already soft. Otherwise, extend baking time.

Now put on pasta water and cook gluten-free pasta according to package instructions.


For the sauce, scoop out the flesh of the two halves of the pumpkin and place in the blender. Together with the cashews, almond milk, sea salt, sage and/or thyme, nutritional yeast,

vegan parmesan

, (optional) pumpkin spice and chili on high speed for 60 seconds until a creamy sauce is formed. If the sauce is too thick, add a little more almond milk. If it is too thin, add a few more cashews and blend again.

1 medium size Hokkaido pumpkin,

Optional: 15ml coconut oil,

2 Piece Garlic cloves,

50 g Cashews,

240 ml Almond milk,

½ tbspn Sea salt,

4-6 g Sage and thyme mixed,

12 g Nutritional yeast,

15 g vegan parmesan,

Optional: ¼ tsp pumpkin spice,

Optional: ¼ tsp Bird Eye chilies or other chilies

To heat, place in a large skillet and heat over medium heat for

4-5 minutes

, add pasta and mix well.

Taste and season if necessary, portion onto plates, serve with desired garnishes and enjoy!


Vegan parmesan,

Fresh sage,

Pine nuts

Store leftovers covered in the refrigerator for 3-4 days.

Notizen
NOTES /HELPFUL ACCESSORIES:
Nährwertangaben
Serving:
1
large portion
Calories:
677
kcal
Carbohydrates:
105
g
Protein:
27
g
Fat:
16
g
Saturated Fat:
3
g
Cholesterol:
6
mg
Sodium:
378
mg
Potassium:
563
mg
Fiber:
6
g
Sugar:
5
g
Vitamin A:
160
IU
Vitamin C:
3.2
mg
Calcium:
271
mg
Iron:
4
mg