Baba Ganoush, because I could eat eggplant every day. Right now I'm thinking about the Pasta alla Norma with roasted eggplant From the oven and hearty tomato sauce. I don't know what's going on right now, but I could just eat all the time. Maybe it's the weather, because this year the summer is extremely cool. I haven't been to the swimming lake once, unbelievable, isn't it? Instead, I have more time to deal with cooking and recipes. Just like with our oriental and savory dip today.
Baba Ghanoush make yourself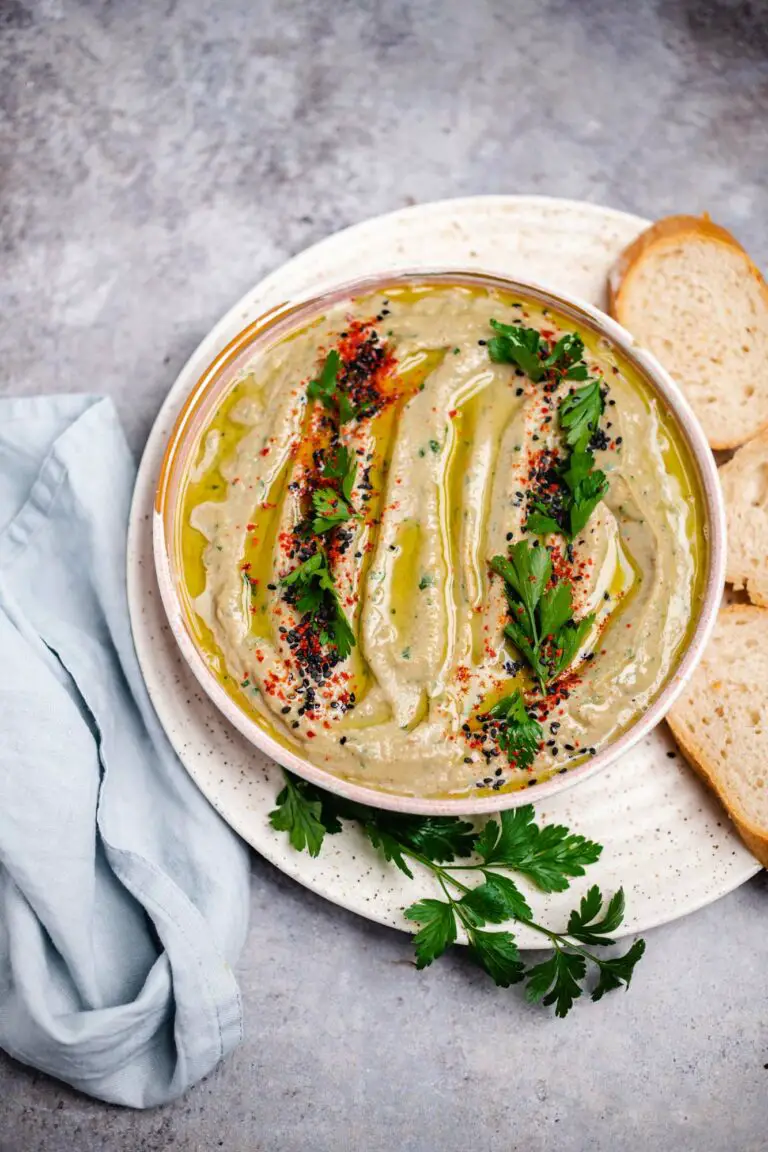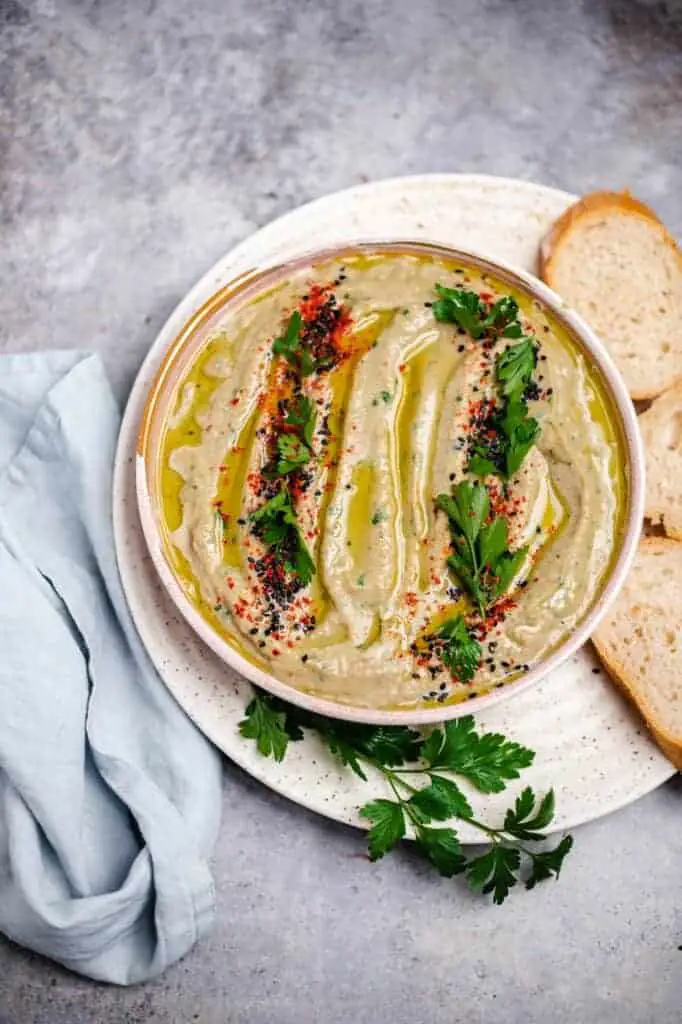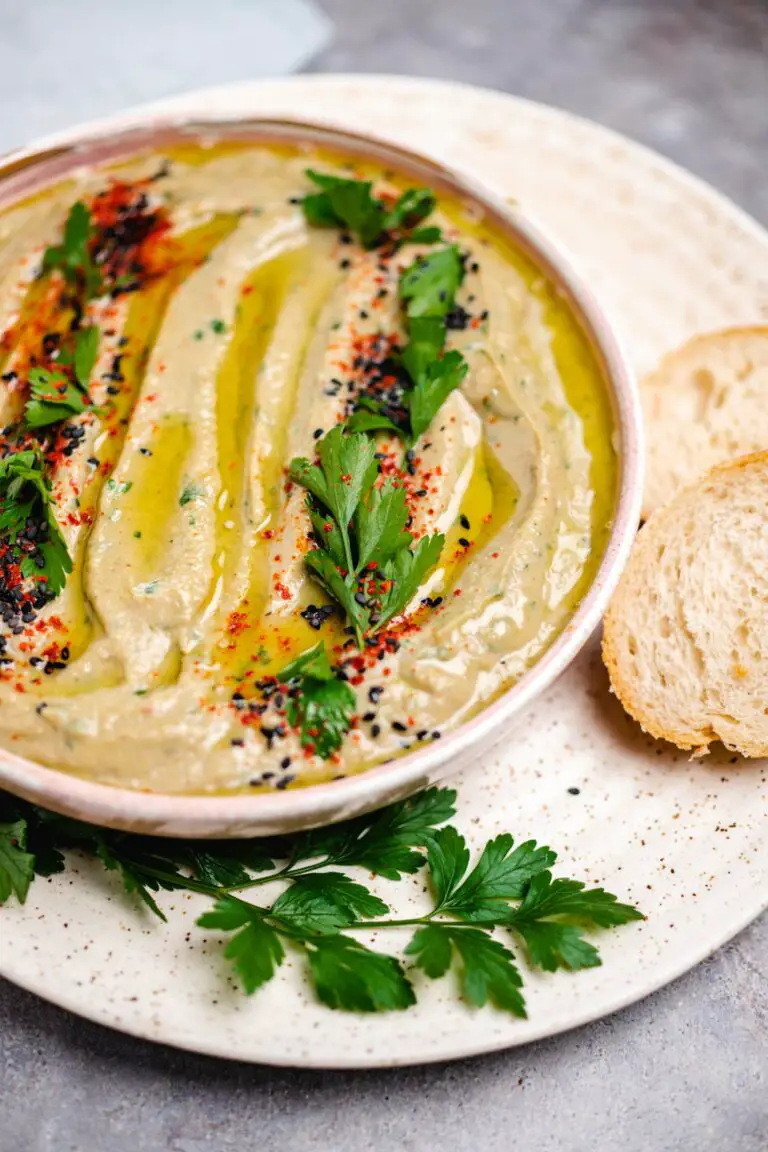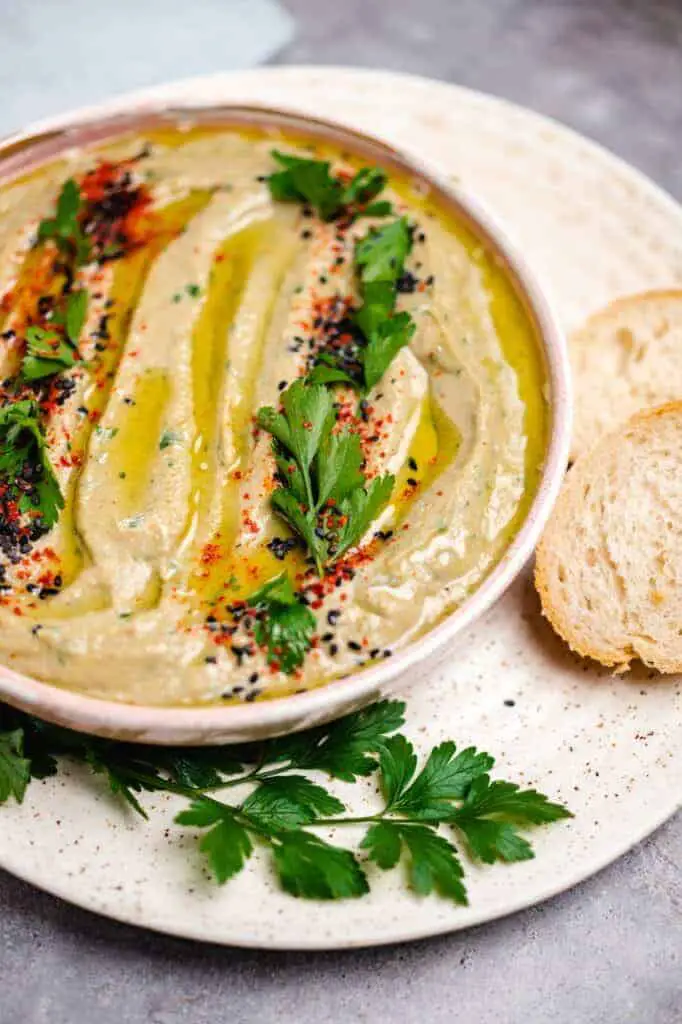 Making Baba Ganoush is really easy you just need a little patience. I've seen that many recipes slice the eggplant first, salt it, and only then put it in the oven to roast. I skip all of these steps because I find that the eggplant turns out best when I roastit whole in the oven. Once it's been in the oven for an hour, I take it out, cut it open and get the soft flesh out.
TIP: If you have a grill function in the oven then I highly recommend using it. The grill flavor goes great with our eggplant dip. Alternatively, you could cook the eggplant on the grill, should you have a good grill that you can close well.
Make vegan dips yourself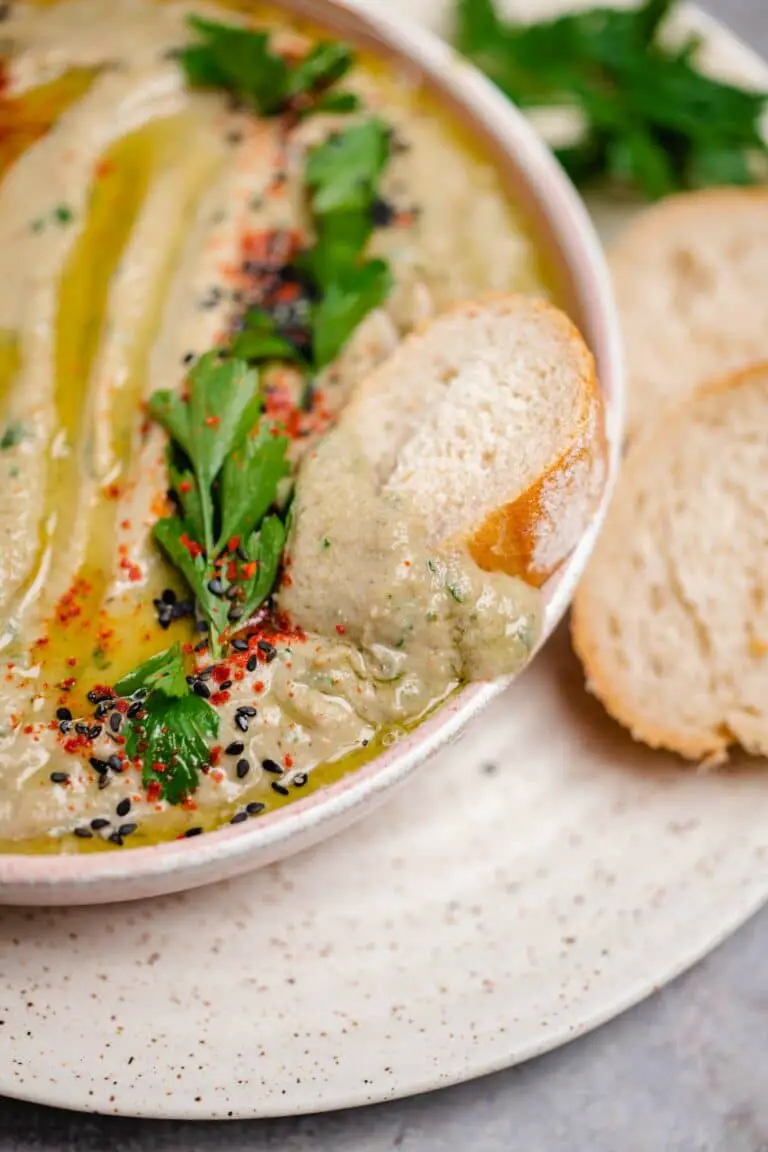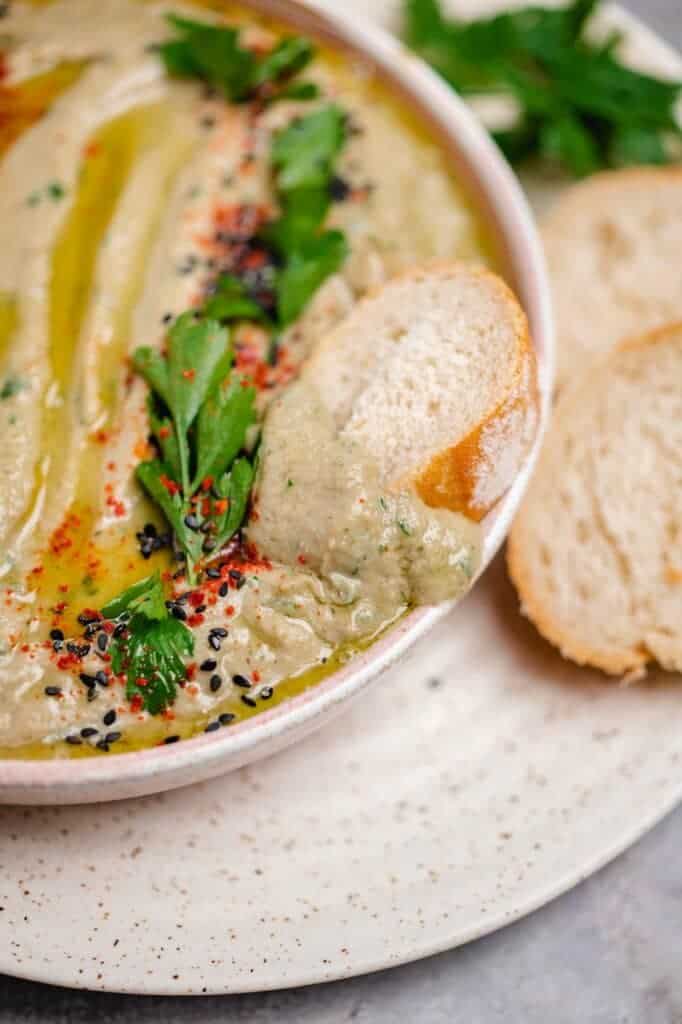 Once the eggplant is grilled, it goes into a blender with lemon juice, olive oil, cumin, salt, garlic, tahini and parsley and we make a fine dip. Let's move on to another small subtlety, but one that can make a big difference. Depending on how firm you want the dip to be, you can pour away or squeeze out the liquid from the pulp. The less liquid, the thicker or creamier the baba ganoush will be. Personally, I don't pour off the remaining liquid because I like the dip a little runnier.
TIP: To squeeze the liquid out of the eggplant pulp, it is best to use a hair sieve.
If you are looking for a different dip, then I have the following suggestions for you:
The Baba Ghanoush is:
creamy
versatile
Slightly smoky
Uncomplicated manufactured
Healthy
Do you love Baba Ghanoush as much as I do? Then I look forward to a review at the bottom of this page. If you post a picture, then like to use the hashtag #veganevibes.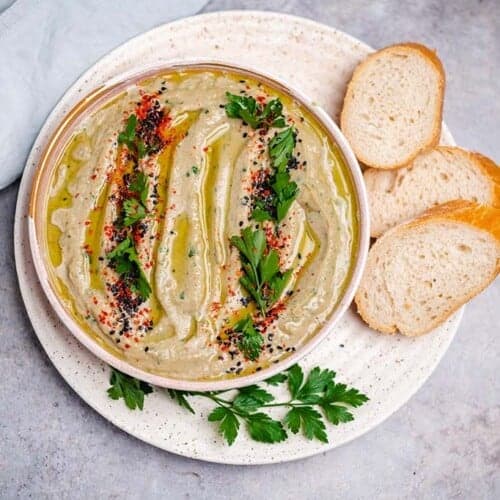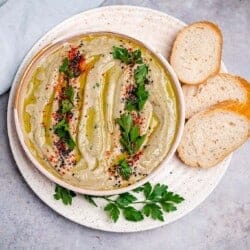 Baba Ganoush make yourself
HOW TO Instructions for making Baba Ganoush, a savory dip made with roasted eggplant, tahini, garlic and cumin. Very fine for dipping bread, vegetables or simply pure on bread. Vegan, oil-free and gluten-free.
AUTOR: VEGANEVIBES
Anleitung 
Line a baking sheet with parchment paper or a permanent baking mat.

Preheat oven to 225 degrees (grill setting or convection oven).

Place eggplants on baking sheet and grill for

60 minutes

. The eggplant will be very dark on the outside, no problem. The flesh is protected inside by the skin and remains soft and juicy.

When the roasting time is over, remove from the oven and let cool briefly.

Provide blender.

Cut eggplant lengthwise, carefully remove outer skin and stalk.

Put the eggplant pulp in the blender. Add lemon juice, olive oil, cumin, salt, garlic cloves, tahini and parsley and blend to a creamy dip.

30 ml Lemon juice,

30 ml Olive oil,

2 tbspn Cumin,

1 tbspn Salt,

3 Piece Garlic cloves,

80 g Tahini,

parsley

Place in a bowl and garnish with parsley, olive oil, sesame seeds and chili flakes.

Enjoy while still warm or chill in the refrigerator to infuse.
Nährwertangaben
Serving:
1
Portion
Calories:
63
kcal
Carbohydrates:
2
g
Protein:
1
g
Fat:
6
g
Saturated Fat:
1
g
Polyunsaturated Fat:
2
g
Monounsaturated Fat:
3
g
Sodium:
35
mg
Potassium:
38
mg
Fiber:
1
g
Sugar:
1
g
Vitamin A:
7
IU
Vitamin C:
1
mg
Calcium:
12
mg
Iron:
1
mg