Grilled eggplant and arugula pizza is a recipe I love. why? Because there are many vegan pizza alternatives that taste mediocre. However, this combination has convinced me and always ends up on my plate. I find the spiciness of the arugula combined with the mildness of the grilled eggplant particularly interesting. For me personally a poem and of course I hope you feel the same way. Pizza is always a good idea and I love experimenting with different toppings. But today we devote ourselves solely to this delicious Italian specialty.
Pizza with grilled eggplant and arugula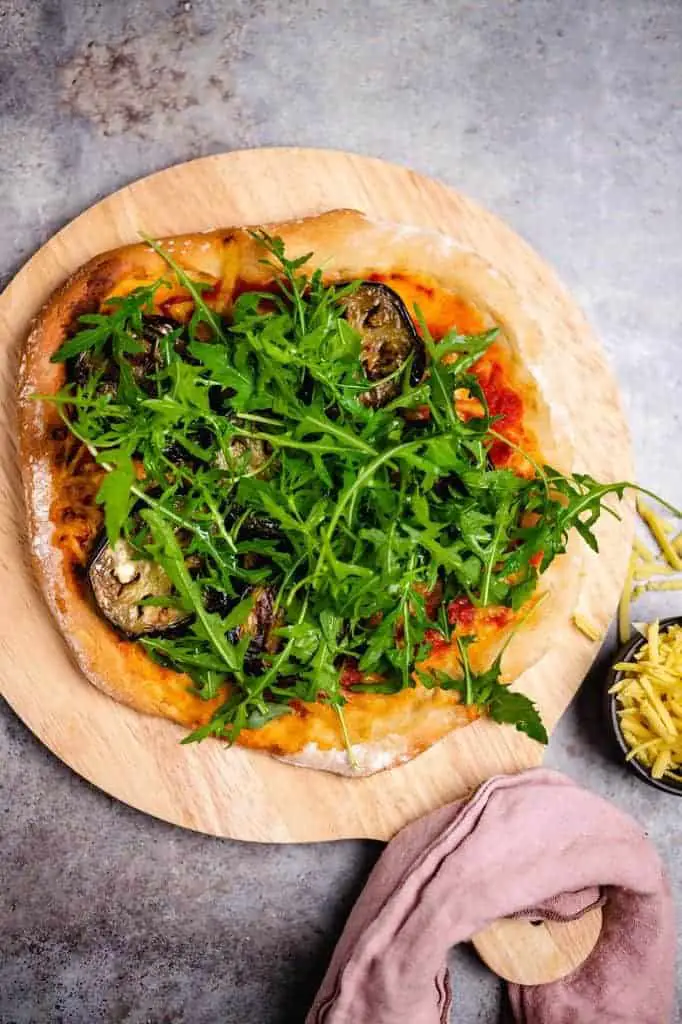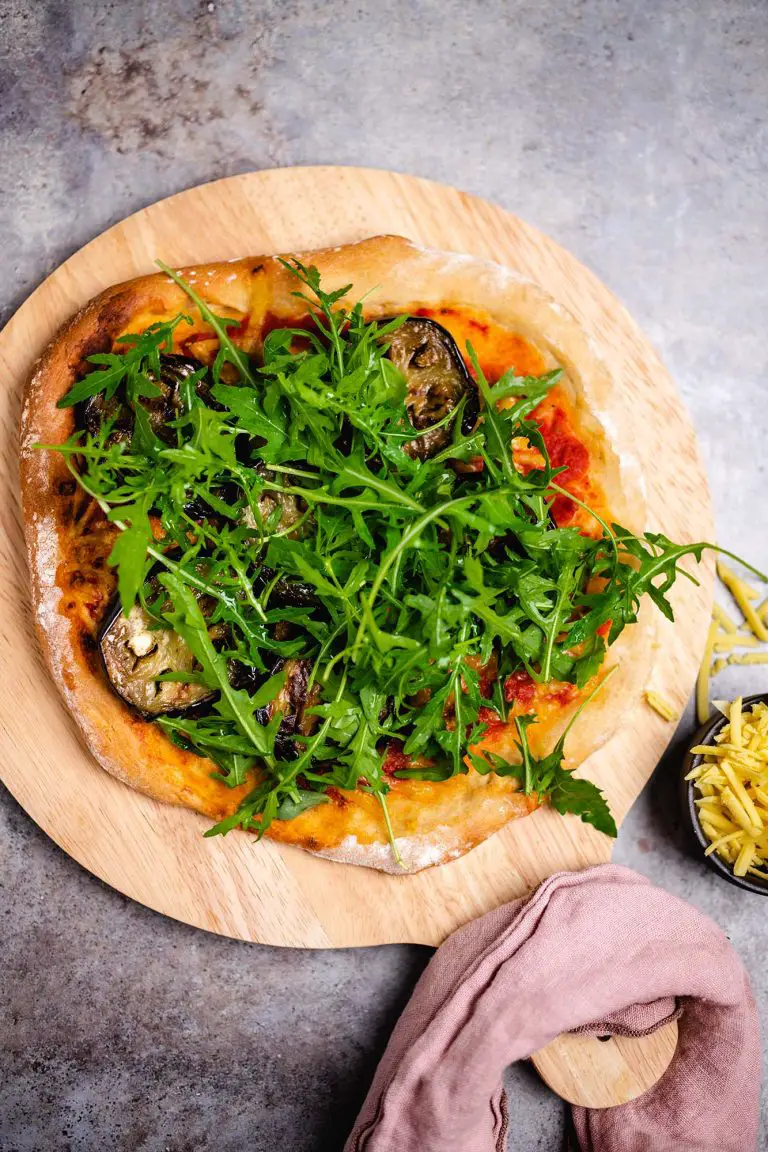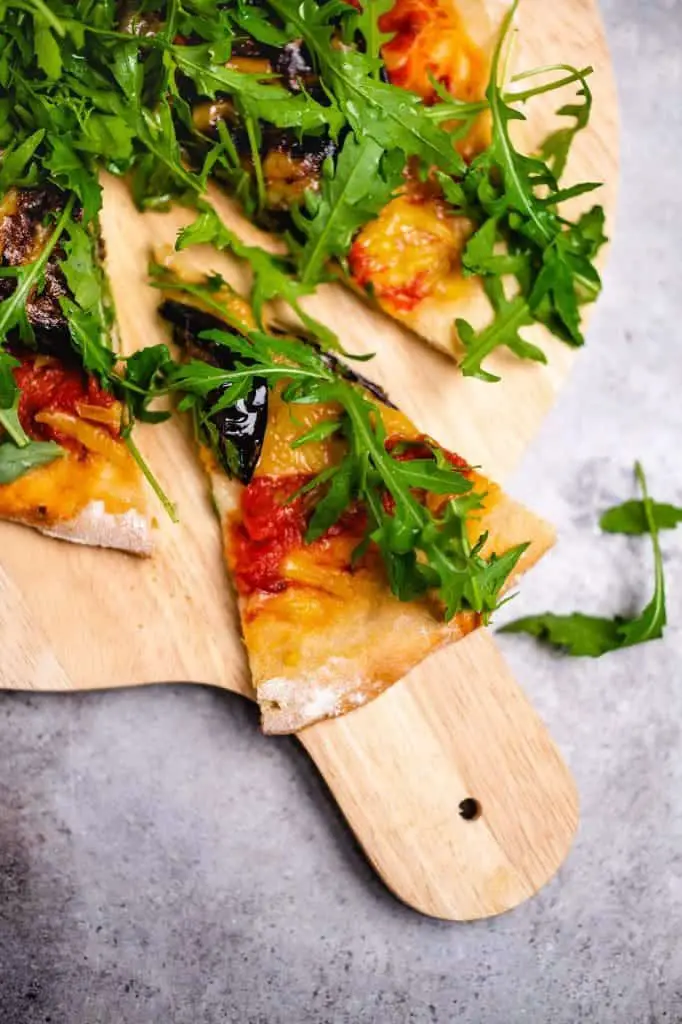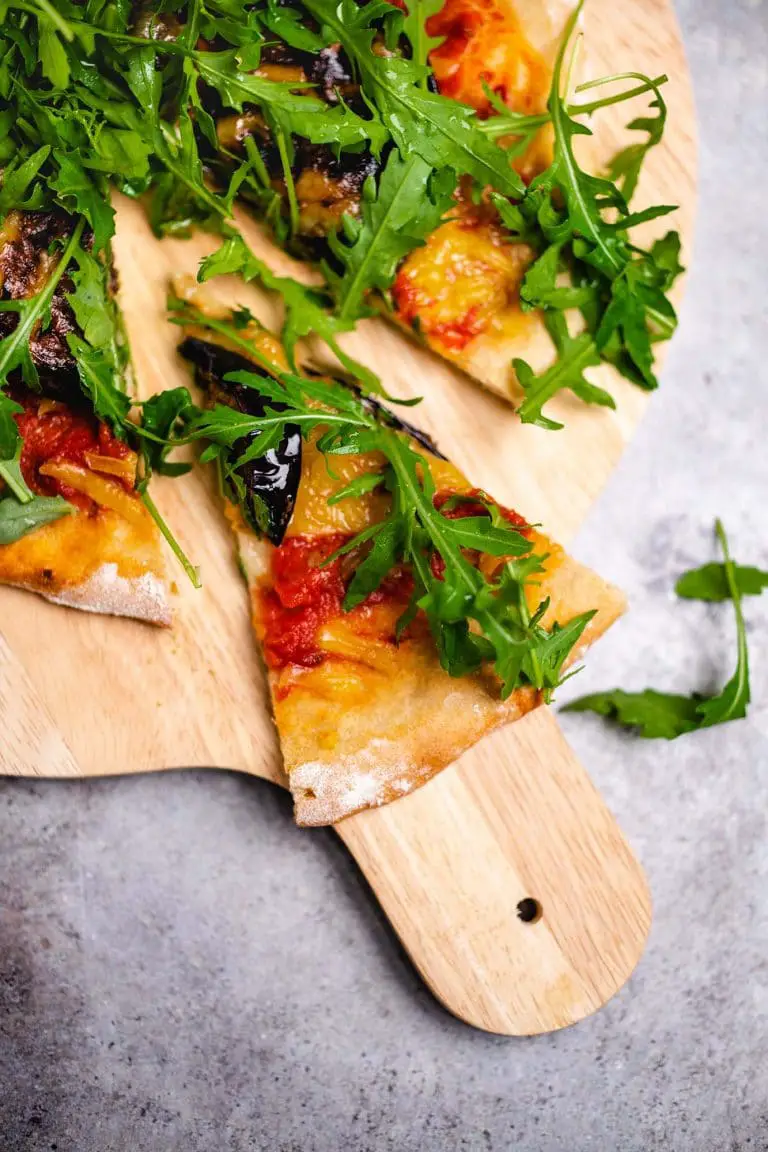 My parents have a pizza oven that my dad built from scratch. It took a while for everything to work well. Finding the right heating method is definitely a challenge. There is the question of the right wood, how long to heat up beforehand and how long the pizza needs until it is perfectly cooked. By now, my parents have gotten the hang of it and when I'm around, I love experimenting with vegan pizza recipes.
I've done tests with eggplant slices before. Once I pre-baked the eggplant in the oven and then put it on the pizza. No sooner was this in the wood-fired oven than it was completely charred. Well, you learn from trying and since then I grill the eggplant in the pan beforehand. A grill pan is best, but any pan of choice will work. The pizza is put in the oven with tomato sauce and cheese only and the rest is put on top later as a topping.
Simple vegan pizza recipes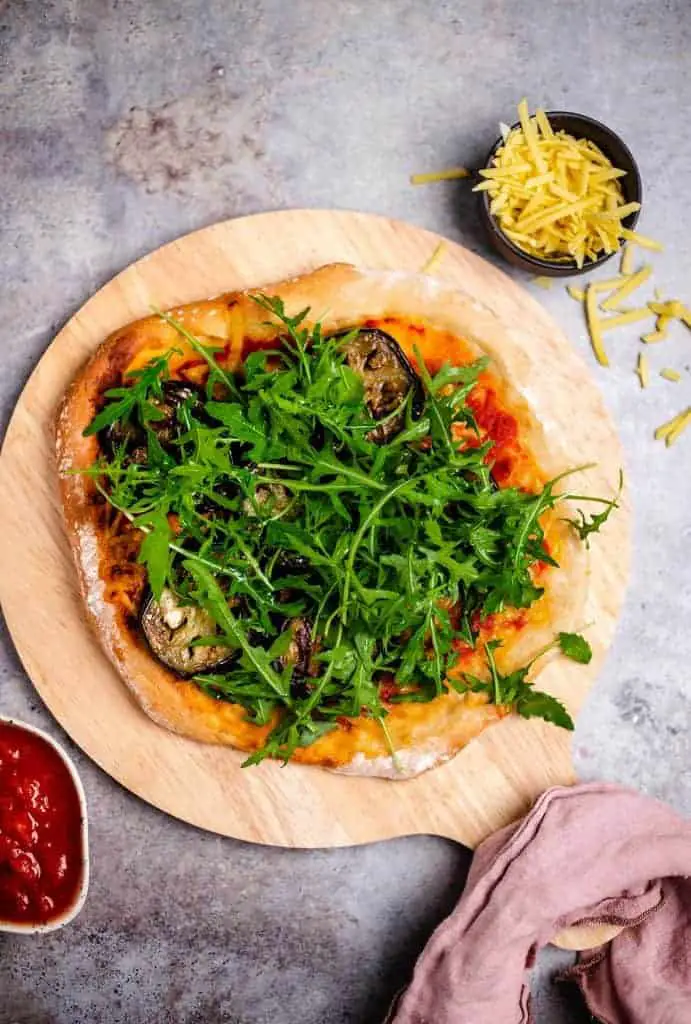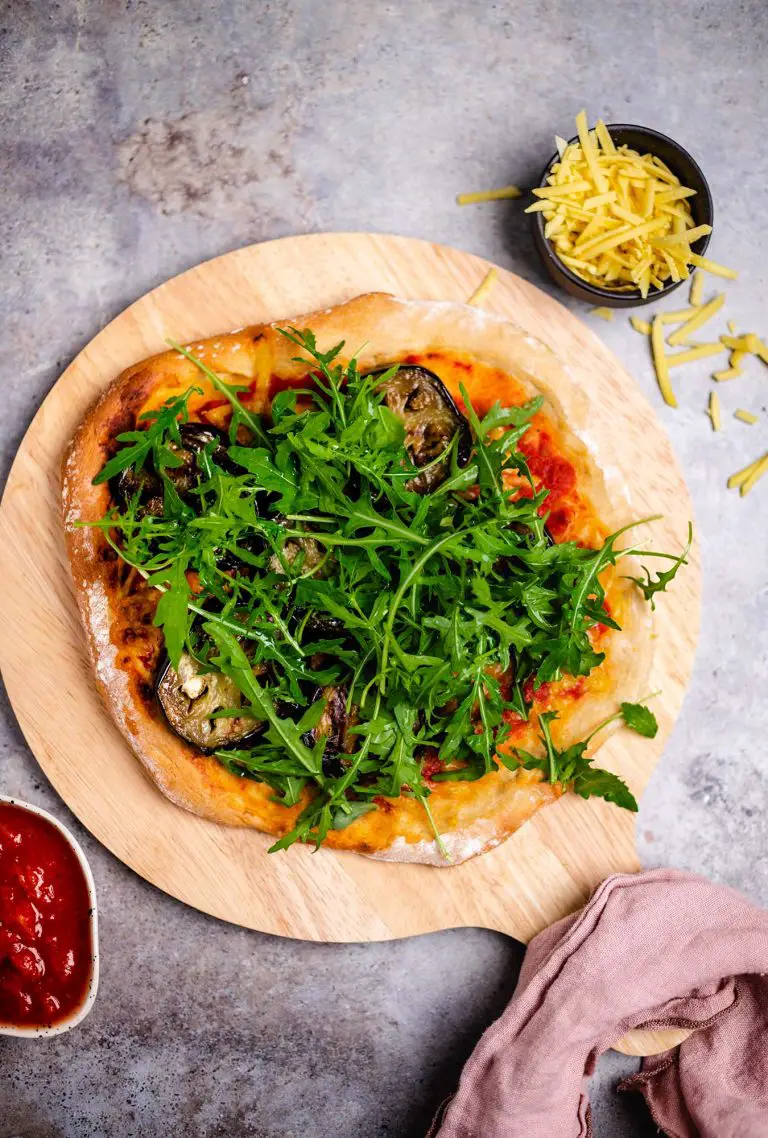 Today I am once again working with fresh yeast, although it makes no difference whether you work with dry yeast or the dried version. It depends on the processing whether the dough succeeds or not. It is important that the dough is kneaded well to activate the yeast. Then it is allowed to rise, preferably at room temperature. Here it depends on the subtleties, because drafts or too hot (or too cold) temperatures the dough does not like at all and does not rise. Then just roll out, top with tomato sauce and cheese and off to the oven.
If you're up for another pizza variation today, I recommend the following recipes: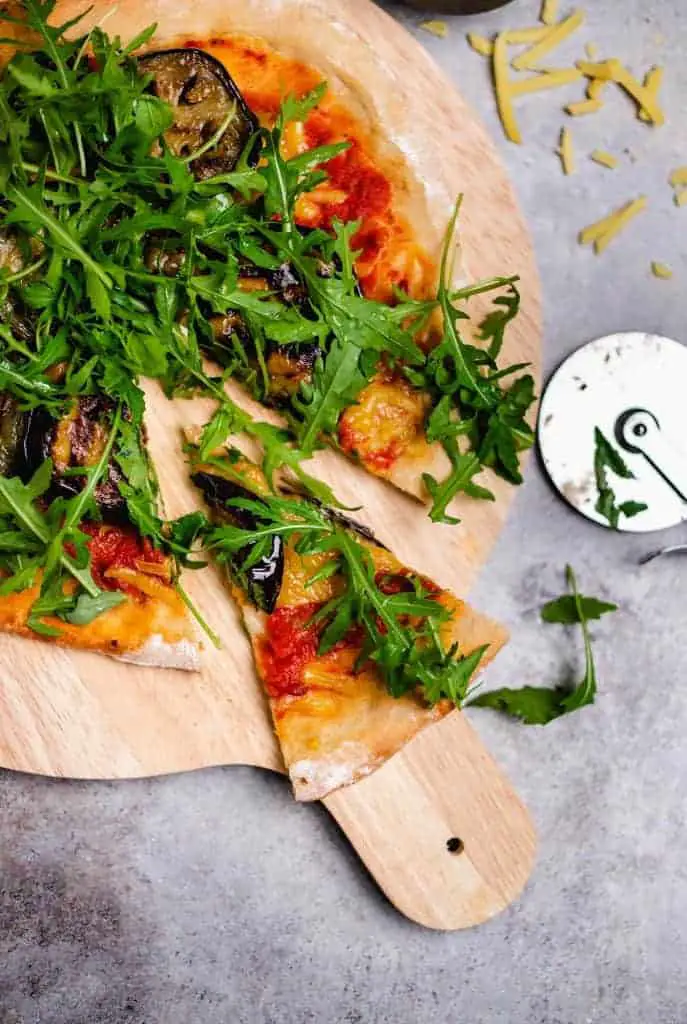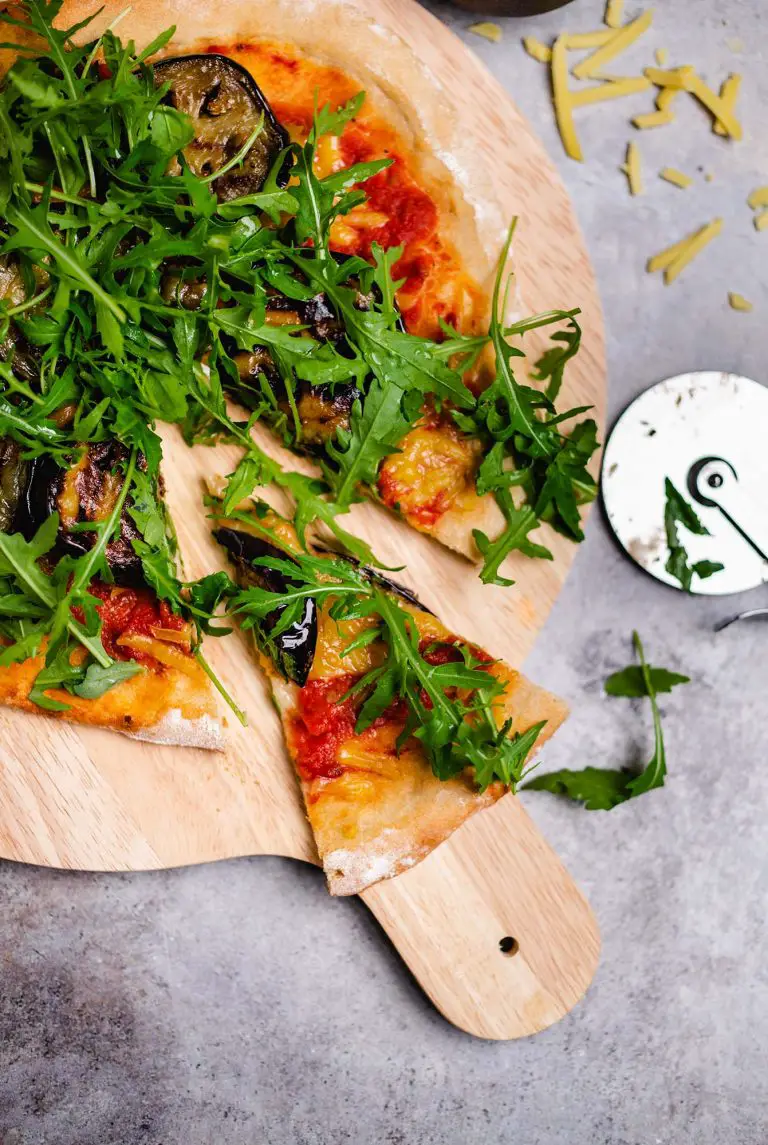 The pizza with grilled eggplant and arugula is:
aromatic
Light
Crispy
filling
Easy to make
Are you ready for this delicious pizza? I wish you a lot of fun in recooking and of course a review at the bottom of this page. If you post a picture, use the hashtag #veganevibes.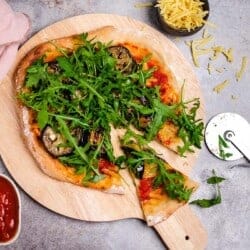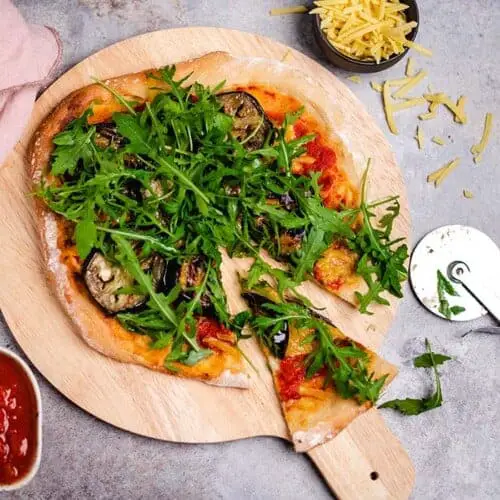 Pizza with grilled eggplant and arugula
Delicious, fluffy vegan pizza with grilled eggplant and arugula. A dream flavor combination and great alternative for a successful pizza evening with friends and family.
AUTOR: VEGANEVIBES
FOR THE DOUGH:
FOR THE COVER:
1

Piece

Eggplant

medium, sliced

2

tbspn

Frying oil or other high heat oil

for frying or grilling

200

g

Tomato sauce of choice

I use pizza tomatoes with a pinch of salt

150

g

vegan pizza cheese of your choice

2

Cups

fresh arugula
Anleitung 
FOR THE DOUGH put lukewarm water and yeast in a bowl and stir with a whisk or your hands until the yeast has dissolved. Gradually add olive oil and flour and knead with your hands until smooth. Cover and let rise a warm (not hot!) Place without drafts for an hour.

170 ml lukewarm water,

2 g fresh yeast,

1 tbspn Olive oil,

1 tbspn Salt,

250 g Flour

NOTE: Yeast bacteria do not like it too hot or too cold. Always choose a medium, warm temperature for rising the dough.

While the yeast dough is rising, heat a grill pan, add oil and sear or grill the eggplant slices on both sides. Once slices are nicely browned, cover pan. In this way, the slices stew even further and become nice and juicy and soft. Set aside.

1 Piece Eggplant,

2 tbspn Frying oil or other high heat oil

After the rising time, transfer the dough to a floured work surface and knead well again with your hands. The dough should have a smooth, firm consistency. Divide into two equal portions. Place on a surface and roll out two pizza crusts with your hands or a dough roller. If necessary, a little extra flour is needed here.

Now preheat oven to 200 degrees convection or pizza level.

Spread tomato sauce on pizza crusts and sprinkle with plenty of vegan cheese.

200 g Tomato sauce of choice,

150 g vegan pizza cheese of your choice

Place in the oven and bake for 15-17 minutes, until the edges are really nice and crispy browned.

Cover with the grilled eggplant slices and top with plenty of fresh arugula. enjoy! Best fresh.

Pre-baked pizza crusts can be frozen without toppings for 1-2 months.
Nährwertangaben
Serving:
1
Portion
Calories:
730
kcal
Carbohydrates:
115
g
Protein:
19
g
Fat:
20
g
Saturated Fat:
7
g
Polyunsaturated Fat:
1
g
Monounsaturated Fat:
1
g
Sodium:
1475
mg
Potassium:
467
mg
Fiber:
7
g
Sugar:
5
g
Vitamin A:
459
IU
Vitamin C:
7
mg
Calcium:
90
mg
Iron:
3
mg