Eggplant moussaka is a dish that is simply fun to make. The reasons are obvious, because eggplant is one of my favorite vegetablesand I will make many more great recipes with it in the future. Currently, I'm still a big fan of warm dishes, like soups, stews, and oven meals. Spring may not really take off yet and it is still very cold. Snow and rain are forecast for the coming days and that's reason enough for a delicious, warm dish. In summer there will be more raw vegetables, salads and co. again, I promise! By the way, thanks again for the numerous feedback on the topic Spelling . I decided to try proofreading for the next booklet and just sent my texts off. I am very curious to see how many and which errors will be found and hope that the critics will be pleased. In the future, I can then point the finger at the proofreading department. Unfortunately, I can't afford it for every text yet, and until then you'll have to put up with one or two mistakes. In the end, however, what counts is not the quality of the lines I write, but whether the recipe tastes good or not. I am always open to suggestions for improvement, please feel free to comment below.
Vegan eggplant moussaka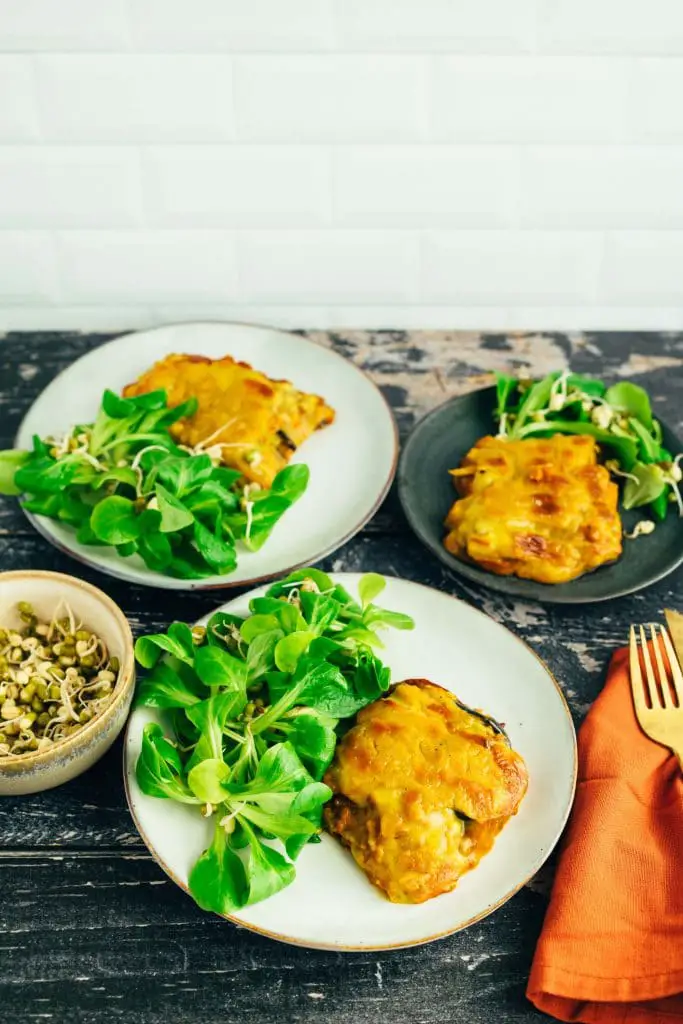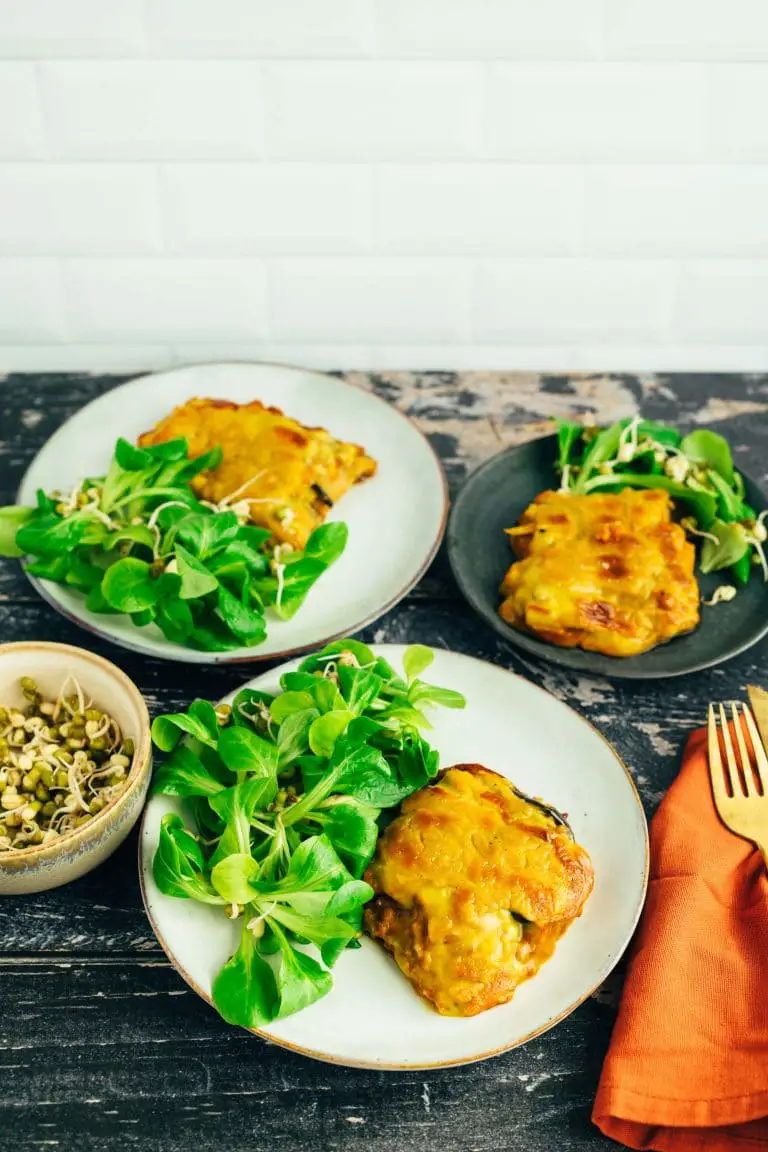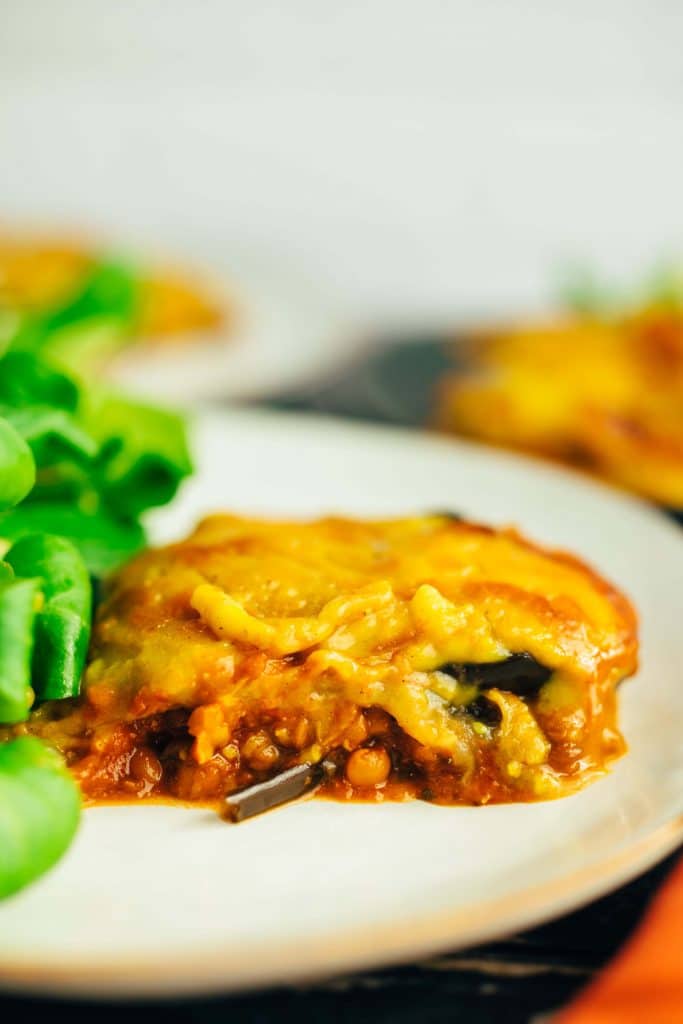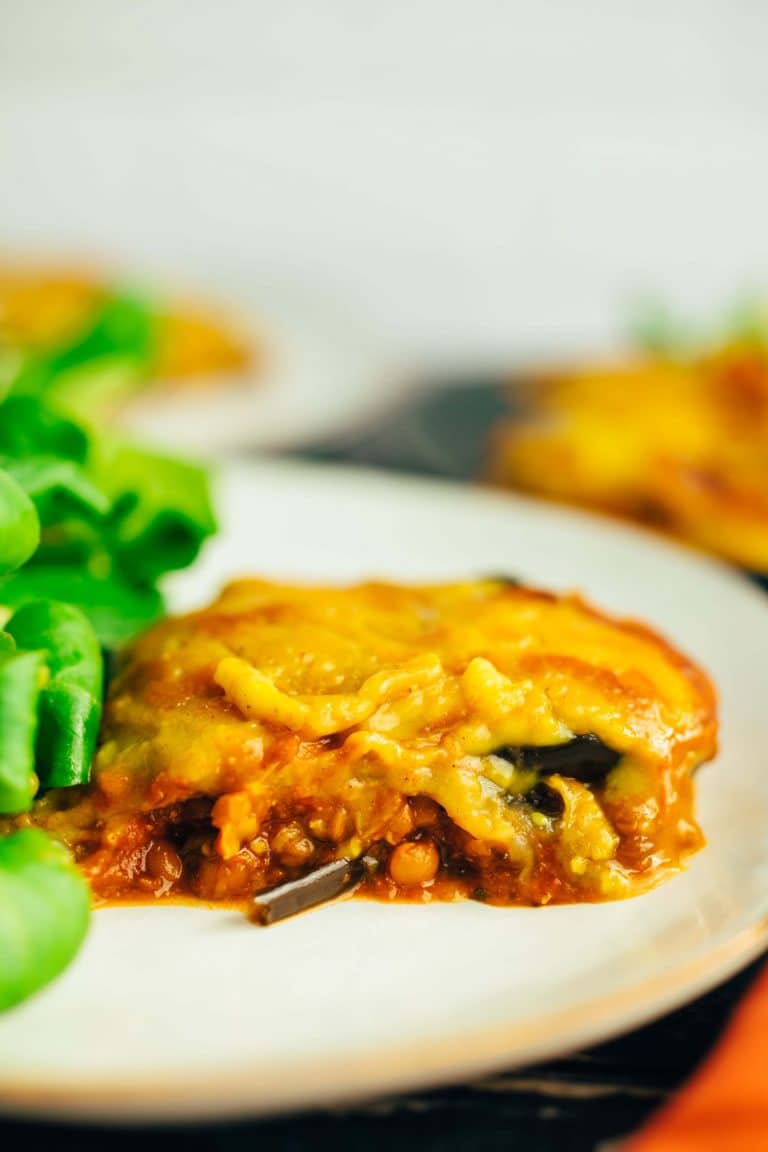 Our eggplant moussaka today consists of three essential ingredients. Eggplant slices that are pre-baked in the oven, a fine sauce of tomatoes and lentils and a bechamel sauce as a crowning touch. The dish is basically very easy to make, but requires a little time and definitely does not belong in the category of lightning recipes. It's definitely worth the effort, though, in my opinion, and a vegan soul-pleaser at its finest.
Moussaka is the name generally given to many dishes with eggplant and minced meat from the Arab region. The minced meat we replace in our case with fine, nutrient-rich lentils . Our version of moussaka is more reminiscent of the original from Greek-Turkish cuisine, topped with bechamel sauce. By the way, the eggplants are often replaced by zucchini, whatever you have on hand.
Let's move on to the first ingredient, the pre-baked eggplants. You may remember the method of salting eggplants after cutting, which is supposed to draw water and lose its bitter taste. I used to do this as well, but I must say that I doubt the effectiveness of the method. First, I do not like to use so much salt and secondly, the modern eggplant cultivars by far not so bitter. . However, this reflects exclusively my opinion and I am sure that one or the other of you sees it quite differently.
TIP: Always buy and process eggplant as fresh as possible. After purchase, it is best to store them in the vegetable drawer in the refrigerator, so they will stay fresh for a few days.
Delicious oven dish with eggplant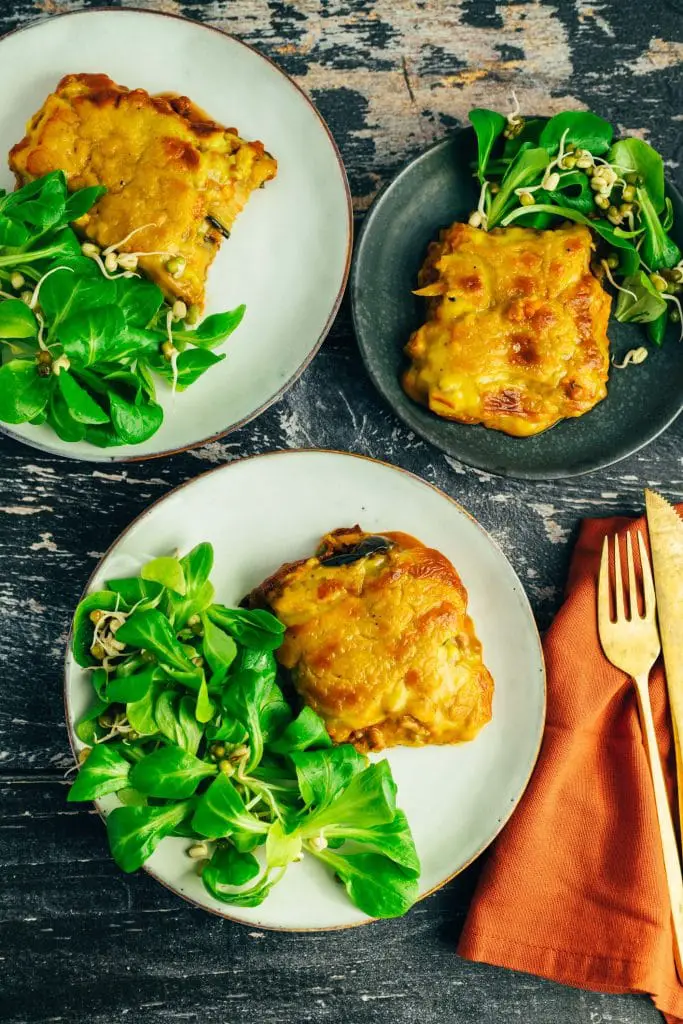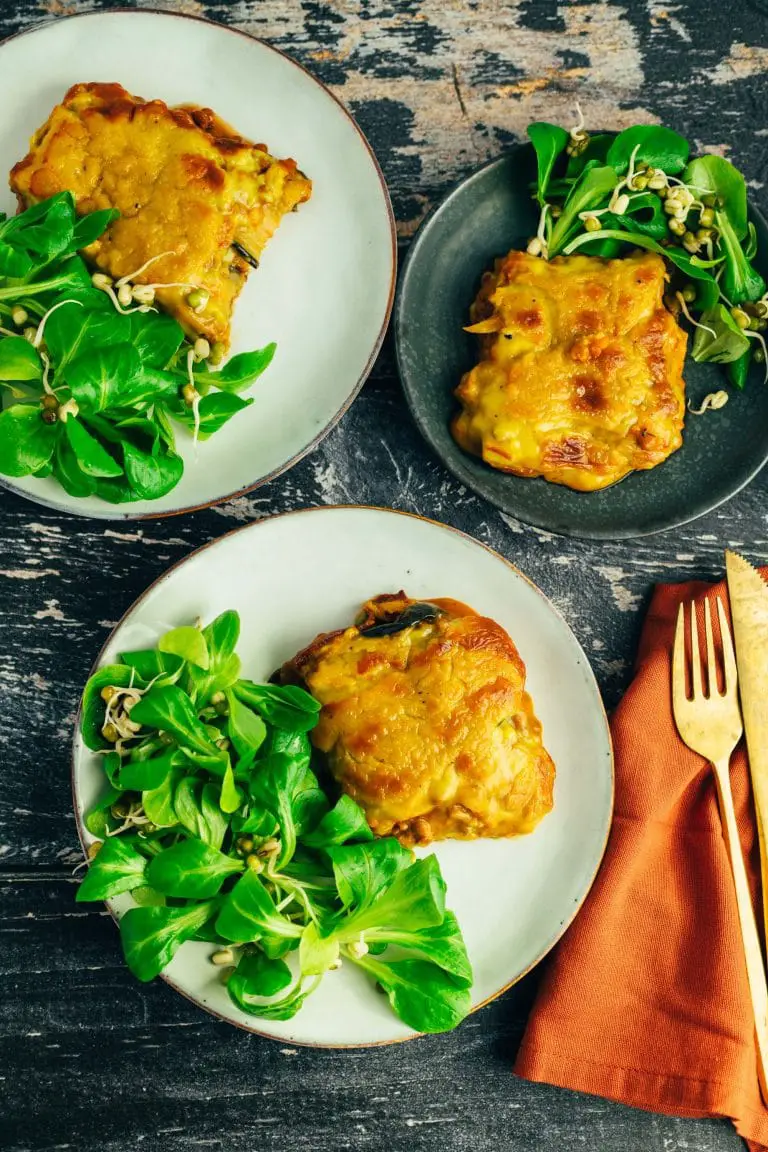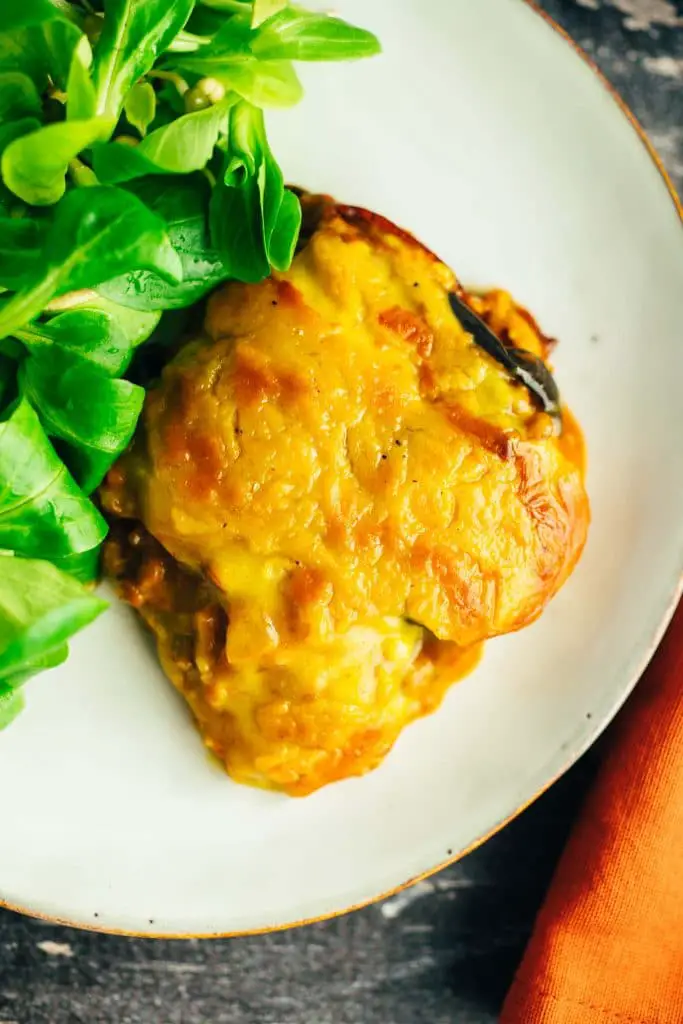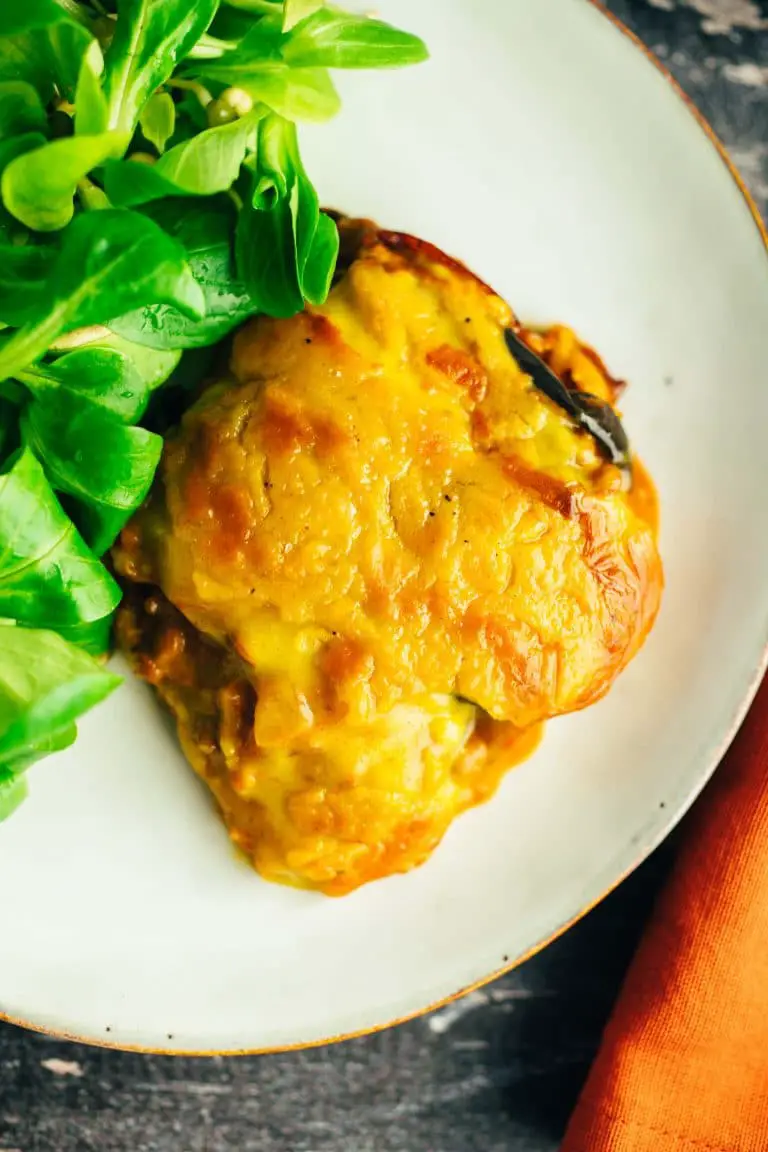 After the eggplant slices are ready, they go into the oven with a little olive oil and pre-bake. This gives them an extra flavor boost and already softens them up a bit. I add a few large cloves of garlic right away to bake along with it.
For the tomato-lentil sauce we need some oil (or vegetable broth), white onion, garlic granules (or fresh garlic), lentils (cooked), tomatoes, Italian herbs, cinnamon, nutmeg, salt and pepper. While everything is simmering, we prepare the bechamel sauce.
Margarine, gluten-free flour blend, oat milk, nutmeg, nutritional yeast flakes, turmeric, sea salt and pepper. The margarine and flour are first mixed to a so-called "Einbrenne" and then sips way infused with vegetable milk. The final result is a thick, creamy sauce, our bechamel.
Perfect, if everything is prepared, we can already start layering. For this we need an ovenproof casserole dish and we're ready to go. Eggplant slices. Alternate layers of lentil-tomato sauce and top with fine bechamel. Off to the oven, wait and enjoy the aroma of this oriental dish.
If you're in the mood for a different eggplant dish today, I recommend my Eggplant Filets (also perfect for the grill), Crispy Breaded Eggplant with Creamy Pasta, or Eggplant and Tomato Skillet with Chickpeas.
The eggplant moussaka (gluten-free) is:
Oriental
aromatic
Protein & High Fiber
filling
Easy to manufacture
Let's get started with this delicious vegan oven dish. I wish you a lot of fun in the recooking and look forward to a review at the bottom of this page. If you post a picture, use the hashtag #veganevibes.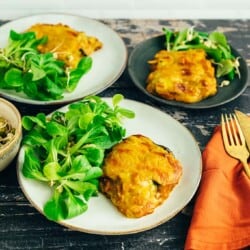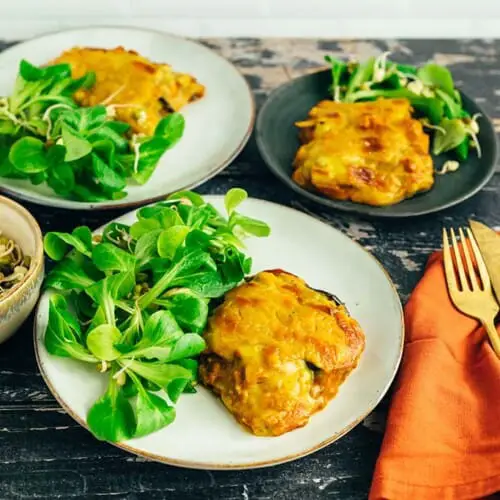 Eggplant Moussaka (gluten free)
Hearty eggplant moussaka, with oven-roasted eggplant, a sauce of lentils and tomatoes, topped with a fine bechamel sauce. Delicious main course and ideal together with a fine salad. Vegan and gluten free.
AUTOR: VEGANEVIBES
FOR THE OVEN ROASTED EGGPLANT:
Olive oil for brushing

1000

g

Eggplant

Stalk removed, cut into oblong slices, equivalent to 2 medium eggplants.

optional 6-8 garlic cloves (with peel)
FOR THE LENTIL-TOMATO SAUCE:
30

ml

Frying oil or other high heat oil

if oil free use vegetable broth or water

55

g

white onion

chopped

6

g

Garlic cloves

peeled, pressed or finely chopped

2

tbspn

Italian herbs

alternatively mixed oregano, basil, thyme and sage

1

tbspn

Cinnamon

¼

tbspn

Nutmeg

400

g

Tinned tomato pieces

alternative tomatoes passata

265

g

Lentils cooked

1 can or jar of 400g, alternatively cook dried lentils beforehand according to package instructions or replace with soy cutlets (fine)

optional 15g coconut blossom sugar
TO SERVE:
Parsley or basil

fresh or dried

Baguette

Fresh side salad
Anleitung 
FOR THE OVEN ROASTED EGGPLANT Preheat oven to 205 degrees convection (225 upper-lower heat). Line baking sheet with baking paper.

Remove the stalk from the eggplant and cut into slices about 1 cm thick. Place flat on baking sheet and brush with olive oil. Turn over once and brush the back side.

Olive oil for brushing,

1000 g Eggplant

Optionally, add garlic cloves to the tray, place in the oven and roast for 15 minutes.

optional 6-8 garlic cloves (with peel)

Note: You can also roast the eggplants in the oven without oil, but they will be quite dry and soak up more sauce.

30 ml Frying oil or other high heat oil

In the meantime FOR THE LENTIL AND TOMATO SAUCE heat a pot, sauté the onion and garlic briefly until the onions are slightly translucent. Add Italian herbs, cinnamon and nutmeg and stir well once until everything is well combined.

55 g white onion,

6 g Garlic cloves,

2 tbspn Italian herbs,

1 tbspn Cinnamon,

¼ tbspn Nutmeg

Add tomato pieces and lentils and stir well once. Season with salt and pepper and optionally add 1 tablespoon coconut blossom sugar. If necessary, dilute with a little water so that everything can boil down well.

400 g Tinned tomato pieces,

265 g Lentils cooked,

Sea salt to taste,

Pepper to taste,

optional 15g coconut blossom sugar

NOTE: Please do not use too much liquid, the sauce should rather be a little thicker.

Cover and simmer uncovered over medium heat for 20 minutes.

Remove eggplant (and garlic) from oven at end of baking time and set aside.

FOR THE BÉCHAMEL SAUCE prepare a small saucepan, melt margarine in it (medium temperature, do not let it get too hot), stir in flour and stir with a whisk until a so-called "Einbrenne" is formed. Pour in vegetable milk and allow to thicken, stirring constantly. To do this, the sauce must boil again. Add nutmeg, sea salt and pepper, season to taste and set aside.

2 tbspn Italian herbs,

50 g Margarine,

50 g gluten free flour mix,

600 ml Plant milk,

1/8 tbspn Nutmeg,

20 g Nutritional yeast flakes,

½ tbspn Turmeric,

½ tbspn Sea salt,

Pepper to taste

NOTE: Stir really vigorously, I use this as a workout for my arms right away.

Preheat oven to 200 degrees convection (220 top bottom heat) and provide a baking dish (20×20) or slightly larger.

NOTE: The larger the mold, the flatter the moussaka and vice versa.

First put in a layer of eggplant slices (and baked garlic, skin removed), then a layer of lentil-tomato sauce and repeat until everything is used up.

Pour the béchamel sauce over the top and spread until smooth. Put in the oven and bake for

30 minutes

.

Remove from oven, let set for

10 minutes

, portion and serve with desired toppings and garnishes.

Parsley or basil,

Baguette,

Fresh side salad

Keep leftovers covered in the fridge for 2-3 days. Can be kept frozen for about 1 month.
Nährwertangaben
Serving:
1
Portion
Calories:
414
kcal
Carbohydrates:
52
g
Protein:
20
g
Fat:
16
g
Saturated Fat:
6
g
Sodium:
518
mg
Potassium:
1287
mg
Fiber:
22
g
Sugar:
13
g
Vitamin A:
1036
IU
Vitamin C:
19
mg
Calcium:
201
mg
Iron:
6
mg