Finally, Veganuary is underway and I am more than happy to see how many people are now choosing a vegan diet. What was the preserve of a small niche 5 years ago is now a movement to be reckoned with. Out of the corner, into the mainstream, my dears. Personally, it makes me happy because I know how much good you can do with a vegan diet. And I'm not just talking about the millions of animals that we literally save the lives of. It is also the benefits that accrue to ourselves. More fiber, less animal cholesterol and saturated fat and more pleasure at the same time ? Yes, it's possible! You should have some patience and check your old beliefs.
Vegan berbere pizza with chickpeas and tahini dressing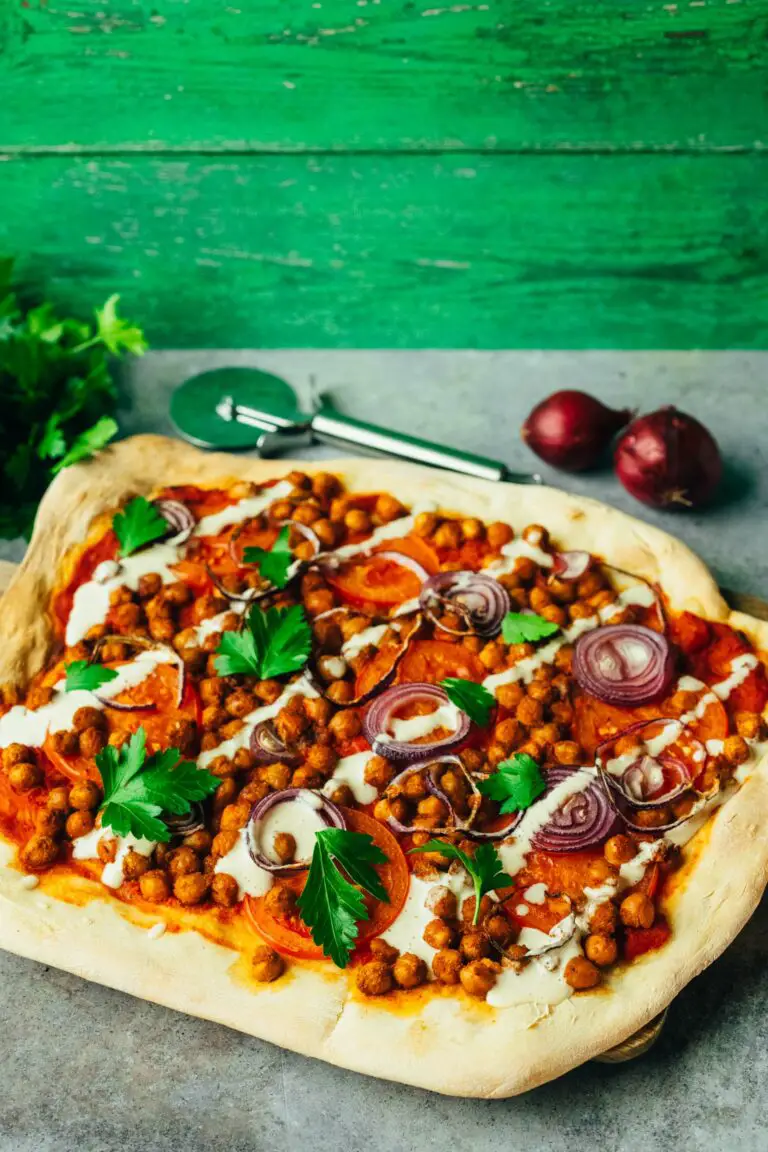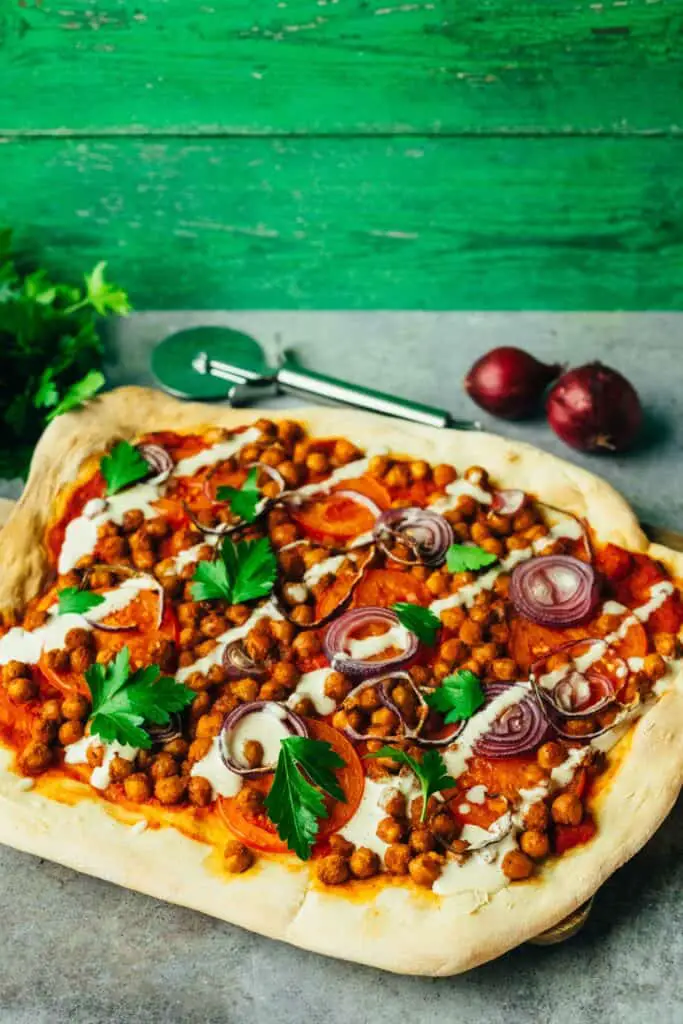 Vegan nutrition, can that taste at all? Yes, it can and that's exactly what we prove once again today with this delicious pizza. Fine spelt yeast dough topped with chickpeas marinated Ethiopian. Tomato sauce, sliced tomatoes and onion round out the flavor. Cheese? Wrong, because we make a wonderful, healthy and delicious tahini dressing, which we drizzle over the pizza at the end and the moment of pleasure is ready.
The dough is a mixture of water, yeast, raw cane sugar, salt and fine spelt flour. An absolute basic recipe for many different pizza variations. For example, I'm thinking of my tandoori pizza, plain vegan pizza, or pizza mozzarella.
Simple vegan pizza for every day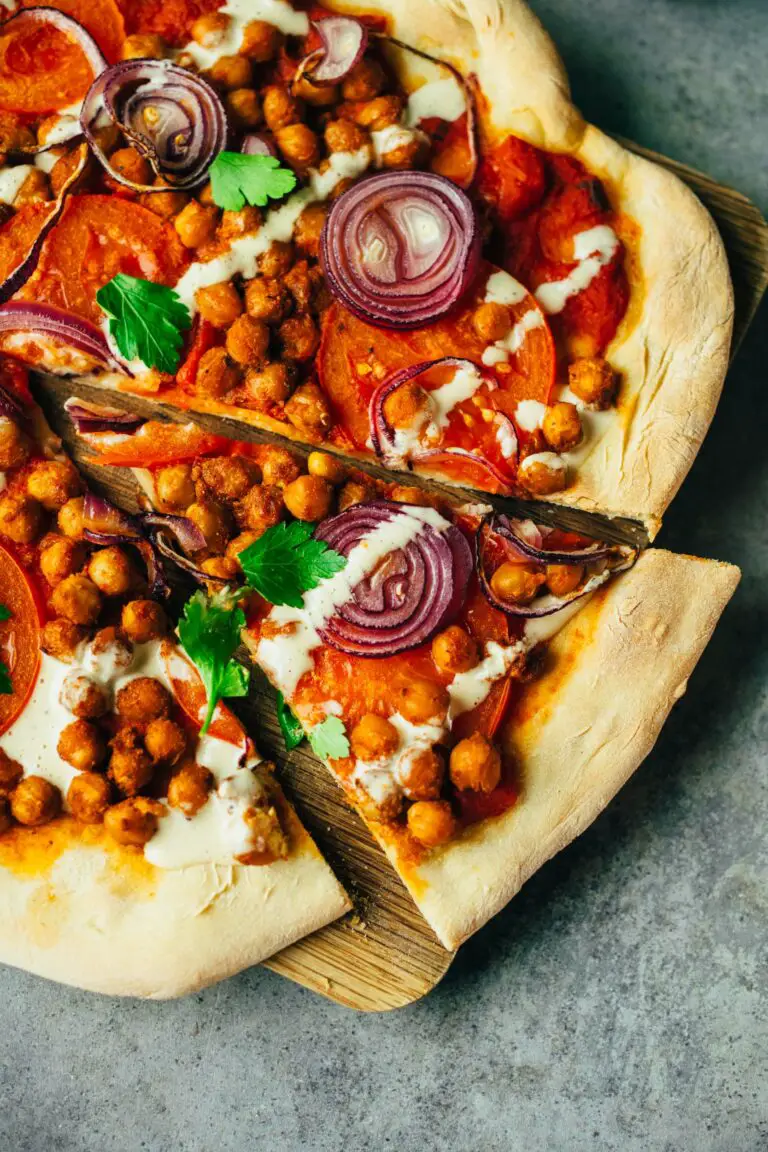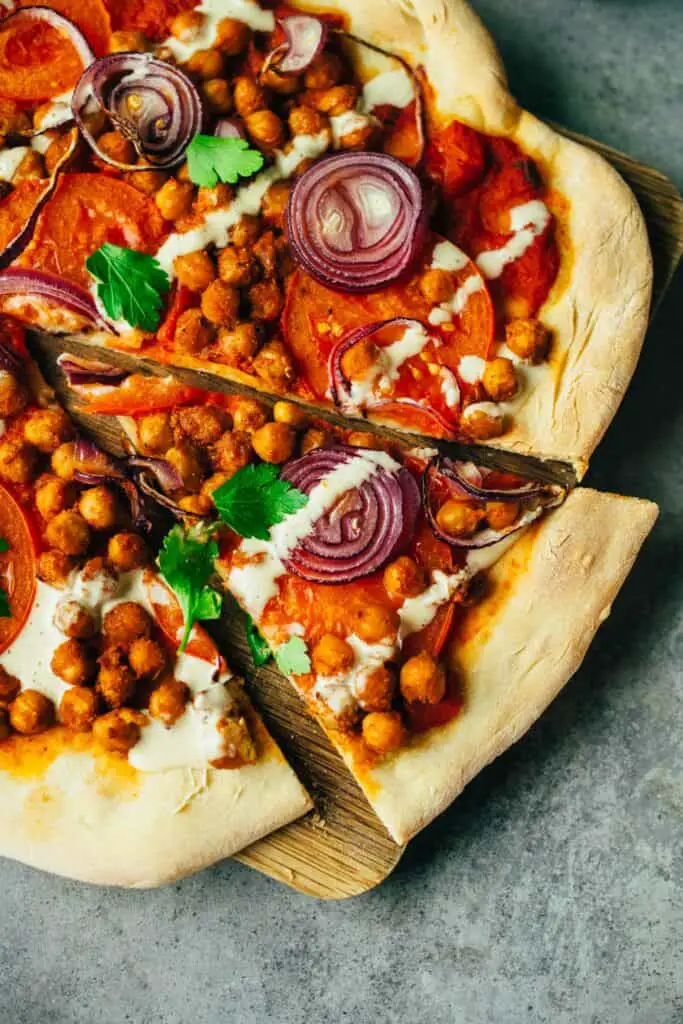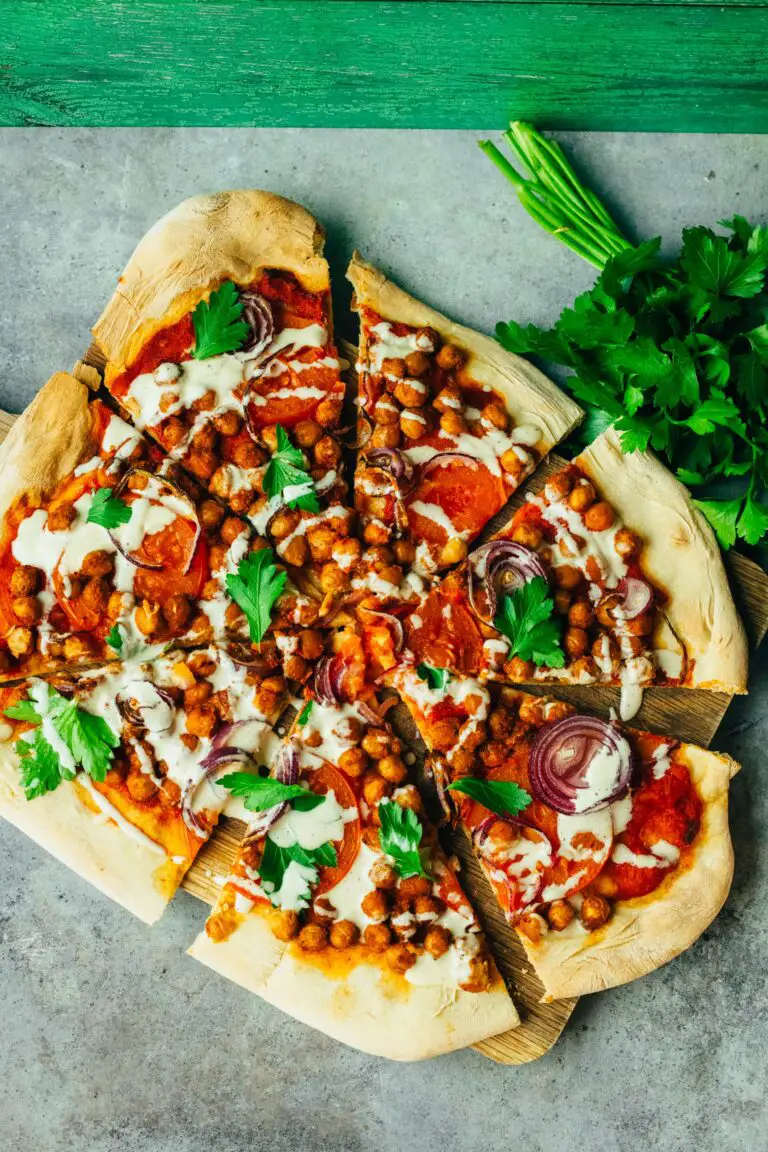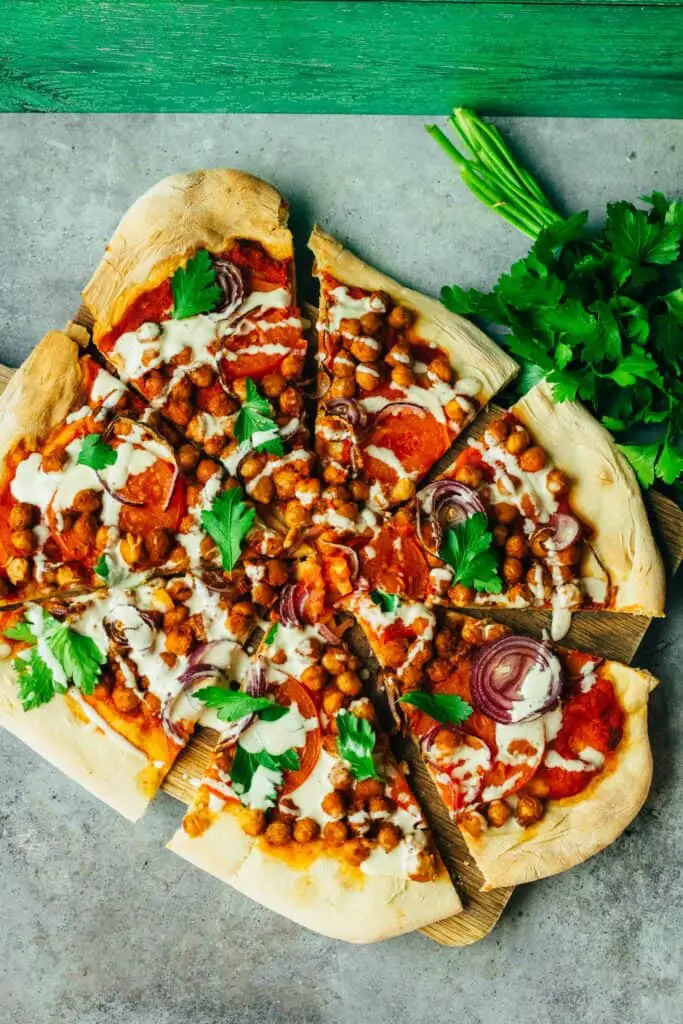 Here is some more information about spelt flour, it contains:
Magnesium and iron
lots of healthy fiber and protein (10g per 100g)
Vitamin B2, B3, B6, vitamin A, C and E
For those who would like to make a gluten-free version, here's a little announcement. I am currently testing different recipes and soon I will post my variation of a gluten-free pizza dough. Stay tuned.
Berbere spice mixture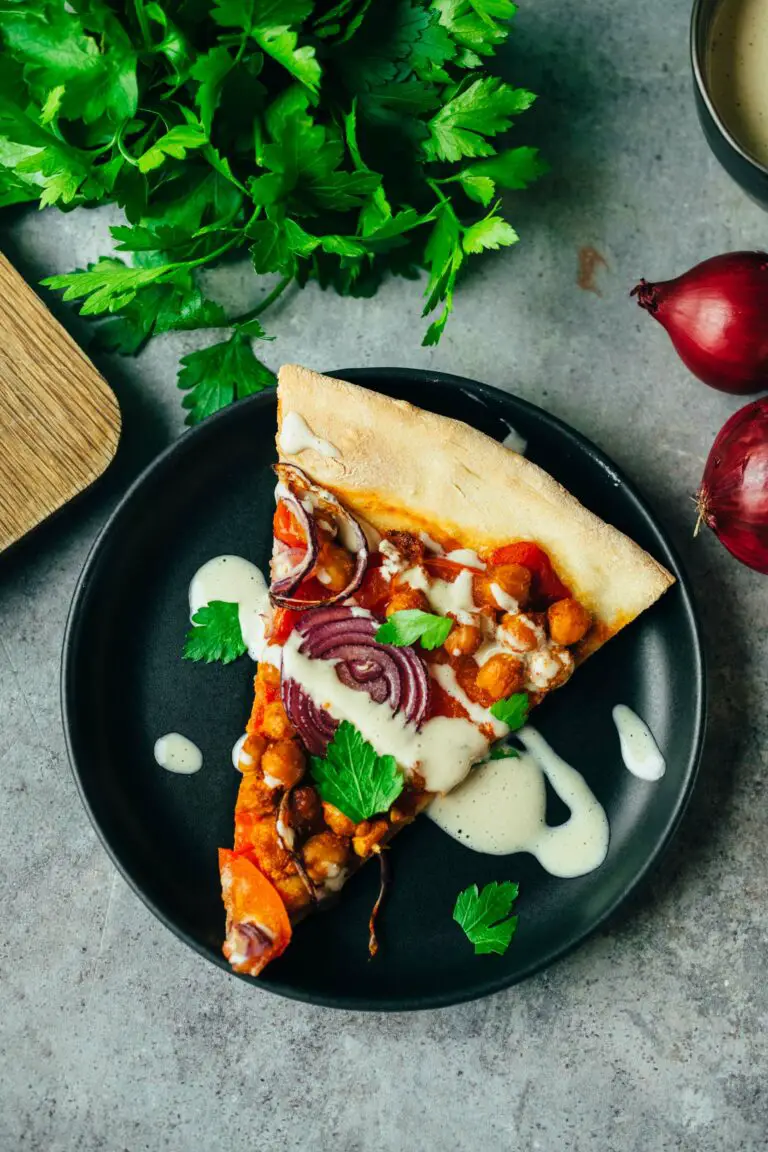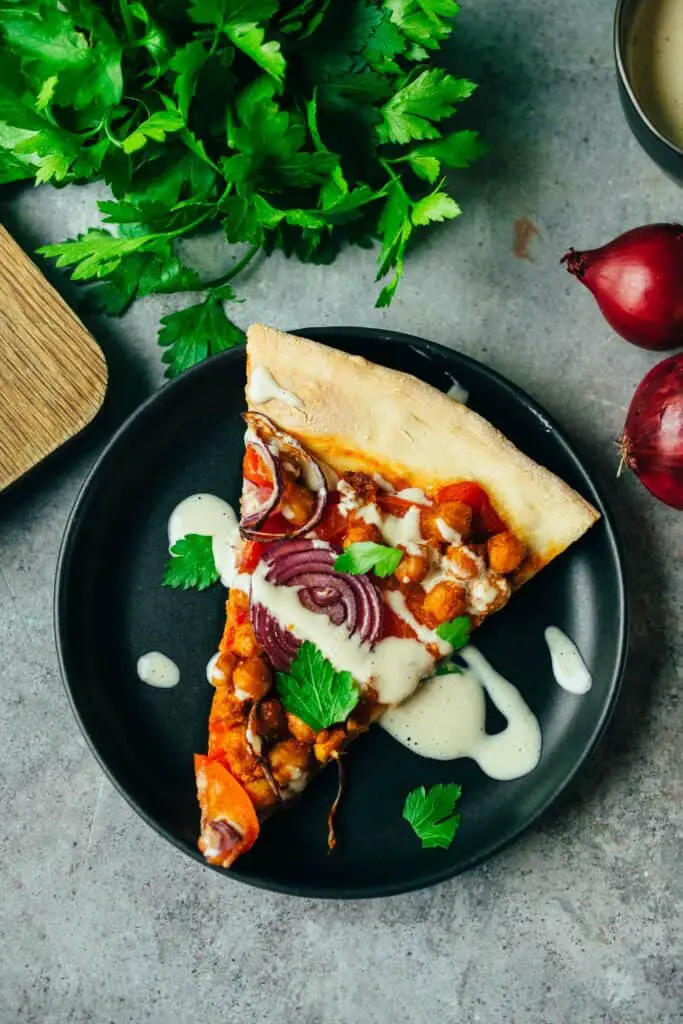 Maybe you're still wondering what a berbere spice blend actually is and how you can make it yourself. Berbere spice is a spicy Ethiopian blend that brings the exotic scent of African cuisine to your home. Originally, the spice blend is popular for seasoning spicy and hearty meat dishes. We simply marinate our chickpeas with it, the legumes are also gladly called "the chicken" of the vegans.
What do I use for the berbere spice mix?
Coriander
Sweet bell pepper
Paprika smoked
Cumin
Mustard seed or fenugreek
Cardamom
Cinnamon, cayenne pepper, ginger
Please note that this is only a guideline, as there is no set, uniform recipe for this spice blend. It varies from place to place and offers room for your individual preferences. Feel free to try yourself out here.
The Berbere Spelt Pizza with Tahini Dressing is:
crispy
incredibly aromatic
Ethiopian
filling
Easy to manufacture
I wish you a lot of fun with the Nachbackenand look forward to a review at the bottom of this page. If you post a picture, use the hashtag #veganevibes.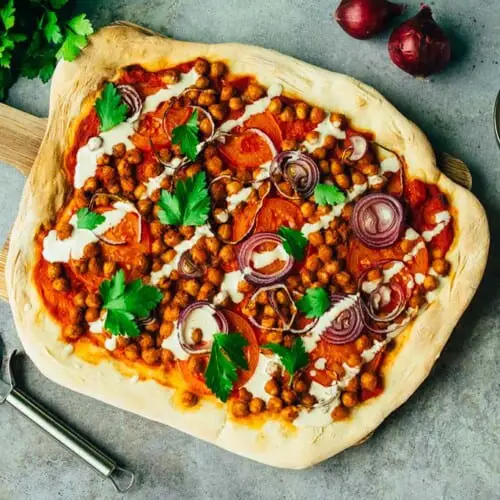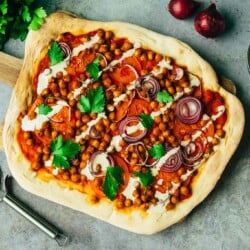 Berbere spelt pizza with tahini dressing
Oriantal pizza made with fine spelt flour. Crispy base topped with Ethiopian marinated chickpeas, finished with a creamy tahini dressing. Ideal for those who like spicy and hot food.
AUTOR: VEGANEVIBES
FOR THE BERBERE CHICKPEAS:
FOR THE TANDOORI CHICKPEAS:
150

g

Tomato sauce or passata

1

Piece

red onion

cut into rings

2

Piece

Tomatoes

Stalk removed, cut into slices
FOR THE SIMPLE PIZZA DOUGH:
FOR THE TOPPINGS:
Parsley or cilantro to taste
Anleitung 
FOR THE BERBERE CHICKPEAS Place all ingredients in a large bowl and mix with a wooden spoon until the chickpeas are well combined with all other ingredients. Cover and set aside.

265 g Chickpeas drained and patted dry*.,

½ tbspn Coriander,

1 tbspn Sweet bell pepper,

½ tbspn Paprika smoked,

½ tbspn Cumin,

¼ tbspn Cardamom,

¼ tbspn Mustard seed,

½ tbspn Cinnamon,

1/8 tbspn Clove powder,

¼ tbspn Cayenne pepper or 1 Bird Eye Chili,

15 ml Olive oil

For the dough first put the wet ingredients, then the dry ingredients in a mixing bowl and mix with a food processor (kneading chopper) or with your hands for about 3-4 minutes until a smooth dough. If the dough is too dry, carefully add a little more water. If the dough is too wet, add a little more flour. Briefly remove dough from bowl, flour bottom of bowl (so dough does not stick).

240 g Spelt flour,

½ tbspn Salt,

1 tbspn Dry yeast,

200 ml lukewarm water,

1 tbspn Raw cane sugar

Cover (I use a tea towel and a lid) and place in a warm, but not too hot, place where there are no drafts. The dough should still be able to breathe (do not cover too tightly), as the yeast needs heat and oxygen to rise. Let rise for 1 hour.

At the end of the baking time, preheat the oven to 190 degrees (top and bottom heat) and line a baking tray with wrapping paper.

TANDOORI: Transfer the dough to a floured work surface and knead again with your hands. Roll out with a pastry roller to a round (about 30 centimeters in diameter) dough. Spread evenly with tomato sauce, then top with tomato slices, chickpeas and onion.

150 g Tomato sauce or passata,

1 Piece red onion,

2 Piece Tomatoes

Place in oven and bake for

15-20 minutes

until pizza is nice and golden brown around the edges.

Remove from oven, cut into pieces, drizzle with tahini dressing and enjoy!

Tahini dressing according to this recipe,

Parsley or cilantro to taste
Nährwertangaben
Serving:
1
Portion
Calories:
791
kcal
Carbohydrates:
130
g
Protein:
29
g
Fat:
15
g
Saturated Fat:
1
g
Sodium:
510
mg
Potassium:
634
mg
Fiber:
28
g
Sugar:
10
g
Vitamin A:
730
IU
Vitamin C:
7
mg
Calcium:
75
mg
Iron:
11
mg