Pumpkin donuts, because the start of autumn has fallen. For me, the defining day is always my brother's birthday at the end of August. From this day on, the days become shorter and the temperatures get in the mood for autumn. For me, this means only good, because finally I can make recipes with pumpkin again. My favorite thing to do is first make a homemade pumpkin puree and then make lots and lots of goodies with it. This recipe is really easy and I highly recommend it.
Vegan pumpkin donuts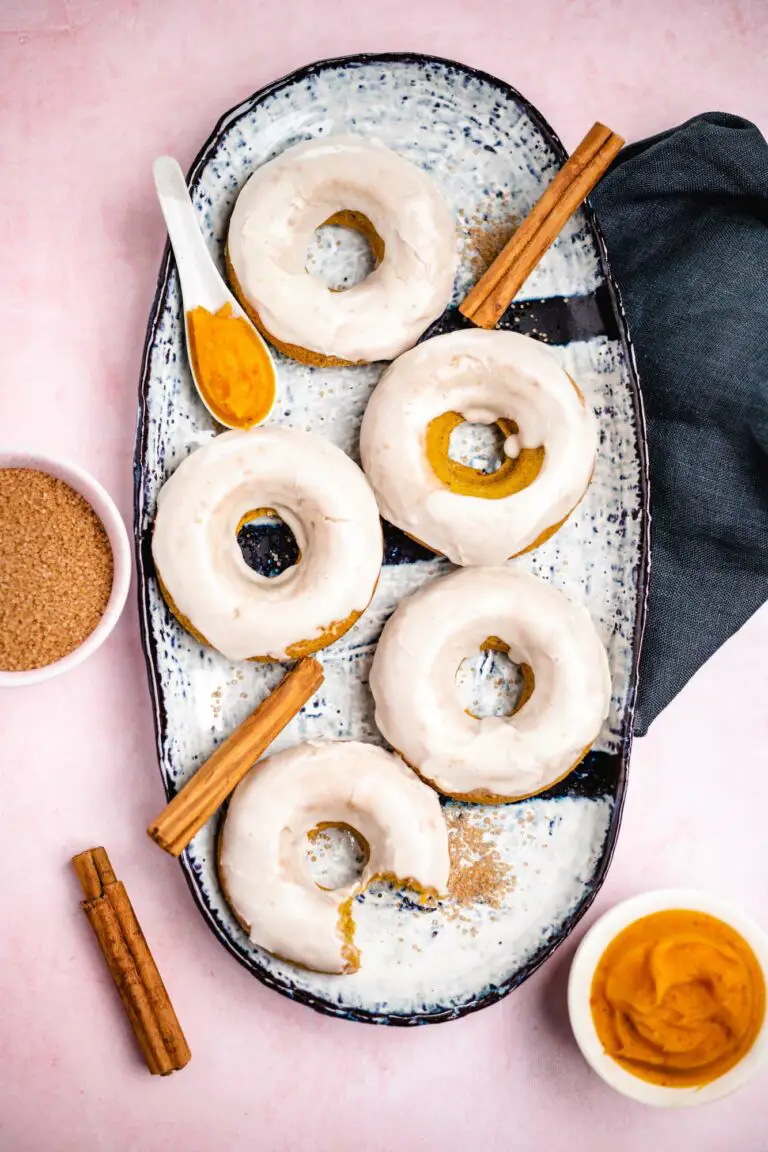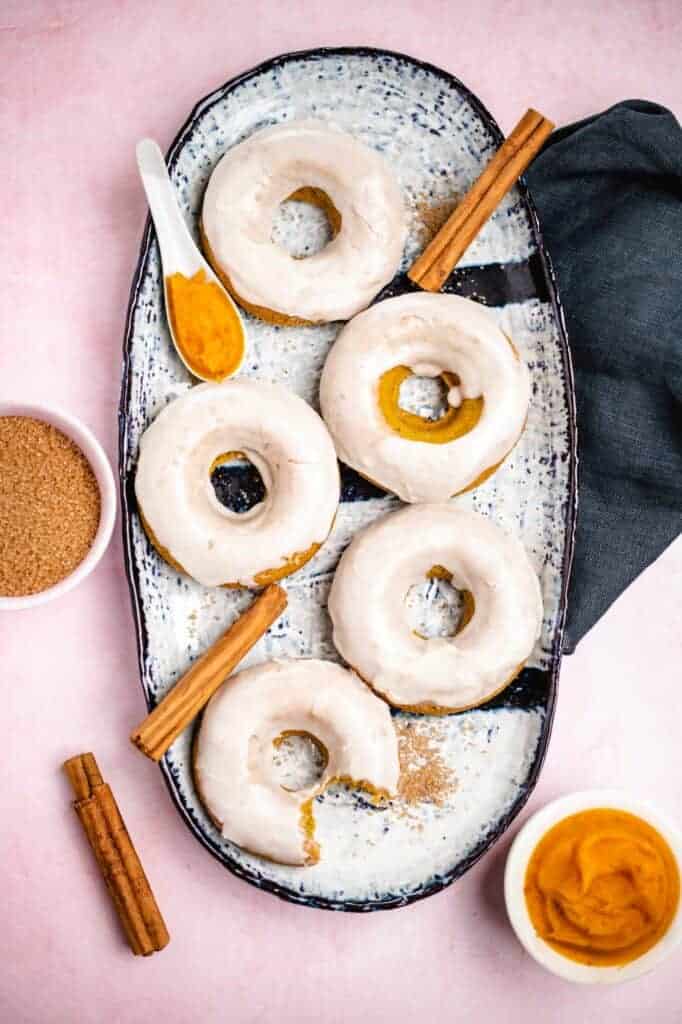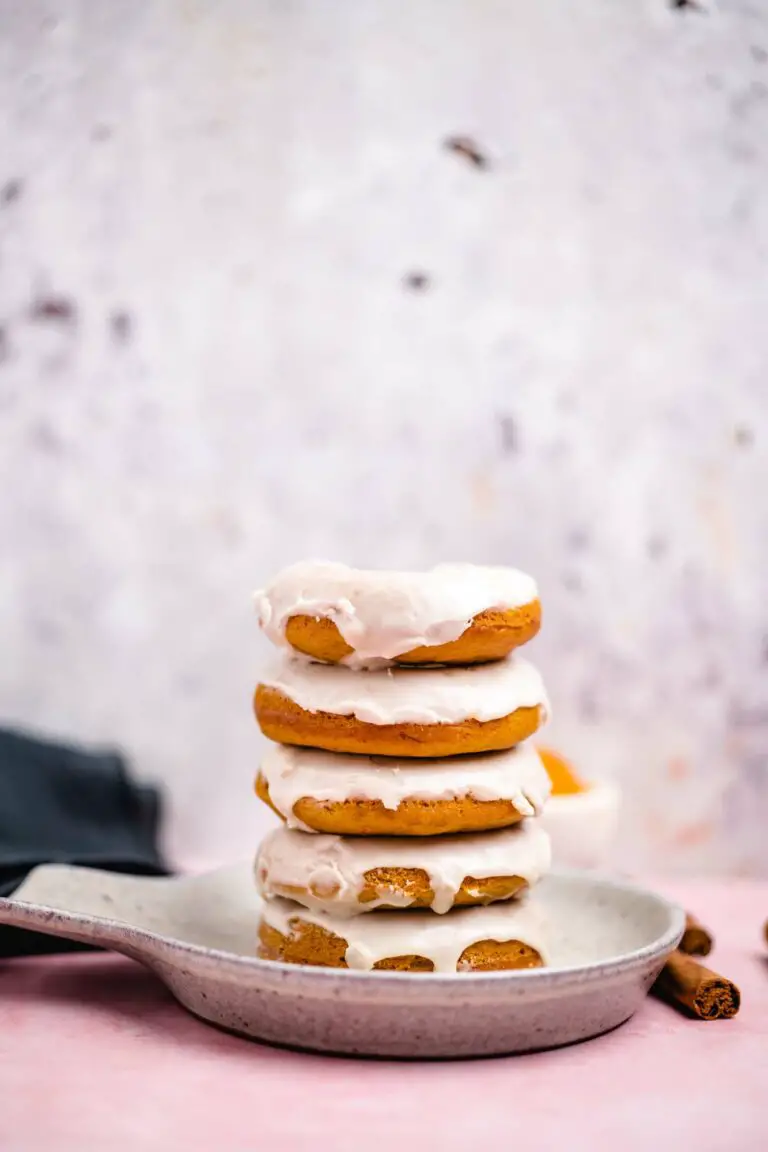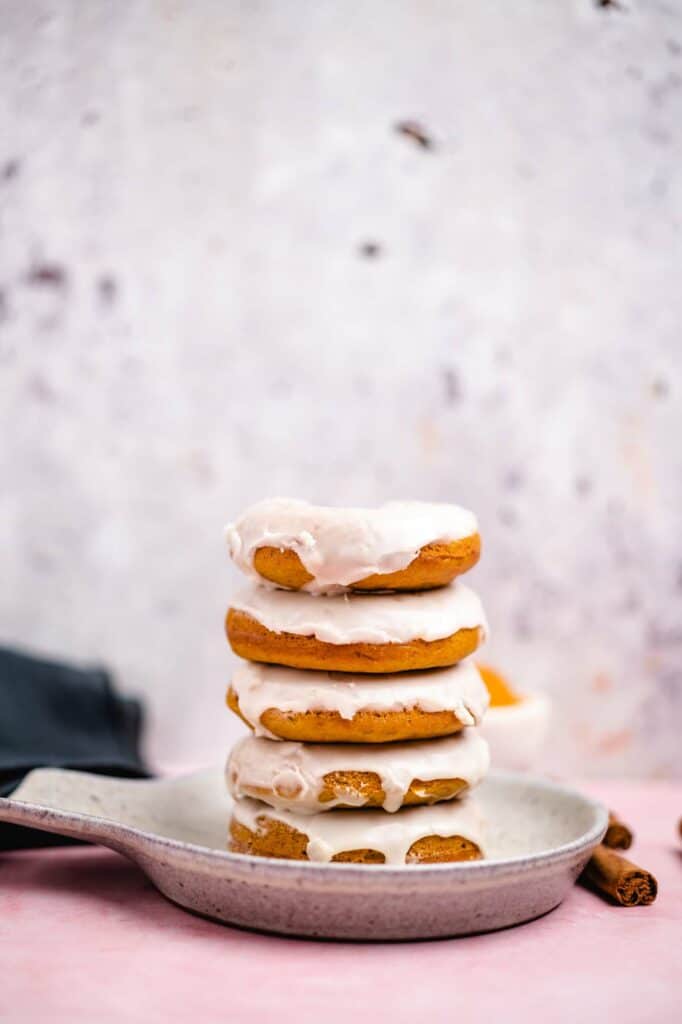 Quick and easy, that's how I like it best. With these donuts, this is true in any case, since we need only a few ingredients. The only requirement is a donut pan, as I bake the donuts in the oven. Alternatively, you could bake the donuts out in fat, but then the dough would have to be a little more compact. So I hope you have a baking pan at home and all is well. If not, I've linked you my favorite baking dish below.
Let's move on to the ingredients. Flour, cornstarch, raw cane sugar, pumpkin spice, baking powder, bourbon vanilla. Stir together dry yeast, salt. Add to it vegetable milk, margarine and pumpkin puree. Whisk all this well until a uniform dough is formed. This should not be too firm, otherwise it is difficult to inject into the donut mold.
TIP: Click here to go directly to the recipe for homemade pumpkin spice!
Vegan treats for autumn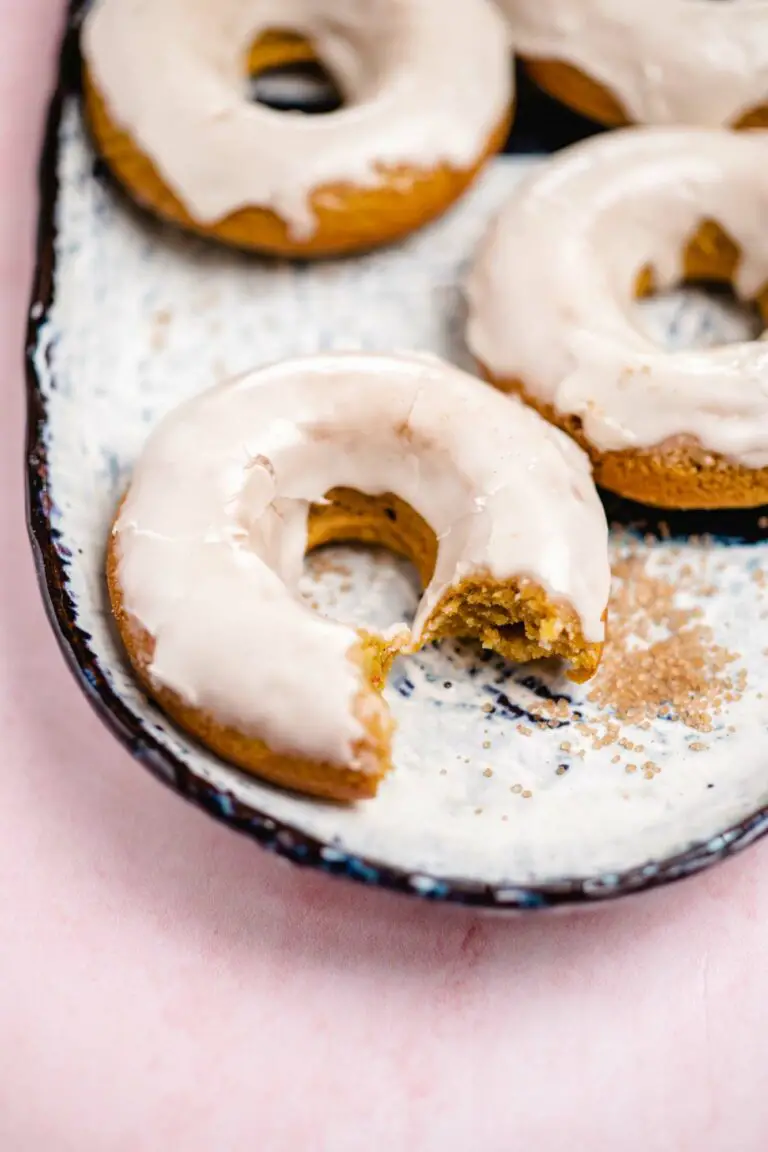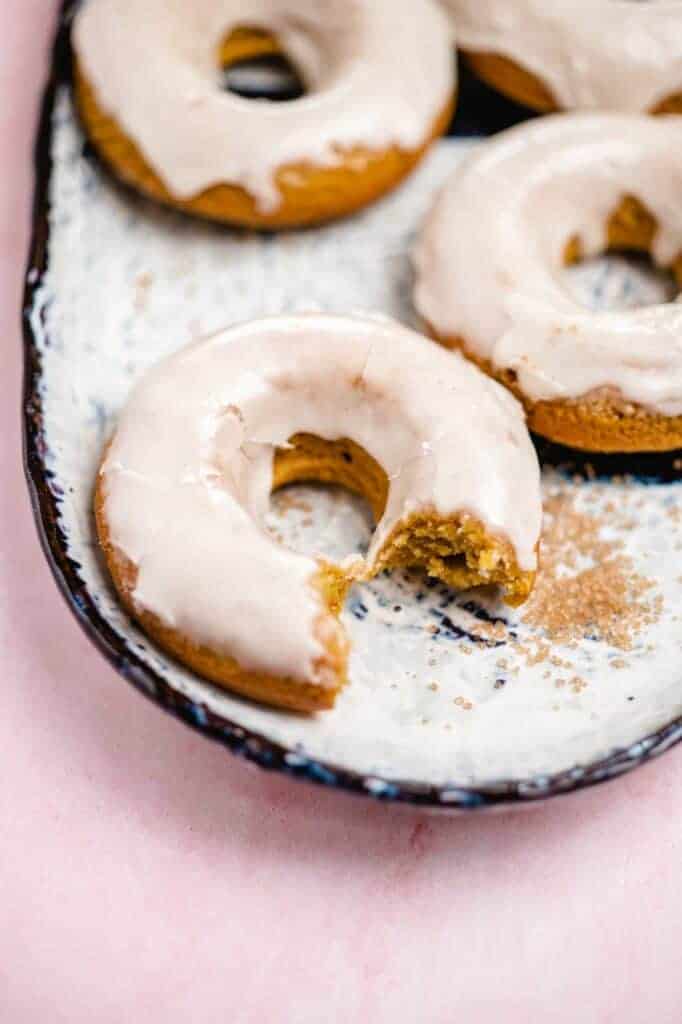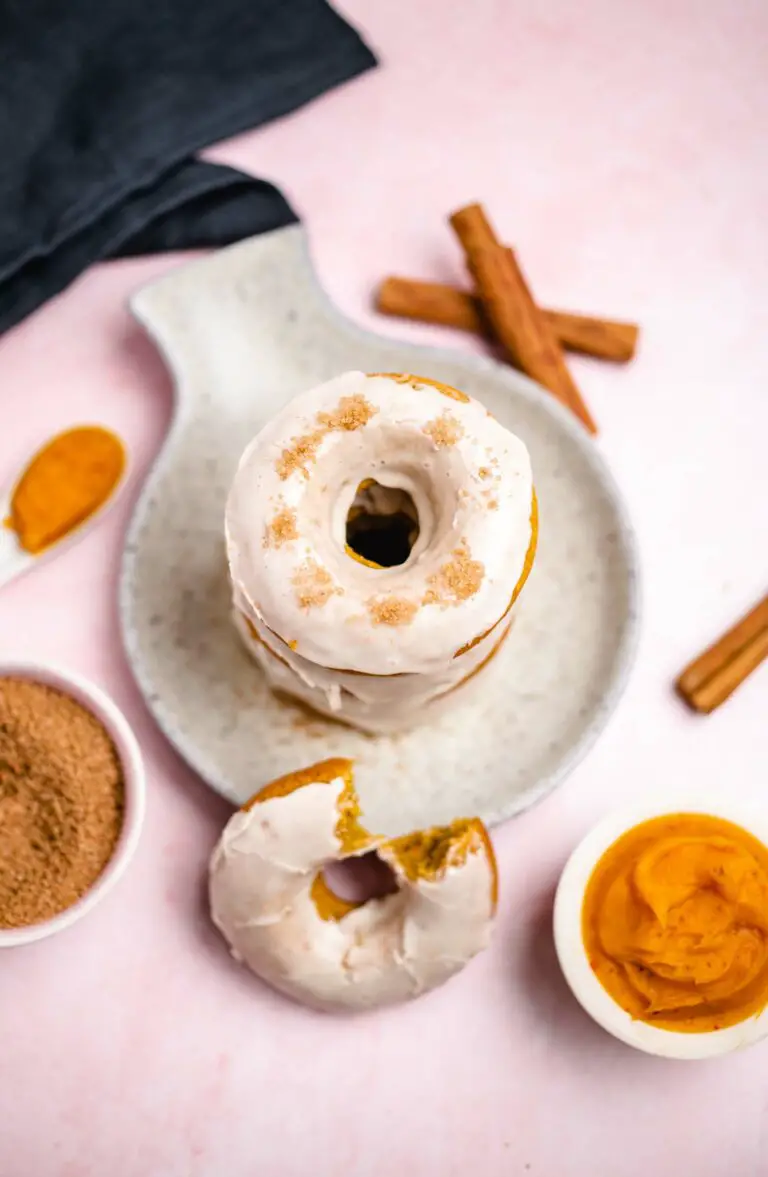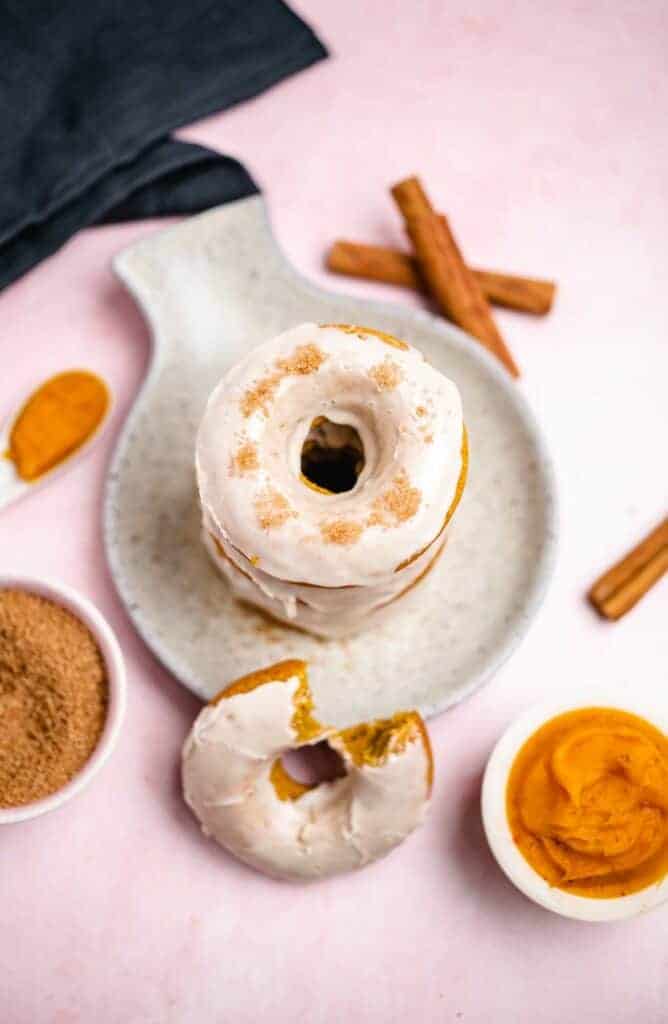 Honestly, you almost can't go wrong with this recipe. At the end I add a delicious icing on top. Of course, this is absolutely optional and if you want to save sugar, you can simply omit it.
If you are looking for other donut recipes, then I have the following suggestions for you:
We summarize: The pumpkin donuts take just 30 minutes, including prep time, and come with only a few ingredients. 1 bowl, 1 donut mold and go!
The Vegan Pumpkin Donuts (30 minutes) are:
Locker & Fluffig
Autumnal
Perfectly sweet
Vegan & gluten free on request
Addictive
Well, are you ready for these round sweet sins? I wish you a lot of fun with the Nachbacken and of course about a positive review at the bottom of this page. If you post a picture, feel free to use the hashtag #veganevibes.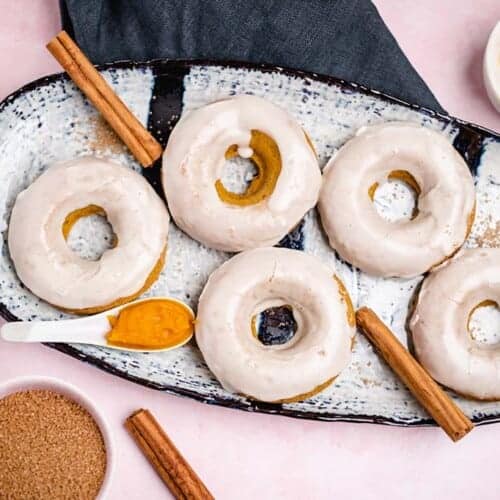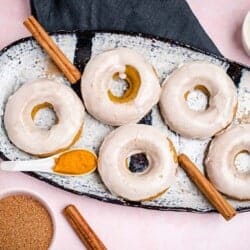 Pumpkin donuts (30 minutes)
Incredibly fluffy, moist and delicious vegan pumpkin donuts with an irresistible frosting. Fits simply ideal for coffee in the afternoon or as a small sweet snack in between. Vegan, gluten free option.
AUTOR: VEGANEVIBES
Anleitung 
Grease donut mold and set aside.

FOR THE DONUTS, Place spelt flour, cornstarch, raw cane sugar, pumpkin spice, baking powder, bourbon vanilla, dry yeast and salt in a bowl and mix until well combined.

115 g Spelt flour,

14 g Cornstarch,

50 g Raw cane sugar,

1 tbspn Pumpkin spice,

4 g Baking powder,

½ tbspn Bourbon vanilla ground,

3,5 g Dry yeast,

A pinch of salt

Add vegetable milk, pumpkin puree and margarine and stir until everything is combined into a uniform dough.

125 ml Plant milk,

82 g Pumpkin puree,

30 ml Margarine

Pour into a piping nozzle and pipe six even donuts into the mold. Alternatively, take a freezer bag and cut off a small corner (but only in an emergency due to the plastic issue). It is best to use a reusable piping nozzle (or piping bag). I have linked mine below (no sponsorship).

Preheat the oven to 175 degrees.

Put in the oven and bake for 15-20 minutes.

Remove from the oven and let cool briefly.

In the meantime Icing stir. To do this, place powdered sugar and plant milk in a small bowl and stir until a fine, runny glaze is formed.

100 g Powdered sugar,

30-45 ml Plant milk

Dip the still warm donuts in it and let them set.

Serve and enjoy!

Remainder (if any) can be stored at room temperature up to 3 days.
Nährwertangaben
Serving:
1
Piece
Calories:
239
kcal
Carbohydrates:
44
g
Protein:
4
g
Fat:
5
g
Saturated Fat:
1
g
Polyunsaturated Fat:
1
g
Monounsaturated Fat:
2
g
Sodium:
133
mg
Potassium:
76
mg
Fiber:
3
g
Sugar:
26
g
Vitamin A:
2408
IU
Vitamin C:
2
mg
Calcium:
83
mg
Iron:
1
mg