Vegan chocolate donuts that do not require any Oil or margarine? Are not fried? They can't taste good, can they? Yes, they can and unfortunately they taste almost too good for me again. My husband has already admonished me to please put them somewhere where he can't see them. Since then, I have a new secret hiding place in our laundry room, at the top of the closet next to the bike helmets. I hope now that he does not read this *laughs*. Really funny, I just realized that I made my last one Donut recipe online in January 2019 as well. But this time it's even worse (in a good way), because my brother is also bringing Brammibal Donuts from Berlin this weekend. If I look like a donut in the next photo on Instagram look like a donut, please don't be surprised.
Vegan chocolate donuts with sugar sprinkles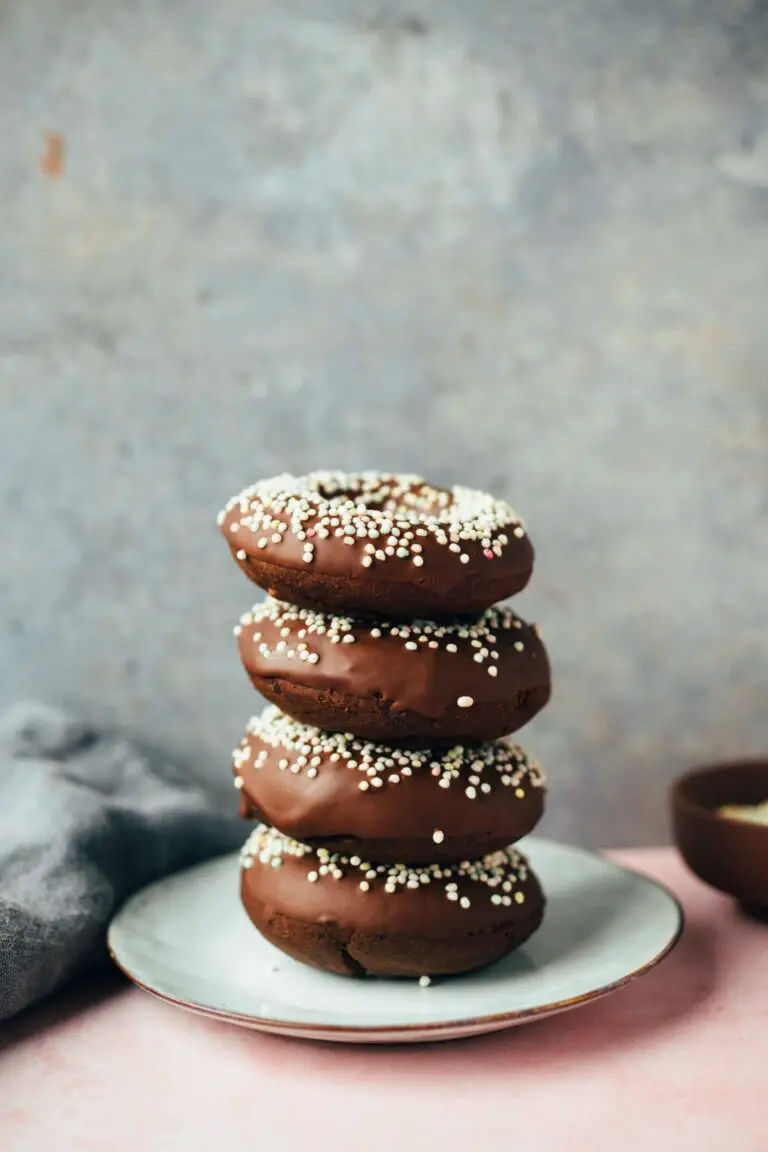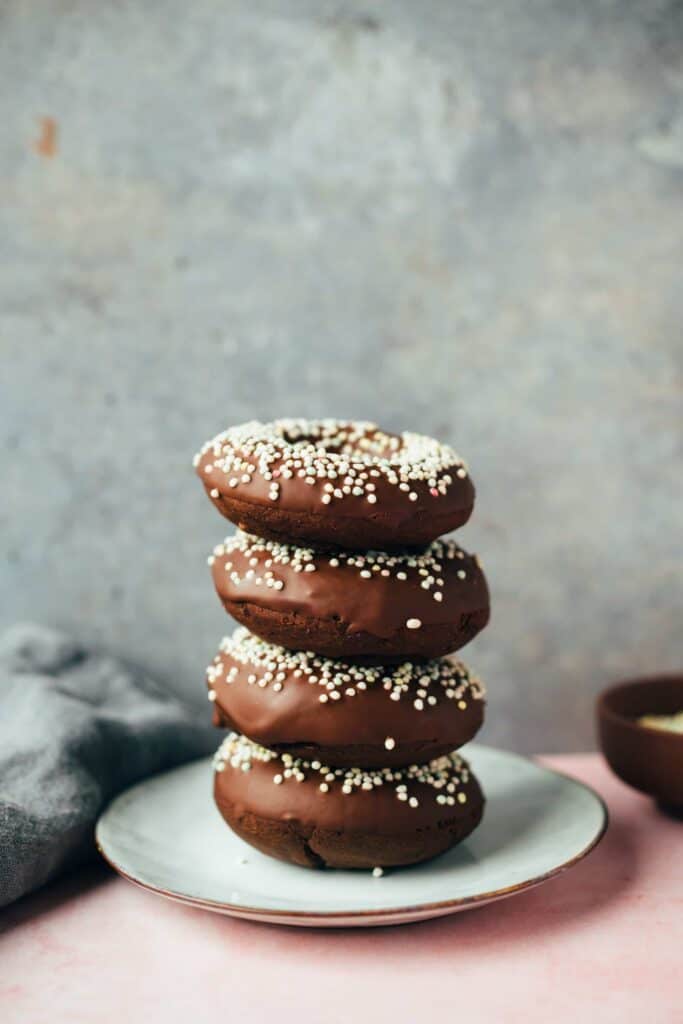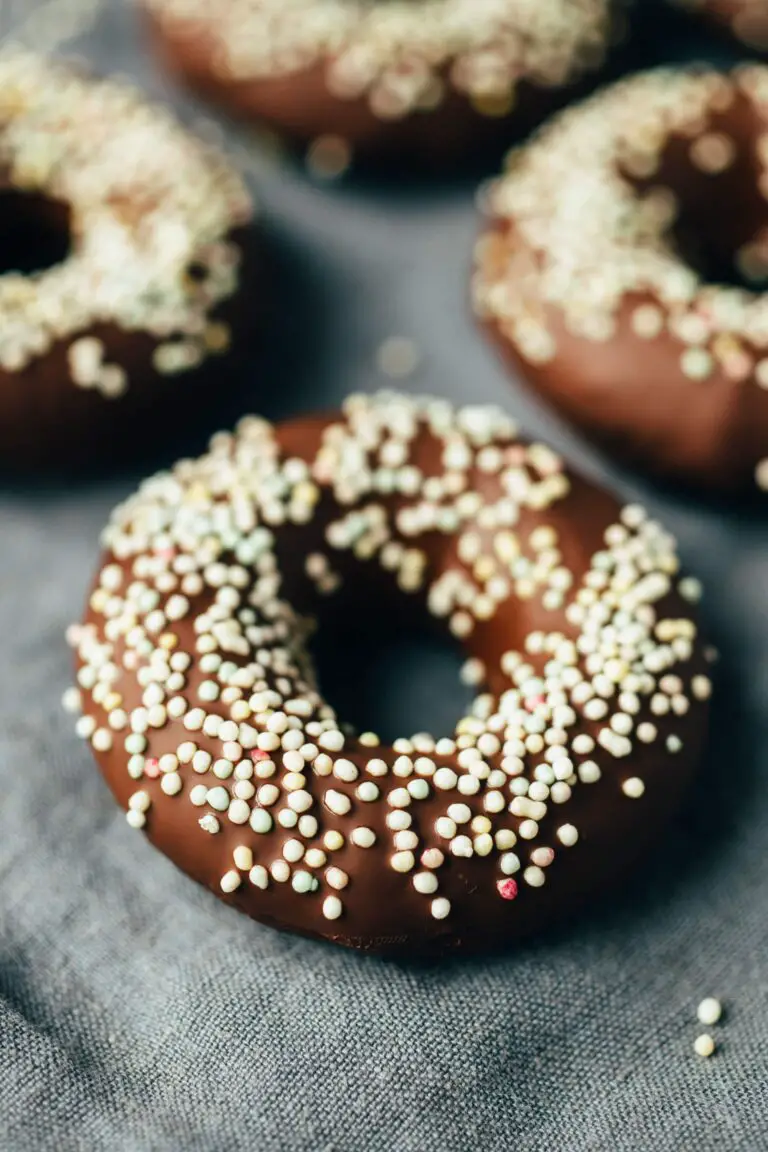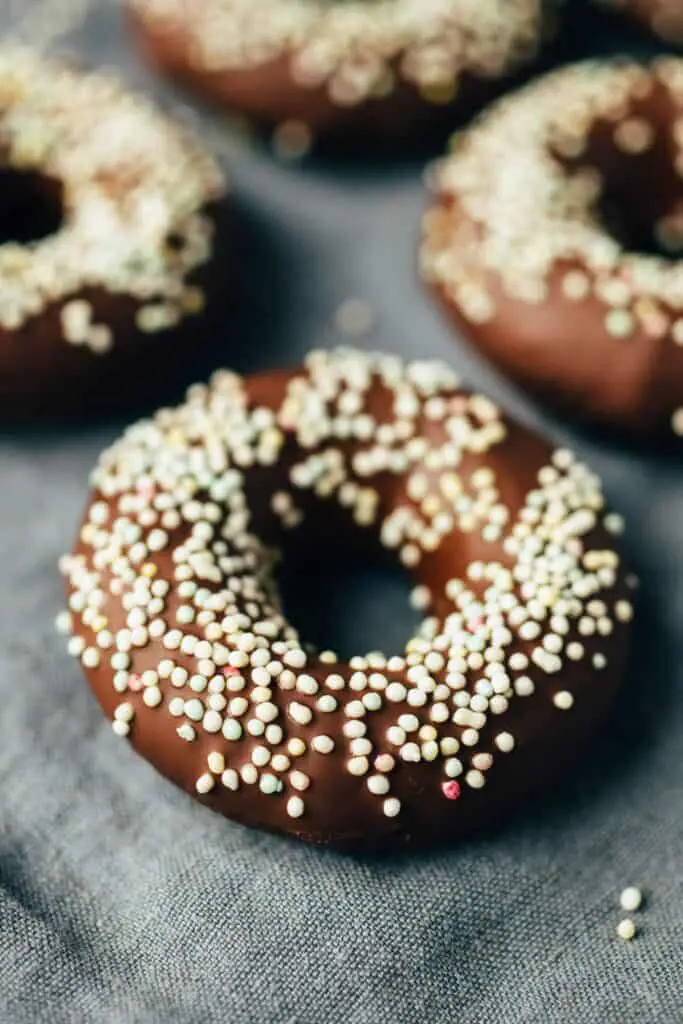 For the production of the Donuts I recommend a Donut mold (Ad), which you can order on the Internet, or buy in well-stocked housewares stores. The advantage with well-coated baking pans is that you can use them does not need to grease . I didn't do that with my mold either. Simply remove from the oven, let cool briefly, and then carefully scrape out with a silicone scraper. Only a very minimal layer sticks to the donut pan, but it's really no thicker than a layer of flour. Wash out briefly and move on to the next round.
For our dough today we need one thing above all, cocoa! In the form of melted Chocolate and cocoa powder. Add coconut blossom sugar, maple syrup, plant milk, apple cider vinegar, spelt flour (or my gluten free flour mix ), buckwheat flour, baking powder, baking soda and a pinch of salt.
How healthy is buckwheat actually? Donuts with buckwheat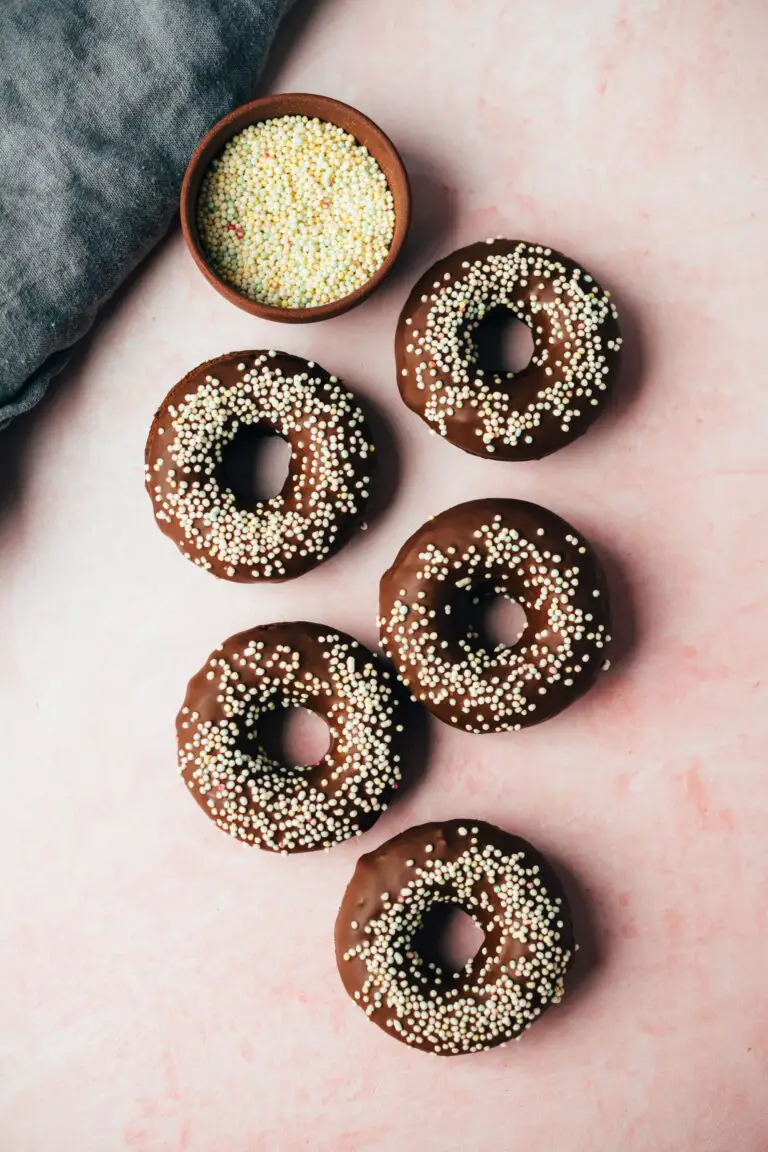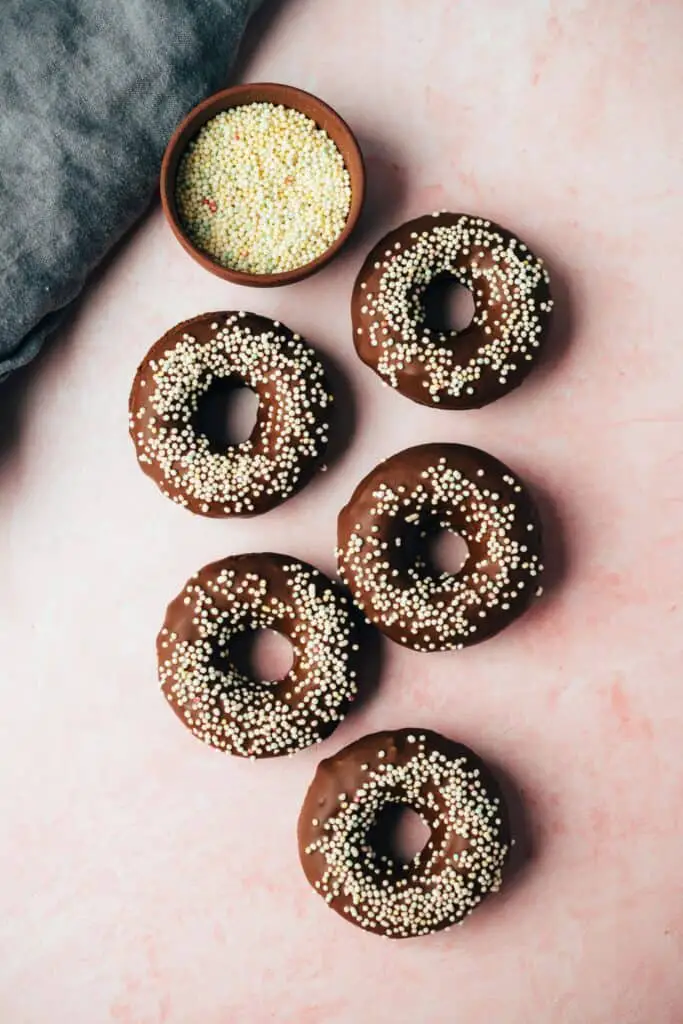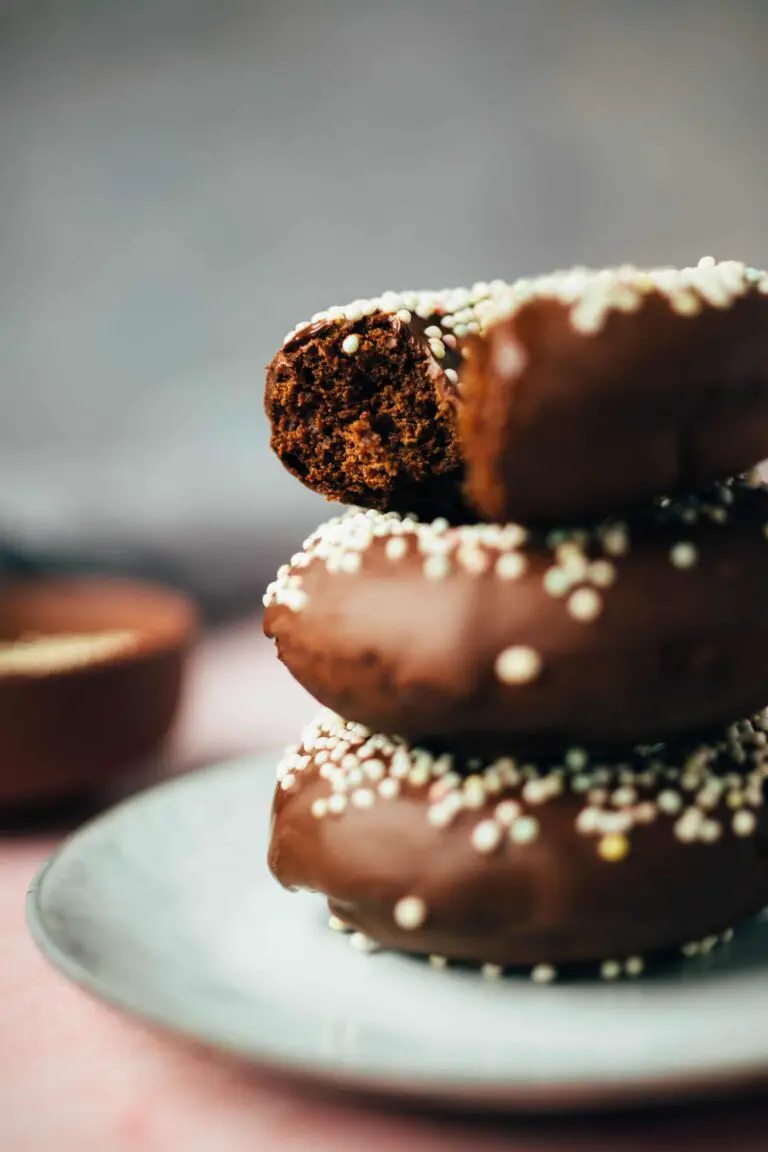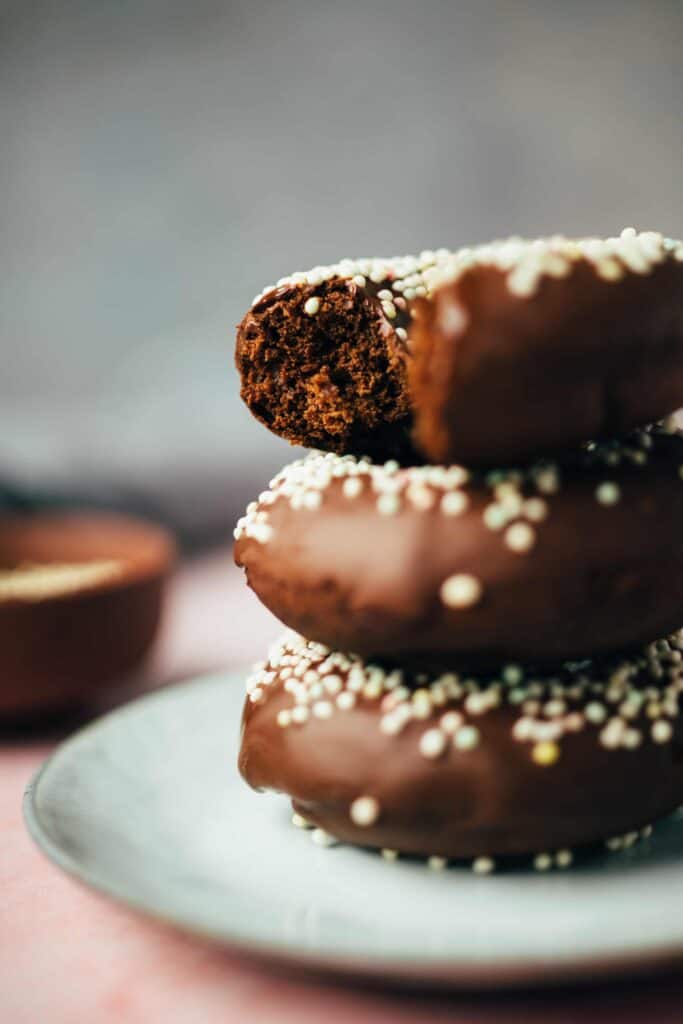 You may have noticed that lately I always like to use Buckwheat Flour use. It has a slightly different taste than wheat or spelt flour, however, I now love it more than anything. Buckwheat whole wheat flour is full of valuable and wholesome (what a play on words) ingredients and provides you with quite a bit of power.

Here are the facts:
3x as much Lysine than in most other cereals(lysine = protein building material for healthy bones)
10 percent Protein content with high biological value (can be easily digested by the body)
By nature gluten free
Rich in Silica (for healthy skin, hair and nails)
Rich in Vitamin E (may protect against free radicals and thus against premature aging and disease)
Rich in Magnesium, potassium, iron and folic acid
I think these are in any case enough arguments Buckwheat to organize a permanent place in the pantry.
To go with our round chocolate bombs, a vegan hot chocolate , Golden Milk or a Immune Booster Latte . Here we go!
The vegan chocolate donuts are:
Loose & Light
Extra chocolaty
Perfectly sweet
Gluten and oil-free
Addictive
Well, are you ready for these round chocolaty sins? I wish you a lot of fun with the Nachbacken and of course about a positive review at the bottom of this page. If you post a picture, use the hashtag #veganevibes.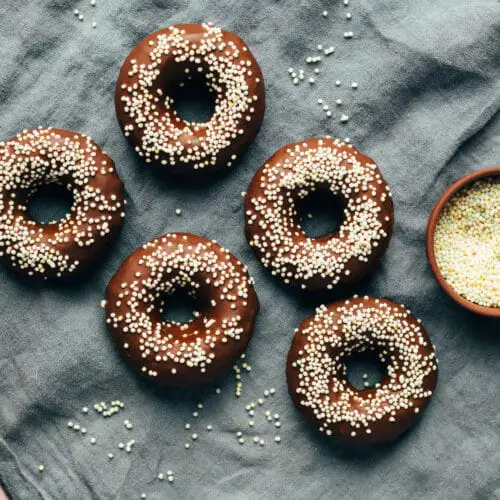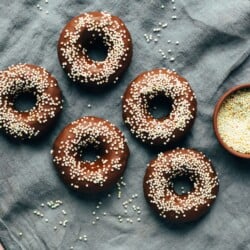 Vegan chocolate donuts
Incredibly fluffy, moist and chocolaty vegan donuts with an irresistible sugar pearl topping. Fits simply ideal for coffee in the afternoon or as a small sweet snack in between.
AUTOR: VEGANEVIBES
TOPPING:
100

g

vegan chocolate (melted)
Anleitung 
Grease donut pan (as needed) and set aside.

Preheat oven to 200 degrees convection.

Melt the chocolate carefully over a water bath.

90 g vegan dark chocolate

Sift spelt flour, buckwheat flour, sugar and cocoa through a hair sieve into a large baking bowl.

145 g fine spelt flour or gluten-free flour mix,

60 g Buckwheat flour,

60 g Cocoa powder,

60 g Coconut blossom sugar

Add apple pulp, maple syrup, vegetable milk, baking powder, baking soda, apple cider vinegar and a pinch of salt and stir well until everything is combined into a uniform dough.

60 g Coconut blossom sugar,

62 g Apple pulp,

60 ml maple syrup,

250 ml Plant milk,

1 tbspn Baking powder,

½ tbspn Baking soda,

1 TL Apple cider vinegar,

Pinch of salt

At the very end, stir in the melted chocolate. The dough should have a similar consistency as in the video. Not too runny (otherwise be sure to add some more flour) or too firm.

90 g vegan dark chocolate

Pour batter into a piping bag (see video) and pipe six even donuts into the mold. Alternatively, take a freezer bag and cut off a small corner (but only in an emergency due to the plastic issue). It is best to use a reusable piping nozzle (or piping bag).

Put in the oven and bake for

10 minutes

.

Let cool briefly and carefully scrape out with a silicone scraper. Use the mold again for the rest of the donuts.

Dip ready-baked donuts in melted chocolate and then sprinkle with sugar pearls. Allow to cool completely and set.

100 g vegan chocolate (melted),

Vegan sugar balls to taste

Serve and enjoy!

Store remainder (if any) in an airtight box in the refrigerator for up to 5 days. Can be kept frozen for up to one month.
Nährwertangaben
Serving:
1
Donut
Calories:
173
kcal
Carbohydrates:
28
g
Protein:
3
g
Fat:
6
g
Saturated Fat:
3
g
Cholesterol:
1
mg
Sodium:
89
mg
Potassium:
118
mg
Fiber:
3
g
Sugar:
14
g
Vitamin A:
35
IU
Calcium:
59
mg
Iron:
2
mg