Stuffed butternut squash has been on my list for a long time and it's finally here. Autumn has many beautiful sides and one of them are the wonderful pumpkins. Admittedly, I didn't spend that much time on the versatile vegetable in the past. However, since going vegan, I have a lot more different and sometimes new vegetables on the menu. The butternut squash is right up there with the rest.
Stuffed butternut squash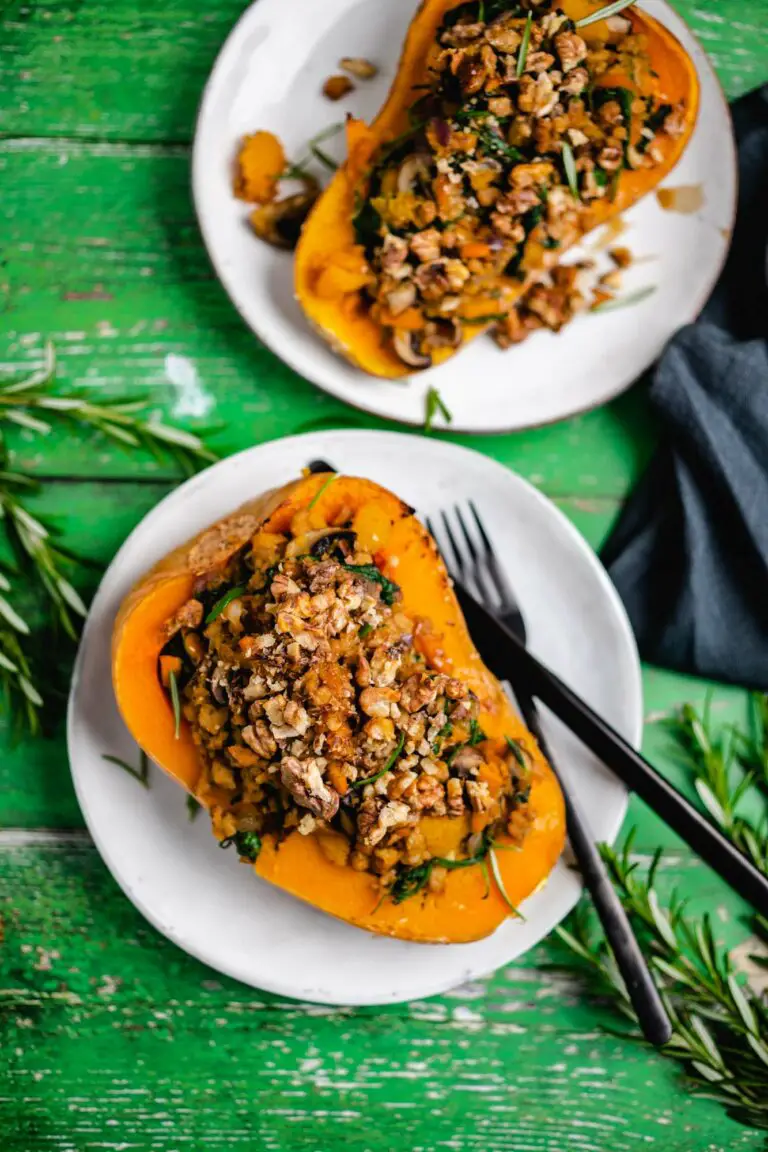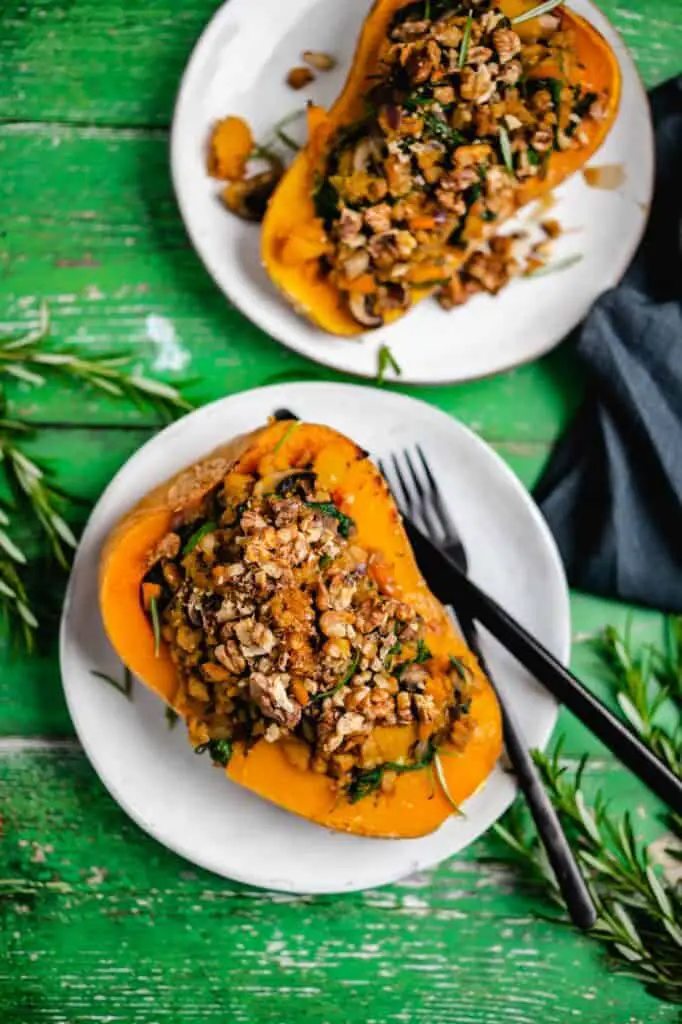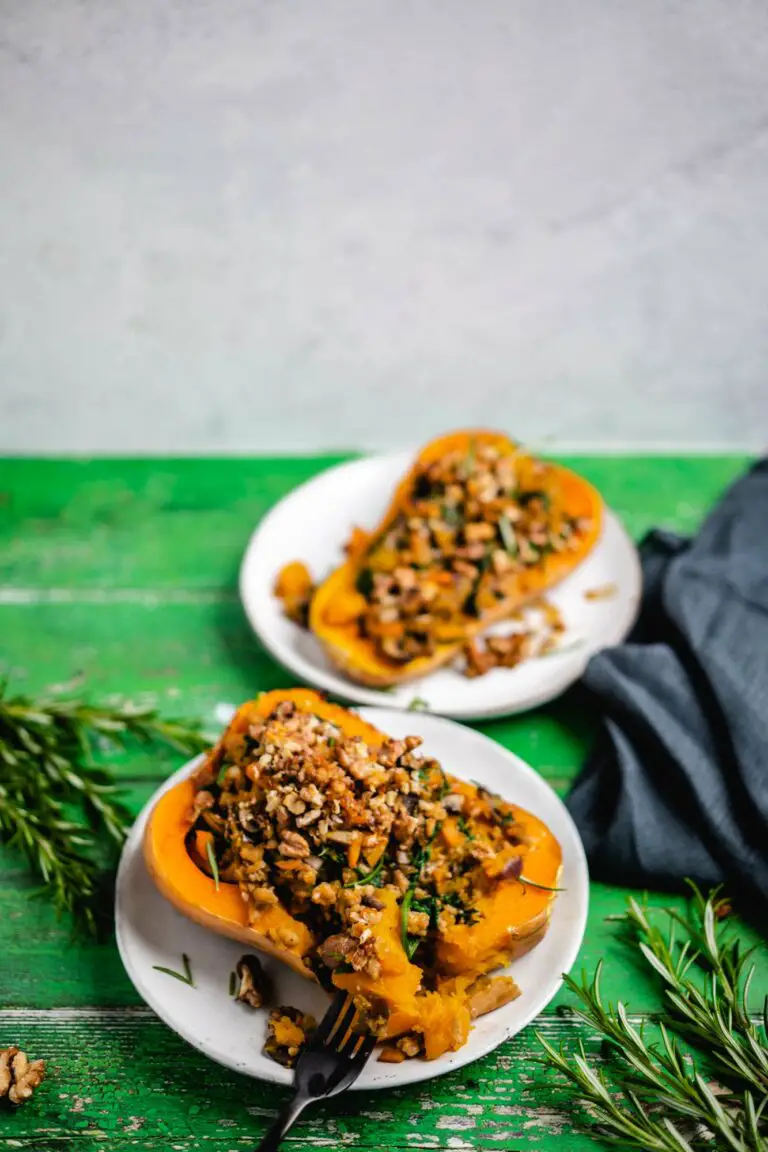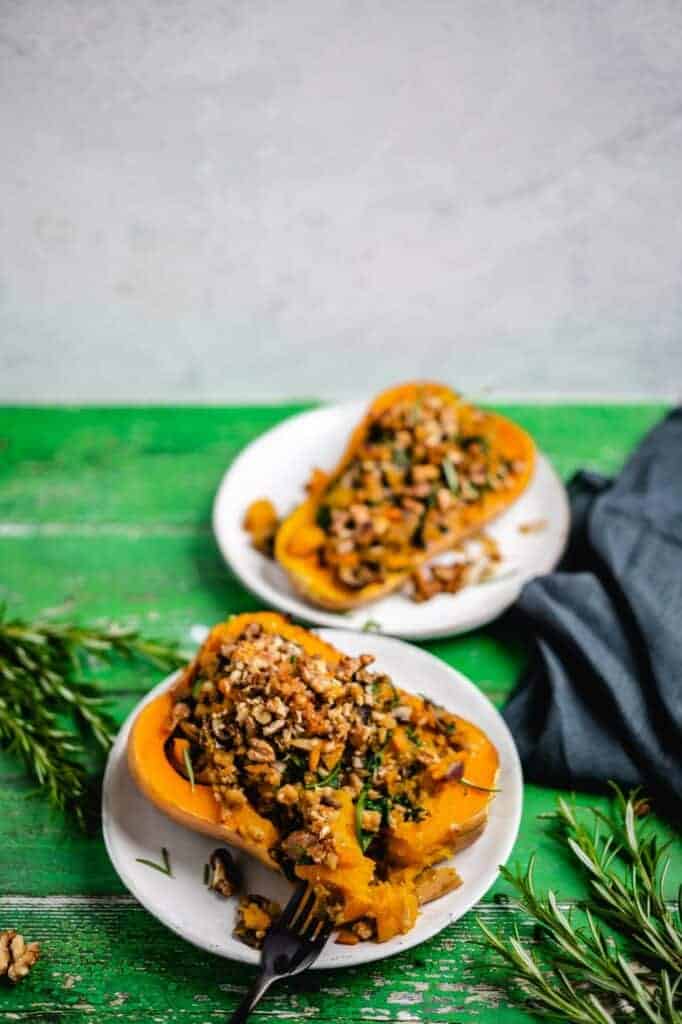 During my research, I noticed that many recipes have a very complicated structure. Add a pot of extra ingredient here and fry out a little extra there. Honestly, I always like things to be simple and with as few steps as possible. Therefore, this recipe is also built in two simple steps. Step number one is to roast the pumpkin in the oven and step two is to prepare the filling. Yes, you read that right, that's all there is to it.
TIP: Make sure you get a good quality pumpkin. If the pumpkin is not really good, then you can almost forget about the whole dish . A good quality, preferably organic, guarantees an excellent result.
Simple vegan dishes with pumpkin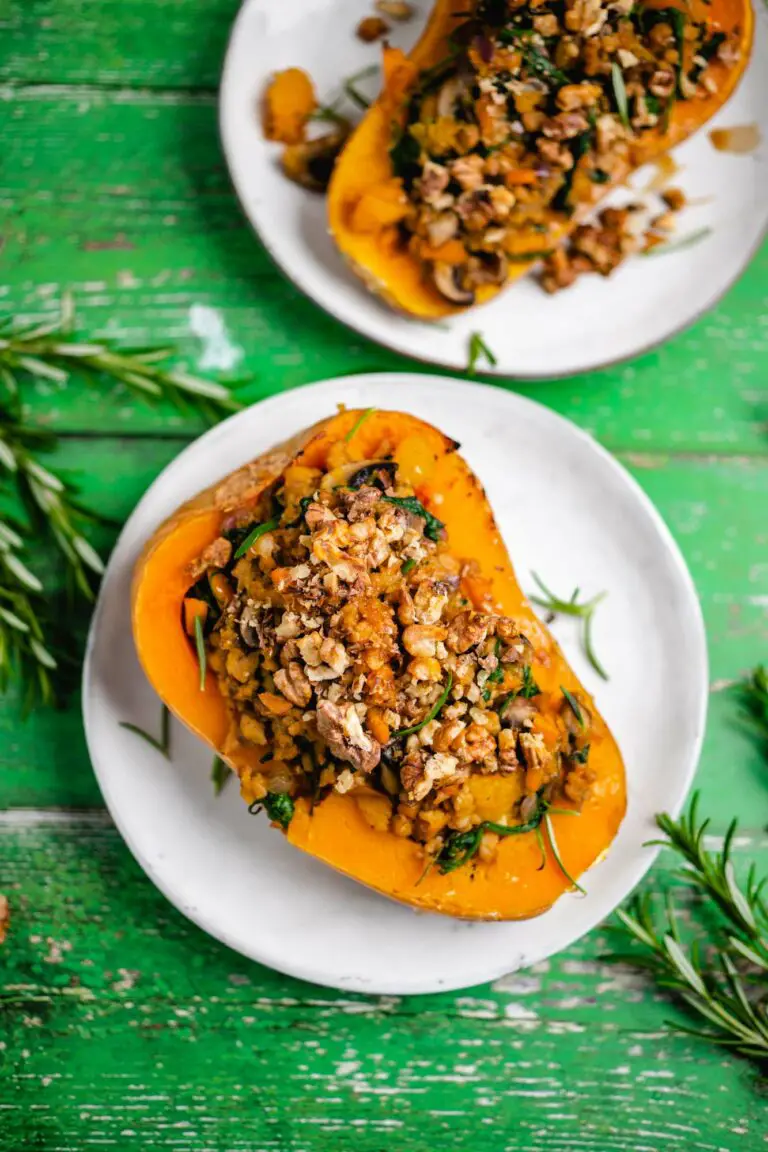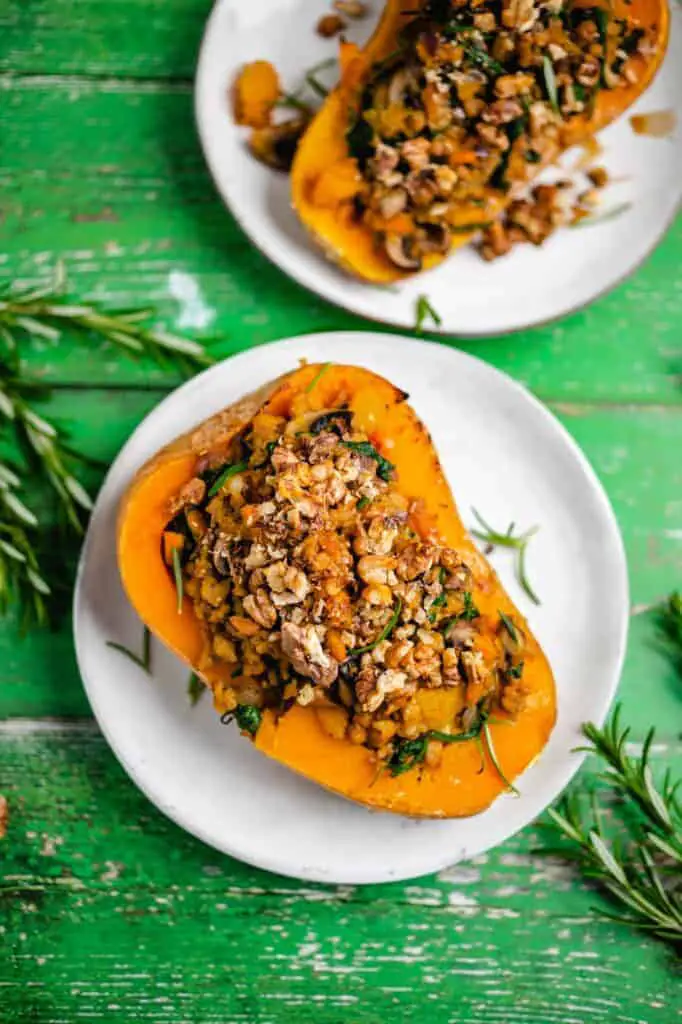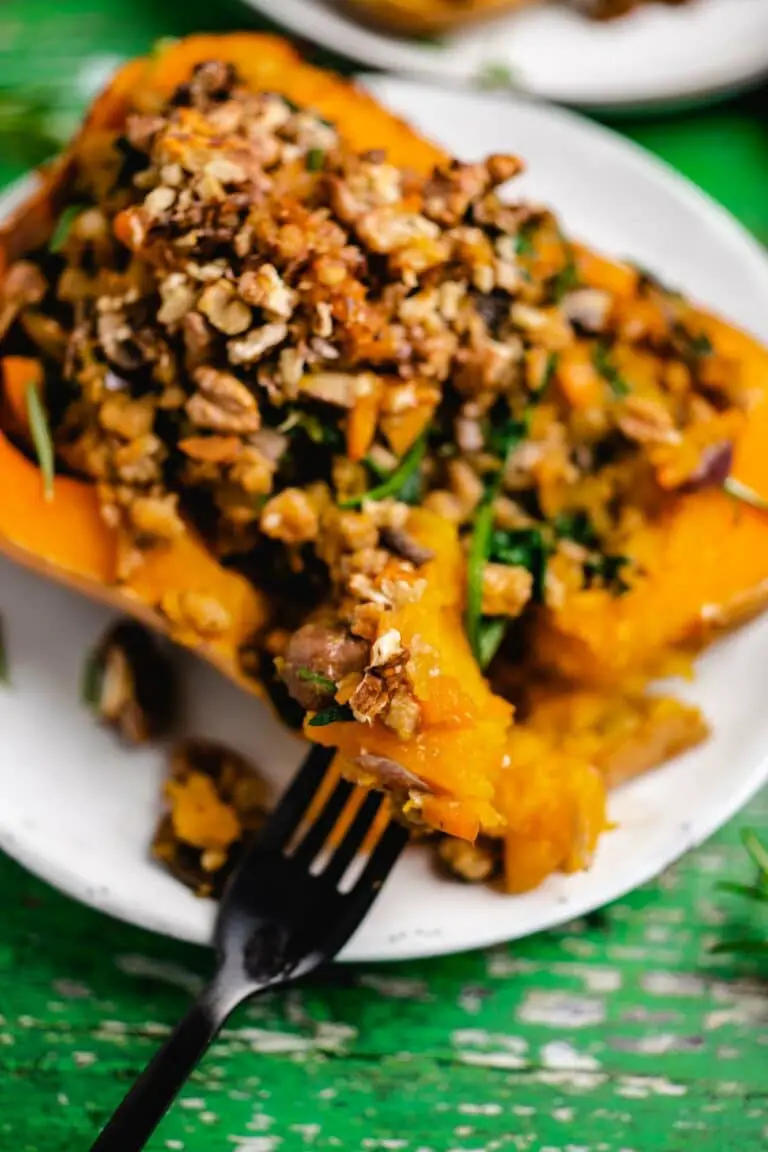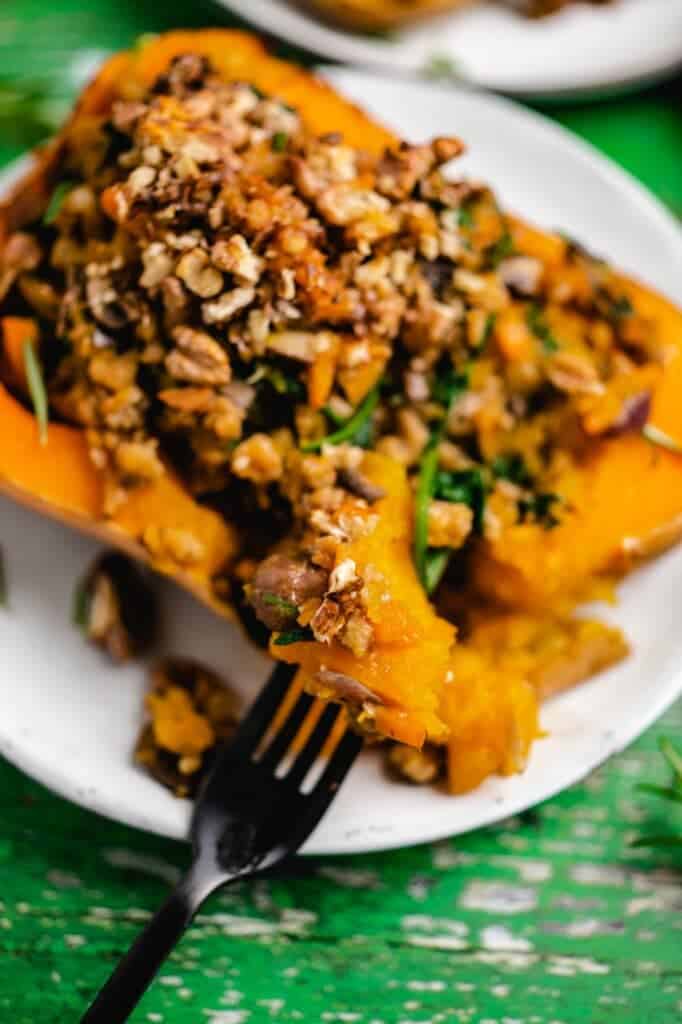 The butternut squash gets to keep its skin and is simply cut in half before going into the oven. Important when cutting is a good base, concentration and preferably a serrated knife. Here you need to be careful and cautious, because the knife can quickly slip. In this video I show (YOUTUBE) how to cut a butternut squash.
Then it is placed in a casserole dish covered with water and baked for about 40 minutes until soft. I turn it over once after 20 minutes so that it browns evenly. For baking time, it depends on how big the pumpkin is and it may take a little longer or shorter depending.
TIP: Here I have summarized brand new my favorite recipes for autumn.
Autumn vegan dishes
I prepare the filling in a large pot, it consists of a little olive oil, onion, garlic, mushrooms, carrots, soy cutlets (previously soaked in vegetable broth), rosemary sprigs, tamari, agave syrup and pepper. At the very end, when everything has simmered down nicely, add the baby spinach.
Once the squash is done, I scrape out much of the pulp and mix it into the filling. At the very end, the pumpkin is filled with it again and goes into the oven for another 5 minutes along with a walnut topping. I would say it's time to enjoy!
If you're in the mood for another autumnal dish today, I recommend the following recipes:
The stuffed butternut squash is:
Warming
aromatic
Rich in fiber and protein
filling
Easy to make
Are you ready the delicious and tasty stuffed pumpkin? I wish you a lot of fun in recooking and of course a review at the bottom of this page. If you post a picture, use the hashtag #veganevibes.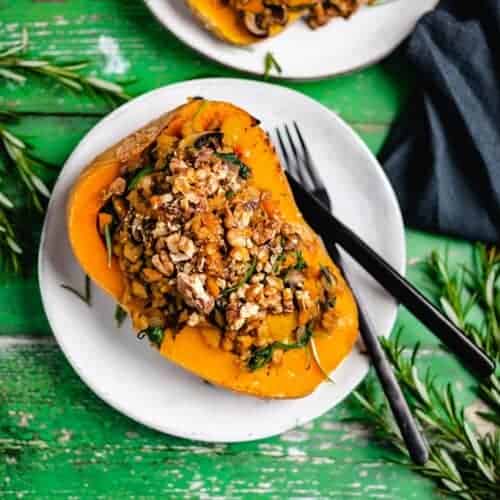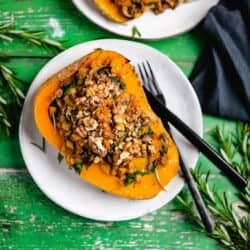 Stuffed butternut squash
Stuffed butternut squash that will make the hearts of all pumpkin fans beat faster. The filling is aromatic and delicious with soy cutlets, carrots and baby spinach. Ideal together with the slight sweetness of butternut squash. Vegan, gluten-free and full of healthy ingredients.
AUTOR: VEGANEVIBES
FOR THE PUMPKIN:
1

large

Butternut squash

(approx. 1,1kg)
FOR THE FILLING:
1

tbspn

Olive oil or other high heat oil

1

Piece

red onion

peeled and finely chopped

2-3

Piece

Garlic cloves fresh

peeled and pressed or 2 tsp garlic granules or

5-6

Piece

Mushrooms

or other mushrooms of your choice, coarsely chopped

2

Piece

Carrots

peeled and diced

1

Cup

Soy cutlets

Soy cutlets dry + 150ml vegetable broth

30

ml

Tamari

2

Piece

Thyme sprigs

or 1 tsp dried thyme

7,5

g

Agave syrup

150

g

Baby spinach

or fresh, but then add just before the end of the cooking time

Optional: 30g walnuts

coarsely chopped
Anleitung 
Heat oven to 200 degrees (convection) 220 (upper-lower heat). Provide a baking dish and cover the bottom with water.

Cut butternut squash in half lengthwise and remove seeds with a spoon. Place squash halves in baking dish with cut edges facing down.

NOTE: I use a serrated knife to cut the pumpkin as it gives a better grip. It is best to cut through the pumpkin with light pressure and rocking movements.(Cut pumpkin properly video)

Put in the oven and roast for 20 minutes. Turn squash halves over and roast for an additional 20 minutes, cut side up. At the end of the 40 minutes baking time, test with a fork if the pumpkin flesh is already soft. It doesn't have to be buttery smooth, but the fork should be easy to stab.

In the meantime, prepare the FILLING prepare the To do this, heat a pot or pan. Add olive oil and sauté onion and garlic. Add mushrooms, carrots, soy shreds, tamari, thyme sprigs, agave syrup and pepper. Stir and sweat uncovered for the first 3-5 minutes, then cover and simmer for 15 minutes.

1 tbspn Olive oil or other high heat oil,

1 Piece red onion,

2-3 Piece Garlic cloves fresh,

5-6 Piece Mushrooms,

2 Piece Carrots,

1 Cup Soy cutlets,

2 Piece Thyme sprigs,

7,5 g Agave syrup,

Pepper to taste

When cooking time is over, remove heat and fold in baby spinach.

Season with salt and pepper and optionally add more tamari or soy sauce.

30 ml Tamari,

Pepper to taste,

Salt to taste

Now we move on to the pumpkin halves. Using a spoon, scrape out most of the soft squash flesh and add to the soy vegetable filling. Stir in and fill the hollowed out pumpkin halves with it. Sprinkle with the chopped walnuts and place in the oven.

Place back in the oven and roast for 5 more minutes.

Remove from oven, arrange on plates and serve. Enjoy
Nährwertangaben
Serving:
1
Portion
Calories:
419
kcal
Carbohydrates:
90
g
Protein:
23
g
Fat:
2
g
Saturated Fat:
1
g
Polyunsaturated Fat:
1
g
Monounsaturated Fat:
1
g
Sodium:
943
mg
Potassium:
2751
mg
Fiber:
19
g
Sugar:
22
g
Vitamin A:
75037
IU
Vitamin C:
153
mg
Calcium:
466
mg
Iron:
10
mg