Vegan donuts, gluten-free and super delicious. I've been looking for vegan donuts that also work gluten-free for a long time. They should not necessarily become rock hard, but nice and fluffy and soft. I'm a sucker for donuts, but have often had bad experiences with gluten-free versions. Far too quickly, they were far too dry or completely crumbled as soon as they came out of the mold. That's why I've made it my mission to find vegan donuts that are moist, gluten-free, and bring an addictive factor. By the way, I bake them in the oven and don't fry them in oil because it's too inconvenient. The original donuts are of course baked in a lot of fat. From the oven, however, they taste at least as good to me personally.
Vegan donuts gluten free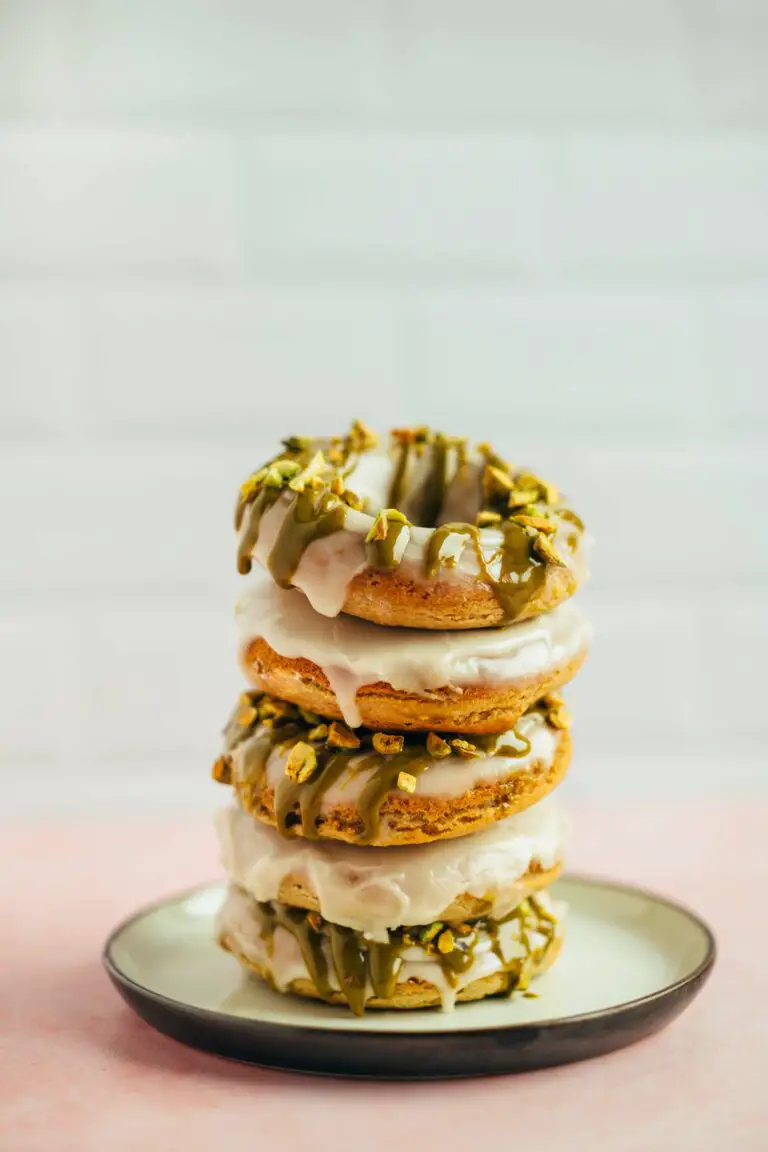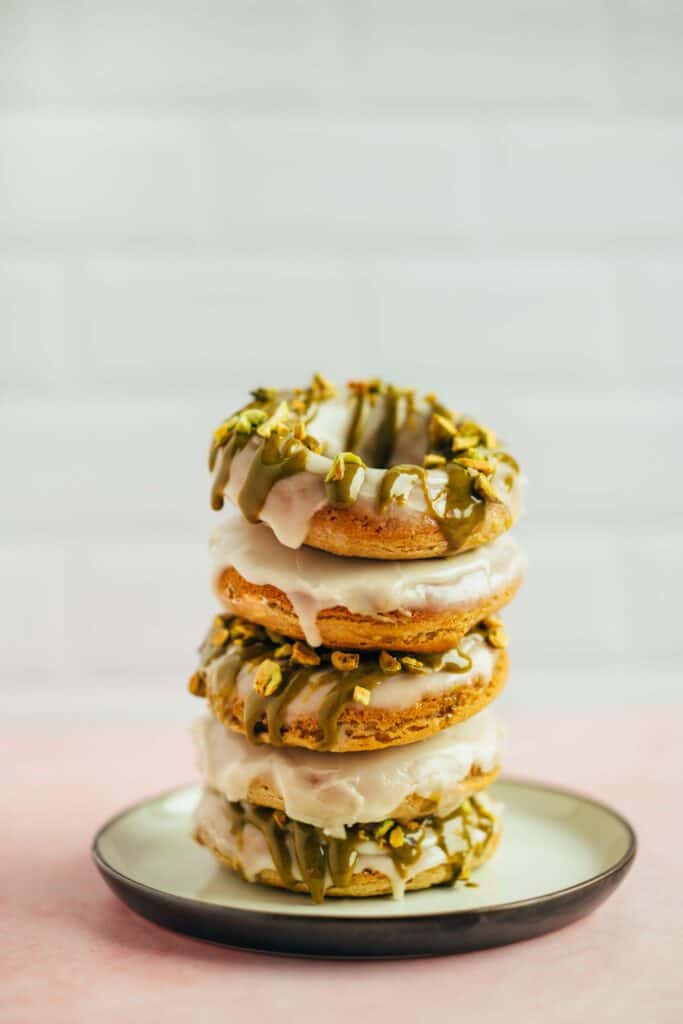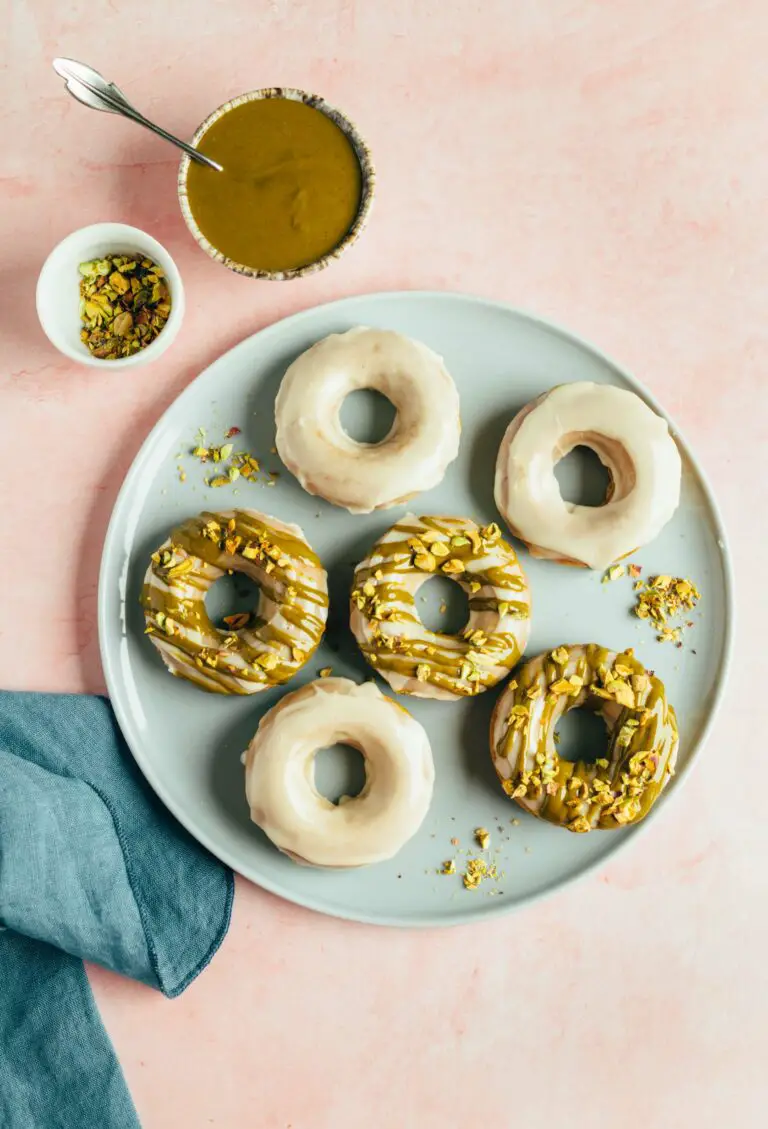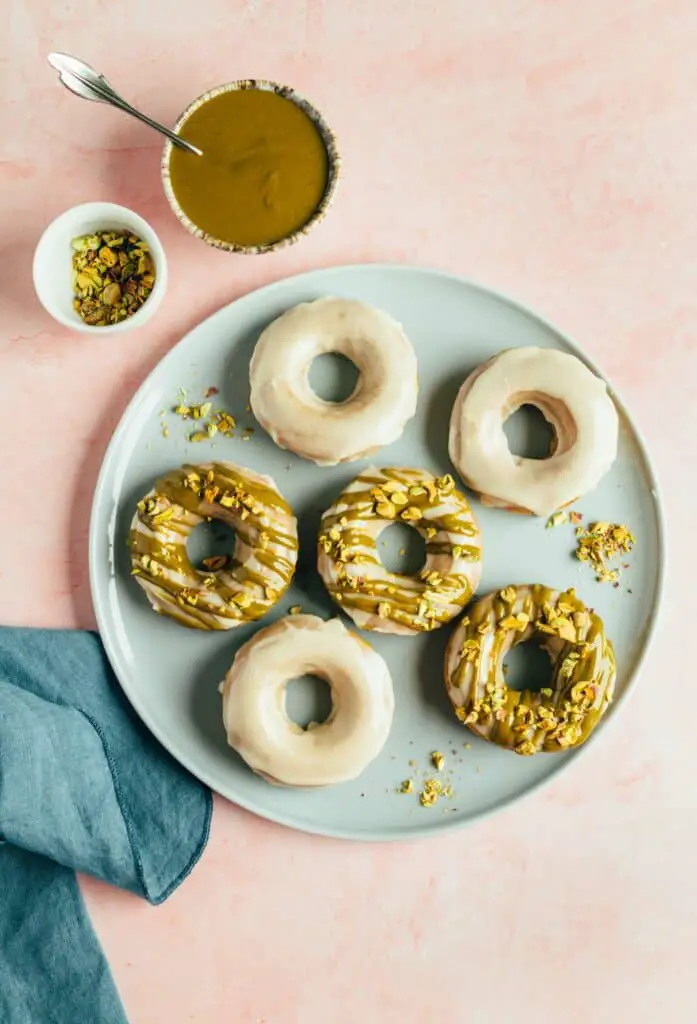 For the baking of the donuts I recommend a special donut mold which you can order in well-stocked stores for baking accessories or on the Internet. An alternative method would be to make a slightly firmer yeast dough and use cookie cutters in two different sizes. Maybe I'll make a recipe for it sometime. Let's get back to the baking pan, the advantage of a well coated pan is that you hardly need to grease it. I still use a small amount of oil, which I apply with a brush. Strictly speaking, however, with a good coating it would also work without any oil at all. It is important to let the donuts cool well before removing them. Then carefully remove with a silicone scraper. In no case use a knife or similar metallic object, this will quickly scratch the mold and the coating will lose its function.
But now let's get to the most important part and that is our dough. Many recipes use only a gluten-free flour blend that is mostly pure starch. Add some guar gum for better binding and that's all. I personally don't find too much starch beneficial for two reasons either. Firstly, starch is hardly ever found in healthy and important dietary fiber , often also a criticism of a rather unhealthy gluten-free diet. Secondly, baked goods with too much starch easily and quickly become dry because it draws a lot of liquid. For this reason, I like to mix and match when it comes to gluten-free baking, and some time ago I put together my personal perfect gluten-free flour blend.
Gluten free donuts recipe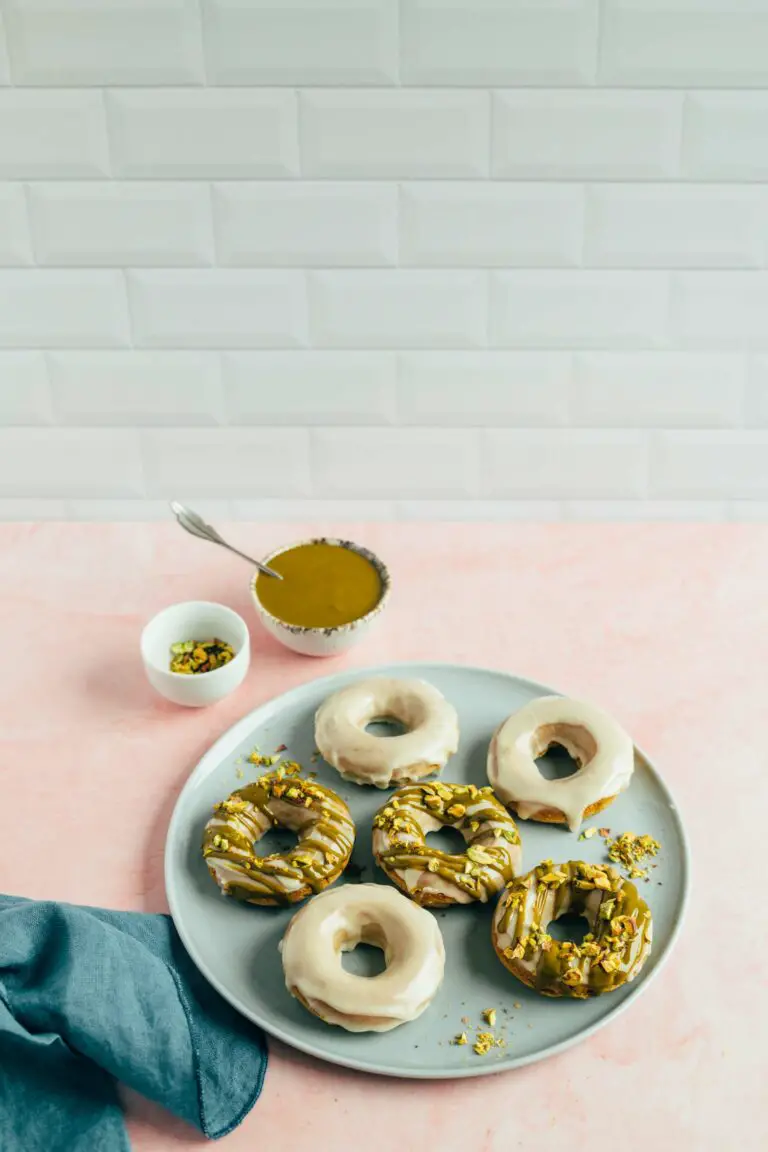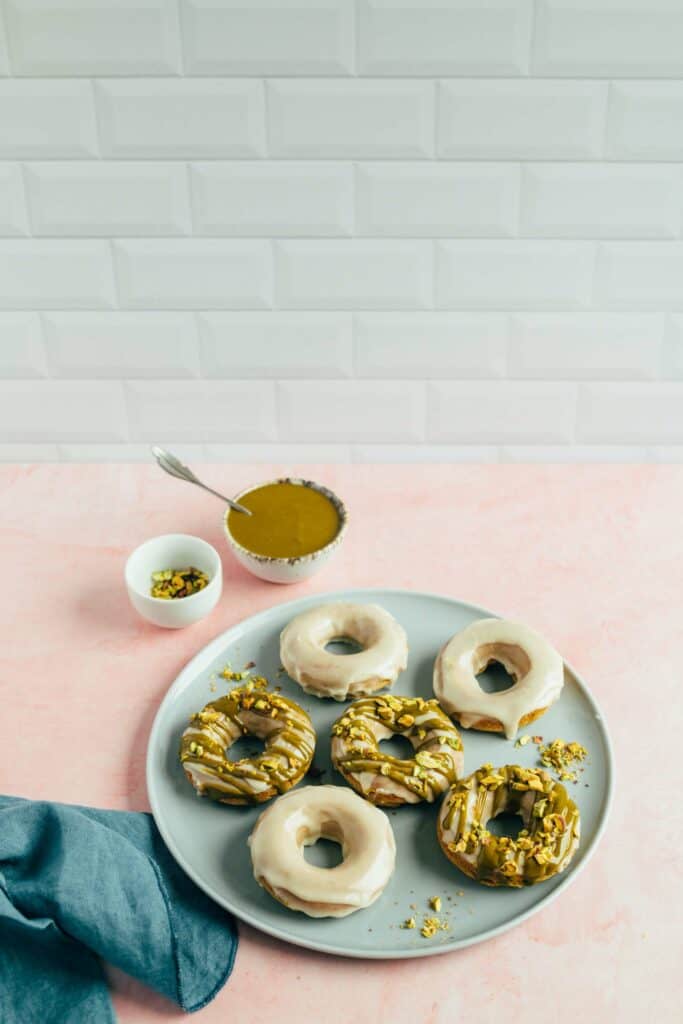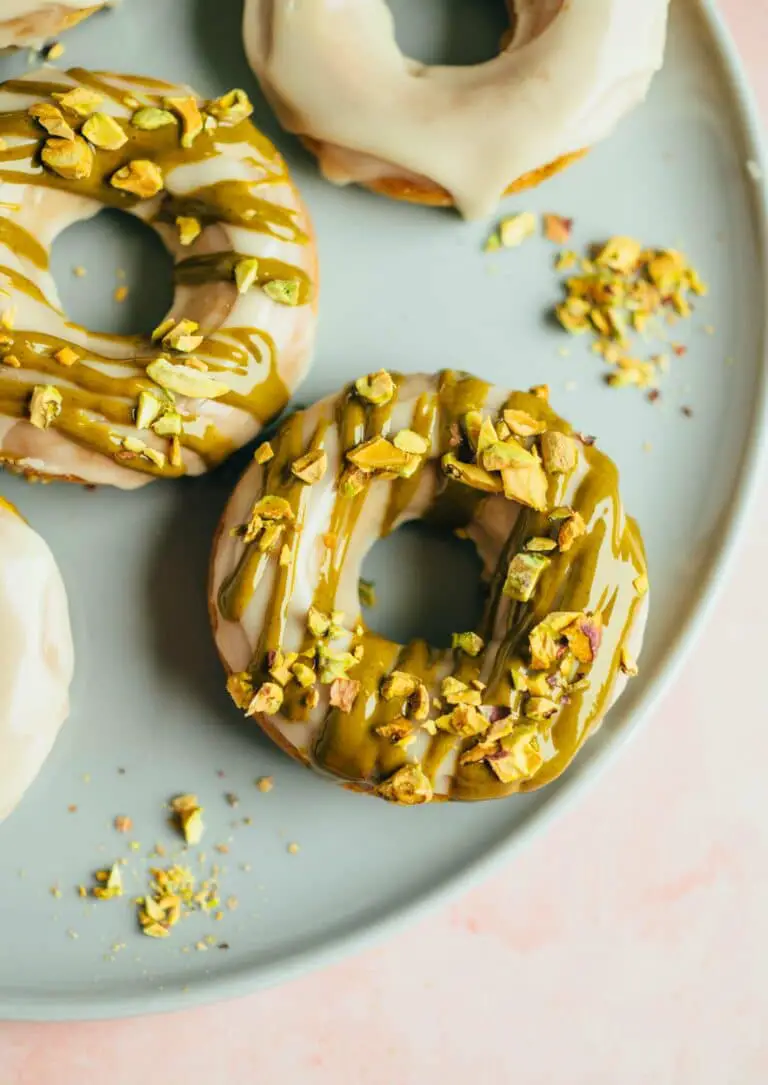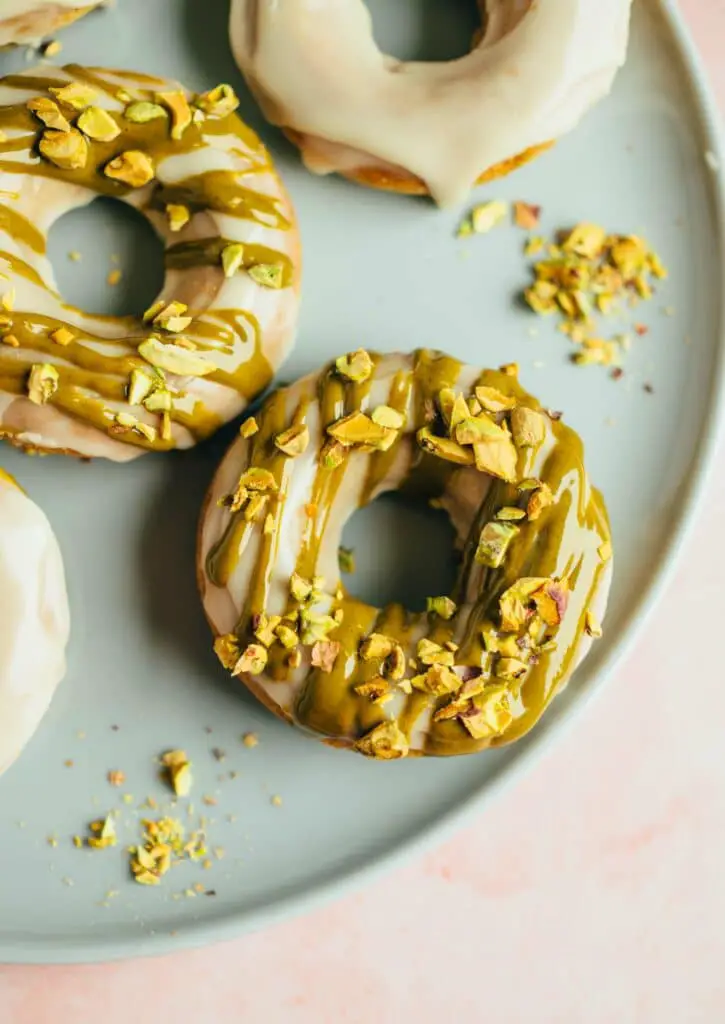 Let's get to our dough, which is really simple and quick to mix together. Almond flour, gluten-free flour blend, raw cane sugar, buckwheat flour, baking powder, baking soda, salt, bourbon vanilla, plant milk, oil and sparkling water. Blend with a whisk until smooth and ready.
TIP: Do not stir too long, otherwise you will stir the leavening power of the soda and the acid from the sparkling water completely out of the dough again. If you like to avoid oil, then I recommend apple pulp or apple-mango pulp as a substitute. Tastes super delicious!
Now just squirt into the donut mold and put in the oven. I use a piping nozzle for this, but a freezer bag that you just cut the tip off also works. With a spoon it will be rather difficult, I would rather advise against it. Perfect! Now all you have to do is watch the baking and look forward to snacking. In the end, all that's really missing is the icing, for which I simply mix powdered sugar with lemon juice. For decorating I have decided this time still extra for pistachio puree.
Buckwheat, naturally gluten-free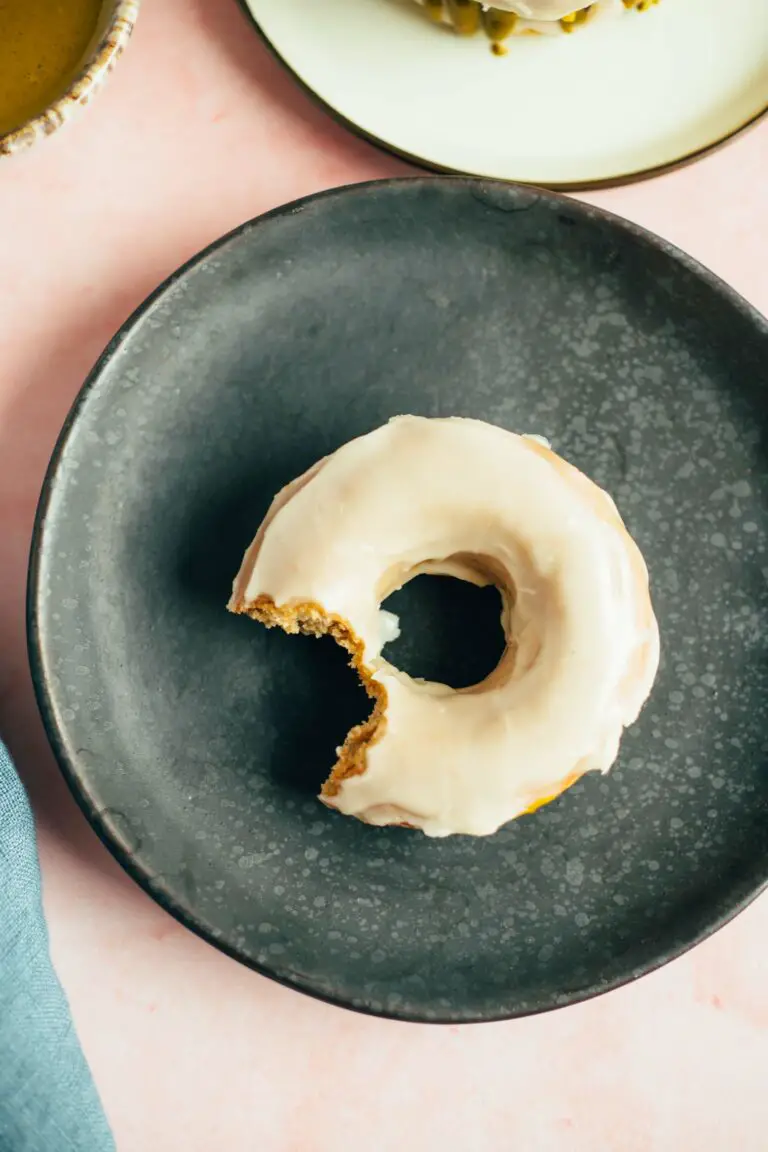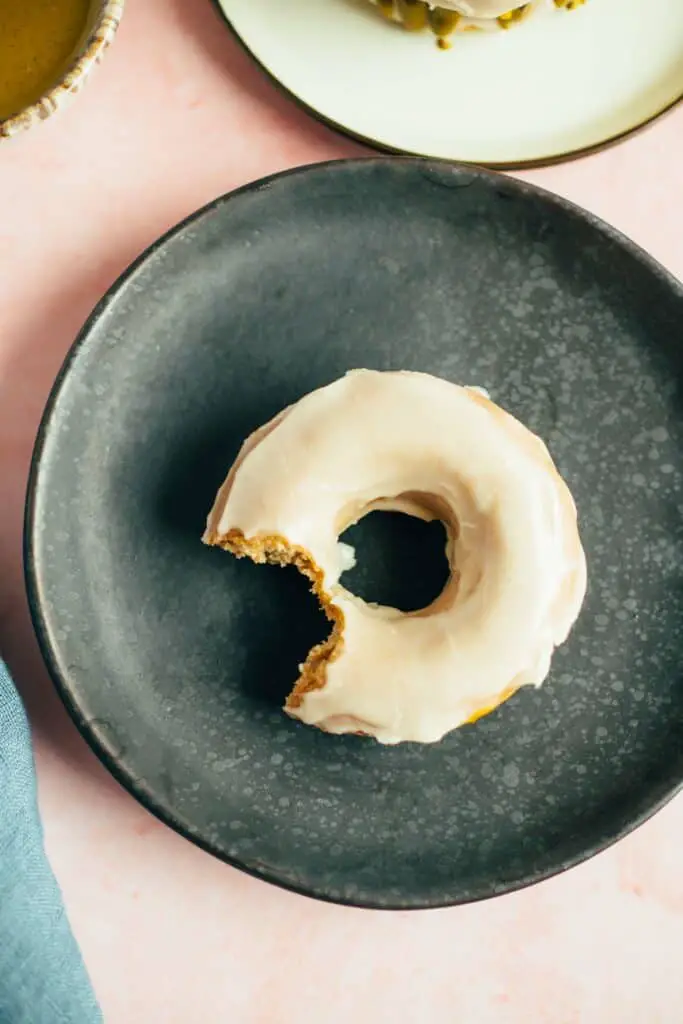 I love to bake with buckwheat flour. At first it was admittedly a bit unfamiliar taste-wise, but that's the way it is with a lot of healthy things and that's exactly why I encourage you to give buckwheat a permanent place in your pantry. It has very many health benefits that I no longer want to do without.
3x as much lysine as most grains (lysine = protein building material for healthy bones)
10 percent high-quality, vegetable protein with high biological value (can be easily digested by the body)
Silicic acid (for healthy skin, hair and nails)
Vitamin E (can protect against free radicals and thus against premature aging and diseases).
Rich in magnesium, potassium, iron and folic acid
Well, could I convince you? Definitely give buckwheat flour a chance. If you want to try something different with it, I recommend my buckwheat blondies, buckwheat pancakes with cashew cream or buckwheat granola, pumpkin donutswith whole buckwheat grains.
The gluten-free donuts are:
Locker & Fluffig
juicy
Perfectly sweet
Gluten and optionally oil free
Addictive
Well, are you ready for these round, gluten-free sins? I wish you a lot of fun with the Nachbacken and of course about a positive review at the bottom of this page. If you post a picture, use the hashtag #veganevibes.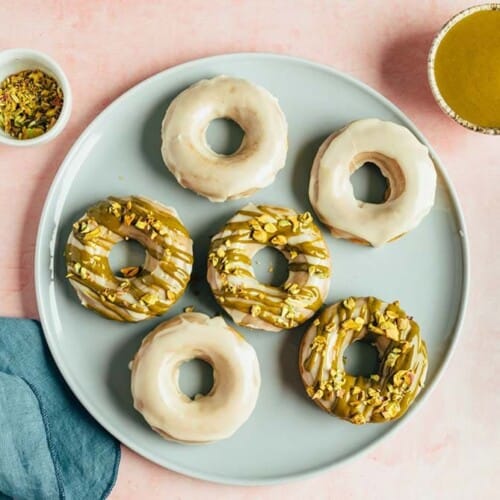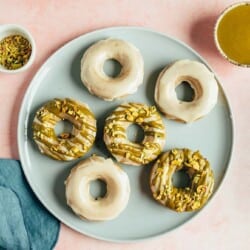 Vegan donuts gluten free (30 minutes)
Incredibly fluffy, moist and gluten-free vegan donuts with an irresistible icing of powdered sugar and lemon juice. Quickly made, lactose-free, oil-free if desired and guaranteed delicious.
AUTOR: VEGANEVIBES
FOR THE DONUTS:
40

g

Almond flour

alternatively a little more buckwheat flour or gluten-free flour mixture

60

g

Buckwheat flour

60

g

gluten free flour mix

I use a ready-made gluten-free flour mix here

60

g

Raw cane sugar

or other sugar of your choice

1

tbspn

Baking powder

½

tbspn

Baking soda

30

ml

Oil

alternatively apple pulp, or an apple-mango pulp, tastes really good even without oil

60

ml

Plant milk

60

ml

Sparkling water

important the water must contain a lot of carbonic acid, otherwise the sodium bicarbonate will not be activated
Anleitung 
Grease donut pan (as needed) and set aside.

Preheat oven to 200 degrees convection.

Provide a baking bowl, add in almond flour, gluten-free flour mixture, buckwheat flour, raw cane sugar, baking powder, baking soda, bourbon vanilla and a pinch of salt and stir with a whisk until everything is well combined and lumps are dissolved.

40 g Almond flour,

60 g Buckwheat flour,

60 g gluten free flour mix,

60 g Raw cane sugar,

1 tbspn Baking powder,

½ tbspn Baking soda,

Pinch of salt

Add oil or apple pulp, vegetable milk, and sparkling water and stir until a smooth batter is formed.

30 ml Oil,

60 ml Plant milk,

60 ml Sparkling water

The dough should have a similar consistency as in the video. Not too liquid (otherwise be sure to add some more flour) or too solid (in which case add a little more vegetable milk).

Fill dough into a piping nozzle (see video) and squirt six even donuts into the mold. Alternatively Take a freezer bag and cut off a small corner (but only in an emergency due to the plastic problem). It is best to use a reusable piping nozzle (or piping bag).

Put in the oven and bake for

15 minutes

.

Let cool briefly and carefully scrape out with a silicone scraper.

For the SUGAR CASTING Mix the powdered sugar with the lemon juice and stir until smooth. Dip donuts and set on a cooling rack.

2-3 tbspn Lemon juice,

100 g Powdered sugar

Optionally decorate with pistachio mush and chopped pistachios.

Pistachio puree to taste,

Chopped pistachios to taste

Serve and enjoy!

Store remainder (if any) in an airtight box in the refrigerator for up to 3 days. Can be kept frozen for up to one month.
Nährwertangaben
Serving:
1
Donut
Calories:
265
kcal
Carbohydrates:
42
g
Protein:
4
g
Fat:
10
g
Saturated Fat:
1
g
Trans Fat:
1
g
Sodium:
51
mg
Potassium:
113
mg
Fiber:
2
g
Sugar:
27
g
Vitamin A:
39
IU
Vitamin C:
1
mg
Calcium:
49
mg
Iron:
1
mg