Vegan bee sting is a dream come true for me. I loved this cake as a kid and always thought it really had something to do with bees. When reality caught up with me as an adult, I found that it had virtually nothing to do with a real bee sting. The only compound is honey, which is originally used to caramelize the top layer. This can easily be replaced with raw cane sugar combined with a small amount of maple syrup, which, by the way, naturally has a caramel note. I can promise you at this point that a slice of this vegan cake, along with a coffee or tea, is a real soul-soother. The preparation? Let's put it this way, not super fast, but not witchcraft either. Let's get started!
Simple vegan bee sting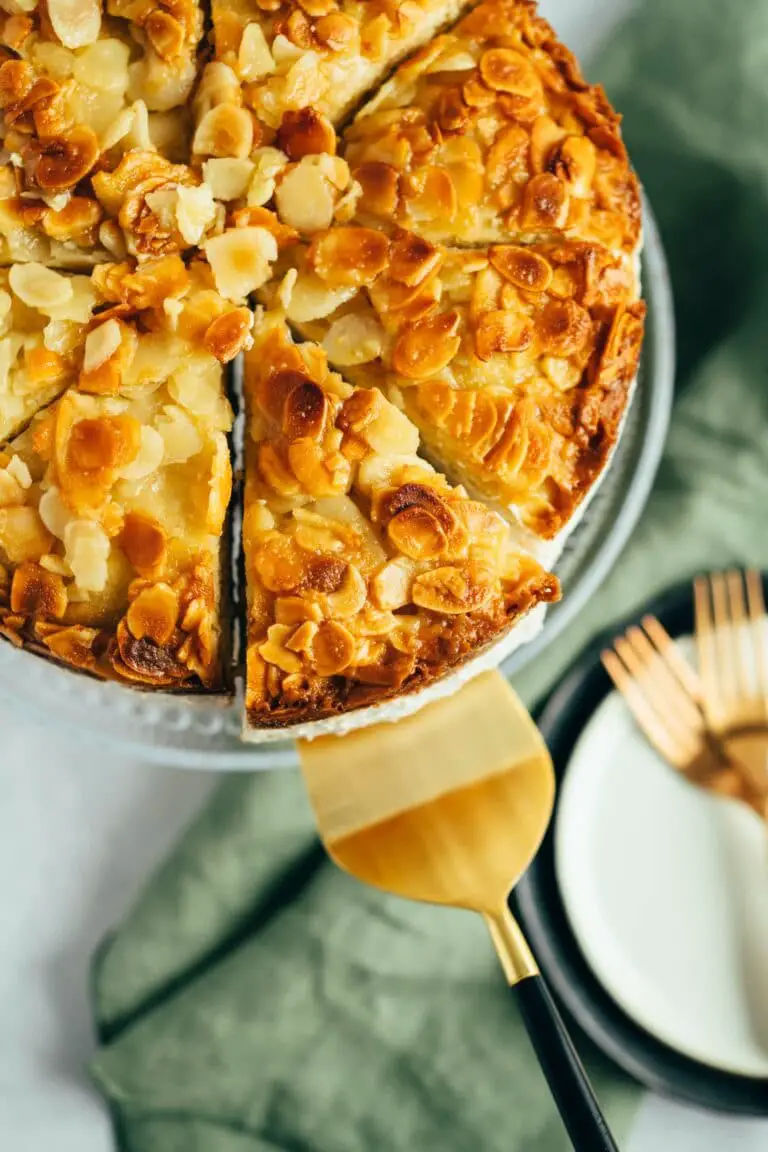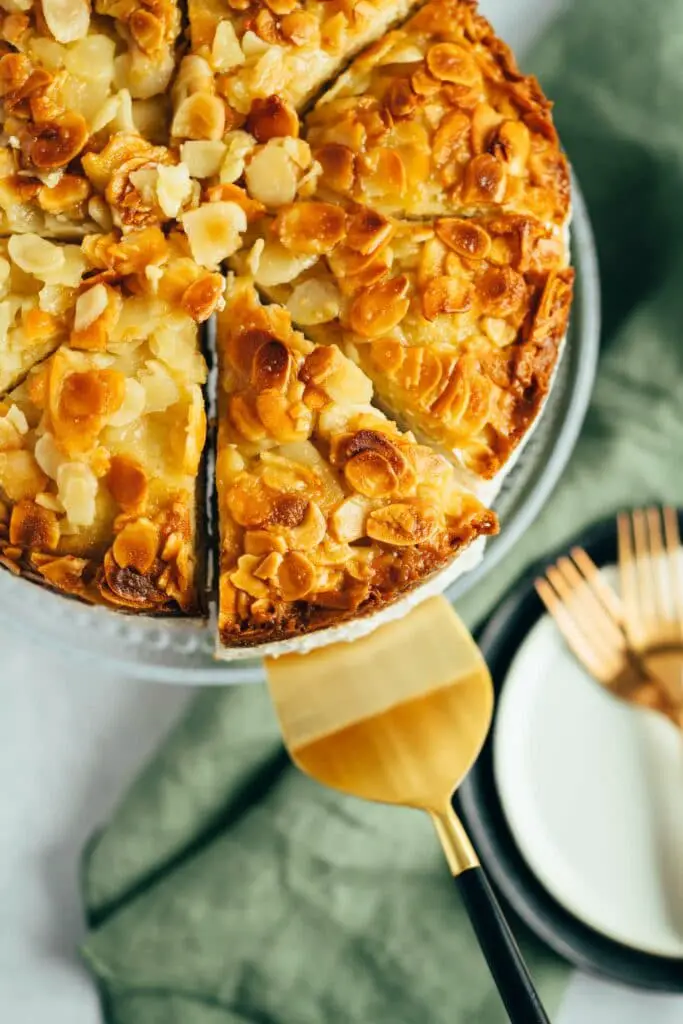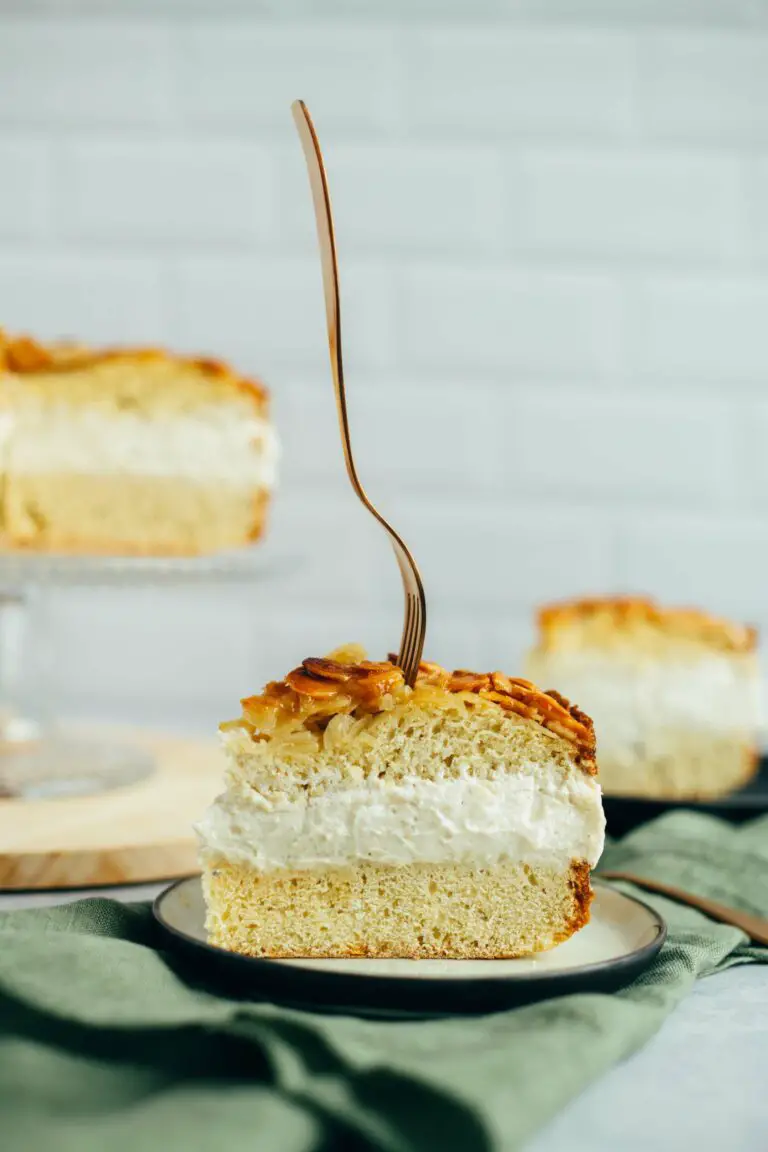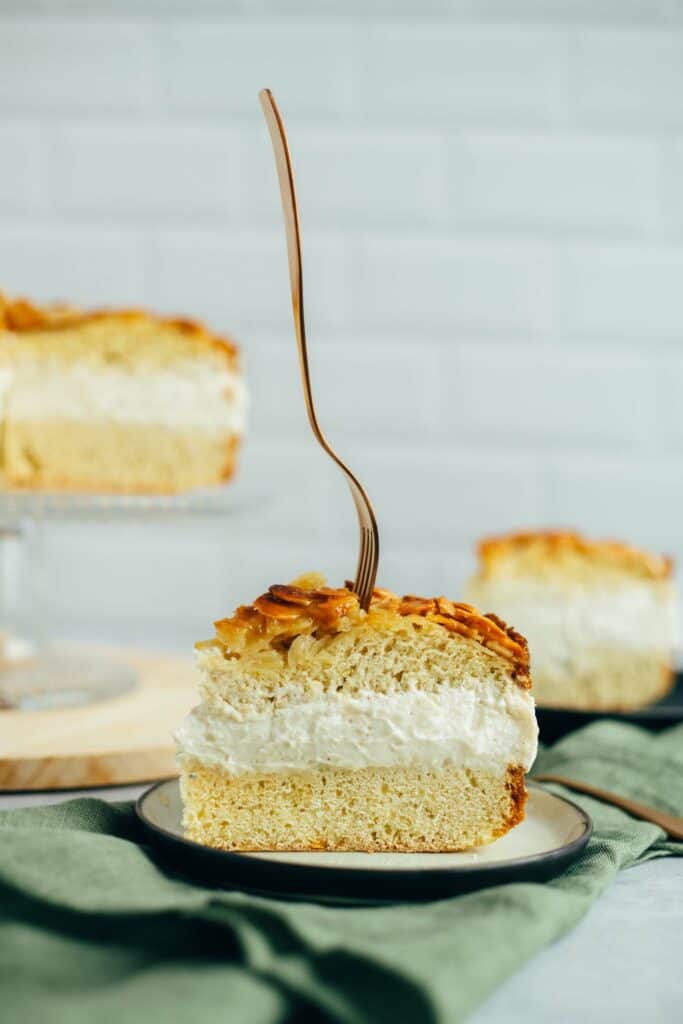 The preparation of the bee sting is done in 3 steps, which are simple and fast. First it is the turn of the yeast dough. Place melted margarine, vegetable milk, spelt flour, raw cane sugar, dry yeast and a pinch of salt in a large baking bowl and knead until smooth. I like to work with my hands here, but you can always use a food processor with a dough hook. Cover, let go and move on to step two.
For the custard, we first make a pudding, with vegetable milk, vanilla pudding powder and sugar. You could still make the custard powder yourself by mixing 40g cornstarch and ¼ tsp bourbon vanilla powder. Once the custard is ready, I transfer it to a bowl and off it goes into the fridge. I also whip the vegan cream now and put it in the fridge with the pudding.
TIP: I can currently recommend two vegan creams that set well and don't run. In this recipe I use the vegan cream from SOYATOO, in the mole cake the one from the brand BEDDA. In my opinion, SOYATOO is clearly ahead in terms of taste, but that is my personal feeling. If you want to add more firmness, I recommend adding cream stiffener or xanthan gum.
Original bee sting – vegan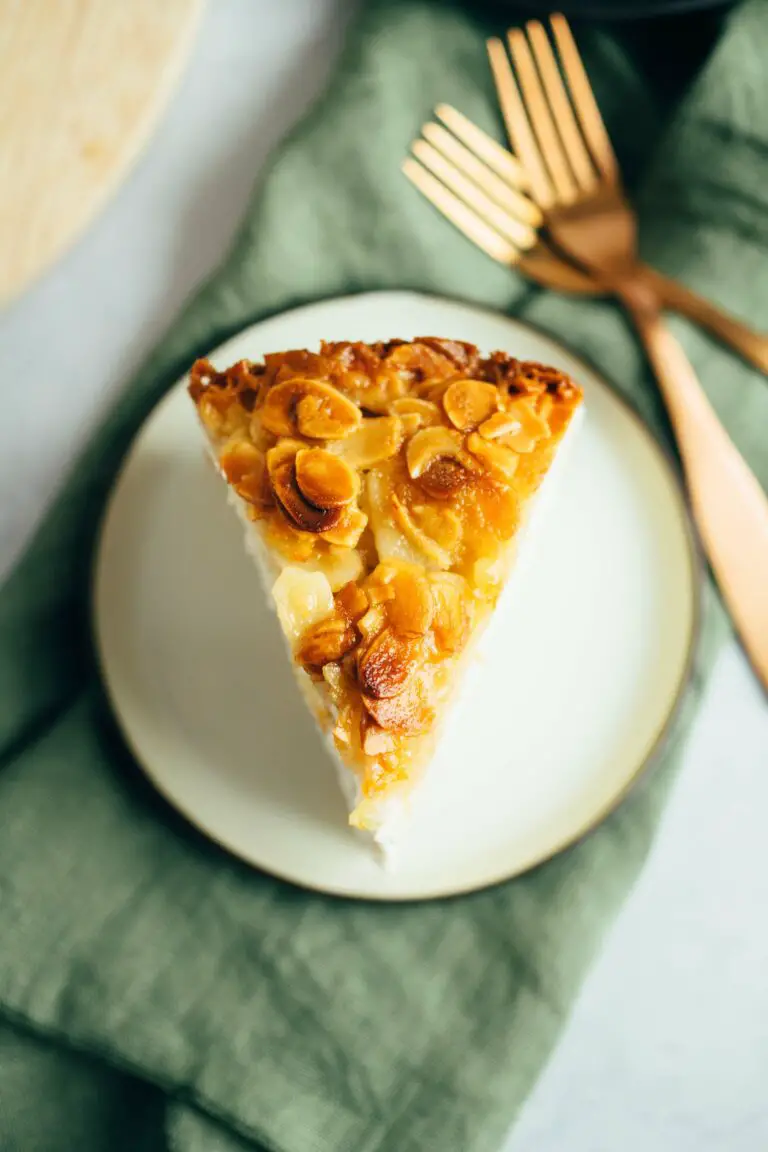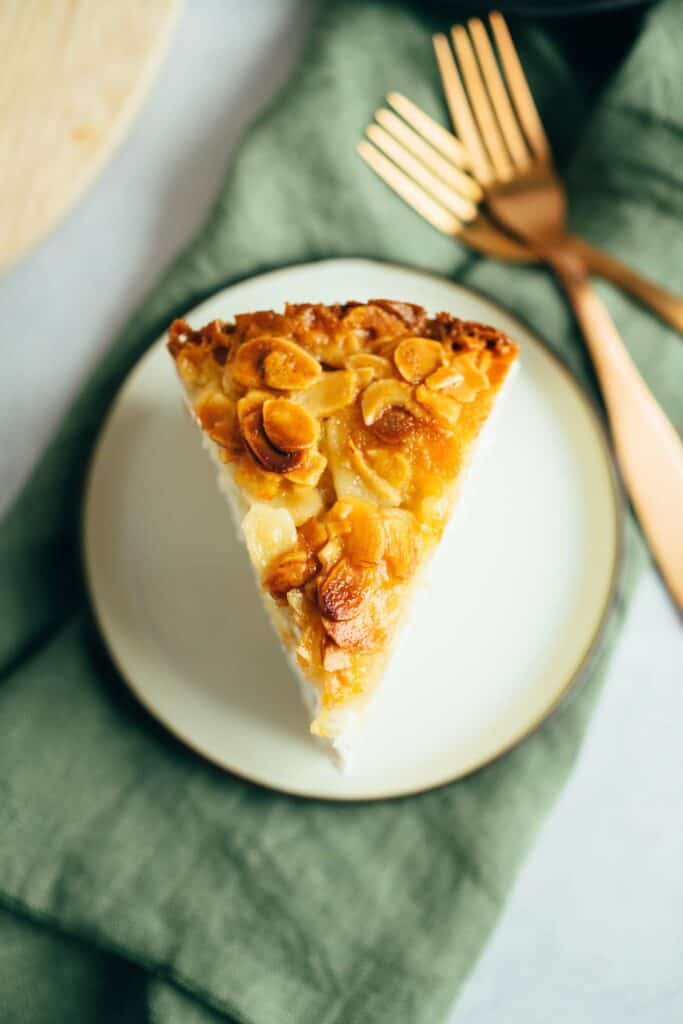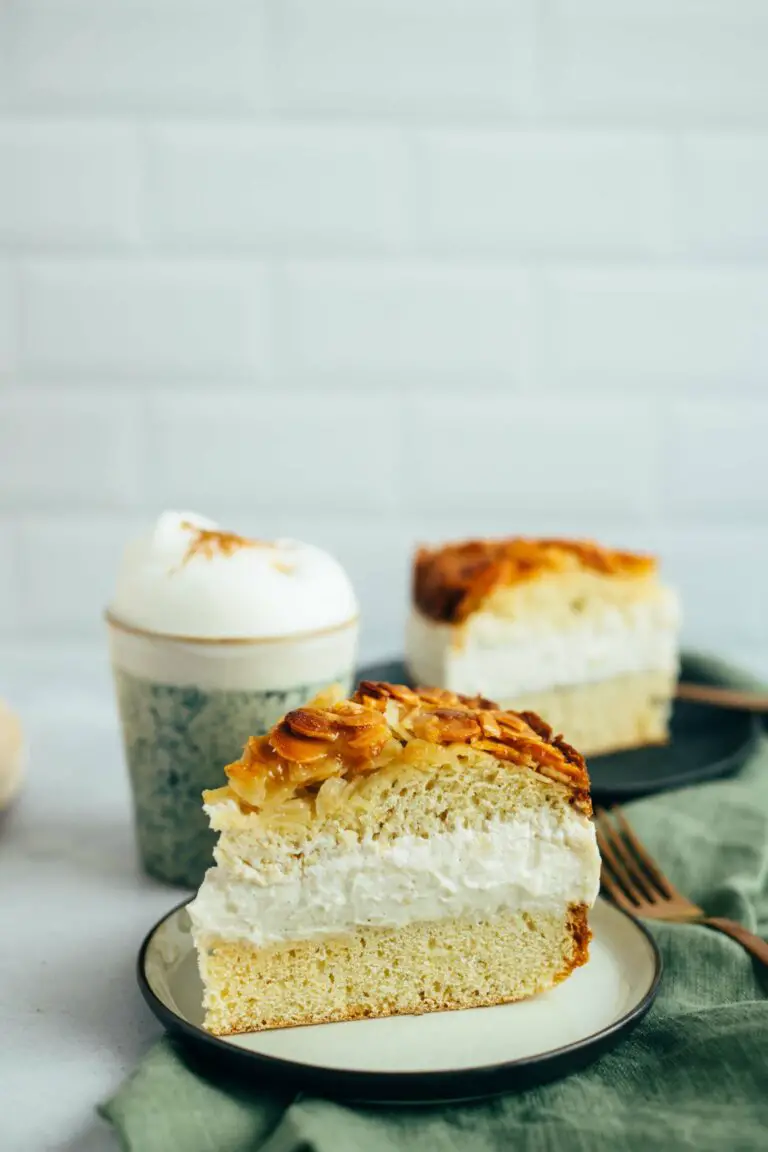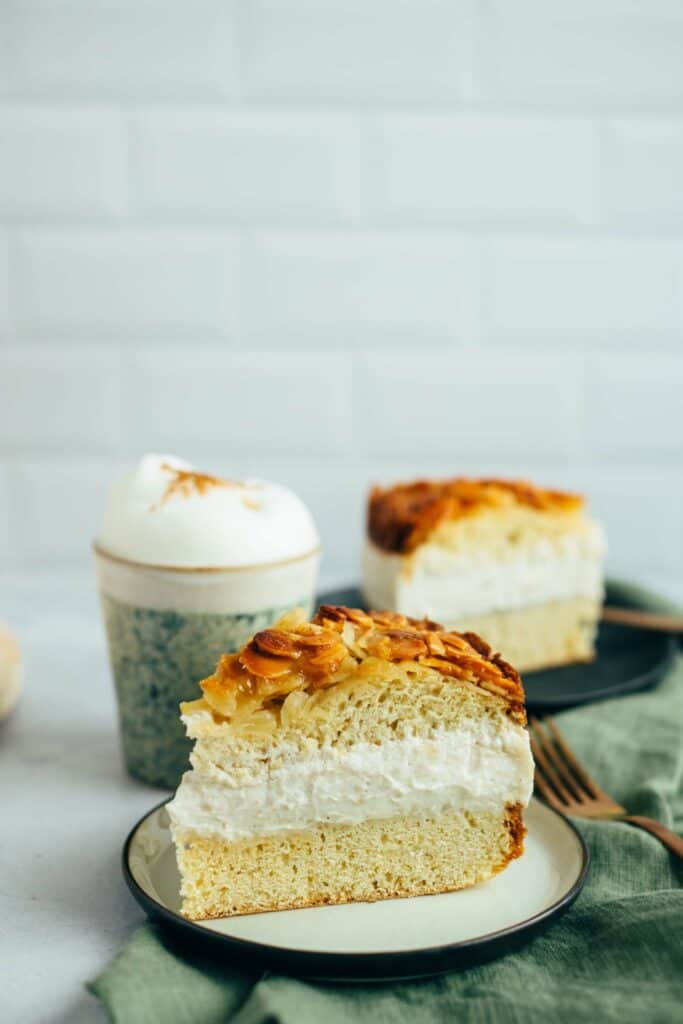 The only thing missing is the topping of margarine, cream, raw cane sugar and sliced almonds. This is all cooked down together briefly and then spread directly onto the yeast dough before it goes into the oven. During the baking time I am already always happy because everything smells so nice.
Remove from oven, cool and cut in half. Mix the custard with the cream and fill the yeast dough with it. I pre-cut the pastry lid with the caramelized almonds before placing them on top of the custard cream. The reason for this is that the yeast dough is somewhat firmer and difficult to cut. When portioning, quickly squeeze the filling and it will spill out from all sides. It doesn't look very nice and you want to make an impression after all.
TIP: If you want to make a gluten-free version of the bee sting, replace the spelt flour with a gluten-free flour blend, some almond flour and xanthan gum. You can find the exact ratios below in the recipe details.
Simple vegan baking
Already we are done with this delicious German classic cake. Let's move on to the tips and tricks to make sure the bee sting is a success.
Never let yeast and milk get too hot when processing, work in the lukewarm range. Too extreme temperatures can destroy the yeast.
When letting dough rise, place it in a place that is not exposed to drafts. Yeast dough does not like temperatures that are too hot or too cold when rising, and especially does not like drafts. It is best to place covered in a semi-shaded place.
Whip the cream early and let it set in the refrigerator for 1-2 hours before further processing.
The same goes for the custard, which must also cool completely before mixing with the cream.
Simmer the topping of sugar, cream and almond flakes for a few minutes until some liquid has evaporated. Only then spread on the yeast dough and bake. If it's still too liquid, then it can leak out during baking and burn at the bottom of the oven (I know from personal experience). Once burned in, it is very difficult to remove.
Grease the springform pan well and line the bottom with baking paper. This makes it very easy to remove the cake from the mold after it has cooled.
Pre-cut cake lid into 10, this makes portioning easier.
If you're in the mood for a different cake variation today, I recommend my gluten-free chocolate cake, fruity pineapple cake or Black Forest cake. I hope you enjoy baking and of course about a review at the bottom of this page. If you post a picture, use the hashtag #veganevibes.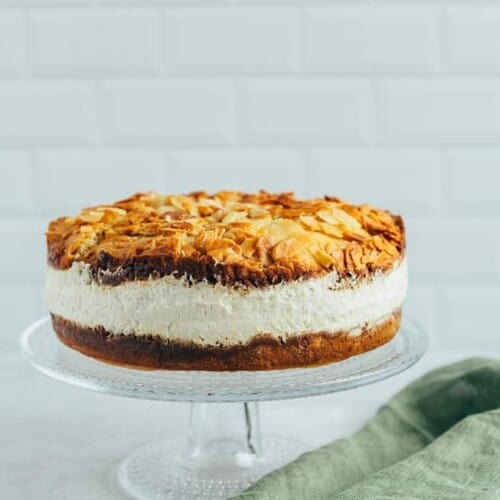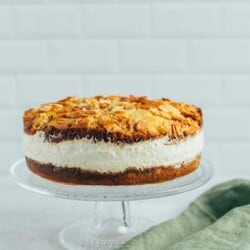 vegan bee sting
Vegan bee sting made with yeast dough, custard cream filling and a topping of caramelized almond flakes. Perfect for those who want to make an impression at the vegan coffee party. Addictiveness guaranteed. Vegan, (gluten free option) and lactose free.
AUTOR: VEGANEVIBES
FOR THE YEAST DOUGH:
60

g

vegan margarine

melted

150

ml

Plant milk

I use a soy vanilla milk, but any other plant milk will work

325

g

Spelt flour

or another flour of your choice, OPTION : for a gluten-free yeast dough, use 275g gluten-free flour mix, 50g almond flour and 1 tsp xanthan gum.

50

g

Raw cane sugar

or other sugar of your choice

1

Pack

Dry yeast

or ½ cube fresh yeast
FOR THE CUSTARD CREAM:
400

ml

Plant milk

I use a soy vanilla milk, but any other plant milk will work

1

Pack

Vanilla pudding powder

alternatively mix 40g cornstarch with ¼ tsp bourbon vanilla

50

g

Raw cane sugar

or other sugar of your choice

300

ml

vegan cream
FOR THE ALMOND TOPPING:
60

g

vegan margarine

melted

50

ml

Vegetable cream

30

g

Raw cane sugar

100

g

Almond flakes
Anleitung 
Line a 24cm diameter springform pan with baking paper (bottom). Grease sides with a little vegetable oil or margarine. Set aside.

Whip the cream (optionally with cream stiffener or xanthan gum) until stiff and put it back in the fridge, this is important so that it can firm up.

For THE CUSTARD CREAM Mix 6 tablespoons (90ml) of the vegetable milk with the pudding powder and the sugar. Bring remaining milk (310ml) to a boil and stir in pudding powder-sugar-milk mixture until a slightly firmer pudding is formed. Place in a sealable bowl or box and refrigerate until firm.

400 ml Plant milk,

1 Pack Vanilla pudding powder,

50 g Raw cane sugar,

optional 1 package cream stiffener, or ½ tsp xanthan gum for better firmness,

300 ml vegan cream

Now let the custard and cream cool and mix at a later time.

FOR THE YEAST DOUGH Place spelt flour, vegan margarine (melted), plant milk, raw cane sugar and one package of dry yeast in a large baking bowl. Mix with hands and work into a smooth dough. Cover and let rise at room temperature for one hour.

60 g vegan margarine,

150 ml Plant milk,

325 g Spelt flour,

50 g Raw cane sugar,

1 Pack Dry yeast

NOTE: Yeast doughs do not like direct sunlight or drafts.

After the rising time, remove the yeast dough from the bowl and knead briefly on a floured surface and shape into a 24cm diameter round. Place in springform pan and gently press down with hands. Cover again and let rise for another 15 minutes.

In the meantime, preheat oven to 180 degrees convection (or 200 degrees top/bottom heat).

FOR THE ALMOND TOPPING place a small saucepan on the stove. Melt vegan margarine, vegetable cream and raw cane sugar over medium heat. Stir in almond flakes and simmer for a few minutes until mixture is slightly thickened.

50 ml Vegetable cream,

30 g Raw cane sugar,

100 g Almond flakes,

60 g vegan margarine

NOTE: Thickening is important, if the mixture is too runny it can spill out of the springform pan onto the bottom of the oven and burn in. This smells very unpleasant and is difficult to remove.

Cover the yeast dough and THE ALMOND TOPPING spread on the dough while it is still hot. Be careful hot, it is best to use a spoon or silicone scraper.

Put in the oven and bake for

30 minutes

.

At the end of the baking time, remove from the oven and let cool completely.

Once the yeast dough has cooled (really cooled, otherwise the custard will melt), remove the cream and custard from the refrigerator and place in a large bowl. Gently fold in with a whisk until a homogeneous cream is formed.

Cut cooled yeast dough once horizontally in the middle and put the lower half back into the springform pan. CUSTARD CREAM Spread over the top and smooth down.

Pre-cut top half of yeast dough (with the caramelized almond flakes) into 10 equal-sized pieces (see video) and place back on the custard cream, one at a time. This makes it easier to portion later because the caramelized top is quite hard to cut and would push out the custard.

Chill for at least

two hours

, release from the mold, cut into pieces, and enjoy!

Store in an airtight container in the refrigerator for up to 2 more days.
Nährwertangaben
Serving:
1
Piece
Calories:
382
kcal
Carbohydrates:
45
g
Protein:
8
g
Fat:
18
g
Saturated Fat:
3
g
Trans Fat:
1
g
Sodium:
135
mg
Potassium:
223
mg
Fiber:
6
g
Sugar:
19
g
Vitamin A:
680
IU
Vitamin C:
4
mg
Calcium:
108
mg
Iron:
2
mg