Gluten-free cookies that are also completely oil-free. Now I'm sure some critics will come back and call this recipe diet madness or even tell me to take it off the page. Just recently I had such a comment on the blog, with which the reader almost insulted me. Tastes are different and what tastes good to one is inedible to another. We had visitors on Sunday and I offered exactly this healthy cookies. The reaction? It tasted great to everyone, even the dogs! Joking aside, they were also allowed to snack, but without sugar coating.
gluten free Christmas cookies without oil and naturally sweetened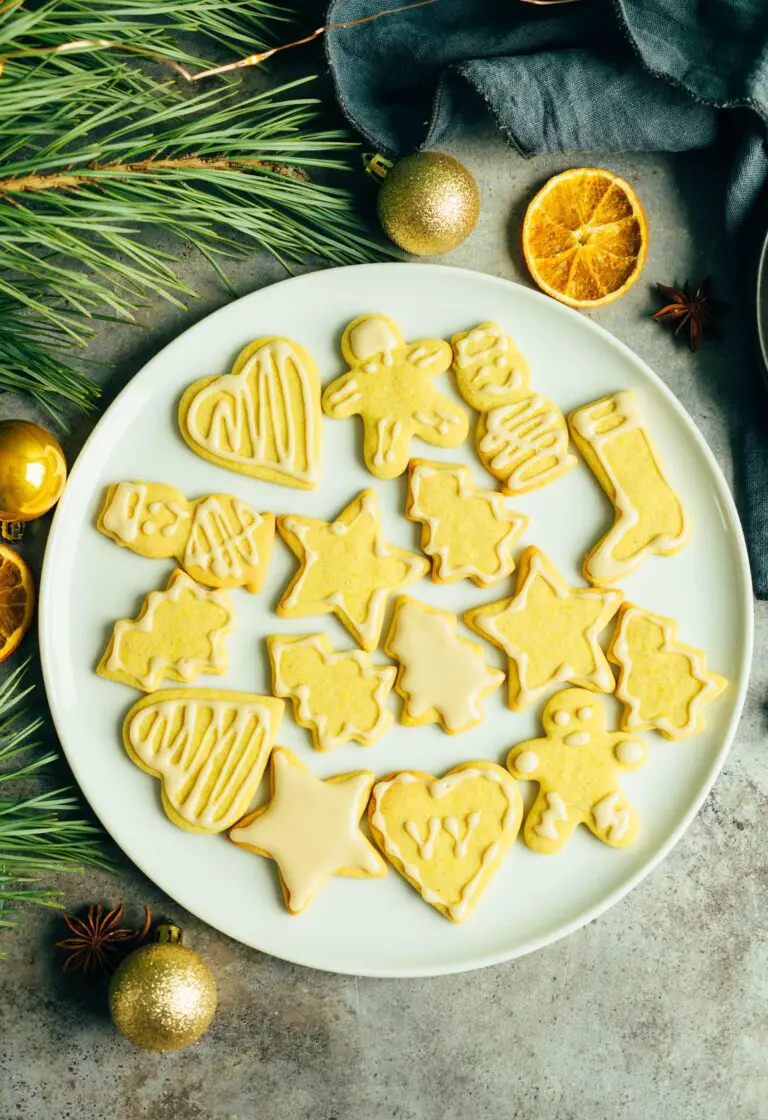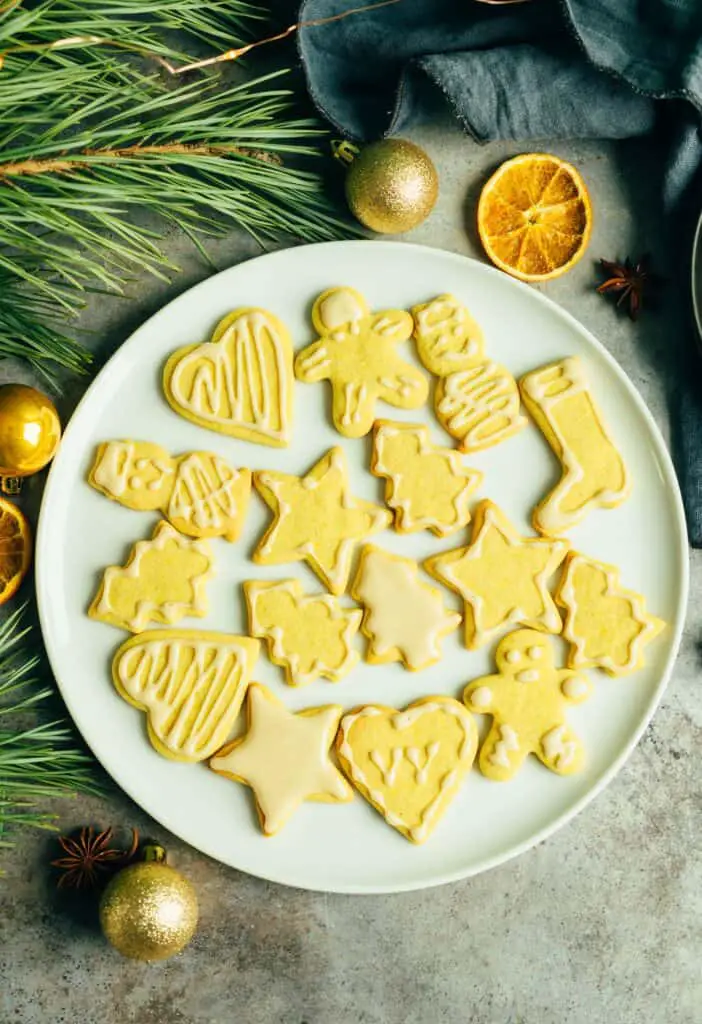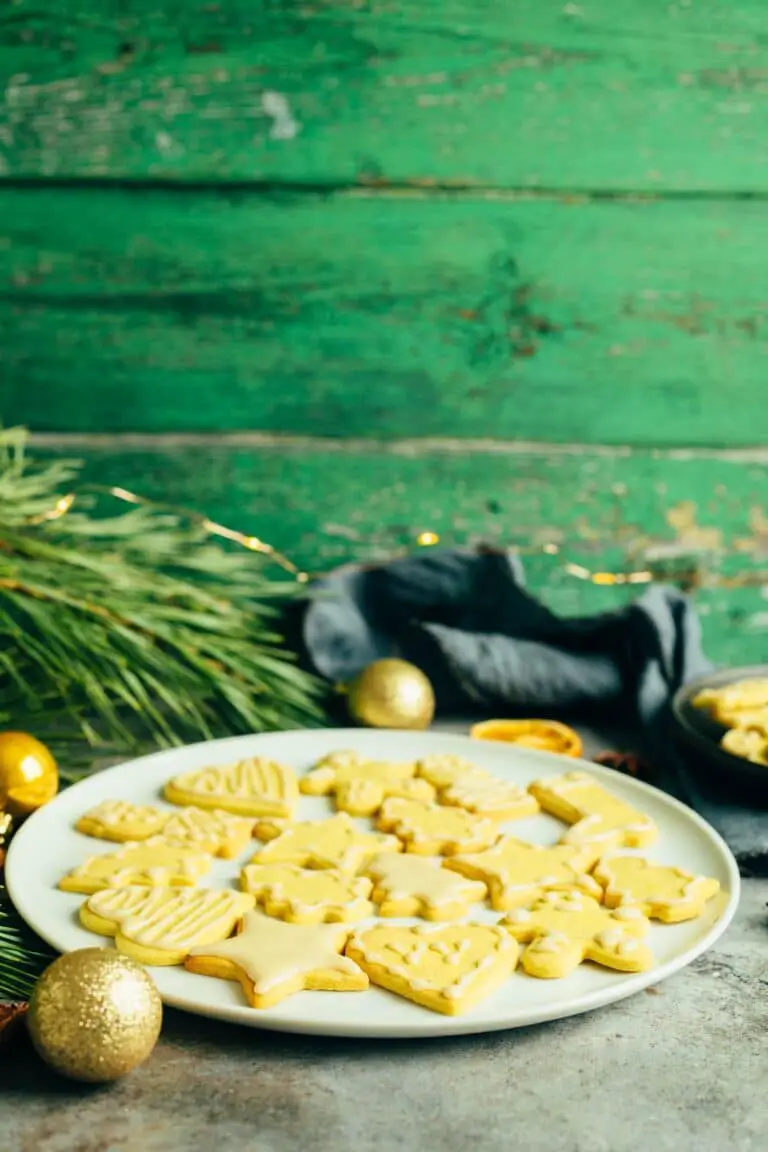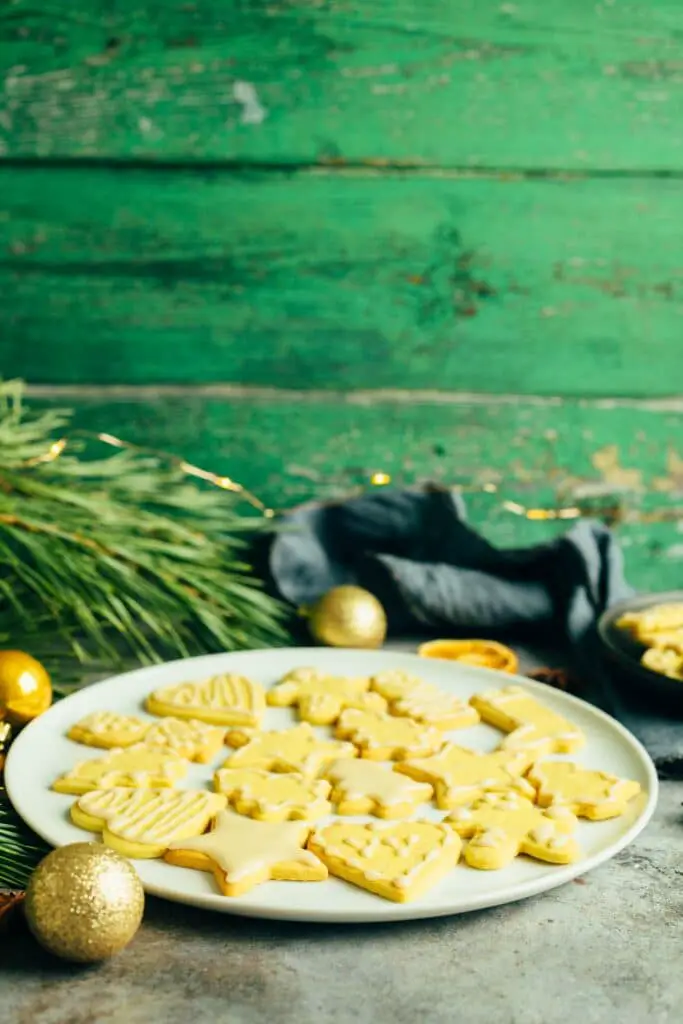 Maybe you have already seen that there are already some cookie recipes on veganevibes.de. Most are based on classic Christmas recipes and implemented with vegan ingredients. Margarine and spelt flour are used quite frequently. There are more and more people who want to eat as whole foods as possible. Completely without the use of refined oil or industrial sugar. Best then also gluten-free with alternative flours.
That's exactly what inspired me to make these delicious cookies. Gluten-free, oil-free and naturally sweetened. The dough is made quickly and easily and may be further processed without cooling time.
TIP: This dough is best processed without long waiting time and roll out immediately. In any case, do not refrigerate again, otherwise it will be dry and crumbly.
Gluten free cookies for the whole family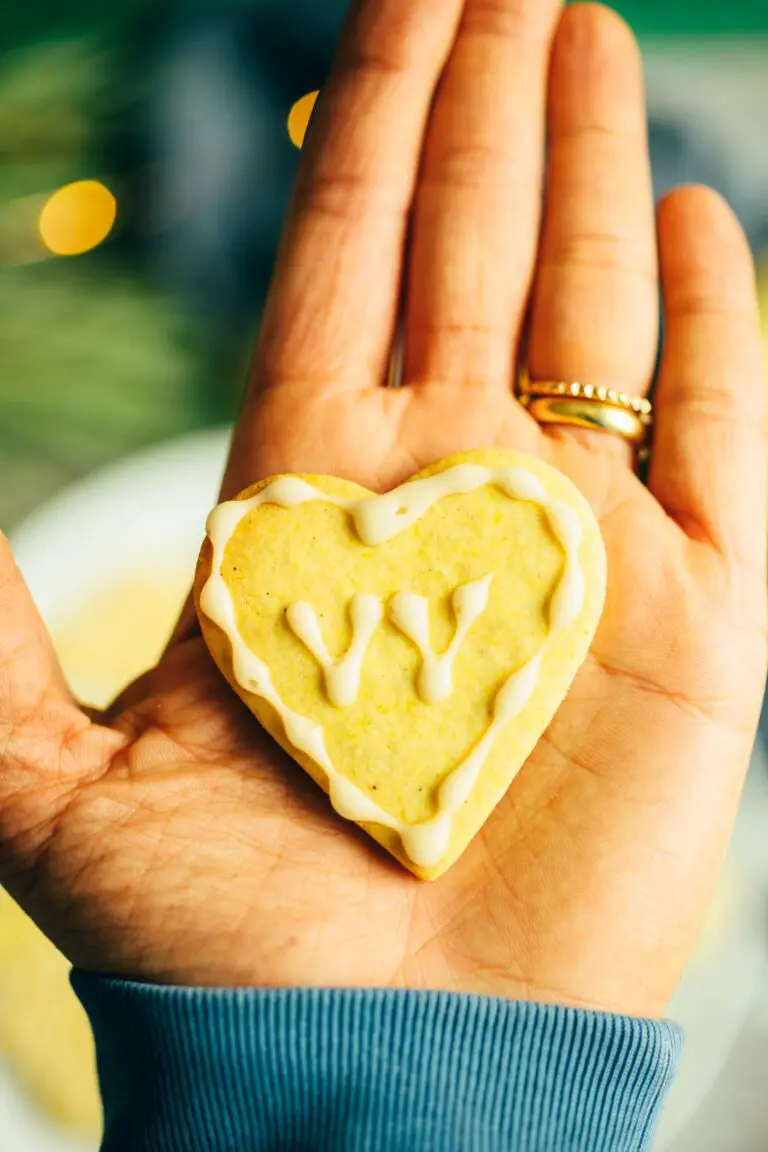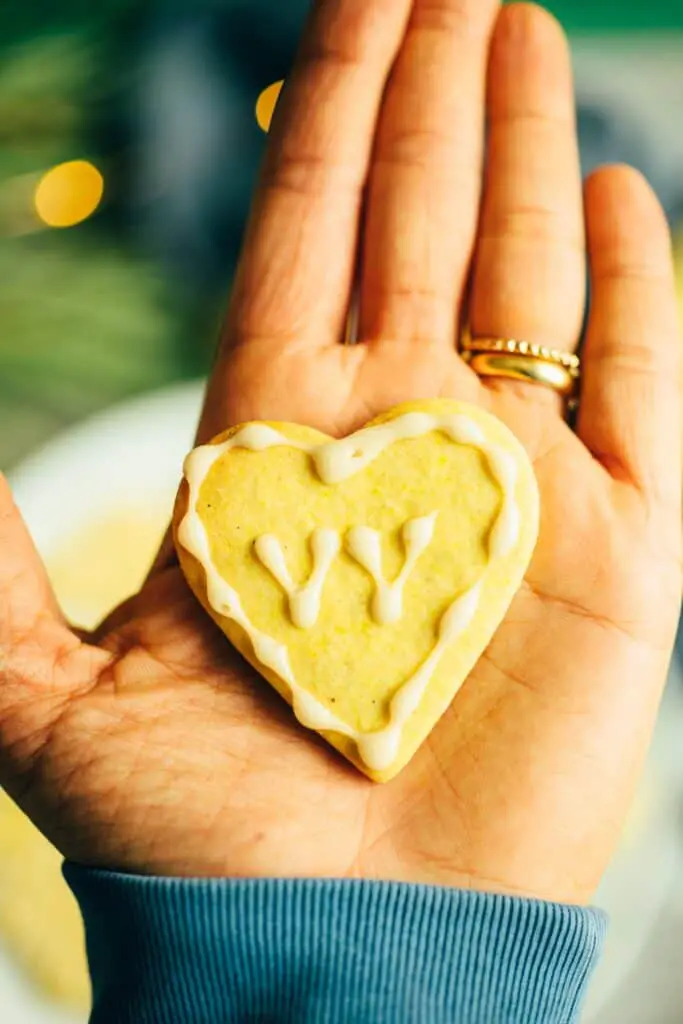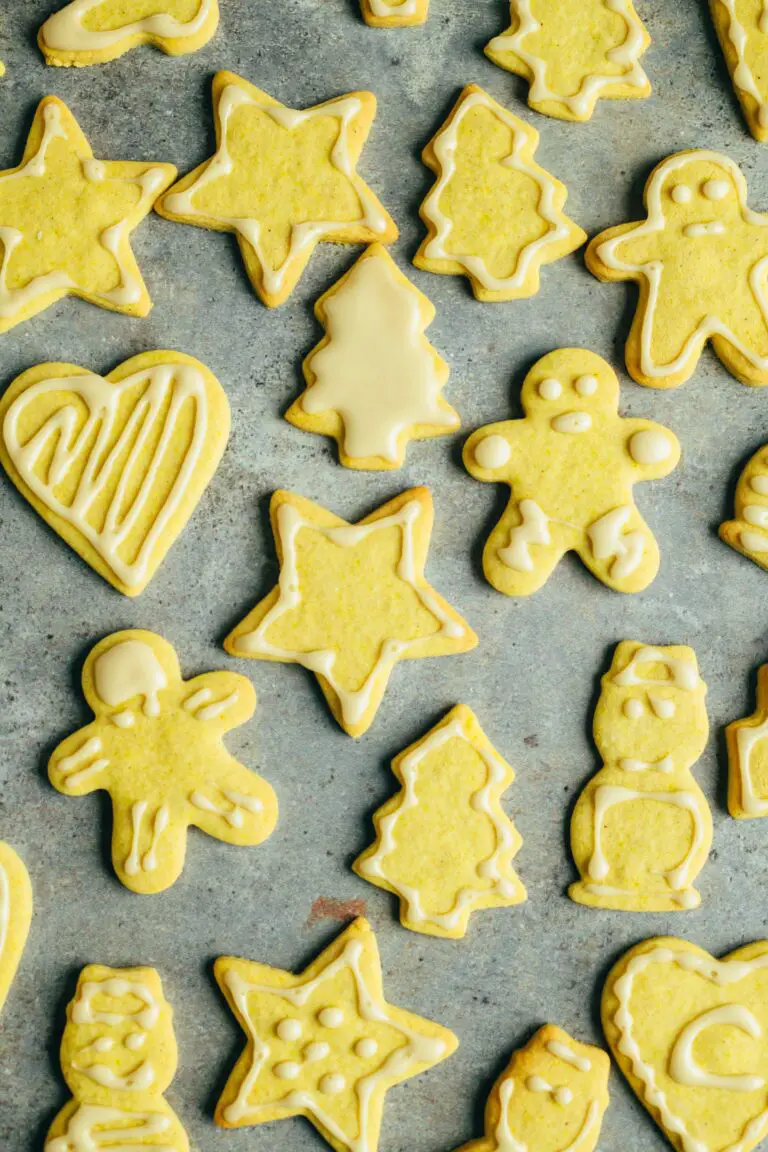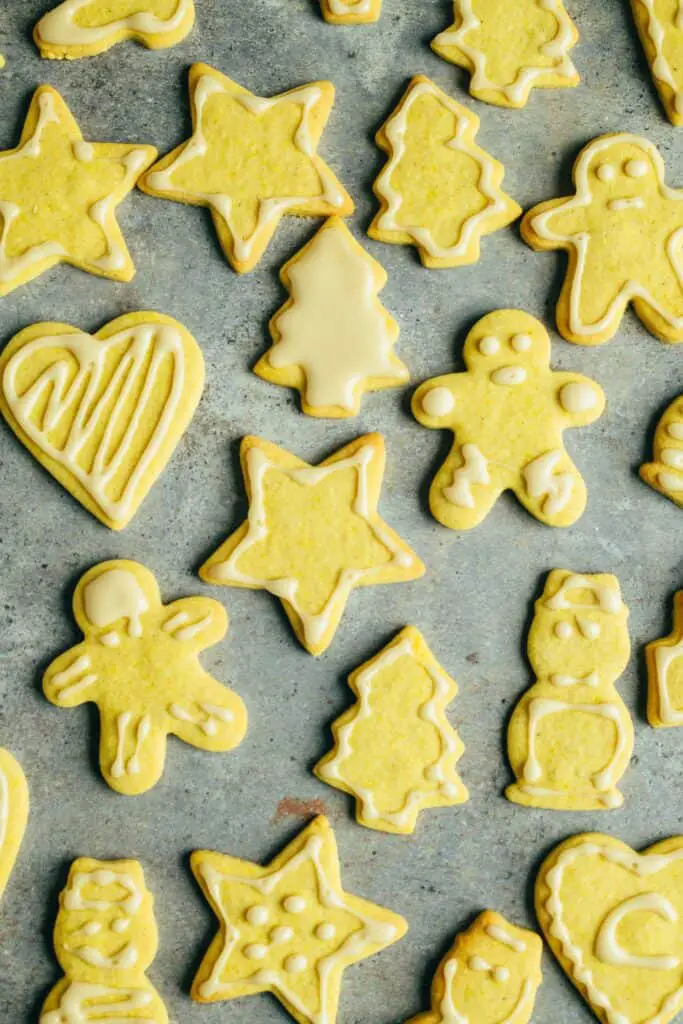 My favorite part is the cookie cutting, with lots and lots of different shapes. Fir trees, hearts, stars, boots and other shapes that lift my spirits. I find there's something almost meditative and calming about baking cookies. In times like these, a wonderful way to just disconnect from the world. Decorating should also not be missing, but is not a must. I mix a frosting of powdered sugar, maple syrup and a little plant milk for this. I then put it in a squeeze bottle and decorate the cookies to my liking. This is really fun and promotes your own creativity, which is so often lost in stressful times. If you like, you can additionally work with organic-vegan food coloring and give the cookies a colorful coat of paint.
What's inside these fine cookies?
Here is an overview with tips & tricks for replacing and adding:
Gluten free flour mix is the base for the cookies, here I use a ready mix from the organic market that I have linked the below.
Buckwheat flour, for the full-fat component. I really like this flour because it gives the dough a great texture and is full of healthy ingredients.
Almond flour, is rich in protein and gives a very delicate flavor, almost a little reminiscent of marzipan.
Tapioca starch, is simply wonderful for binding and should not be missing in any vegan household. I super love using it and almost think it's a bit of a shame that it's not more widely available yet. You can find a source of supply below with the ingredients.
Baking powder or baking soda as a substitute
Maple syrup or other sweetener of choice. When using sugar, it is best to use fine powdered sugar or finely grind raw cane sugar in a high-powered blender beforehand.
Nut Mush, I use light almond paste. Please make sure that the mush is really fine and has no more lumps. Nut muse like to settle and you have a layer of fat on top. Stir well before use.
Spices, I use bourbon vanilla. However, all Christmas spices are suitable, such as cinnamon, nutmeg, cloves, cardamom and star anise.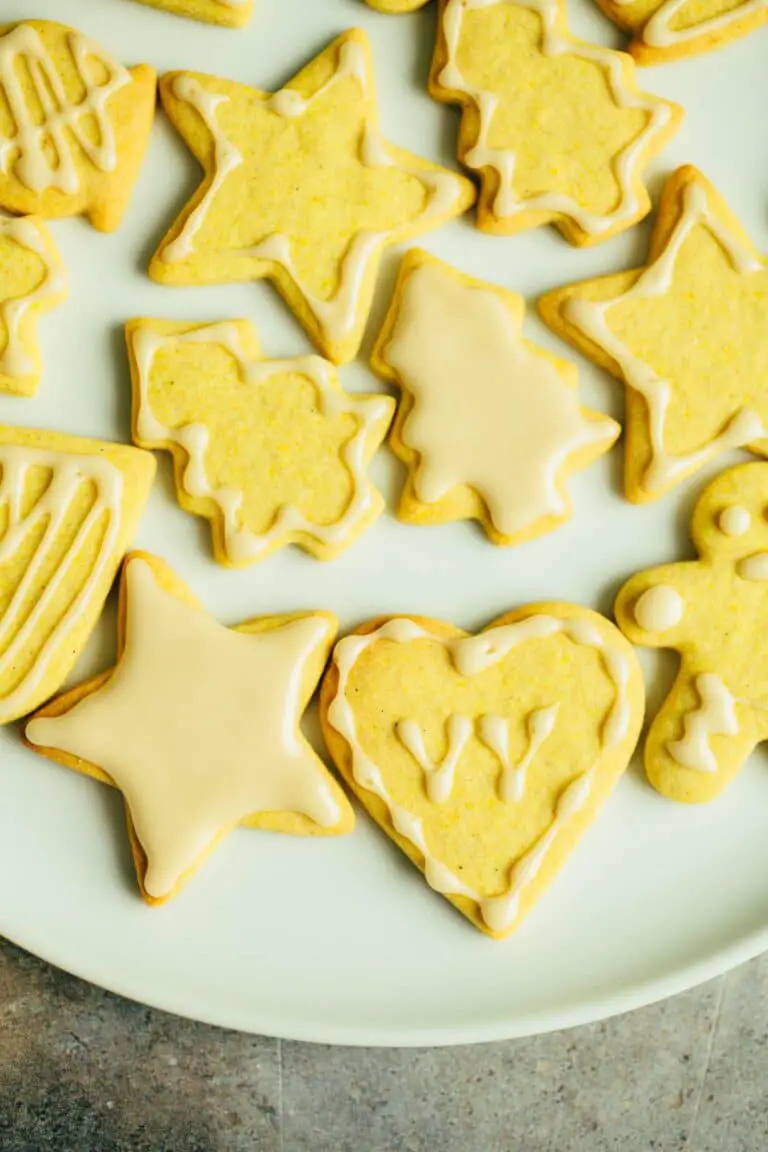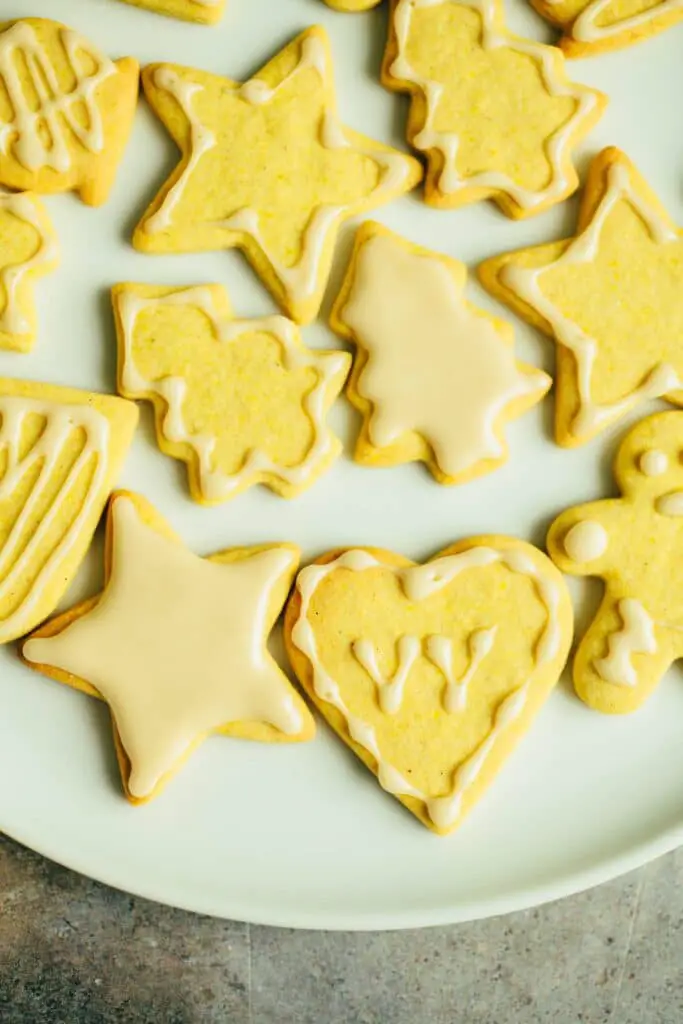 On to the bowl, get set and go with this crispy, vegan, gluten-free and oil-free Christmas cookie, they are:
Crispy
Pleasantly sweet
Gluten free
Oil-free
Quick and easy to make
Simply perfect in combination with a mulled wine, punch or hot chocolate.
I wish you a lot of fun with the Nachbacken and am pleased of course about a review at the bottom of this page. If you post a picture, use the hashtag #veganevibes.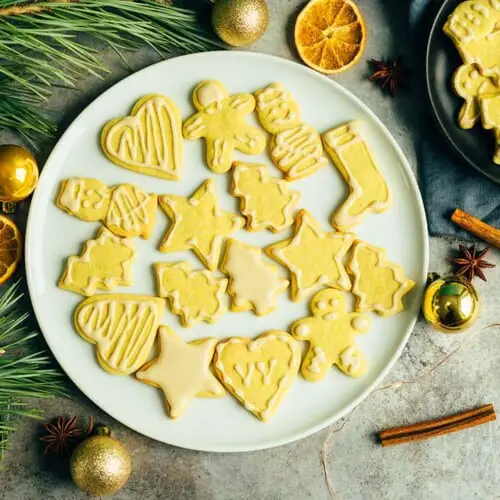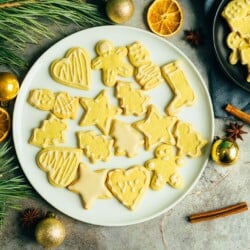 Gluten free cookies (oil free)
Vegan cookies, gluten-free, oil-free and naturally sweetened. With fine buckwheat flour, nut mush and bourbon vanilla. Perfect for an afternoon of baking with the whole family. Optional icing to decorate.
AUTOR: VEGANEVIBES
Anleitung 
Place gluten-free flour blend, buckwheat flour, almond flour, tapioca starch, baking powder, nut mush, maple syrup, bourbon vanilla, and salt in a blender and blend until all ingredients are evenly combined.

160 g gluten free flour mix,

40 g Buckwheat flour,

30 g Almond flour,

16 g Tapioca starch,

½ tbspn Baking powder,

190 g fine nut puree,

160 ml maple syrup,

¼ tbspn Bourbon vanilla,

A strong pinch of salt

NOTE: Be sure to process this dough immediately and do not refrigerate or it will become dry and crumbly. Gluten-free doughs behave somewhat differently than classic doughs with margarine and gluten-containing flour.

Preheat oven to 175 degrees and line a large baking sheet with parchment paper. Carefully roll out the dough to about 3-4 mm thick and dust generously with flour so that the dough does not stick.

Cut out desired shapes and carefully place on baking sheet. Bake for

8-10 minutes

. The longer, the crispier the cookies will be. Remove from oven, let cool, and repeat until dough is completely used.

For the frosting in a bowl, whisk together powdered sugar, maple syrup and plant milk until smooth frosting forms.

200 g Powdered sugar,

30 ml maple syrup,

15-30 ml Almond milk

Pour into a piping bottle or freezer bag (with corner cut off, be careful not to cut too much off) and decorate cookies with as desired.

Store at room temperature for a few days (if they even last that long!) and enjoy!

*PS: The cookies also make great Christmas tree ornaments.
Notizen
Calculated working time without decorating the cookies
Nährwertangaben
Serving:
1
Piece
Calories:
58
kcal
Carbohydrates:
9
g
Protein:
1
g
Fat:
2
g
Saturated Fat:
1
g
Sodium:
2
mg
Potassium:
45
mg
Fiber:
1
g
Sugar:
5
g
Calcium:
18
mg
Iron:
1
mg