Vegan chocolate Spitzbuben are simply irresistible, at least for me. I really wanted to have another Spitzbuben variation in my portfolio and it had to be chocolatey. Slowly we are heading towards the final spurt and if you haven't baked any cookies yet, you should hurry. In a little more than 2 weeks is Christmas and there the cookie plate should be filled in any case. Coconut macaroons, bear paws, hazelnut macaroons and gingerbread are for me in any case. I then pack them all dutifully in my emergency box when it goes to the relatives. Since you always never know what exactly is in it, so I prefer to have my sweet treats myself in the luggage.
Vegan chocolate spitzbuben recipe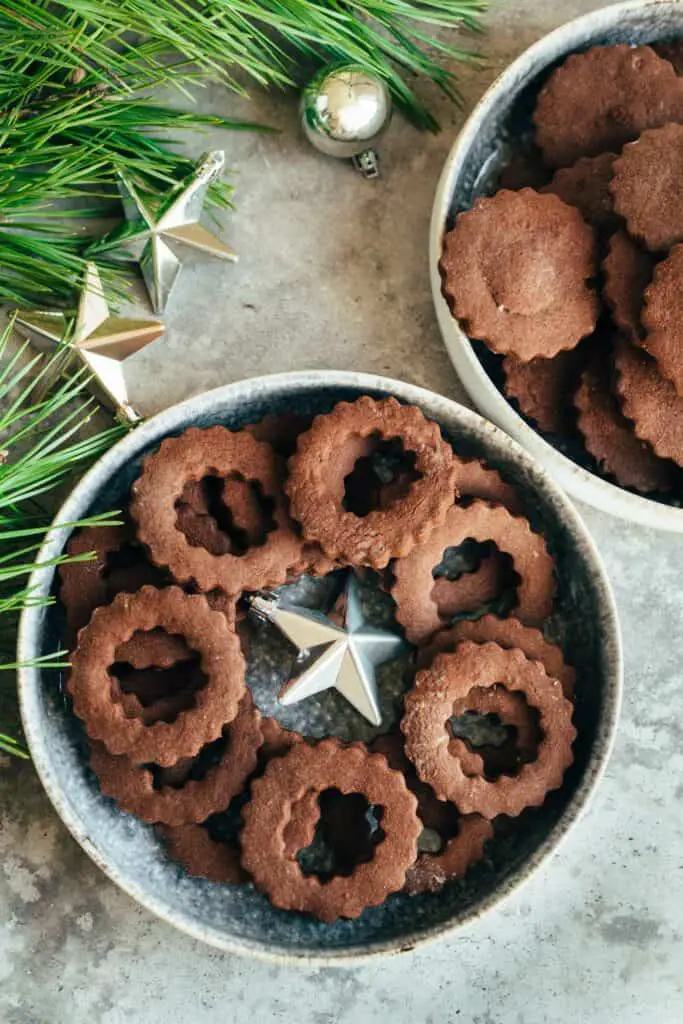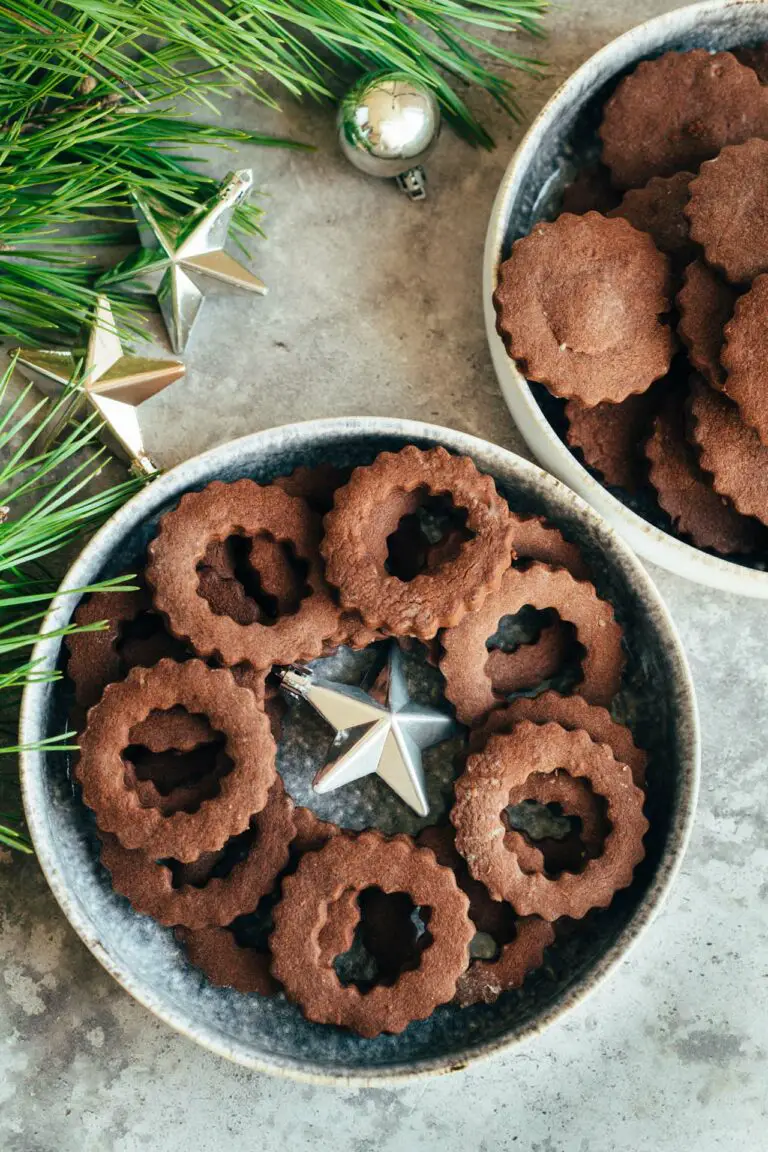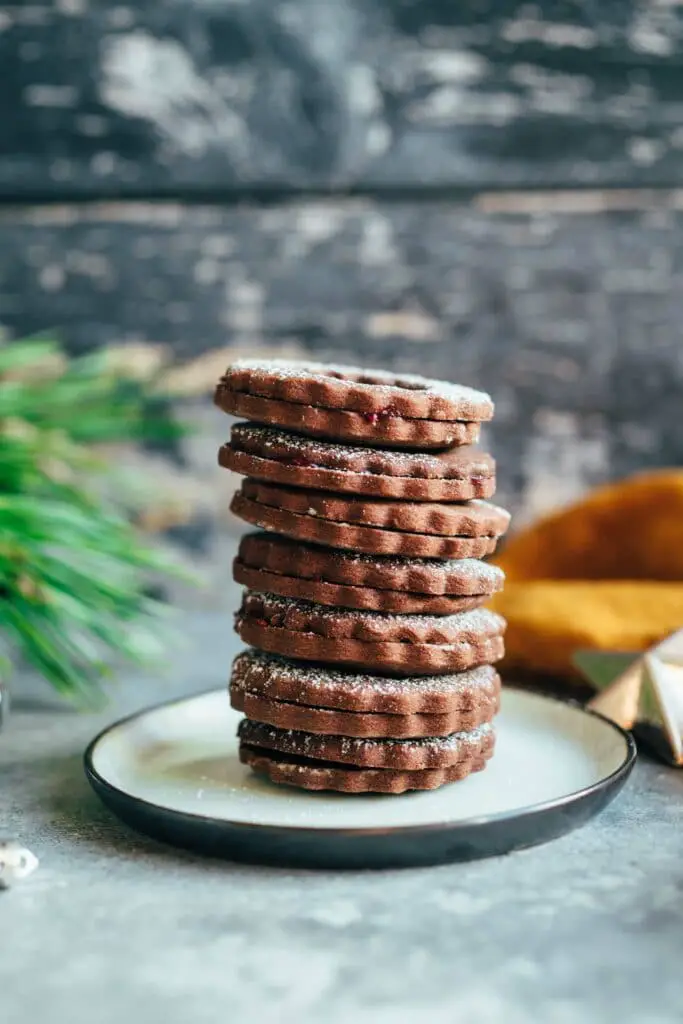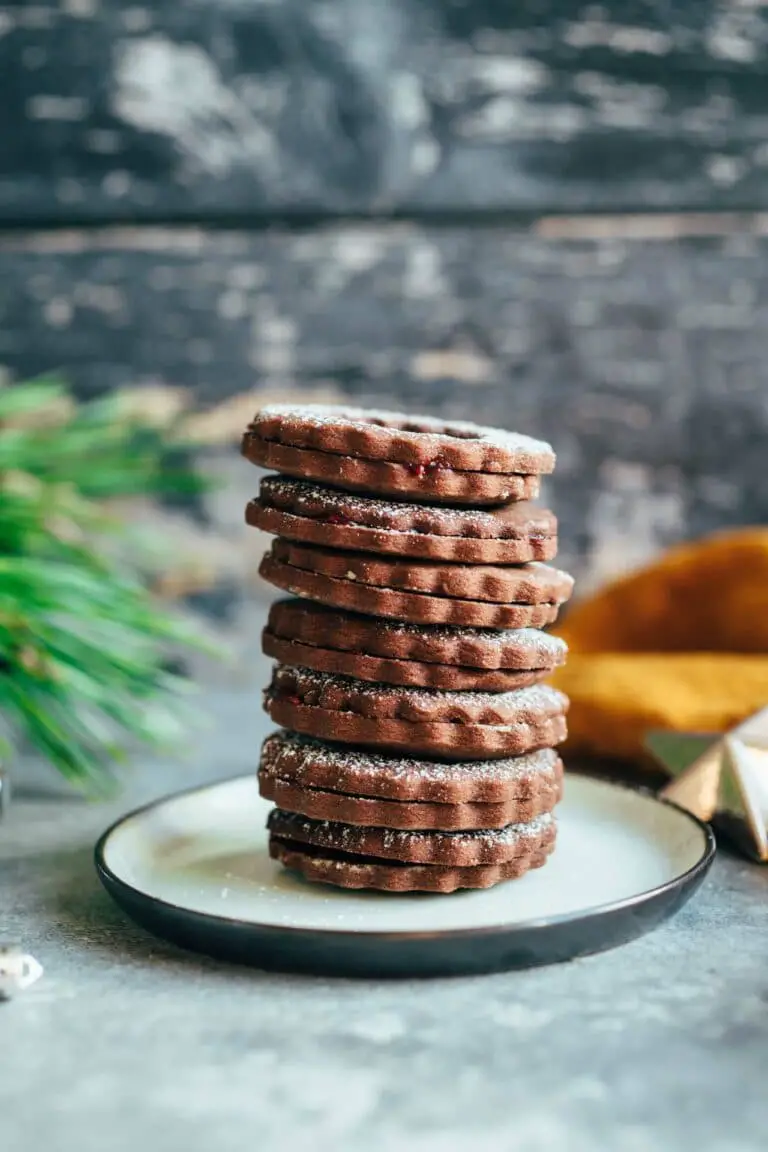 Spitzbuben are two cookies glued together in the middle with jam. Sounds banal, but that's exactly how it is. The ingredients list is short and simple, spelt flour, cocoa, vegan margarine, powdered sugar. For filling I use vegan raspberry jam refined the dark beauties with another layer of powdered sugar. I often get the question when I make more sugar free and raw food cookies. That's a very good question and I can relate to it very well.
Many health-conscious people want to specifically avoid sugar, gluten and oil. There are also many arguments in favor of a diet without the said ingredients. Basically, I also stick to it to a large extent, although I am more of a fan of the 80:20 rule. You are probably wondering what this is all about. It was invented by Pareto and states that in business, for example, 20 percent of customers account for 80 percent of sales. At least, that's how I learned it in my business studies.
Derek Sarno of THE WICKED KITCHEN writes in his book 80 Percent Healthy + 20 Percent Wicked = 100 Percent SEXY! For me, that means 80 percent of my diet consists of healthy, whole foods and plant-based ingredients, preferably without the addition of oil, gluten, refined sugar or other undesirable additives. The remaining 20 percent I'm allowed to do whatever I want and that includes, for example, these delicious Spitzbuben, a Beyond Meat Burger (unpaid brand mention) or some other vegan fast food.
Vegan cookies for Christmas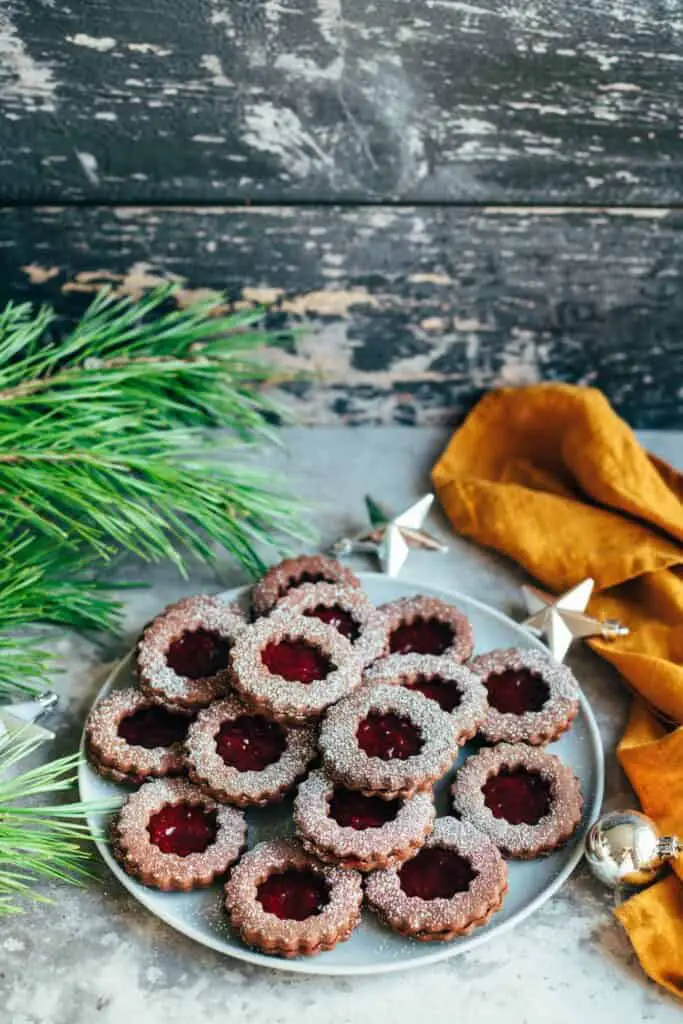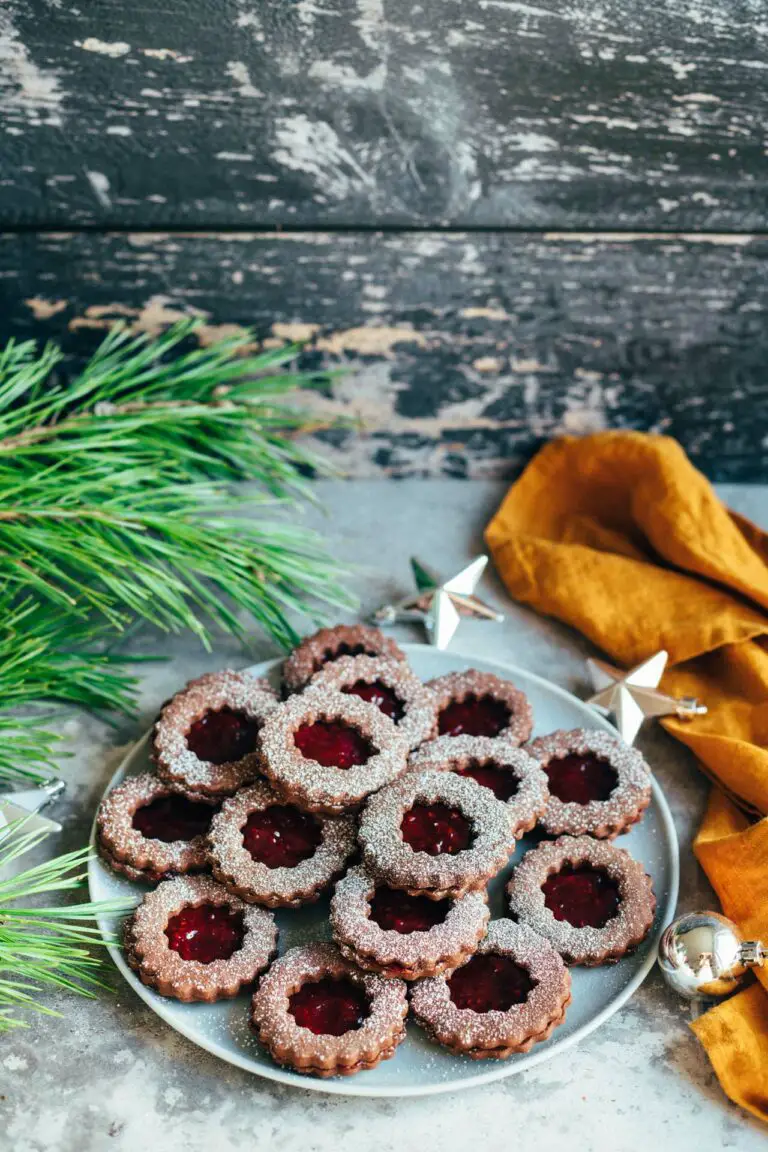 Let's get back to our shrews. I knead the dough by hand until it is smooth, soft and compact. Most vegan bakers recommend putting the dough in the refrigerator now.
TIP: I process the dough right away and do not put it in the refrigerator beforehand. However, if your room temperature is above average, then I recommend a chilling time of at least 30 minutes (up to 2 hours) in the refrigerator. For me, rolling out worked great as long as I had enough flour on hand to dust the dough.
If rolling out is difficult, I have another tip. Place part of the dough between two sheets of baking paper. If the cookie cutter likes to stick, keep dipping it in lukewarm water.
Cut out, bake, cool and then it's time to fill. I love using my simple, vegan Blackberry Chia Jam or another store-bought jam of choice. There is now an infinitely large selection here. As always, aich pay attention to organic quality.
Delicious vegan sweets for Christmas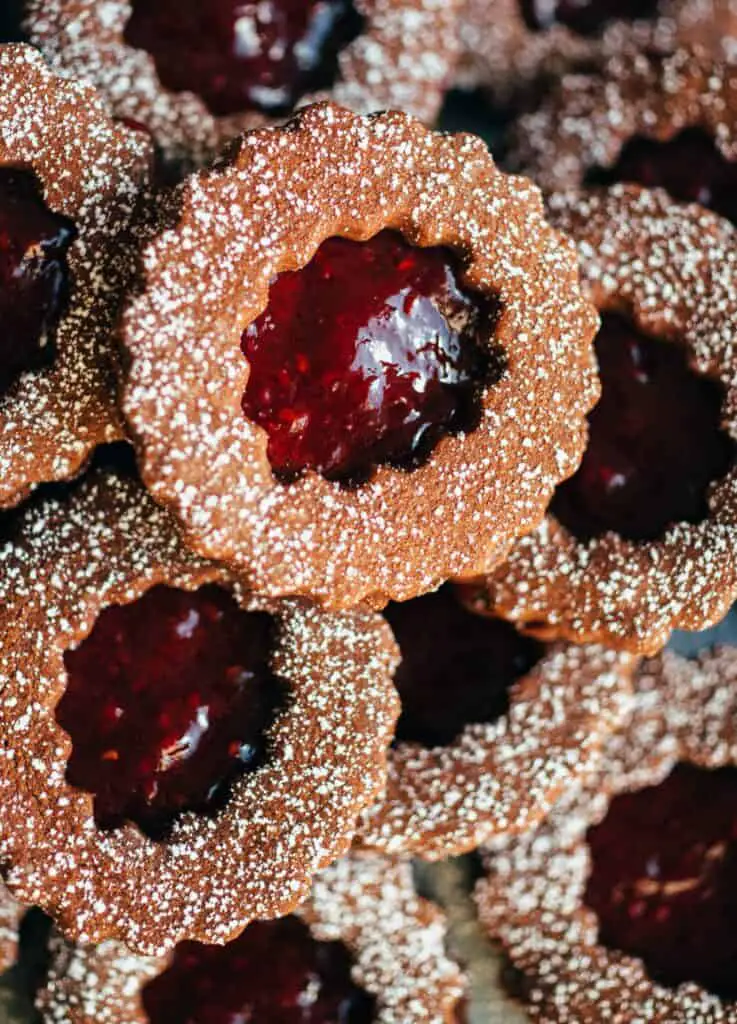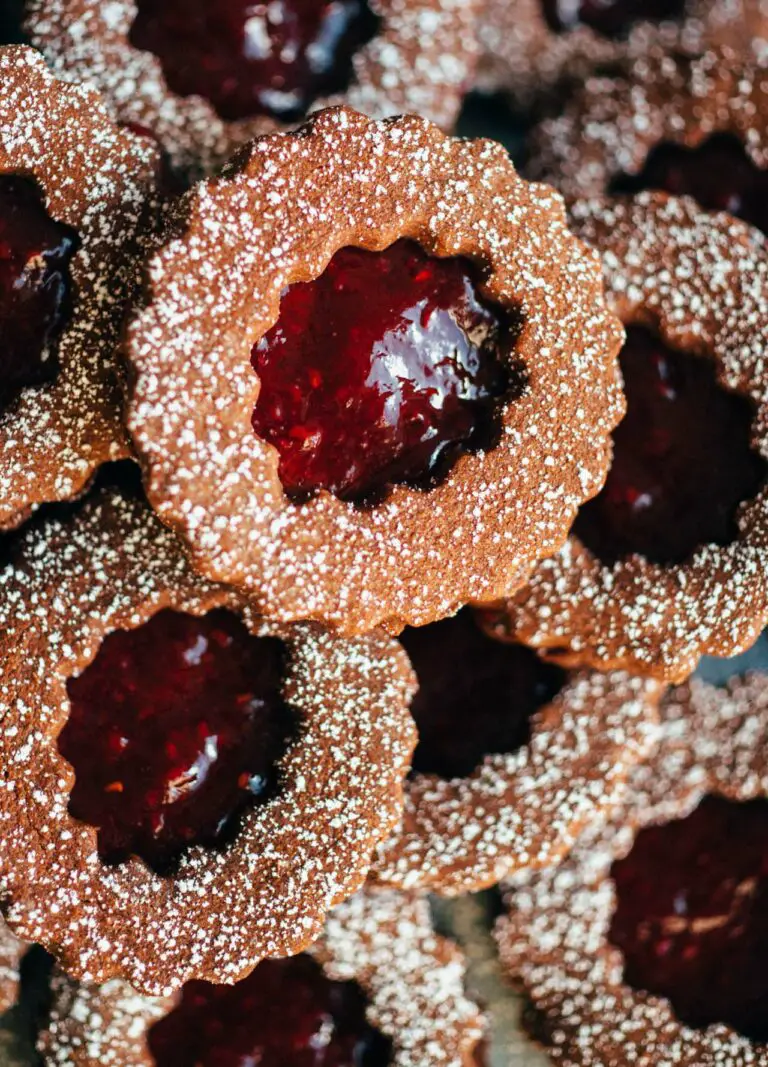 In terms of flavor, varieties that have a slight acidity are particularly suitable. It just fits more wonderfully as a contrast to the sweetness of the dough. Now a Golden Latte to it and I float in the vegan seventh heaven. Yummy! Here are some suggestions:
Apricot
Currant jelly
Orange
Apple mulled wine
Sour cherry
Let's get started with these incredibly delicious chocolate spitzbuben. I hope you enjoy baking and of course about a review at the bottom of this page. If you post a picture, use the hashtag #veganevibes.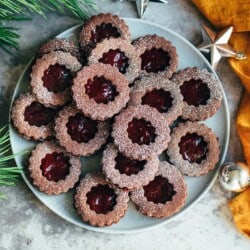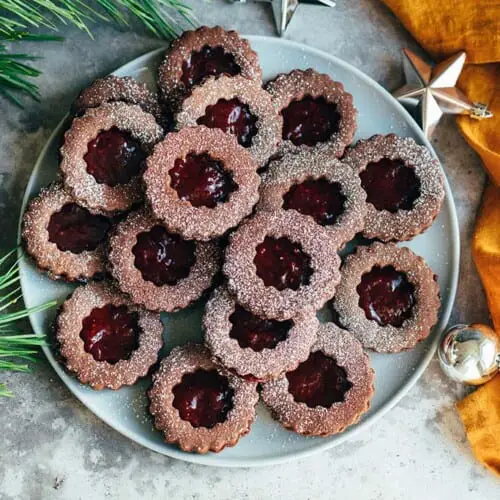 Vegan chocolate spitzbuben
Simple, crumbly and vegan chocolate spitzbuben filled with vegan raspberry jam and topped with fine powdered sugar. Perfect for the Christmas cookie plate.
AUTOR: VEGANEVIBES
TO FILL:
optional 1-2 tablespoons chia seeds
TOPPING:
optional organic powdered sugar to taste
Anleitung 
Preheat oven to 160 degrees (convection) or 180 degrees (top-bottom heat) and line a baking sheet with baking paper or a permanent baking mat.

For the dough Place spelt flour, vegan margarine, powdered sugar and cocoa powder in a large baking bowl. Blend with hands or a food processor until smooth.

250 g fine spelt flour type630 or wheat flour type550,

200 g vegan margarine,

100 g Powdered sugar,

50 g Cocoa powder

Cover and refrigerate for at least

30 minutes

.

TIP: I continue to process my dough right away without chilling time. Just try it out and see if it works for you. Otherwise, simply place in the refrigerator and chill for at least

30 minutes

.

Roll out on a floured work surface and cut out with two different cookie cutters (one large and one smaller to make the hole in the center for the lid). For me it was 15 bottoms and 15 lids each.

Spread on baking sheet and bake for a maximum of

10-12 minutes

, until cookies are cooked through but not too brown.

Remove from the oven and allow to cool completely. Spread jam on the bottoms and place a lid on each. Press briefly and you're done.

250 g Raspberry jam bought or homemade,

optional 1-2 tablespoons chia seeds

Optionally sprinkle with organic powdered sugar.

optional organic powdered sugar to taste

Keeps up to 2 weeks when covered at cool room temperature (similar to other long-life pastries such as Stollen).
Nährwertangaben
Serving:
1
Cookies
Calories:
112
kcal
Carbohydrates:
16
g
Protein:
1
g
Fat:
5
g
Saturated Fat:
1
g
Sodium:
46
mg
Potassium:
34
mg
Fiber:
2
g
Sugar:
7
g
Vitamin A:
255
IU
Vitamin C:
1
mg
Calcium:
4
mg
Iron:
1
mg