Vegan gingerbread mousse with mulled wine cherries, wouldn't that be ideal for Christmas? The combination of sour cherries and chocolate cream definitely drew me in right away. A Christmas feast without dessert is a half-measure in my view. What else are you supposed to do when you sit together for hours? Twiddling your thumbs? No, I am in favor of an extensive menu, which I can best prepare already. This dessert is ideal to prepare and store in the refrigerator. A dream of chocolate and aromatic mulled wine cherries, are you with me?
Vegan gingerbread mousse with mulled wine cherries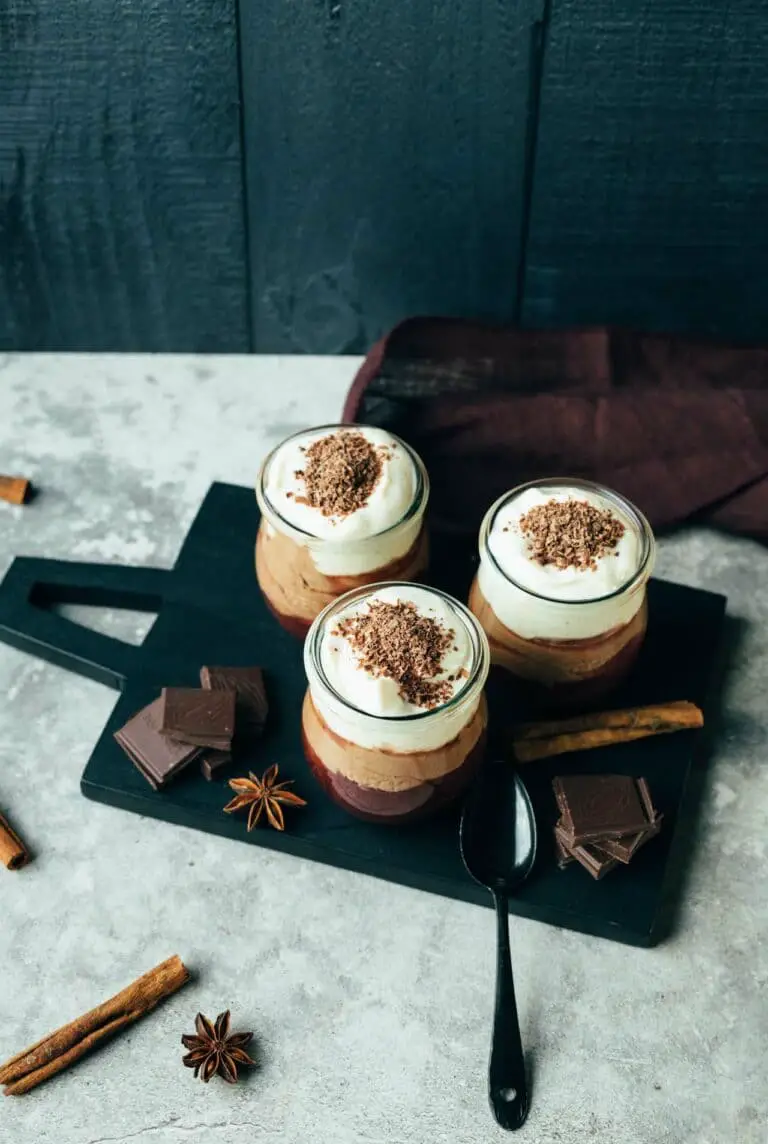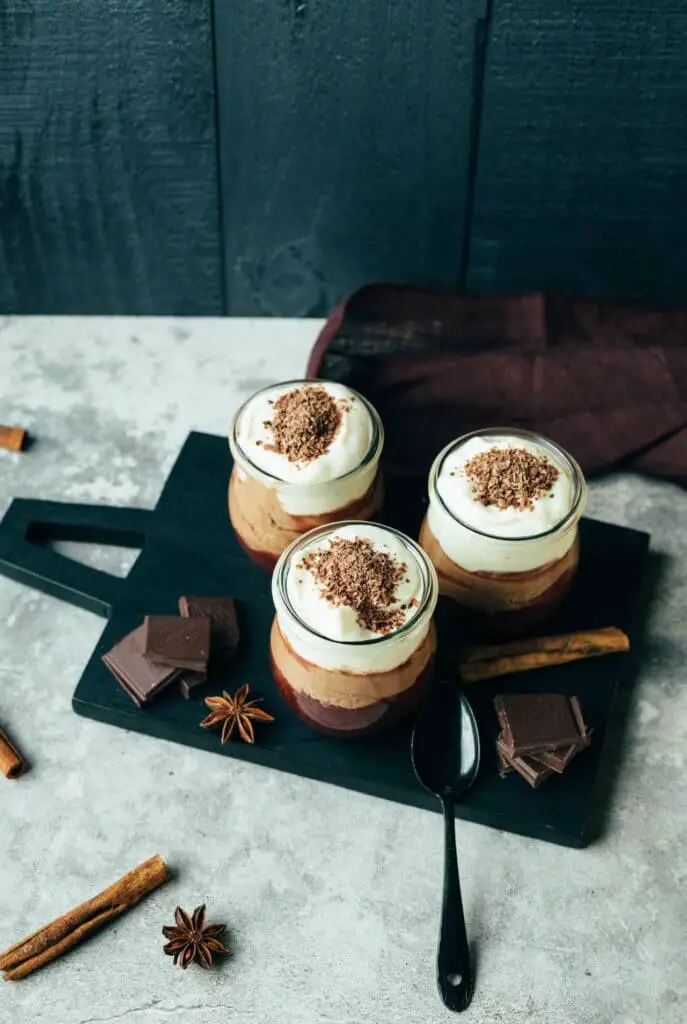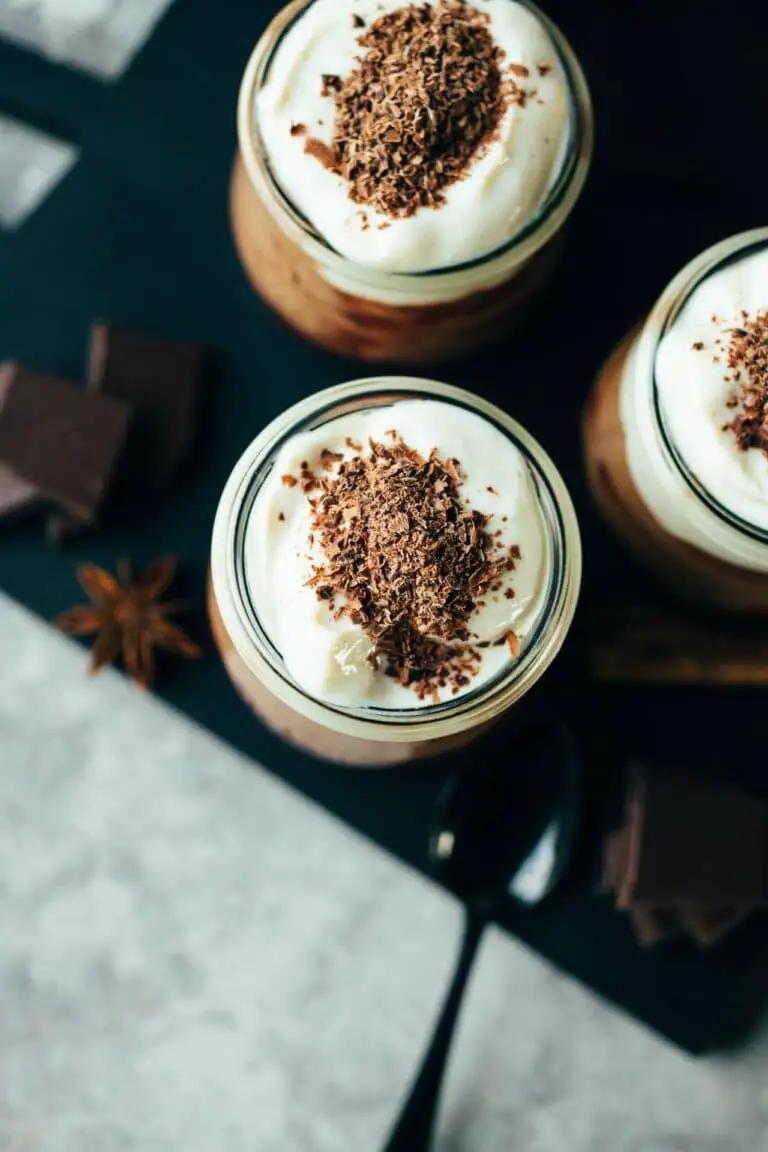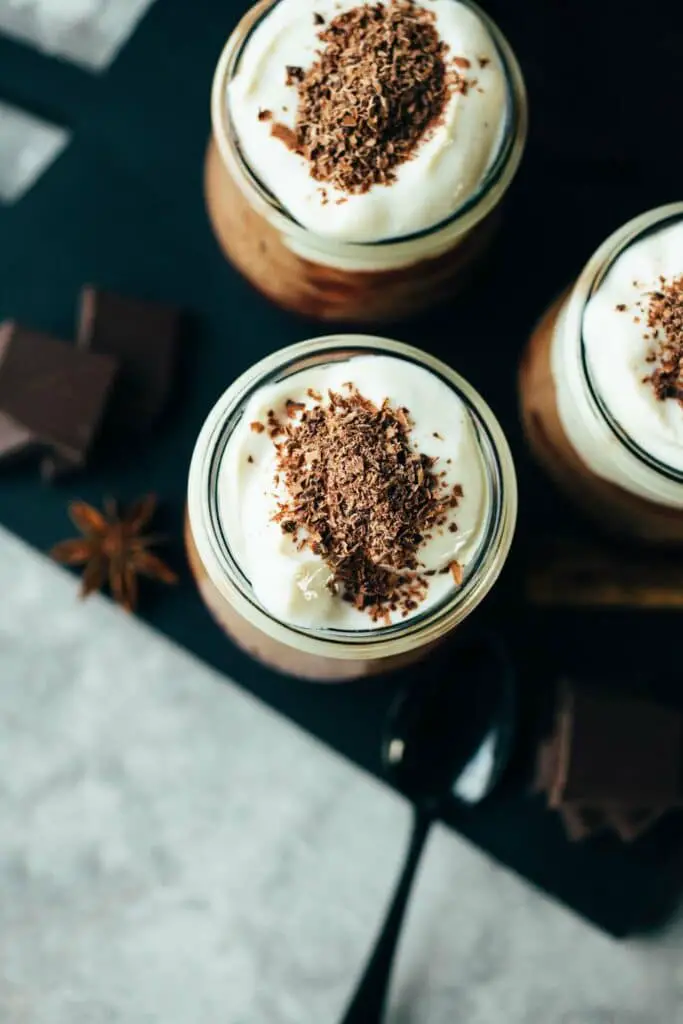 The dessert consists of two layers, the chocolate espresso mousse and mulled wine cherries. If you like, top the whole thing with fine vegan cream and chocolate shavings. Let's take a closer look at the two layers.
The chocolate espresso mousse is ready in a few minutes. Melt chocolate over a water bath, add to a blender along with silken tofu, gingerbread spice, espresso and vanilla and blend to a fine mousse.
For the mulled wine cherries, I pour the sour cherries, put them in a pot along with non-alcoholic mulled wine and cinnamon. I take 6 tablespoons of the juice of the mulled wine cherries and mix the cornstarch in it. This gives a nice binding at the end and ensures that the mulled wine cherries thicken a bit.
TIP: I like to drink the collected cherry juice pure, add it to smoothies or porridges. It's worth picking up the juice because it's full of healthy ingredients. These include the plant pigment anthocyanin (said to have anti-inflammatory effects) and melatonin (promotes restful sleep). In addition, sour cherry juice is said to reduce the risk of developing heart disease.
Vegan dessert with few ingredients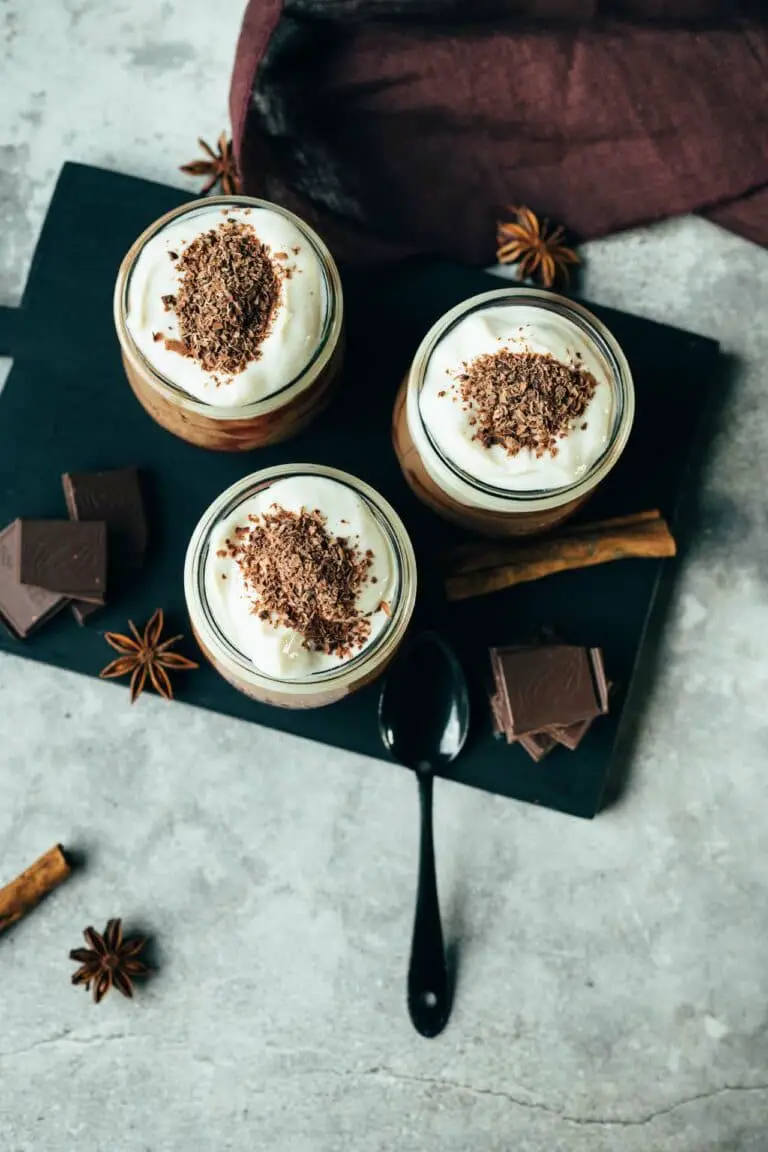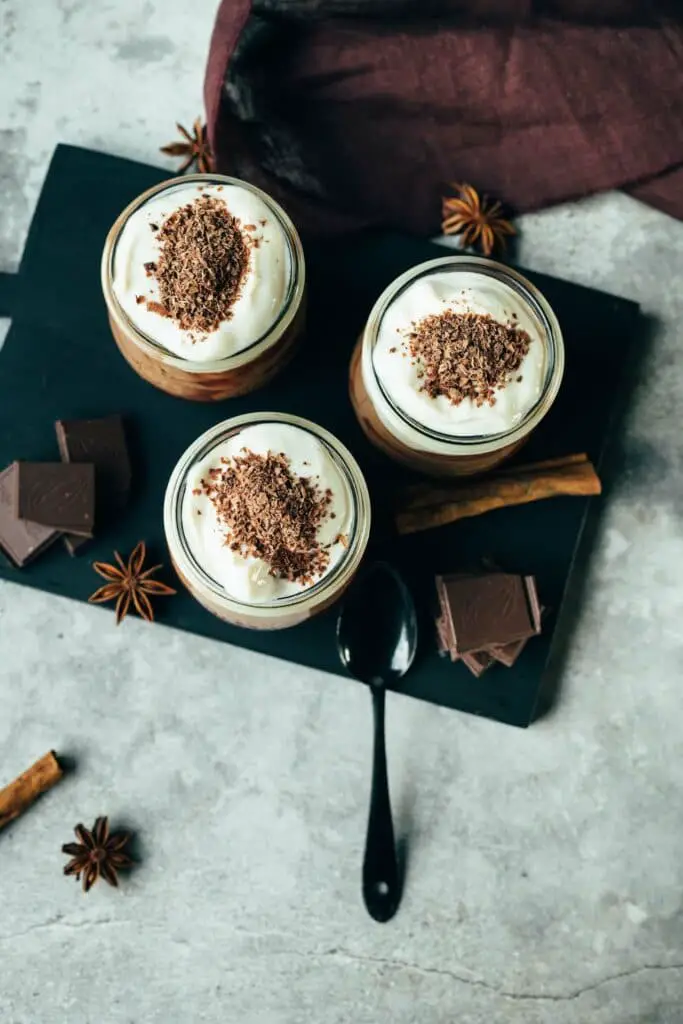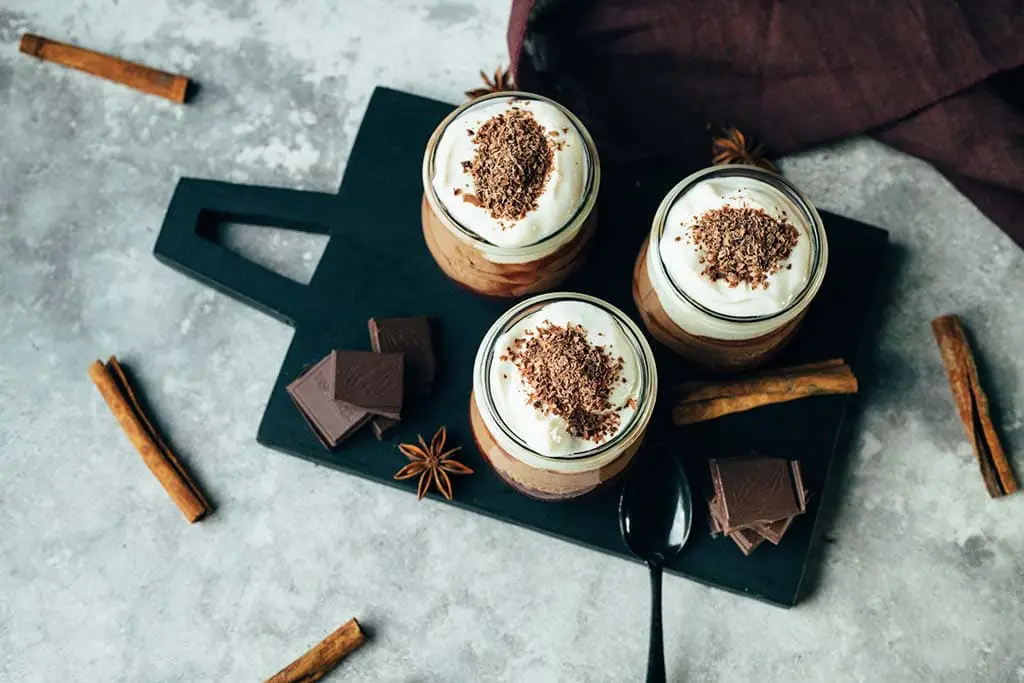 There is still the crucial question of whether the mulled wine is better with or without promille? Unfortunately, I can't give a blanket answer to this question, because it depends entirely on what your attitude towards alcohol is in general. Here, opinions differ and there are people who strictly refuse the consumption of alcohol. On the other hand, many people see the consumption of alcohol as absolutely fine.
You might be interested in my attitude towards alcohol. I am not opposed to this in principle, however, I am aware that it is a Cell poison is involved. Therefore, I limit the consumption of alcohol to very few occasions. With this dessert it is hardly noticeable whether the mulled wine is with or without alcohol. The aroma comes from more of the Christmas spices than the alcohol.
Here are a few suggestions for a good mulled wine or punch:
DIY, I can see it's time to get a good mulled wine recipe on the site.
Organic mulled wine in vegan quality: You would think that mulled wine or wine is basically vegan is. Unfortunately, this is not the case, because many wines and mulled wines are made with the help of animal products clarified . This can be egg white, or other animal proteins from fish bladder, gelatin or casein from skim milk. Personally, I have an absolute favorite when it comes to mulled wine: Hot deer, organic & vegan with natural spices
Organic mulled wine or punch without alcohol, if it's important to you that no alcohol ends up in the dessert, then this is my personal favorite
Perfect, now we have discussed the most important points for our Christmas and vegan dessert. Otherwise, there is not much to consider, because the recipe is really simple and succeeds safely. However, I do have a few tips and tricks at hand:
Preparation: Gingerbread mousse is best prepared the day before, because it can really soak through and become firm.
If it's important to you that the two layers are perfectly separated, fill in the mulled wine cherries first, let them cool for 2 hours , and only then add the chocolate-espresso mousse on top.
The melted chocolate should not be too hot when poured into the silken tofu. Check with your finger and, if in doubt, allow to cool for a few minutes.
The gingerbread mousse with mulled wine cherries:
aromatic
creamy
christmas
Few ingredients
Simply made
You love vegan mousse as much as I do? Then I look forward to a review at the bottom of this page. If you post a picture, then like to use the hashtag #veganevibes.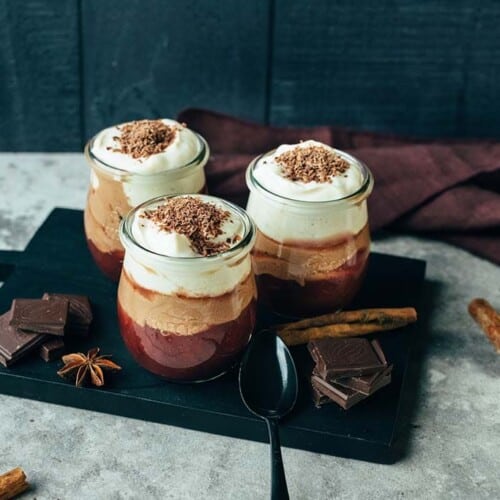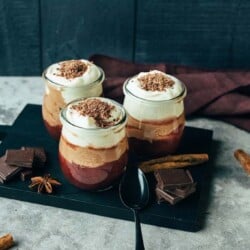 Gingerbread mousse with mulled wine cherries
Christmas vegan gingerbread mousse made with a chocolate espresso cream and a layer of mulled wine cherries. Perfect to prepare for a delicious vegan Christmas menu. Optionally with mulled wine, non-alcoholic mulled wine or punch.
AUTOR: VEGANEVIBES
FOR THE GINGERBREAD MOUSSE
400

g

Silken tofu in my case it was a pack of Taifun(unpaid brand name)

2

tbspn

Gingerbread spice

or 1 tsp cinnamon, ¼ cloves, ¼ tsp nutmeg, ¼ cardamom, depending on availability.

3

tbspn

Espresso

¼

tbspn

Bourbon vanilla
FOR THE MULLED WINE CHERRIES:
195

g

Sour cherries from the jar

Drained weight of a 360g jar

200

ml

Mulled wine

With alcohol, non-alcoholic or punch

½

tbspn

Cinnamon

10

g

Cornstarch

alternatively tapioca starch
TOPPING:
Vegetable cream

Chocolate shavings
Anleitung 
Strain sour cherries and reserve juice.

FOR THE GINGERBREAD MOUSSE Melt the chocolate carefully over a water bath. Do not allow to become too hot. Set aside.

200 g dark vegan chocolate coating

Place silken tofu, melted dark chocolate, gingerbread spice, espresso and bourbon vanilla in a blender and blend until smooth. Place in the refrigerator and allow to cool slightly.

400 g Silken tofu,

200 g dark vegan chocolate coating,

2 tbspn Gingerbread spice,

3 tbspn Espresso,

¼ tbspn Bourbon vanilla

FOR THE MULLED WINE CHERRIES put strained cherries in a small saucepan, add mulled wine, cornstarch and cinnamon. Stir once until everything is combined. Heat until it begins to simmer.

195 g Sour cherries from the jar,

200 ml Mulled wine,

½ tbspn Cinnamon,

10 g Cornstarch

Take 6 tablespoons of the strained sour cherry juice and dissolve the starch in it. Add to the pot and simmer for

2-3 minutes

until everything thickens a little. Do not overcook or too much liquid will evaporate.

MULLED WINE CHERRIES Pour into dessert glasses while still hot and ideally allow to cool for 30 minutes. In this way, you avoid mixing the two layers.

Pour chocolate mousse on top of cooled mulled wine cherries and return to refrigerator.

Allow to set for at least 3-4 hours or overnight.

(optional) garnish with vegan cream and grated chocolate and enjoy!

Vegetable cream,

Chocolate shavings

Store in an airtight container in the refrigerator for up to 3 days.
Notizen
Nährwertangaben
Serving:
1
Portion
Calories:
137
kcal
Carbohydrates:
14
g
Protein:
5
g
Fat:
3
g
Saturated Fat:
1
g
Sodium:
8
mg
Potassium:
338
mg
Fiber:
1
g
Sugar:
8
g
Vitamin A:
31
IU
Vitamin C:
3
mg
Calcium:
45
mg
Iron:
1
mg