Peanut butter granola sounds good, right? I'm definitely a big fan of it, because it provides me with a delicious peanut butter flavor early in the morning, which I like so much. But the granola is also an ideal topping on smoothie bowls and is great as a little snack in between. It is super easy to make and the recipe consists of only a few ingredients. I love it when things are simple and straightforward. Well, who got a craving for this simple and delicious granola? I even have an oil-free variant with me in my luggage. Read more below.
Peanut butter granola, vegan and gluten free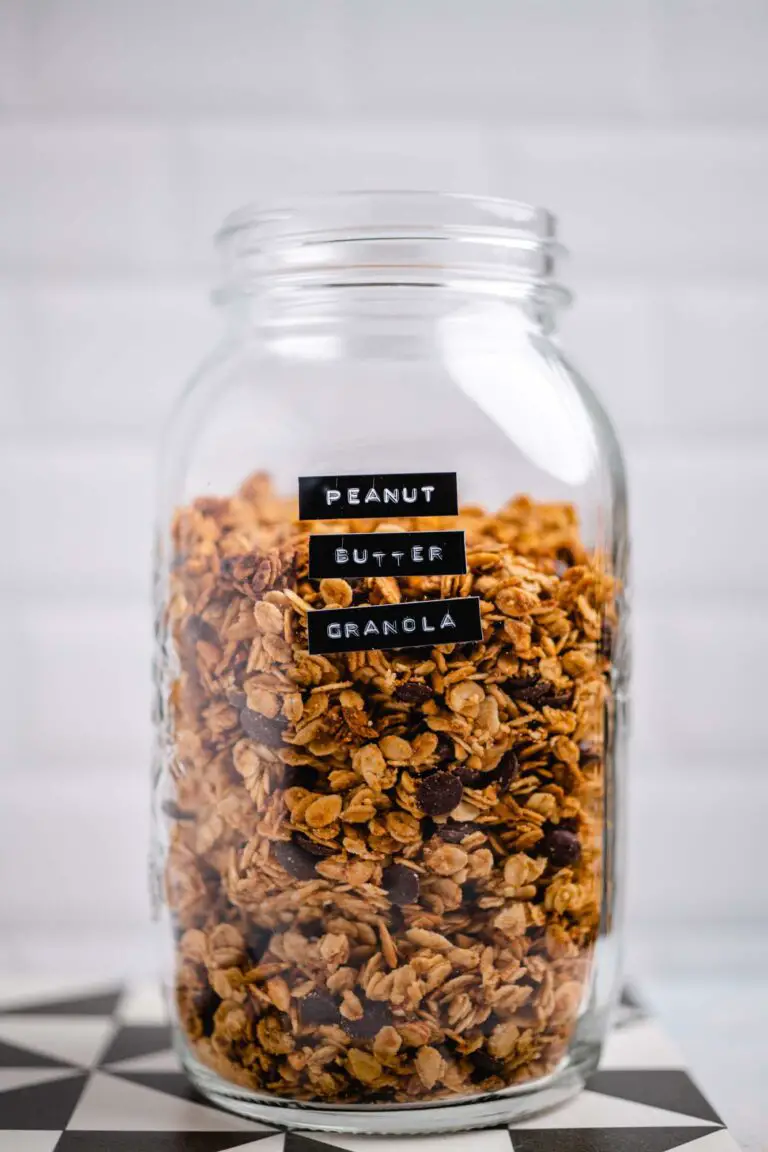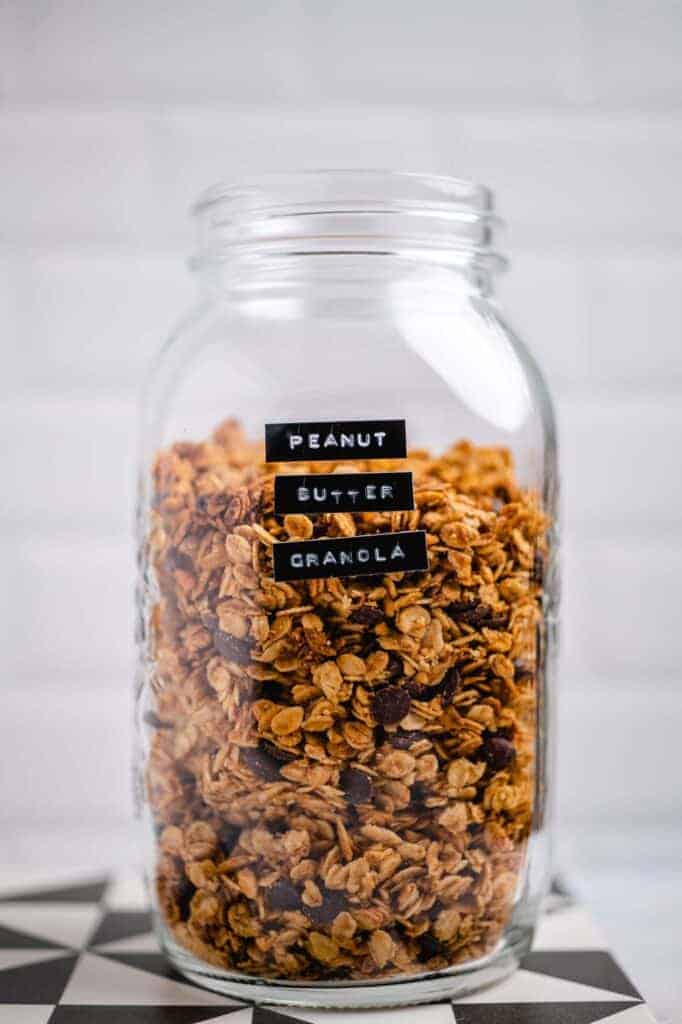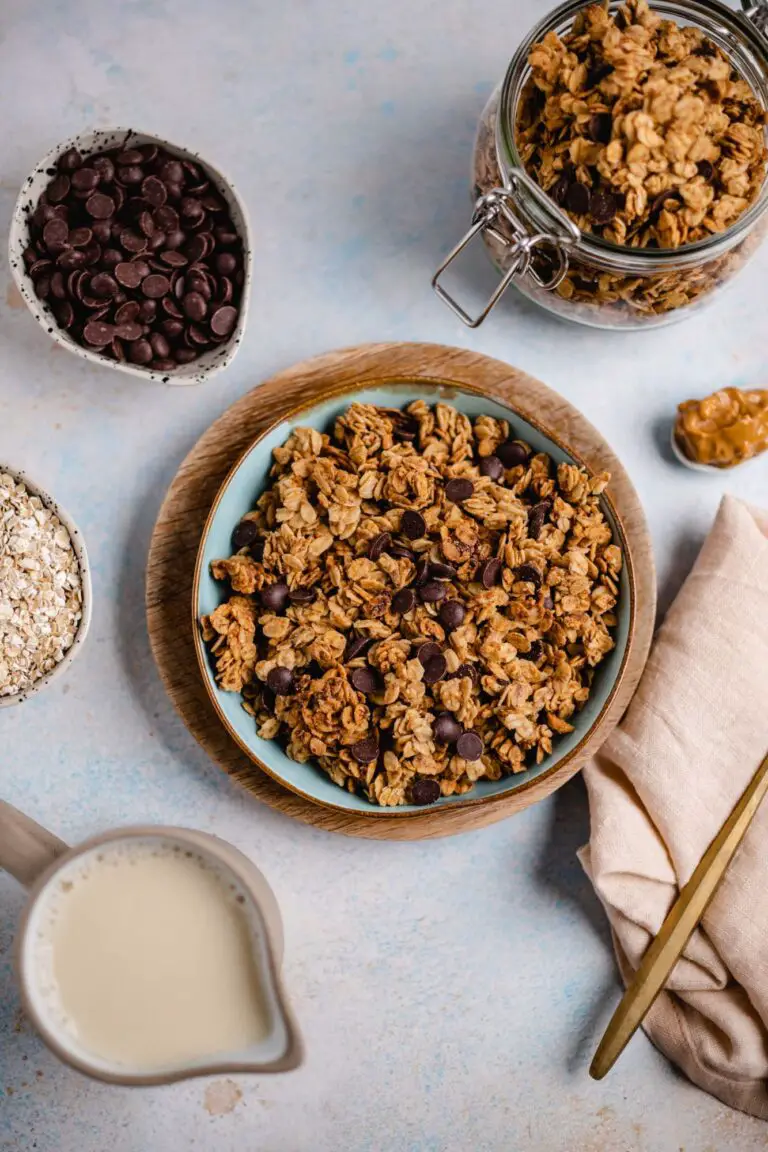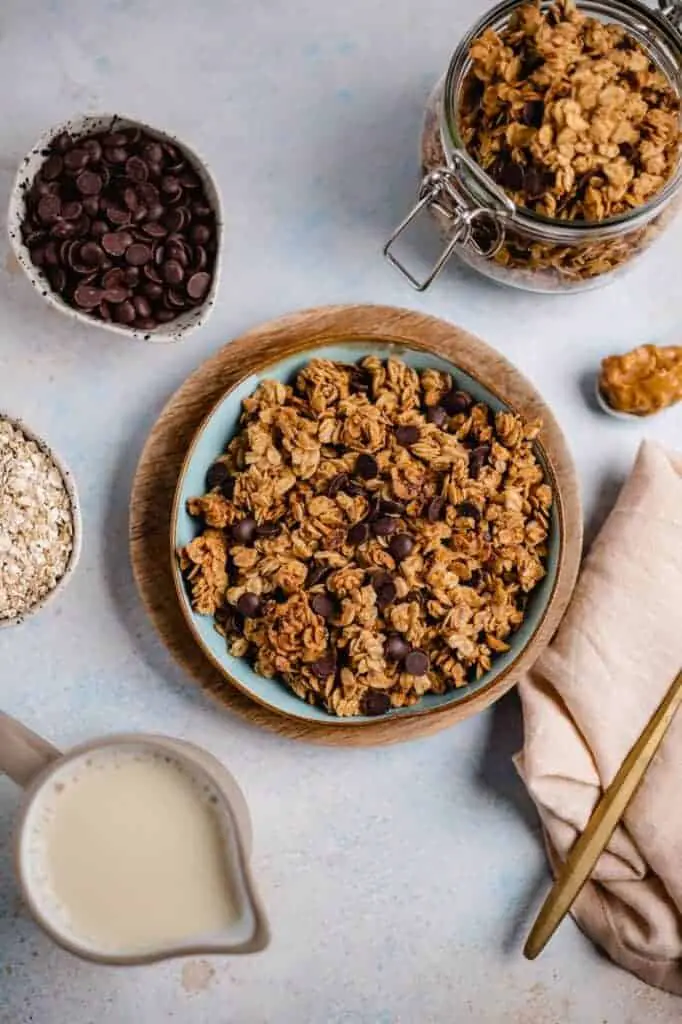 Why make granola yourself? Because then I know exactly what's in it. Sometimes I'm really shocked when I take a look at the ingredient list of some ready-made granolas. They are full of sugar and additives that no one needs. Advertising tells us that this very product is healthy and I think my piece. By the way, homemade granola is also much cheaper. I do not want to demonize now in any way all granola varieties on the market, because there are also really good variants on the market and particularly high-quality manufacturers. Still, there is nothing wrong with a wonderful homemade variant, which is also ideal for gifting.
Rolled oats (gluten free), coconut blossom sugar, maple syrup, peanut butter, olive oil and dark vegan chocolate chips. It is made in two steps, first I mix the coconut blossom sugar with the oatmeal. As a second step, I heat the maple syrup, peanut butter and olive oil. Then everything is mixed and allowed to bake in the oven. How that smells!
TIP: I use a salted crunchy peanut butter. If you use a fine peanut butter without salt, you can add a pinch of salt and a handful of chopped peanuts.
Make vegan granola yourself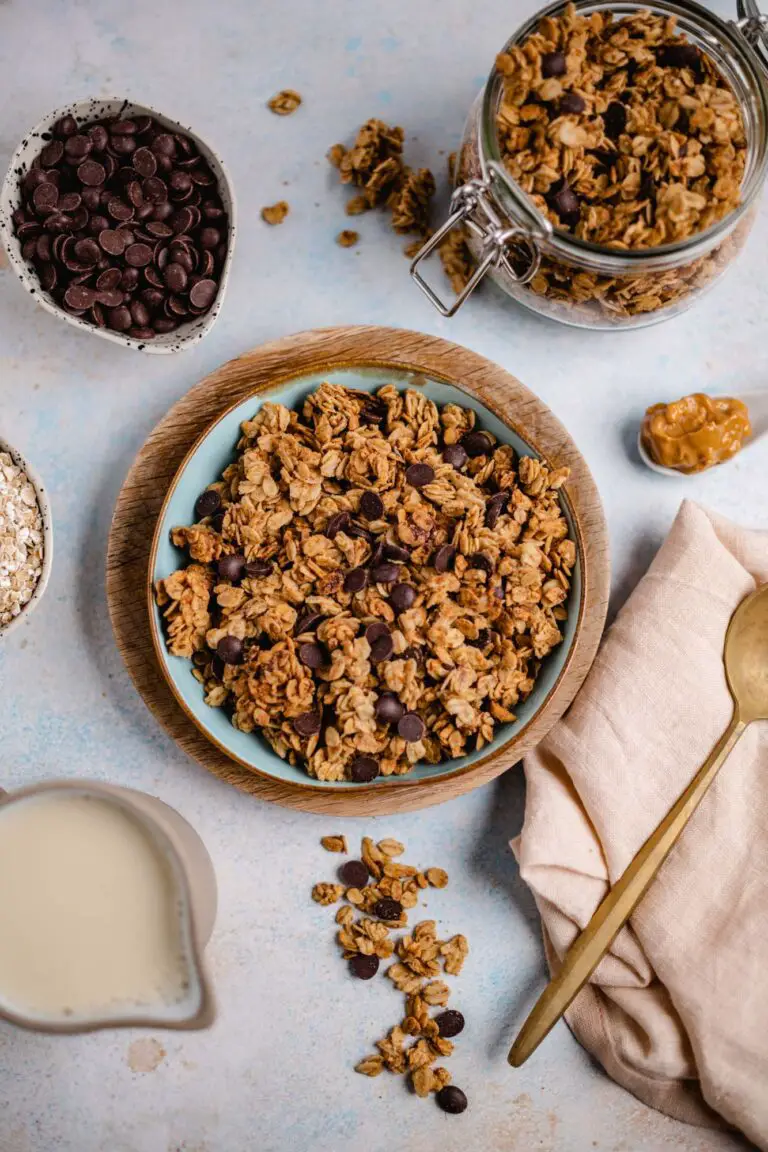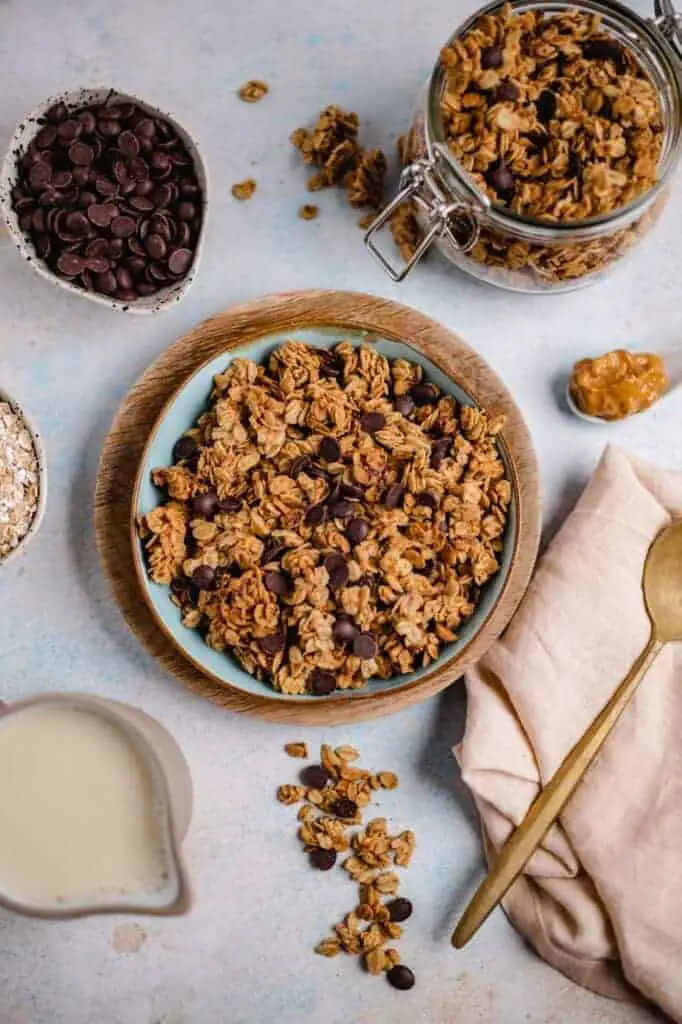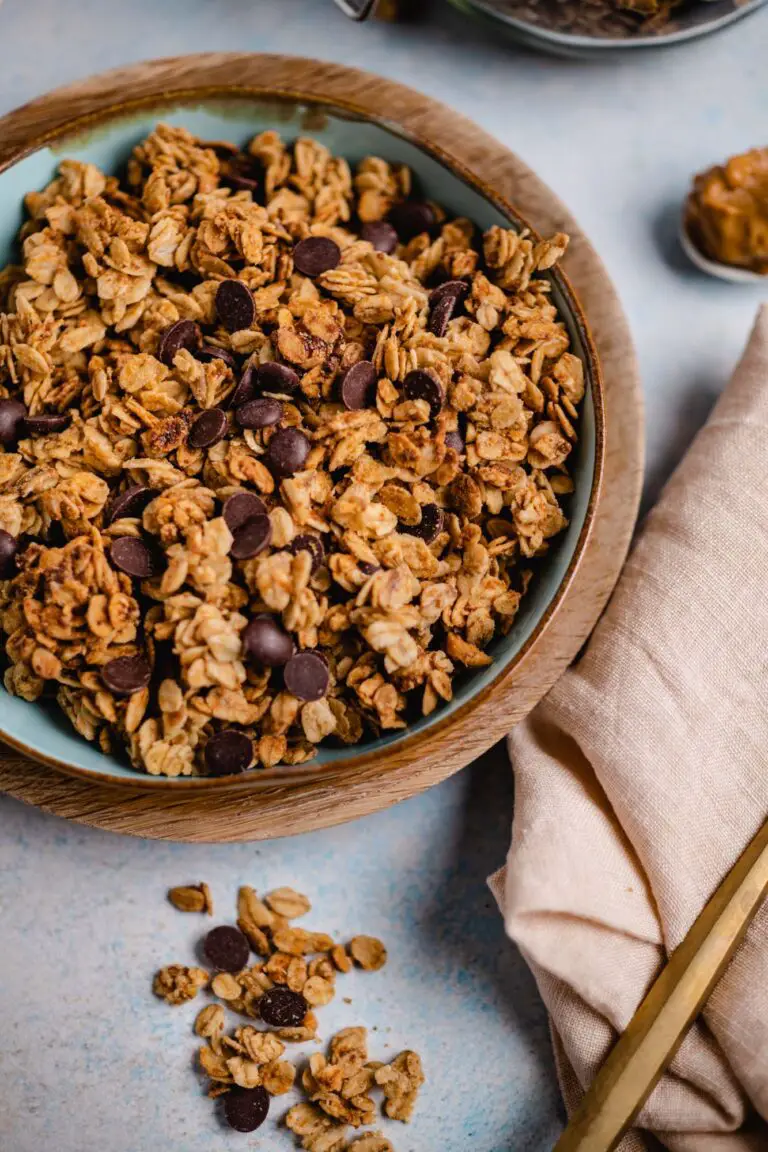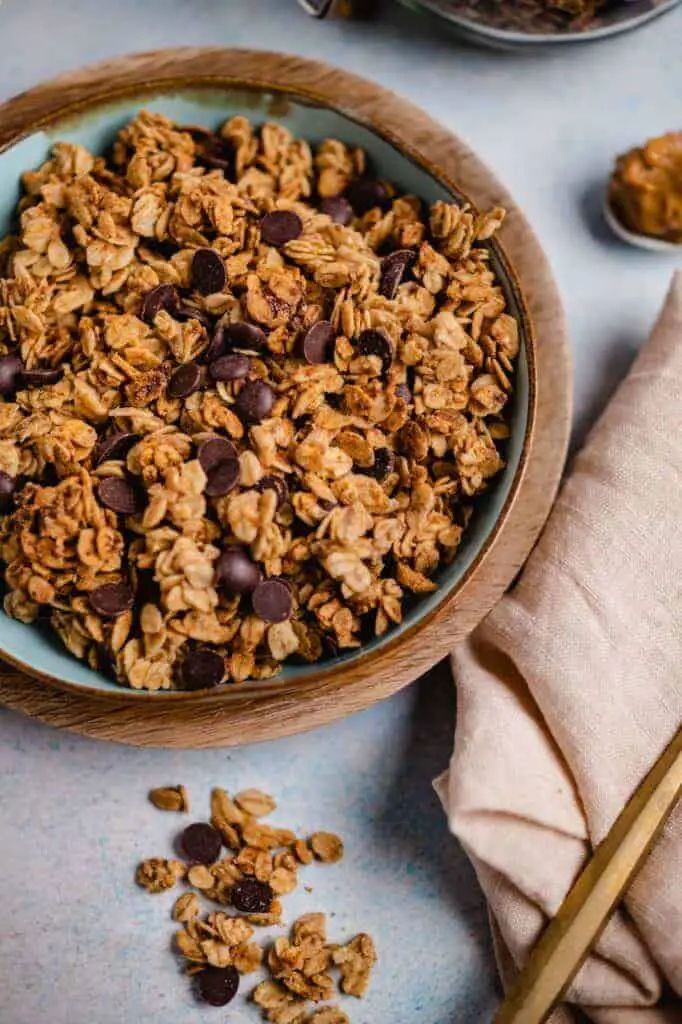 The nice thing is that, once again, we're forgoing classic white sugar for this granola and switching to healthier, more natural sugars. Did you know how coconut blossom sugar and maple syrup are actually made?
Coconut blossom sugar is produced by scratching the inflorescence of the coconut palm. The nectar that emerges is then collected, filtered and boiled down until the liquid has completely evaporated. The taste is malty-caramel.
Maple syrup is literally tapped from maple trees, and only as much as the tree can spare. It is a natural sweetener that tastes equally malty and caramel.
TIP: Whenever you have the option, then I recommend you use healthy, whole sugar alternatives. They have a higher content of minerals, vitamins and fiber, which have been removed from industrially refined sugars.
If you're up for a different granola variation today, I recommend the following:
Ideal with our granola today is a homemade and creamy barista milk. Your creativity is needed for the topping. Bananas, coconut yogurt, oranges or berries. Perfect as a snack in between, or as a small, fine gift the colleague who otherwise reaches for the sugary chocolate bar.
The vegan peanut butter granola is:
Naturally sweetened
Peanutty
Crunchy
chocolaty
Easy to manufacture
Get started with this crunchy dream that will get you through the day perfectly. I wish you a lot of fun baking and of course a review at the bottom of this page. If you post a picture, use the hashtag #veganevibes.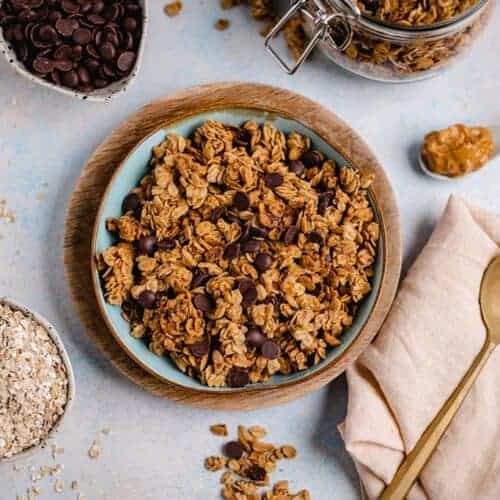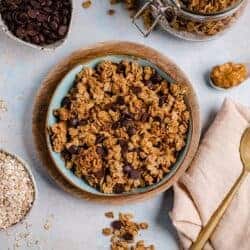 Peanut butter granola (gluten free)
Delicious and healthy granola made with oatmeal, peanut butter and chocolate chips. Perfect as a delicious breakfast, smoothie topping, or as a healthy snack in between meals. Naturally sweetened, gluten-free and oil-free option.
AUTOR: VEGANEVIBES
Toppings:
Vegetable yogurt

Fresh berries
Anleitung 
Preheat the oven to 165 degrees (convection) or 185 degrees (top and bottom heat) and line a baking tray with baking paper or a baking mat.

Provide a large bowl. Add in rolled oats and coconut blossom sugar and mix until well combined.

280 g Oatmeal,

28 g Coconut blossom sugar

Place a small pot on the stove. Pour in olive oil, peanut butter and maple syrup and stir over medium heat until well combined. Add directly to the oatmeal-coconut blossom sugar mixture and mix.

125 ml Olive oil,

60 g Peanut butter,

125 ml maple syrup

Spread mixture evenly on baking sheet and place in oven. Bake for 20 minutes. Remove from the oven and allow to cool completely.

Once the granola has cooled completely, stir in the Chocolate Chips and enjoy with toppings of your choice!

Store in an airtight container at room temperature or in the refrigerator for up to 2 weeks.

Vegetable yogurt,

Fresh berries,

Barista milk
Nährwertangaben
Serving:
1
Portion
Calories:
374
kcal
Carbohydrates:
31
g
Protein:
5
g
Fat:
26
g
Saturated Fat:
4
g
Polyunsaturated Fat:
7
g
Monounsaturated Fat:
15
g
Sodium:
36
mg
Potassium:
169
mg
Fiber:
3
g
Sugar:
10
g
Calcium:
31
mg
Iron:
1
mg