Vegan lemon cookies, gluten free and oil free. Gluten free baking can be challenging because the dough can easily go wrong. In my tests I had a dough that actually looked great, but then unfortunately was much too dry. In the end we ate them, because they were too good to throw away. After a few more experiments, I managed to come up with a variation that tastes great and doesn't require any oil or gluten. Sounds wonderful, doesn't it? I am a very big fan of lemons and love the yellow citrus fruits just about everything. If you're more in the mood for a delicious cake today, I recommend my reduced oil lemon cake.
Vegan lemon cookies gluten free & oil free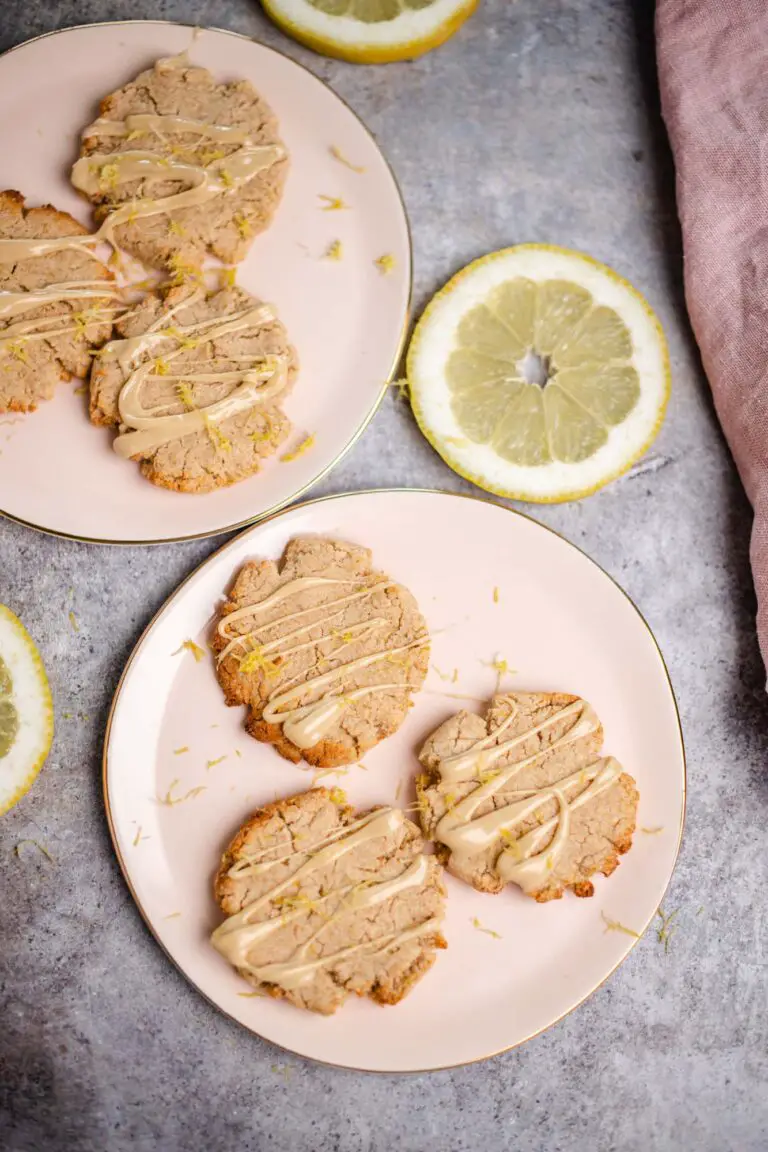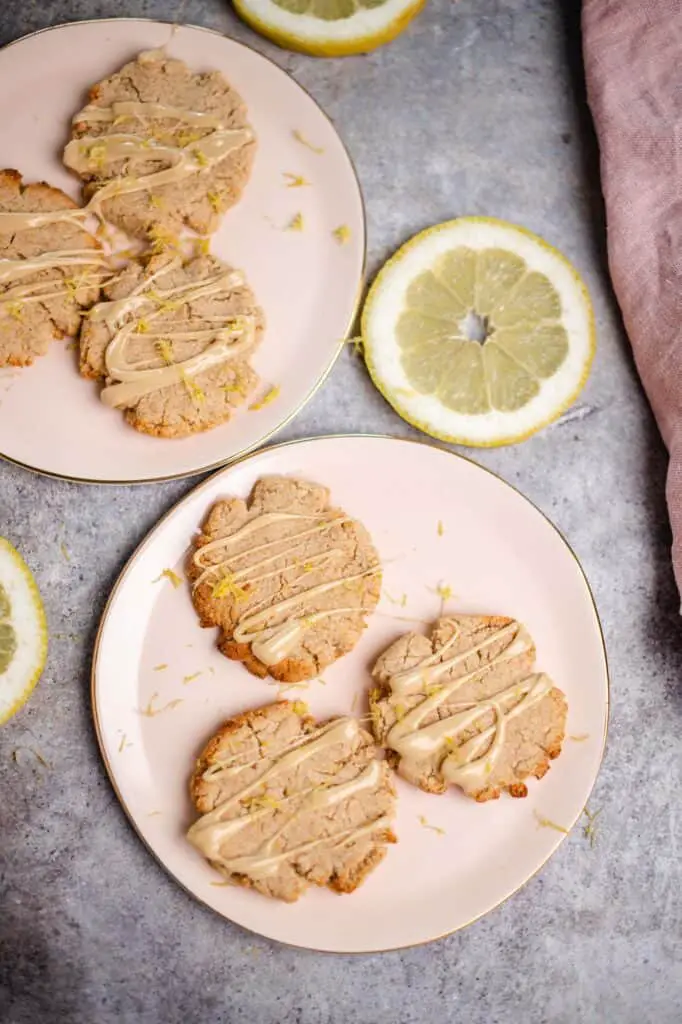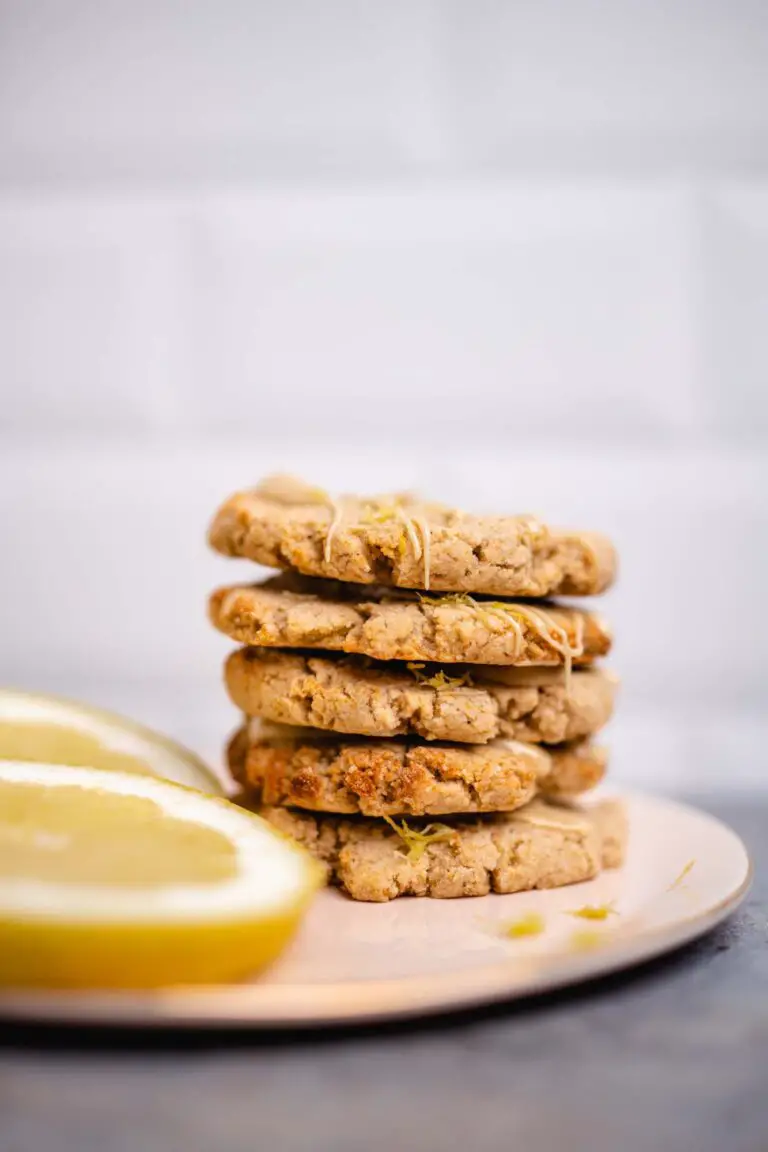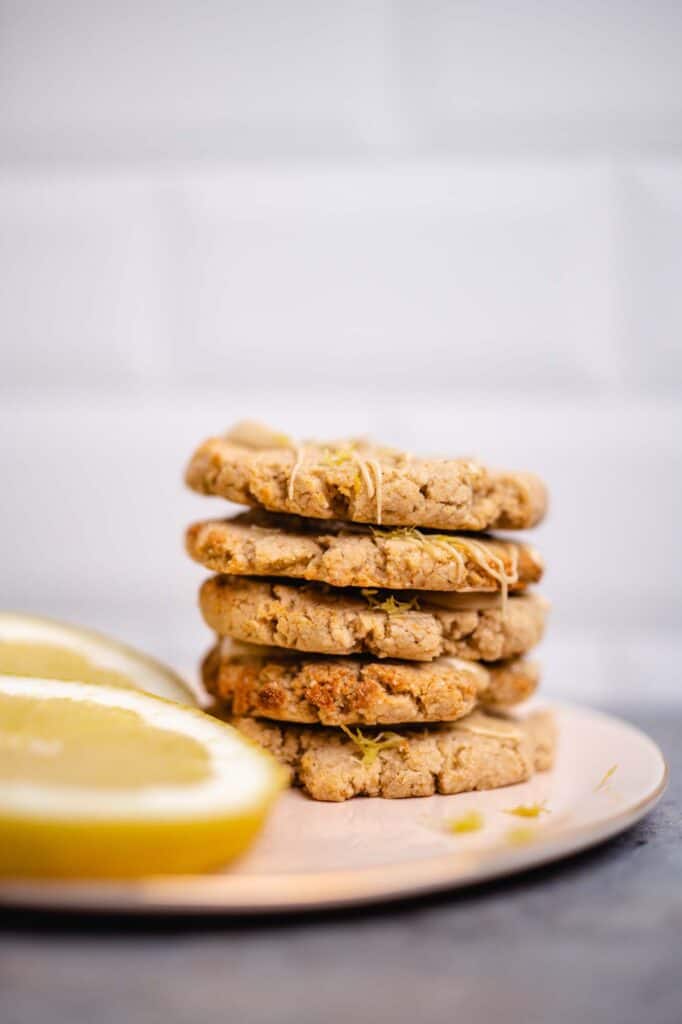 Our cookies today are quick and easy made with almond flour, buckwheat flour, raw cane sugar, baking powder, tapioca starch, bourbon vanilla, lemon zest, lemon juice, applesauce and plant milk. I use a silicone scraper or wooden spoon for mixing, as a hand mixer is not particularly well suited for this gluten-free dough. The dough should have good moisture, but still be compact. Now preheat the oven, line a baking sheet with permanent baking mat and form small balls of dough. Put them on the baking sheet and press them flat once. Already it goes off into the oven.
Already during the baking time the cookies a fine lemon scent and you can hardly wait to finally eat them. I made a little extra frosting to finish off the delicate little beauties, using powdered sugar, lemon juice and plant milk. However, this is optional and can also be omitted.
TIP: If you don't feel like whipping up a rote dressing, I recommend drizzling a little cashew nut puree over the cookies. This also tastes very good, goes quickly and comes without further added sugar.
Gluten free cookies, made quickly and easily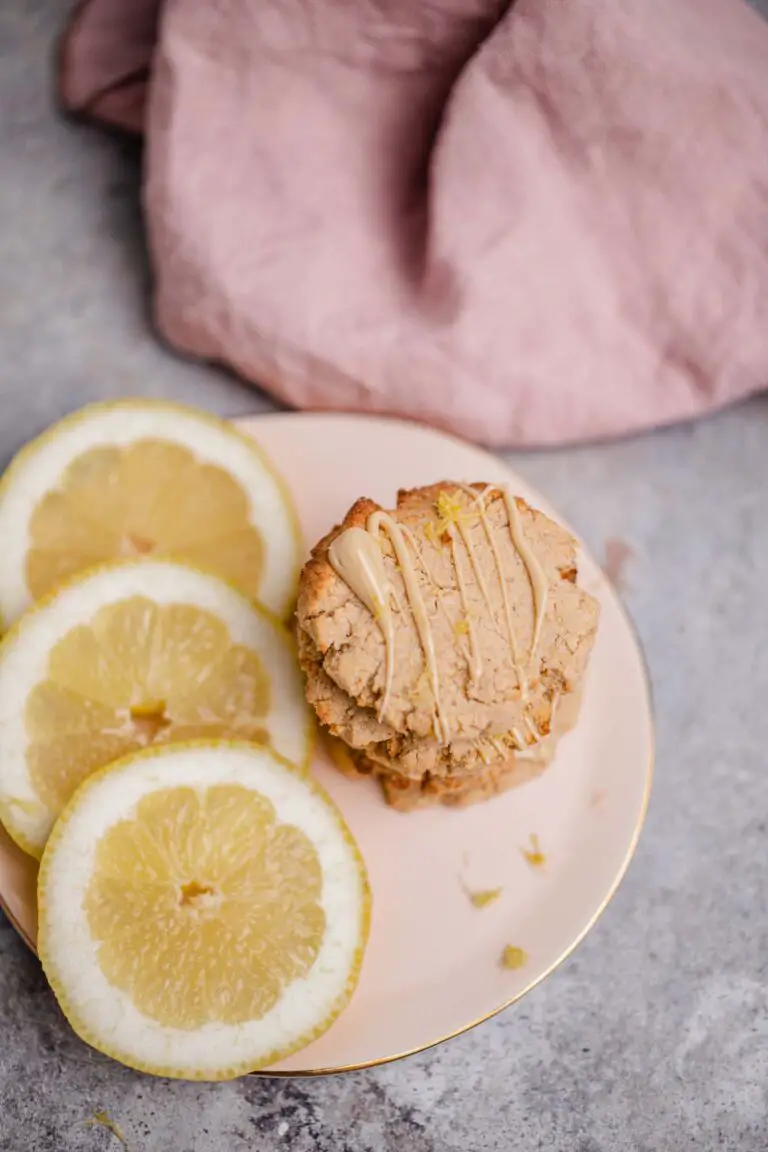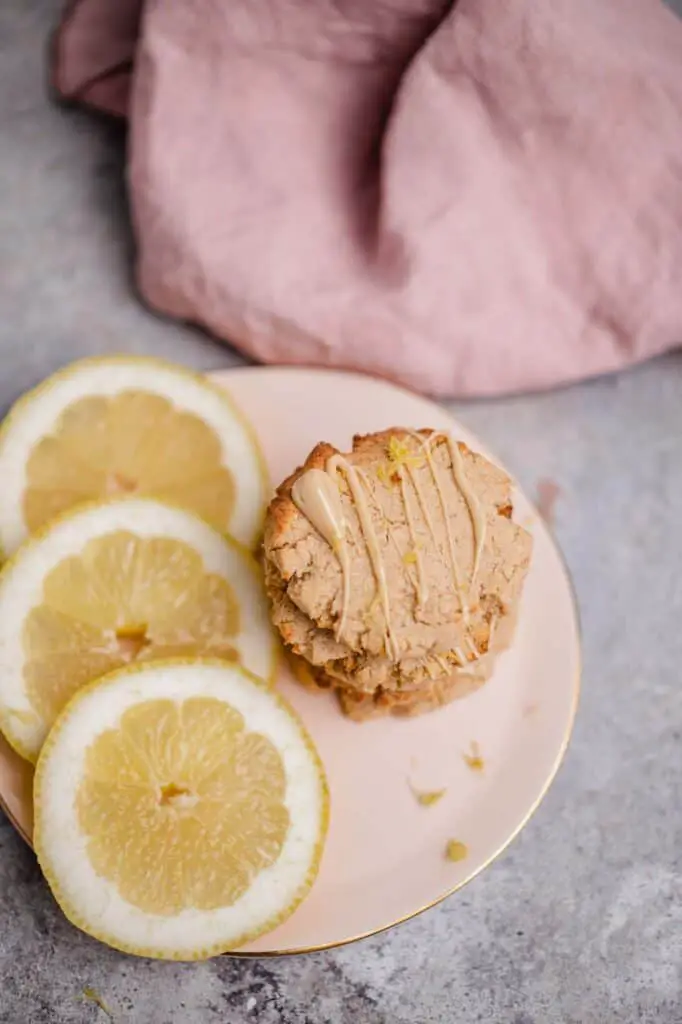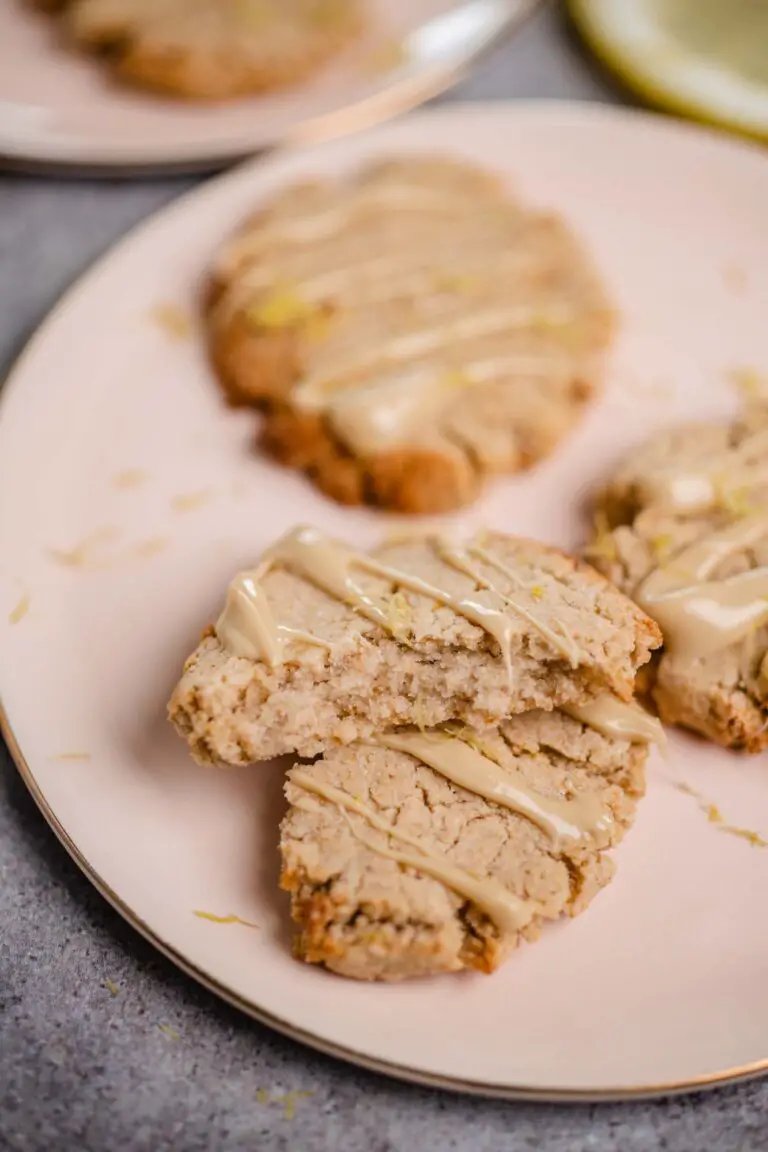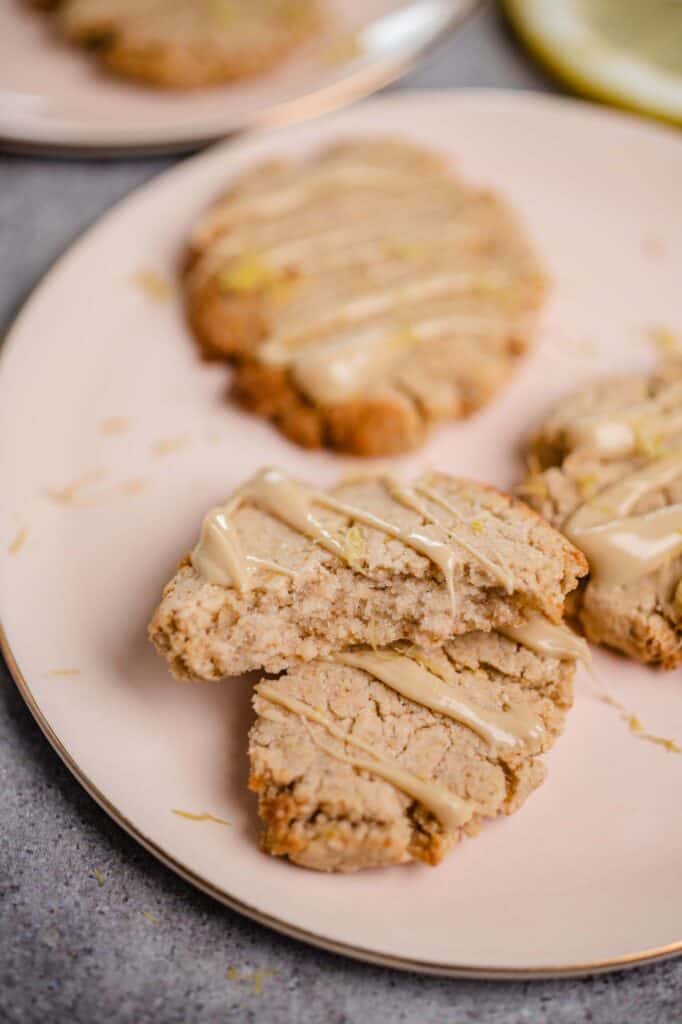 You may be wondering where you can get the ingredients described. Gluten-free baking ingredients are not necessarily to be found on every corner. The best assortment is usually organic supermarkets, which usually carry all the flours used here and also tapioca starch. The Internet offers another alternative. I love ordering from Govinda or Bauck's store, both of which offer an excellent selection of gluten-free foods. Almond flour is usually very expensive and sometimes overpriced. I buy it at DM because the quality is right and it is usually much cheaper than other manufacturers.
If you are looking for a recipe for other vegan cookies today, I have the following suggestions for you:
To go with the cookies is a cool glass of plant milk like the Einkorn milk, hazelnut milk or hemp milk.
The lemon cookies (gluten free & oil free) are:
Soft
Naturally sweetened
Lemony
Quickly made
Gluten free & oil free
Let's go with this lemony dream. I wish you a lot of fun baking and of course a review at the bottom of this page. If you post a picture, feel free to use the hashtag #veganevibes.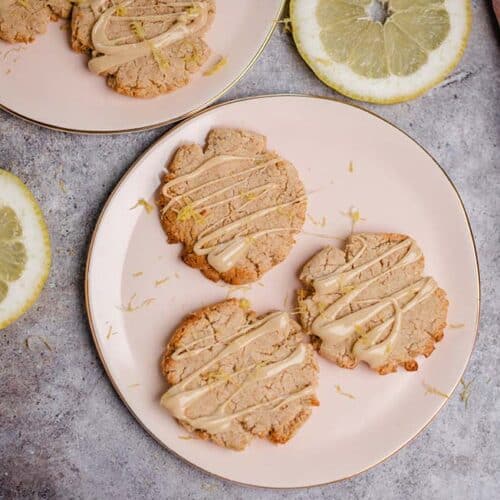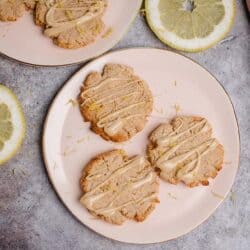 Vegan lemon cookies (gluten free & oil free)
Delicious vegan cookies with a subtle hint of lemon. Gluten free and baked without oil. Perfect as a small snack with coffee or a cold glass of plant milk. Vegan, gluten-free, oil-free, nut-free.
AUTOR: VEGANEVIBES
Anleitung 
Line a baking tray with baking paper and preheat the oven to 175 degrees convection (195 degrees top and bottom heat).

For the dough Combine almond flour, buckwheat flour, raw cane sugar, tapioca starch, bourbon vanilla, baking powder, lemon zest, lemon juice, plant milk and applesauce(pulp) in a bowl and mix with a silicone spatula to form a compact dough. Tip: The dough should be compact but well moist. If too dry, add a sip of vegetable milk or if too wet, add more buckwheat flour.

60 g Almond flour,

80 g Buckwheat flour,

50 g Raw cane sugar,

30 g Tapioca starch,

¼ TL Bourbon vanilla,

1 TL Baking powder,

1 EL Lemon zest,

1 EL Lemon juice,

2 EL Plant milk,

60 g Applesauce,

A pinch of salt

Separate a portion of dough by hand and form 12 equal-sized balls. Place on permanent baking mat, flatten and repeat until dough is used up.

Place in oven and bake for

10-12 minutes

(depending on desired browning). Remove from the oven and allow to cool completely.

For the frosting (optional) Provide a bowl. Pour in powdered sugar, lemon juice and lemon zest and stir until you have a smooth frosting. Drizzle over cookies to taste.

30 g Powdered sugar,

1 TL Lemon juice,

Lemon zest to taste

Place remaining cookies in a resealable box and store at room temperature for up to 5 days.
Nährwertangaben
Serving:
1
Piece
Calories:
88
kcal
Carbohydrates:
15
g
Protein:
2
g
Fat:
3
g
Saturated Fat:
0.2
g
Polyunsaturated Fat:
0.1
g
Monounsaturated Fat:
0.1
g
Sodium:
10
mg
Potassium:
44
mg
Fiber:
1
g
Sugar:
7
g
Vitamin A:
2
IU
Vitamin C:
0.2
mg
Calcium:
19
mg
Iron:
1
mg