N utella Cupcakes, Yay! Somehow you have to pass the time at home and baking is a great way to do that. Here in Bavaria, the exit restrictions due to Corona have been in place for a week now and we can look forward to at least three more. I was once again shopping today and surprised that the shelves are quite well stocked. Okay, that goes for everything except toilet paper, Flour or yeast. Fortunately, however, I was able to get hold of everything except flour. Somewhere I'll find another one and if all else fails, I'll grow it myself. Now I mean spelt and not the flour, because there are supposed to be children who are firmly convinced that milk comes from purple cows. Other than that, not so much going on at veganevibes headquarters right now, daily dog walk, lots of yoga (my sore muscles say hello) and Recipes testing for you. Well, do you fancy these great vegan Cupcakes ! Let's go.
Nutella cupcakes, am I in heaven?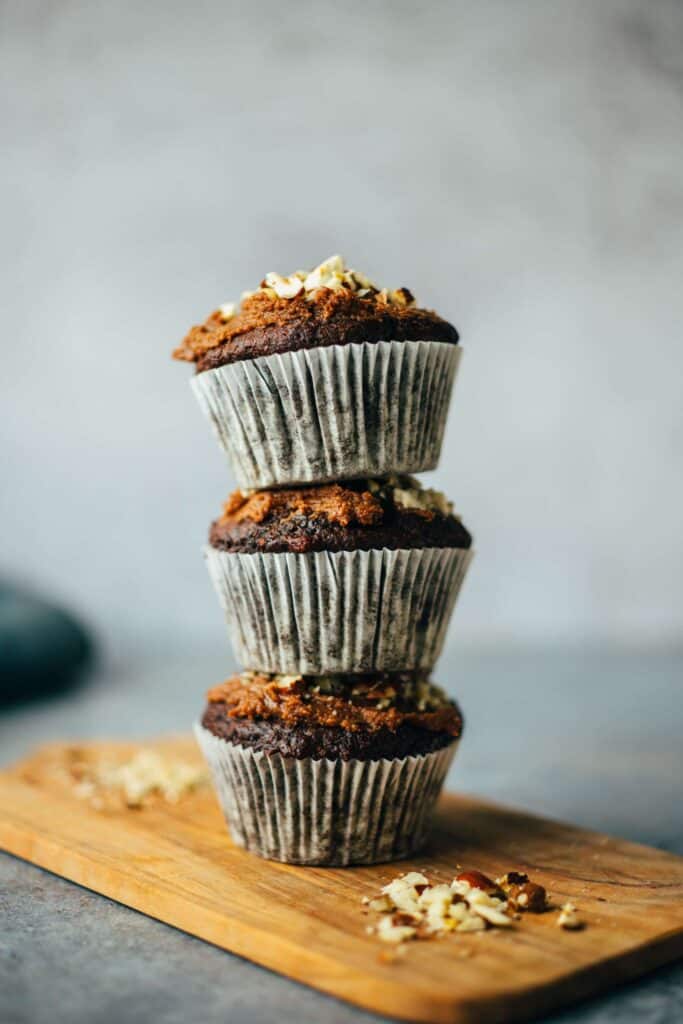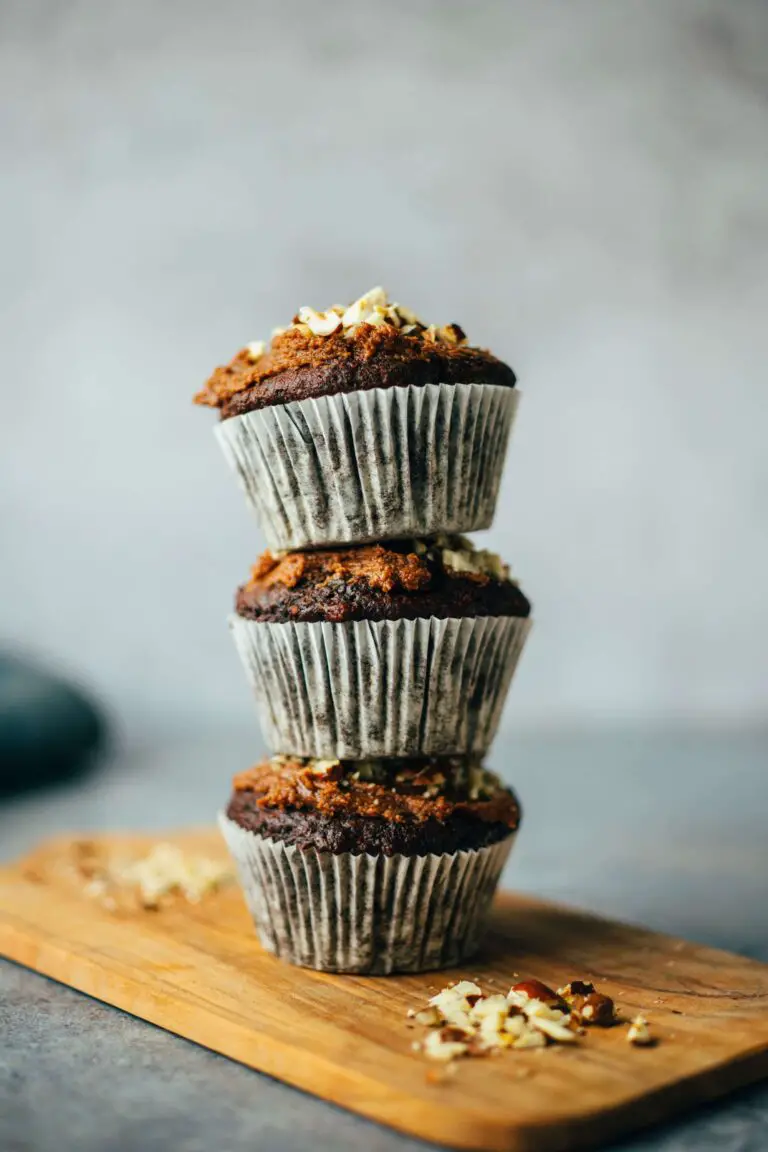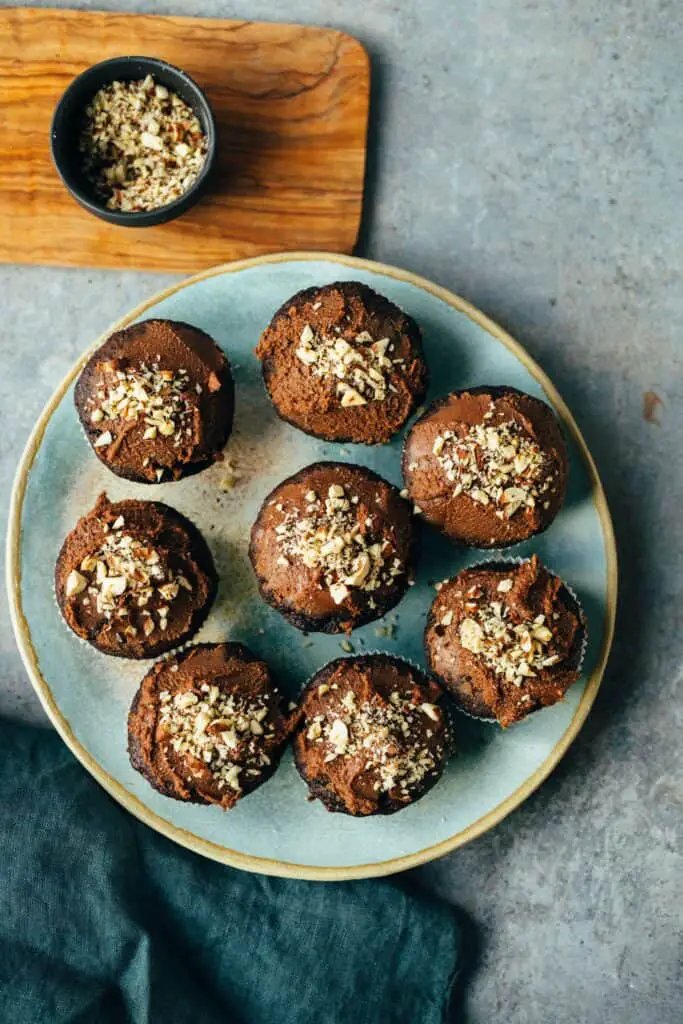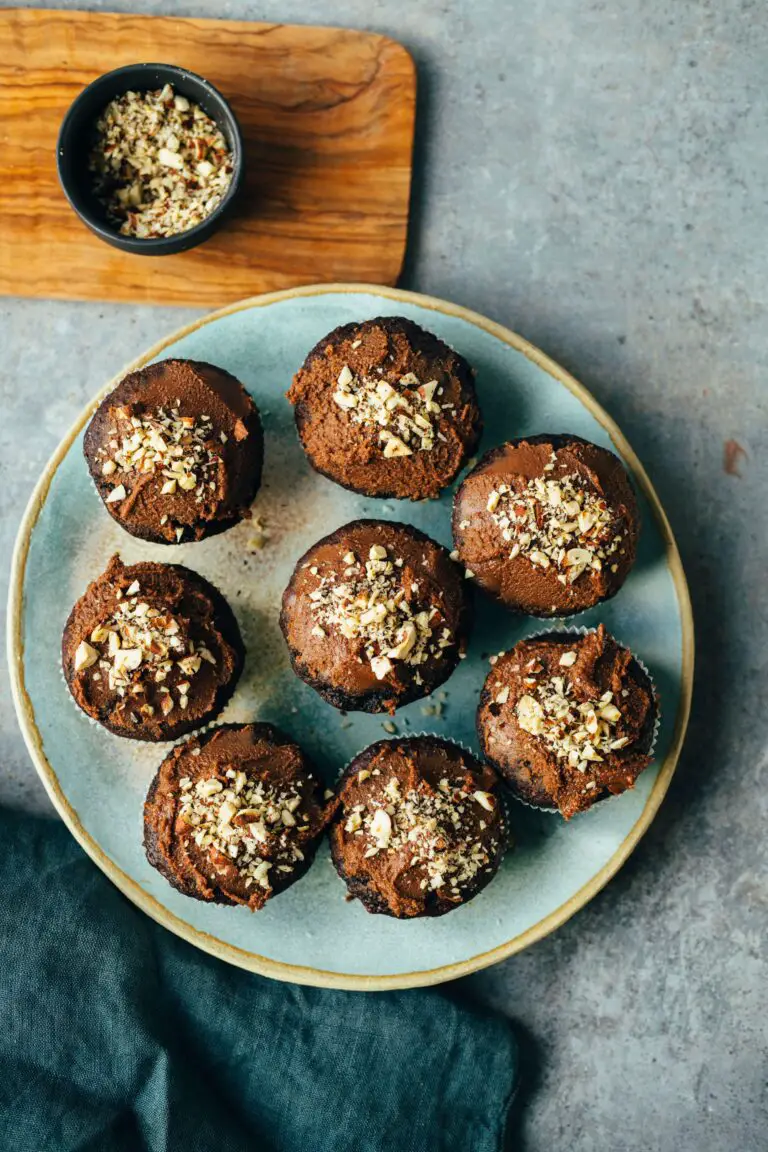 Cupcakes just always go, to the Breakfast , Lunch and dinner (before and after). Joking aside, these little beauties will sweeten the quarantine for you and your loved ones for sure.
Flaxseed egg , Almond milk Baking soda, apple cider vinegar, maple syrup, raw cane sugar, Bananas , vegetable yogurt, cocoa powder, ground hazelnuts, spelt flour du a pinch of salt. Mix to a fine dough, pour into muffin tins and off to the oven.
Meanwhile you can already mix the topping from three simple ingredients, hazelnut paste, melted chocolate and maple syrup.
As soon as the Cupcakes then cooled, it's also already to coat and nibble.
How healthy is actually hazelnuts?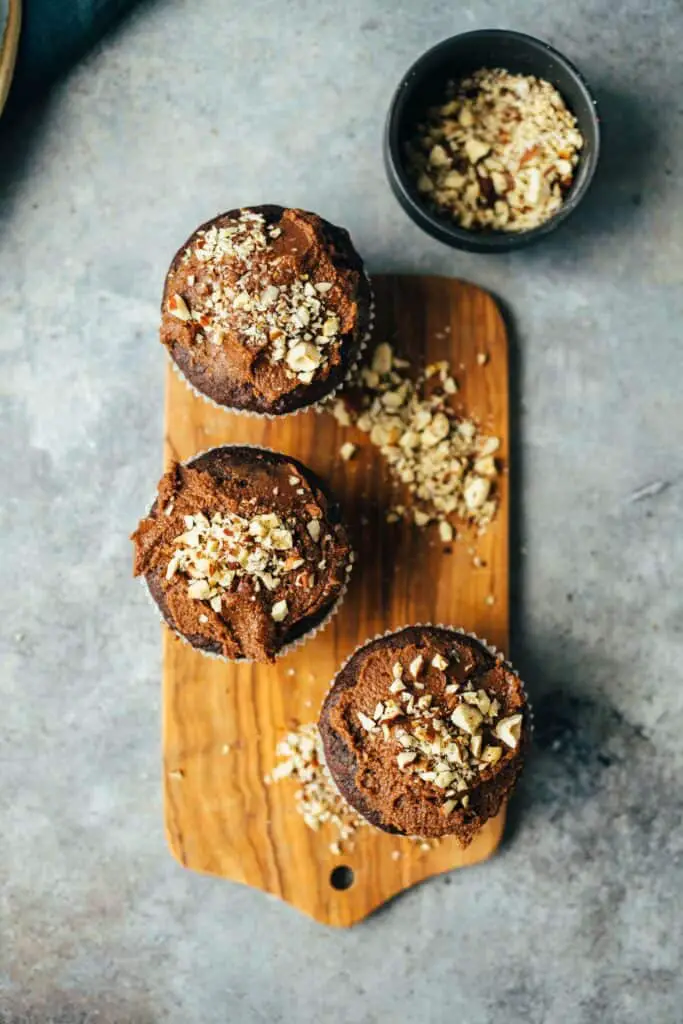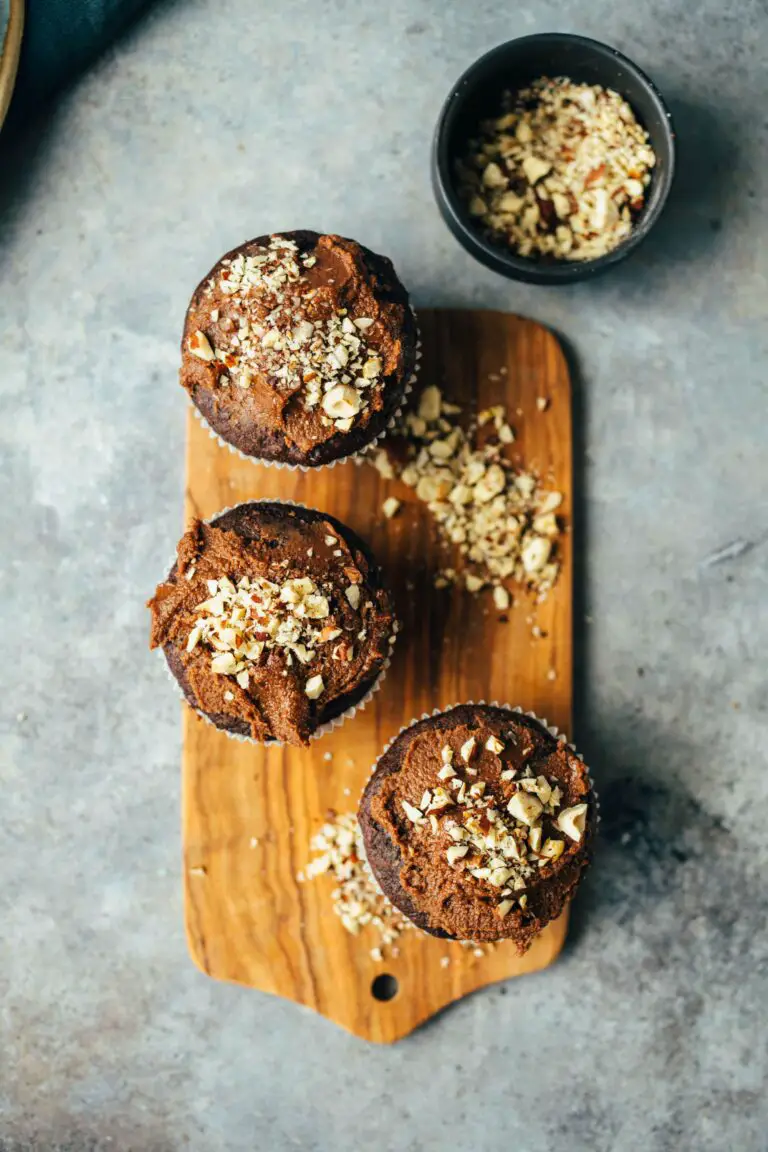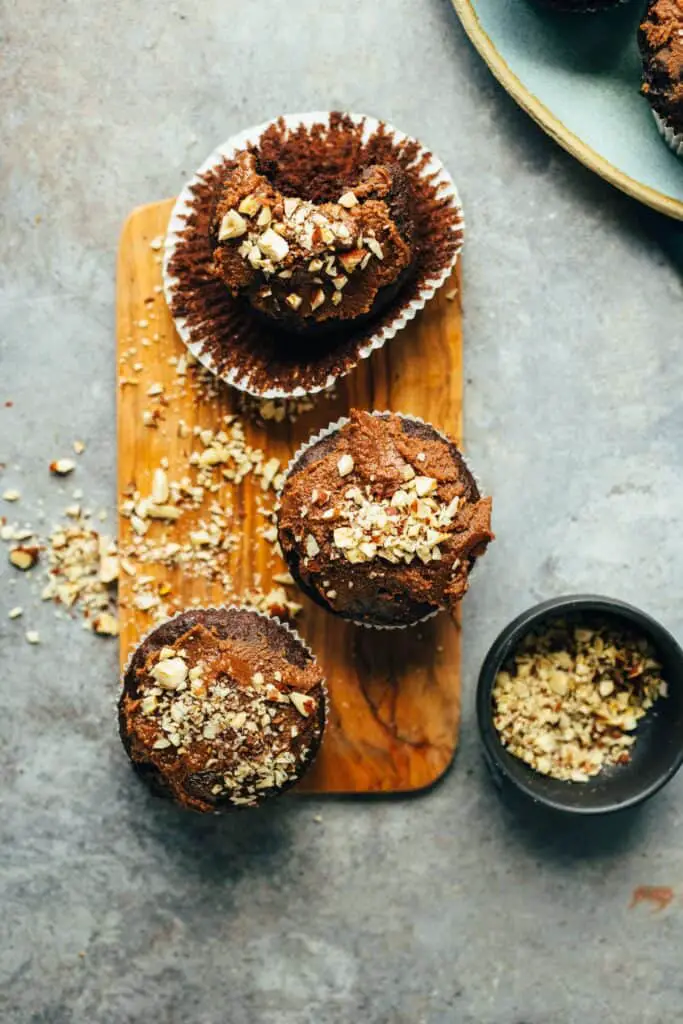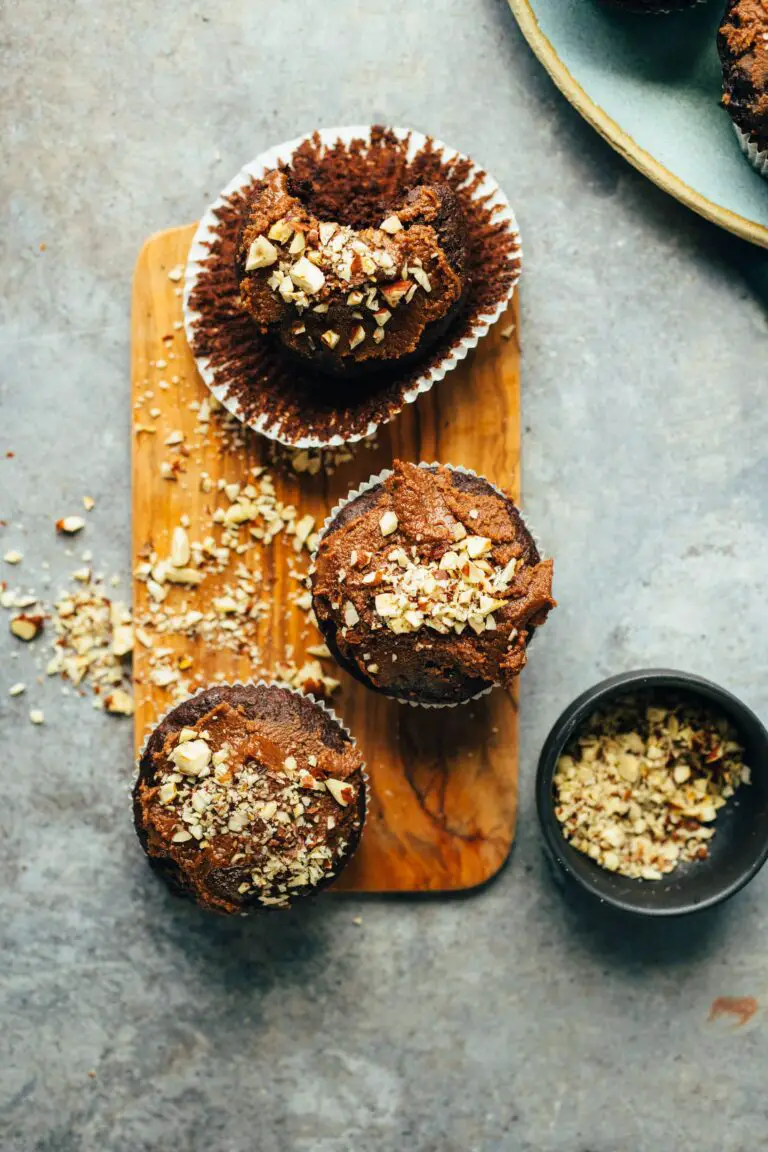 Hazelnuts are one of my absolute MUST HAVES in the kitchen. When I think alone of the smell of fresh roasted hazelnuts from the oven, a poem. Besides the sensational smell, it is also important to know what makes the nut so healthy. Nuts are per se quite high in calories, therefore consume them rather in moderation. Let's move on to the health benefits:
Rich in healthy, unsaturated fatty acids (can have a positive effect on heart health impact)
Special rich in high quality proteins (12 percent)
Provides important B vitamins
Vitamin E (cell renewal)
Rich in Magnesium
Healthy dietary fiber
If you are not really into Nutella and chocolate today, I recommend my Poppy seed lemon muffins , Simple Banana Nut Muffins or Raspberry Lightning Muffins . I am sure there is something for you too.
Are you ready for these incredibly delicious Nutella cupcakes? They are:
Quickly made
Nutty and chocolaty
Inside soft
Outside crispy
oil-free
Pleasantly sweet
Let's go with these incredibly delicious vegan Cupcakes I wish you a lot of fun while baking and of course about a rating at the bottom of this page. If you post a picture, use the hashtag #veganevibes.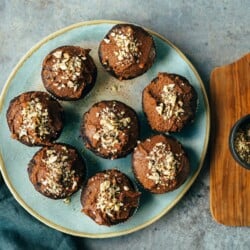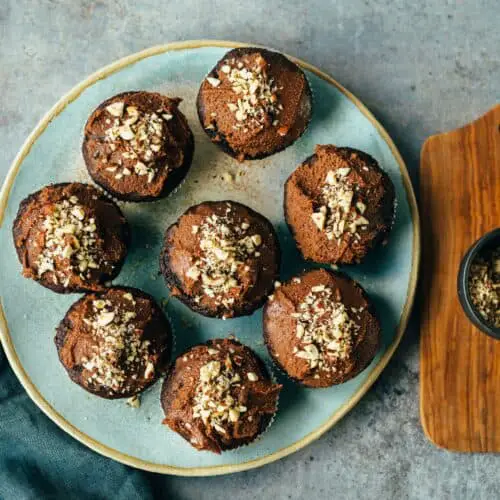 Nutella cupcakes
Vegan, oil-free chocolate hazelnut Nutella cupcakes with fine spelt flour (or gluten-free flour blend). Extra nutty-sweet, chocolaty and irresistibly fluffy.
AUTOR: VEGANEVIBES
Anleitung 
Preheat oven to 175 degrees, line muffin tin with paper cups.

Prepare flax seed egg and set aside.

TO MAKE THE DRAFT , combine almond milk, baking soda, apple cider vinegar, maple syrup, raw cane sugar, bananas, flaxseed egg, vegetable yogurt, cocoa powder, ground hazelnuts, spelt flour and a pinch of salt in a bowl.

115 ml Almond milk or other unsweetened plant milk,

1 ½ tbspn Baking soda,

1 tbspn Apple cider vinegar,

73 ml maple syrup,

77 g Cane sugar,

2 Piece Bananas,

65 g Vegetable yogurt,

60 g Cocoa powder,

125 g Spelt flour,

A pinch of salt,

59 g ground hazelnuts ½ cup

Check consistency, the dough should be a tad runnier than a cake batter. If too runny, add a touch more flour, if too firm, add a sip more vegetable milk.

Portion batter with a spoon into muffin cups until they are about three-quarters full.

Put in the oven and bake for 20 minutes.

In the meantime, prepare the NUTELLA CREME by mixing the hazelnut paste with the melted chocolate and adding the maple syrup. Stir until the cream thickens. Set aside.

100 g Hazelnut puree,

40 g dark vegan chocolate coating,

15 ml maple syrup

Remove muffins from oven after baking time and let cool.

One each. Spread tablespoon of Nutella on cupcakes, decorate with hazelnut pieces and enjoy.

Remove from the oven and allow to cool completely. enjoy!
Nährwertangaben
Serving:
1
Cupcake
Calories:
201
kcal
Carbohydrates:
31
g
Protein:
3
g
Fat:
8
g
Saturated Fat:
4
g
Sodium:
94
mg
Potassium:
81
mg
Fiber:
3
g
Sugar:
20
g
Vitamin C:
1
mg
Calcium:
51
mg
Iron:
1
mg