Peppermint chocolate cupcakes are a real treat for a number of reasons. I'm a big fan of chocolate and mint, how about you? I've always liked After Eight, but haven't eaten it in years because I prefer to stay away from industrially processed sweets. In itself, however, there is nothing wrong with the combination of mint and chocolate, because it is simply unbeatable. The refreshing essential oils of mint meet dark vegan cupcakes that are super moist and healthy too. This time we use namely not sugar in the classic sense, but whole dates to sweeten the beauties. As a little extra, I bought some organic vegan food coloring to brighten up the cupcakes a bit. I think it turned out pretty well, don't you?
Vegan peppermint chocolate cupcakes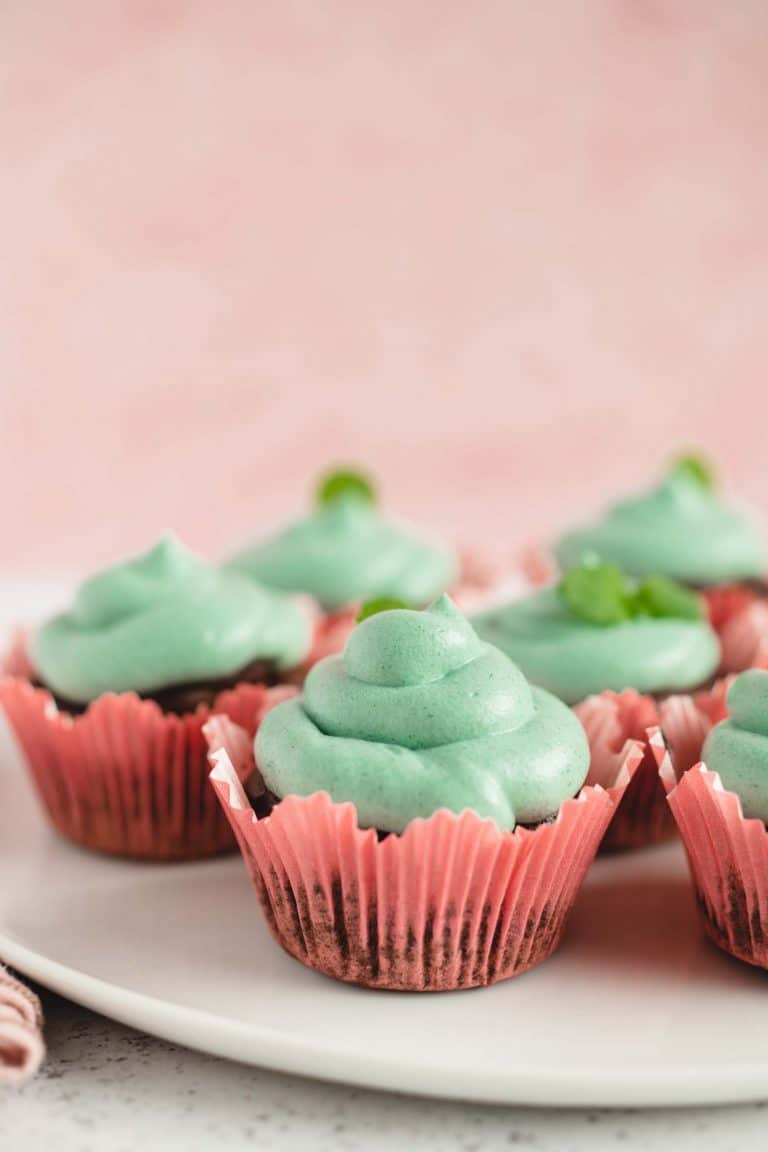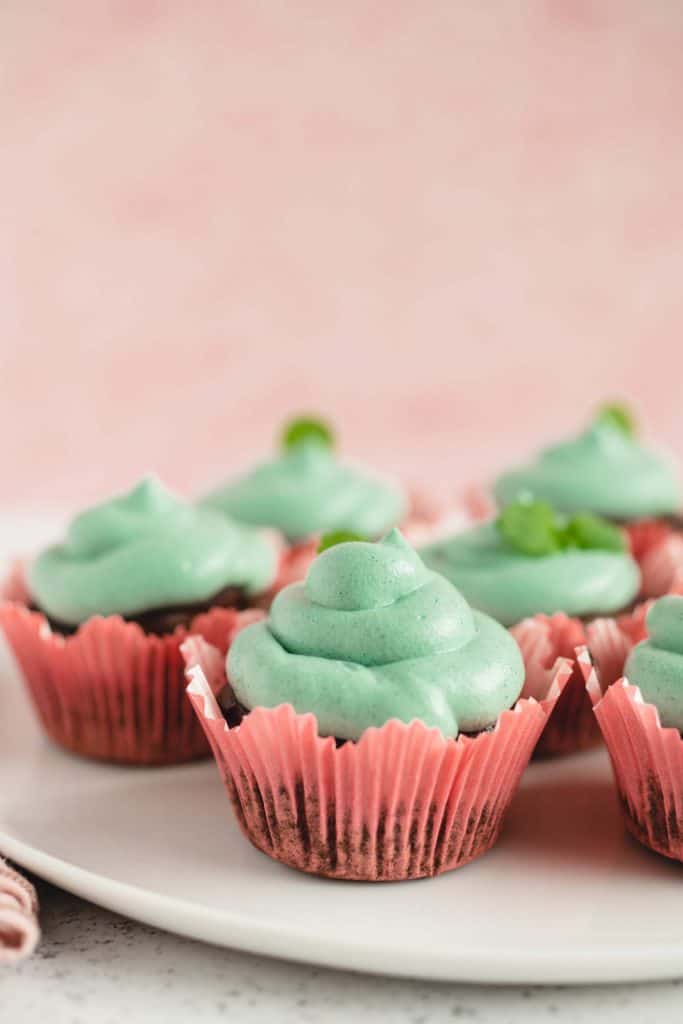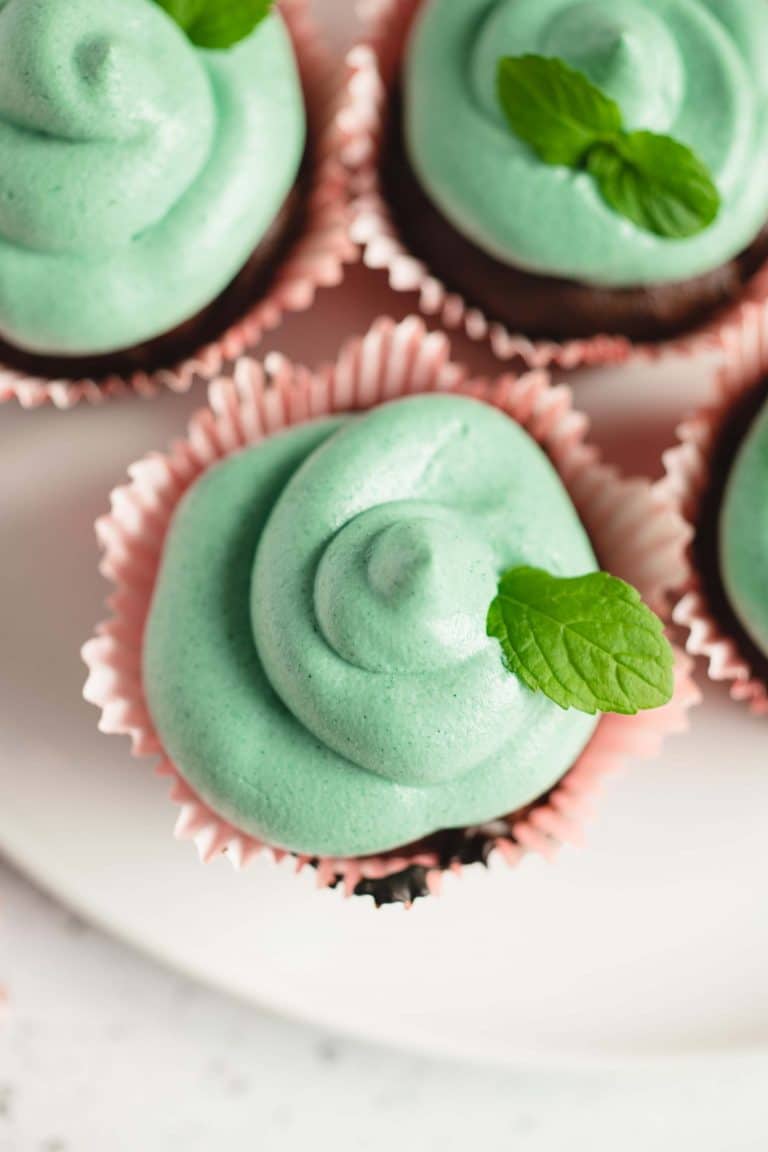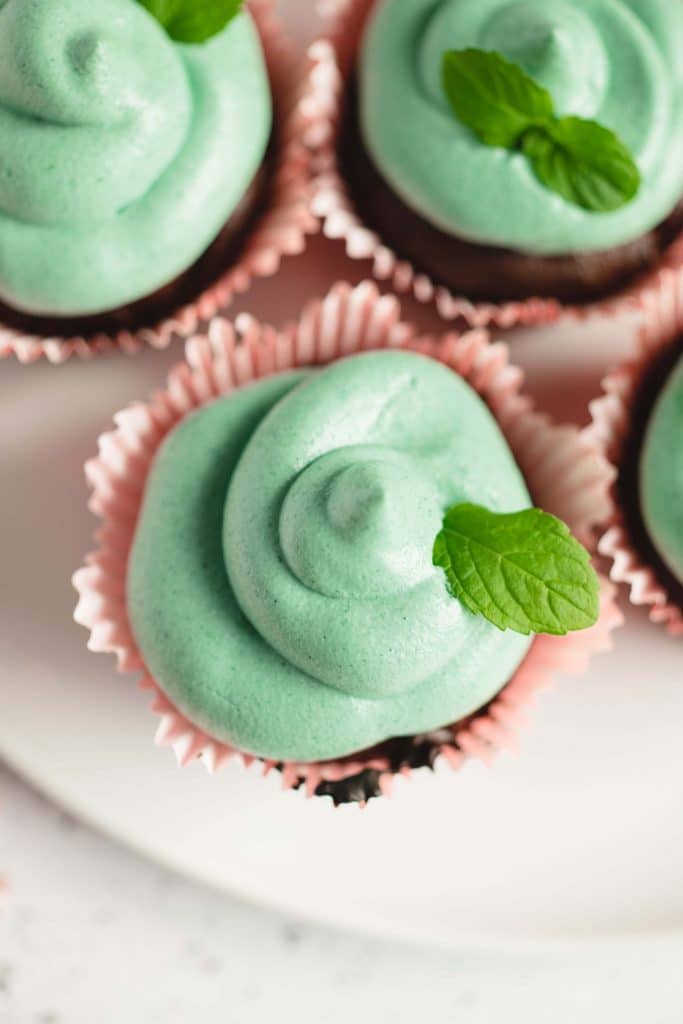 Let's get right to the ingredients, Medjool dates, coffee, almond butter, baking powder, coconut flour, tapioca starch, cocoa powder and a pinch of salt. Sounds great, doesn't it? I'm definitely excited about the combination and especially the fact that the sweetness comes solely from whole dates. Let's take a closer look at the individual ingredients and possible variations:
Medjool dates, I would honestly be reluctant to substitute in this recipe, even with other dates. For sure, there are dates similar in juiciness to the Medjool variety, however, most varieties you can buy in the supermarket tend to be a tad drier and have a higher fiber content. I always prefer Medjool dates, even if they are a tad more expensive. My tip : Just buy a larger quantity (5 kilograms) in stock, store in a cool and dry place. This saves money and you always have dates at home for snacking.
Coffee, provides a slightly bitter mocha flavor that I appreciate. Those who can't tolerate caffeine can always turn to a caffeine-free coffee. In any case, the coffee should cool down to room temperature before processing. Alternatively, simply use plant milk.
Coconut flour, is easiest to replace with almond flour. Otherwise, a gluten-free flour blend or other gluten-free flour of choice will also work.
Tapioca starch, sounds exotic, but is an ingredient that I always have at home in the vegan kitchen. I use it to make vegan mozzarella and many other goodies. I would use cornstarch as a substitute, although it does not bind as much.
Cocoa powder, you could also replace it with carob powder, or just mix it
Baking soda, you could replace with a combination of baking soda and 1 tablespoon of apple cider vinegar.
Peppermint essential oil, can be replaced with peppermint extract.
Vegan cupcakes, simple and fast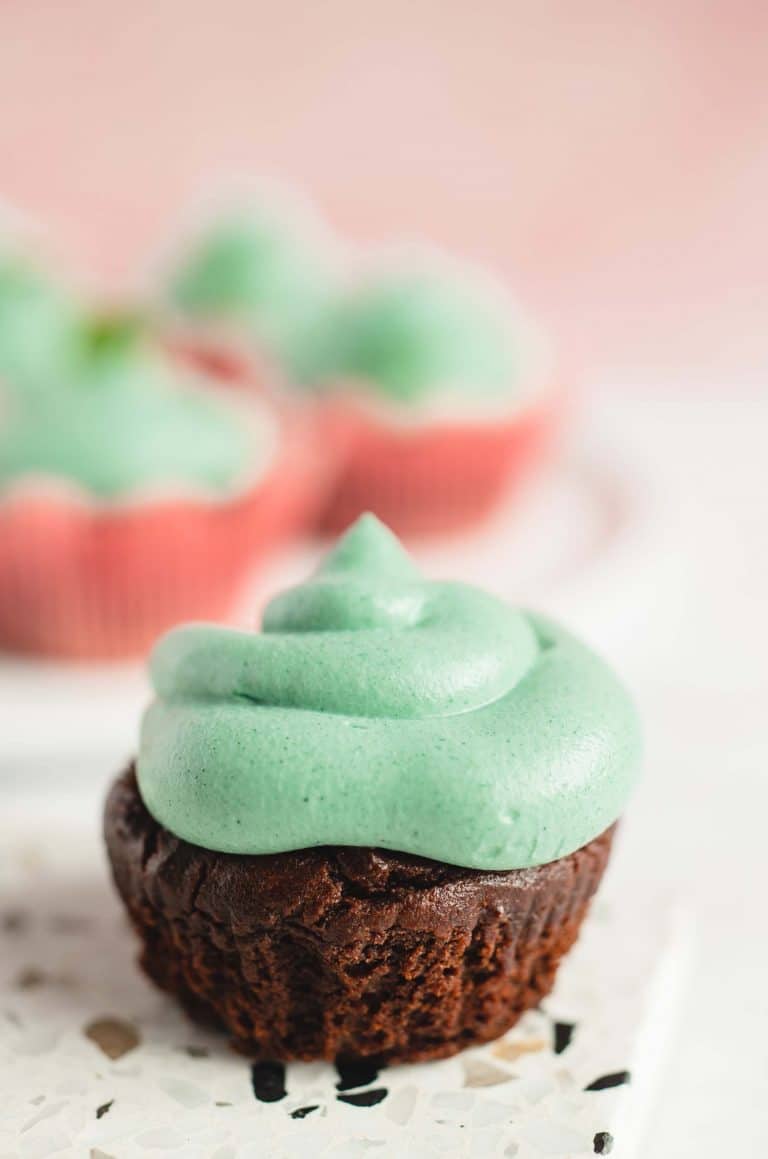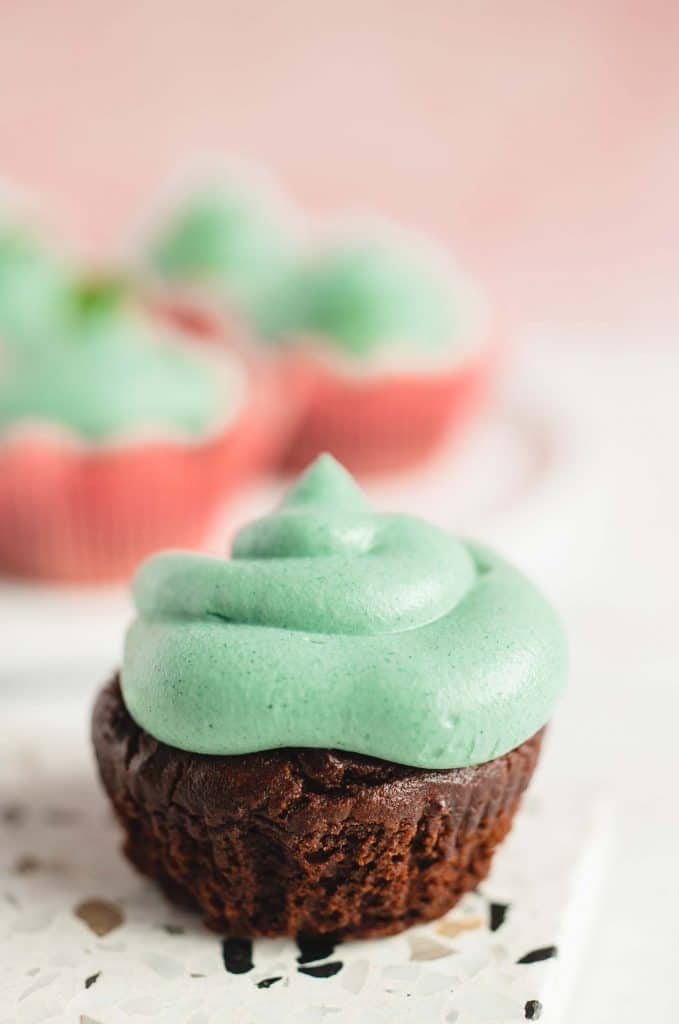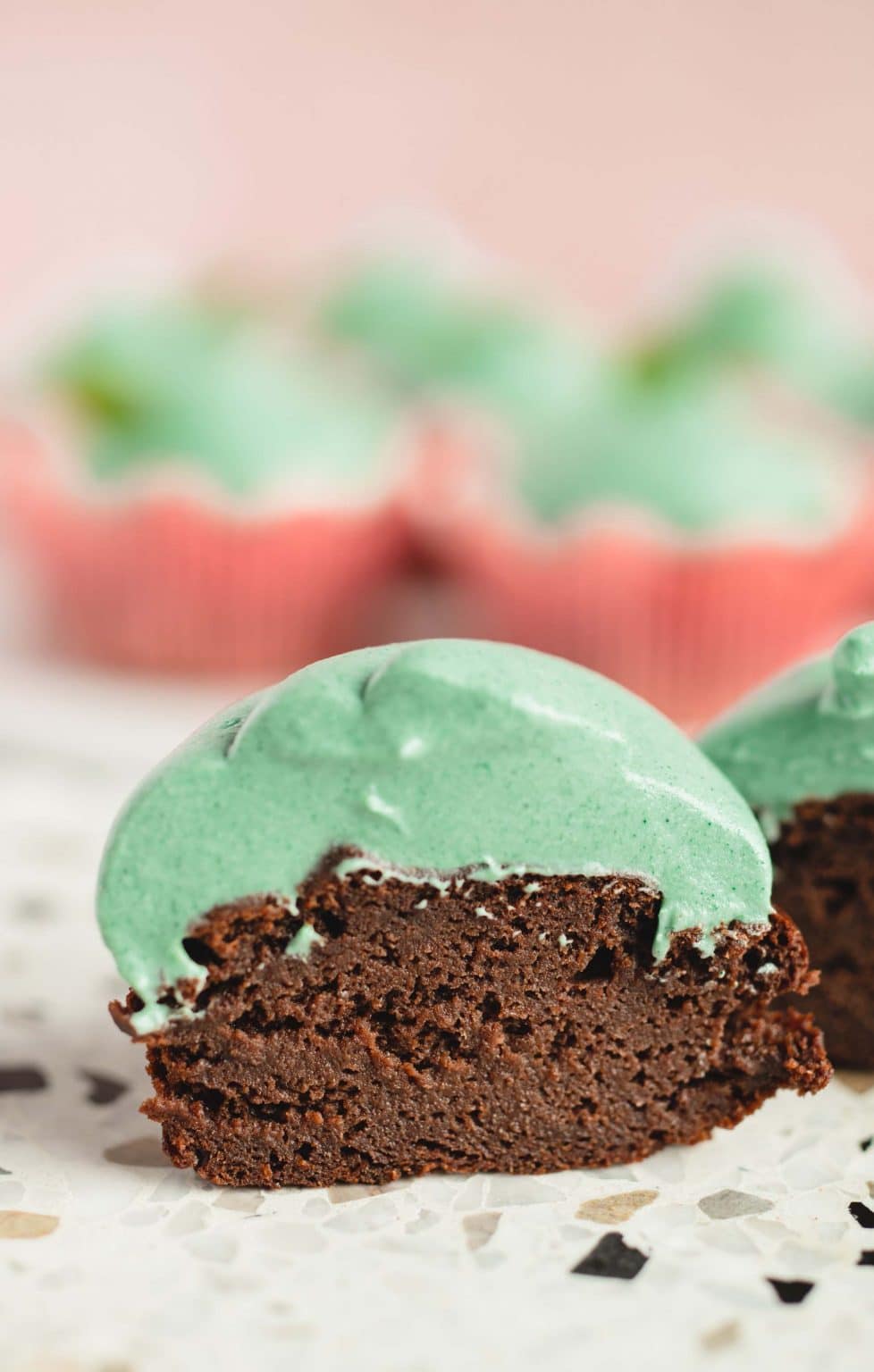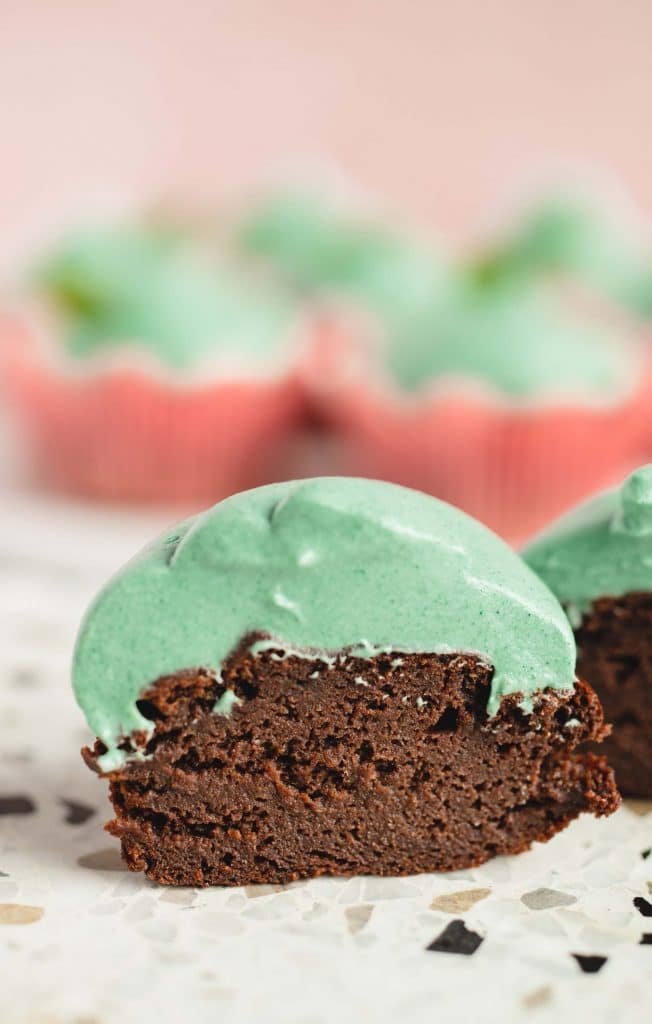 The first and most important rule, if you want to do it quickly, is to preheat the oven. How many times have I stood in the kitchen and been annoyed that I forgot this simple step? Muffin cups in the muffin tray and poof, the trappings are already ticked off. The only thing missing is our dough. But it's also made in no time, especially with a high-powered blender. We have already summarized the most important things.
All that's really missing is the frosting made with cream and an organic vegan food coloring that I've linked below. I think the little cupcakes are just totally adorable with the green bonnet. For the cream, I again chose the SOYATOO brand because it holds the best and without the addition of cream stiffener.
What goes with our chocolaty minty beauties? A scoop of vanilla ice cream is one of my favorite combinations. Alternatively, they taste wonderful with powdered sugar with a cup of coffee, Golden Milk or a creamy chocolate Chia Smoothie.
The cupcakes take just 45 minutes, including prep time, and get by with 10 ingredients (not including the food coloring). 1 bowl, 1 muffin baking sheet and go!
The peppermint chocolate cupcakes are:
Juicy & Fluffy
chocolatey
Naturally sweetened with dates
Refreshing
Extremely fast to produce
Well, are you ready for the sweet sins? I wish you a lot of fun baking and of course a review at the bottom of this page. If you post a picture, use the hashtag #veganevibes.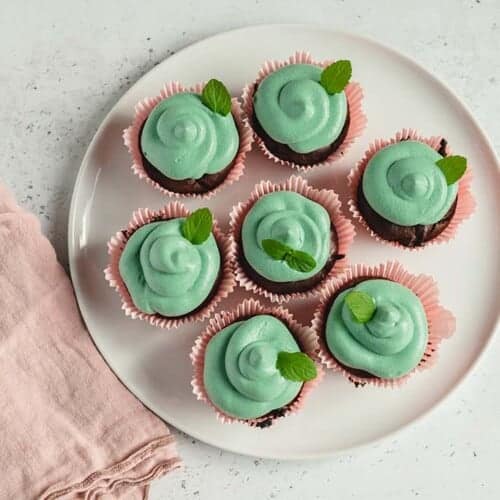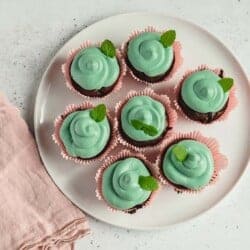 Peppermint chocolate cupcakes (vegan)
These fine cupcakes are just right for those who love mint and chocolate in equal measure. Naturally sweetened with dates, rounded off with a fine coffee note. Refined with a colorful cream topping, because after all, the eye eats with you. Vegan, naturally sweetened and gluten-free.
AUTOR: VEGANEVIBES
FOR THE FROSTING:
300

ml

Soy cream from SOYATOO

or a comparable vegan cream

Food coloring green

I use the products from Bio-vegan
Anleitung 
Preheat the oven to 175degrees (convection) or 195 degrees (top-bottom heat) and line a muffin baking tray for 12 muffins with 10 muffin cups, or lightly grease if needed.

Brew coffee and set aside.

Pit dates and place in a high-powered blender.

Add coffee and blend on high speed for 60 seconds until a uniform liquid is obtained.

Place in a large baking bowl. Add almond paste, coconut flour, tapioca starch, cocoa powder, baking powder and sea salt and stir until everything is well combined.

125 g Almond paste,

30 g Coconut flour,

30 g Tapioca starch,

25 g Cocoa powder,

2 tbspn Baking powder,

¼ tbspn Sea salt

Add 4-6 drops of peppermint essential oil to the batter and stir again briefly.

4-6 Drops of peppermint essential oil

Using two spoons or an ice cream scoop (slightly moistening helps), divide into the evenly between the 10 muffin cups.

Put in the oven and bake for

25 minutes

. Remove from the oven and allow to cool completely.

In the meantime, whip cream and incorporate food coloring according to package directions. Chill again until the muffins are also completely cooled.

300 ml Soy cream from SOYATOO

Then spread the green colored cream evenly over the cupcakes and enjoy!

Store remainder (if any) in an airtight box in the refrigerator for up to 3. Not suitable for freezing.
Nährwertangaben
Serving:
1
Piece
Calories:
202
kcal
Carbohydrates:
27
g
Protein:
4
g
Fat:
11
g
Saturated Fat:
2
g
Sodium:
63
mg
Potassium:
341
mg
Fiber:
5
g
Sugar:
18
g
Vitamin A:
34
IU
Calcium:
74
mg
Iron:
1
mg