Chocolate mousse cake, oh my! Have you ever fought with your partner over the last piece of a cake? I actually did that with this gem. At first we gave half of it away to my parents because we can't eat it all by ourselves anyway (we thought). That was a big mistake, because an argument broke out between my husband and me on the last piece. He just didn't want to give the cake away and only left me a little mini piece. I was pretty pissed for a short time, but that was quickly over. The reason was a look in my pantry, which clearly gave me a sign to bake this delicious vegan cake again right away. Honestly, I'm going to do that as soon as possible too, because I need my daily nerve food. These endlessly confusing news already get to you sometimes, gloomy weather and gloomy Corona mood. Think positive? Can I only with chocolate, so give me the cake.
Vegan chocolate mousse cake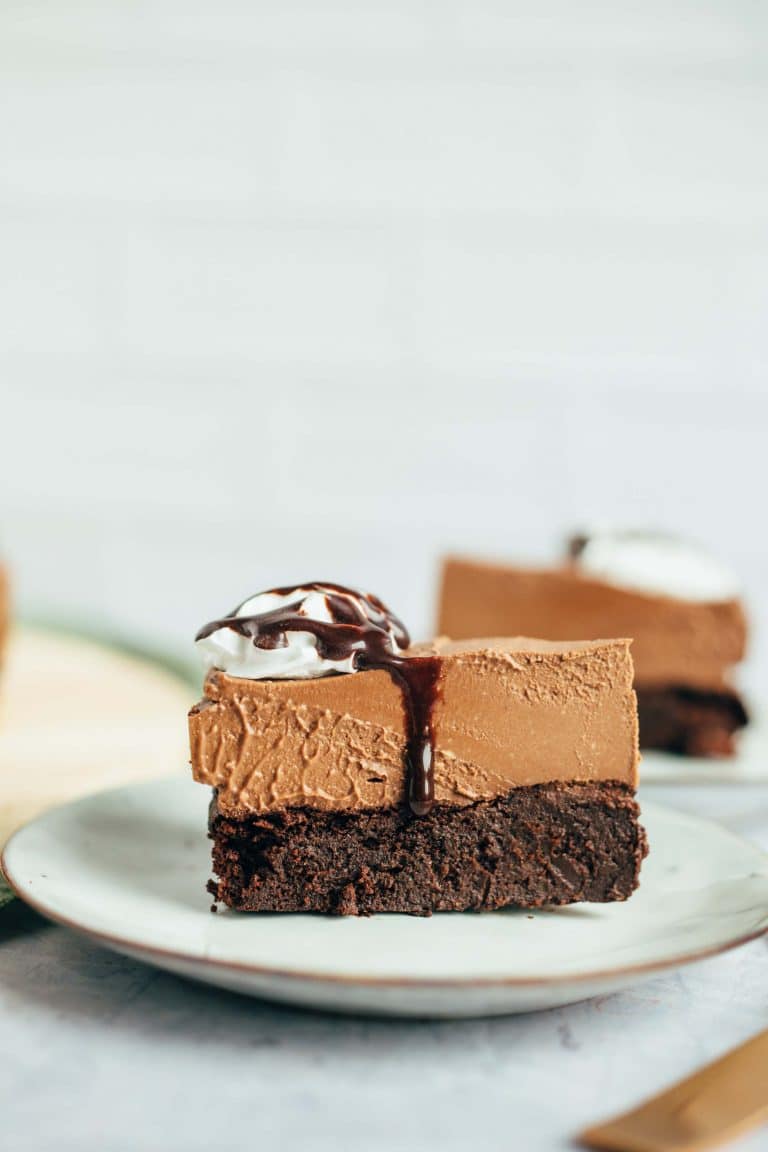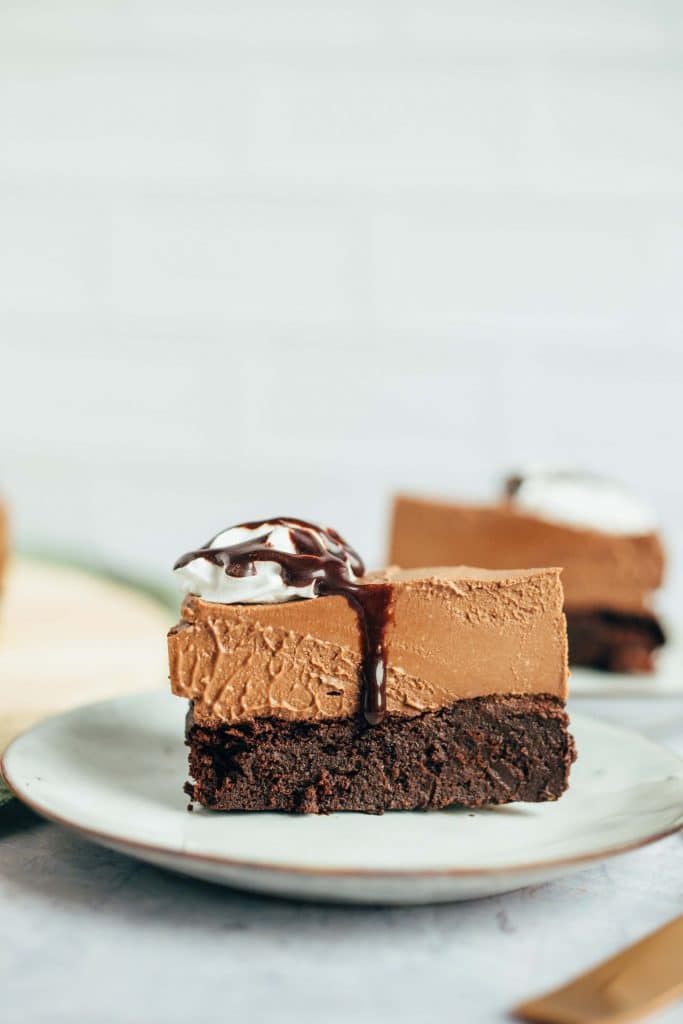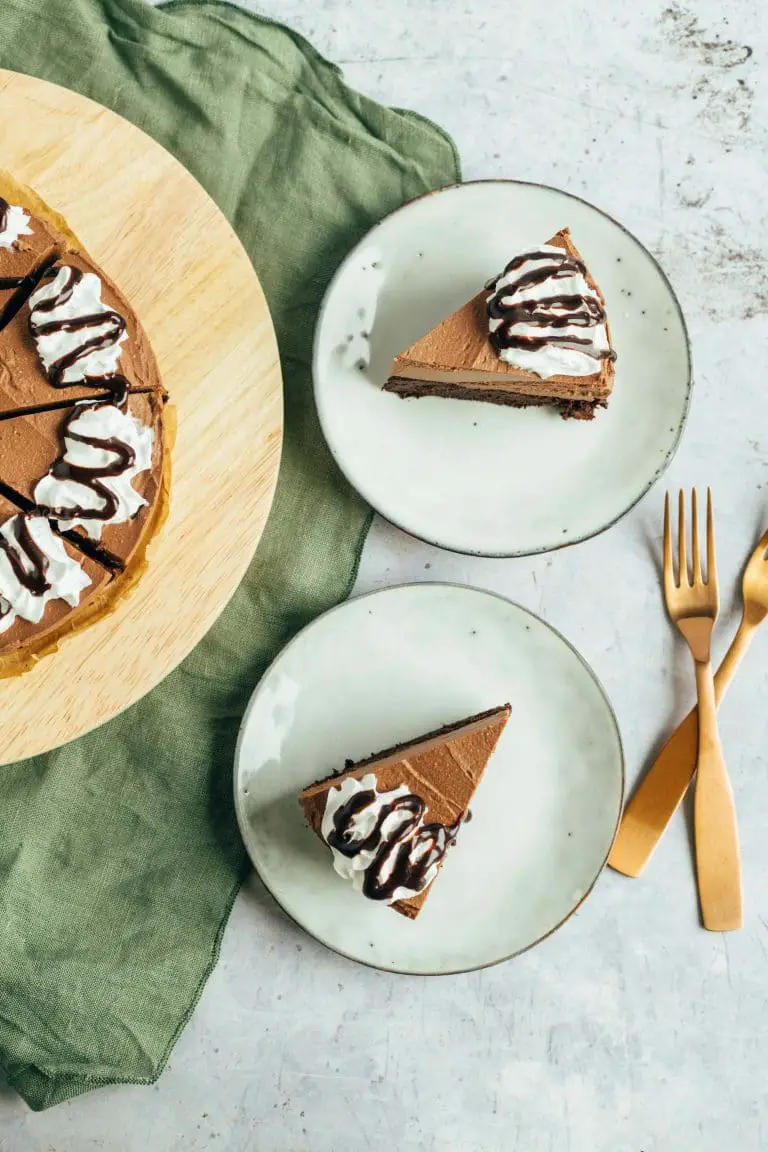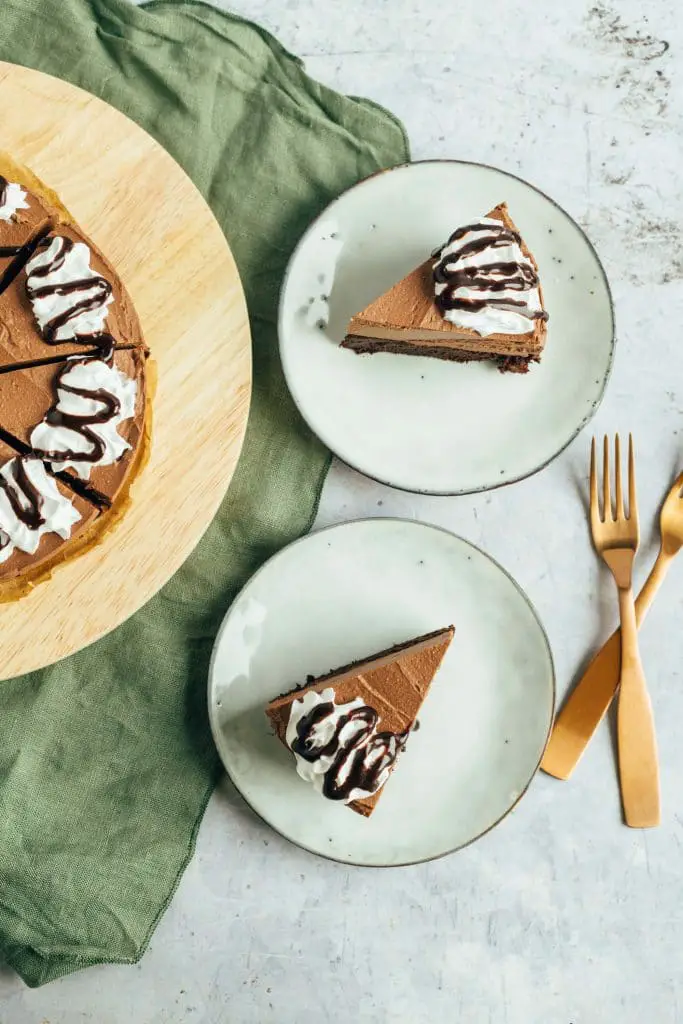 There is only one requirement to say "yes" to this cake and that is called chocolate love! If you love chocolate, you'll love this small but delicious vegan cake. It is completely without flour, oil, refined sugar and gluten. Sounds perfect, doesn't it? It is and especially the followers of low-carb food will be happy. Taste-wise, the thing is simply the absolute madness, best close your eyes and enjoy!
The processing is also simple and quick. Put Medjool dates in a high-powered blender, add vegetable milk, almond paste, cocoa powder, bourbon vanilla and a pinch of salt and blend to a fine paste. Pour into a springform pan (20cm diameter) and smooth out. Already it goes into the oven and is baked for 25 minutes. Meanwhile, close your eyes once and visualize the finished result. A super delicious, healthy and naturally sweetened cake that melts in your mouth.
Note: The dough behaves a little differently than a dough with flour. Just don't be put off here if it's not as runny, but a touch more compact and sticky. The result will more than convince you, I promise.
Vegan baking without flour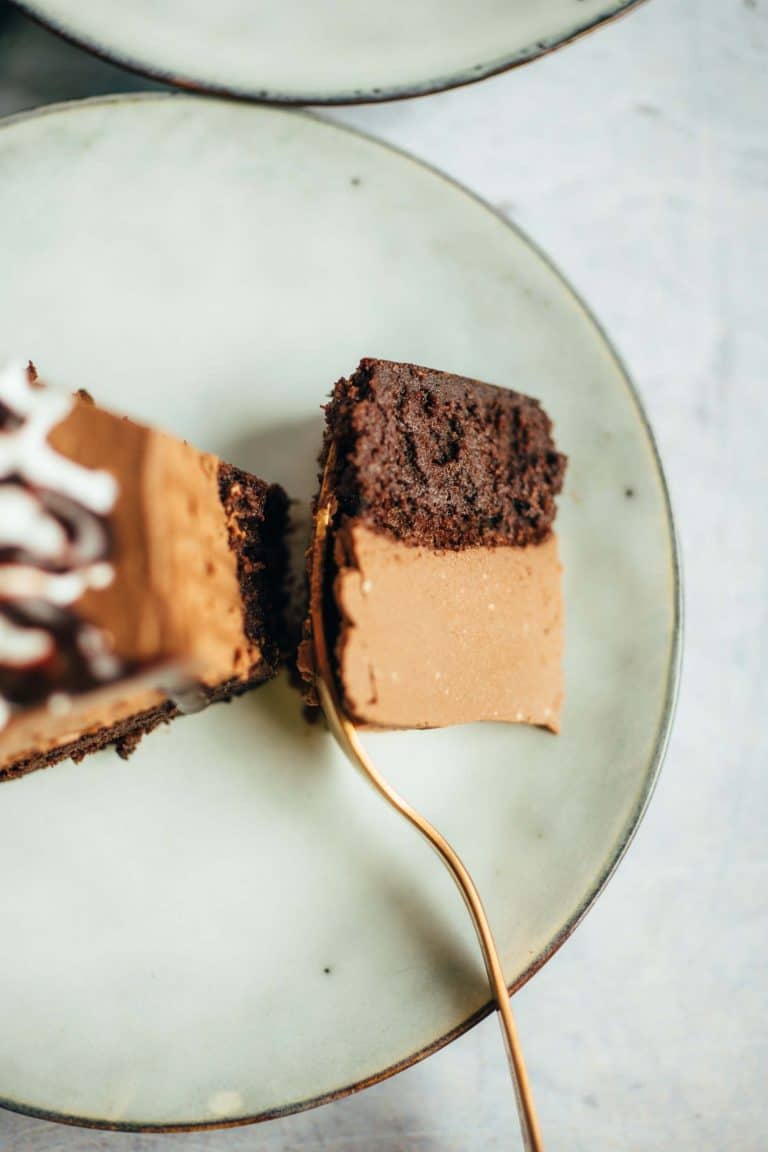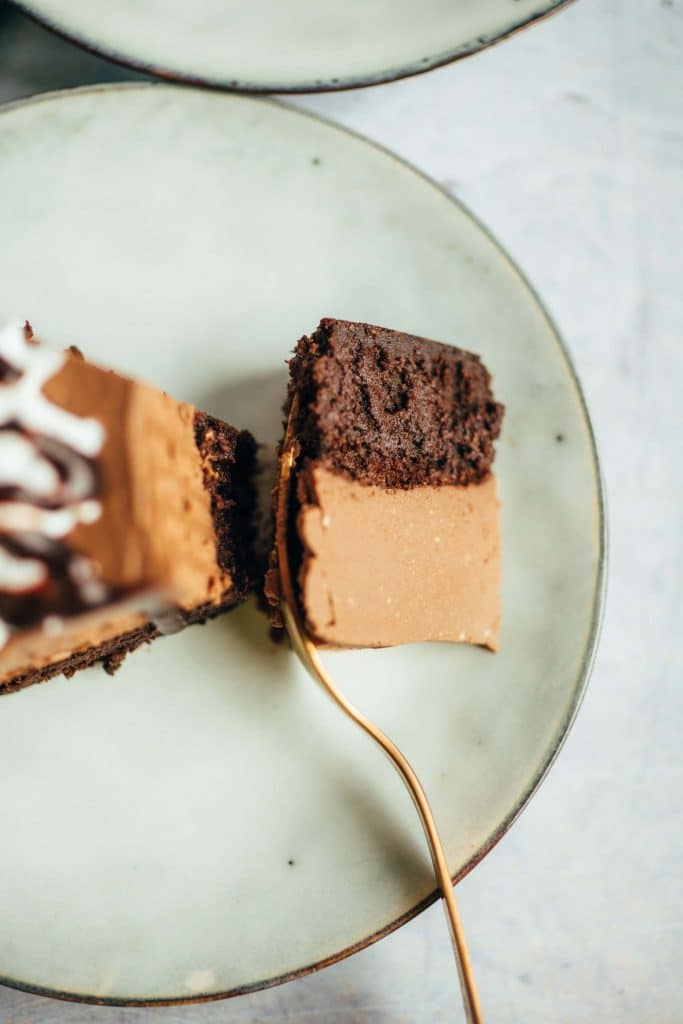 This is the first recipe on my site that is baked completely without flour. The other recipes are either baked or raw. In any case, I think it's great that the range of options is growing and that everyone can find their dream cake.
TIP: If you want to make the cake even more chocolatey, I recommend folding in an extra handful of dark vegan chocolate drops into the batter. Then you have chocolaty double power and can satisfy even the biggest chocolate cravings.
Regarding the choice of blender, I clearly recommend a high-performance blender. Alternatively, however, a MagiMix with an s-shaped knife also works. It makes the dough not quite as fine, but these are only nuances that can be neglected.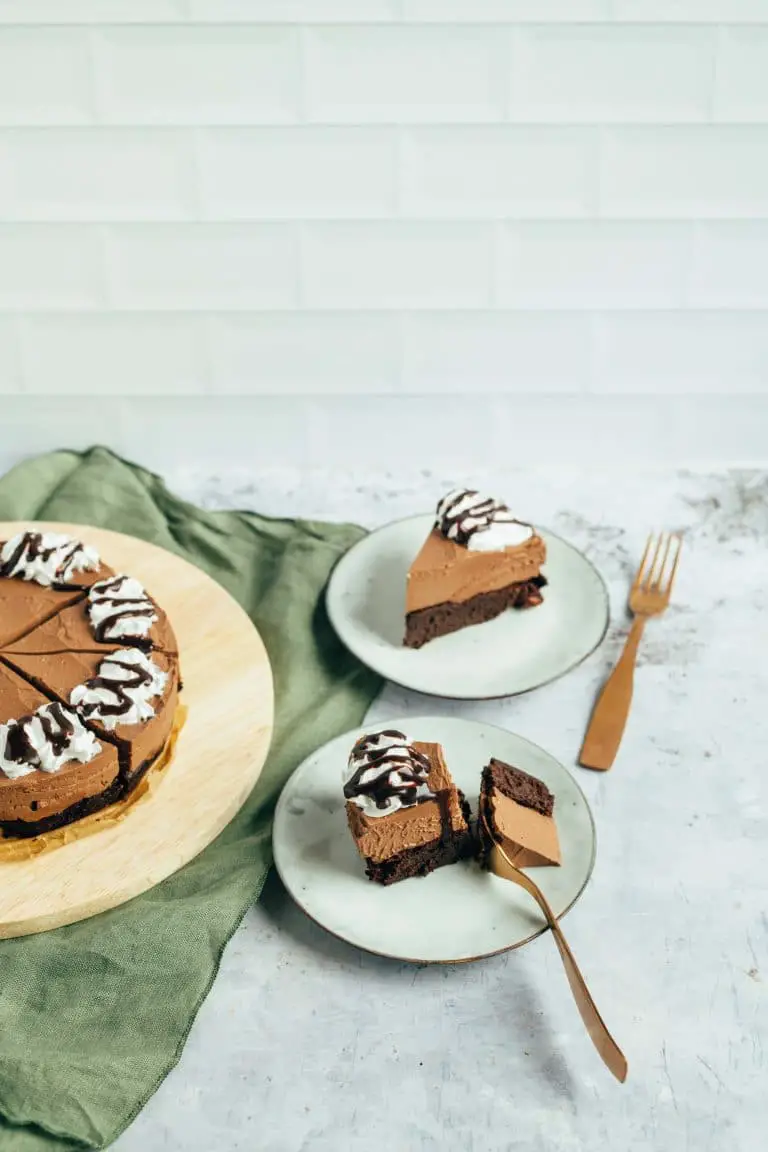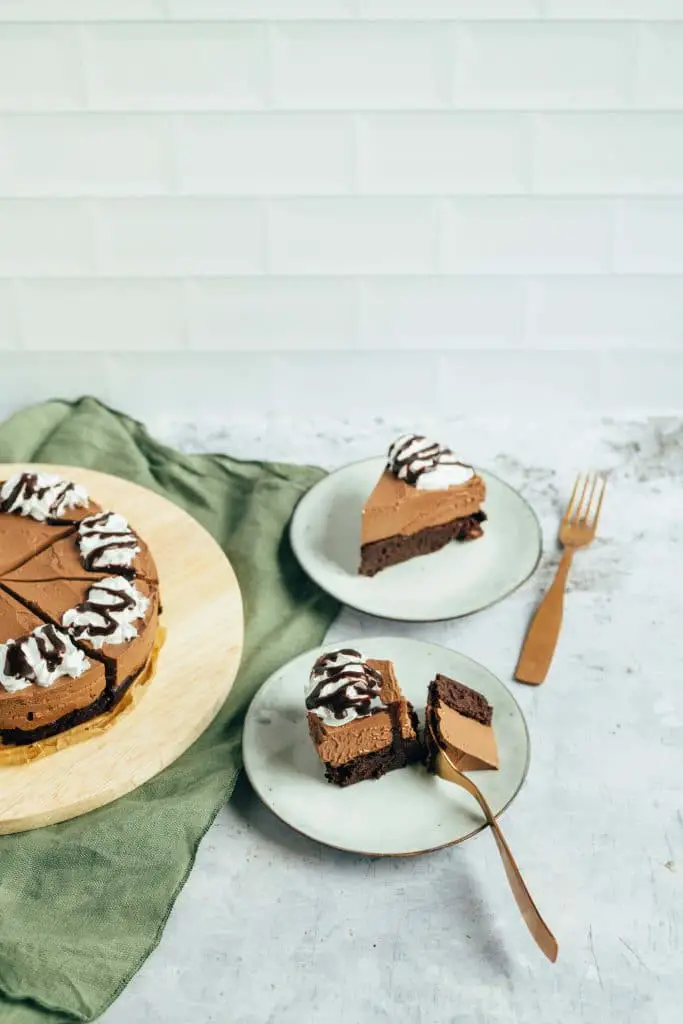 Here again summarized the most important facts about this cake:
Perfect Anti-Corona Bad Mood Medicine
Wholemeal, baked without flour
Sweetened with fine, high-fiber and nutrient-rich Medjool dates
Delicately melting mousse layer of creamy coconut milk and melted chocolate
Has the potential to provoke a marital dispute, in any case, do not specify early something to the relatives and better eat yourself
If you want to make this cake for Easter and are looking for more delicious recipes, click here for more inspiration.
Let's get started with this fine, flourless mini cake that will satisfy any chocolate craving, no matter how big. I hope you have fun making it and of course I'm happy about a review at the bottom of this page. If you post a picture, use the hashtag #veganevibes.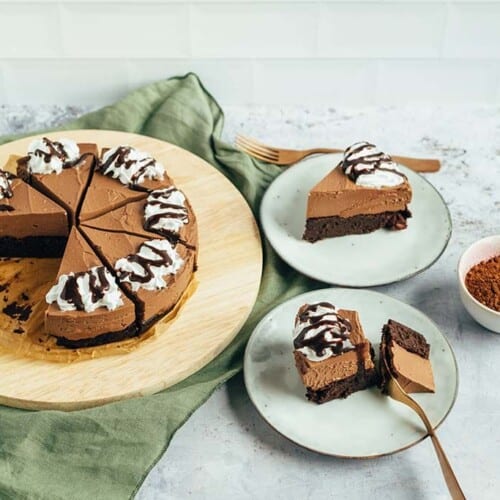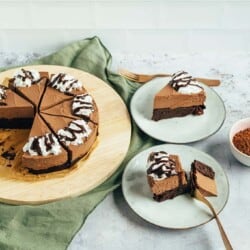 Chocolate mousse cake (without flour)
Fine mini cake without flour, which satisfies any chocolate craving, no matter how big. Fine base of almond paste and cocoa powder, naturally sweetened with dates. Topped with a melt-in-your-mouth mousse of coconut milk and dark vegan chocolate. Oil-free, sugar-free, flour-free and gluten-free.
AUTOR: VEGANEVIBES
FOR THE CHOCOLATE MOUSSE:
Anleitung 
Preheat oven to 175 degrees (convection oven) or 195 degrees (upper-lower heat), line 20cm diameter springform pan with baking paper.

FOR THE CAKE BASE Place the Medjool dates, along with the plant milk, almond paste, cocoa powder, baking powder, bourbon vanilla and salt in a high-powered blender and blend to a dough. This should not be too liquid and rather somewhat sticky in consistency.

200 g Medjool dates,

120 ml Plant milk,

120 g Almond paste,

50 g Cocoa powder,

½ tbspn Baking powder,

¼ tbspn Bourbon vanilla,

A pinch of salt

Pour into the prepared springform pan and smooth out. Put in the oven and bake for

25 minutes

. Remove from oven and let cool completely.

FOR THE CHOCOLATE MOUSSE Carefully melt the chocolate over a water bath. Pour coconut milk into a bowl and whisk in melted chocolate.

150 g dark vegan chocolate,

400 ml Canned coconut milk

Place in the refrigerator and allow to "set" for at least 30 minutes. The point here is that the mousse is a bit firmer and can be spread on the cake base without running out of the mold.

At the end of the cooling time, when the chocolate mousse is "semi-solid", remove from the refrigerator and spread evenly over the cooled cake base.

Place back in the refrigerator and allow to set and infuse for another

4 hours

or preferably overnight.

Just before serving, remove from refrigerator, cut into pieces and garnish with toppings of choice and enjoy!

Store remaining pieces in an airtight container in the refrigerator for up to 5 days, or in the freezer for at least 1 month (best to portion beforehand).
Nährwertangaben
Serving:
1
Piece
Calories:
281
kcal
Carbohydrates:
27
g
Protein:
6
g
Fat:
20
g
Saturated Fat:
11
g
Sodium:
23
mg
Potassium:
513
mg
Fiber:
5
g
Sugar:
18
g
Vitamin A:
96
IU
Vitamin C:
2
mg
Calcium:
110
mg
Iron:
3
mg