Fine Chunky Monkey Cookies with banana, walnuts and chocolate. Those who know me, know that I am a big fan of cookies. I like them best with chocolate and I really have nothing against walnuts and bananas. The other day I asked an acquaintance if he knew the Chunky Monkey ice cream from a very large American ice cream manufacturer. His answer, to my great astonishment, was, no! Something definitely needs to change, because my favorite combination is undisputed Chunky Monkey. There's already a Chunky Monkey Granola on my site and I've got an ice cream in the works too. Stay tuned! For today, we're focusing on these delicious gluten-free and naturally sweetened cookies. They are irresistible and were unfortunately eaten away far too quickly in our house. Well, I guess I'll have to make another batch.
Chunky Monkey Cookies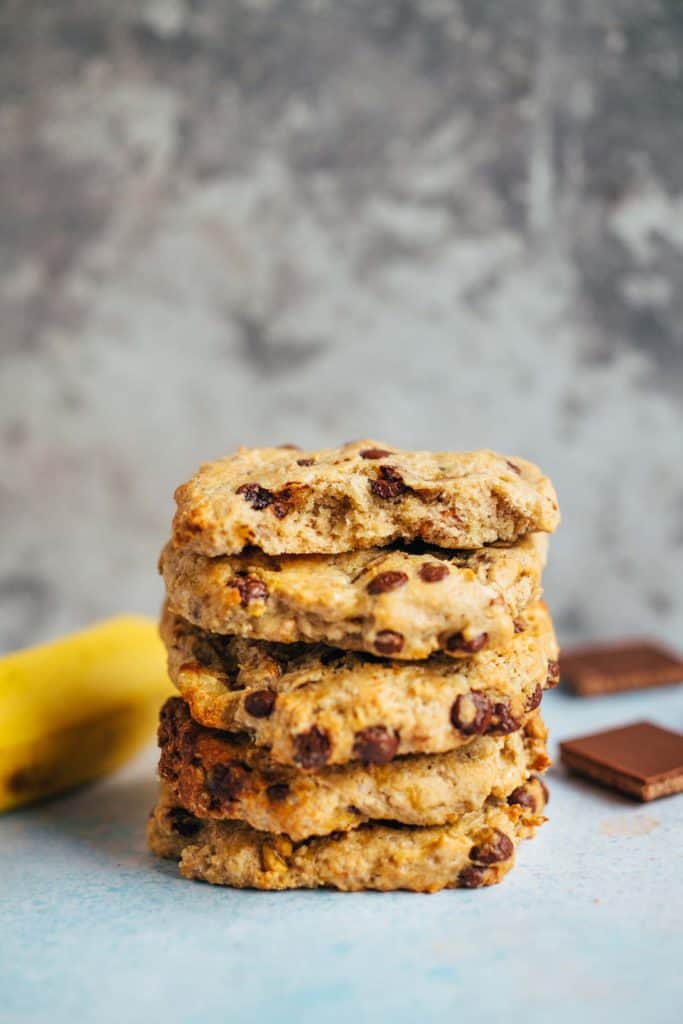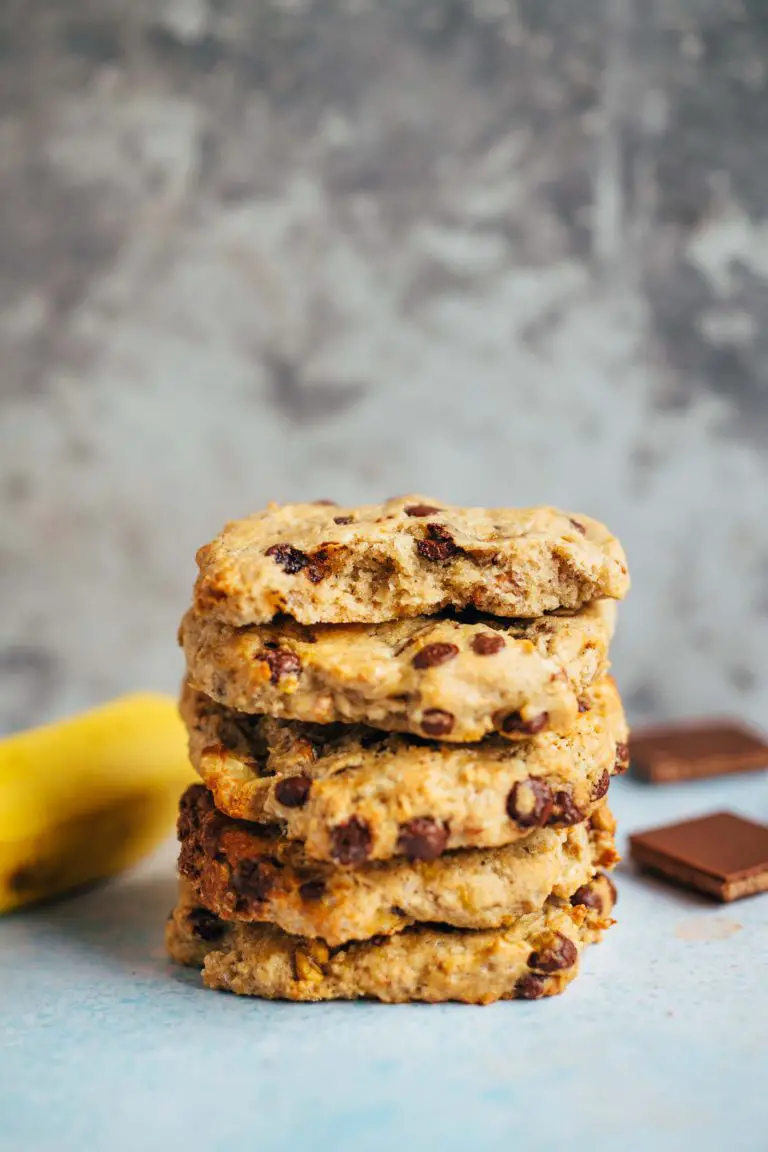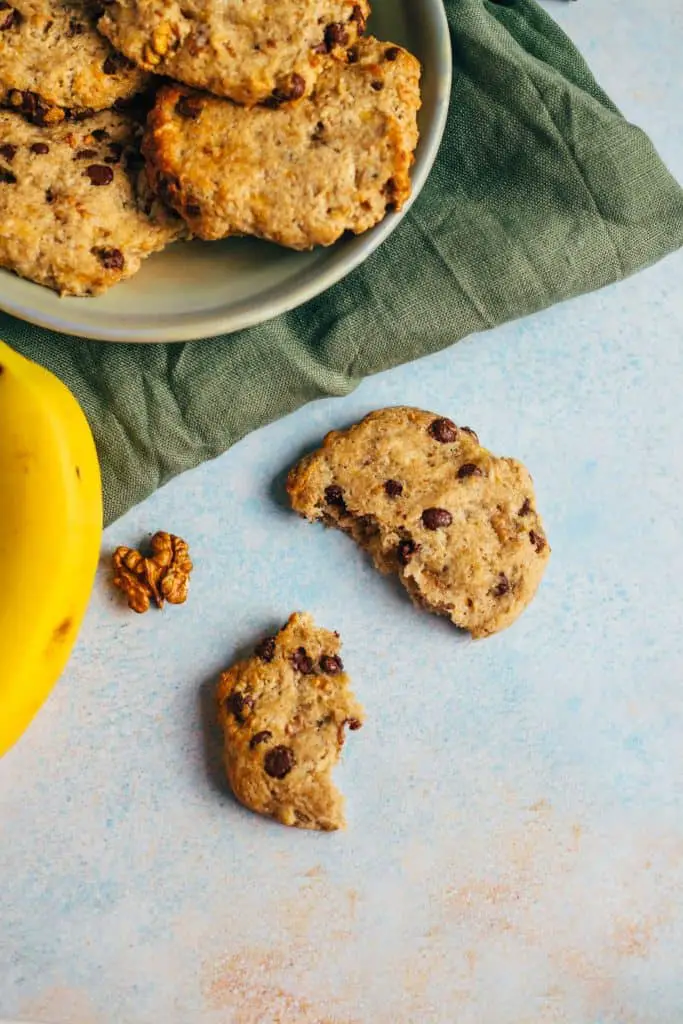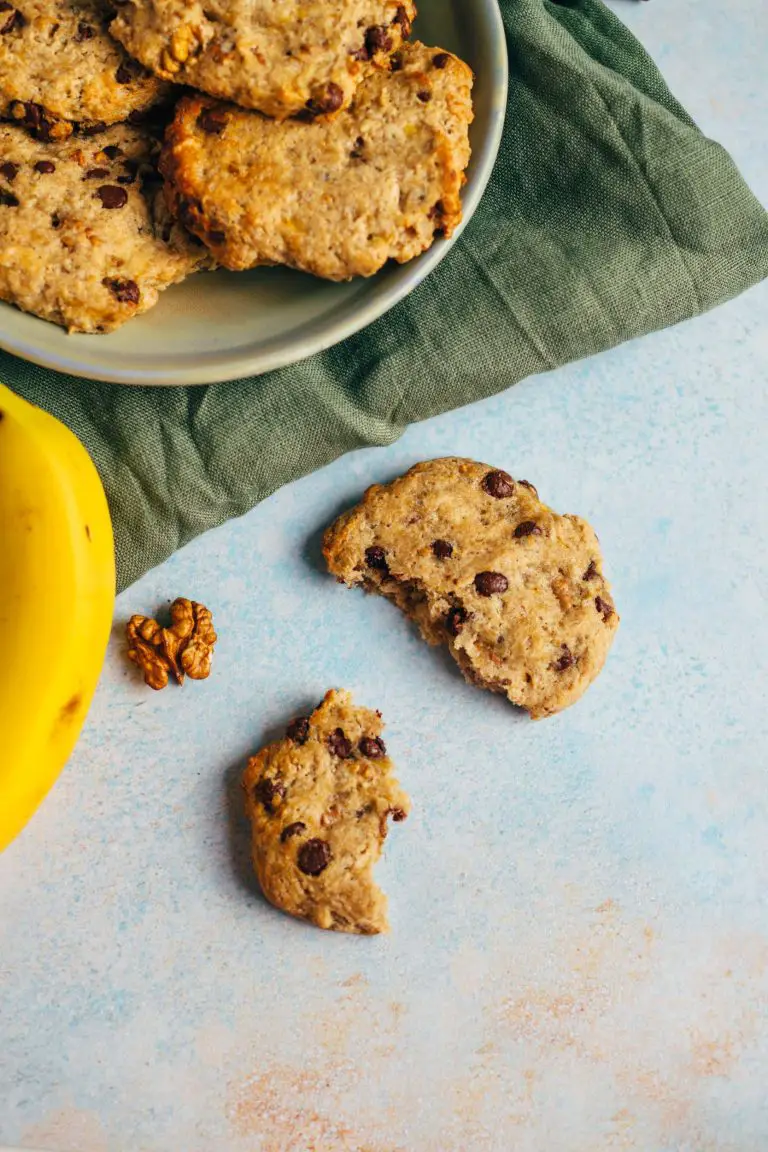 Spring is just around the corner and with it numerous outdoor activities. We are really looking forward to when we can finally go on trips again. I always carry healthy snacks with me on hikes and other activities. In the meantime, fortunately, you can find a wide selection of vegan, gluten-free snacks in the supermarket around the corner. I'm a big fan of doing things myself, though. For me personally, this has two reasons. The first is the price, as I find organic snacks quite expensive. A raw chocolate with 40g for 2,99€ or a single, packaged cookie for just under 2€. Please do not misunderstand, I think the manufacturers do a great job and the products are excellent, however, it is quite costly to buy the entire snack supply in the supermarket.
The second point why I like to make cookies and snacks myself is the ingredients. Very many products contain vast amounts of oil and different sugars, which I'm happy to do without in the homemade versions. I prefer to bake as natural and wholesome as possible. It also has to taste good, and it does.
Make vegan gluten free cookies yourself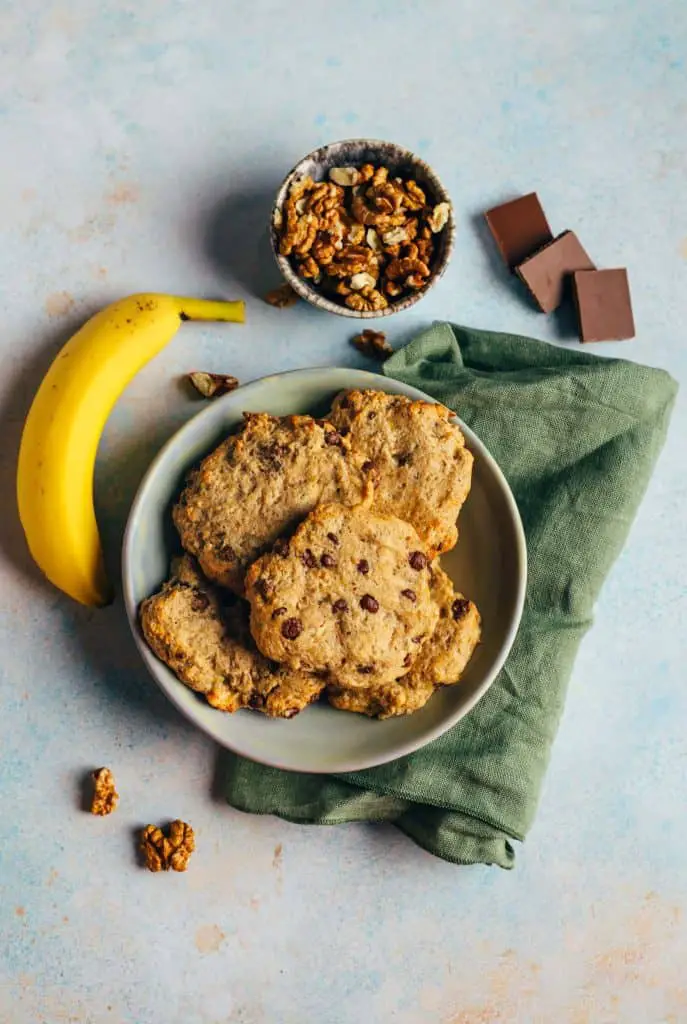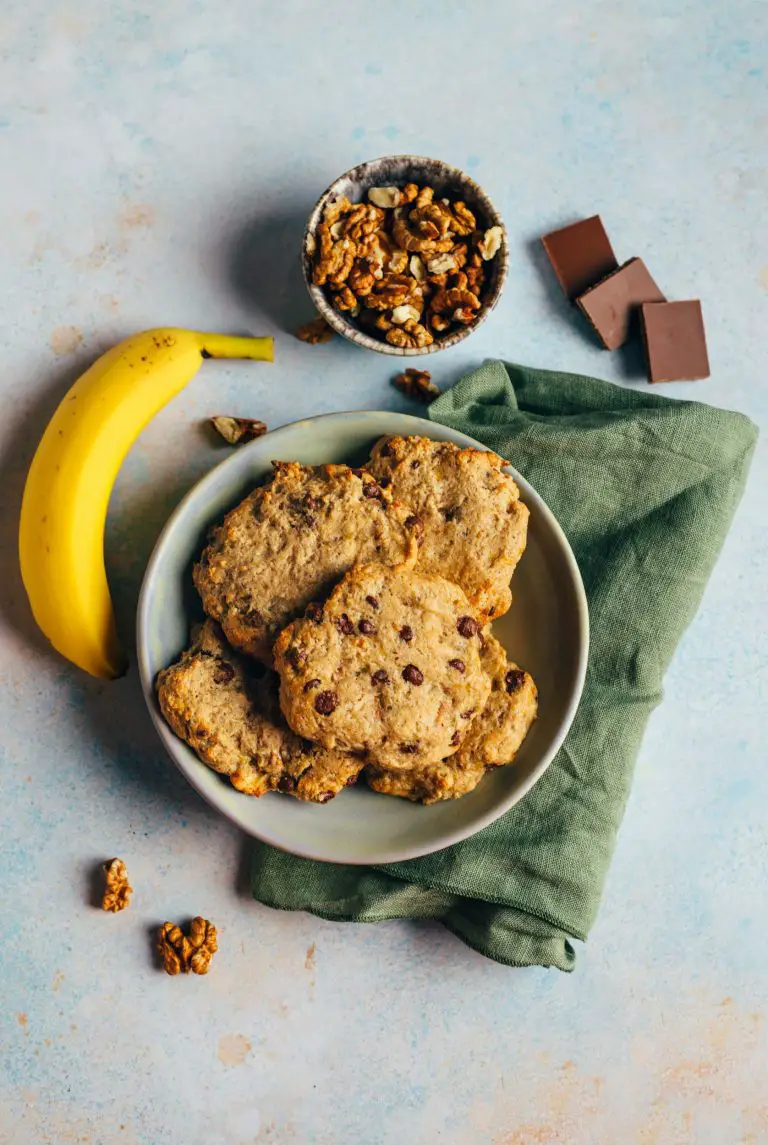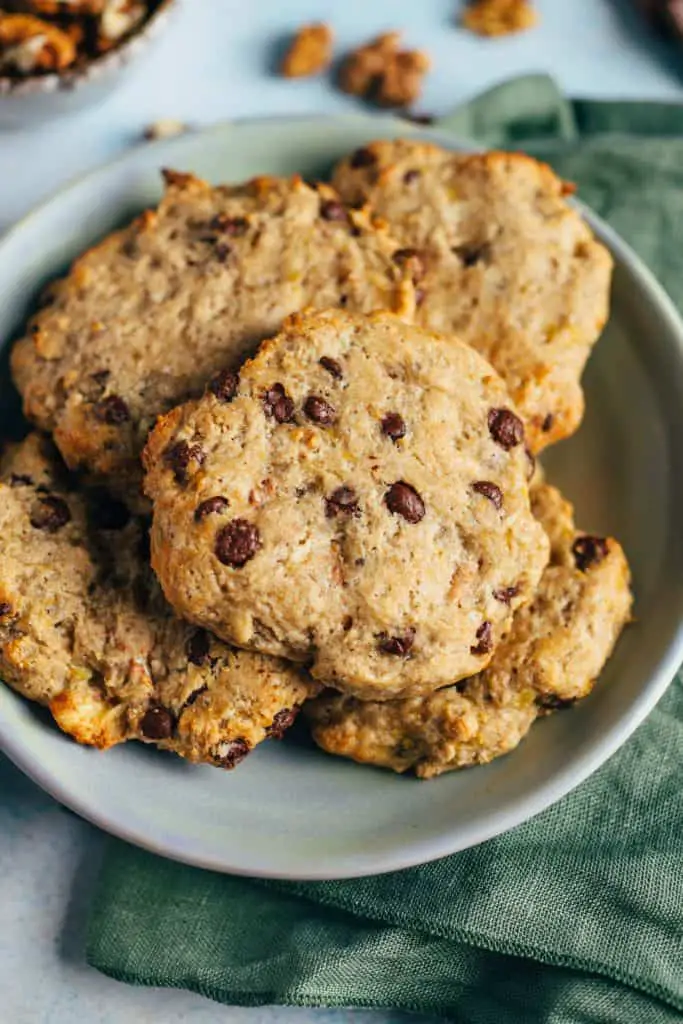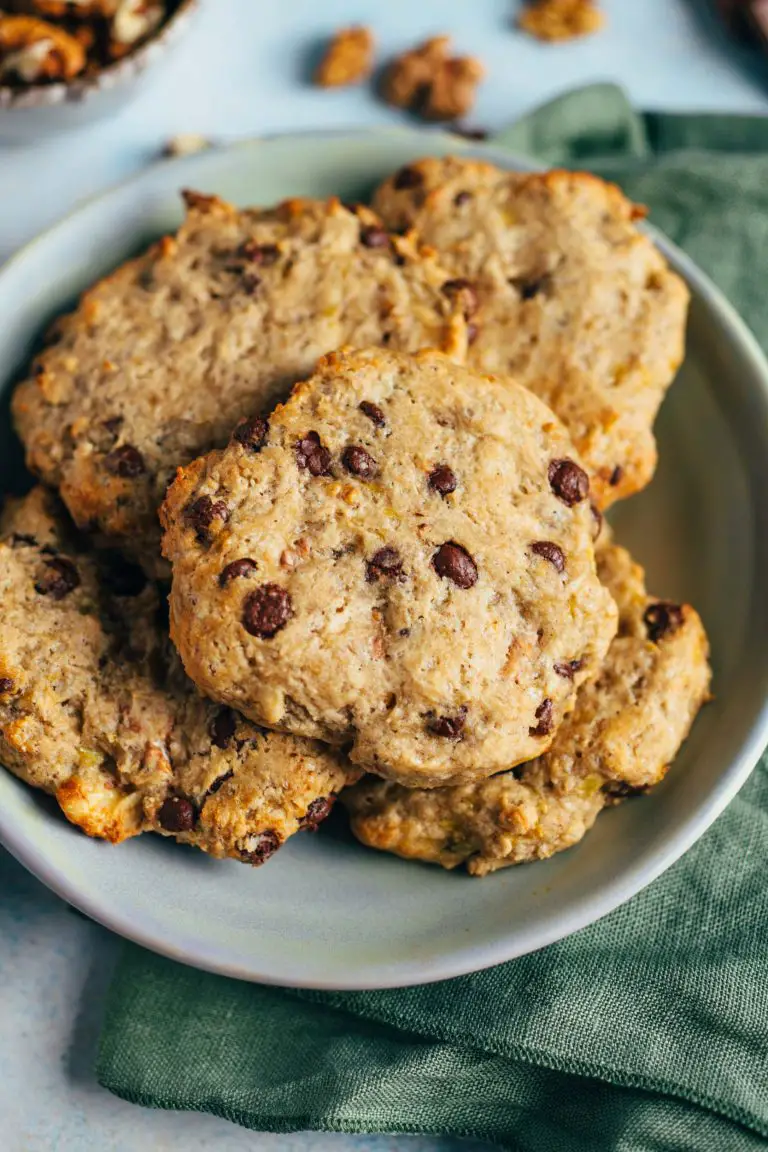 Let's get to the ingredients, banana, raw cane sugar, almond paste, gluten free flour blend, baking powder, bourbon vanilla, cinnamon, pinch of salt, walnuts and dark vegan chocolate drops. In terms of almond paste, I recommend a light almond paste, as it is easier to work with. Always stir well before use because the fat likes to settle on top. But you can also use any other nut puree as you like, as I said, always stir well and then use.
Here are some more occasions in which these cookies are perfect:
Long car rides (don't forget coffee to go)
Before the sport or after the sport (pack a few more for the sports colleagues)
To the Chunky Monkey ice cream from B&J
For the chocolate craving, if you don't want to dig into the chocolate purely
Long afternoons with the kids on the playground (kids love this cookie).
Non-ending Zoom Meetings
Just like that and without any special reason
Perfect! Otherwise, you can hardly go wrong when baking these beauties. Are you ready to make the super simple, irresistible cookies? You are
Quickly made
sweet
chocolatey
simple
nutty
For a cozy coffee date, I recommend a delicious hot drink to go with it. Chai chocolate, creamy immune booster latte or the ultimate anti-cold tonic.
Let's go with these incredibly delicious vegan Chunky Monkey Cookies, I hope you enjoy baking them and of course about a review at the bottom of this page. If you post a picture, use the hashtag #veganevibes.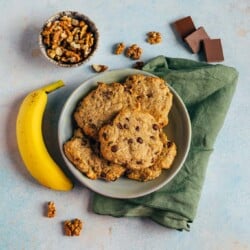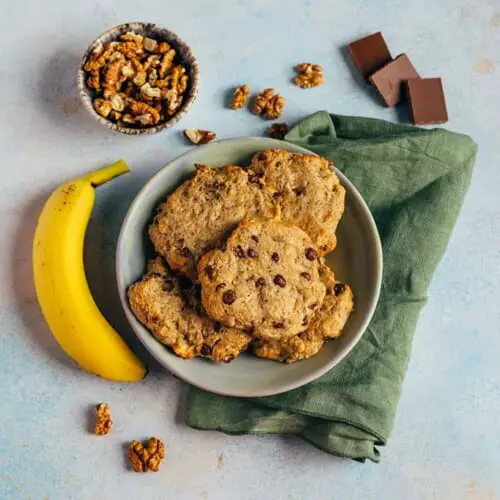 Chunky Monkey Cookies (v&gf)
Vegan, gluten-free Chunky Monkey Cookies with bananas, walnuts, shredded coconut and dark vegan chocolate drops. An irresistible, wholesome snack for the whole family. Quick to make, vegan, oil-free and gluten-free.
AUTOR: VEGANEVIBES
Anleitung 
Heat oven to 175 degrees convection (195 degrees top/bottom heat) and line a baking sheet with baking paper or a permanent baking mat.

Combine mashed banana, almond paste, gluten-free flour blend, raw cane sugar, baking powder, cinnamon, bourbon vanilla, and salt (+ optional shredded coconut) in a bowl and mix to form a sticky but compact dough.

140 g ripe banana,

65 g Almond paste,

50 g gluten free flour mix,

40 g Buckwheat flour,

50 g Raw cane sugar,

1 tbspn Baking powder,

½ tbspn Cinnamon,

¼ tbspn Bourbon vanilla,

A pinch of salt

TIP: If the dough is too dry, simply add a splash of vegetable milk. Please be careful and do not overdose, otherwise the dough will quickly become too mushy.

At the end, add the chocolate drops and walnuts and incorporate.

45 g dark vegan chocolate drops,

30 g Walnuts

Separate 12 equal parts with a spoon and spread dough on the baking sheet (lined with baking paper or permanent baking mat). Shape into even cookies with moistened hands and place in oven.

Bake for

10-12 minutes

. Remove from the oven and allow to cool completely.

Together with a hot drink, with a scoop of ice cream, or just enjoy it!

Shelf life up to 5 days when sealed airtight.
Nährwertangaben
Serving:
1
Portion
Calories:
127
kcal
Carbohydrates:
15
g
Protein:
3
g
Fat:
7
g
Saturated Fat:
1
g
Trans Fat:
1
g
Cholesterol:
1
mg
Sodium:
11
mg
Potassium:
151
mg
Fiber:
2
g
Sugar:
7
g
Vitamin A:
10
IU
Vitamin C:
1
mg
Calcium:
34
mg
Iron:
1
mg