Dates with apple, cinnamon and nut puree is a dream combination. At first I thought the recipe would be rather boring, but then I was blown away. Right now it's really cold and it's getting colder. Last night it was minus 16 degrees and there is a really big icicle hanging outside our office right now. I can't even remember when we've had such a cool winter around here. This morning there were glittering ice crystals in the air everywhere, sparkling like diamonds. Add to that a rainbow and I wasn't sure if I was still on this planet. It's just incredible how beautiful nature is and that's exactly why it's so worth protecting. More and more studies show that a vegan diet has a positive impact on the environment. No wonder, considering that most food is grown directly for humans and not fed to animals first. Let's get back to today's snack though, let's get started.
Dates and their nutritional values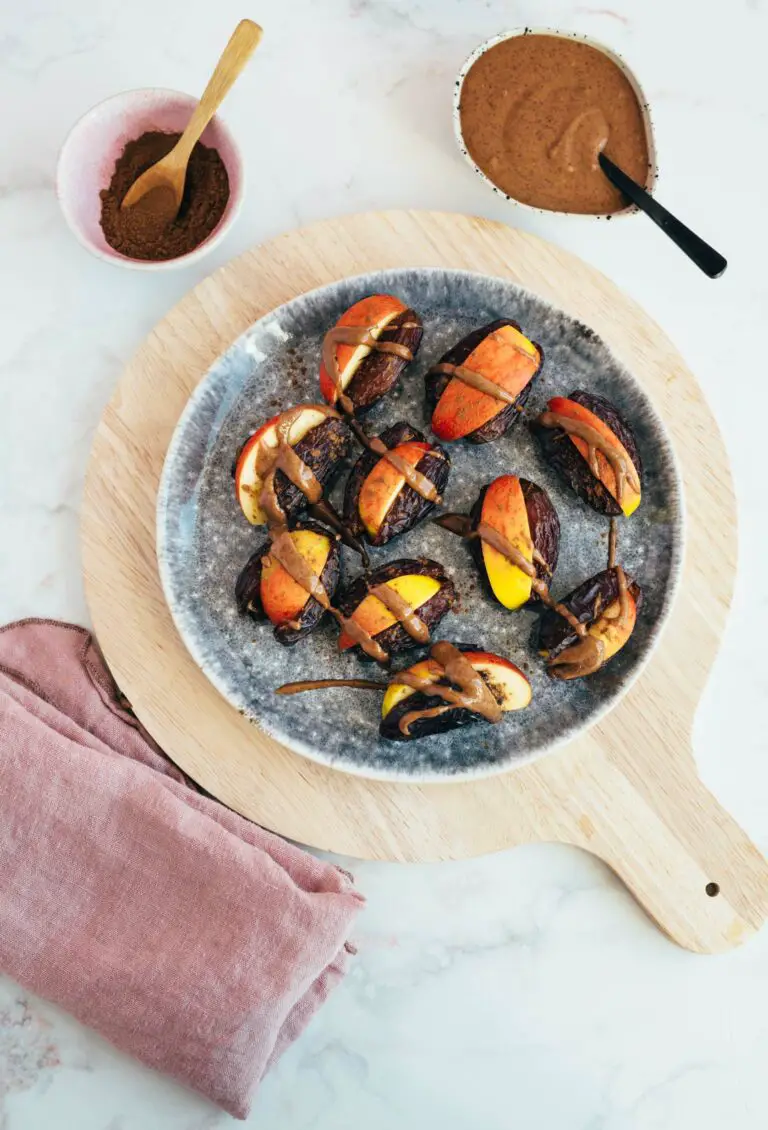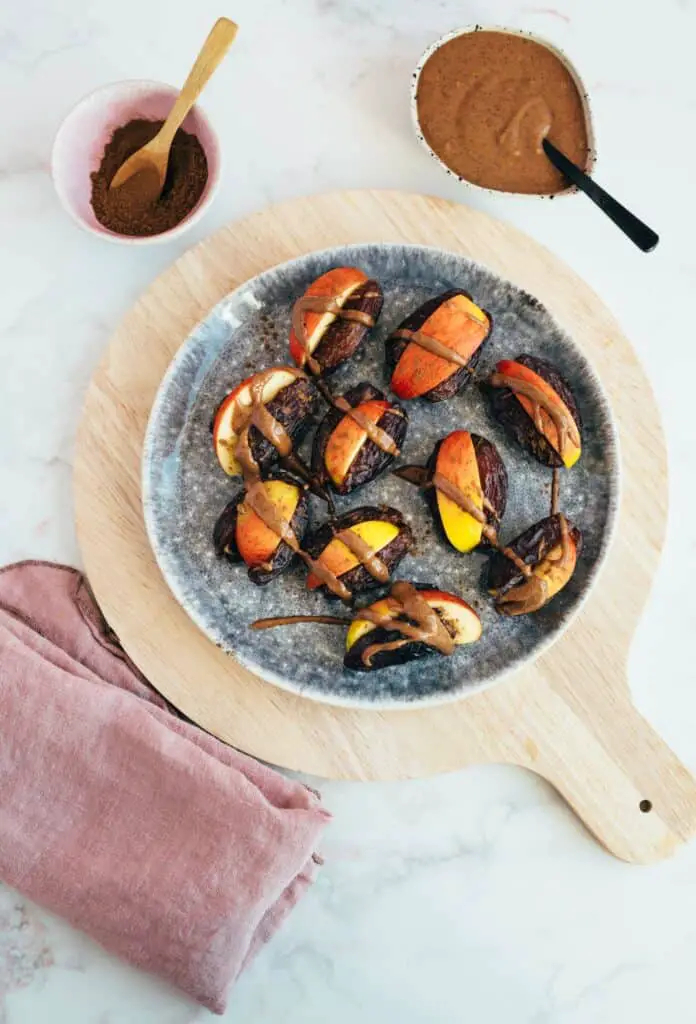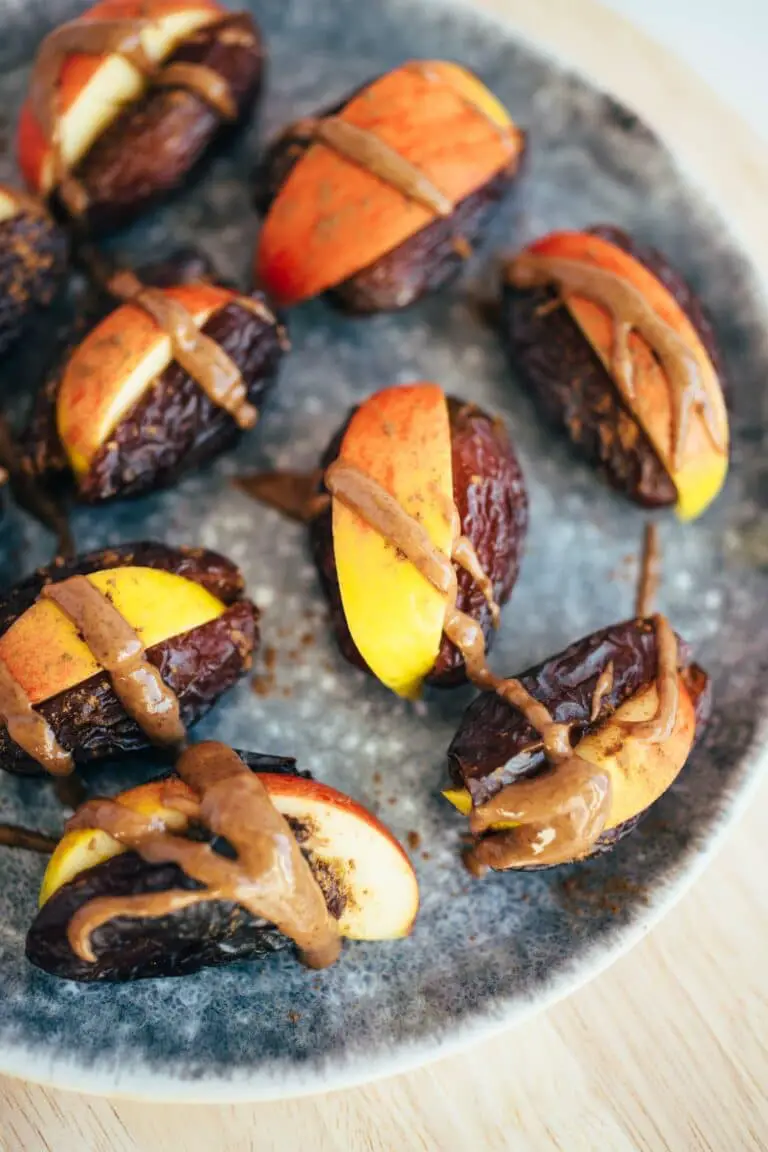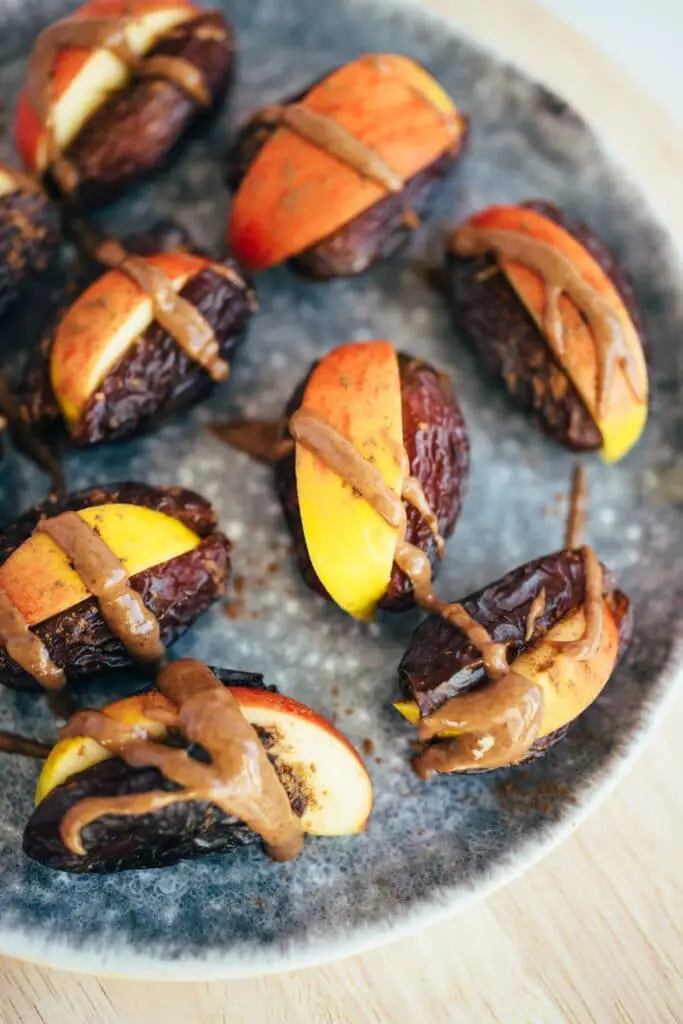 Dates, or "bread of the desert," are once again the basis for today's snacks. They are a wonderful alternative to processed snacks from the supermarket and provide valuable fiber, natural sugars, minerals and vitamins. But dates can do more than that, they help in the production of melatonin.
High content of the amino acid tryptophan, a precursor of the hormone melatonin. In the evening 1-2 dates and the tiredness comes all by itself, it's worth a try, right?
Dates do not contain fat, or only in traces
297 kcal per 100g
Rich in vitamin A, B vitamins and many other vitamins
Rich in potassium, calcium and magnesium
TIP: I always buy Medjool dates in a 5kg package in organic quality. At first, this seems a lot and seems expensive, however, buying a large quantity is much cheaper. In the organic supermarket you can buy individual dates, but they are much more expensive. In addition, they arrive very fresh in a bulk pack, whereas in the supermarket they usually lie on vegetable shelves for several weeks and dry out. I store them in the original box in the refrigerator without any problems.
How healthy is cinnamon actually?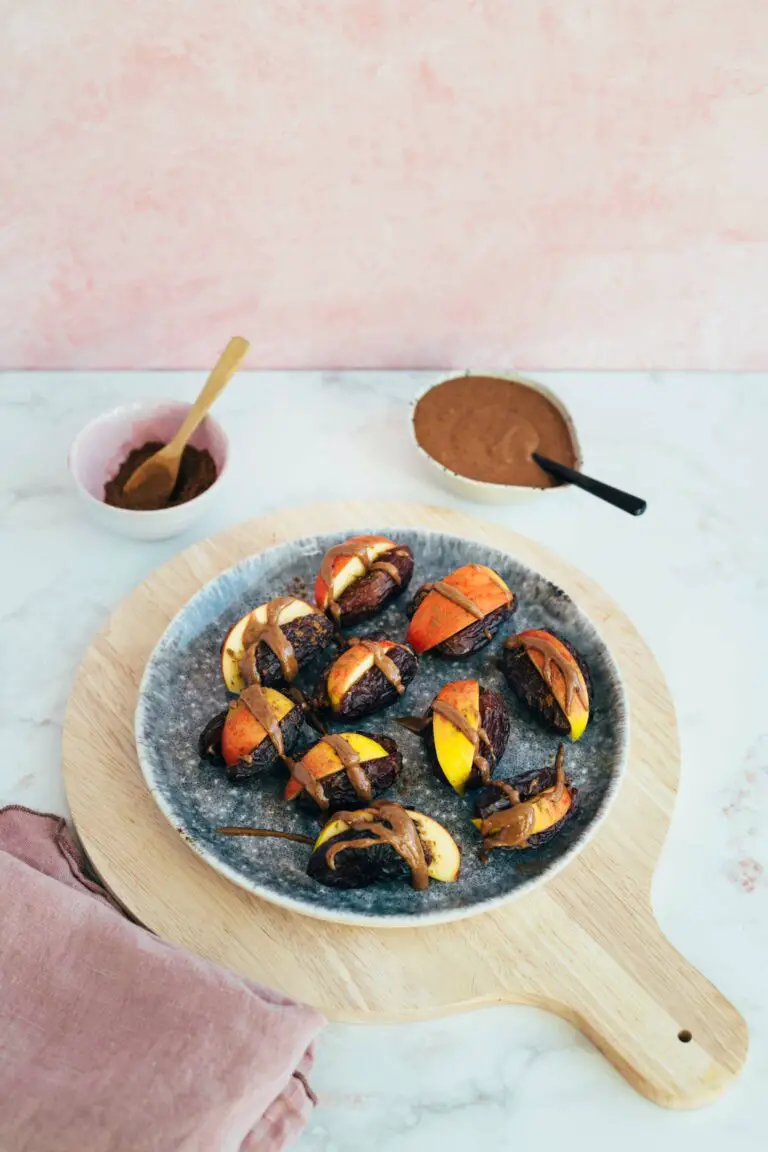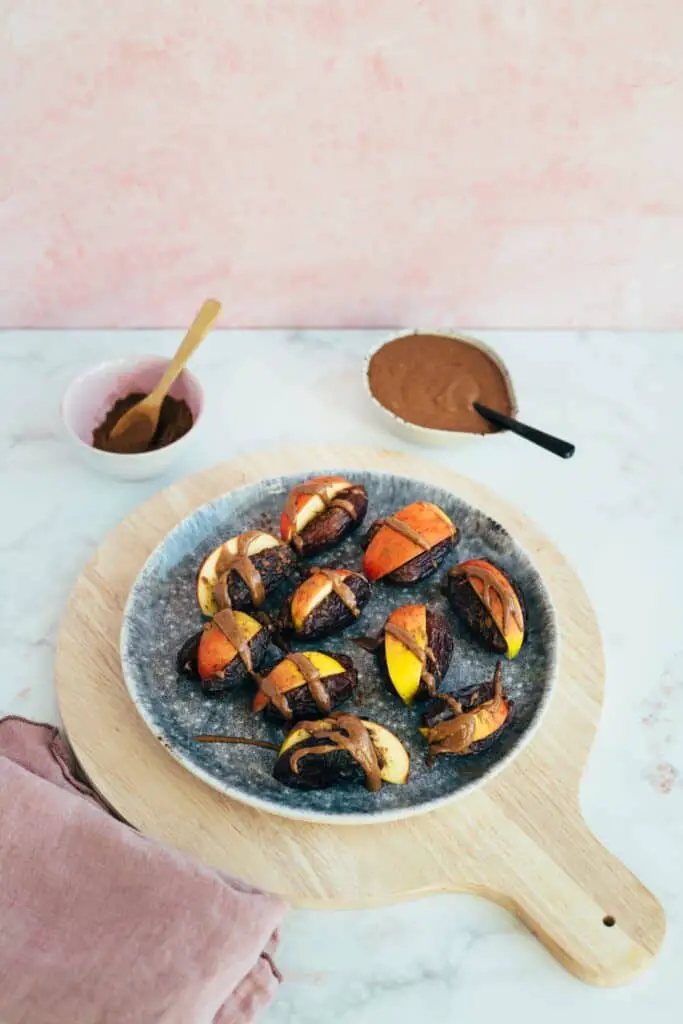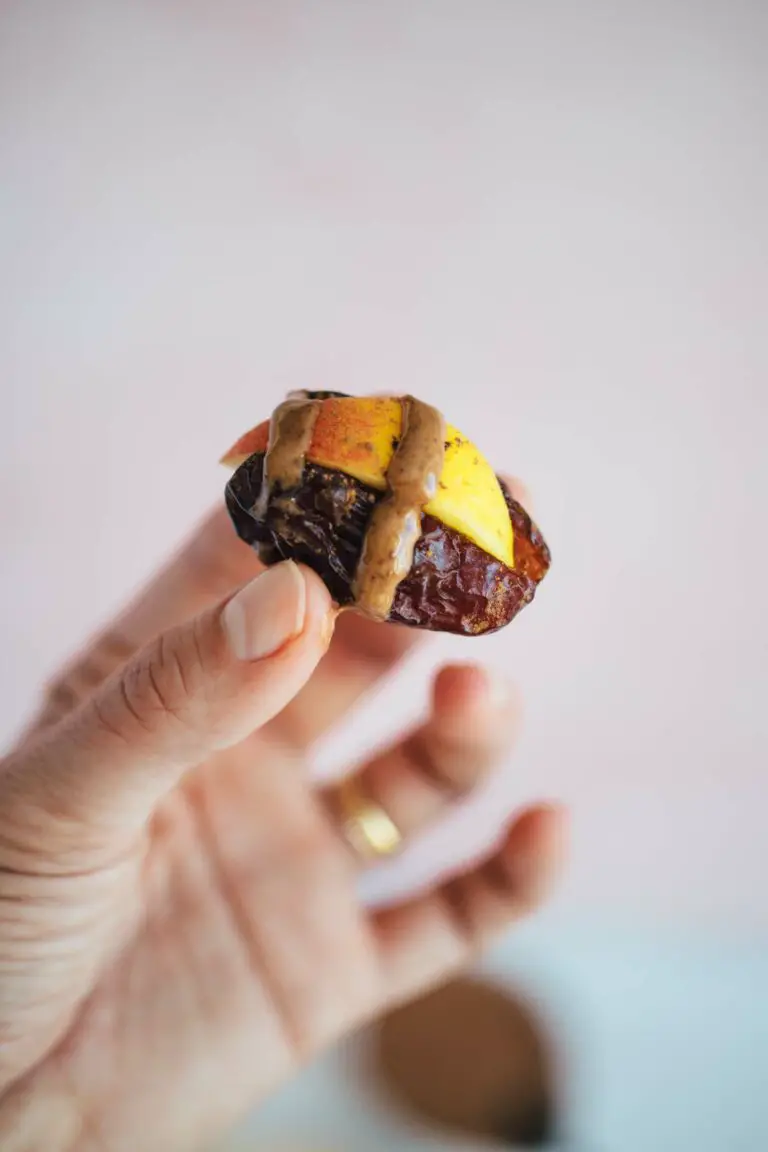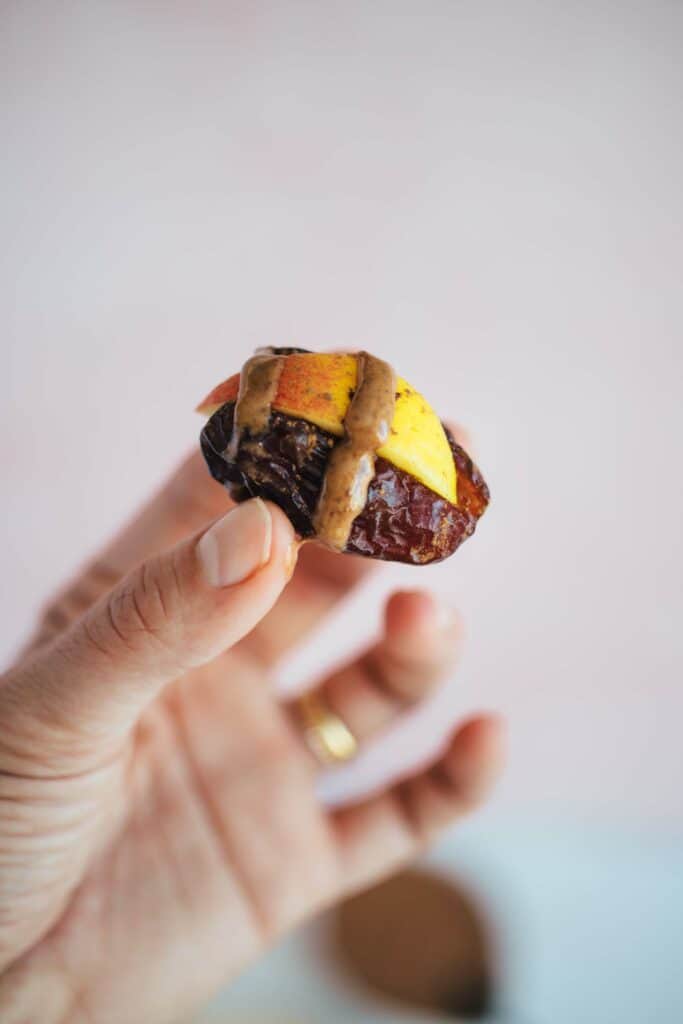 Let's move on to another ingredient that is very healthy. Many experts classify it not only as a spice, but as a medicinal plant. This is now also proven by numerous studies that say that cinnamon promotes low blood sugar, fights viruses, bacteria and fungi in a natural way.
TIP: You may have noticed that there are two different types of cinnamon. Ceylon cinnamon and cassia cinnamon. Ceyon cinnamon from Sri Lanka is more expensive and milder in taste than Cassia cinnamon, which originates from China and is also colloquially known as "China cinnamon". Use caution when consuming high doses of cassia cinnamon. This contains large amounts of the aromatic substance coumarin, which can have a harmful effect on the liver.
Here is another small overview of Cylon Cinnamon:
Contains essential oil (cinnamaldehyde, eugenol, coumarin)
Minerals (calcium, potassium, magnesium, sodium and iron)
Has antibacterial, antihypertensive, anti-inflammatory, antifungal, antiviral, digestive, appetizing and wound-healing effects
With this snack we combine many healthy and delicious foods. Dates, apples, cinnamon and nut puree. By the way, if you want to know more about the healthy properties of apples, you can find an article here.
Get started with this easy, vegan date snack that's ready in a snap and stores perfectly in the fridge. If you're craving a different snack option today, I highly recommend my Baked Apple Bliss Balls, Twix Bars (no bake), or healthy caramel candies. I hope you have fun making it and of course I'm happy about a review at the bottom of this page. If you post a picture, use the hashtag #veganevibes.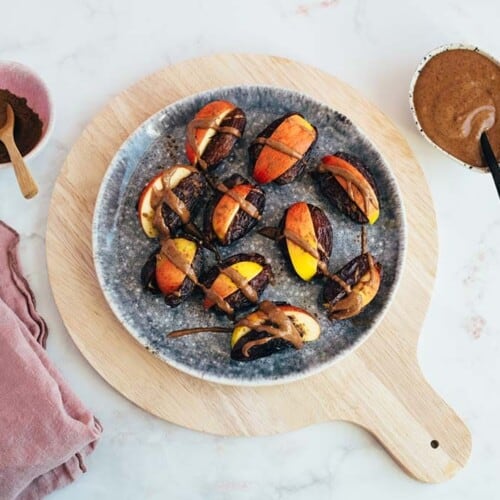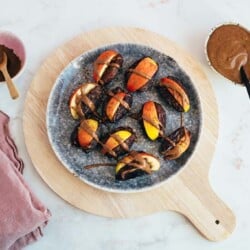 Dates with apple and cinnamon (10 minutes)
Delicious dates filled with apple pieces and nut puree, refined with cinnamon. The perfect snack for in between or as a dessert with lots of fiber, minerals and antioxidants.
AUTOR: VEGANEVIBES
240

g

Medjool dates

pitted

2

Piece

small apples

slightly sour variety, core removed, cut into 10 wedges

1

tbspn

Cinnamon
TOPPINGS (optional):
60

g

Nut puree of your choice

I use almond paste natural
Anleitung 
Take dates one at a time in your hand and with a small knife, cut lengthwise on one side until you reach the pit. Remove the core and set aside. Repeat with all other dates until all are pitted.

Insert one apple wedge into each date and repeat until all dates are processed. Spread cinnamon evenly over dates.

2 Piece small apples,

1 tbspn Cinnamon

As a final step, spread nut puree generously over the stuffed dates. enjoy!

60 g Nut puree of your choice

Place remaining dates in a resealable box and store in the refrigerator for up to one week.
Notizen
Nährwertangaben
Serving:
1
Piece
Calories:
67
kcal
Carbohydrates:
18
g
Protein:
1
g
Fat:
1
g
Sodium:
1
mg
Potassium:
168
mg
Fiber:
2
g
Sugar:
16
g
Vitamin A:
36
IU
Vitamin C:
1
mg
Calcium:
16
mg
Iron:
1
mg