Chocolate bananas, remind me of my childhood! More specifically, the visits to the bakery and the endless sweet treats in the display. Chocolate bananas have always been among my favorites, along with tea tongues, which I never left the store without. Unfortunately, in the conventional bakery is always baked with milk and egg, so for a very long time I gave up this classic. It certainly didn't hurt me, however, I was on fire when I accidentally discovered chocolate bananas during my research. You have to be able to make them vegan, too, I thought, and got started right away. From my point of view, the result is more than respectable. In fact, my parents were so excited that they immediately asked for the recipe. Admittedly, you need a little patience, but it's well worth it. Let's get started together.
Chocolate bananas like from the baker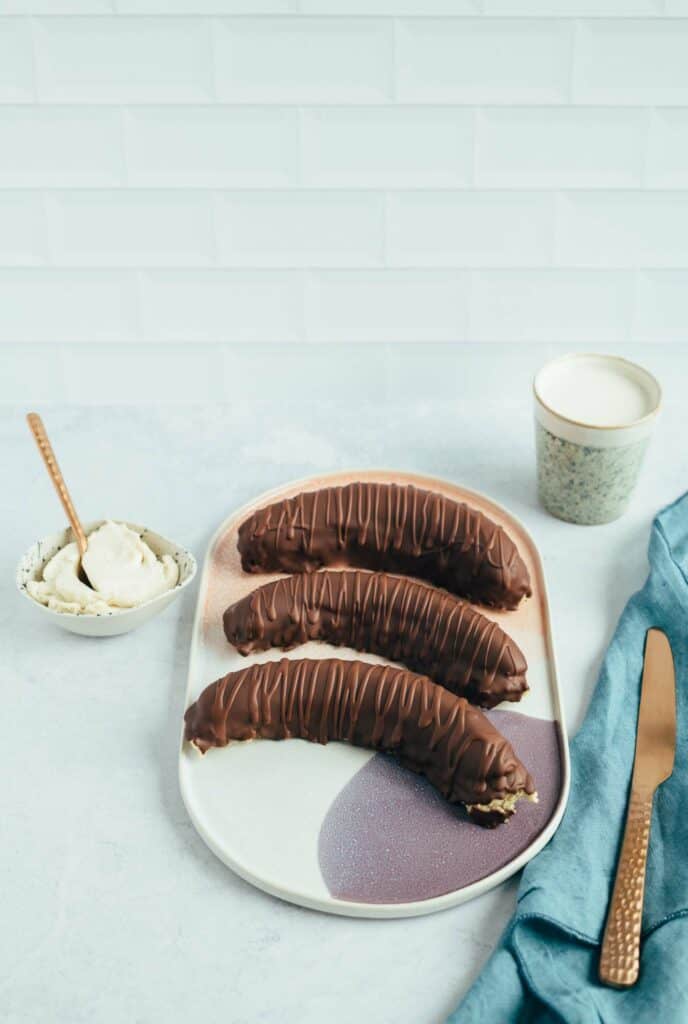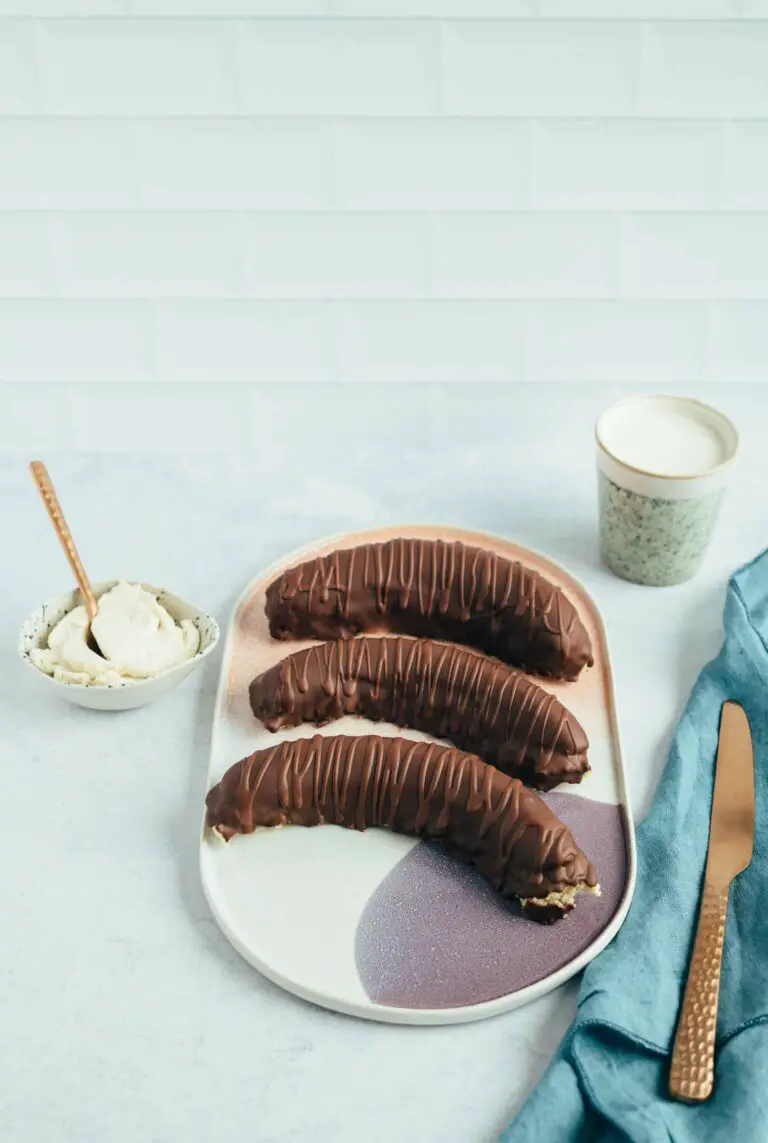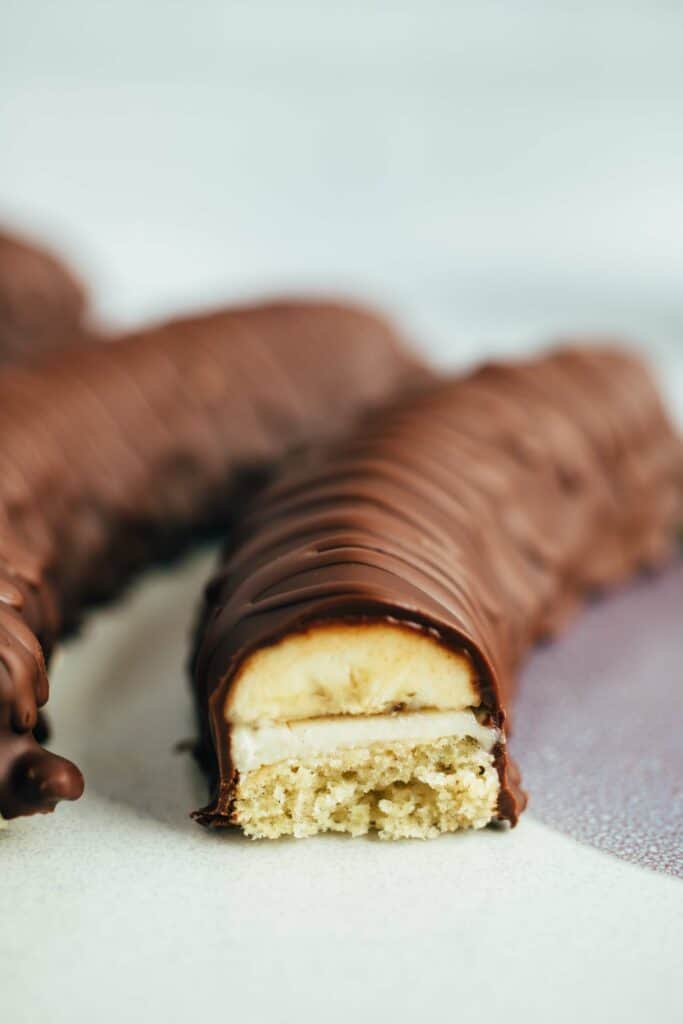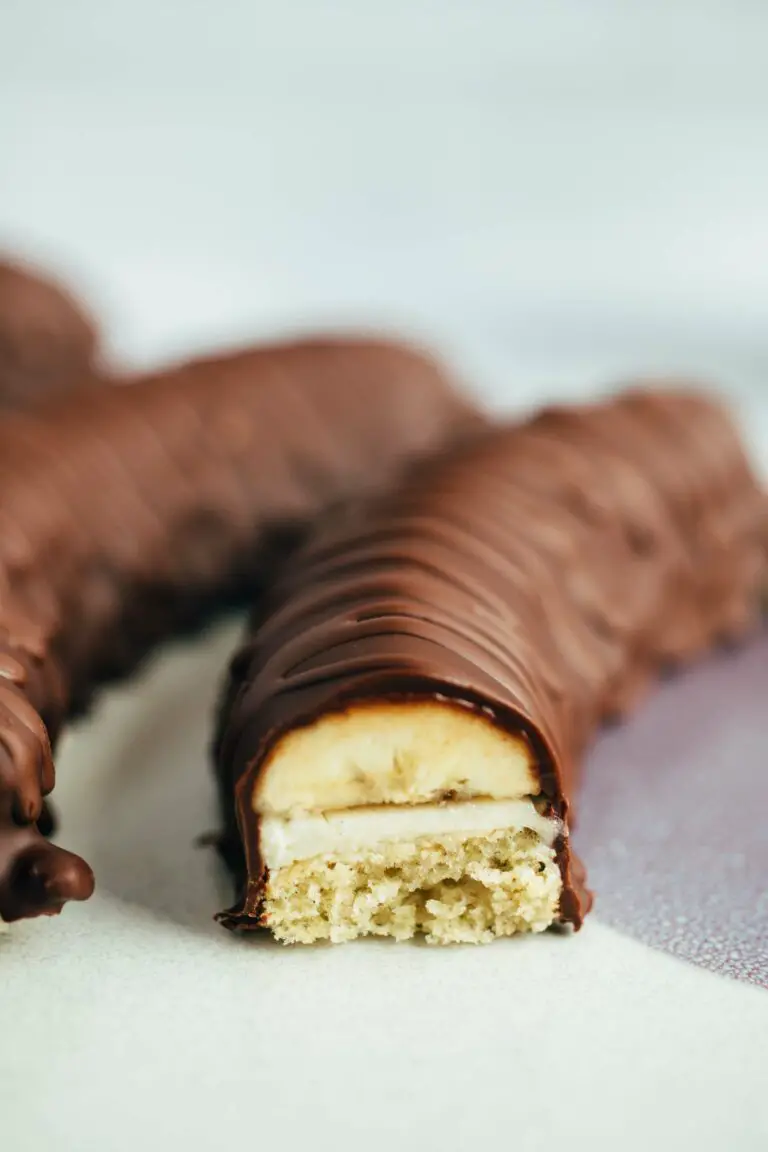 The production of chocolate bananas takes place in several steps:
Make buttercream from starch, vegetable milk, sugar, bourbon vanilla and margarine
Make sponge cake from flour, starch, raw cane sugar, baking powder, bourbon vanilla, oil and sparkling water.
Assemble and coat chocolate bananas
TIP: I prefer to use cornstarch, but potato starch or tapioca starch will also work. If you want to bake the chocolate bananas gluten-free, simply replace the spelt or wheat flour with a ready-made gluten-free flour blend.
Admittedly, it takes a little time to get everything ready. Bake the sponge, mix the cream, let everything cool. Then assemble the bananas and coat. Then let cool again and ready are the chocolate bananas like from the baker. In my opinion, it is absolutely worth the effort and also the wait. I always leave them for a whole night, then they are perfect and the buttercream really nice and cold, Yummy!
Chocolate bananas recipe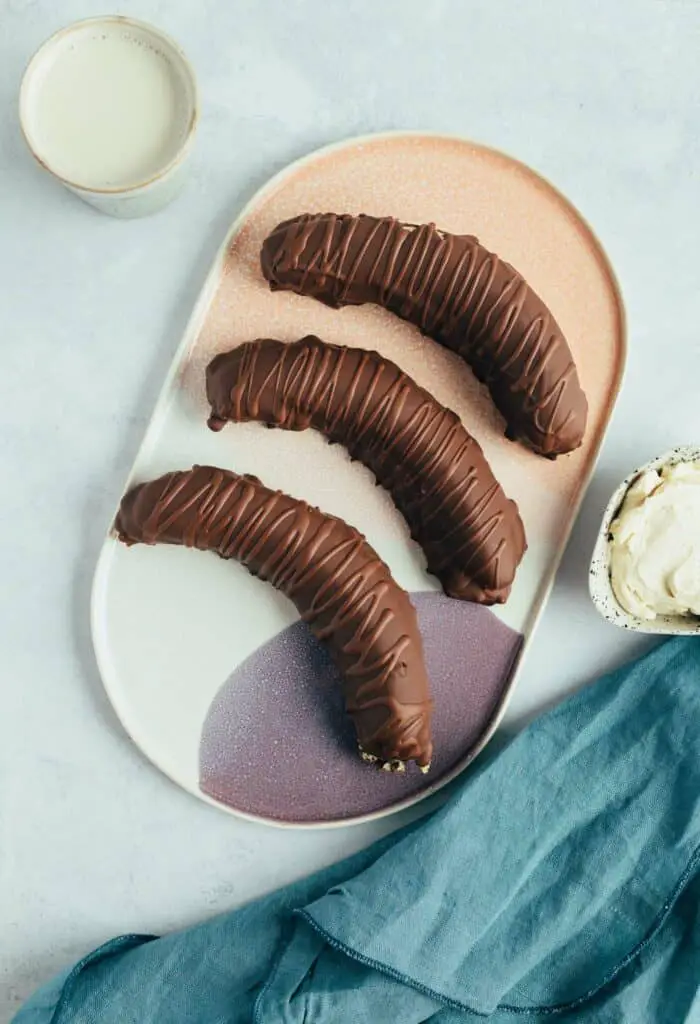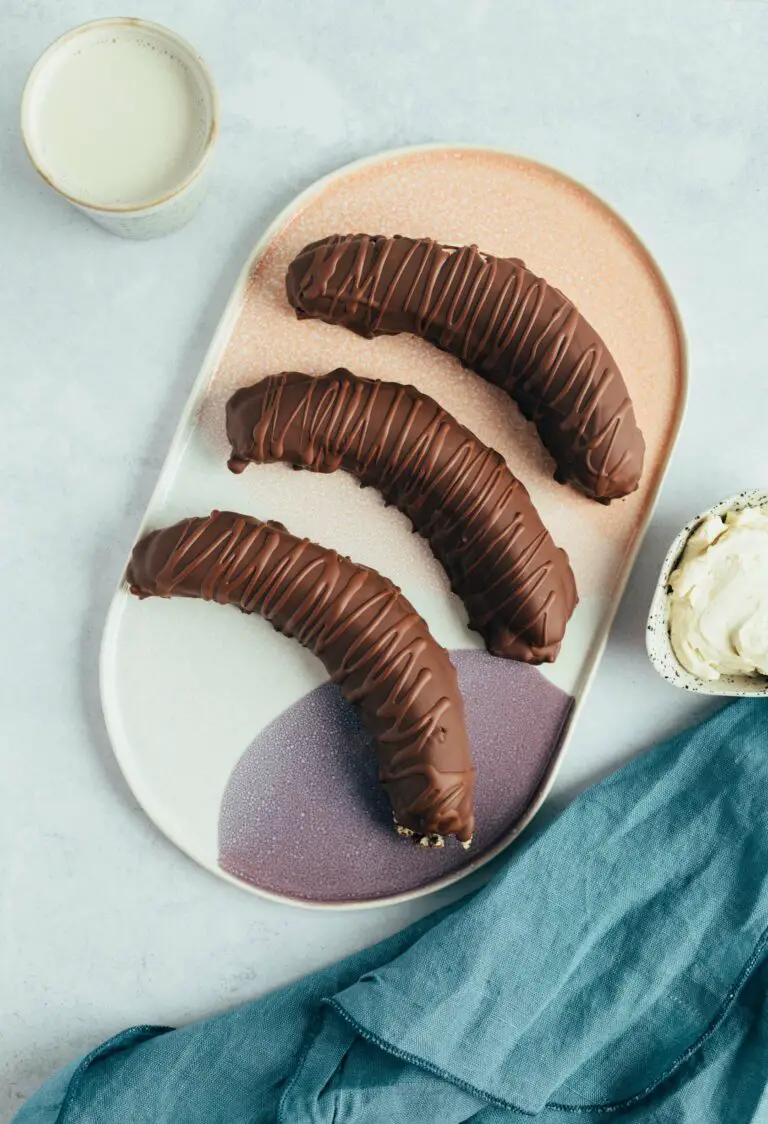 The recipe is simple in principle, but there are always some pitfalls and of course I want to anticipate them. Here are the best tips and tricks for your baking experience:
There are two rules when making buttercream: Stir and cook! First, the custard is brought to a boil and here it is best to avoid lumps, so it is stir, stir, stir. If there are still a few small lumps, you can dissolve them in the second step when mixing with the margarine. I use my MagiMix with the S-knife for this. This makes the cream really nice and fluffy. It's important to let the cream cool down really well, otherwise it will literally melt away under your fingers when you spread it on the sponge.
The sponge cake is made quickly and is baked very thin. This is always a bit surprising at the beginning, because otherwise you bake much more dough. The bottom of the mold is just covered with the dough and this is perfectly fine. It will rise nicely when baked and the result is a fluffy sponge cake.
Once the buttercream and sponge cake are completely cooled, we can start cutting. To do this, first cut the bananas long in the middle and place them on the sponge cake. Then cut out with a knife in the shape of the banana and take the banana down again.
When applying the cream to the sponge, it is important that the buttercream is cold. This guarantees that it spreads well.
Once everything is ready layered, bananas be sure to freeze, even if it's only 30 minutes. This way they hold together better and covering them with chocolate becomes a breeze.
When coating the chocolate, the rule is to make do rather than spill. I pour the couverture really rich over the bananas and collect the rest to use again. It also makes sense to dilute the couverture with a little cocoa butter, so the coating is easier.
TIP: If you want to thin your couverture or chocolate that you melted, add a small amount of cocoa butter. This makes it more fluid and easier to use for frosting.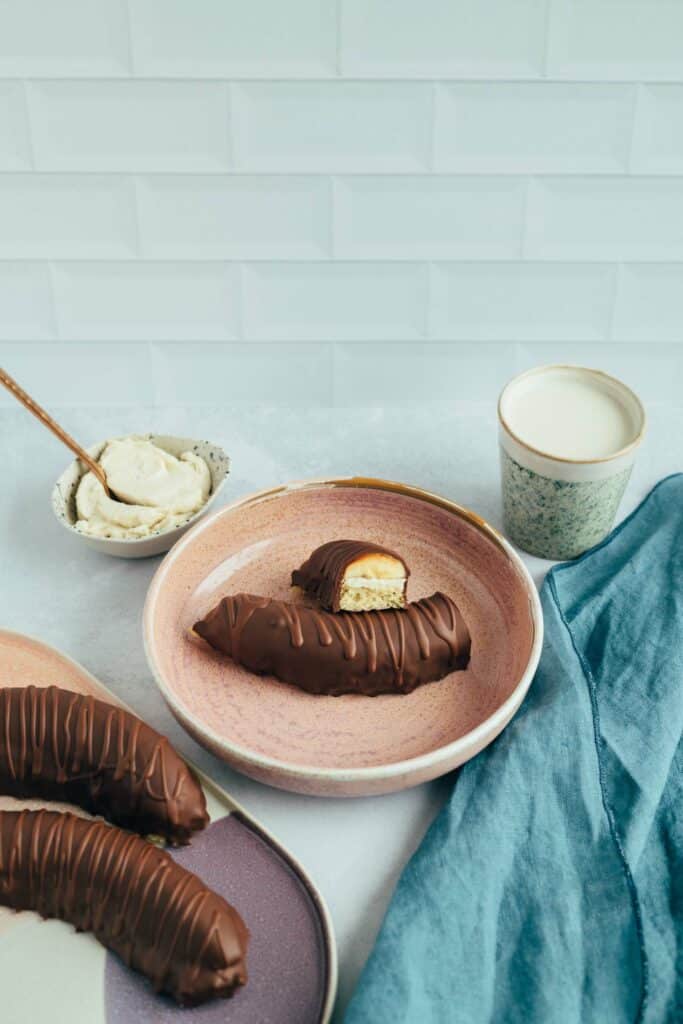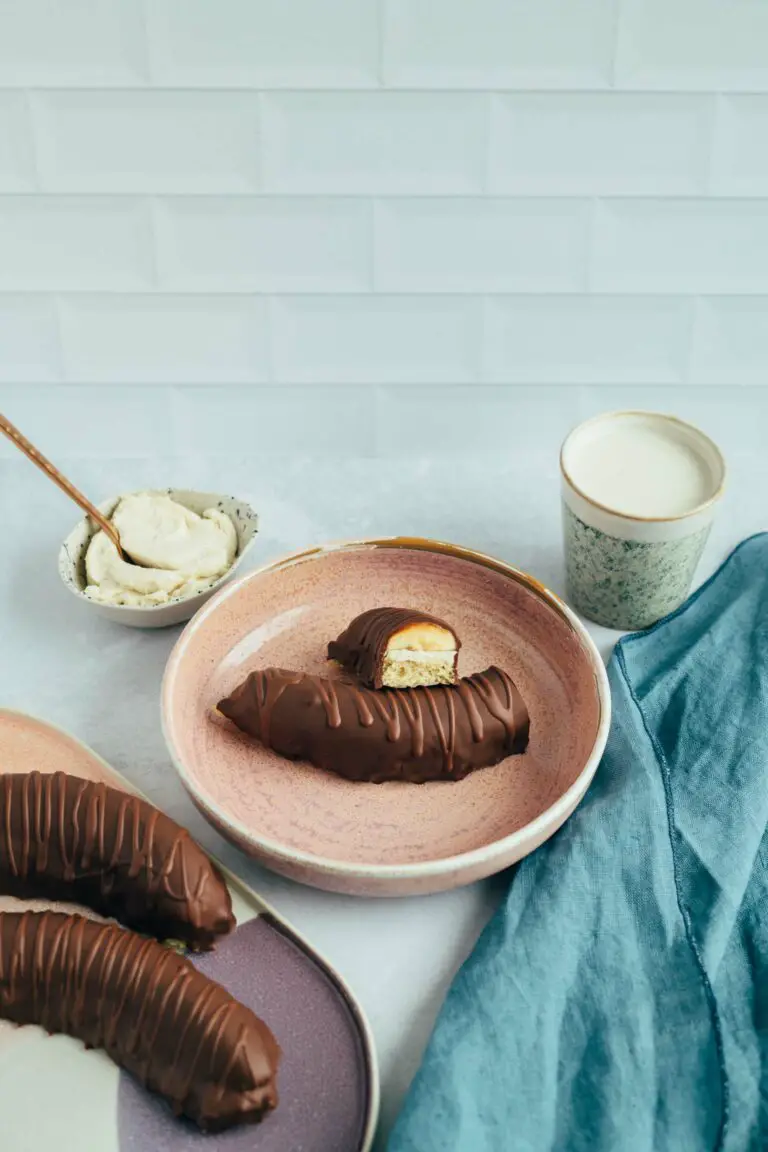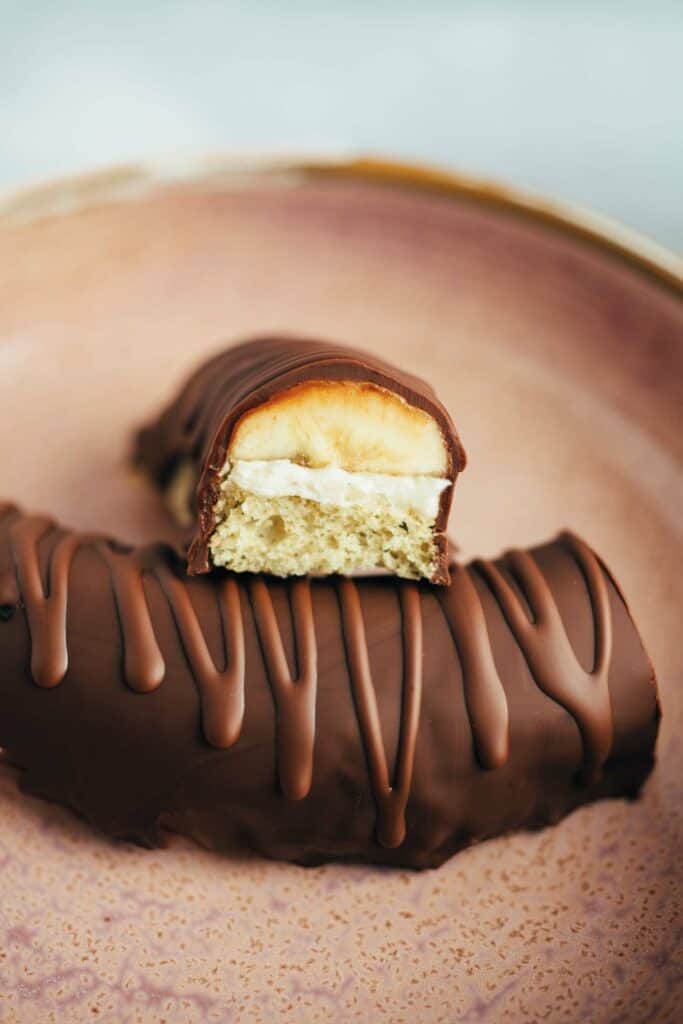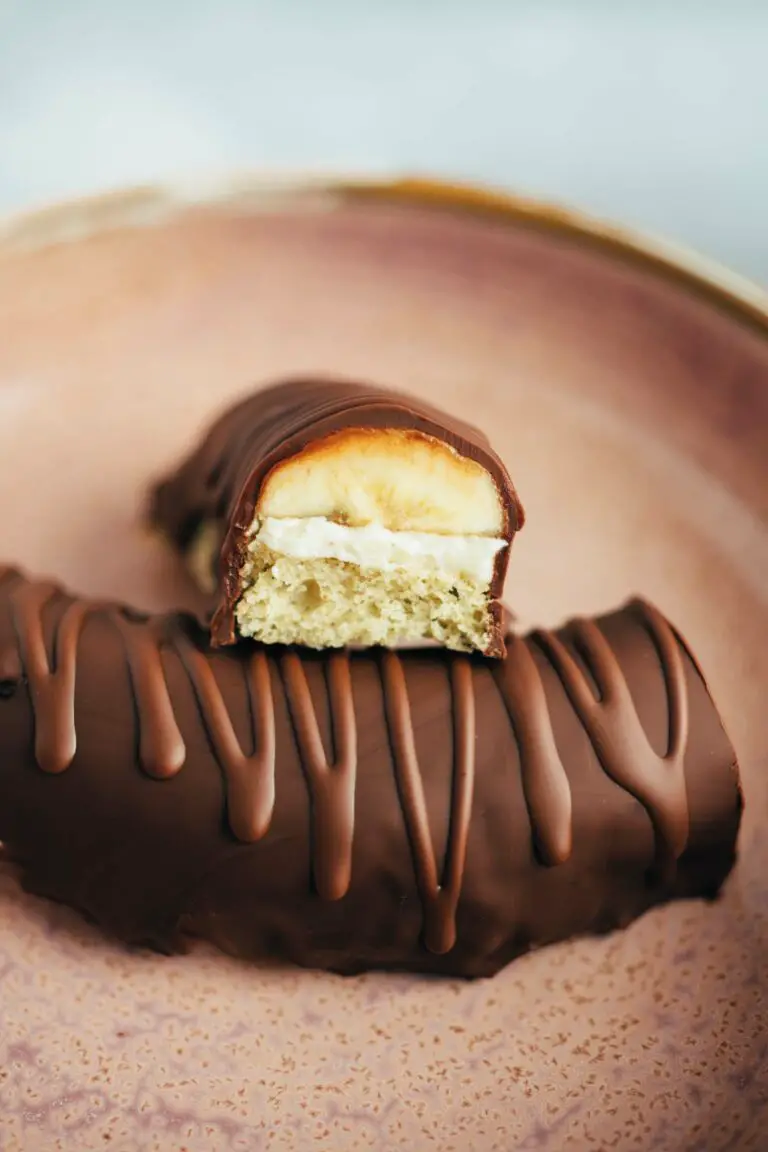 Let's start with this classic, the chocolate bananas that taste like from the bakery. If you want to make a different variation with bananas today, I recommend my Raw Banana Splits, Juicy Banana Cake or Banana Soft Served Ice Cream. I hope you have fun making it and of course I'm happy about a review at the bottom of this page. If you post a picture, use the hashtag #veganevibes.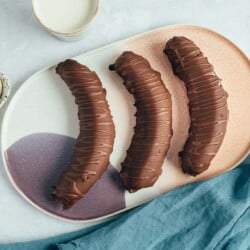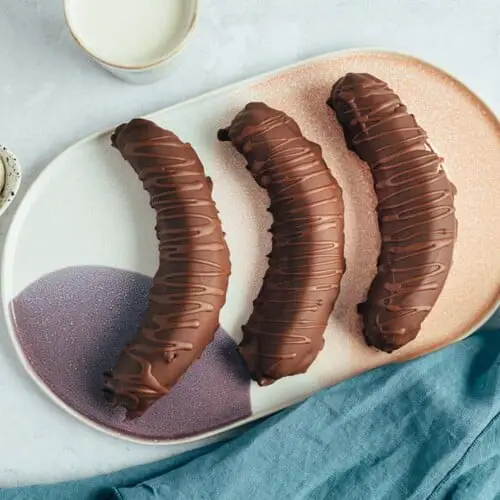 Vegan chocolate bananas (gluten-free option)
Fine vegan chocolate bananas as from the baker made of delicious sponge cake, butter cream, covered with dark vegan chocolate. A childhood memory, vegan implemented with gluten-free option. From the fridge perfect as a snack or as an eye-catcher at the vegan coffee party.
AUTOR: VEGANEVIBES
Utensilien
Square baking dish 24x24cm
FOR THE COOKIE:
120

g

Spelt flour

or a gluten-free flour mixture

75

g

Raw cane sugar

or other sugar of your choice

1

tbspn

Baking powder

¼

tbspn

Bourbon vanilla

30

ml

Oil

I use a high heat frying and baking oil, or other tasteless oil of choice.

125

ml

Sparkling water

please be sure to use a water with bubbles, the carbonic acid strengthens the baking impulse of the baking powder
FOR THE BANANAS:
3

Piece

medium bananas

peeled and cut lengthwise

30

ml

Lemon juice
FOR THE CHOCOLATE COATING:
100

g

dark vegan chocolate coating of your choice

optional 15-30g cocoa butter for dilution, 1-2 tbsp.
Anleitung 
FOR THE BUTTERCREAM provide a small pot. Pour in vegetable milk, raw cane sugar, cornstarch and bourbon vanilla. Heat, stirring vigorously, until a pudding-like mixture is formed. Remove from heat, transfer to a bowl (so it cools faster) and refrigerate.

140 ml Plant milk,

55 g Raw cane sugar,

20 g Cornstarch,

¼ tbspn Bourbon vanilla

Heat the oven to 140 degrees (convection) or 160 degrees (upper-lower heat). Provide square baking pan and line bottom with baking paper, brush sides with a little oil (optional).

FOR THE COOKIE Provide baking bowl, add spelt flour, raw cane sugar, baking powder, bourbon vanilla and salt and mix well once with a whisk. Pour in oil and sparkling water and mix to a uniform dough. Do not stir too long, otherwise the driving force of the carbon dioxide will disappear. Pour into the baking dish, smooth out and place in the oven. Bake for

25 minutes

.

120 g Spelt flour,

75 g Raw cane sugar,

1 tbspn Baking powder,

¼ tbspn Bourbon vanilla,

1 Pinch of salt,

30 ml Oil,

125 ml Sparkling water

In the meantime BUTTERCREME finish. Remove cooled "pudding" from refrigerator and place in a food processor. Add margarine and blend to a smooth, fine cream. I use my Magi Mix with the S-knife for this. Pour back into the bowl and place back in the refrigerator.

Once the BISKUIT baked, remove from the oven and let cool completely.

IMPORTANT! Do not carry out the following steps until the BUTTERCREME and the sponge cake have cooled completely.

FOR THE BANANAS , cut bananas in half lengthwise and place on a board with the cut edge facing down. Brush generously with lemon juice.

30 ml Lemon juice,

3 Piece medium bananas

Remove the sponge from the mold and place it on a surface (wooden board). Place halved bananas on top. Here should be room for all bananas (see video). Using a knife, carefully cut out sponge cake in the shape of the bananas.

Lift bananas back down from sponge cake.

BUTTER CREAM Remove from the refrigerator, it should have become nice and firm to creamy.

Using a small spoon, carefully spread buttercream over the sponge cake base and smooth it out. Place half a banana on each. Repeat until all 6 banana halves are processed. Place in a box and put in the freezer (min

30 minutes

).

FOR THE CHOCOLATE COATING Gently melt the chocolate over a water bath. If necessary, stir in 1-2 tablespoons of cocoa butter to make the chocolate thinner and easier to coat.

100 g dark vegan chocolate coating of your choice,

optional 15-30g cocoa butter for dilution, 1-2 tbsp.

Once chocolate is melted, remove bananas from freezer and coat individually (see video). Let set on a draining rack or baking paper, Enjoy!

OPTIONAL: Decorate extra with an extra layer of chocolate.

Store remaining chocolate bananas in an airtight container in the refrigerator for up to 3 days.
Nährwertangaben
Serving:
1
Piece
Calories:
333
kcal
Carbohydrates:
41
g
Protein:
3
g
Fat:
17
g
Saturated Fat:
3
g
Trans Fat:
1
g
Sodium:
143
mg
Potassium:
51
mg
Fiber:
3
g
Sugar:
22
g
Vitamin A:
729
IU
Vitamin C:
4
mg
Calcium:
47
mg
Iron:
1
mg